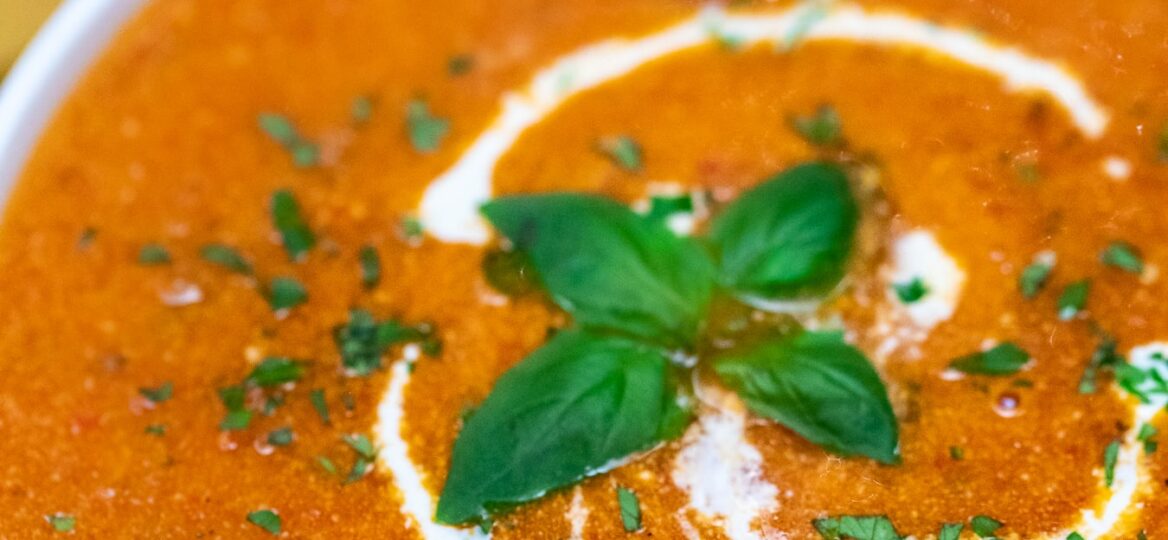 Creamy Tomato Bisque Recipe [Video]
Tomato Bisque is smooth, creamy, and easy to make! This hearty comfort food makes for a nice meal on its own or as a side dish to a lot of other entrees!
I am a big soup person and so are the rest of my family. And this dish will not escape our regular menu rotation during winter! The cold season just becomes bearable with comforting recipes like this dish, White Hot Chocolate, Pear Salad, and Chewy Molasses Cookies!
Creamy Tomato Bisque Recipe
Tomato Bisque is so easy to make that you can whip this at home, no need for a canned one this time! It is made creamy with the addition of heavy cream – just perfect with the sweet and juicy cherry tomatoes!
Cherry tomatoes are juicy and unlike other varieties, they taste less acidic. Its taste shines through the recipe and the addition of sugar amplifies the natural sweetness. The red pepper flakes and paprika add a nice kick to the whole thing, too.
And the best part is roasting them along with the red bell pepper. This step in cooking this dish intensifies and adds depth and boldness to the flavors.
This is a kind of dish that you can easily make from scratch! Prepare for all the rave when you serve this to your family and friends!
What is the difference between tomato soup and bisque?
There is very little difference between the ingredients of these two dishes. It is only that the latter is creamier because you add more cream. The former is a bit more liquidy.
Traditionally, the term "bisque" refers to the soup made from seafood, usually shellfish like lobster and clam. You blend the shellfish along with the rest of the ingredients until smooth and creamy. But now, both terms are loosely interchangeable.
Which tomatoes are best to use for bisque?
Cherry, Roma, or even heirloom are good choices for their naturally sweet flavor and juiciness.
How to make Tomato Bisque Recipe:
Roast: Preheat the oven to 400 degrees Fahrenheit for roasting. In a bowl, toss the cherry tomatoes with olive oil, salt, and pepper. Then, line them up on a baking sheet to roast in the oven for 20 to 30 minutes.
Sauté: In a large pot, cook the onions and celery in olive oil. Sauté them with the spices and basil until the onions turn translucent. Then, add in the garlic to cook.
Simmer: Add the crushed and roasted tomatoes, bell pepper, broth, and sugar. Allow everything to simmer over low heat for about 30 to 40 minutes.
Blend: Use an immersion blender to blend everything until smooth. Then, stir in the cream.
Serve: Garnish then, serve warm.
What goes well with Tomato Soup:
Here are some suggestions on what to serve with this comfort food:
How to Store
Refrigerate: Simply allow it to cool completely before transferring into an airtight container. Refrigerate it for up to 4 days.
Freeze: You can put it in a heavy-duty freeze-proof container. Freeze it for up to 6 months. If you intend to freeze it, then, leave out the cream. Just add it when reheating.
More delicious soups:
Recipe Tips:
If you are in a hurry and do not want to roast anymore, you can certainly do so. Use the tomatoes as fresh.
To thicken the bisque, you can add drained cannellini beans before simmering and blend them, too. Or, add sweet potatoes.
If you do not have an immersion blender, you can use a conventional heat-resistant one. Just be careful as you ladle the hot liquid in.