Instant Pot Ham Split Pea Soup
Instant Pot Ham Split Pea Soup is a quick and delicious way to use some leftover ham. It is a humble dish yet it is rich in flavor and nutrients!
If you have leftovers in your fridge, then, this recipe can come handy. Just like how I used my veggies for this delicious Vegetarian Minestrone and my day-old rice for earlier today's Chicken Fried Rice, I can use this recipe for the leftover Slow Cooker Glazed Smoked Ham waiting in my fridge.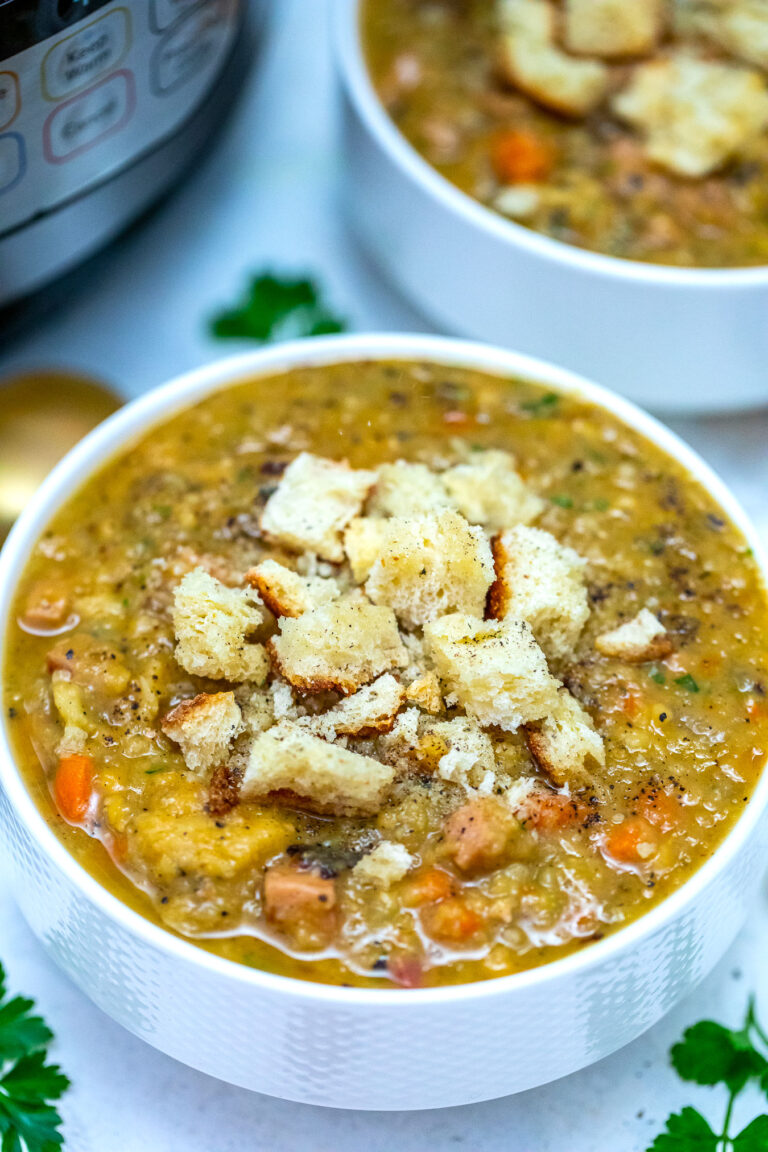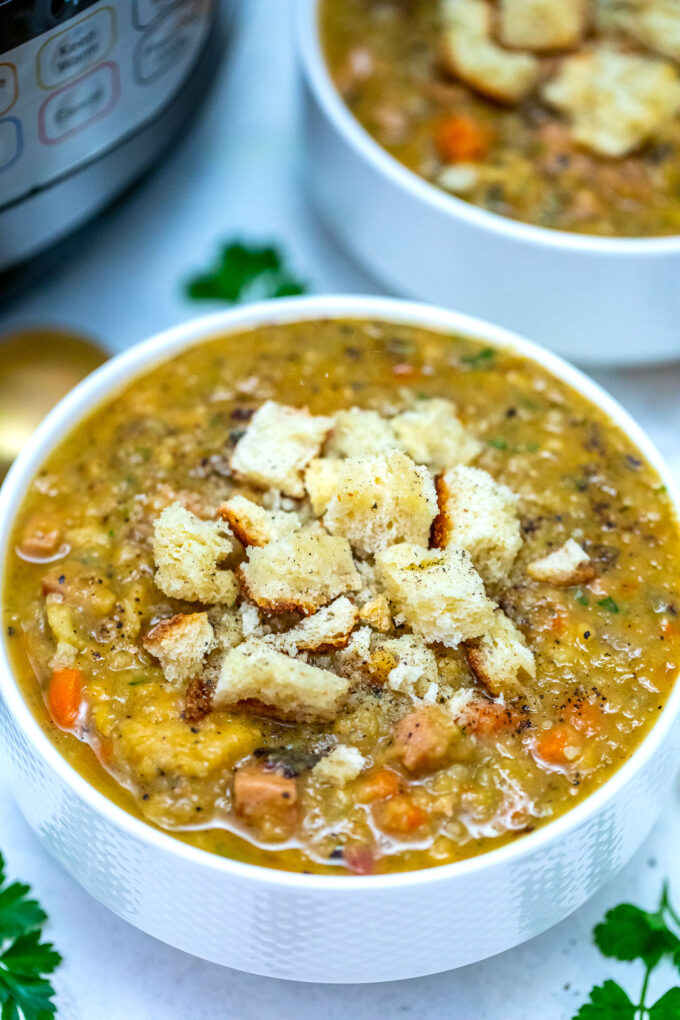 Instant Pot Ham Split Pea Soup Recipe
This recipe for Instant Pot Ham Split Pea Soup is made faster and easier than to cook it on the stove or the slow cooker. The IP is simply awesome like that!
Any dish becomes more convenient to cook using the IP. And that is what I badly needed this morning.
I was feeling under the weather earlier today. And so, I decided that it is time to cook this comforting dish using the pressure cooker.
Whenever I lack the energy to prepare something hearty, may it be because I feel lazy or sick, this recipe comes to mind all the time. The comfort that a thick rich soup like this brings is unmatched!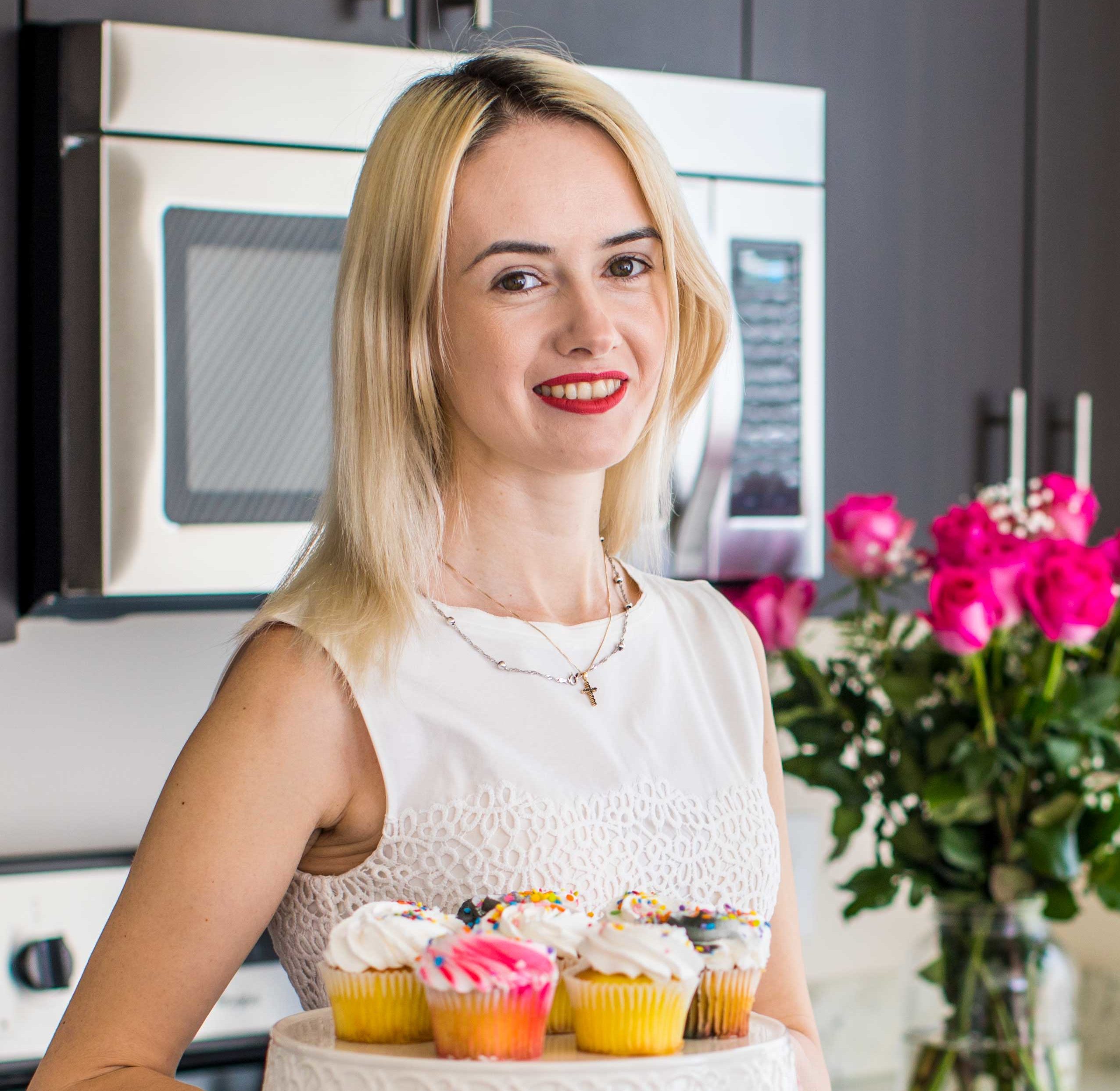 Follow us on Pinterest for more delicious recipes!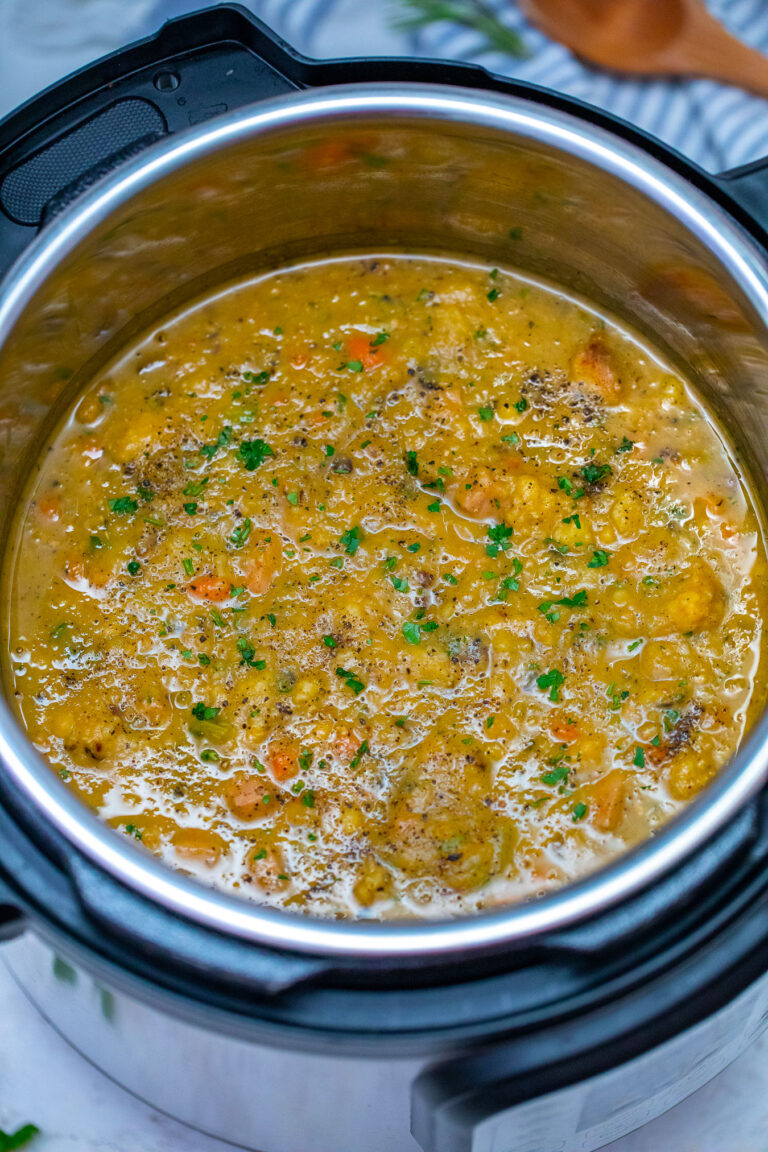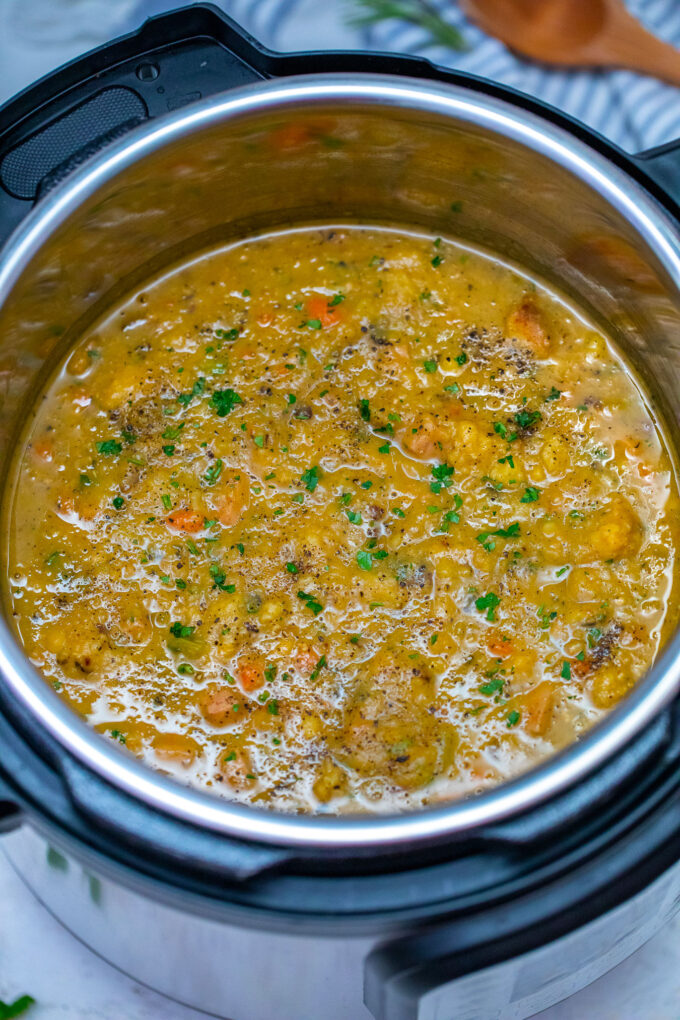 Is Instant Pot Ham Split Pea Soup healthy?
Yes, it is! Let us focus on how nutrient-dense the main ingredient for this dish is – the pea. It is a common food item that has been cultivated and consumed by man for centuries already all over the world.
And it says a lot about how this legume is beneficial to nutrition. This legume not only possesses versatility in its culinary purposes, but it also accounts for several health benefits such as being rich in dietary fibers, high protein content, and high in other antioxidants.
The high protein content and dietary fiber in it make this dish hearty. You will be left feeling satiated for a long time and hence, it can aid in your weight loss.
But anything in excess could also be detrimental. Be careful with your food intake, especially with cholesterol from the meat and the sodium in the broth.
How to Make Instant Pot Ham Split Pea Soup:
Sauté: Using this function of the IP, sauté the aromatics with the vegetables and some seasonings and spices. This step will release flavors from the ingredients as well as jumpstart the softening of the vegetables.
Pressure-cook: Add the rest of the ingredients including the peas, then, close the lid. Cook for about 15 minutes or so. Then, perform natural pressure release which will add around 15 minutes to the total time to prepare this dish.
Serve: If you used a ham bone, then, once the soup is cooked, remove the bone. Shred any meat that is still in the bone. And then, return the meat into the pot. Remove the bay leaf, too, then, serve in bowls topped with your favorite toppings.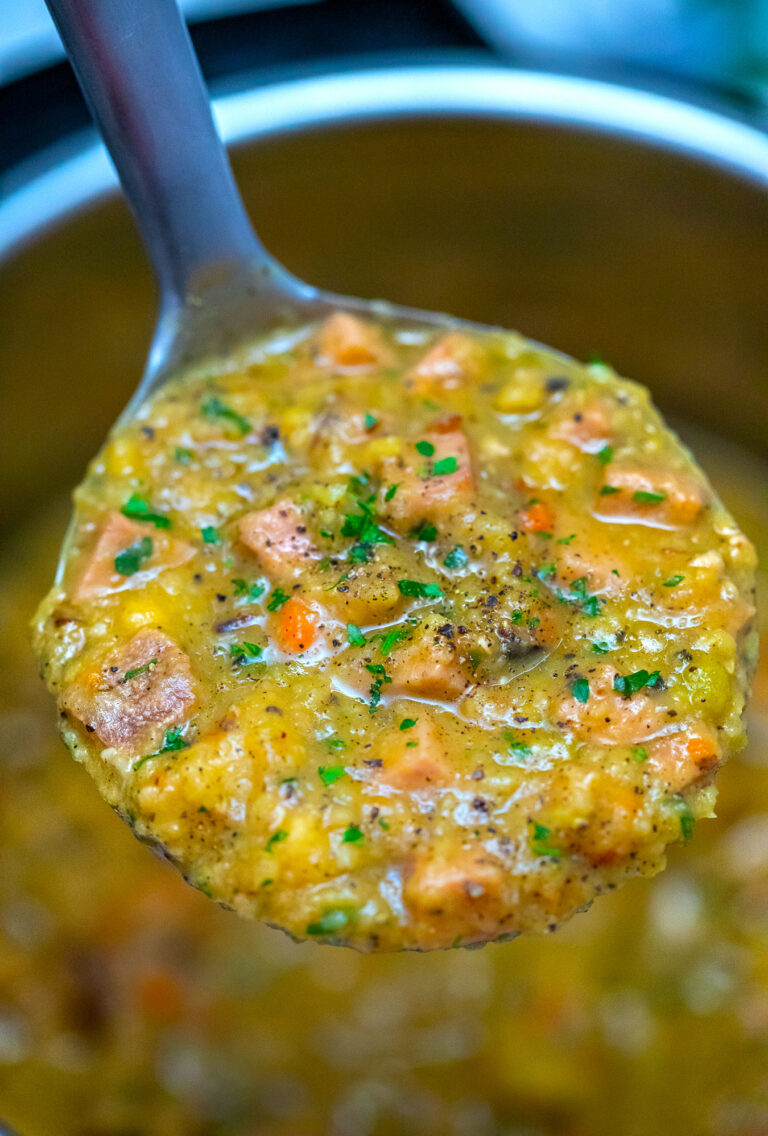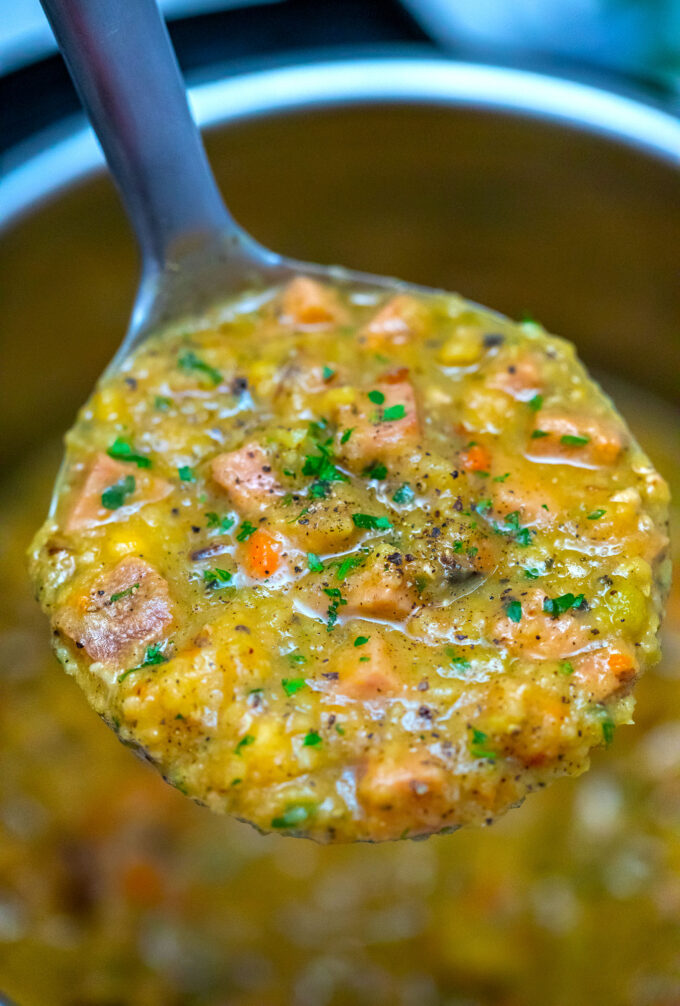 Can I use frozen split peas?
Absolutely! Drying the legumes is a traditional way to preserve the fresh ones and dried ones are what I prefer to use. But use the frozen kind if that is all you have. You will still be able to achieve a refreshing soup. I would cook for the same amount of time.
How to Make Split Pea Soup on the stove:
If you prefer the stove over the IP, you can follow this stovetop recipe!
How to Store Instant Pot Ham Split Pea Soup:
Refrigerate: Allow the dish to cool completely, transfer into airtight containers, and keep in the refrigerator for up to 3 days.
Freeze: You can extend the shelf life to up to 3 months by putting it in freezer bags and keeping it in the freezer. Thaw it first in the fridge before reheating on the stove.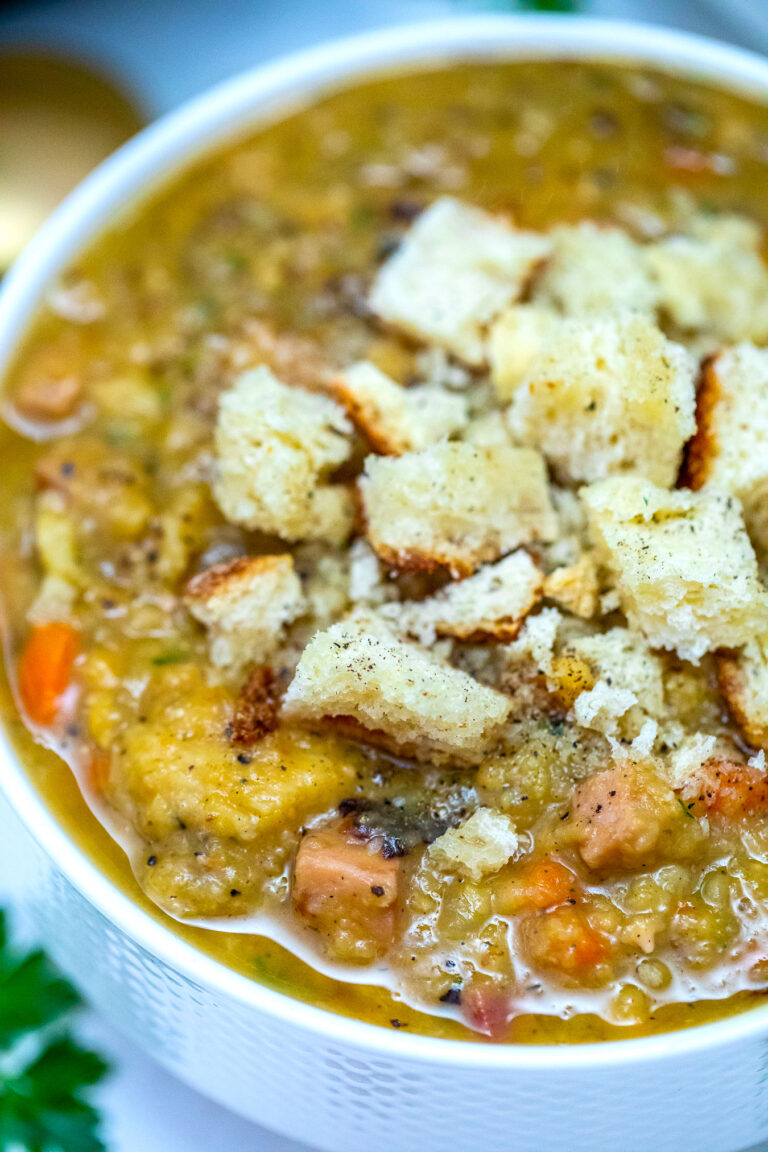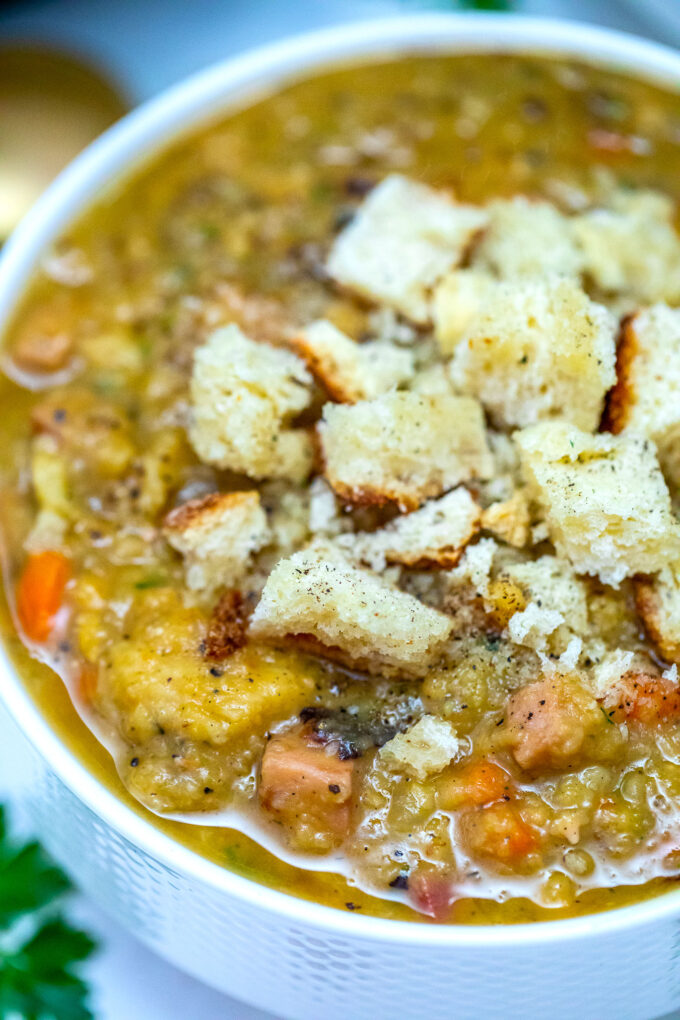 Recipe Tips:
If you want to make this vegetarian, leave out the meat entirely, use vegetable stock, and add liquid smoke. Further replacing the butter with olive oil makes it vegan-friendly.
Sautéing at the first part of the recipe is optional. You can simply put the ingredients directly in the IP and let it do its magic.
Check out this ham and bean soup recipe for another option for your leftover ham mixed with legumes.
Save Recipe
Instant Pot Ham Split Pea Soup
Instant Pot Ham Split Pea Soup is a quick and delicious way to use some leftover ham. It is a humble dish yet it is rich in flavor and nutrients!
Author: Catalina Castravet
Serves: 6 servings
Prep time:

30

minutes
Cook time:

30

minutes
Total time:

1

hr
Instructions
Sauté:
Pressure-Cook:
Serve:
Nutrition information
Calories: 410 Carbohydrates: 53 Protein: 31 Fat: 10 Saturated Fat: 4 Cholesterol: 46 Sodium: 2368 Potassium: 1131 Fiber: 21 Sugar: 9 Vitamin A: 3927 Vitamin C: 27 Calcium: 83 Iron: 5
Save Recipe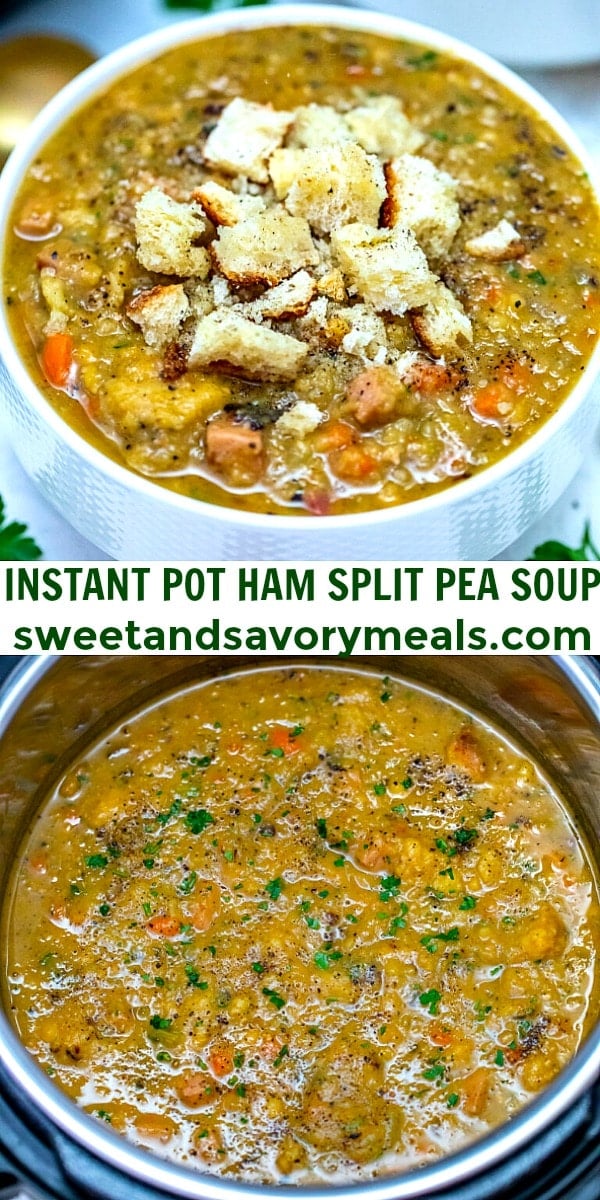 More recipes you might love