Slow Cooker Rice and Beans
Slow Cooker Rice and Beans is the perfect side dish or vegetarian meal you can make in the crockpot with just a few ingredients.
This dish is super healthy and tastes great. I love using the crockpot or Instant Pot for my veggies, like cooking Sweet Potato and Baked Beans.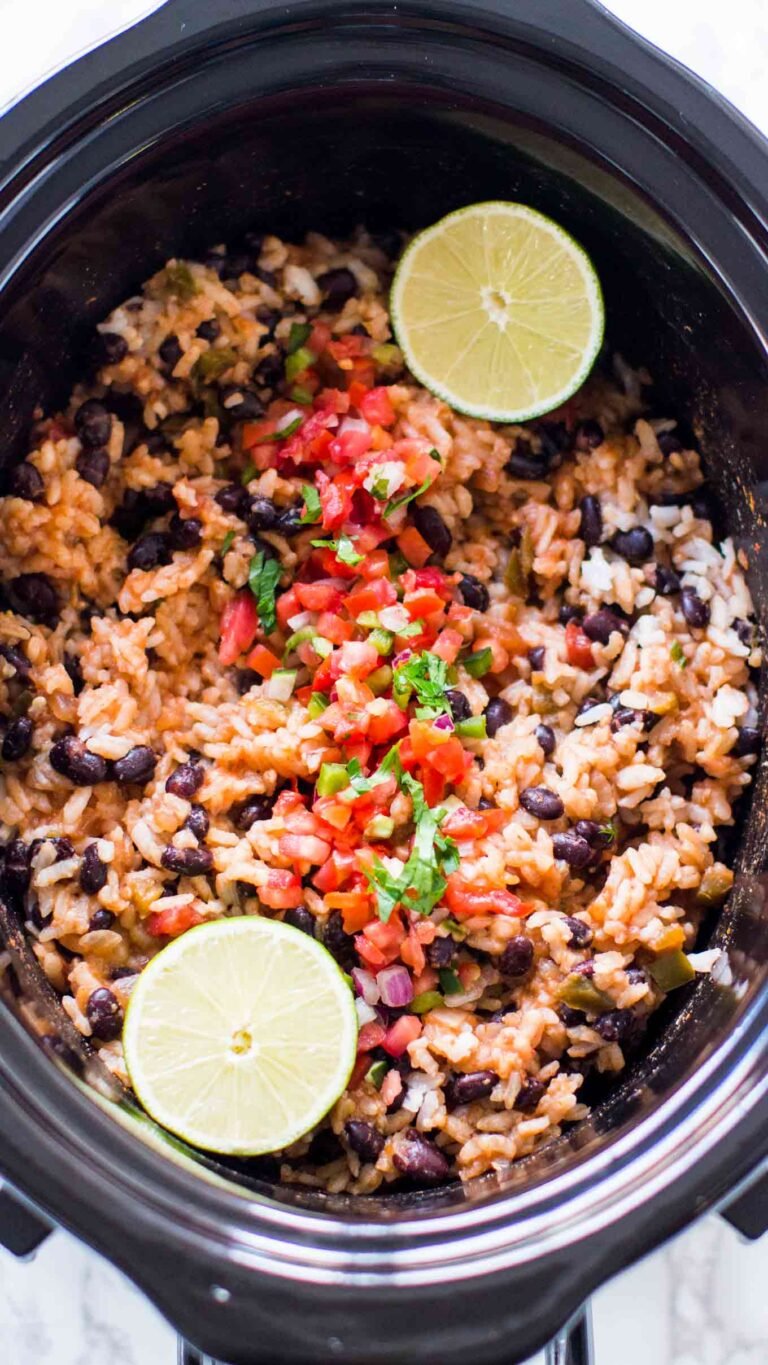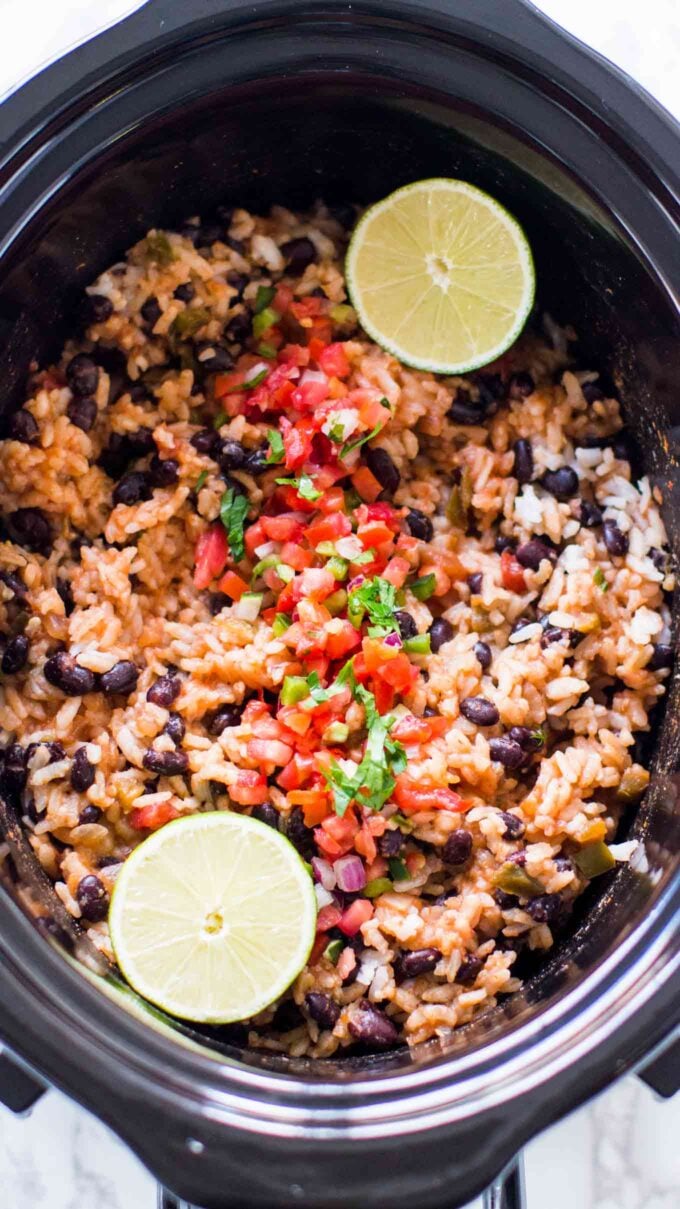 Best Slow Cooker Rice and Beans
Slow Cooker Rice and Beans is one of the easiest and very budget-friendly meals you can make. This can be a great side dish or a full vegetarian meal as it is very hearty and filling. I like to use this homemade recipe mixture as a burrito filling. All you have to do is add more protein, sour cream, cheese, salsa and lots of guacamole. I also like to serve this dish in bowls, pilled up with delicious fixings like Pico de Gallo, sour cream and sliced avocado.
If you are short on time and want a quick and easy meal, then this dish is the perfect one to go with. You simply dump the ingredients in the crockpot and let it do its magic. It can be enjoyed as a main dish, or side dish, and the leftover is amazing! Give it a try, and you will love it just as much as we do!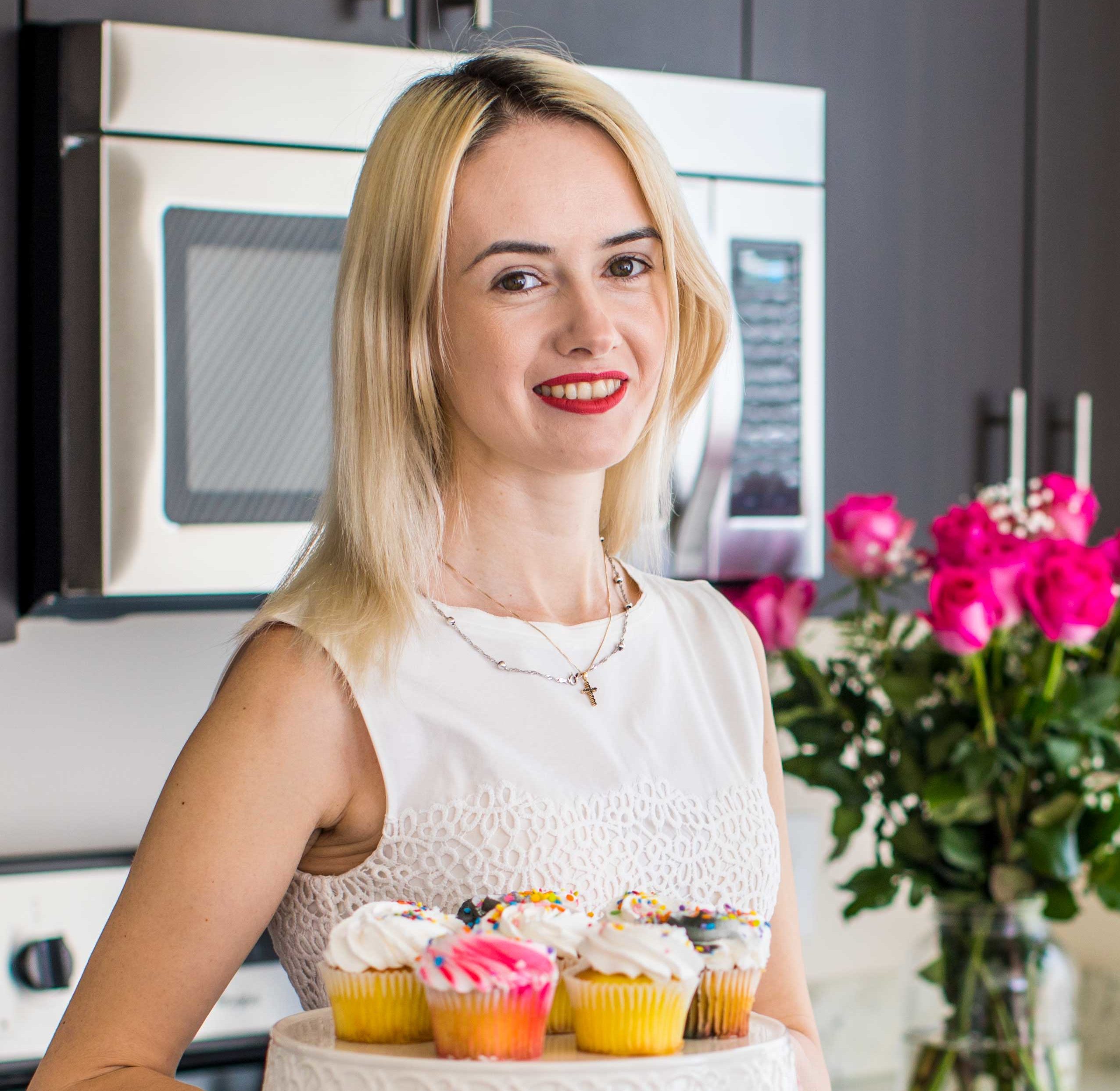 Follow us on Pinterest for more delicious recipes!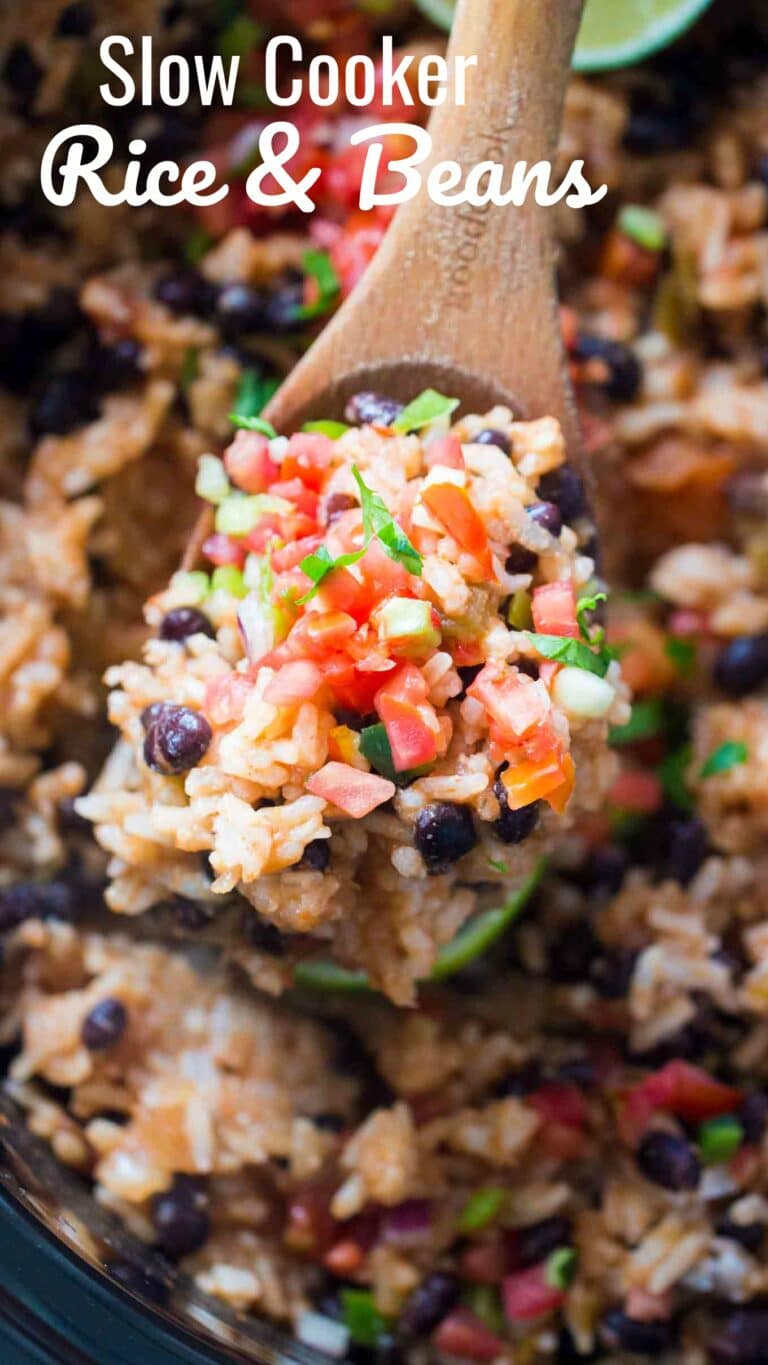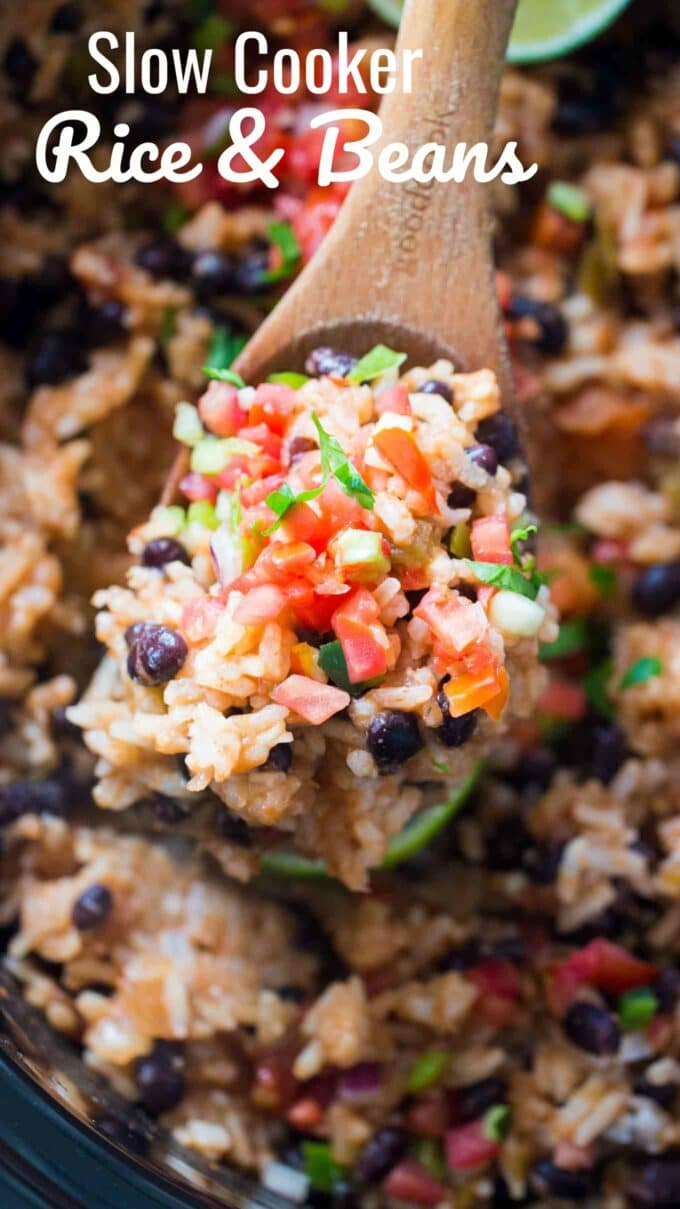 Tips and Tricks to make the perfect Slow Cooker Rice and Beans Dish:
I like to use black beans in this recipe, but you can substitute pinto beans as well.
If you prefer your food on the spicier side, feel free to add some chili powder to this dish.
I prefer to use chunky salsa in this recipe. It definitely has a better texture.
You can also add chopped jalapeños for a spicier kick.
A touch of lime zest will add freshness and great flavor to the dish.
Serve in bowls topped with sour cream, Pico de gallo, and avocado.
Serve as a burrito filling.
Can you put uncooked rice in a slow cooker?
Yes, you can. You can put uncooked rice to make soups or stews and also to make rice and beans.
Is rice and beans healthy?
They're both budget-friendly and create a filling dish that's low in fat and packed with complex carbohydrates. In addition, rice and black beans are high in protein and have at least 10 percent of seven vitamins and minerals.
Can I make Slow Cooker Rice and Beans with Brown Rice?
Yes, you can. You may need to add a little more broth, about 1/4 cup more. Check on rice mid-cooking and add 1/4 cup more if needed.
What can I eat instead of rice?
If you are looking to boost the nutrients in this meal, you can make it with quinoa. Quinoa is a popular superfood that it is easy to prepare and adds texture and crunchiness to many dishes.
It is also very versatile and can be used in place of other grains in many recipes. Perfectly portioned servings cook in only 12-15 minutes and are very convenient to use. Quinoa and beans are such a great combo if you are looking for a healthy side dish!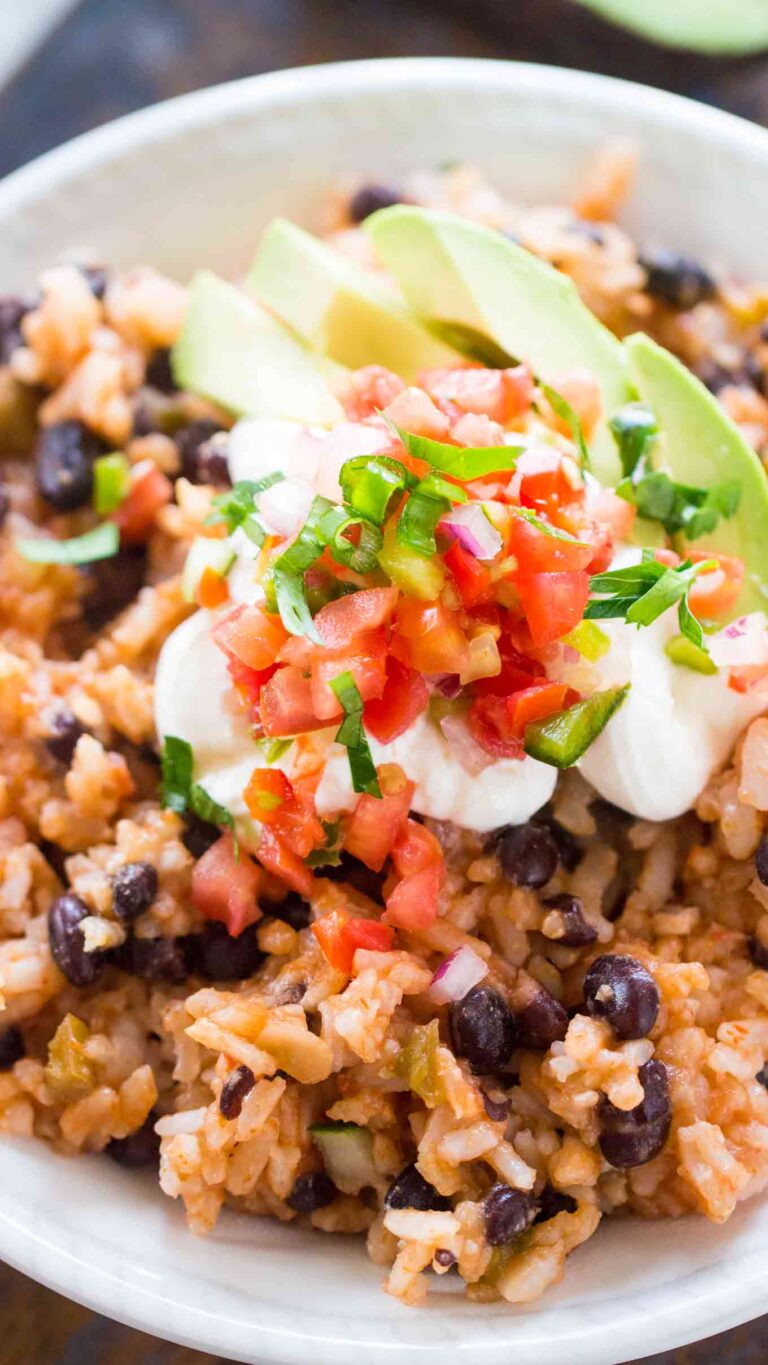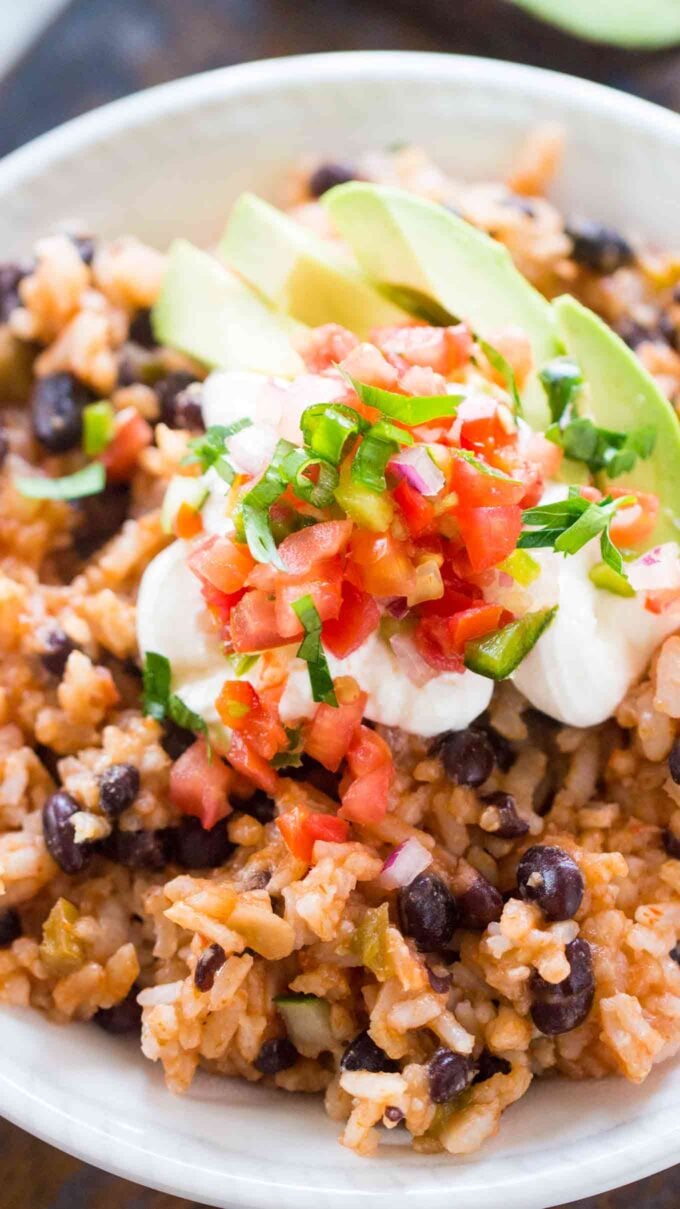 What to serve with crockpot rice and beans?
This is a full meal on itself. However, you can make it as a side dish and serve with some of the following:
How to store it?
If you end up with leftover rice, then you can simply transfer it to an airtight container. Then, put it in the fridge for up to 4 days. Reheat prior to serving.
Also, this dish can be frozen, in a freezer-proof bag for up to 3 months.
Save Recipe
Slow Cooker Rice and Beans
Author: Catalina Castravet
Serves: 6 servings
Prep time:

10

minutes
Cook time:

3

hours

20

minutes
Total time:

3

hrs

30

mins
Ingredients
2 14 oz cans black beans (rinsed and drained)
1 cup Arborio Rice
1 1/4 cups vegetable broth or water
1 cup chunky mild salsa
1 teaspoon cumin
1 teaspoon taco seasoning
1 teaspoon garlic powder
1 teaspoon onion powder
1/4 teaspoon salt
1/4 teaspoon pepper
1/4 teaspoon chili powder (optional)
1 teaspoon lime zest
Instructions
Add rinsed and drained beans, rice, water, salsa, cumin, taco seasoning, garlic powder, chili powder, onion powder, salt and pepper to the slow cooker.
Cover and cook on LOW for 3-5 hours.
Check after 3 hours, stir and if needed add 1/4 cup of water more.
Once ready, stir in lime zest.
Top with homemade or store-bought Pico de Gallo and serve in bowls, topped with sour cream, avocado and extra Pico de Gallo.
Or serve as a burrito filling!
Enjoy!
Calories: 311 Carbohydrates: 62 Protein: 15 Fat: 1 Saturated Fat: 1 Sodium: 410 Potassium: 630 Fiber: 13 Sugar: 2 Vitamin A: 233 Vitamin C: 1 Calcium: 52 Iron: 5 g
Save Recipe
More recipes you might love