The Best Crockpot Meatloaf [Video]
Crockpot Meatloaf is amazingly juicy and flavorful, easily made in the slow cooker. This is a hearty and perfect dinner to enjoy during a busy weeknight.
Making a delicious and tender meatloaf could not be any easier. This full-proof recipe is our favorite to make because it always tastes amazing, and requires minimal preparation work. The homemade glaze on top is made of ketchup, brown sugar, apple cider, and some sweet chili sauce, and it complements this dish perfectly. We love serving it with mashed potatoes, roasted asparagus, or scalloped potatoes.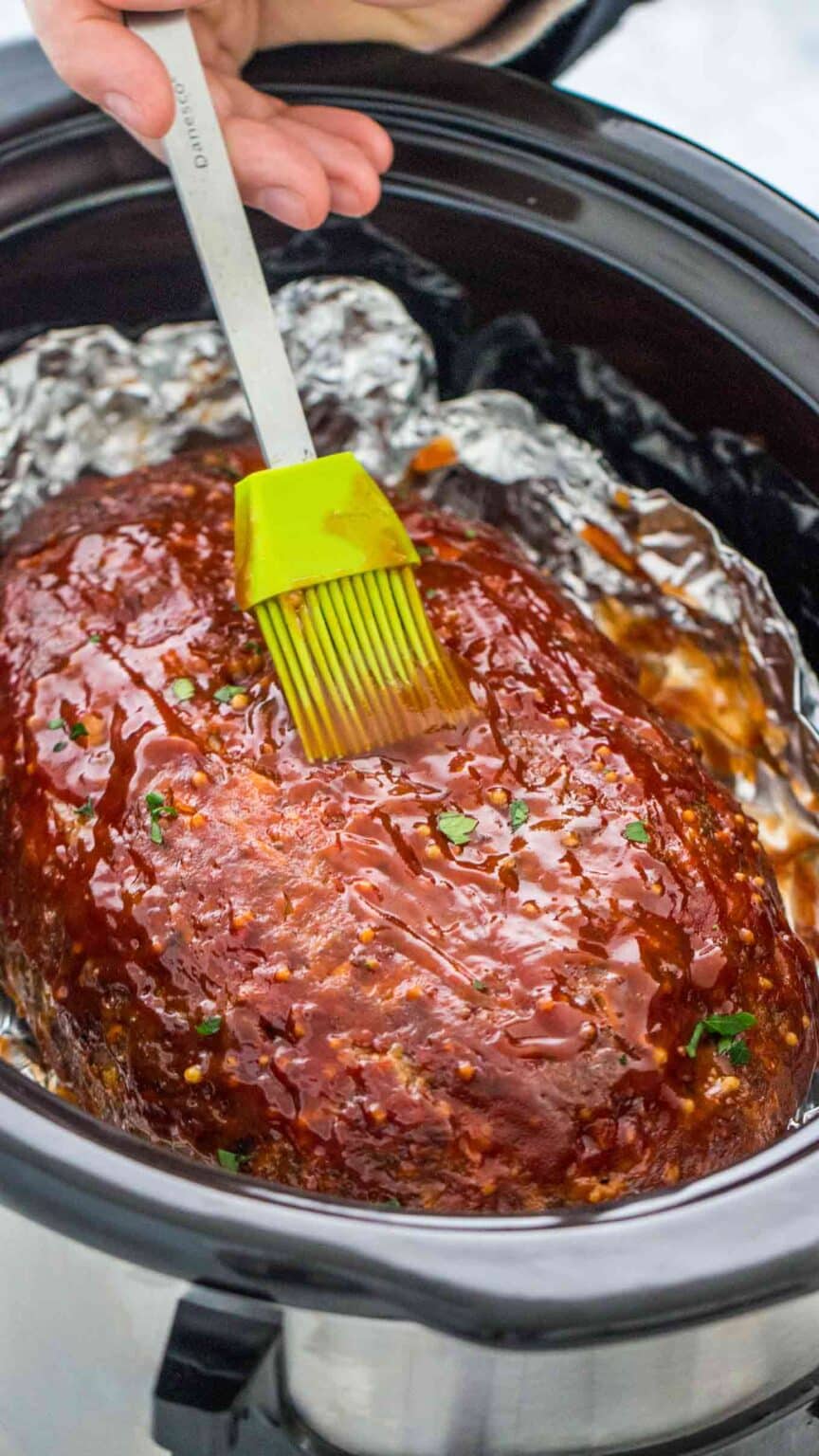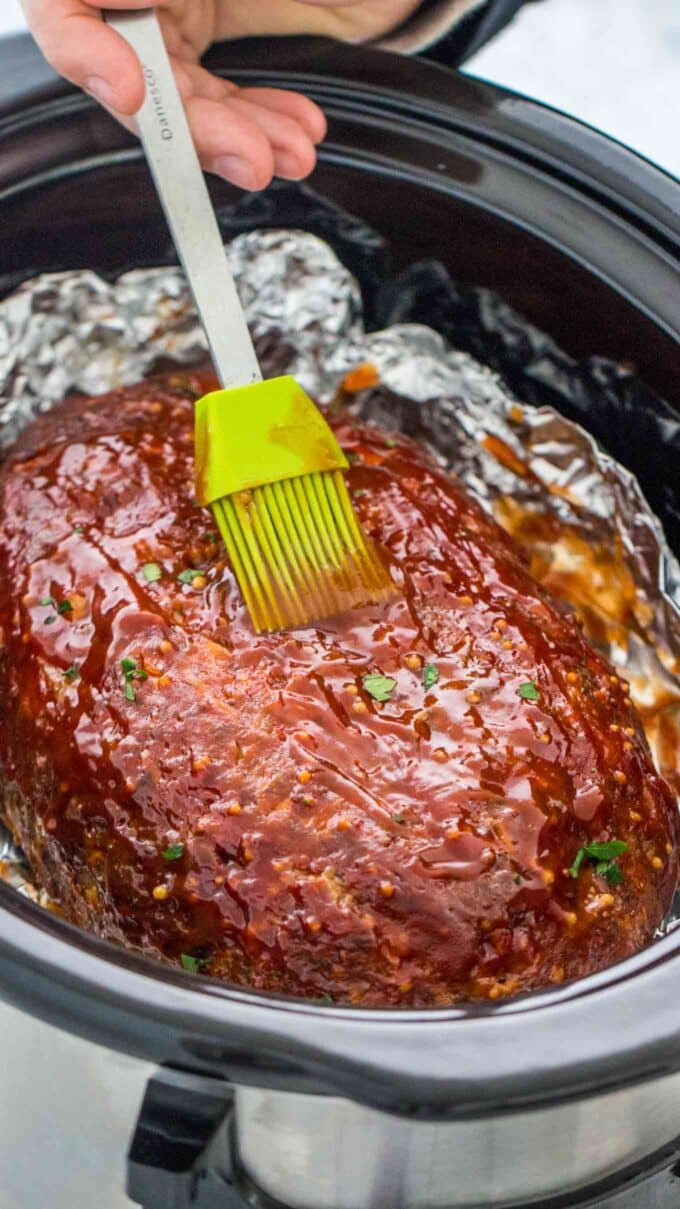 Crockpot Meatloaf Recipe
Crockpot Meatloaf is guaranteed to come out perfectly juicy, moist, NOT dry, or tasteless. Just like the classic recipe, this recipe is super flavorful and quite easy to make. We love making this recipe for a busy weeknight meal. A great way to enjoy classic comfort food, with less stress!
It takes 15 minutes to prepare, and the only thing to chop is 1 onion. Then, simply put it in the slow cooker for 6 hours and have a tender, comforting homemade meal that the whole family will go crazy over.
Once you slice into it, you will realize just how flavorful and moist it is. You can enjoy it as is, or take advantage of leftovers and turn them into the best meatloaf sandwiches. Similarly, this recipe can be prepared ahead of time. Just cover the loaf with plastic wrap and refrigerate it until you're ready to enjoy it.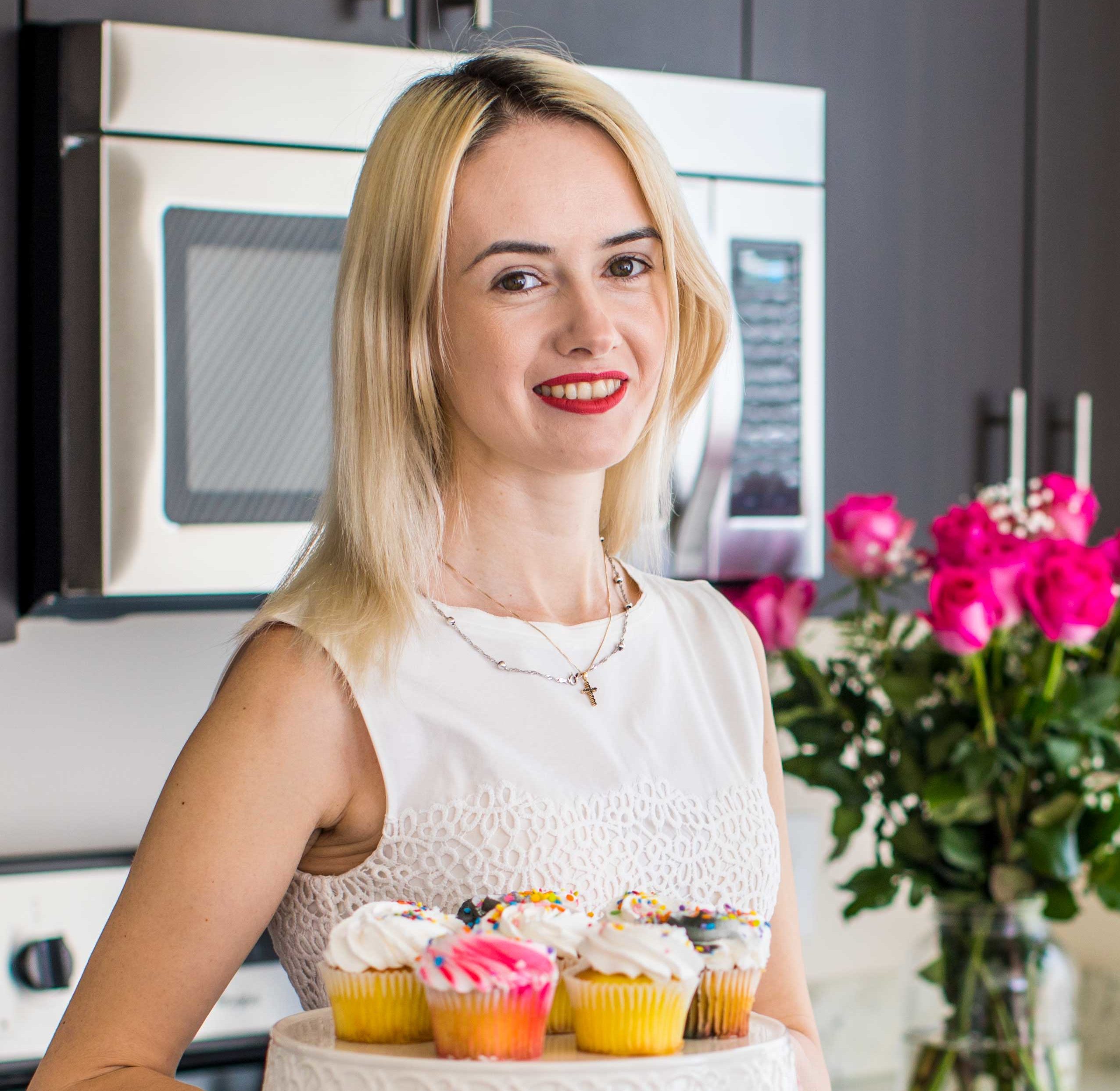 Follow us on Pinterest for more delicious recipes!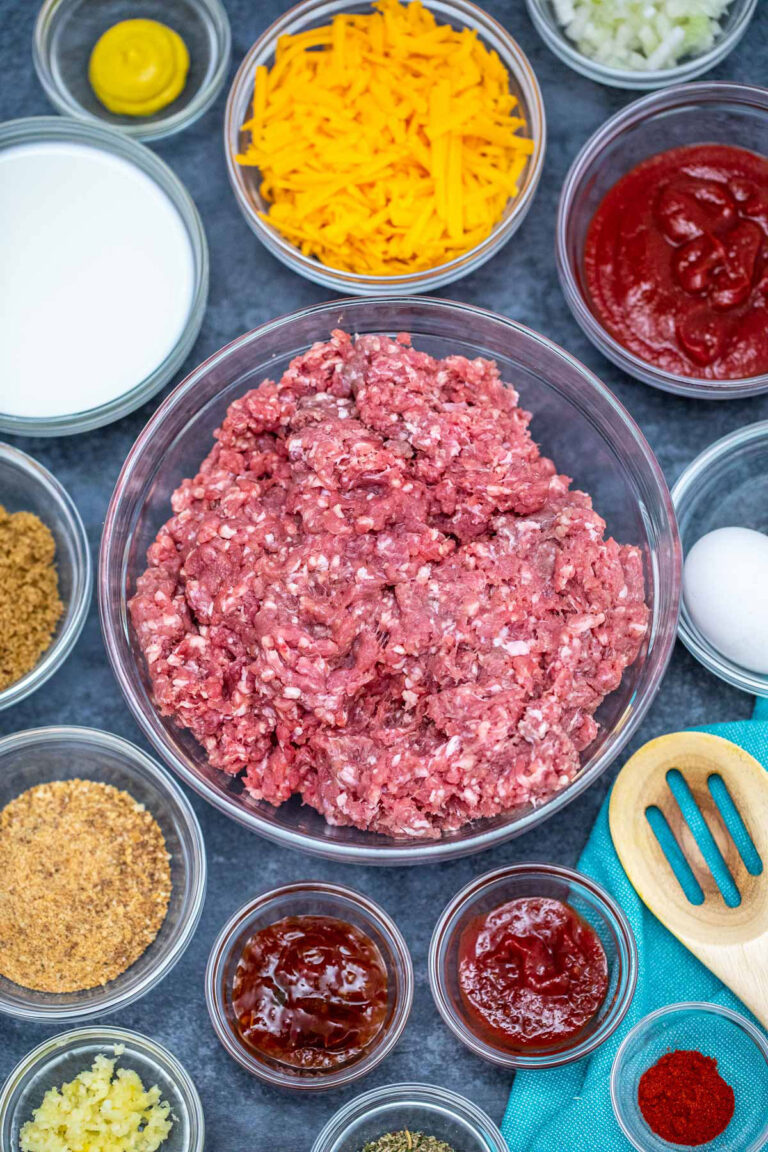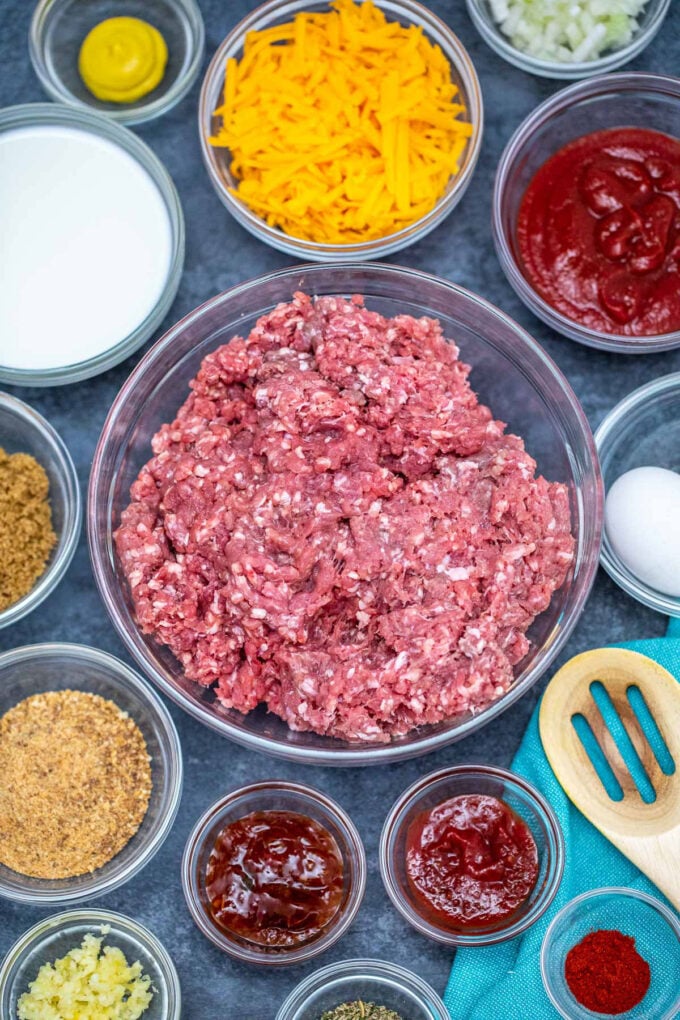 Why Cook Meatloaf in the Crockpot?
We have been making this slow cooker dish for some time, and it's our favorite way of doing it. Firstly, making it in the crockpot will result in one of the most tender and moist meats you can imagine. The flavors are elevated because this dish is slowly cooked over a longer period of time, resulting in an aromatic and rich meal.
Secondly, it is convenient and easy to prepare. Just assemble the loaf together in the morning, put in the pot for hours, and go with your day. When you come home, you have a delicious dinner ready.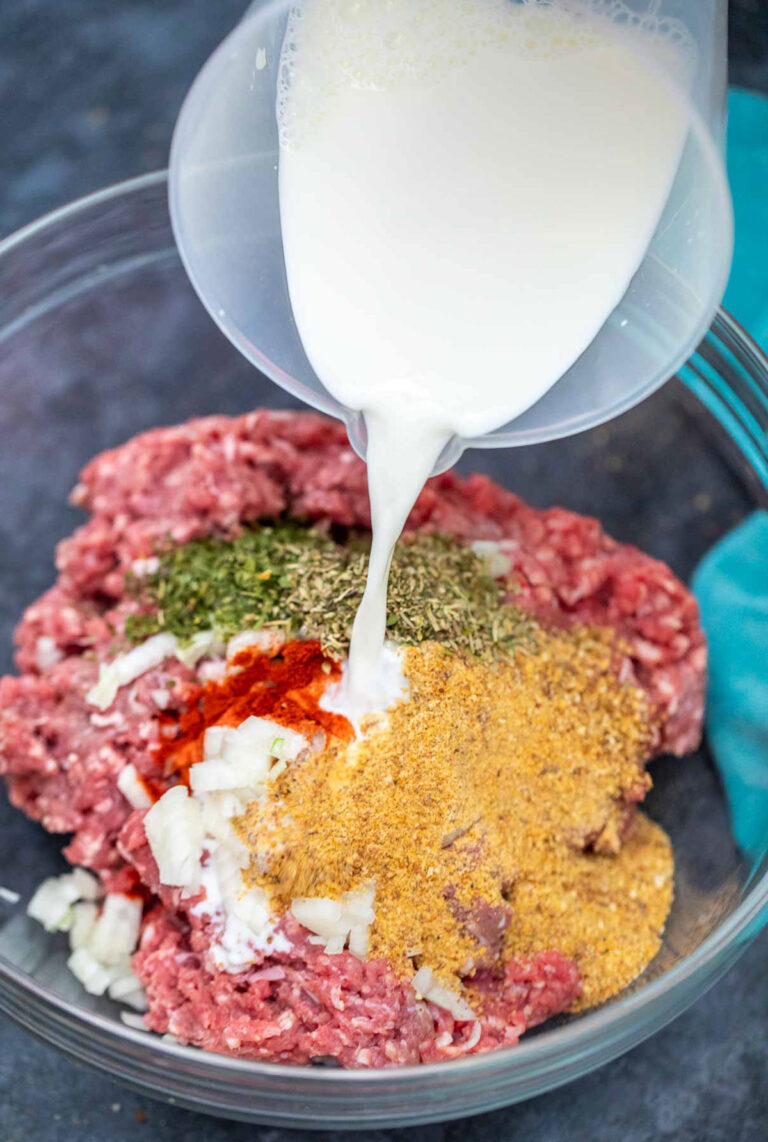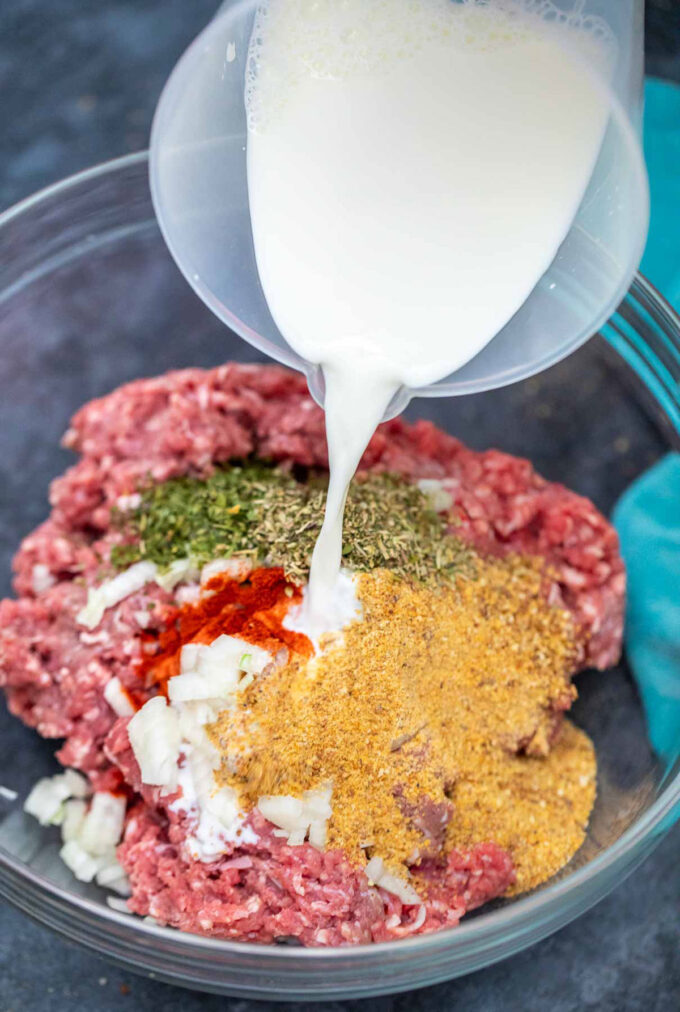 How to shape meatloaf?
There are a couple of options here. You can either:
Dump your meat mixture onto a tray and assemble it into a loaf shape yourself. This is our preferred way of doing it since it has a homemade look.
Mold it in a loaf pan and then place it in the pot. This way you will have a nice and uniform shape to it.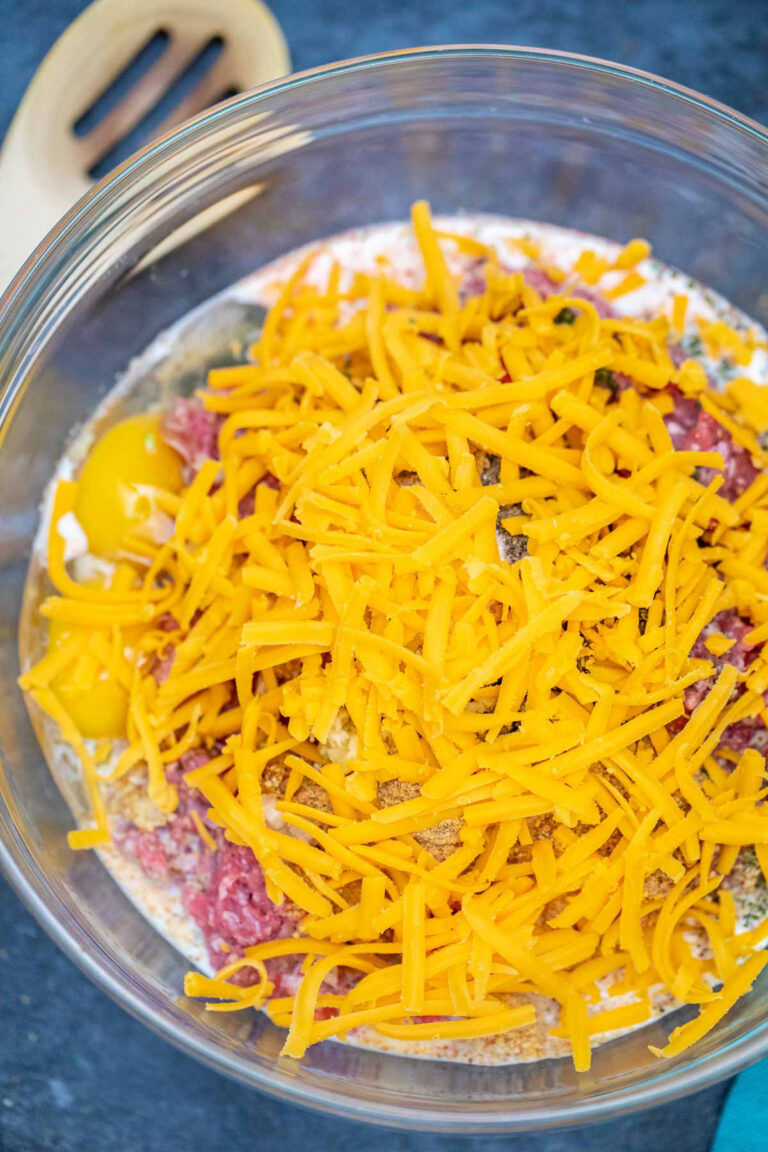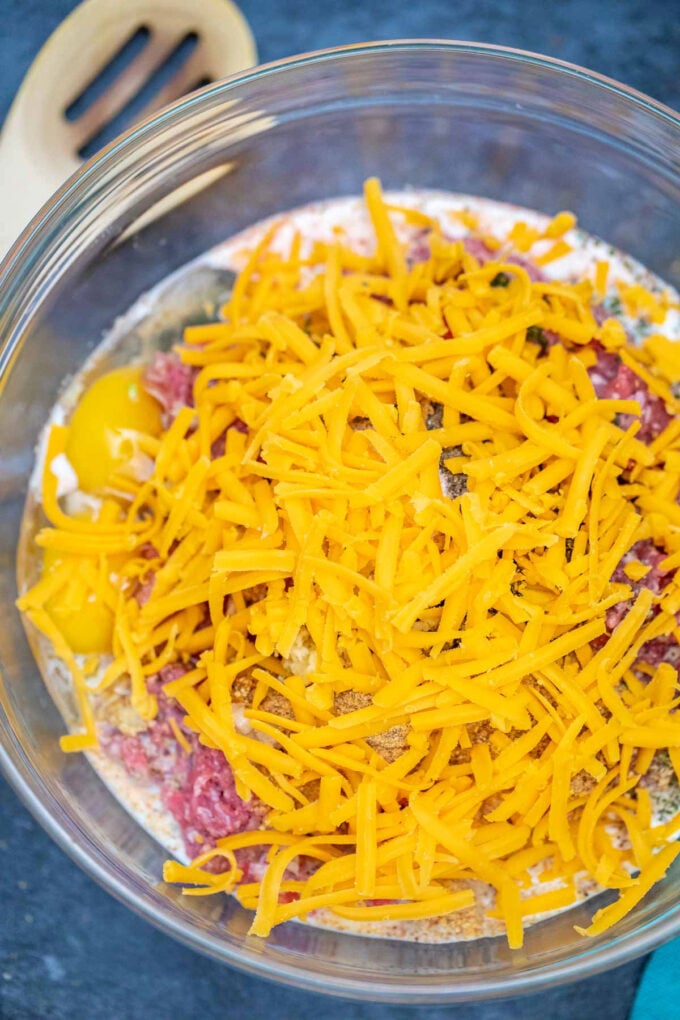 How to Make Meatloaf in a Crockpot
This is one of the easiest dishes to make in a slow cooker. Also, for quick guidelines, check the recipe video tutorial attached.
In a large bowl, combine meatloaf ingredients together and mix well.
Next, assemble the mixture into a loaf shape by hand.
Line the slow cooker with foil and place the loaf into it.
Top it with glaze, cover, and cook.
Once done cooking, uncover from foil and broil for few more minutes.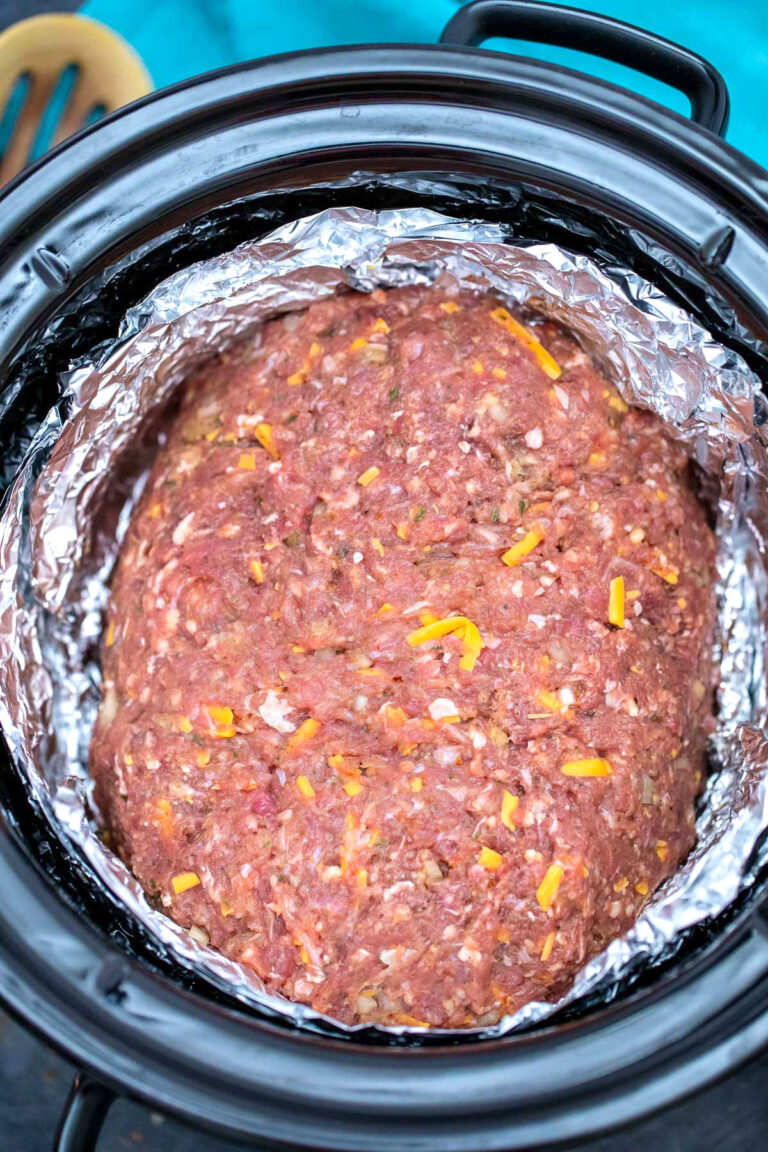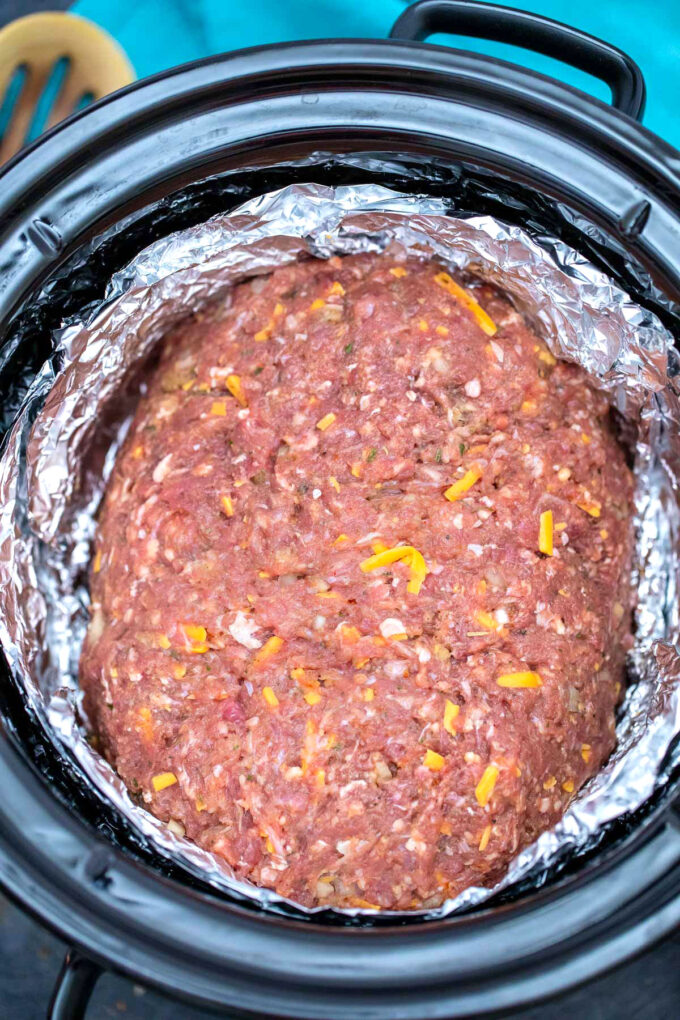 How Long Does it Take to Cook Meatloaf in the Crockpot?
This will depend on the size of the loaf. For a 2 pounds size, cook it on LOW for about 6 hours, or on HIGH for about 3 hours. It is best to check the meat readiness by a meat thermometer. You want to have an internal temperature of 160 degrees F.
How to make meatloaf in the oven?
We already have a classic oven version of this recipe that is just as delicious and flavorful. You can check the recipe by clicking this link.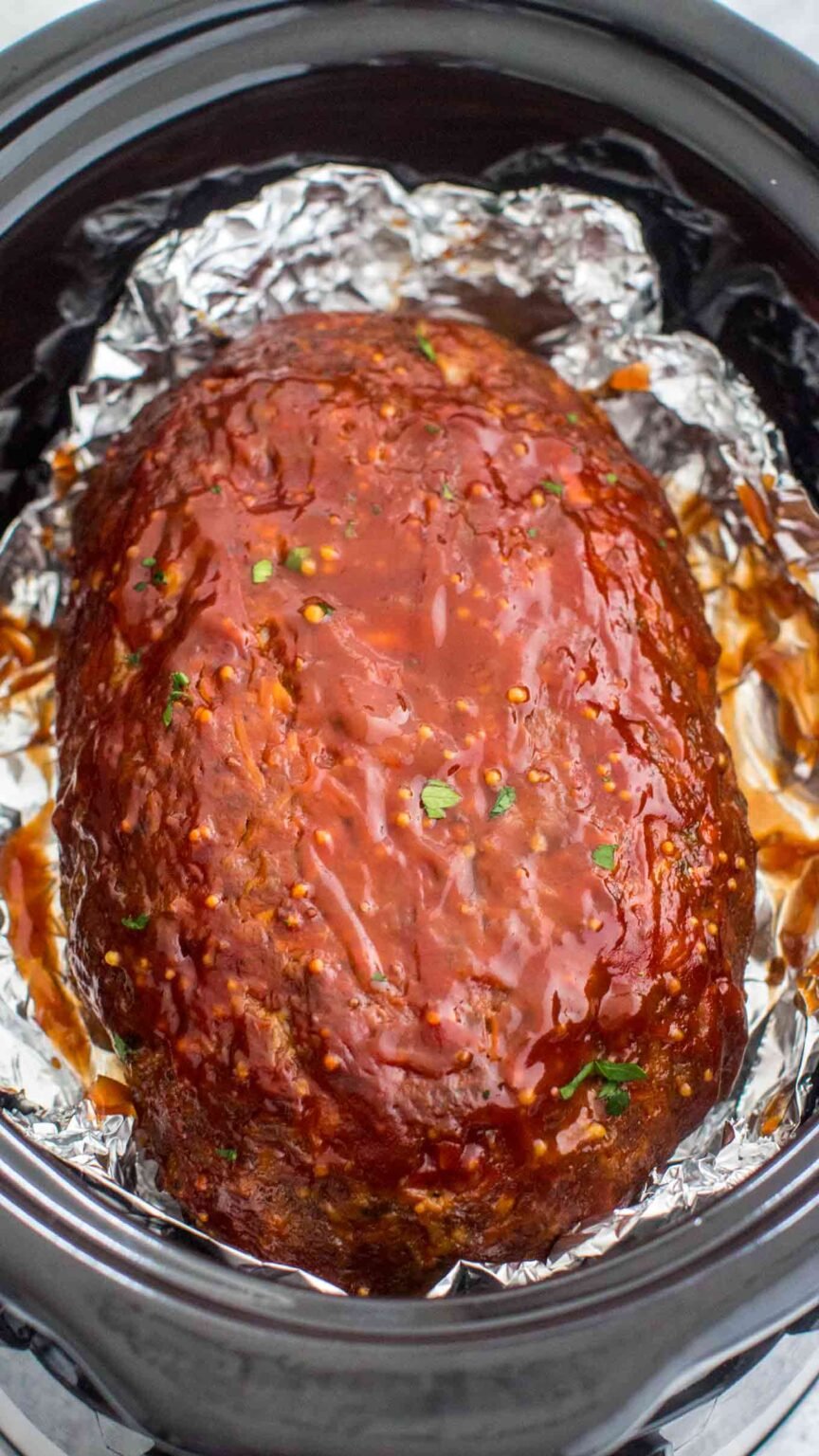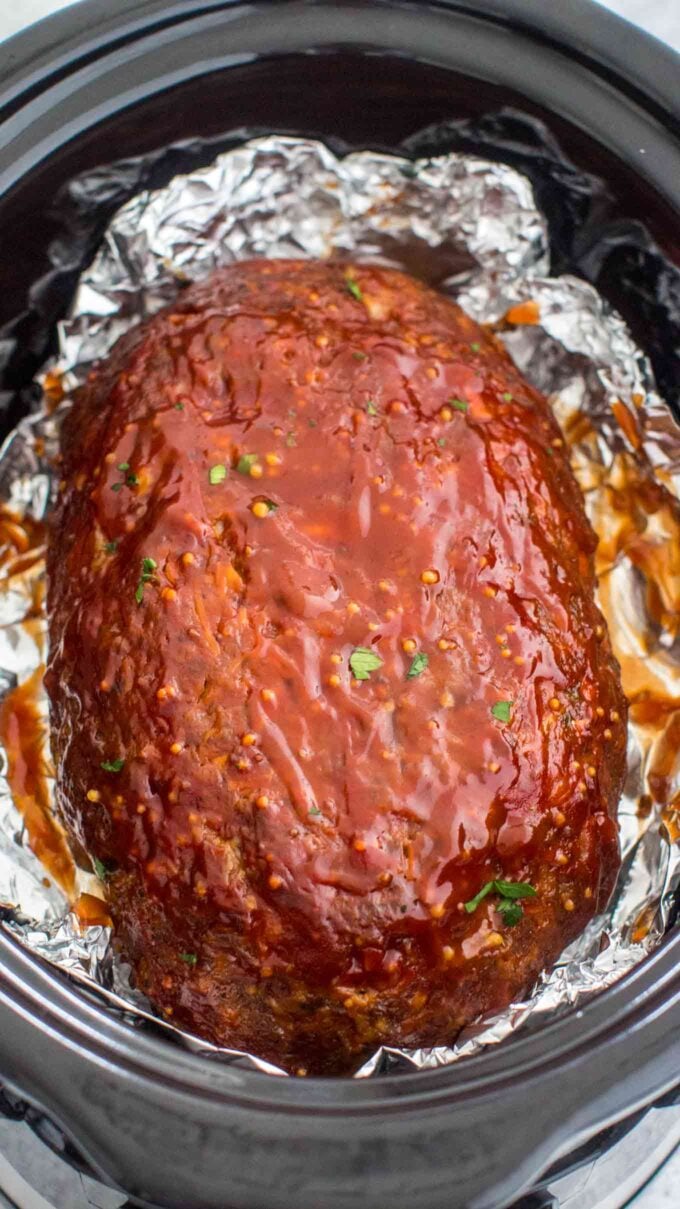 Can you freeze meatloaf?
Absolutely! Before freezing, ensure it is completely cooled. You can freeze it whole or in individual slices wrapped in parchment or baking paper to keep them juicy.
Simply, place all slices in an airtight container or freezer bag and freeze for up to 3 months. Reheat the slices in the oven or microwave before consuming it.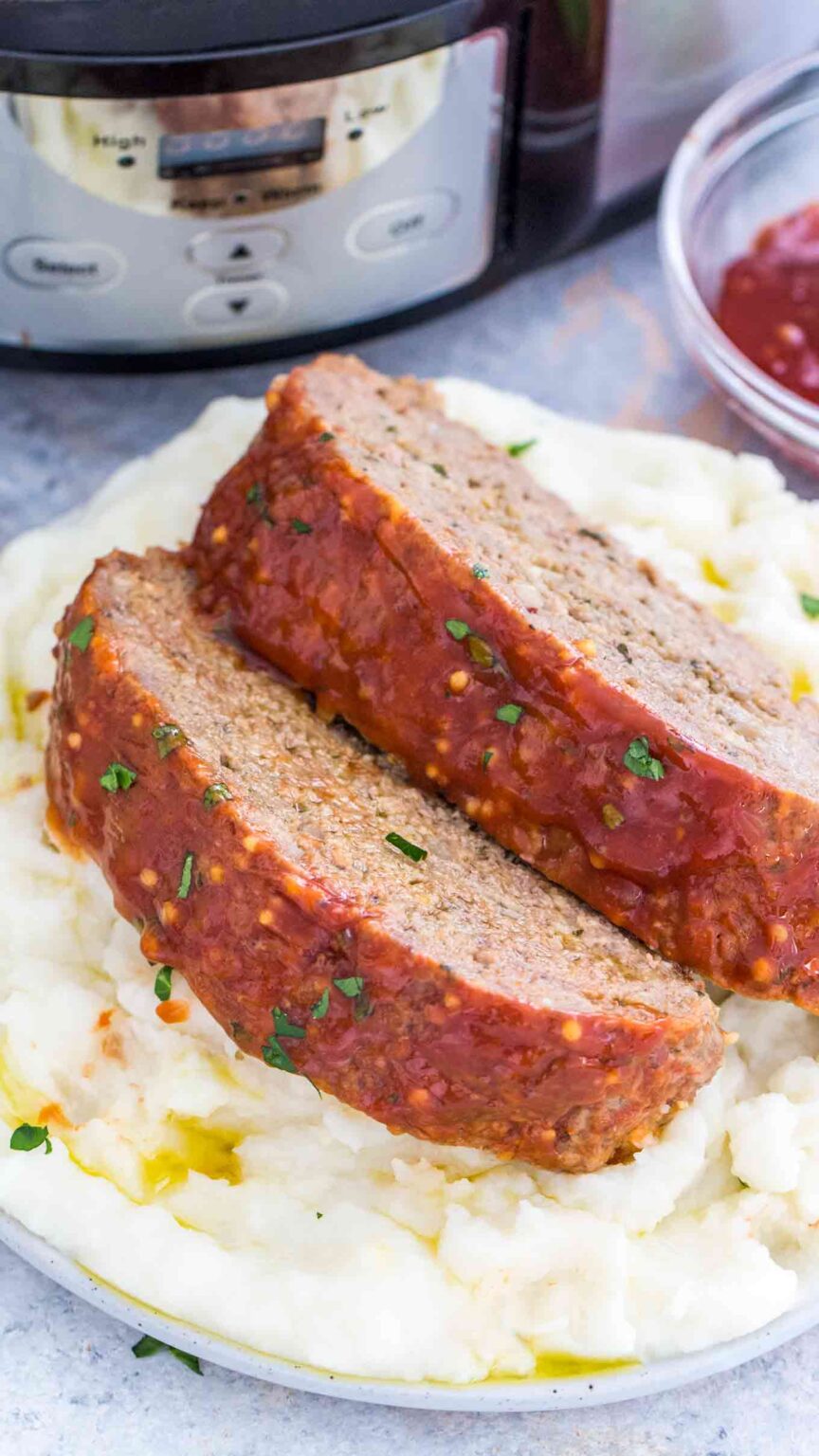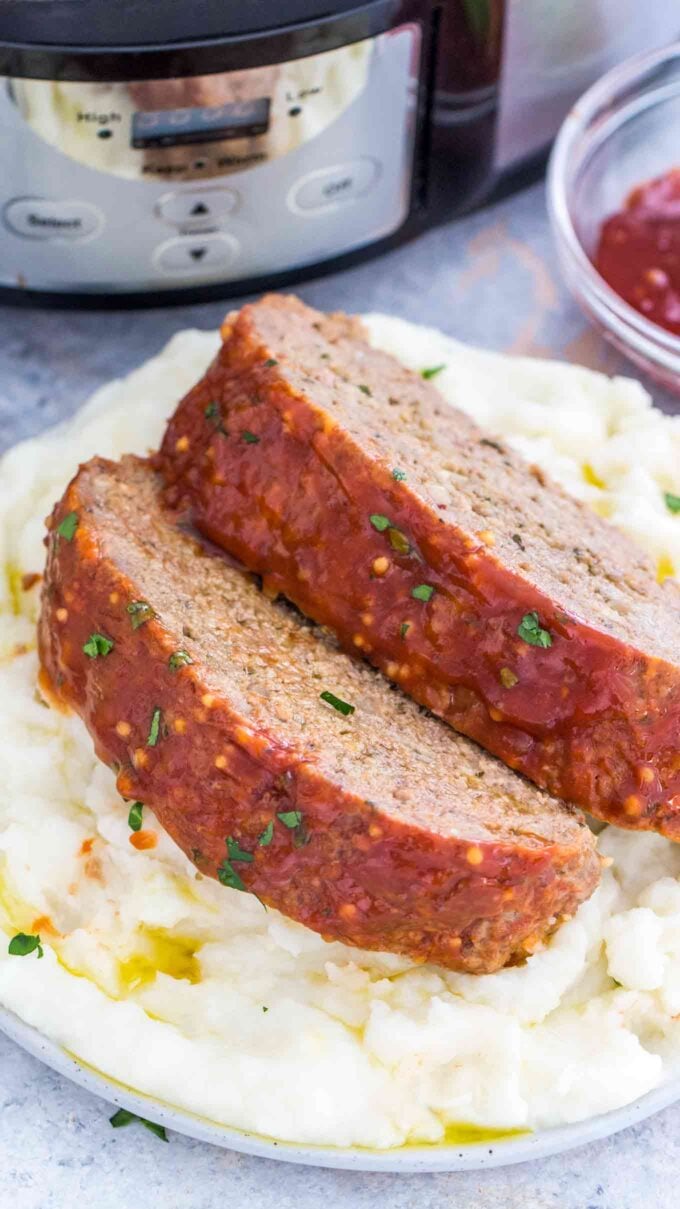 Great side dishes to serve with meatloaf?
Crockpot Meatloaf Recipe TIPS:
To make ahead, prepare and shape the meatloaf in advance, then cover and refrigerate for up to 12 hours.
Use beef with a good ratio of beef to fat. For this version, we recommend using 80/20 or 85/15, but no leaner. Beef that is too lean can lead to a drier meatloaf.
Avoid over-mixing your meat as it might result in a tougher loaf. Preferably, you only want to mix until the ingredients have just combined.
Also, using milk will result in a juicier loaf. If you can't use dairy, you could try substituting with non-dairy milk.
Don't be shy using the glaze! Spread some sauce over the top before cooking the loaf, and then add some once cooking is complete and right before broiling it. This will result in a nice and sticky dish.
Similarly, if you are short on time, store-bought BBQ sauce can be used.
For more delicious and homemade slow-cooker recipes, check out our recommended list of crockpot dinners.
Save Recipe
Best Crockpot Meatloaf
Crockpot Meatloaf is amazingly juicy and flavorful, easily made in the slow cooker. This is a hearty and perfect dinner to enjoy during a busy weeknight.
Author: Catalina Castravet
Serves: 8 servings
Prep time:

15

minutes
Cook time:

6

hours
Total time:

6

hrs

15

mins
Ingredients
Meatloaf Glaze:
Nutrition information
Calories: 363 Carbohydrates: 13 Protein: 22 Fat: 24 Saturated Fat: 9 Cholesterol: 122 Sodium: 546 Potassium: 443 Fiber: 0 Sugar: 11 Vitamin A: 260 Vitamin C: 2.1 Calcium: 78 Iron: 2.7
Save Recipe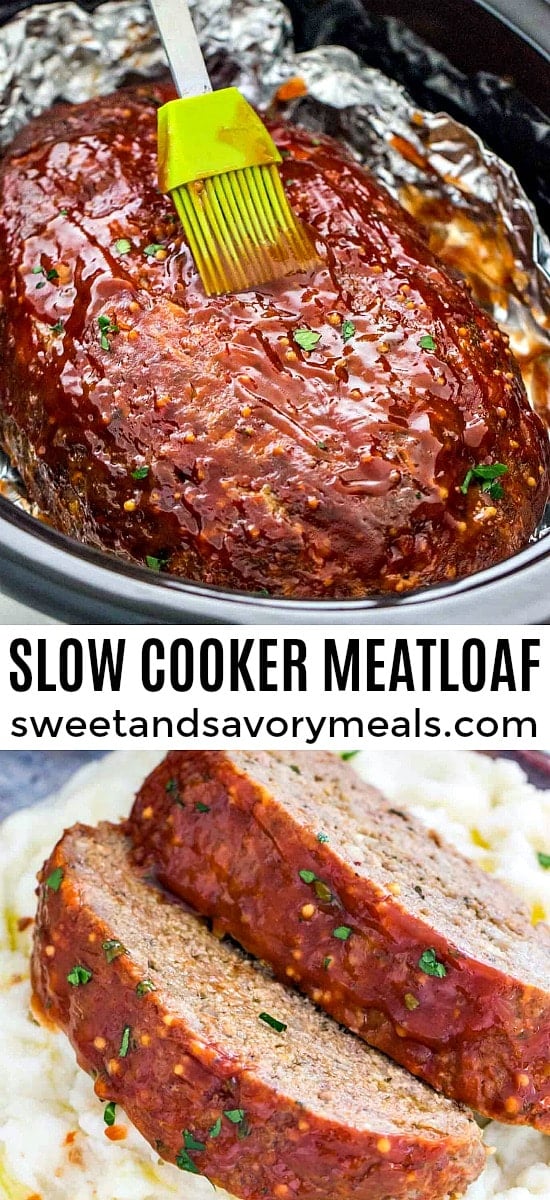 More recipes you might love
Categories: