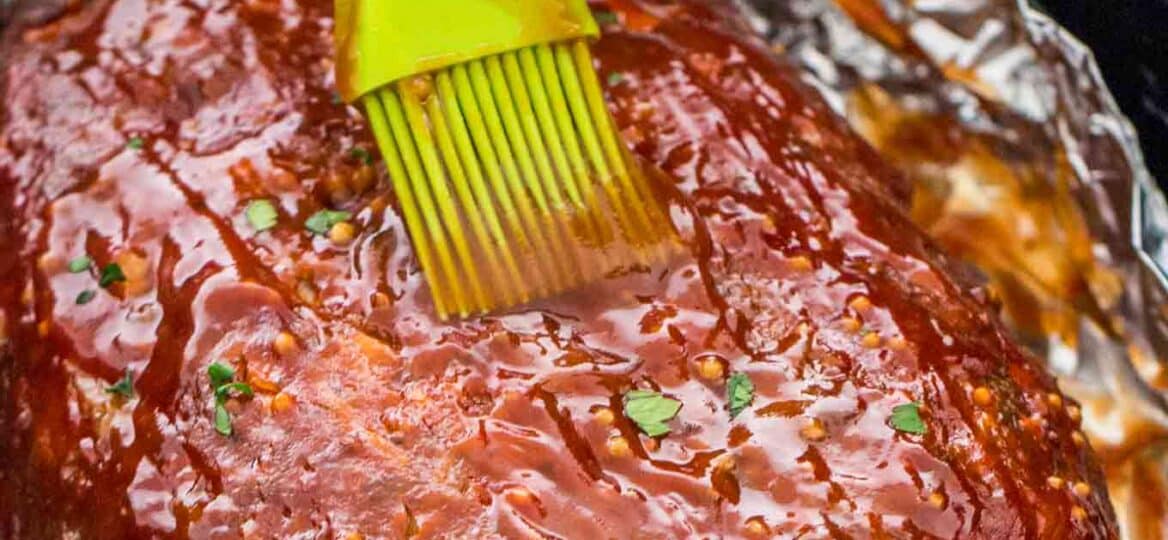 The Best Crockpot Meatloaf [Video]
Crockpot Meatloaf is a juicy and flavorful dinner, easily made in the slow cooker. Classic comfort food made with ground beef, cheese, and a sweet and tangy glaze. This is a hearty and tasty main dish is perfect to enjoy during busy weeknights.
Making a delicious and tender meatloaf could not be any easier. This full-proof recipe is our favorite to make because it always tastes amazing, and requires minimal preparation work. All you have to do is mix the ingredients, shape them, and add them to the slow cooker. We love serving it with mashed potatoes, roasted asparagus, or scalloped potatoes.
Crockpot Meatloaf Recipe
Slow Cooker recipes are guaranteed to come out perfectly juicy, moist, NOT dry, or tasteless. Just like the classic meatloaf recipe, this crockpot version is super flavorful and quite easy to make. We love making this recipe for a busy weeknight meal. A great way to enjoy classic comfort food, with less stress!
It takes 15 minutes to prepare, and the only thing to chop is an onion. Then, simply shape it, put it in a foil lined slow cooker for 6 hours, and have a comforting homemade meal that the whole family will love.
The end result is flavorful and moist, great to slice into, without falling apart. Also, it has the best homemade glaze on top, made of ketchup, brown sugar, apple cider, and some sweet chili sauce. It complements the dish and elevates the flavors.
You can enjoy it as is, or take advantage of leftovers and turn them into the best meatloaf sandwiches. perfectly.
Similarly, this recipe can be prepared ahead of time. Just cover the loaf with plastic wrap and refrigerate it until you're ready to enjoy it.
Ingredients needed:
Crock Pot Meatloaf:
Ground beef – we use 85 to 90 % lean, as the other with a higher fat content has more saturated fat and also doesn't slice as well.
Onion – make sure it is finely diced.
Bread crumbs – plain or flavored.
Seasoning: We use a combination of Italian seasoning, dried parsley, paprika, salt, and pepper.
Whole milk: Adding milk will result in a more tender loaf.
Worcestershire sauce – The tanginess highlights the meat flavor.
Eggs
Garlic – We use fresh, but garlic powder will work as well.
Cheese – While optional, it improves the texture and obviously it makes it taste better.
Glaze:
Ketchup
Tomato paste
Brown sugar
Apple cider vinegar
Sweet chili sauce
Yellow mustard
How to make Crockpot Meatloaf from scratch?
Prepare the meat mixture: First, in a large bowl combine all the ingredients for the slow cooker meatloaf. Then, shape it into an oval.
Add foil: After that, take a piece of aluminum foil and press it into the bottom of the slow cooker. Make sure to lightly spray it with cooking spray.
Cook: Next, add the shaped meat into the aluminum overhang, cover and cook, slow cook it on low for 6 hours or on high for about 3 hours.
Glaze: In the meantime, mix all the glaze ingredients in a small or medium bowl until combined.
Broil: Finally, when the meat has finished cooking, drain the grease and transfer it to a baking sheet. Next, brush the glaze on top, and after that broil it for a few minutes.
Serve: After that, let it rest for 10 minutes, slice, and serve warm with your favorite side dishes.
Recipe Variations:
Meat: Use different types of meat to make this recipe, try ground turkey, ground pork, or ground Italian sausage.
Cheese: Alternatively, make it cheesier, by adding diced cheese into the mixture. Actually, mozzarella cheese, Pepper Jack, or Mexican cheese work well.
Flavors: Another option is to use different types of seasoning to add extra flavor, try homemade Taco Seasoning or Cajun seasoning.
Veggies: Make it healthier and heartier by using extra veggies, just make sure to finely dice them. Therefore, dice some zucchini, bell peppers, or mushrooms and mix them into the meatloaf mixture.
Gluten-Free: Actually, to make this recipe without gluten, just make sure to use gluten-free breadcrumbs.
How to serve:
First, make sure to let it rest for 10 minutes, this way the beef will absorb the juices and it will be easier to slice.
Actually, this classic main dish pairs with a variety of side dishes, serve it with roasted potatoes or sweet potatoes.
Similarly, serve it with oven-roasted vegetables or grilled veggies.
Alternatively, add a salad on the side.
Another option is to make meatloaf sandwiches and serve with one of these sauces.
How to store leftovers:
Store: First, let the meatloaf fully cool and after that add the leftovers to an airtight container and store in the fridge for 3-4 days.
Freeze: Before freezing, ensure it is completely cooled. Also, you can freeze it whole or in individual slices. First, wrap it in plastic wrap and after that in foil. Next, place the slices in an airtight container or freezer bag and freeze for up to 3 months.
Thaw: When ready to serve, simply transfer it from the freezer to the fridge to thaw overnight.
Reheat: Simply reheat the slices in the oven or microwave before consuming them.
Frequently Asked Questions
Why Cook Meatloaf in the Crockpot?
We have been making this slow cooker dish for some time, and it's our favorite way of doing it. Firstly, making it in the crockpot will result in one of the most tender and moist meats you can imagine. The flavors are elevated because this dish is slowly cooked over a longer period of time, resulting in an aromatic and rich meal.
Secondly, it is convenient and easy to prepare. Just assemble the loaf together in the morning, put it in the pot for hours, and go with your day. When you come home, you have a delicious dinner ready.
How to shape meatloaf?
There are a couple of options here. You can either:
Dump your meat mixture onto a tray and assemble it into a loaf shape yourself. Actually, this is our preferred way of doing it since it has a homemade look.
Mold it in a loaf pan and then place it in the pot. This way you will have a nice and uniform shape to it.
How long does it take to cook meatloaf in the crockpot?
Actually, this will depend on the size of the loaf. For example, a 2 pounds size, cook it on LOW for about 6 hours, or on HIGH for about 3 hours. In addition, it is best to check the meat readiness with a meat thermometer. You want to have an internal temperature of 160 degrees F.
Can you put raw ground beef in the slow cooker?
Yes, you can totally make slow cooker recipes that use raw ground beef. Actually, make soups, chili ask for browned ground beef since browning the meat adds extra flavor. However, using raw ground beef is ok, just make sure to drain the grease closer to when the meat is ready.
How do you drain grease from meatloaf?
First, make sure you cook it into an aluminum overhang.
When done cooking, lift it using the aluminum overhang and place it onto a cooling rack on top of a baking sheet.
After that, pinch the aluminum foil and let the grease drain into the baking sheet under it.
More Similar Recipes:
Recipe Tips:
To make ahead, prepare and shape the meatloaf in advance, then cover and refrigerate for up to 12 hours.
Use beef with a good ratio of beef to fat. For this version, we recommend using 85/15, but no leaner. Since beef that is too lean can lead to a drier meatloaf.
Also, avoid over-mixing your meat as it might result in a tougher loaf. Preferably, you only want to mix until the ingredients have just been combined.
Also, using milk will result in a juicier loaf. If you can't use dairy, you could try substituting it with non-dairy milk.
Don't be shy using the glaze! Spread some sauce over the top before cooking the loaf, and then add some once cooking is complete and right before broiling it. This will result in a nice and sticky dish.
Similarly, if you are short on time, store-bought BBQ sauce can be used.