Bacon Cheeseburger Meatloaf [Video]
Last updated on August 6th, 2021 at 10:37 am
Bacon Cheeseburger Meatloaf is moist, flavorful, and cheesy with a molten cheesy center and topped with crumbled bacon and cheddar cheese! The flavors in this dish reinvent the classic cheeseburger and make it perfect for a quick homemade dinner.
I always have bacon in my freezer and that is for obvious reasons. It is so versatile and my family adores it! I love utilizing it on Bacon Wrapped Meatloaf, Baked Chicken, or Pork Medallions.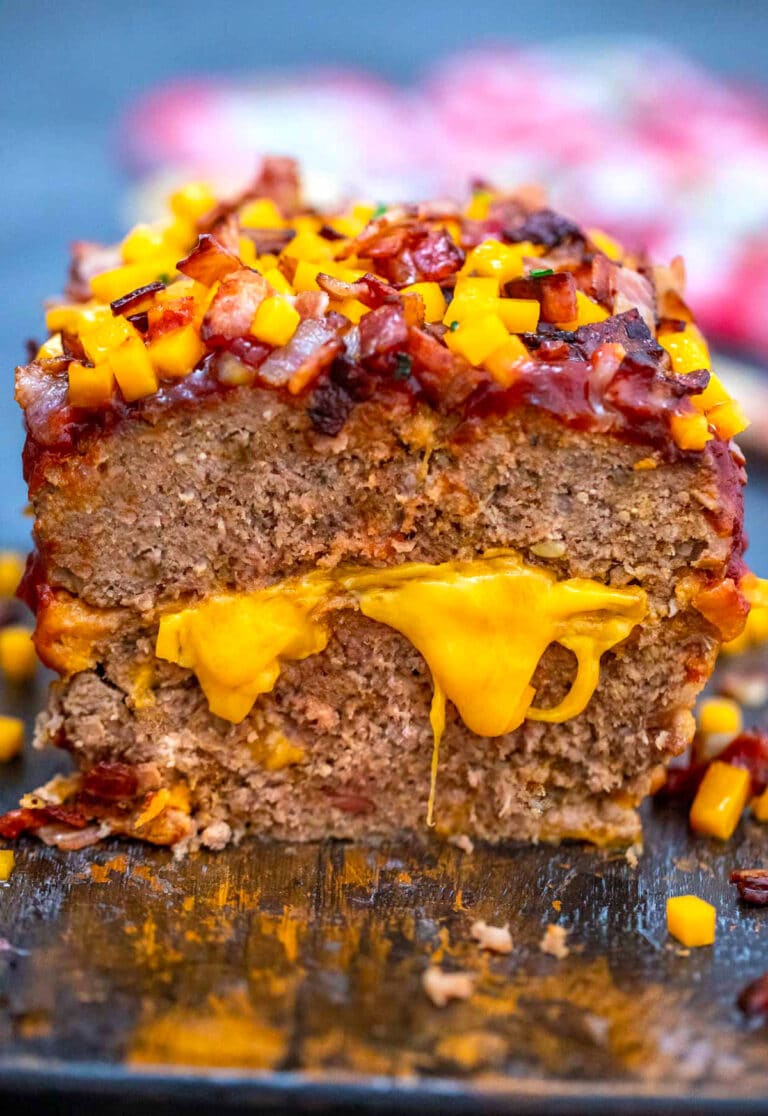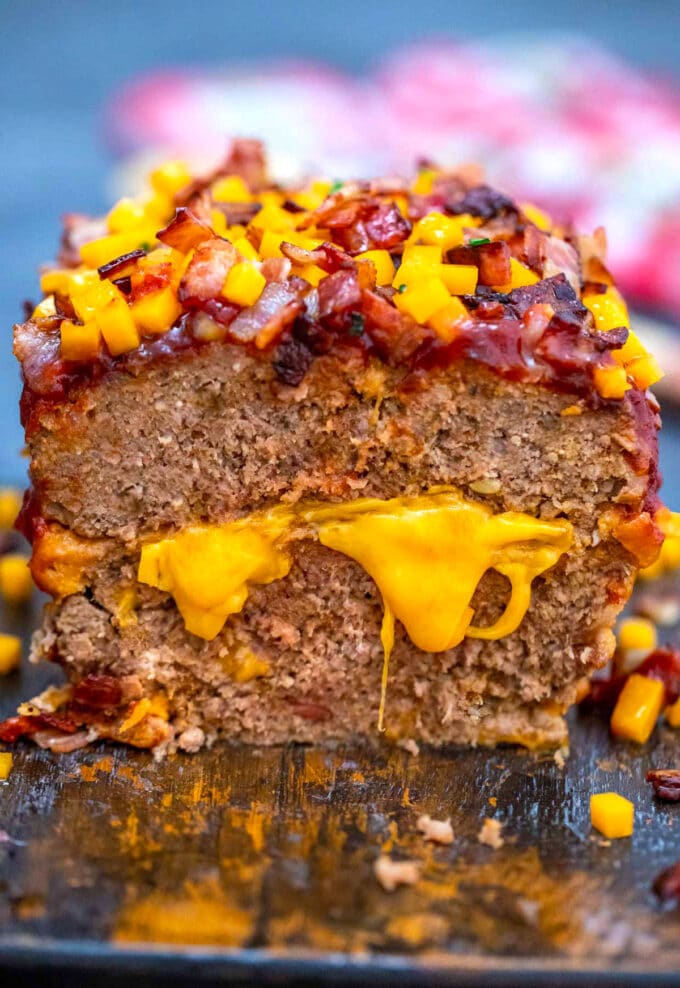 This Bacon Cheeseburger Meatloaf recipe is heavenly! It is a combination of two of my favorite beef dishes generously seasoned with a stellar lineup of spices. Similar to my classic meatloaf recipe, but loaded with cheese and bacon. This is the ultimate comfort food!
One key ingredient here aside from using the best ground beef you could find is the Worcestershire sauce. If you do not have it, buy one now before trying this recipe. It is irreplaceable!
This fermented sauce gives a lot of umami flavor that enhances the beef that is not achievable with any other condiment. If you discover an alternative that is just as good, let me know!
What is a meatloaf?
It is a kind of dish typically made with ground beef mixed with other ingredients and made into a loaf shape. This recipe has a long history beginning from the era of the Great Depression.
During those times, people were trying to make dishes out of limited resources. With this goal, this dish was created.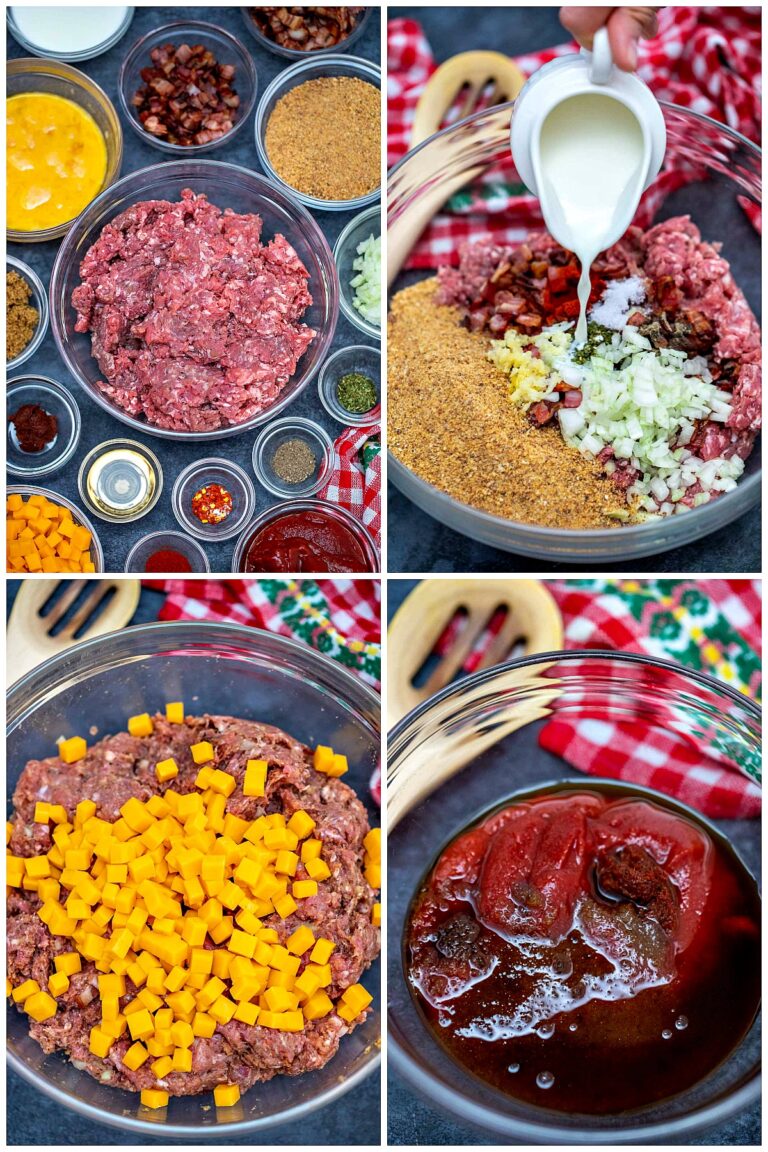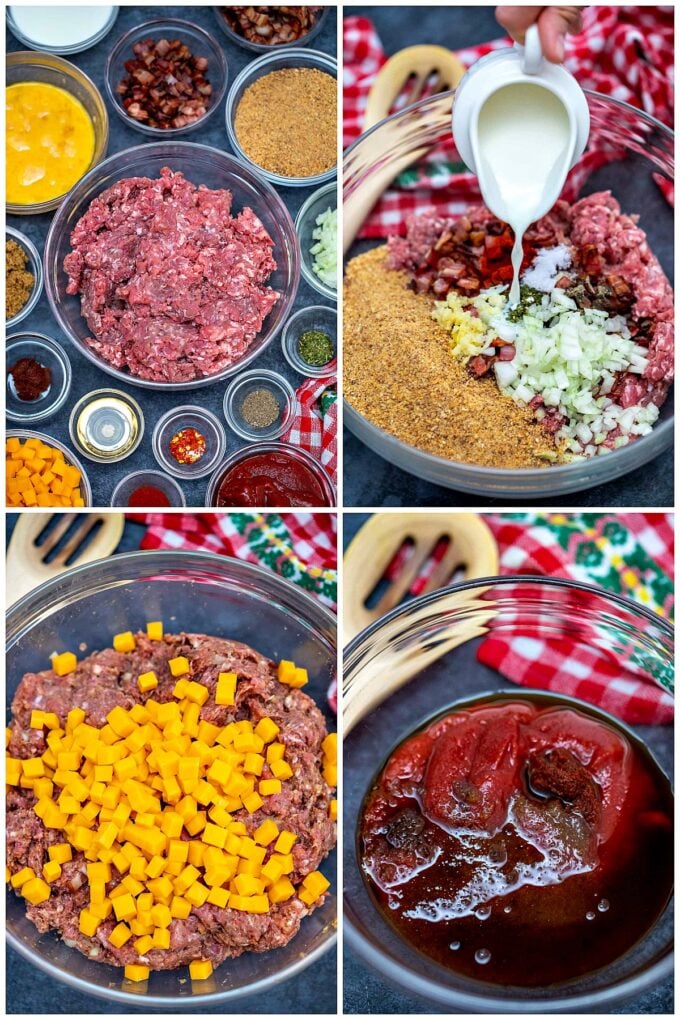 Recipe Ingredients:
This recipe requires a handful of ingredients that are possibly already in your pantry and fridge. Check out the list below for the meatloaf ingredients:
90% lean ground beef – You can also use ground chuck
chopped bacon slices
Seasonings – Dried parsley, ground paprika, red pepper flakes, salt, and black pepper.
Worcestershire sauce
onion
garlic
bread crumbs
milk
beaten eggs
cubed cheddar cheese or sharp cheddar cheese
For the glaze, prepare the following:
ketchup
tomato paste
brown sugar
apple cider vinegar
more bacon
Garnish with the following:
pickles
lettuce
diced tomatoes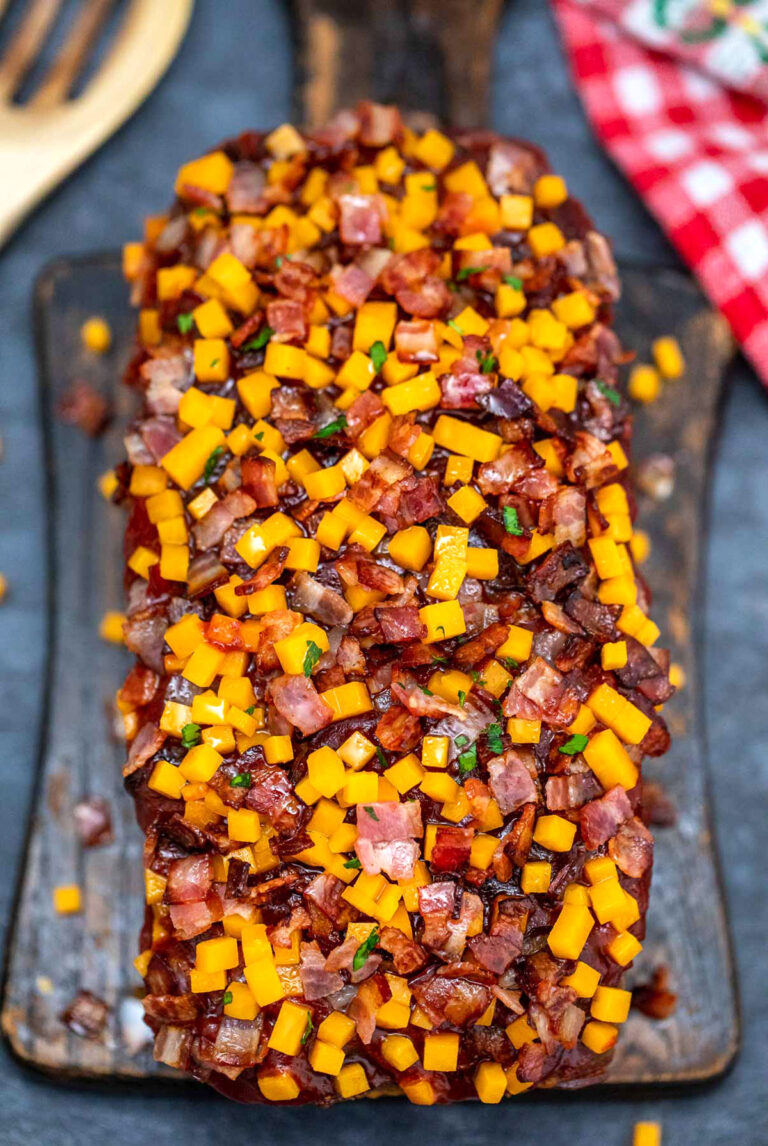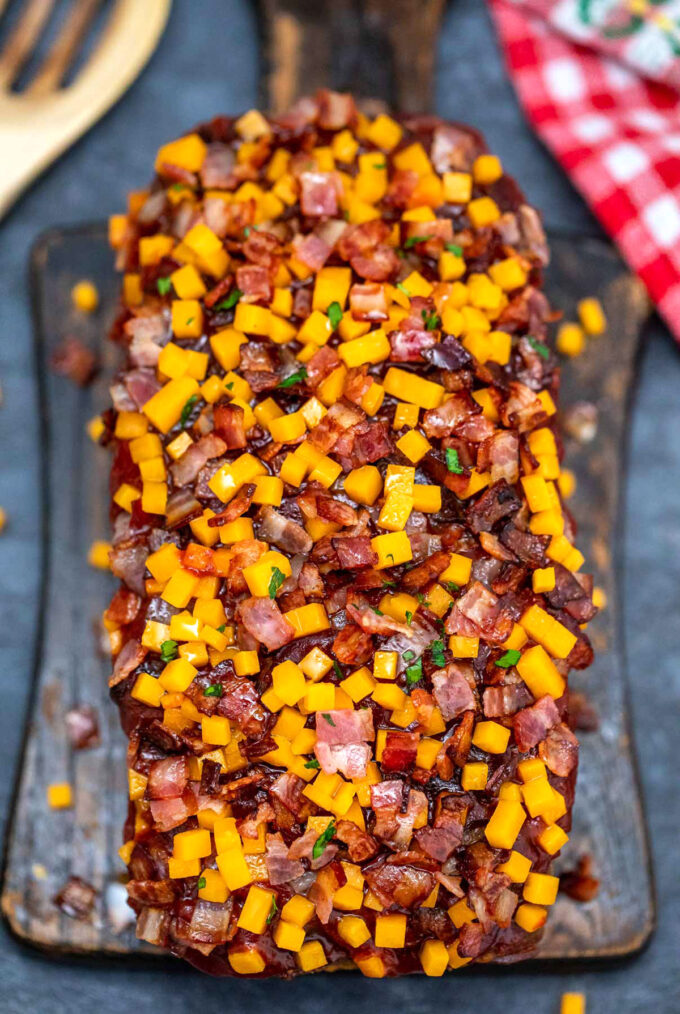 How do you make Bacon Cheeseburger Meatloaf?
For a quick step-by-step tutorial, please watch the recipe video attached. But the general steps are as follows:
Prep the oven: Preheat the oven to 400 degrees. Put aluminum foil on the rimmed baking sheet that you will use. Then, spray lightly with oil or cooking spray.
Make the beef mixture: In a large mixing bowl, combine the ground beef, bacon, parsley, paprika, red pepper flakes, Worcestershire sauce, ground black pepper, salt, onion, garlic, and bread crumbs. You can add milk, milk, and beaten egg. Mix well until incorporated. Then, shape the meat mixture into a loaf, and transfer it into the baking dish or into a 5-inch loaf pan prepared earlier.
Make the glaze: In a separate large bowl, mix the ingredients except for the bacon. With half of the glaze, brush the surface of the meatloaf.
Bake: Next, put it in the oven to bake and this will take about 45 minutes. Then, glaze it with the same sauce made earlier. Sprinkle with more bacon and bake 15 minutes more.
Serve: Once ready, let the meatloaf rest for a few minutes. Then, using a sharp knife, slice as you would to a bread. Serve warm with your favorite side dish.
Frequently Asked Questions:
Why is my meatloaf dry?
This could be a result of many factors. One reason would be that you use very lean ground beef. For this recipe, I recommend using 80-85% lean meat. Or, if you want to go with leaner beef, to compensate for the lack of fat, you need to put in more liquid.
Another factor could be that the oven is too hot and you overcooked it. If that is the case, you will end up with a dry dish. One way to avoid this issue would be to use a larger baking dish or shape it into a smaller shape. This way it has some room to cook.
Also, always use a meat thermometer to check the internal temperature. Based on USDA guidelines, it is safe to consume ground beef when its internal temperature reaches 160 degrees F.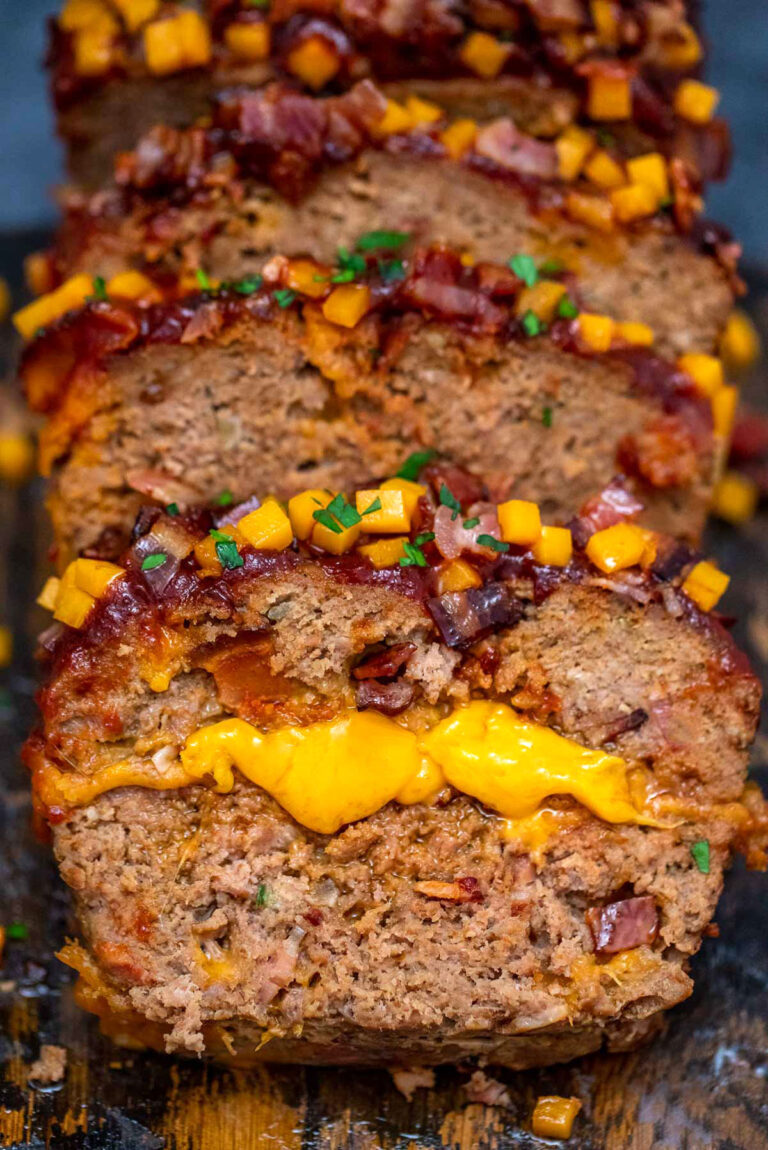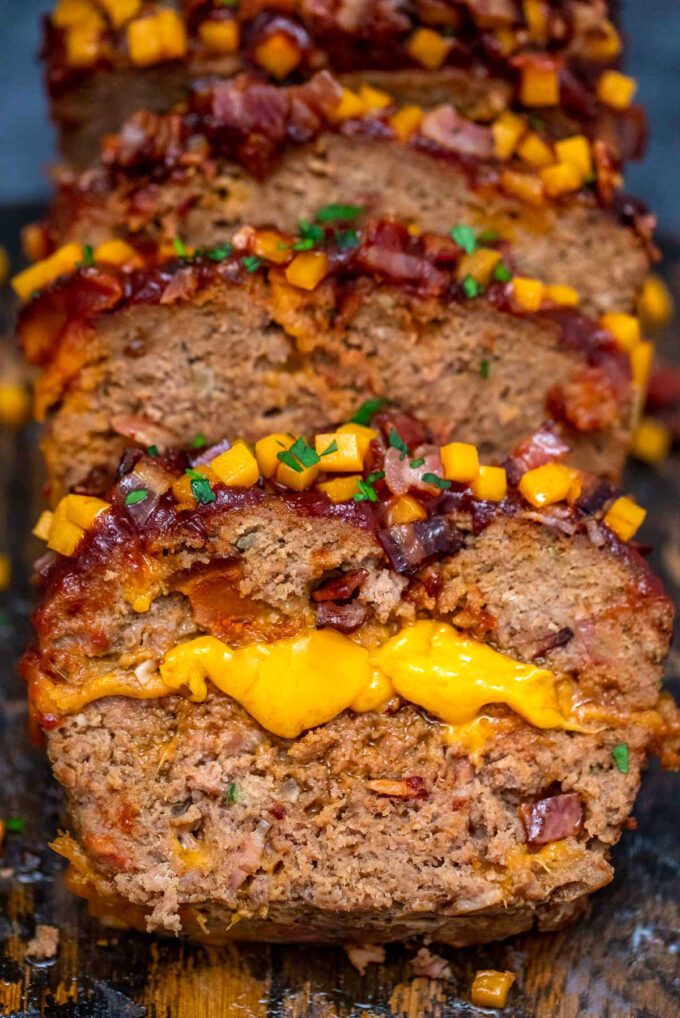 Can I use a different type of cheese?
Absolutely! Cheese is the main secret to get the best, juiciest, and moistest meatloaf. Therefore, I would highly recommend using the best types here and maybe a different variety of cheeses for the best flavor.
Feel free to use blue cheese, swiss, feta, gouda, sharp and mild cheddar, American, etc. Pretty much all will work, so feel free to add and use the one you have on hand, or like the most.
What to serve with it?
This is the perfect comfort food to serve for Thanksgiving, Christmas, or other occasions.
Serve it with some Twice Baked Potatoes, Sweet Potatoe Casserole, Green Beans Casserole, Creamy Mashed Potatoes, or Steamed Broccoli.
Can you make it in advance?
Yes! To make it ahead, simply follow the recipe steps below. Then, assemble the loaf, and tightly cover with aluminum foil, and refrigerate. The following day, simply pop it in a pre-heated oven and bake.
How to store bacon cheeseburger meatloaf?
Refrigerate: If you have cooked this dish, then, you have 3 to 4 days to refrigerate and consume it.
Freeze: Extend the shelf life to up to 3 or 4 months by first putting it in airtight freezer-proof containers.
To reheat: Simply heat in the oven using the same settings as you baked it.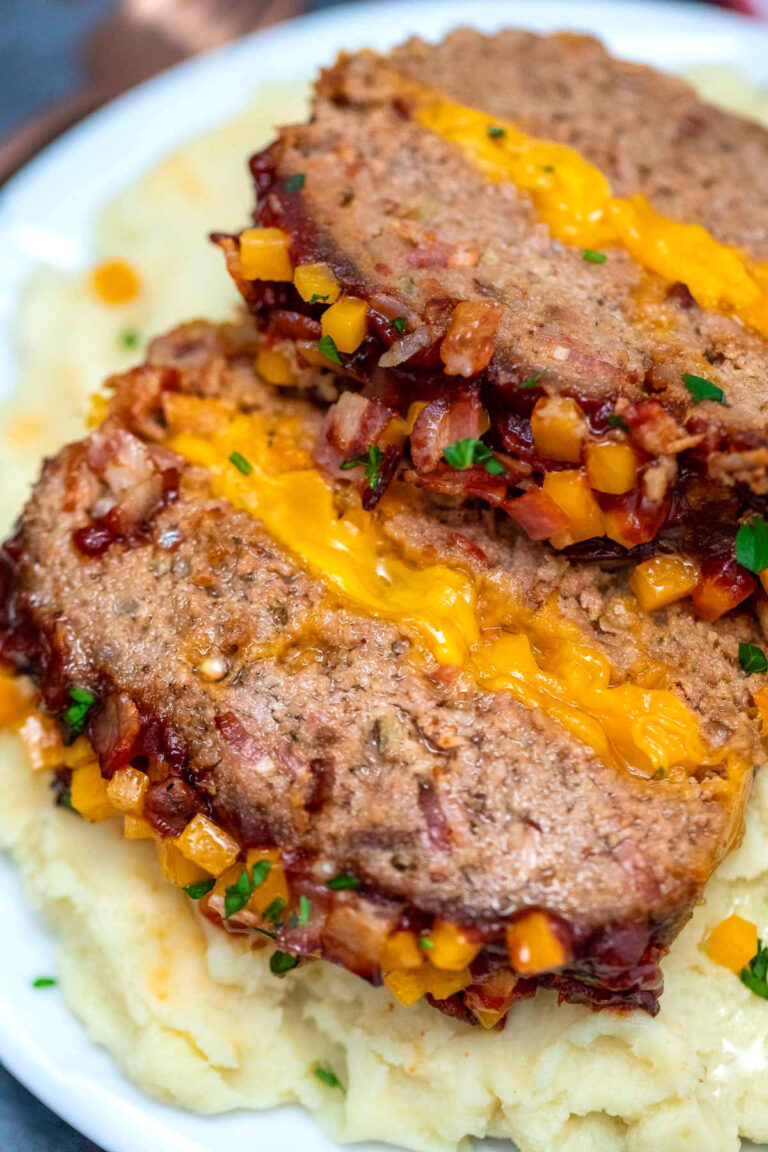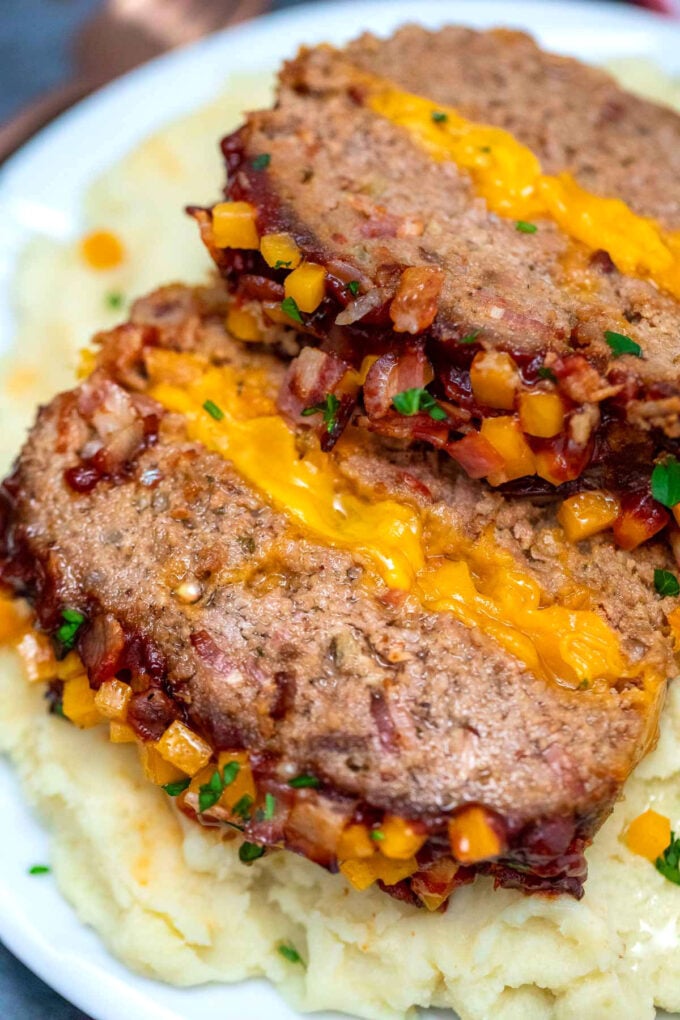 Looking for more beef recipes?
Recipe Tips:
Feel free to bake it in a non-stick loaf dish.
You can use the same recipe but make it with ground chicken or ground turkey.
Alternatively, you can garnish the top of the meatloaf with French fried onions,
Also, adding vegetables can also help introduce not only added flavors but also moisture into the dish.
Soaking the bread crumbs in milk can also help in preventing it from drying out.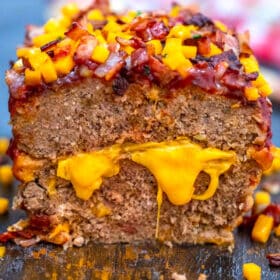 Bacon Cheeseburger Meatloaf
Bacon Cheeseburger Meatloaf is moist, flavorful, and cheesy with a molten cheesy center and topped with crumbled bacon and cheddar cheese!
Save
Share
Print
Pin
Rate
Ingredients
Meatloaf:
2

lbs

ground beef

8

bacon slices

(cooked and chopped)

1

teaspoon

dried parsley

1/2

teaspoon

ground paprika

1/4

teaspoon

red pepper flakes

1

tablespoon

Worcestershire sauce

1/8

teaspoon

ground black pepper

1/4

teaspoon

Kosher salt

1

small onion

(finely diced)

2

cloves

garlic

(minced)

1

cup

plain bread crumbs

1/2

cup

milk

3

eggs

(beaten)

1 ½

cups

cheddar cheese

(cut into small cubes)
Meatloaf Glaze:
1/2

cup

ketchup

1

tablespoon

tomato paste

3

tablespoons

brown sugar

1

teaspoon

apple cider vinegar

5

bacon slices

(cooked and chopped)
Meatloaf Toppings:
Pickles

Diced tomatoes

Lettuce
Instructions
Preheat oven to 400 degrees F.

Cover a rimmed baking sheet with aluminum foil and lightly spray with oil. Set aside.

Make Meatloaf:

Combine all the "Meatloaf" ingredients, up to the bread crumbs, including them as well. Stir well to combine, and after that add the milk and beaten egg. Stir just until combined.

Add the cheddar cheese and again mix well, but do not over-beat.

Shape the beef mixture into a loaf shape and place it on the prepared baking sheet.

Meatloaf Glaze:

Combine all the Glaze ingredients (except bacon a small bowl until well combined and set aside. Brush about half of the glaze all over the meatloaf.

Bake:

Transfer meatloaf to the oven and bake for about 45 minutes, or until the inside temperature is 160F degrees.

Brush the remaining glaze all over the surface, sprinkle with bacon and bake for another 15 minutes.

Once the meatloaf is done, let it cool for 10-15 minutes before slicing and serving.
Nutrition
Calories:
485
kcal
|
Carbohydrates:
18
g
|
Protein:
27
g
|
Fat:
33
g
|
Saturated Fat:
12
g
|
Cholesterol:
137
mg
|
Sodium:
656
mg
|
Potassium:
457
mg
|
Fiber:
1
g
|
Sugar:
8
g
|
Vitamin A:
283
IU
|
Vitamin C:
2
mg
|
Calcium:
137
mg
|
Iron:
3
mg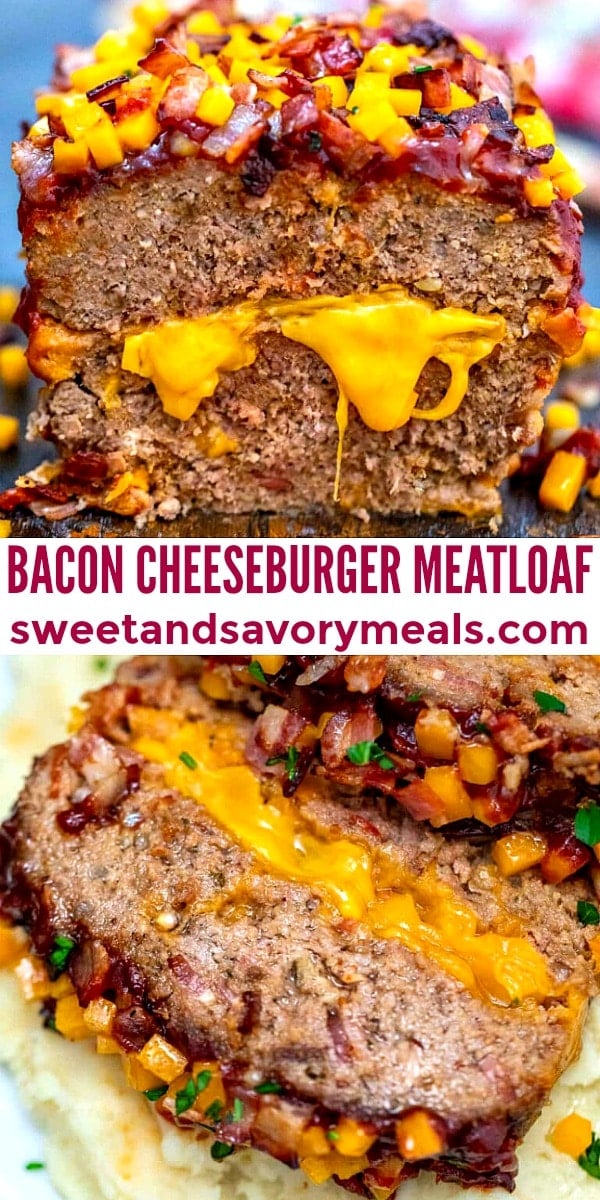 More recipes you might love