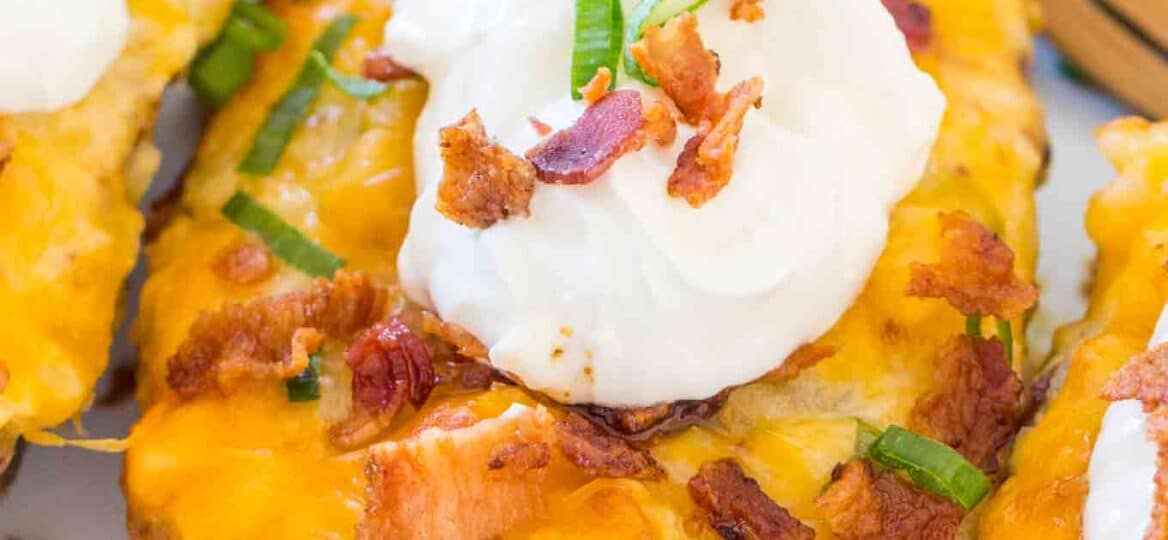 Ultimate Twice Baked Potatoes Recipe
Twice Baked Potatoes are the perfect holiday side dish. A baked potato shell is stuffed with Cheddar and Pepper Jack cheese, sour cream and bacon bits.
When it comes to the best side dishes, these twice-baked potatoes are definitely our favorite. They are creamy, presentable, and taste delicious. We also love the Perfect Oven Baked Potatoes, Creamy Scalloped Potatoes, and Sweet Potato Souffle.
Best Twice Baked Potatoes
Twice Baked Potatoes are crispy on the outside and creamy on the inside. The bacon bits make a huge difference here, as it elevates the flavor exponentially. It also gives them a nice smokey flavor, and some crunchiness when you bite into them.
If you are a potato, cheese and bacon lover like us, you are destined to love these! They are perfect as a side dish, for parties, and for the holidays.
The great thing about this side dish is that it is filling. They are loaded with cheeses and stuffed with mashed potatoes, and are always a huge hit with everyone. Similarly, you can eat just the inside, but eating the skin is the most rewarding part. The skin is crunchy and crispy, and what makes this recipe so special.
What are Twice Baked Potatoes?
As the name implies, the process of making twice-baked potatoes involves cooking them twice. First, the potatoes are fully cooked in the oven. Then, the interior of the potatoes is scooped out, so that the skin of the potatoes remains as the "base shell".
Next, the interior is mixed with other ingredients such as cheeses, sour cream, and bacon, which is then added back to the potato's skin shell. Lastly, the potato shells are baked again with the mixture inside in the oven.
WHAT ARE THE BEST POTATOES FOR BAKING?
As a general rule, you want to use starchy potatoes when baking. The best ones for baking would be Yukon Gold and Russets potatoes, as they have the most starch in them.
How to make twice baked potatoes:
Preheat oven to 400 degrees F.
Then, wash and dry the potatoes. It is very important to pat them dry well.
Place the potatoes on a baking sheet. Rub them with some olive oil and some sea salt, bake for about 1 hour. The potatoes should be tender inside if you poke a fork into them. Remove the potatoes from the oven. Lower the heat to 350 degrees F.
With a sharp knife, cut each potato in half lengthwise. Scrape out the insides into the mixing bowl, being careful not to tear the shell. Leave a small rim of potato intact for support, about 1/4 inch of flesh on the sides. Lay the hollowed out potato shells on a baking sheet covered with parchment paper.
Add the scooped potato interiors to a large mixing bowl.
Then, add milk, sour cream, minced garlic, chopped green onions, bacon bits, and softened butter, stir well to combine.
Next, add the shredded cheeses, season with salt and black pepper to taste and mix together well.
Fill the potato shells with the filling, and sprinkle some more grated cheese on top.
Put them back in the oven for another 15-20 minutes.
Great Topping Suggestions:
Your favorite shredded cheese
Chopped bacon or bacon crumbs
Green onion
Chopped chives
Sour Cream
HOW MUCH FIBER IS IN A POTATO WITHOUT SKIN?
The skin of the potato contains a good amount of fiber. However, if you are not a fan of eating the potato with skin-on, you will still get plenty of fiber.
According to the U.S. Department of Agriculture, a 1-cup serving of potatoes without the skin contains about 3.2 grams of dietary fiber, slightly more than half the fiber you'd receive from a large baked potato with the skin intact.
Can you make Twice Baked Potatoes ahead of time?
The great thing about this dish is that it can be easily made in advance, and when the time comes just reheat to serve. When the potatoes are filled, transfer them to a baking dish and cover tightly with plastic wrap.
Then, refrigerate them for several hours or even 1-2 days. Once ready to eat, put them in the oven and bake.
How to freeze them?
Before freezing, allow the potatoes to cool down. Once cooled, wrap the potatoes in aluminum foil and add to freezer bags. Then, place in the freezer for up to 1-2 months.
To thaw, stick the potatoes in the refrigerator overnight. When ready to serve, put the potatoes in the oven and bake them for about 15-20 minutes.
Recipe Tips:
Try using organic potatoes. Since the skin will be used, it is best to use organic, chemical-free potatoes.
Also, while any potato will work, Russet or baking potatoes hold up best in this recipe.
Before baking them, rinse and scrub them of any dirt. Similarly, make sure to dry them before coating with olive oil.
Watch the potatoes closely after about 30 minutes of baking. So, it would be best if you can flip them once or twice during the baking process, to ensure even cooking.
We used Pepper Jack cheese to give them a spicier kick. However, feel free to use your favorite cheeses. Swiss or Gruyere cheese will work just as well.
Line your baking sheet with parchment paper for easy cleanup.
If you plan to freeze them, do NOT add the green onions on top. Simply add prior to serving.