Sweet Potato Souffle Recipe [VIDEO]
Sweet Potato Souffle is a delicious, rich and creamy side dish. Topped with crunchy, oven-roasted pecans and a sprinkle of cinnamon sugar.
Thanksgiving side dishes are probably my favorite part of the holiday, with all the desserts as well. I always make this Sweet Potato Casserole, cheesy Creamed Corn, creamy and fluffy Mashed Potatoes and some simple Sweet Potatoes on the side.
I never skip dessert, and these Pumpkin Cheesecake Bars are on top of my list, with this amazing Pecan Pie Cheesecake. If you can't decide which one to make, settle for this Pecan Pie Pumpkin Cheesecake, it combines the best of both worlds.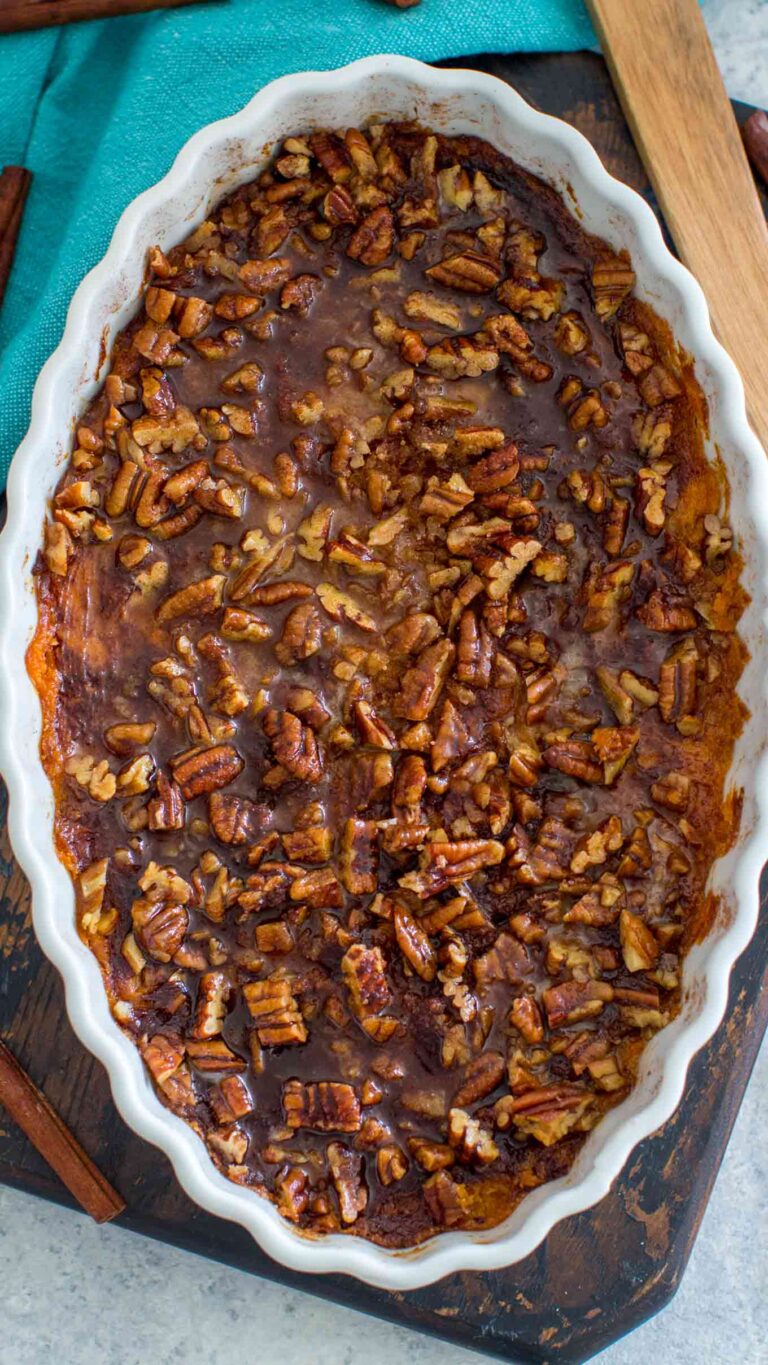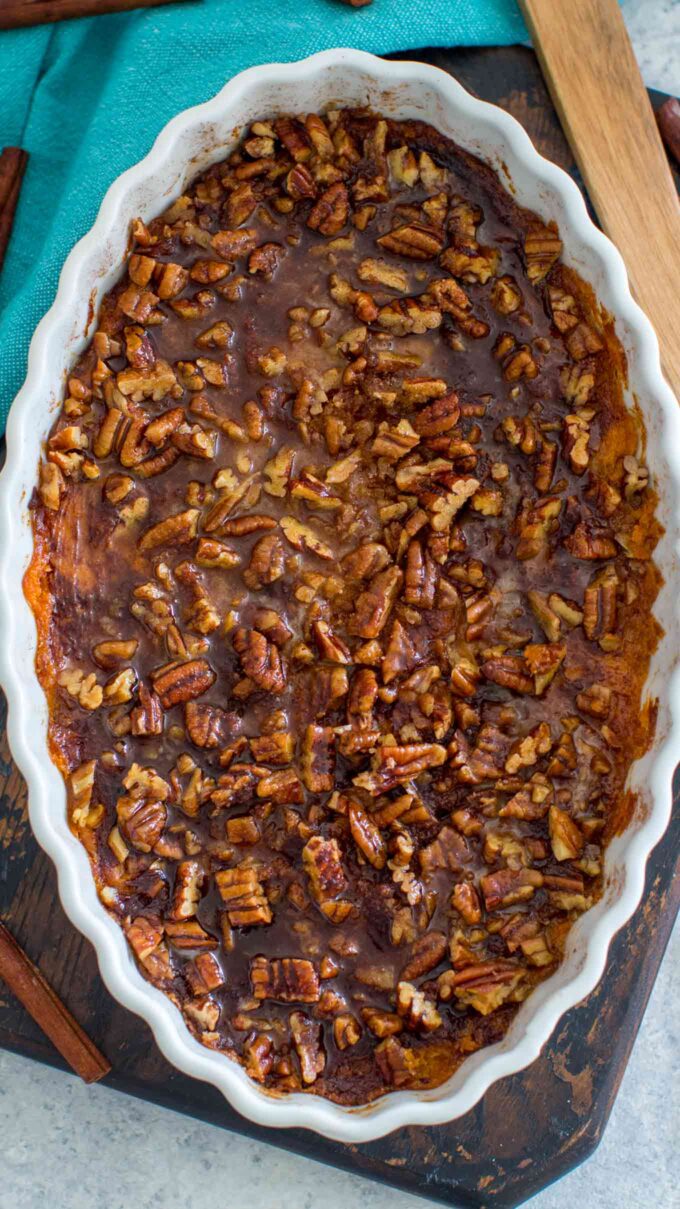 Best Sweet Potato Souffle
Sweet Potato Souffle is such a tasty and somewhat different side dish that you can make for the holidays. I love that it is something between a sweet potato casserole and a sweet potato pie. I absolutely adore the tender texture, especially when combined with a cinnamon sugar topping and crunchy pecans.
If you are looking to elevate your holiday game, but still stay within the traditional recipes borders, this Sweet Potato Souffle is a great choice. I mean, it sounds fancy, while it's very easy to make. You can get creative with the toppings and add some marshmallows or keep it simple and just top it with pecans or walnuts.
What is Sweet Potato Souffle?
Sweet Potato Souffle is a Souther dish made with sweet potatoes, sugar, cream, eggs, butter, and self-rising flour. It is very similar to Sweet Potato Casserole, with a slightly different and smoother texture.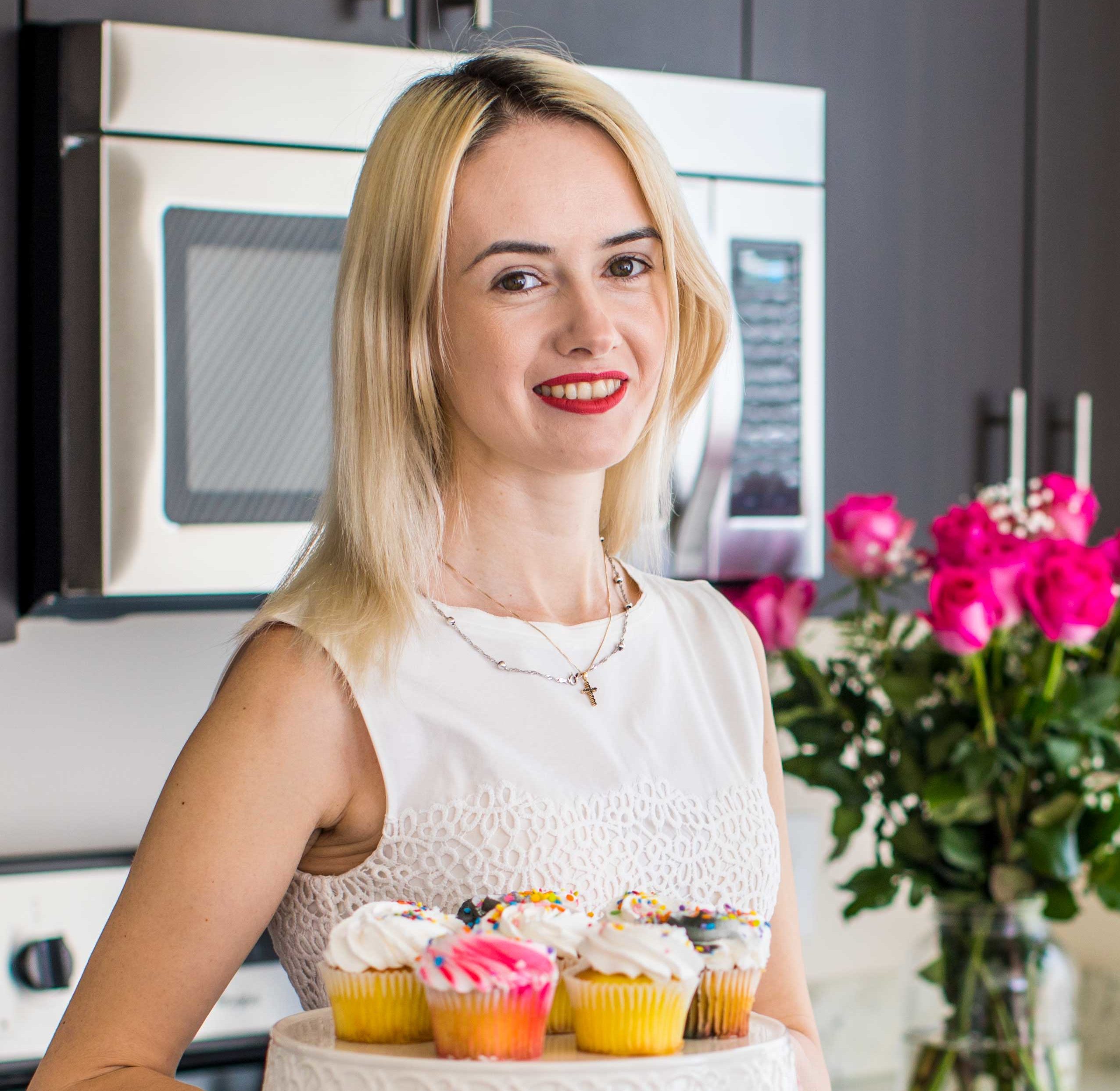 Follow us on Pinterest for more delicious recipes!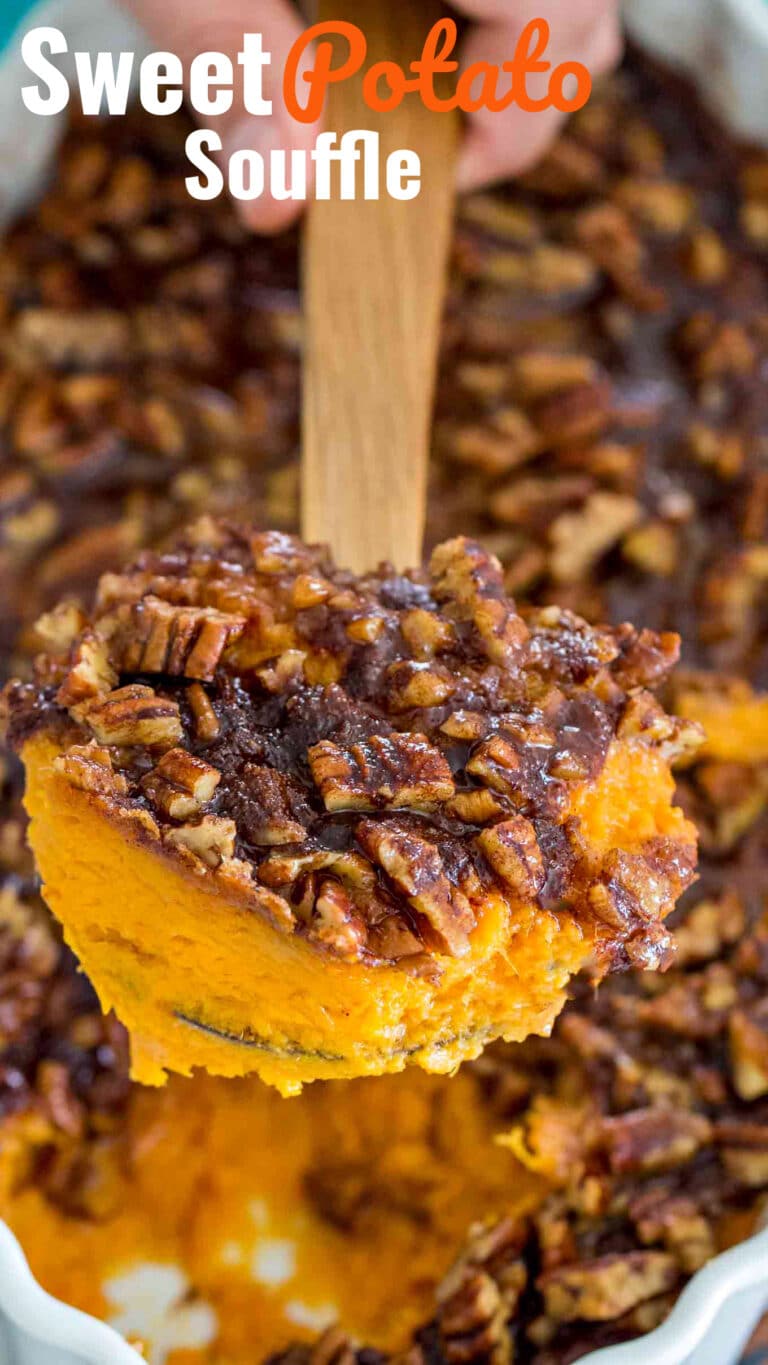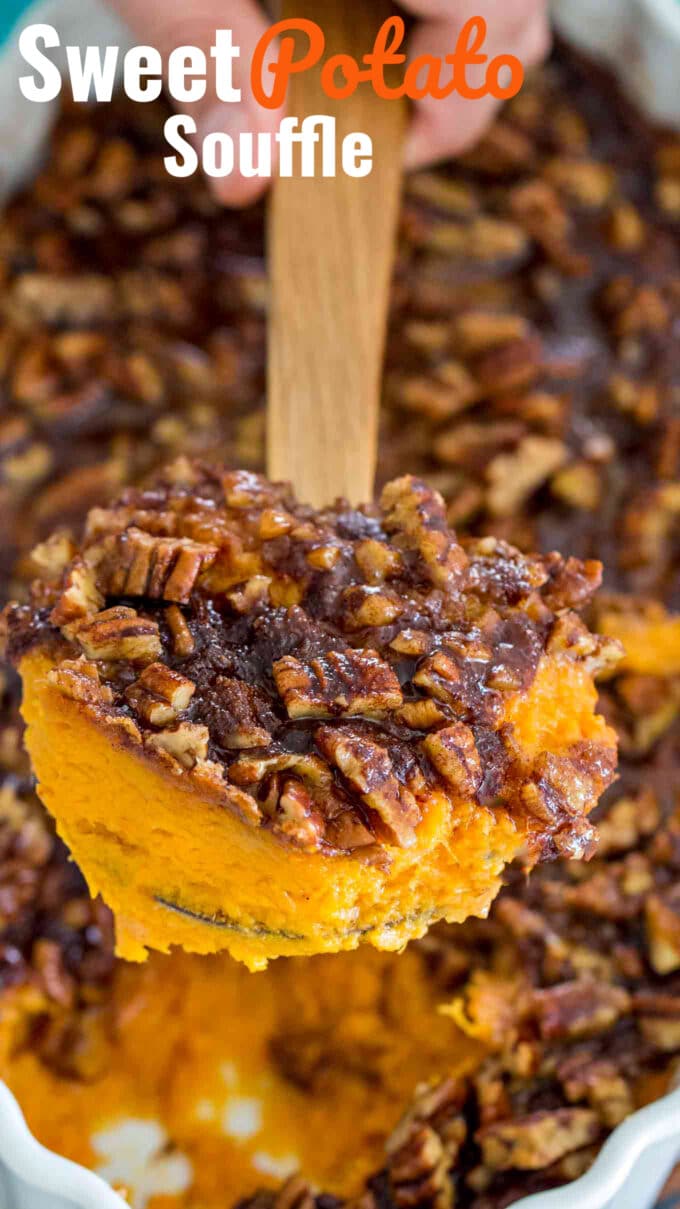 Is Sweet Potato Souffle a dessert?
That is the question that I get most. The short answer is that you choose what it is. Sweet Potato Casserole and Sweet Potato Souffle can be considered both, a dessert and a side dish. It all comes down to your own preference and also what ingredients you used, how sweet you prepared the dish. But, they both can be enjoyed as a side dish, which is a great excuse, as they are on the sweeter side.
How long do you bake Sweet Potato Souffle?
Sweet Potato Souffle is usually baked at 350 degrees F for about 1 hour or until puffed. Because every oven is different, I recommend checking on it after about the 50-minute mark.
What is the difference between Sweet Potato Souffle and Sweet Potato Casserole?
The difference is not huge, however, in my opinion, these are the main factors that make them different:
Sweet Potato Souffle is supposed to be much puffed, tender and smoother, also hold its shape better. Usually, for the souffle, to get a very smooth texture, the ingredients are added to a blender and processed until smooth and well combined. A hand mixer can be used as well. While sweet potatoes for the casserole are just mashed.
A key ingredient in Sweet Potato Souffle that is usually missing in sweet potato casserole is Self Rising Flour. The flour is added to add that airy, puffed texture to the souffle, and bring all the ingredients together, making it easier to scoop or even cut.
While Sweet Potato Casseroles are known for all the topping options, when it comes to souffles, they are kept simpler, because the selling point is really the texture. However, this doesn't mean that you can't improvise and add your favorite toppings.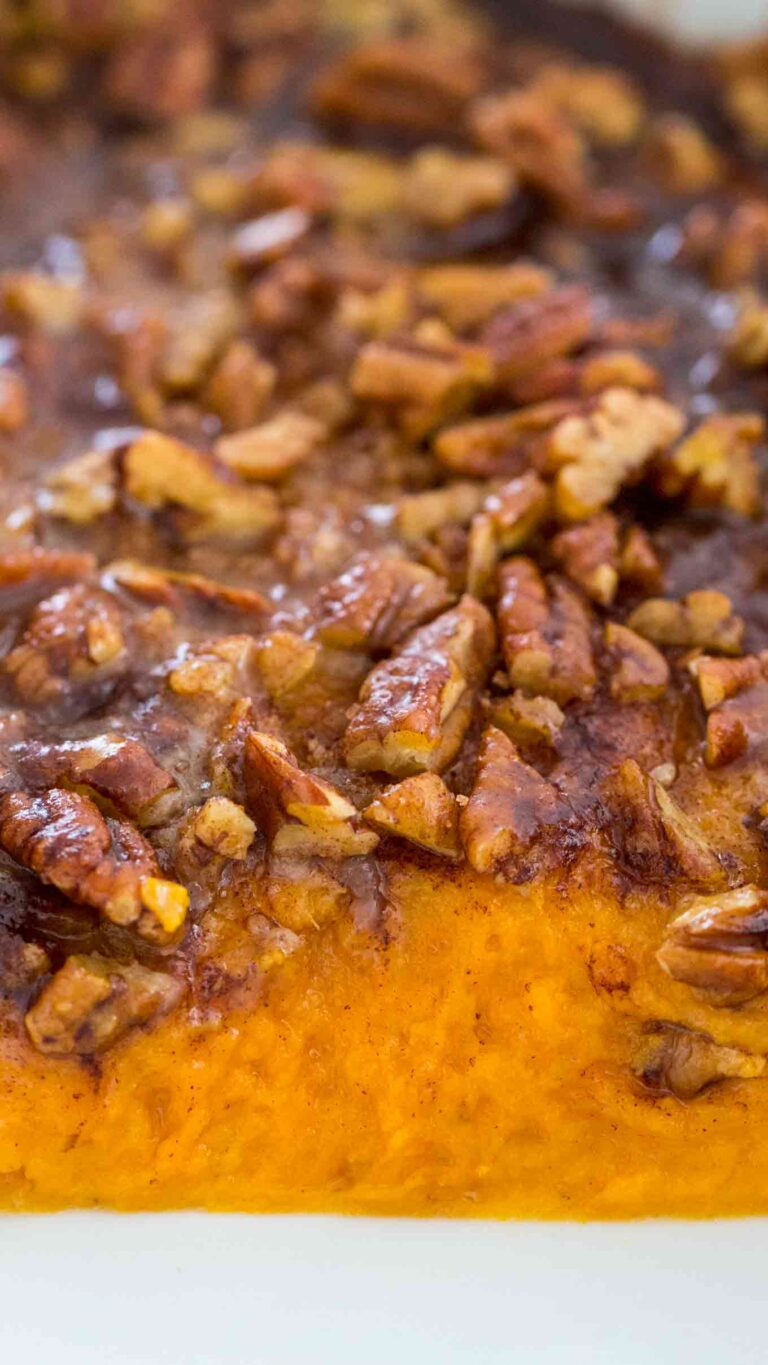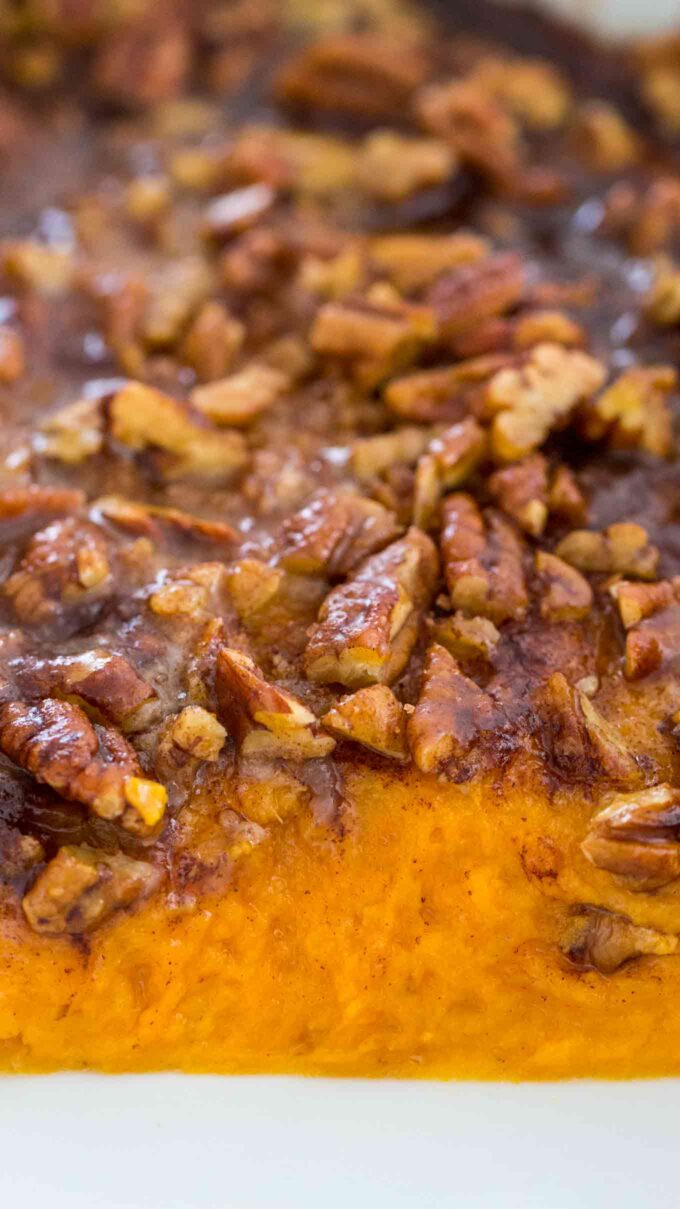 How to make Homemade Self Rising Flour?
This recipe asks for a small amount of self-rising flour, and I know that many don't keep it on hand. If you don't want to buy an entire bag, here is how you can make your own very quickly at home.
Ingredients:
1 cup all-purpose flour
1 1/2 teaspoons baking powder
1/4 teaspoon salt
Directions:
In a small bowl, whisk all the ingredients until fully combined. Store or use in recipes.
Can you make Sweet Potato Souffle in advance?
Yes, you can. You can assemble it 24 hours in advance, wrap tightly in plastic wrap and bake when ready. Also, you can bake it, let it fully cool, wrap tightly in plastic wrap and refrigerate it. Cover with foil and warm it up in the oven before serving.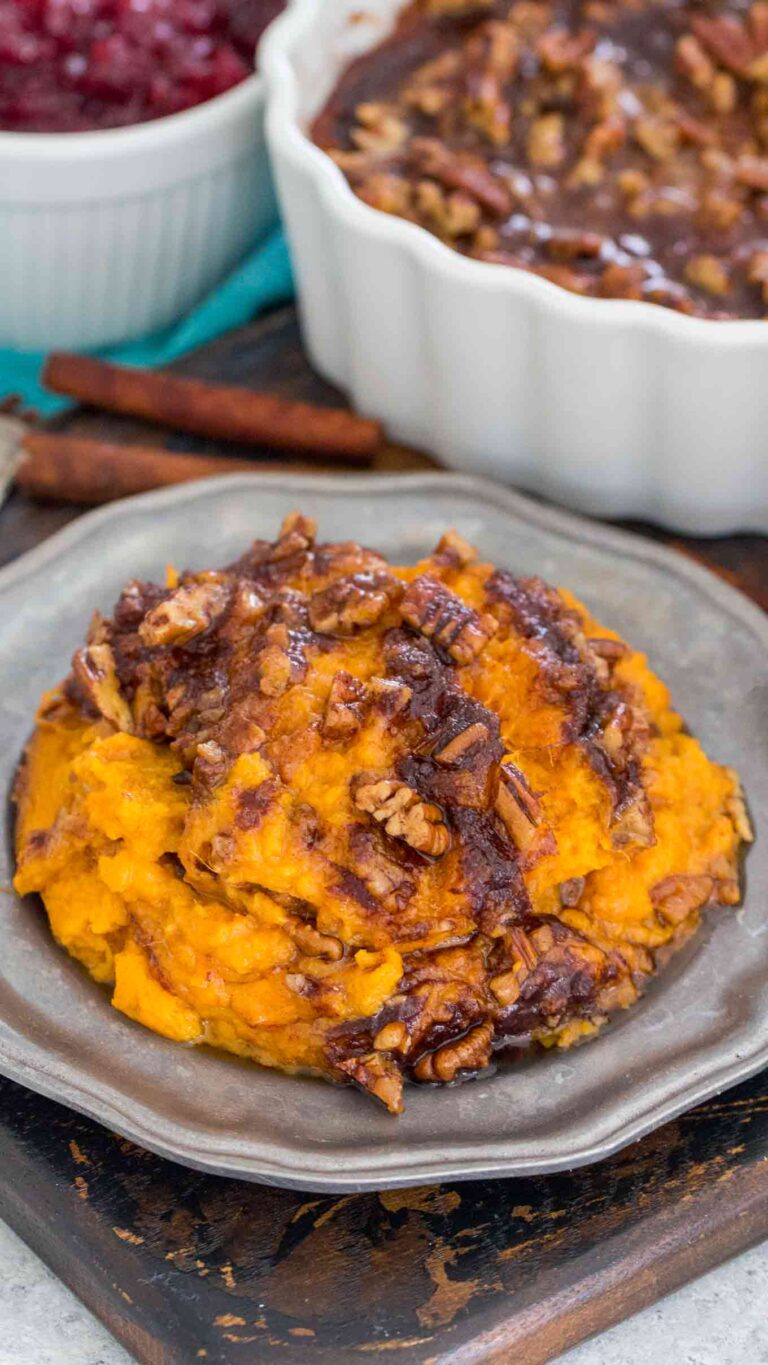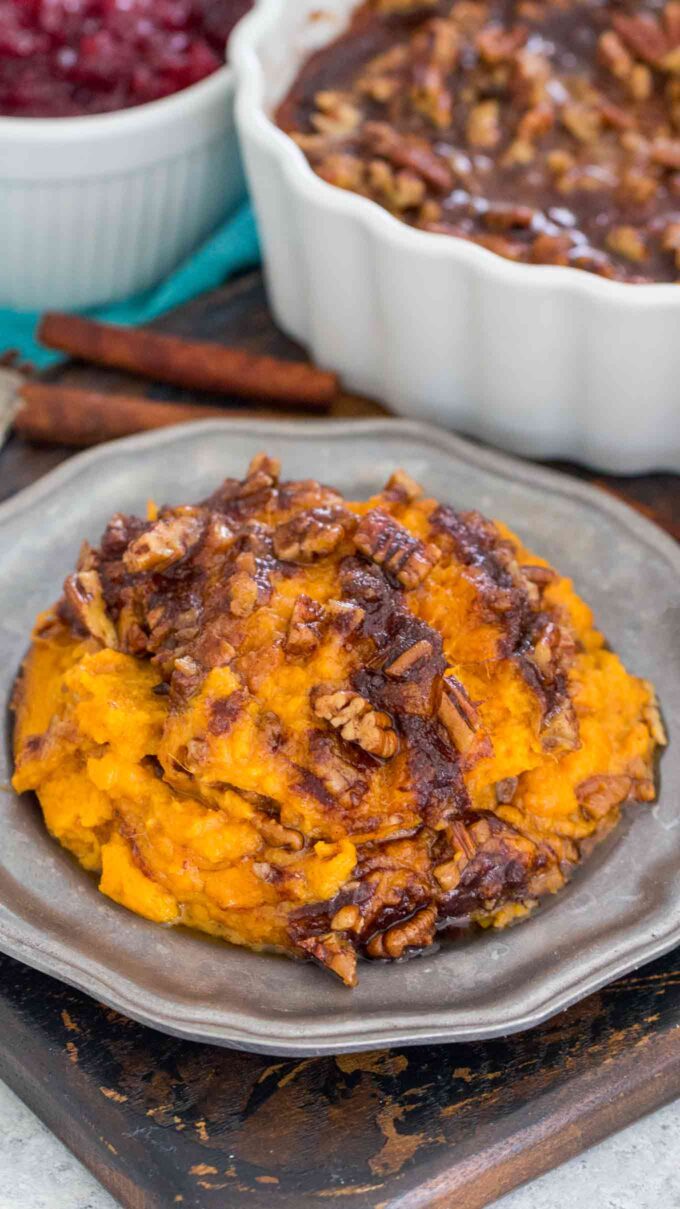 How to store Sweet Potato Souffle?
Refrigerate the souffle in shallow airtight containers or resealable plastic bags, if kept in the baking dish, cover tightly with plastic food wrap. Properly stored, it will last for 3 to 5 days in the refrigerator.
HOW TO FREEZE UNCOOKED SWEET POTATO SOUFFLE?
First, assemble the souffle and make sure it's not warm.
Skip the pecan and cinnamon sugar topping, those can be added right before baking.
Lay a sheet of plastic wrap or aluminum foil directly on top of the souffle in the dish, then wrap tightly and in many layers over the top rim and around the baking dish or the container.
Freeze for up to 3 months for best results.
Thaw overnight before baking.
HOW TO FREEZE COOKED SWEET POTATO SOUFFLE
First, cool souffle to room temperature.
After that, lay a sheet of plastic wrap or aluminum foil directly on top of the souffle in the dish, then wrap tightly and in many layers over the top rim and around the baking dish or the container.
Also, individual servings or leftovers can be added to freezer-safe ziplock bags.
Freeze for up to 3 months for best results.
Thaw overnight before heating up in the oven or the microwave.
Save Recipe
Author: Catalina Castravet
Serves: 8 servings
Prep time:

30

minutes
Cook time:

1

hour
Total time:

1

hr

30

mins
Ingredients
3-4 pounds sweet potatoes (peeled and cubed)
1 stick (1/2 cup) unsalted butter (melted + 3 tablespoons)
3 large eggs (lightly beaten)
1/2 cup light brown sugar
1 cup cream (or whole milk)
1/2 cup self-rising flour (or better self rising cake flour)
1 teaspoon vanilla extract
1/2 teaspoon salt
1 cup chopped pecans (roasted)
Cinnamon Sugar:
1/4 cup white sugar (or light brown sugar)
1/2 teaspoon ground cinnamon
1/4 cup unsalted butter (melted)
Instructions
Preheat oven to 350 degrees F. Arrange the oven rack in the middle of the oven.
Butter or spray with baking spray a 9x13 inch casserole or baking dish. Set aside.
Add 1 cup of pecans to a baking sheet and roast for a few minutes. Watch closely to not burn them. Remove from oven, cool and roughly chop.
Cook Sweet Potatoes:
In the meantime, add the cubed potatoes to a dutch oven or large sauce pan. Cover with water and sprinkle some salt, bring to a boil. Boil for about 15 minutes, when pierced with a fork, the potatoes should be tender.
Drain cooked sweet potatoes, mash until very smooth and set aside to cool off a bit.
Cinnamon Sugar:
Combine the sugar and cinnamon in a small bowl. Stir and set aside.
Prepare Souffle:
In a medium bowl combine: melted butter, brown sugar, beaten eggs, cream, vanilla, salt and flour. Whisk well to combine, a hand mixer can be used as well.
Add the mixture to the mashed sweet potatoes and stir until well combined. A hand mixer can be used for this as well.
Transfer the mixture to the prepared baking dish. Smooth the top.

Sprinkle with chopped pecans and cinnamon sugar evenly. Drizzle the remaining 3 tablespoons of melted butter on top.
Bake:
Cover dish with foil, to avoid pecan topping from burning. Bake for about 30 minutes, uncover and bake for another 20-30 minutes or until puffed and lightly browned on the edges and top.

Serve immediately or cool and refrigerate for later.
Calories: 550 Carbohydrates: 56 Protein: 7 Fat: 34 Saturated Fat: 15 Cholesterol: 132 Sodium: 279 Potassium: 700 Fiber: 6 Sugar: 21 Vitamin A: 25020 Vitamin C: 4.4 Calcium: 104 Iron: 1.8
Save Recipe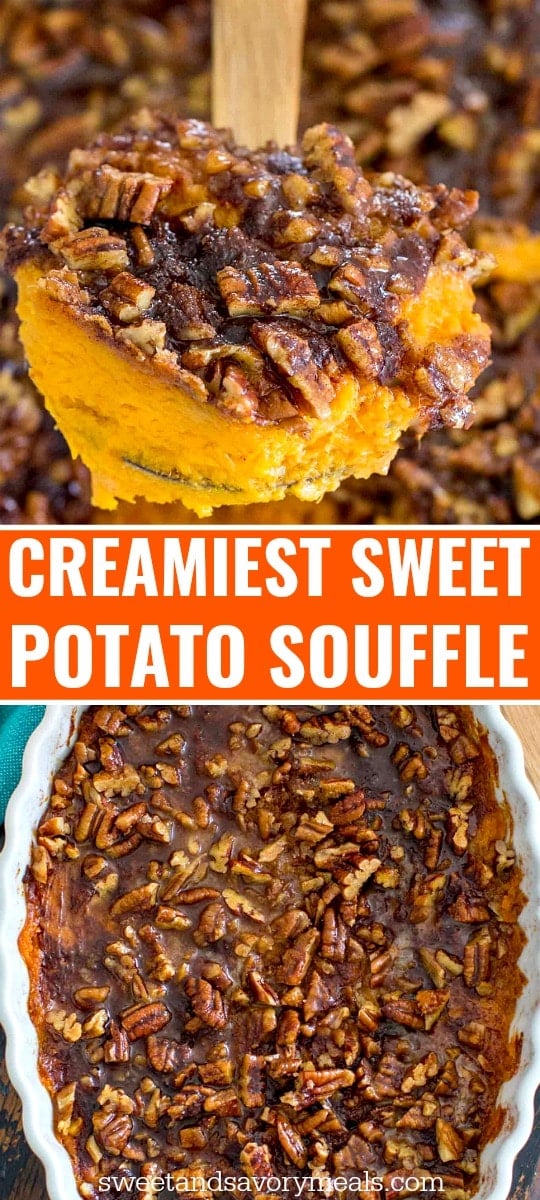 More recipes you might love