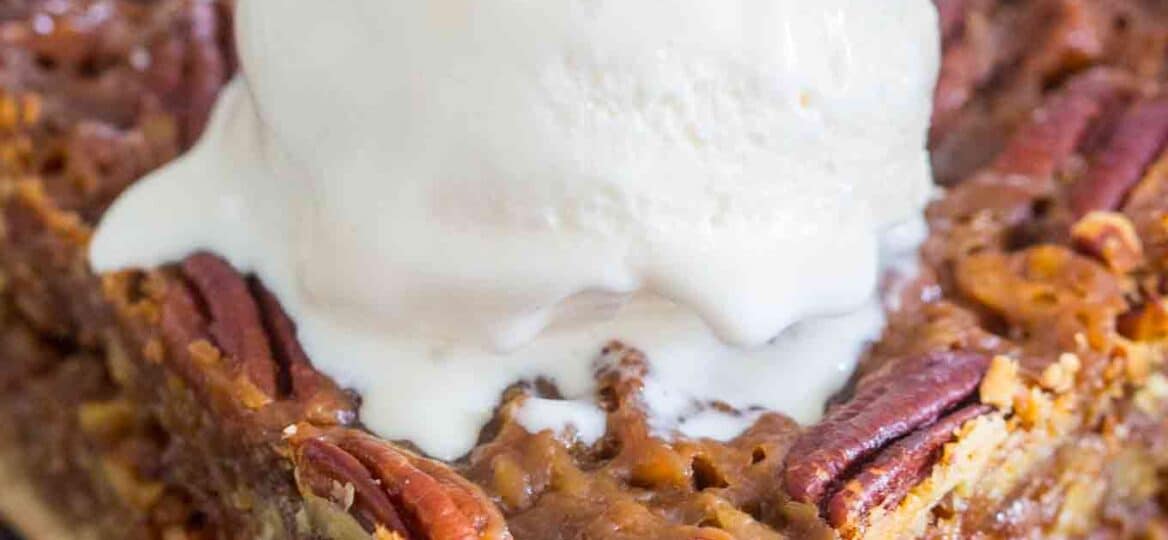 Homemade Pecan Pie with Bourbon [VIDEO]
Homemade Pecan Pie is unbelievably good and rich. The homemade crust is buttery, and the pecan filling has been flavored with bourbon. Watch the video tutorial below and you'll see how easy this is.
This Homemade Pecan Pie recipe is perfect for Thanksgiving, Christmas, or anytime you crave a good pie made from scratch. Similarly, my other popular pies are Homemade Apple Pie and Pecan Pie Pumpkin Cheesecake.
Best Homemade Pecan Pie with Bourbon
This Homemade Pecan Pie is probably one of the easiest homemade pies you can bake. Also, there is nothing more delicious than a homemade pie, in a buttery crust that melts in your mouth. Homemade pies are definitely my weakness since I can never resist a buttery crust that basically melts in your mouth.
This classic dessert is a crowd favorite, and just perfect for any occasion, or holidays. It is rich, flavorful, and the pecan filling is just irresistible. For this recipe, I went ahead and created my own pie crust. However, if you are short on time, the store-bought pie crust will work just fine.
The dark corn syrup in this recipe really adds such a great flavor, because of the molasses that is in dark corn syrup. The sweetness of the pie is balanced by the crunchy pecans, and the touch of ground cinnamon really brightens the flavors up. It can be served warm or cold, with a scoop or two of your ice cream of choice.
Tips for perfect pie crust:
Always use cold butter and shortening, this is very important!
The water should be ice cold, so make sure you chill some in the freezer.
First, mix all the ingredients except the water. I like using a pastry cutter or food processor to combine everything, but you can also use your hands.
Next, add the cold water and mix to combine again.
Then, roll the dough into a smooth ball, but make sure you don't knead it much or work it. Cover with plastic wrap and refrigerate for at least 30 minutes or overnight.
When ready to use, remove dough from the fridge and place it on a floured waxed paper sitting on a flat surface.
Flatten the ball into a disk and using a rolling pin, roll it into a circle, starting from the center.
Work quickly, this is also very important. Once at room temperature, the butter will change in temperature and start to affect the texture of the dough.
Using the waxed paper, lift the dough and transfer it to a pie dish.
Gently pierce a few holes with a fork, before adding the cheesecake layer and apple pie filling.
How To Make The Best Homemade Pecan Pie Filling?
Homemade pecan pie filling is very easy to make and tastes so much better than the canned version. To make the Pecan pie layer, you will need the following ingredients:
1 or 2 cups roasted pecans, depends how much nuts to filling ratio you prefer
1 cup dark brown sugar
¼ cup cornstarch
½ teaspoon salt
4 egg yolks, room temperature
1 cup dark corn syrup or dark maple syrup
½ cup cream, lukewarm
4 tablespoons unsalted butter, cold
Directions:
First, mix brown sugar, cornstarch, and salt. Then, add the mixture to a saucepan over low-medium heat.
Next, whisk in egg yolks, dark corn syrup, and cream. Stir and simmer.
Remove from heat, stir in cold butter until fully dissolved.
Fold in chopped roasted pecans.
What to serve the Pecan Pie with?
You can serve this delicious Pecan Pie with a dollop of whipped cream or a scoop of your preferred ice cream.
What shoud you bake the Pecan Pie in?
For the perfectly cooked pie, I recommend using a Ceramic Non Stick Dish.
How to freeze the homemade Pecan Pie?
First, make sure the pie has fully cooled and also was refrigerated for at least 6 hours.
Then, wrap the Pecan Pie tightly with aluminum foil or plastic freezer wrap, or place in a heavy-duty freezer bag.
Properly stored, it will maintain the best quality for about 2 to 3 months.
Homemade Pecan Pie Recipe Tips
For a richer flavor, I recommend using dark corn syrup.
Also, chill the crust after putting it in the pie pan. This makes the crust flakier, by firming up the fat before baking. Similarly, it gives the gluten a chance to relax, so it doesn't snap back when it's baked.
The pie can be served warm or cold. If you prefer it to be cold, then let it cool at room temperature and then refrigerate for at least 2-3 hours. This will give you nicer and cleaner slices when cut.
Add semi-sweet chocolate chips or bits of baking chocolate for a chocolaty take on this pie recipe.
Other delicious pecan desserts:
Deliciousness to your inbox
Enjoy weekly hand picked recipes and recommendations