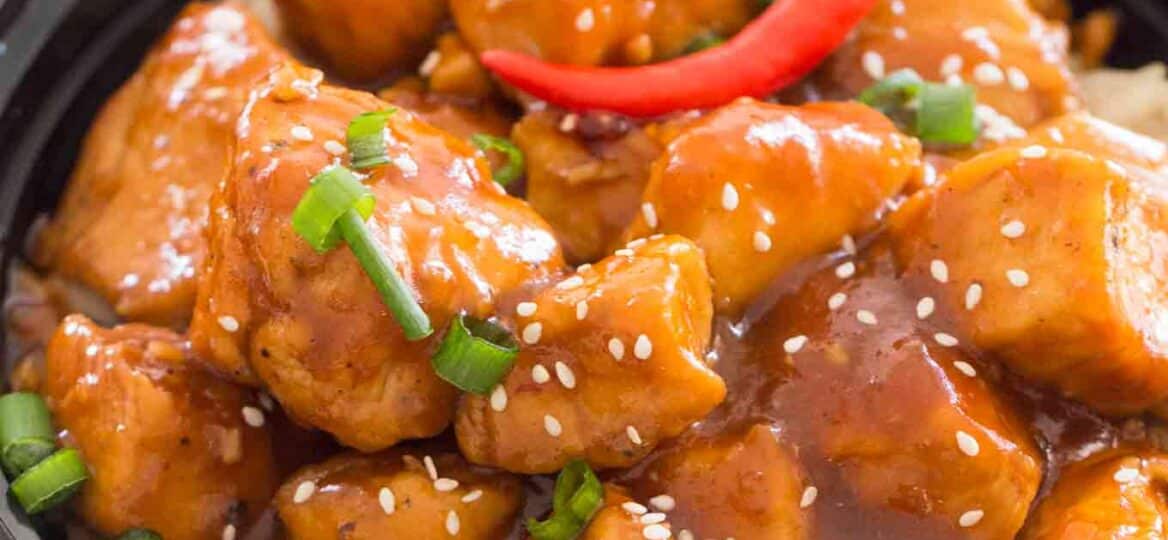 Spicy Bourbon Chicken [Video]
Spicy Bourbon Chicken is perfectly sweet, sticky and spicy, made in just one pan for a quick weeknight dinner with tasty leftovers. Watch the short video tutorial below and see how amazing this dish is!
We love making easy and delicious Asian meals for the family to enjoy. Among our most popular dishes are Instant Pot Orange Chicken, Slow Cooker Garlic Sesame Chicken and One-Pan Italian Chicken.
Easy Bourbon Chicken
Spicy Bourbon Chicken is one of my favorite Chinese quick meals to make on a weeknight. The flavors are so much better than takeout and you can make this recipe with chicken breast, thighs or even shrimp. The sauce is sweet, sticky and deliciously spicy. You will lick your fingers clean!
This homemade dish is super tasty and served over rice or noodles with some steamed, or stir-fried veggies on the side. I usually like to make a large batch of this recipe, usually doubling it so I can have leftovers the next day.
Why You'll Love Spicy Bourbon Chicken Recipe:
Firstly, it's very easy to make, perfect for busy weeknights.
Also, it creates delicious leftovers that can be easily packed for next-day lunches.
Made in one pot, with minimum cleaning and prep work.
Sweet, spicy and sticky!
DOES BOURBON CHICKEN CONTAIN BOURBON?
Yes. As the name suggests, this dish does call for bourbon. However, the alcohol evaporates as the sauce simmers, therefore it contains pretty much no alcohol. Also, if you prefer not to use alcohol at all, you can substitute it with apple juice and it'll still be delicious.
How to make Crockpot Bourbon Chicken?
This easy and delicious recipe can also be made in the crockpot. Simply, cook the chicken as directed and add in half the amounts of the rest of the recipe sauce ingredients. Please note, the ingredients won't be able to cook down in the slow cooker.
Then, cook on low for 5 hours or high for 3 hours. For the last 30 minutes of cooking, add in the last tablespoon of cornstarch then cook on high.
What is best to serve with Spicy Bourbon Chicken?
How to store it?
If you want to make it ahead or have leftover, simply let the dish cool first. Then, transfer to an airtight container and refrigerate for up to 4 days. Reheat prior to serving. Also, feel free to freeze it for up to 3 months.
Recipe Tips:
First, try to use quality meat. You can make this recipe with chicken breasts, thighs or even shrimp.
Also, cornstarch is a key ingredient in here. Do not try to replace it with flour, the results will not be the same.
Using fresh ginger and garlic will add amazing flavor and taste to the sauce.
For a spicier kick, add some red pepper flakes.
I am a huge garlic lover, you can add more or less as you please, but in my case, more garlic is always better.
In addition, you can use your favorite bourbon. I also made this dish with cognac and it turned out fantastic.
Technically, the bourbon cooks down, so you are only left with a nice flavor, but no alcohol. However, if you are avoiding alcohol altogether, you can replace it with apple juice, or apple cider.
Garnishing the dish with sesame seeds and green onions will add a pop of color and interesting texture.
Tools/Ingredients I used to make this Recipe:
Soy Sauce – I like using lite soy sauce in my recipes, as it has less sodium and its easier for me to control the saltiness of the dish, I always buy a large bottle like this one and keep it in my pantry.
Cornstarch – I prefer using cornstarch instead of flour to thicken sauces, and this organic brand is my favorite.