Stuffed Cabbage Casserole Recipe [Video]
Stuffed Cabbage Casserole is a rustic, comforting meal with layers of seasoned ground meat and rice in tomato sauce, smoky bacon, melty cheese, and tender vegetables. So filling and easy!
I have a soft spot for casseroles. They're so simple to make, and there's always plenty to share. For breakfast, this Chocolate French Toast Casserole is always a hit. You can never go wrong with Buffalo Chicken Mac and Cheese or my Loaded Cheeseburger Casserole, too!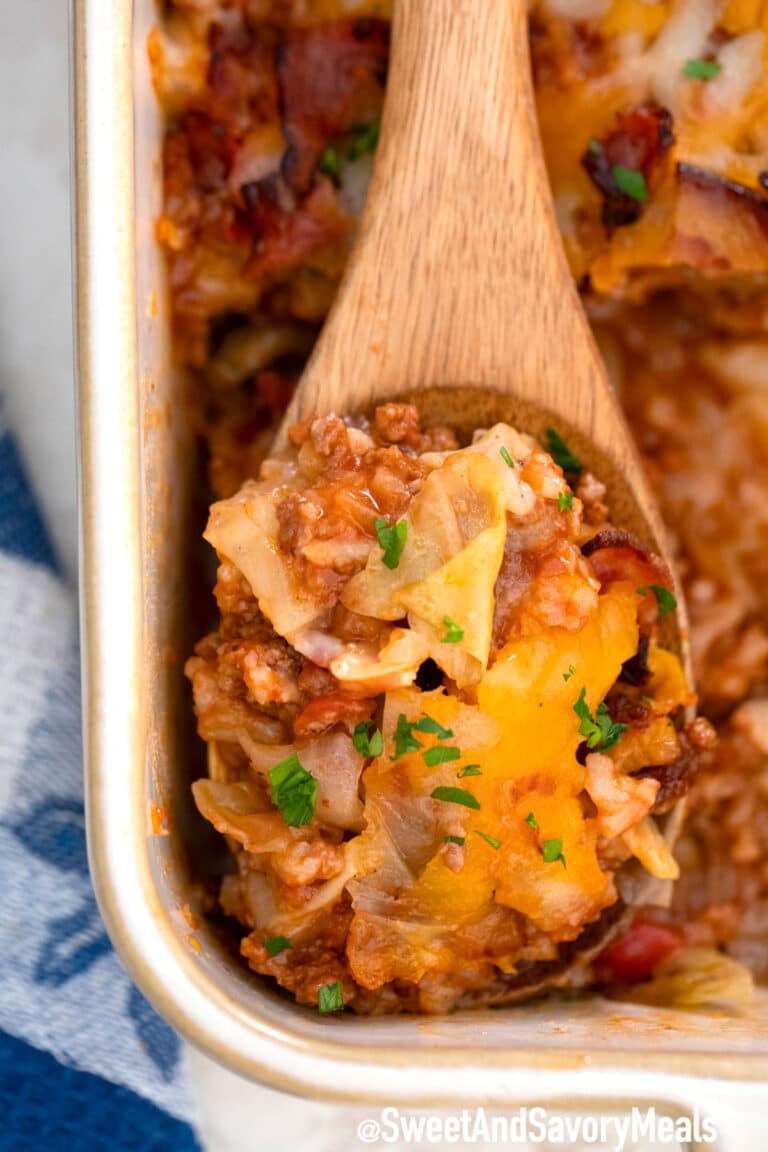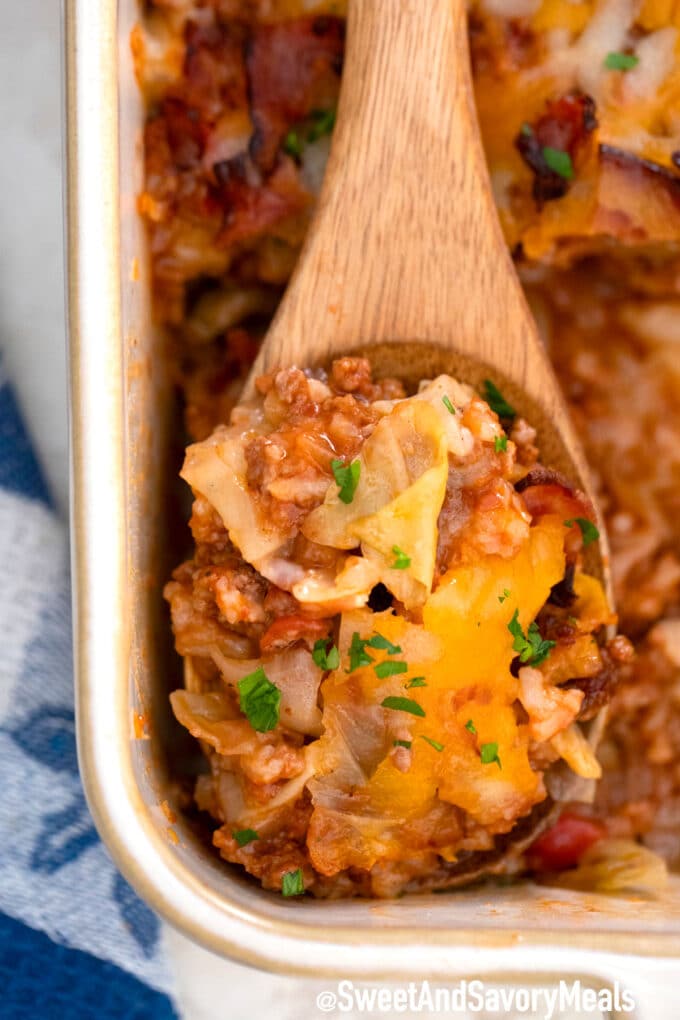 Easy Stuffed Cabbage Casserole
Stuffed Cabbage Casserole is as delicious as the traditional roll version but without the extra work. No rolling up leaves here! You just have to prepare each tasty component, arrange them in a layer, and bake. This is a beloved recipe in my household and often requested at potlucks.
Also, if you like doing freezer meals (they're so convenient!), add this to your roster because it freezes and reheats so beautifully. This dish is so good because every component is delicious on its own.
You've got that ground meat, tomato, and rice mixture that's loaded with herbs and spices. A whole cup of bacon and two kinds of cheese: cheddar and mozzarella. The vegetable is tender but retains a bit of crisp. Garnish with a dollop of sour cream on top, and you've got one of the best meals ever.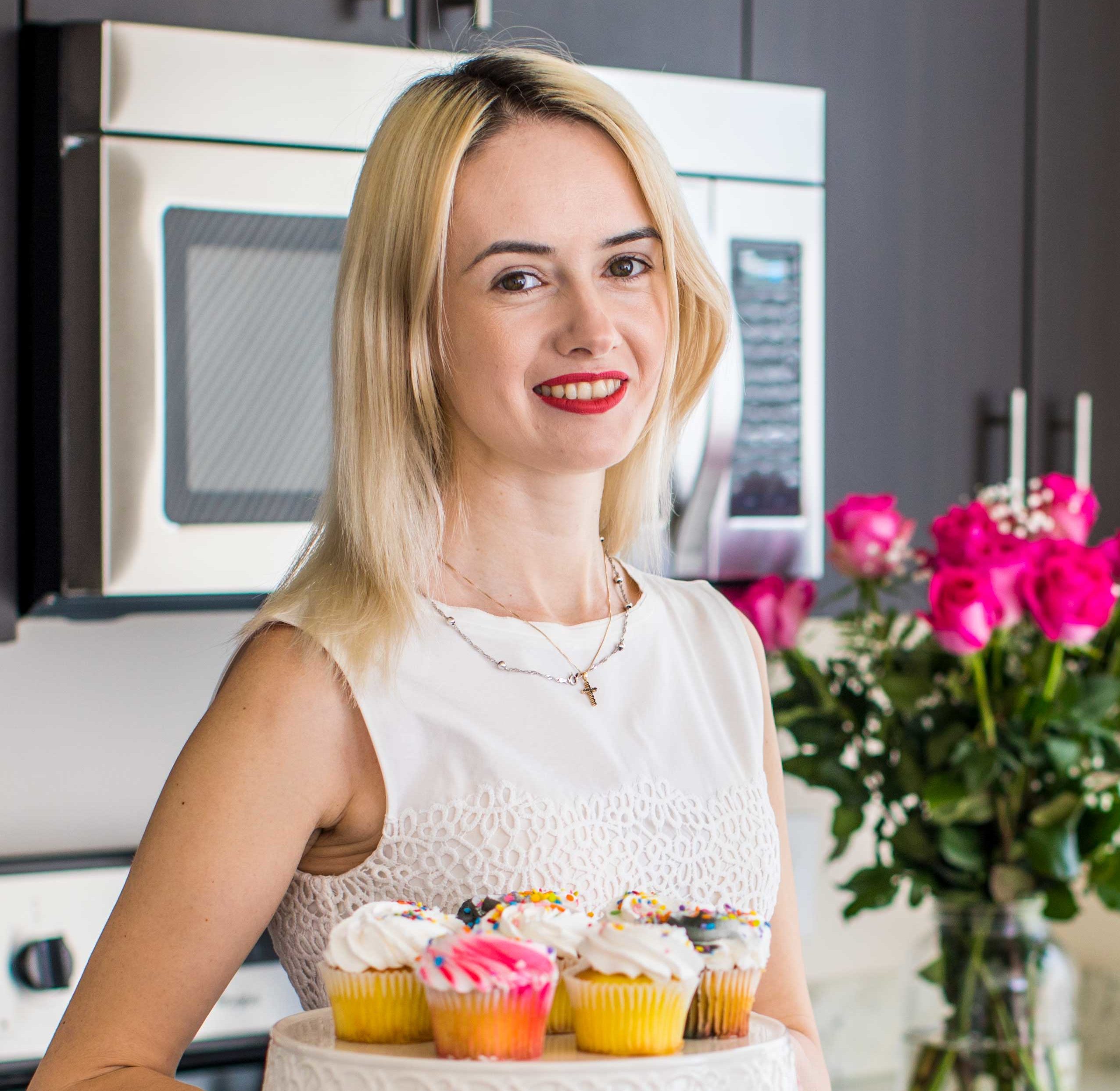 Follow us on Pinterest for more delicious recipes!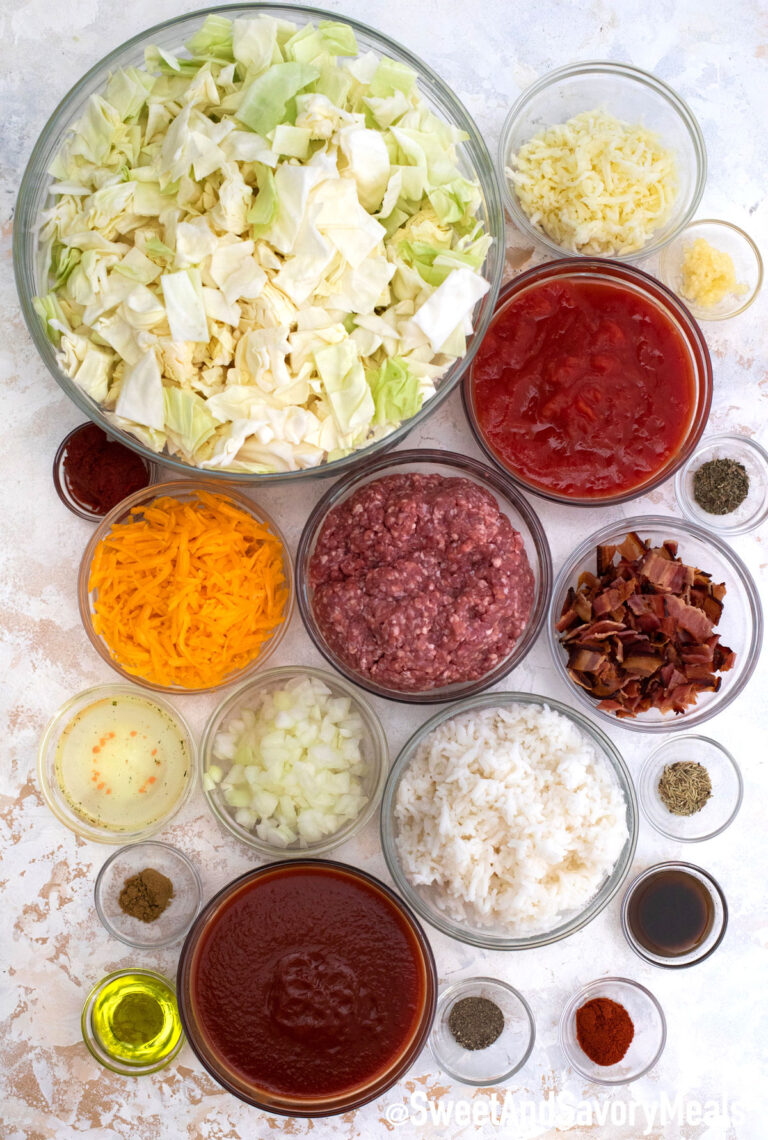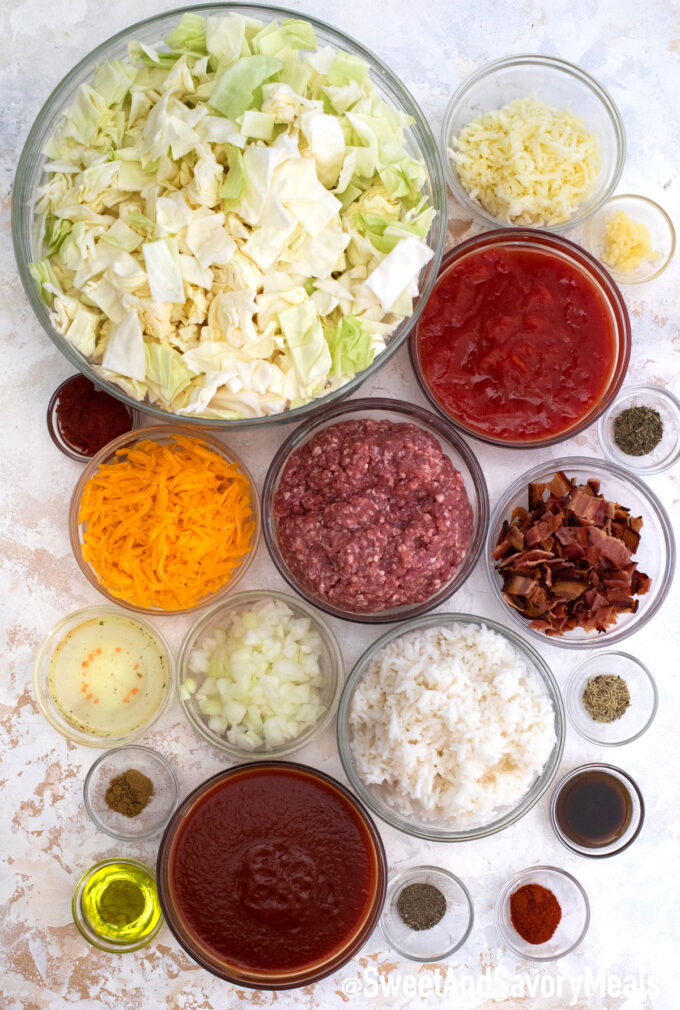 What is stuffed cabbage casserole?
You'll find a wide variety of this recipe across Europe, Africa, and Asia. But it's commonly credited to the Polish dish gołąbki, in which the leaves are parboiled, stuffed with meat and rice filling, then rolled and baked in sauce.
I love a good stuffed roll, but sometimes I don't have time – or not in the mood – to make individual rolls. Therefore, this casserole version satisfies the craving just as well, but with less work involved.
In addition, you can tweak the recipe in so many ways. Use other meats, other types of rice, and experiment with seasoning combinations. As long as the main components are there, you're good to good.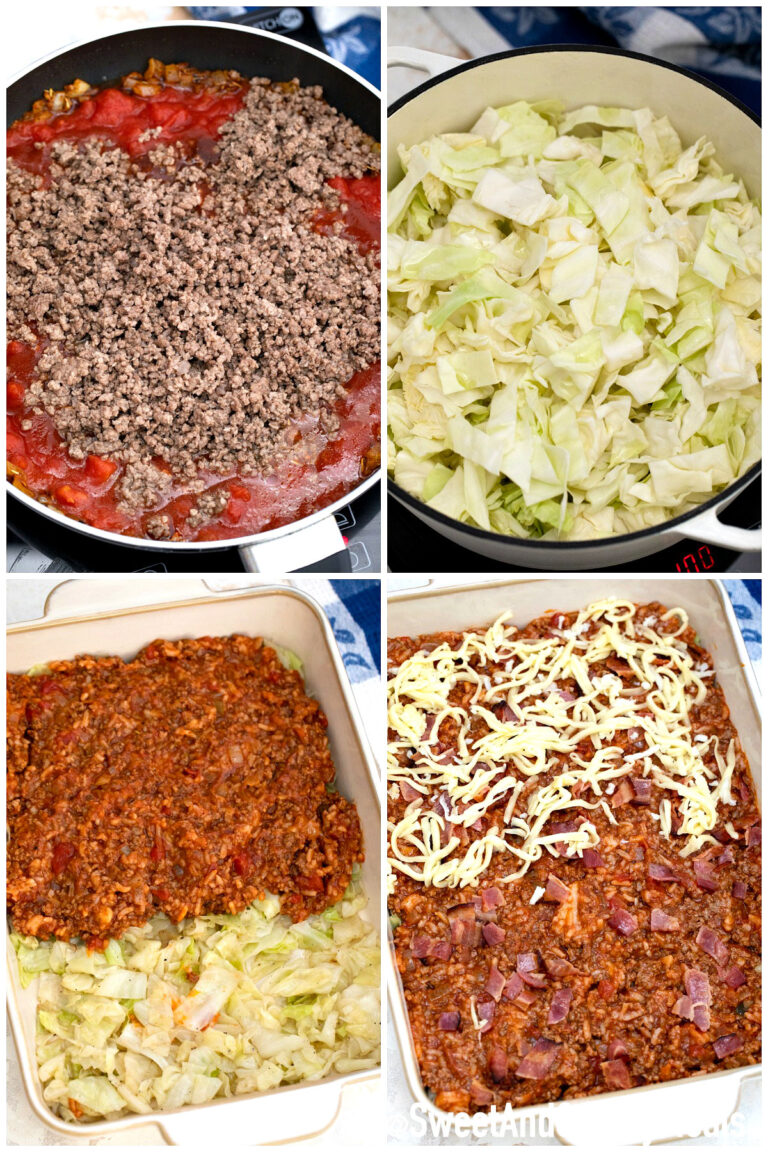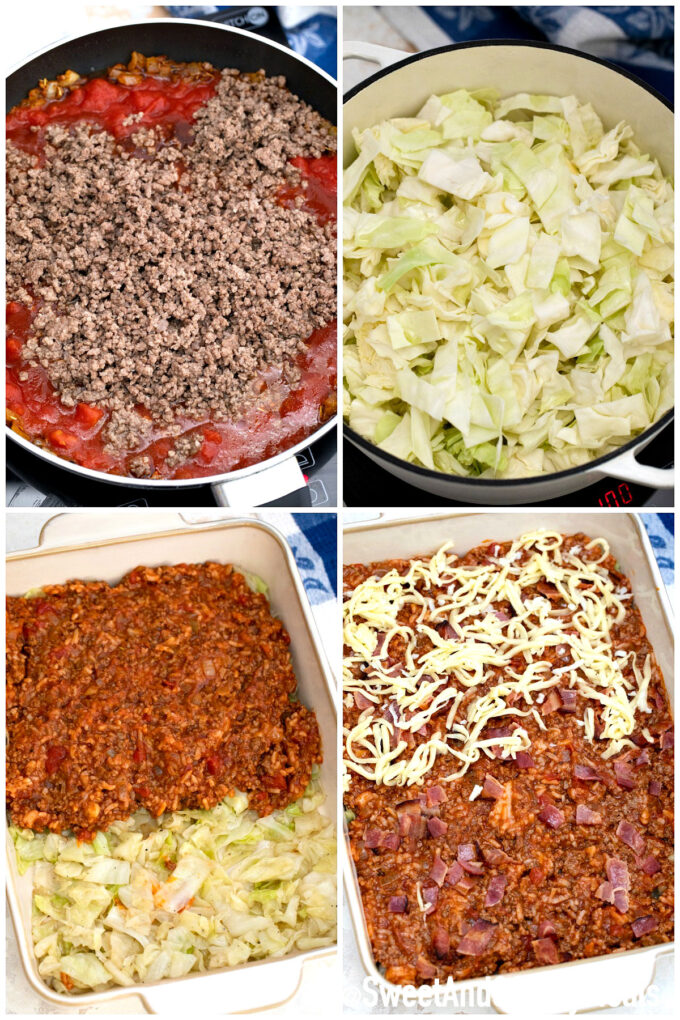 How to make Stuffed cabbage casserole?
Make the meat mixture: First, brown the ground beef, and set aside. Next, saute onion, garlic, then add the herbs and spices. Pour in the diced tomatoes, Worcestershire, tomato sauce, broth, and return the meat. Simmer until some of the liquids evaporate and the sauce becomes a bit thicker. Then, gently stir the cooked rice in.
Cook the vegetable: Chop, season, then sauté in olive oil until cooked and wilted.
Layer: First, lay half of the vegetable, then half of the meat over that. Sprinkle half of the bacon on top, then cover half of the cheese. Repeat. The last layer should be the mix mixture.
Bake: Cover with foil tightly, then bake for around 40 minutes. Uncover, then sprinkle the rest of the bacon and cheese on top. Bake uncovered until cheese is golden and bubbly.
Serve: Cut into your preferred serving size. Garnish with roughly chopped parsley and sour cream. Enjoy.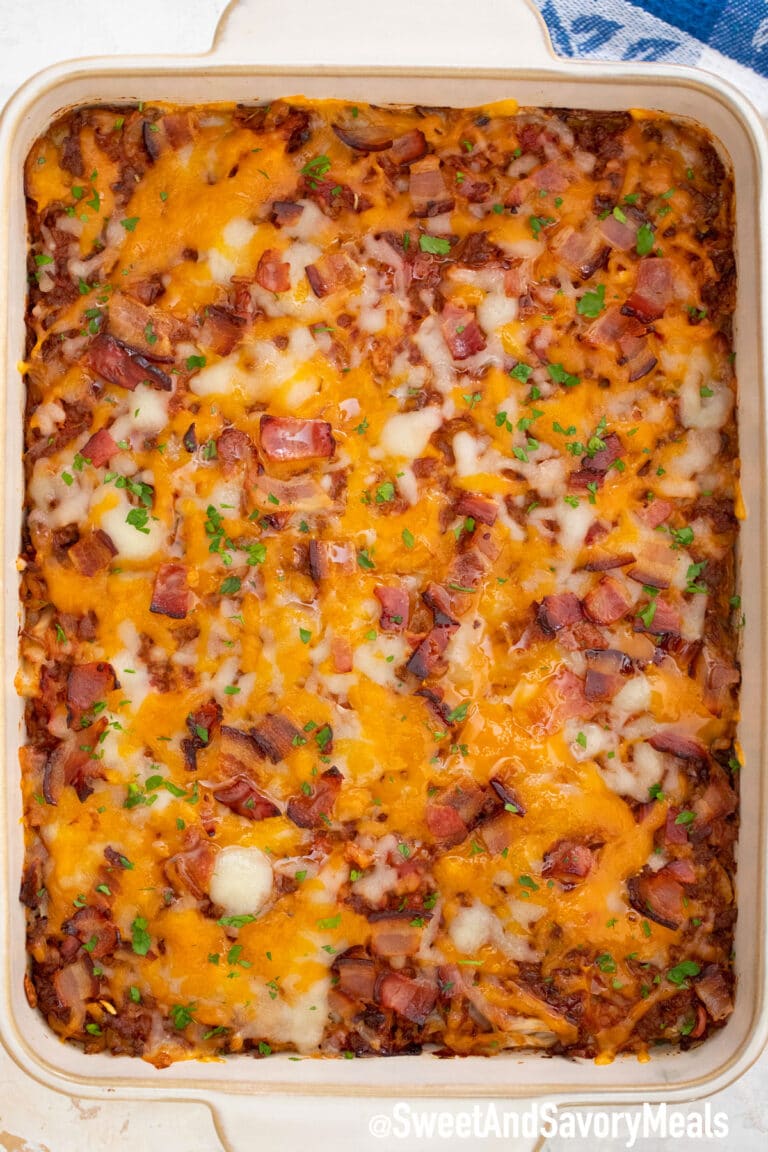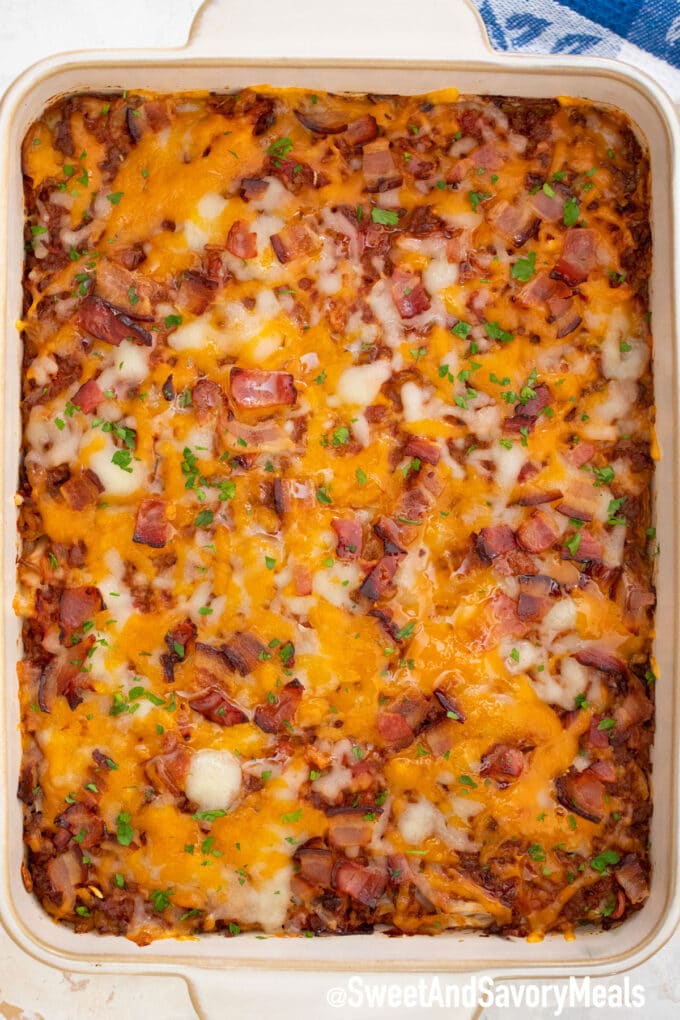 How to make Slow Cooker Stuffed Cabbage Casserole?
If you prefer the crockpot, follow my slow cooker version instead. The ingredients are very similar. The main difference is that you don't have to cook each layer individually. Instead, they cook at the same time inside the crockpot. Below are the steps to make it the slow cooker:
Prepare the leaves: Parboil then cut off the thick part to flatten.
Make the filling: Except for the vegetables, combine the filling ingredients of beef, rice, herbs, and seasonings.
Make the sauce: Next, combine broth, tomato sauce, tomatoes, and the rest of the sauce ingredients.
Assemble: Stuff each leaf with filling and roll. Layer the crockpot bottom with three leaves, then spread half of the sauce on top. Arrange the rolls and cover with the rest of the sauce.
Cook: Lastly, cook for 4 hours on HIGH, or 8 hours on LOW.
Can you make it with other meats?
Sure! Any ground meat will work, such as chicken, turkey, and pork. You can even use plant-based meat substitutes if you prefer.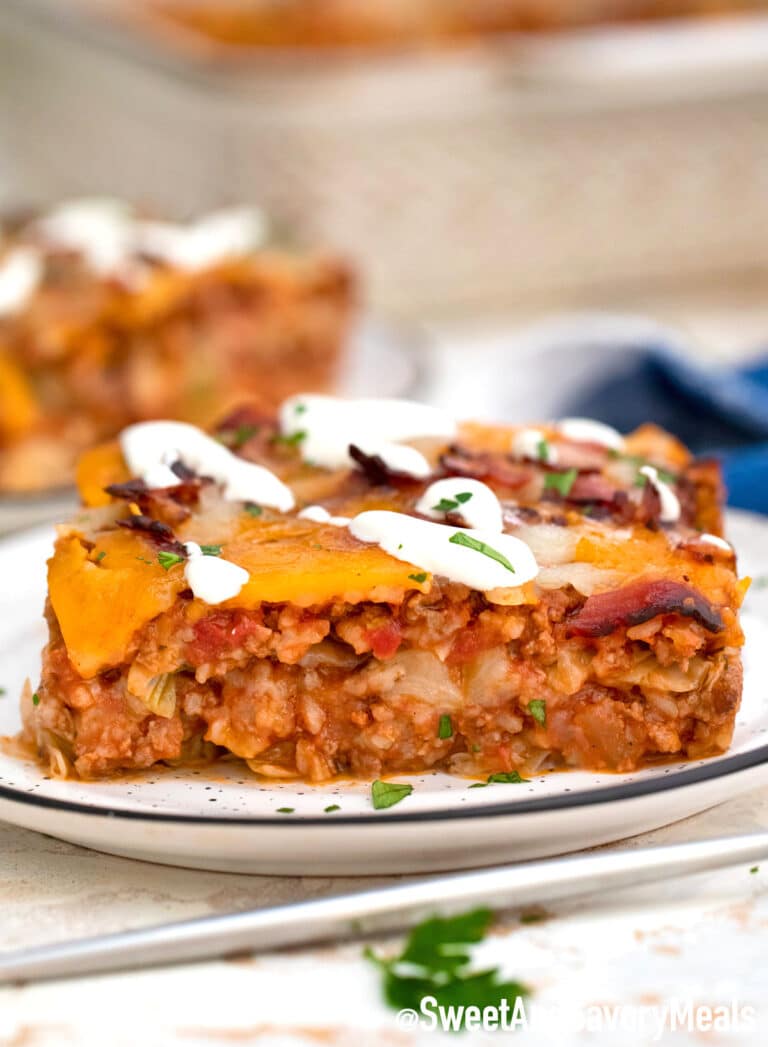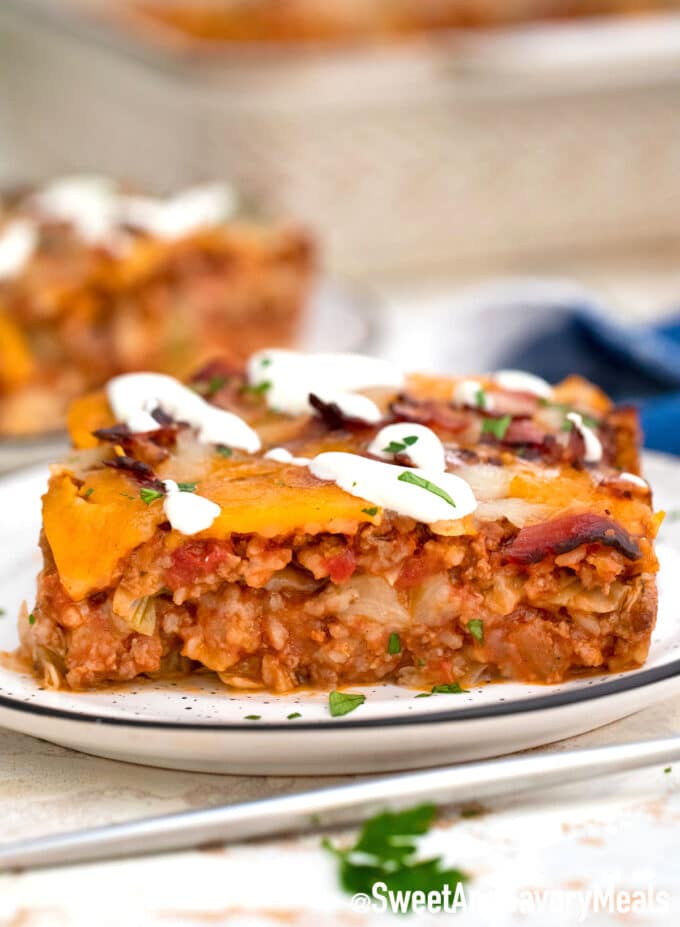 What to serve with cabbage rolls?
Try it with these fluffy 30-minute Dinner Rolls to soak up all that delicious sauce! Also, it goes well with a side of roasted potatoes, mashed potatoes, or this beautiful Beet Salad.
If I'm feeding an especially hungry crowd, I like serving it with some easy pork chops or fried chicken.
More delicious cabbage recipes:
Storing Instructions:
Transfer the completely cool leftovers to an airtight container. It stays good in the fridge for up to three days and more than three months in the freezer.
To reheat, thaw. Bake to heat or microwave for a few minutes.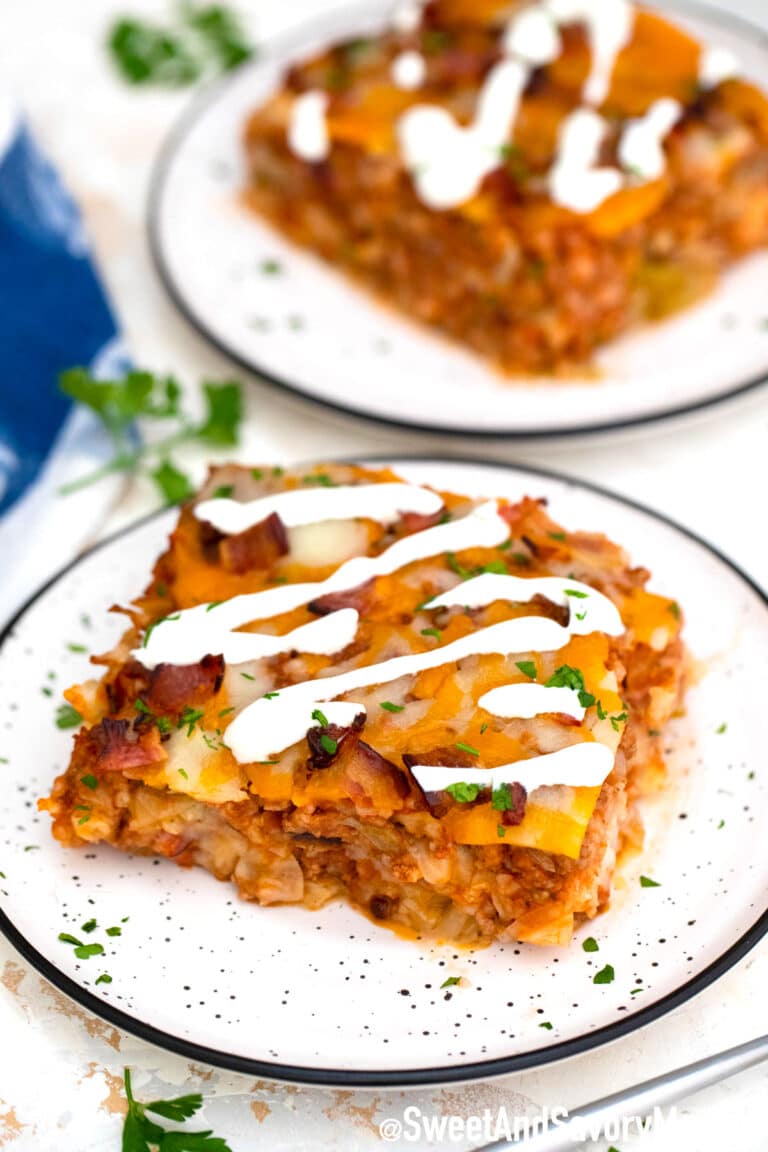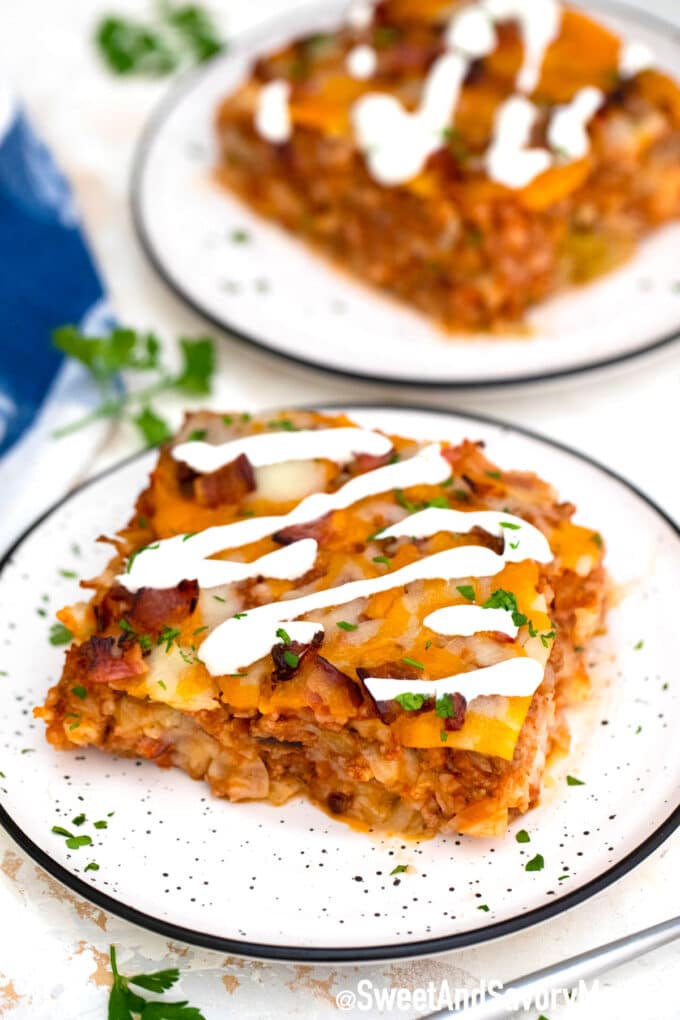 Recipe tips:
Don't forget to remove the tough core of the vegetable head.
Cover during the initial baking to prevent the top of the dish from drying out.
Alternatively, feel free to swap the meat and make it with ground turkey, chicken, or pork.
Feel free to shred some of your favorite cheese on top. Also, to make it dairy-free omit the cheese altogether.
To make it keto or low-carb, swap the rice out, and add more meat.
In addition, you can use a can of chopped tomatoes, or crushed tomatoes.
To make it spicier, add some crushed red pepper or chopped jalapeno to the tomato sauce.
Save Recipe
Stuffed Cabbage Casserole
Stuffed Cabbage Casserole is a rustic, comforting meal with layers of seasoned ground meat and rice in tomato sauce, smoky bacon, melty cheese, and tender vegetables.
Author: Catalina Castravet
Serves: 9 slices
Prep time:

30

minutes
Cook time:

1

hour
Total time:

1

hr

30

mins
Nutrition information
Calories: 391 Carbohydrates: 30 Protein: 30 Fat: 17 Saturated Fat: 6 Cholesterol: 56 Sodium: 840 Potassium: 875 Fiber: 6 Sugar: 10 Vitamin A: 727 Vitamin C: 66 Calcium: 396 Iron: 4
Save Recipe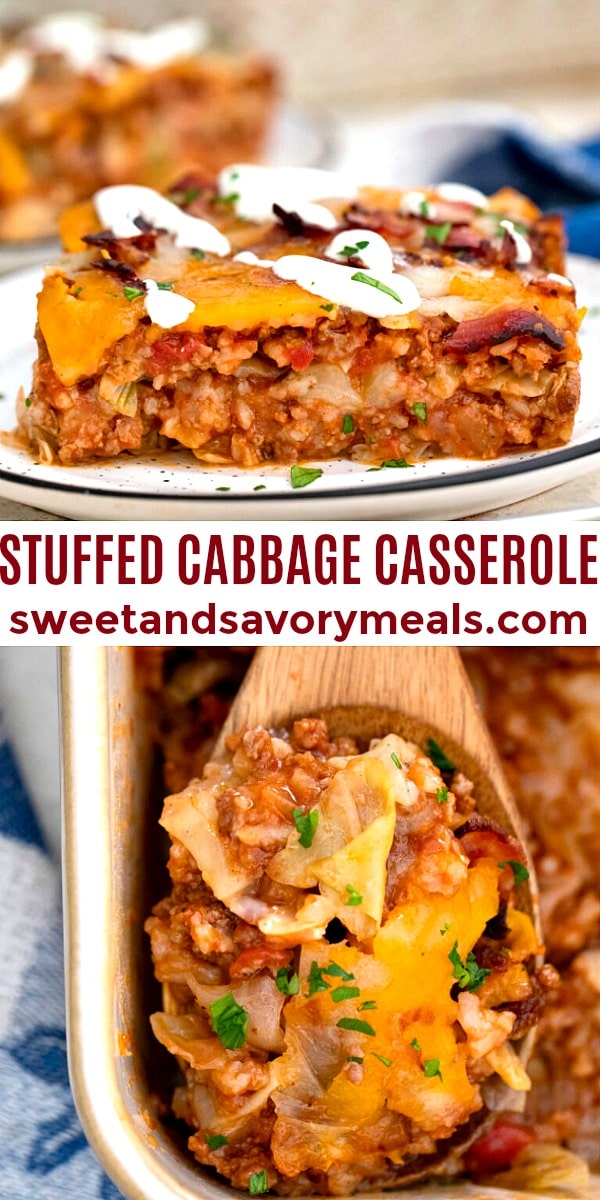 More recipes you might love