Cabbage Roll Soup Recipe [Video]
Cabbage Roll Soup is hearty and filled with flavorful cabbage rolls. A perfect comfort dish filled with ground beef and veggies to enjoy during the colder winter days.
This is such an easy and classic dinner that everyone should give it a try. You can also try our Slow Cooker Taco Soup, Ham and Bean Soup, and Homemade Chicken Noodle Soup. Zoup! provided me with the product for the purpose of this post, as well as compensation for my time. As always, all opinions expressed in this post are mine.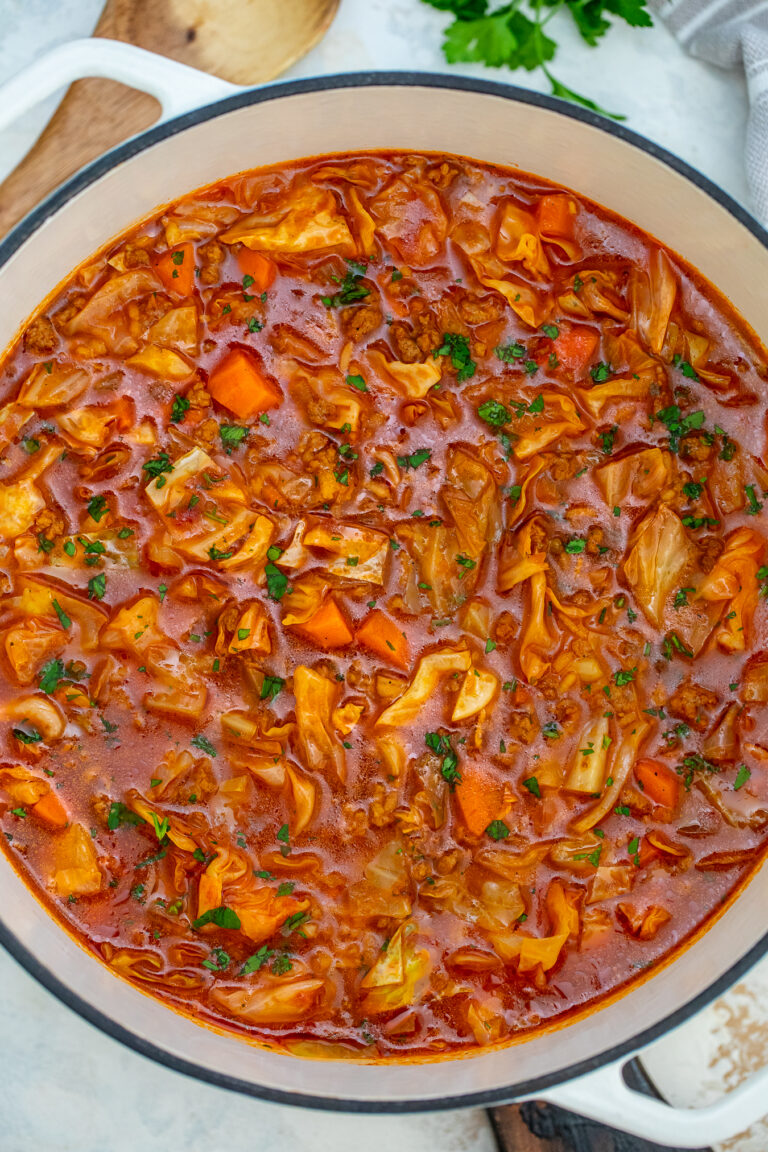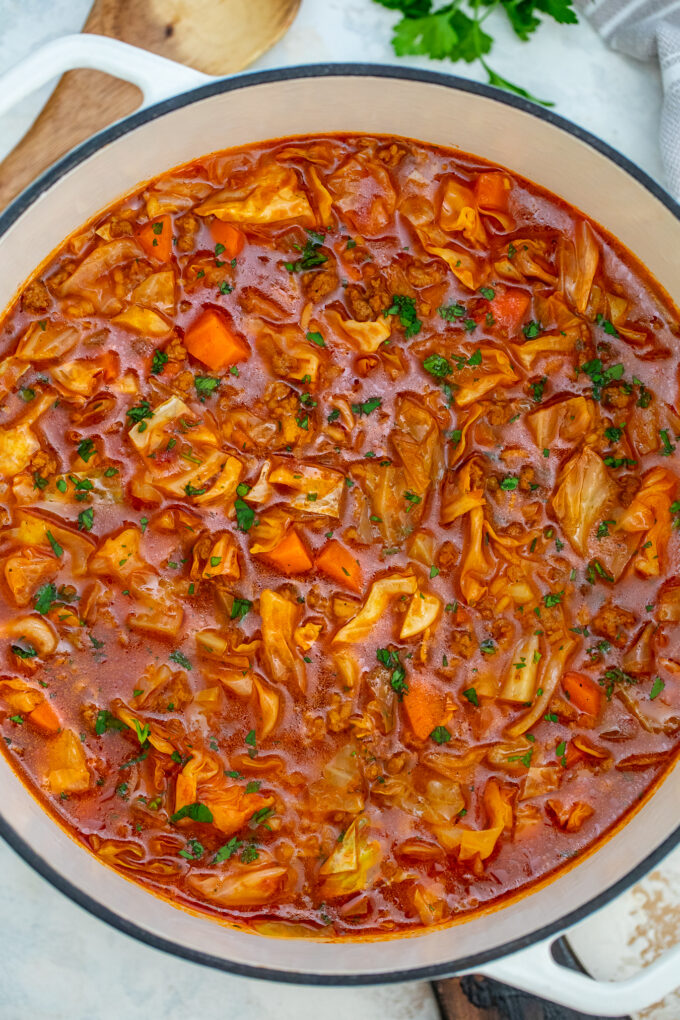 Easy Cabbage Roll Soup
If you are looking to enjoy a delicious comfort dish, that is easy to make, then this Cabbage Roll Soup is it! It is the type of meal that you can enjoy during fall or winter times. It is guaranteed to warm up your souls. There is nothing like a bowl of warm, homemade soup!
Also, the flavors are amazing, and you also get a fair amount of protein from the ground beef. It is made in one pan, so you do not need to worry about cleaning too many dishes. This is a family-friendly meal that is also full of vitamins and proteins.
This has all the great flavors of traditional Cabbage Soup, without all the fuss. A premium beef broth like Zoup!'s escalates the flavors to a different level. Give it a try, and you will see why this is one of the best soups to enjoy during the winter times. It's hearty, beefy, and full of veggies.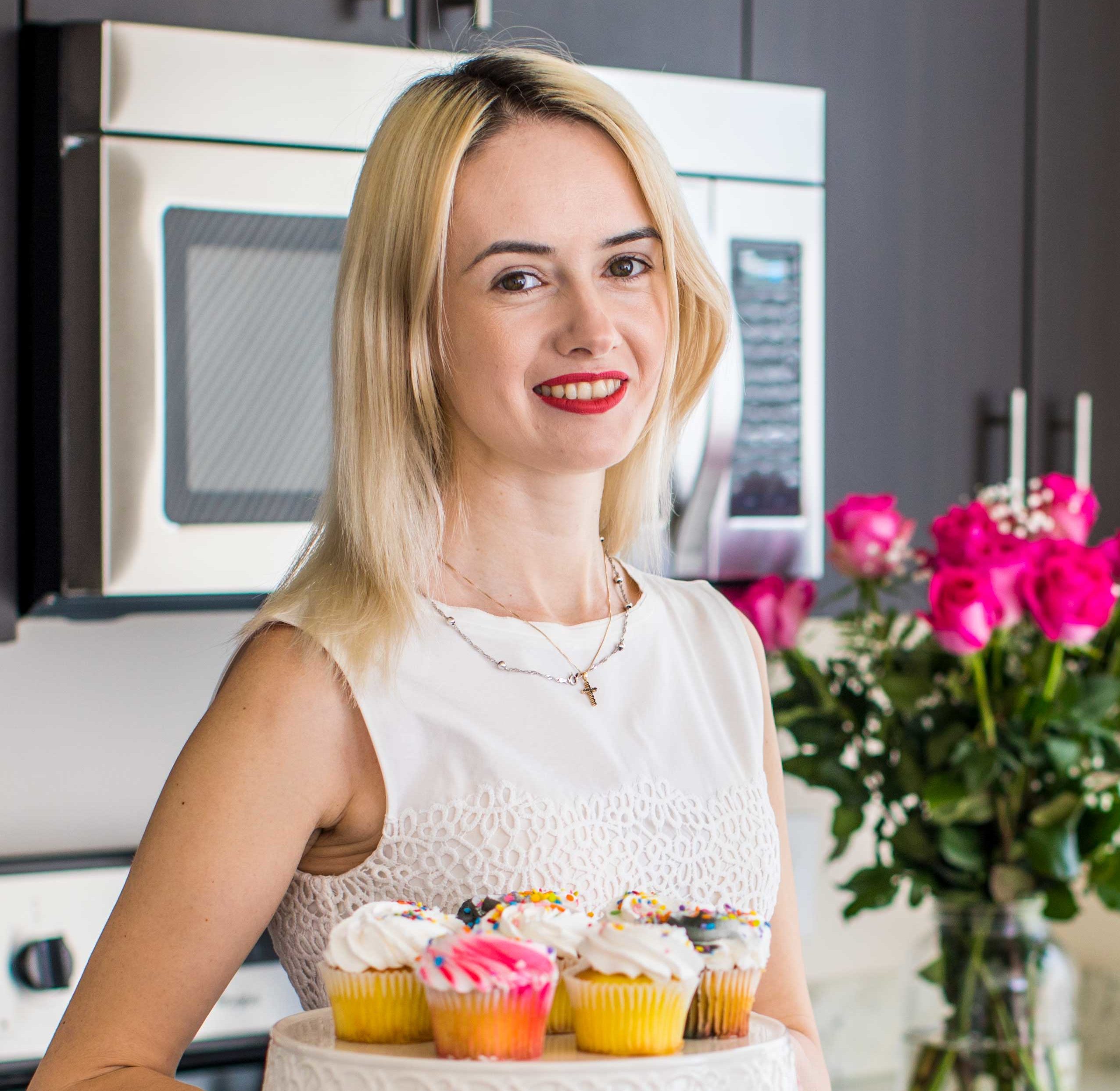 Follow us on Pinterest for more delicious recipes!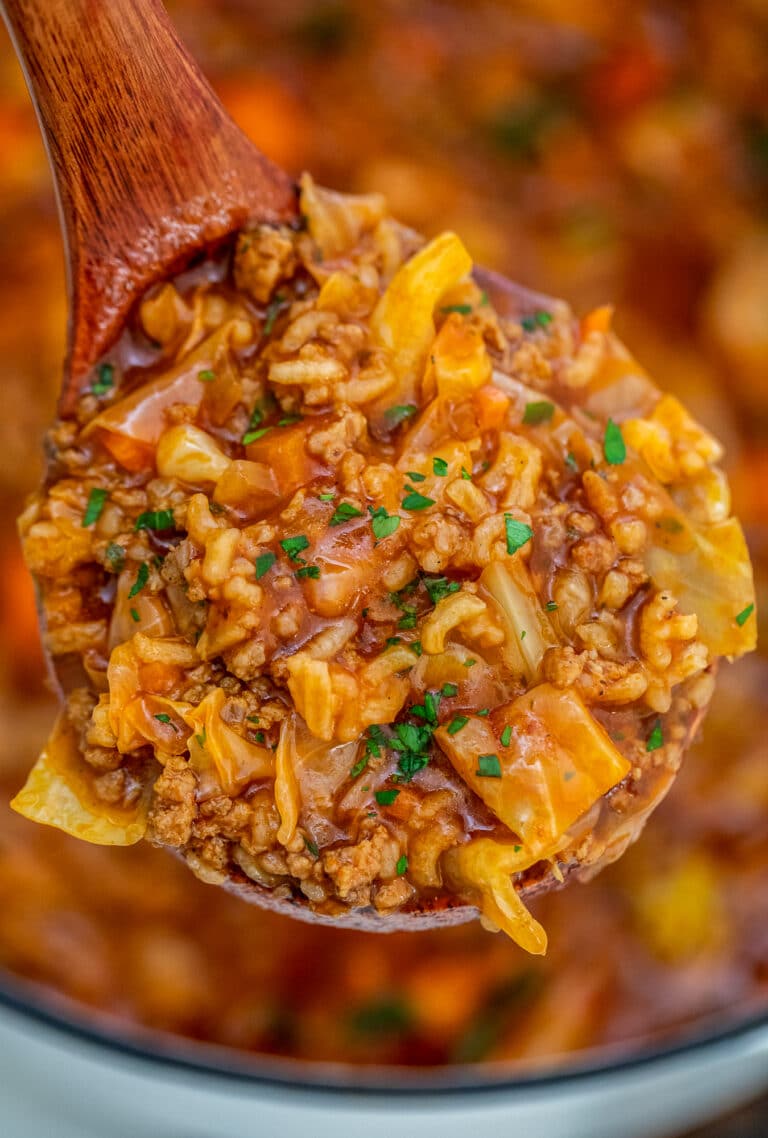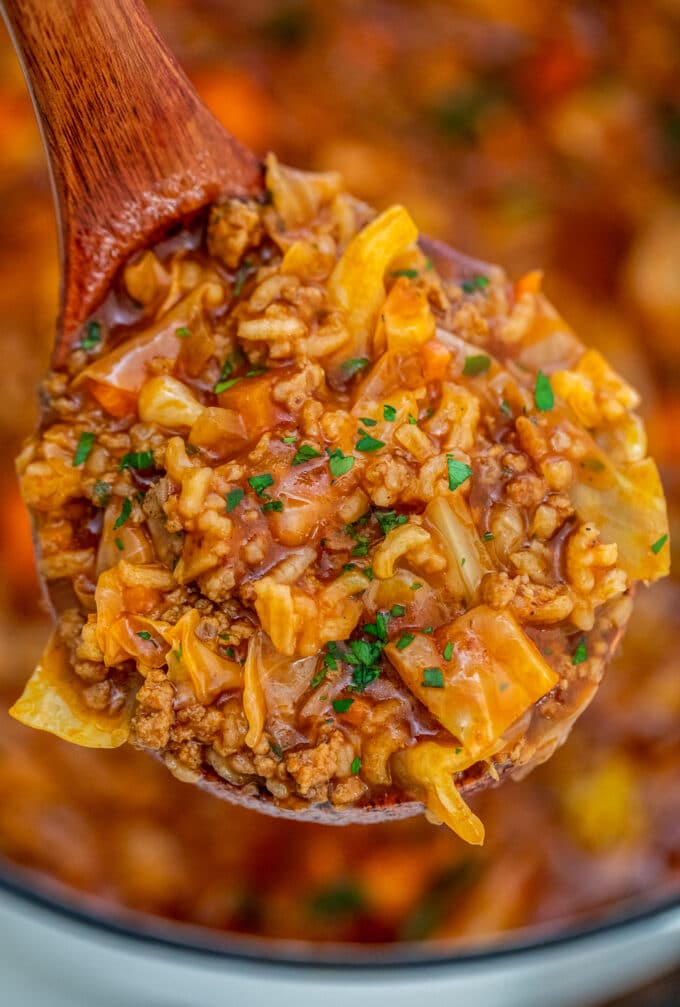 How do You Make Cabbage Roll Soup?
For the exact ingredient list and step by step guidelines, please see the recipe card below. Also, watch the short video tutorial attached above. However, the general steps are as follows:
Brown the beef: We like using 90% ground beef. On a skillet, over medium-high heat, brown the meat along with some chopped onions. Once browned, transfer the reserved fat into a pot.
Saute the veggies: Next, saute the veggies, such as tomato, and carrots.
Combine the ingredients: Once you browned the meat and sauteed the veggies, add the broth to the pot. I used Zoup! Good, Really Good® Beef Bone Broth to add maximum flavor to this recipe! Along with it, add the rest of the ingredients, including rice, spices, and cabbage. Then, cover and simmer until the rice is tender, for about 25 minutes.
Serve: Enjoy warm, and garnish with some chopped parsley.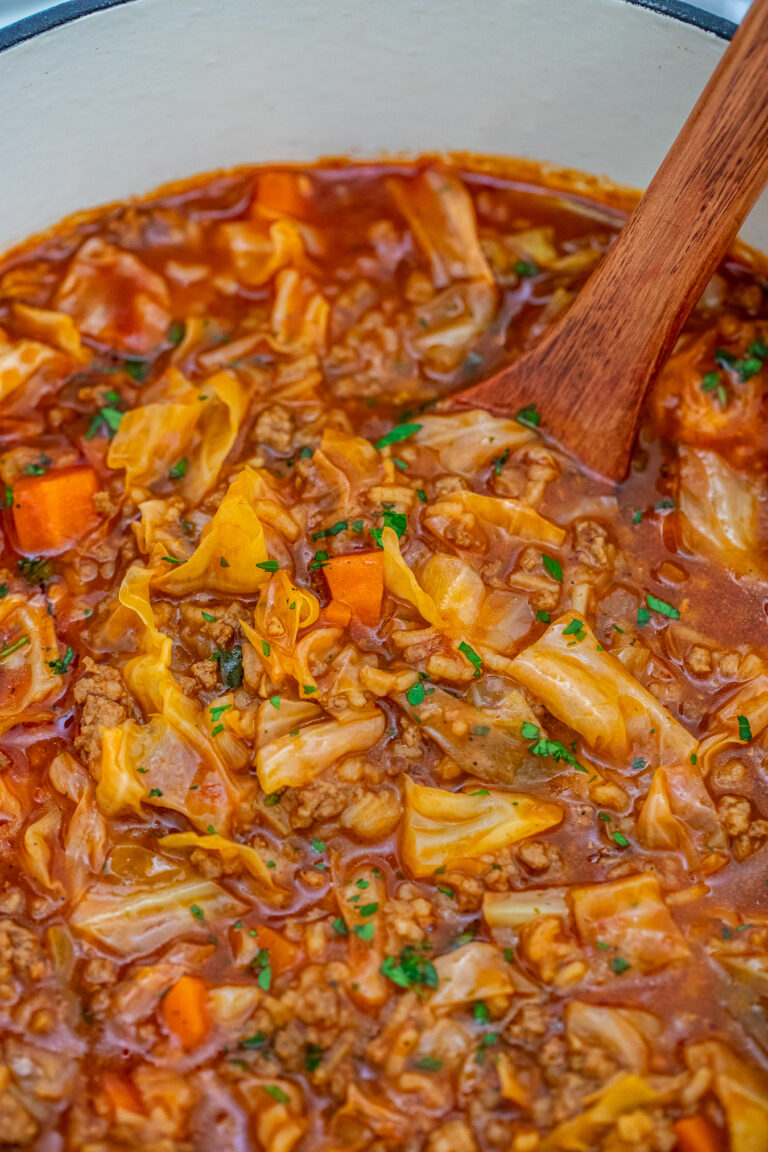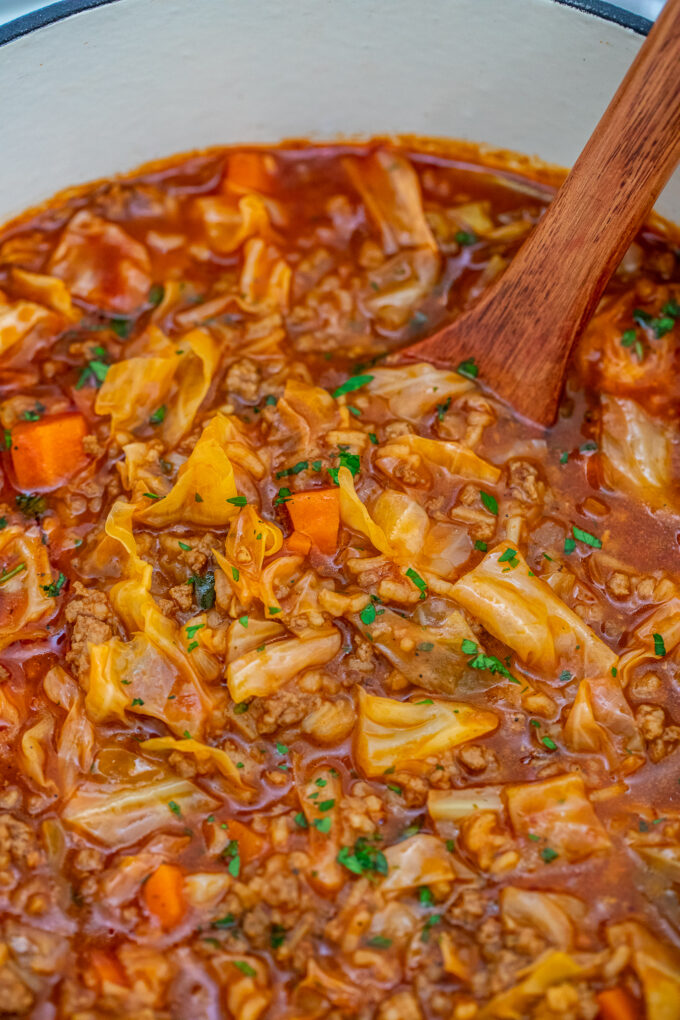 How to make Crockpot Cabbage Roll Soup?
This easy and delicious recipe can also be made in the slow cooker. First, simply brown the meat on the stovetop. Then, drain the fat and add the spices and onions. After, add all remaining ingredients to the slow cooker and stir to combine.
Cover the lid, and cook on HIGH for about 3-4 hours, or on LOW for 6-7 hours, or until the rice is properly cooked.
How to make it in the Instant Pot?
Alternatively, this dish can be made in the Instant Pot/Pressure Cooker. We already have this recipe on our blog, and you can find it by clicking on this link.
The product's premium, homemade flavor, and attributes: Cooked in kettles in small batches, low in calories, paleo-friendly, and completely free of hormones, gluten, GMO's, fat, trans fat and saturated fat.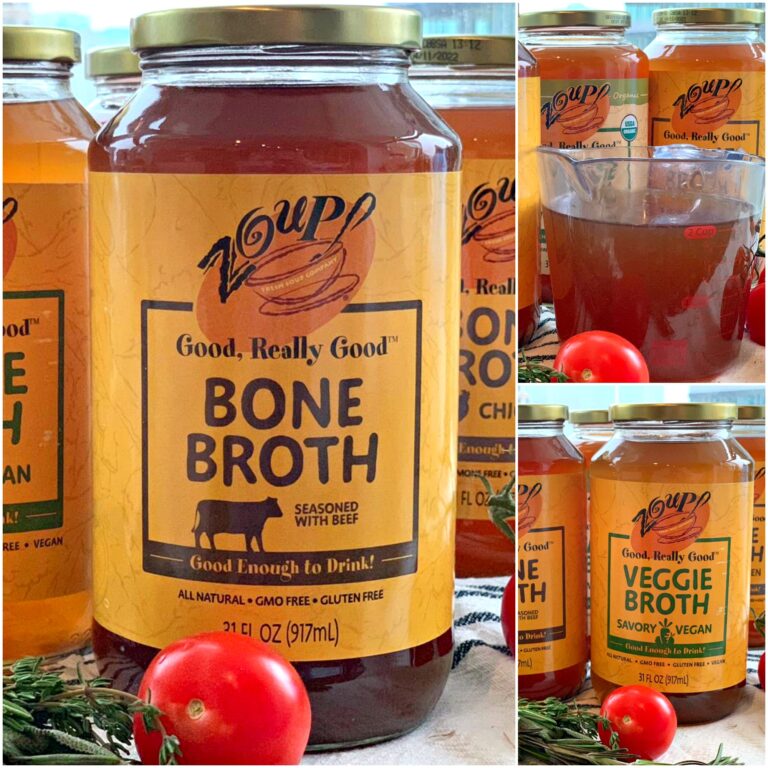 A little about Zoup! Good, Really Good® Broth:
Zoup! operates multiple soup-focused restaurants (follow @ZoupEatery to check out their soups!) and is now also bringing the restaurant-quality broth to supermarkets. I love using their products whenever a recipe is asking for broth, as I trust the quality and can always count on them for good taste and homemade flavor. The premium broths are cooked in kettles in small batches, low in calories, paleo-friendly, and completely free of hormones, gluten, GMO's, fat, trans fat and saturated fat. Visit www.zoupbroth.com to learn more.
The Zoup! Good, Really Good® Broth lineup includes new Certified Organic Veggie Broth, new Certified Organic Chicken Broth, original Chicken Broth, Low-Sodium Chicken Broth, Veggie Broth, and Chicken and Beef Bone Broths.
Another great thing about Zoup! Good, Really Good® Broth is that the product is packaged in recyclable glass jars and can be purchased at retailers nationwide. You can find yours at Sprouts Farmers Market, Walmart, Cosentino's, Fresh Thyme, Wegman's or Albertsons-Safeway, to name a few.
To get yourself some delicious Zoup! Broth, I have a coupon code for you. Use THIS COUPON to receive $1 off any jar of Zoup! Good, Really Good® Broth!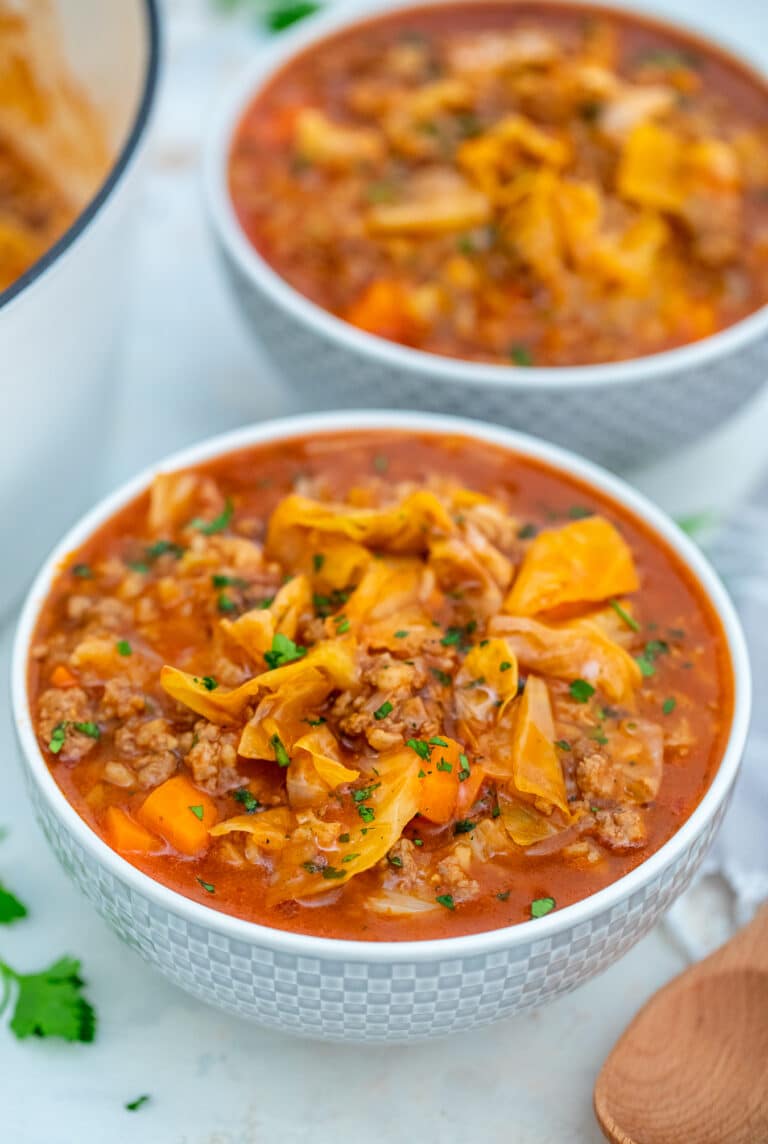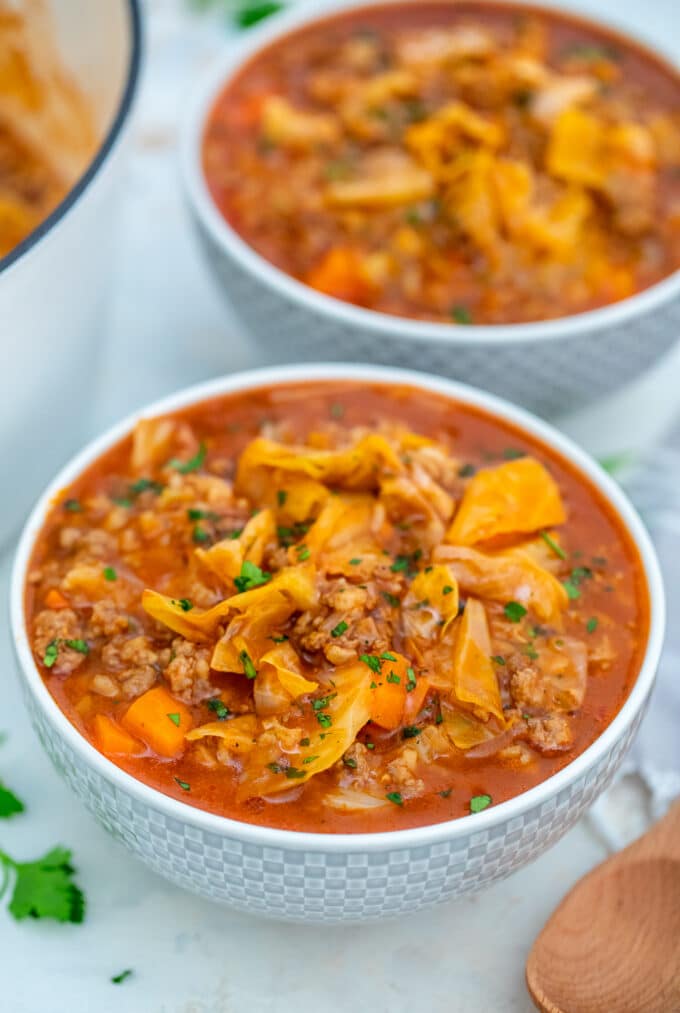 Easy Recipe Variations:
Other meats: If you are not a fan of beef, or want to substitute it with other meats, feel free to do so. For example, swap it with sausage, ground pork or ground turkey. Also, you can make it with bacon if desired.

Rice: To make this soup lower in carbs, feel free to substitute the rice with cauliflower rice. Also, it is recommended for diabetic people and has fewer calories.
Spices: Add any of your favorite spices. In addition, adjust the saltiness based on your preference.
Can you make it in advance?
Absolutely! This is the perfect recipe to make in advance and store for days to come. Actually, it will taste even better as the soup will absorb all the flavors together, making it so much more delicious!
To store it, simply let it cool. Then, transfer to an airtight container, and refrigerate for up to 4 days.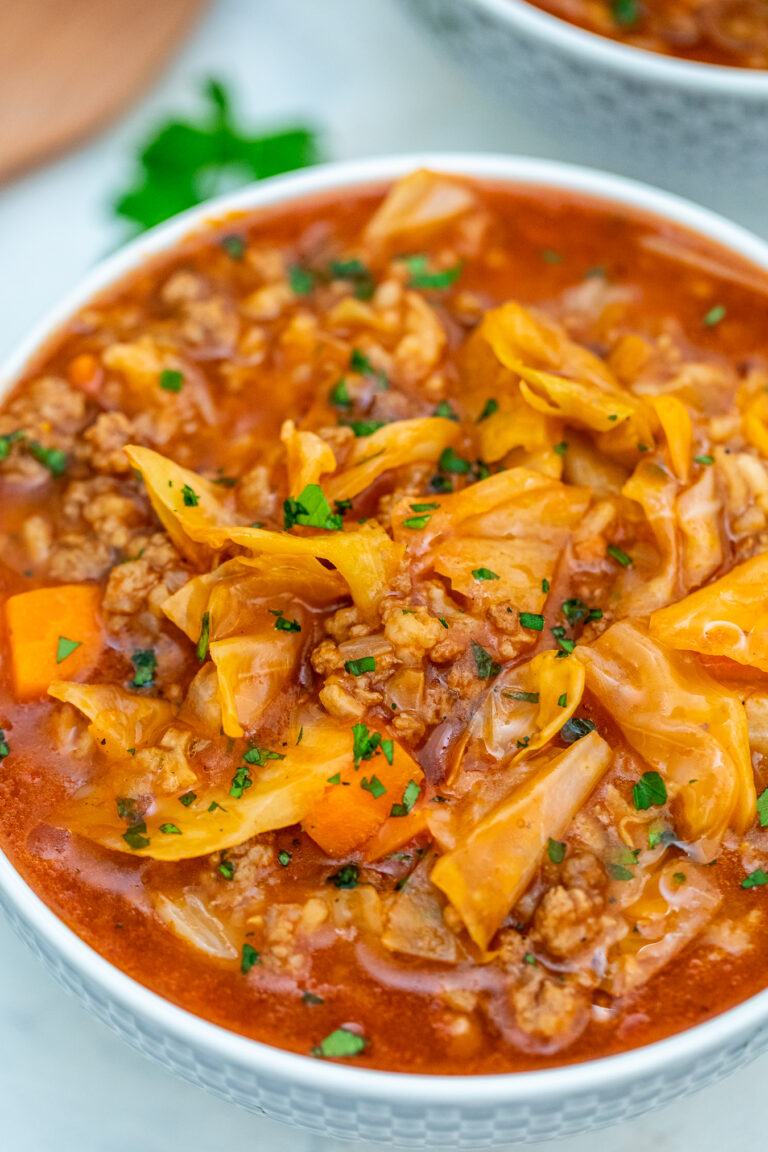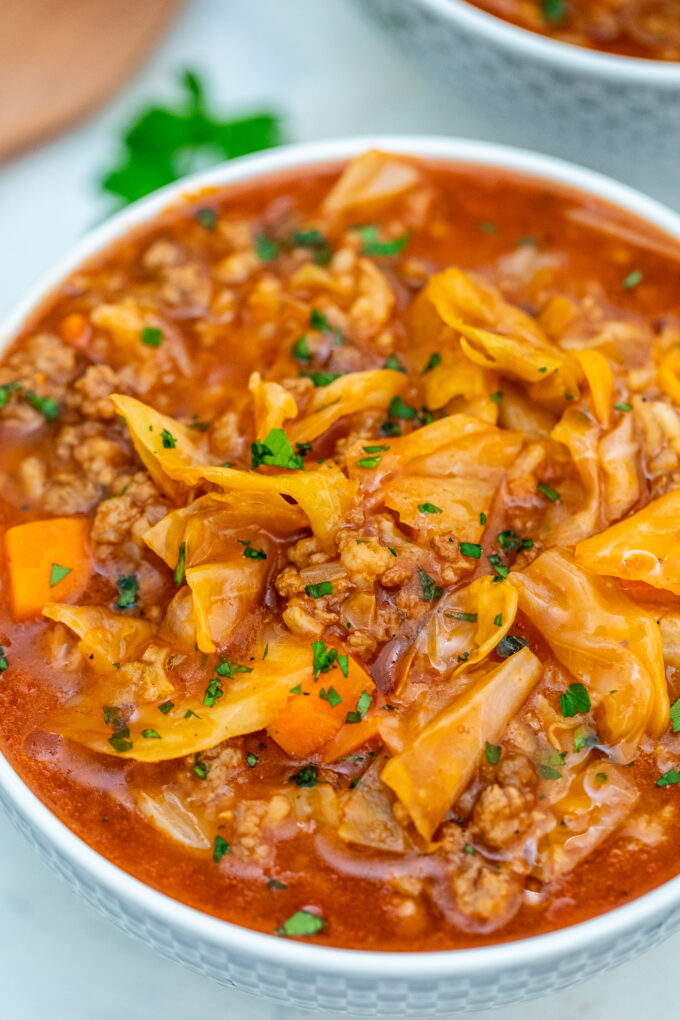 Can you freeze Cabbage Roll Soup?
Yes, you could. However, keep in mind the rice might get a little mushy when frozen and then reheated. Other than that, it is perfectly fine to freeze it. Also, you could make it without rice and freeze it, and then simply add the cooked rice prior to serving.
Prior to freezing let the dish completely cool. Then, transfer it to a freezer-safe dish. Freeze for up to 3 months.
Save Recipe
Cabbage Roll Soup
Cabbage Roll Soup is hearty and has all the flavors of a cabbage roll. A perfect comfort dish filled with ground beef and veggies to enjoy during colder winter days.
Author: Catalina Castravet
Serves: 6 bowls
Prep time:

20

minutes
Cook time:

40

minutes
Total time:

1

hr
Nutrition information
Calories: 395 Carbohydrates: 43 Protein: 21 Fat: 17 Saturated Fat: 6 Cholesterol: 54 Sodium: 1938 Potassium: 1492 Fiber: 7 Sugar: 22 Vitamin A: 5319 Vitamin C: 71 Calcium: 123 Iron: 6
Save Recipe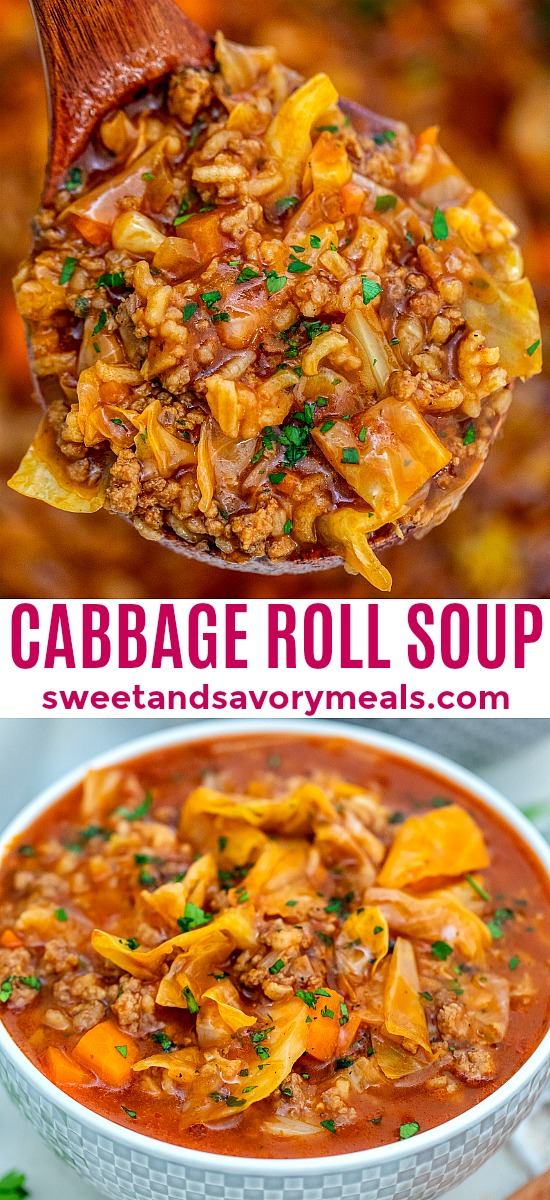 More recipes you might love
Categories: