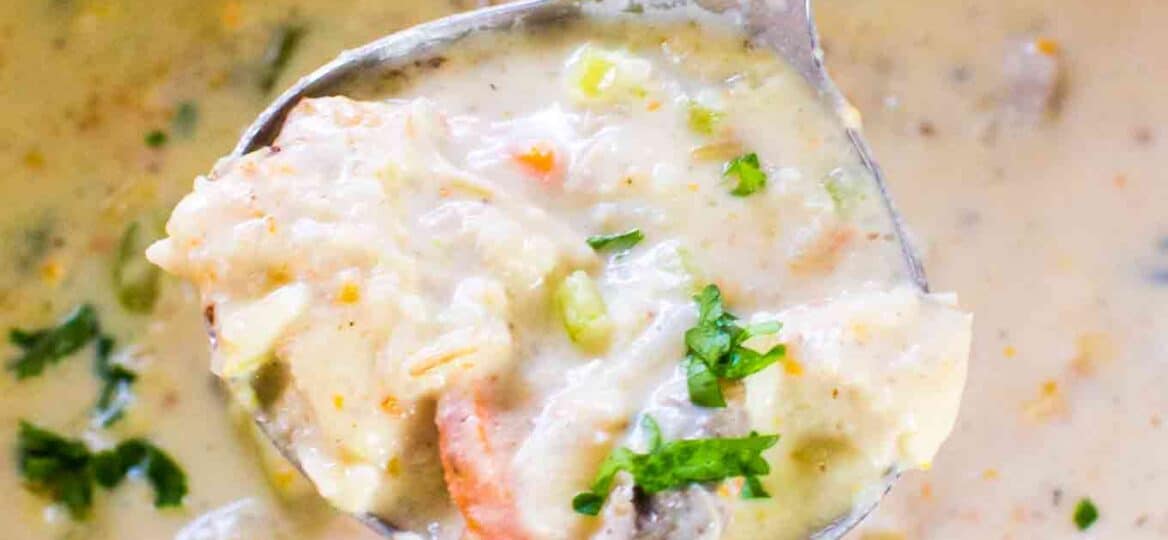 Panera Bread Chicken Wild Rice Soup Copycat [VIDEO]
Panera Bread Chicken Wild Rice Soup Copycat is the easy homemade version of the chain's comforting, hearty and creamy soup. Check out the short video tutorial below and see how easy and delicious this recipe is!
We love Panera Bread soups, and this one is on top of our list! The perfect soup to make during a cold winter day, which everyone in your family will enjoy!
The Best Chicken Wild Rice Soup
Panera Bread Chicken Wild Rice Soup Copycat is a delicious, homemade take on the chain's famous chicken soup. Made with tender rotisserie chicken, chunky vegetables, cream, and wild rice, this soup is the epitome of comfort food.
This soup is flavorful and cozy and goes perfectly with a warm baguette on a cold winter day. This is our favorite go-to soup, especially during colder winter days. It is a creamy, delicious, and the ultimate comfort soup. I have also included a video of the recipe to better guide you through the cooking process.
Can I make Chicken And Wild Rice Soup Gluten-Free?
Yes! For a gluten-free version, you will have to swap the all-purpose flour with the gluten-free version.
Also, you can make a cornstarch slurry by simply mixing the same amount of cornstarch with cold water. Just mix the cornstarch until it dissolved with the water. Then, once the rice has cooked, add in 1-2 tablespoons of the slurry to the soup at a time until the broth reaches your desired level of thickness.
Panera Bread Chicken Wild Rice Soup Recipe Tips:
You can use rotisserie chicken in this recipe or cooked chicken breasts. I prefer rotisserie chicken, as it's more flavorful and tender.
Similarly, you could add some bacon to it. This will amp up the flavor of this dish!
I like to use onion, garlic, celery, and carrots. Make sure you don't overcook the veggies, they need to be tender, but not mushy.
Also, to make the soup even creamier, I like to puree half of it, either by adding it to a blender or using an immersion blender.
To cut on the calories, you can use light cream or half-light cream and half milk.
Since this is a homemade version, you can play with it, add more or less garlic and if you want, some red pepper flakes for some heat, more or fewer veggies.
Feel free to use different rice or orzo. It is ok to swap the rice or orzo pasta if you would like. Just remember to adjust the cooking time based on the type of rice you are using.
Can you freeze Chicken Wild Rice Soup?
Yes. I recommend using quart bags for this soup. Use a cup to transfer the soup from the pot into the bag. Squeeze out excess air and seal the bags. The bags can nicely be stored in the freezer for up to 3-4 months.
To thaw the soup, remove it from the freezer the night before serving, or put the sealed soup bag in warm water to thaw it faster.
Looking for more comforting soup recipes? Check these out!
Tools I used to make the Panera Bread Chicken Wild Rice Soup Copycat Recipe:
Immersion Blender – so convenient, makes it easy to puree food without having to add it to a blender.
Dutch Oven – mine is from Le Creuset, but I also like this one and it's reasonably priced.
Deliciousness to your inbox
Enjoy weekly hand picked recipes and recommendations