Bread Bowls Recipe with Video
Bread Bowls are beautifully soft inside with a crisp crust, perfect for holding soups, salads, or just eating on its own! Pure comfort food, and looks amazing too!
These are perfect for enjoying copycat Panera favorites at home! Use them to serve this Panera Creamy Tomato Soup Copycat, Panera Broccoli Cheddar Soup Copycat, and Panera Baked Potato Soup Copycat!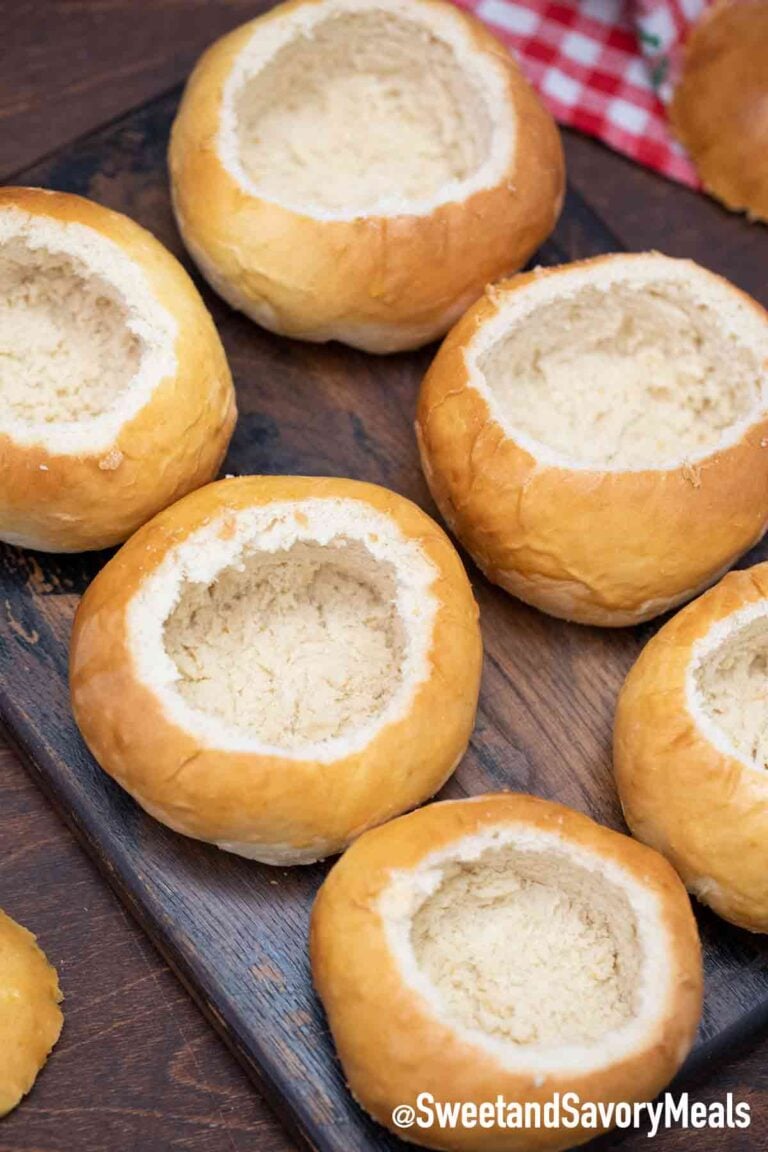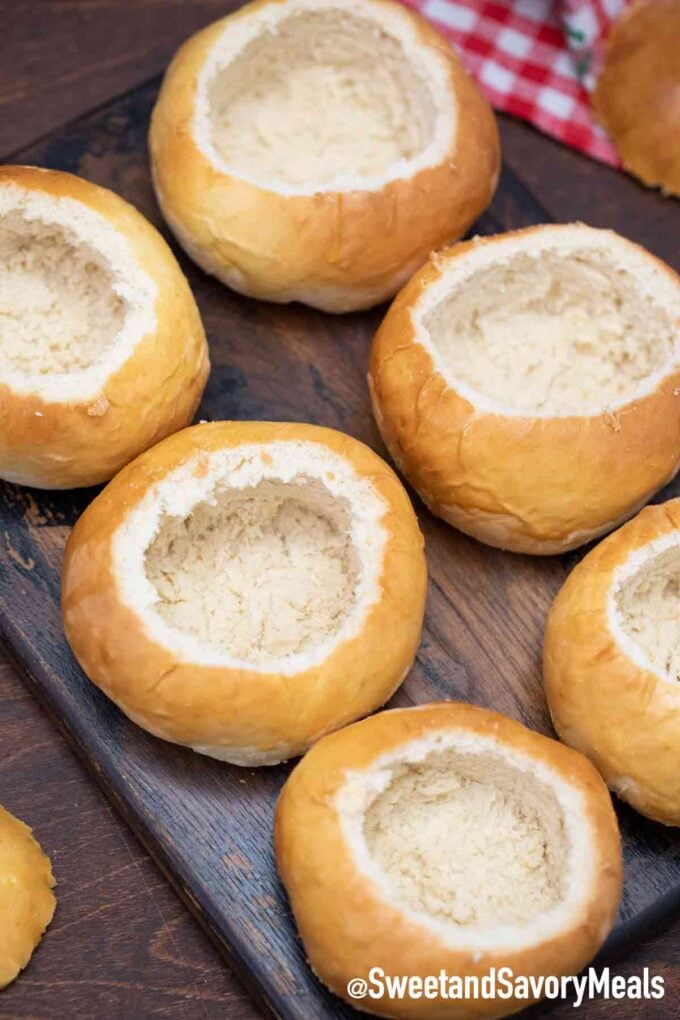 Homemade Bread Bowls
Bread Bowls look so fancy, don't they? It's the best way to eat soup if you ask me! You've got that nice cap, which you can tear and dip into the soup while you're eating. Then, you can tear off more pieces as you finish your soup.
Finally, you have that delicious and really flavorful bottom part. It's a full meal in one! Now, you may be thinking— why should I learn how to make these when I can just order them when I eat out?
Because one, it's so much cheaper to make them at home! Also, they are quick and super easy to make. You can make several pieces for the price of one serving at a restaurant. You also know exactly what you're eating, and you know that it's always fresh. Finally, you can play with flavors as much as you want. These look so impressive on the table, and it's really easy to do. A win-win recipe!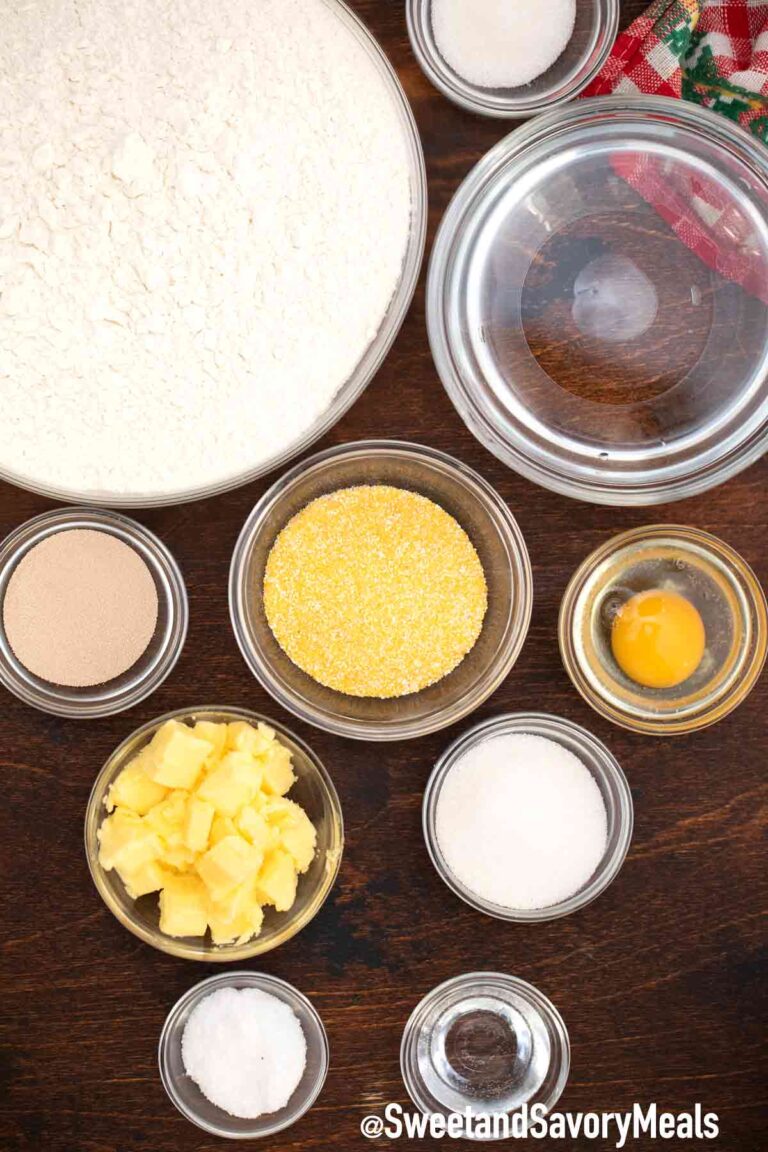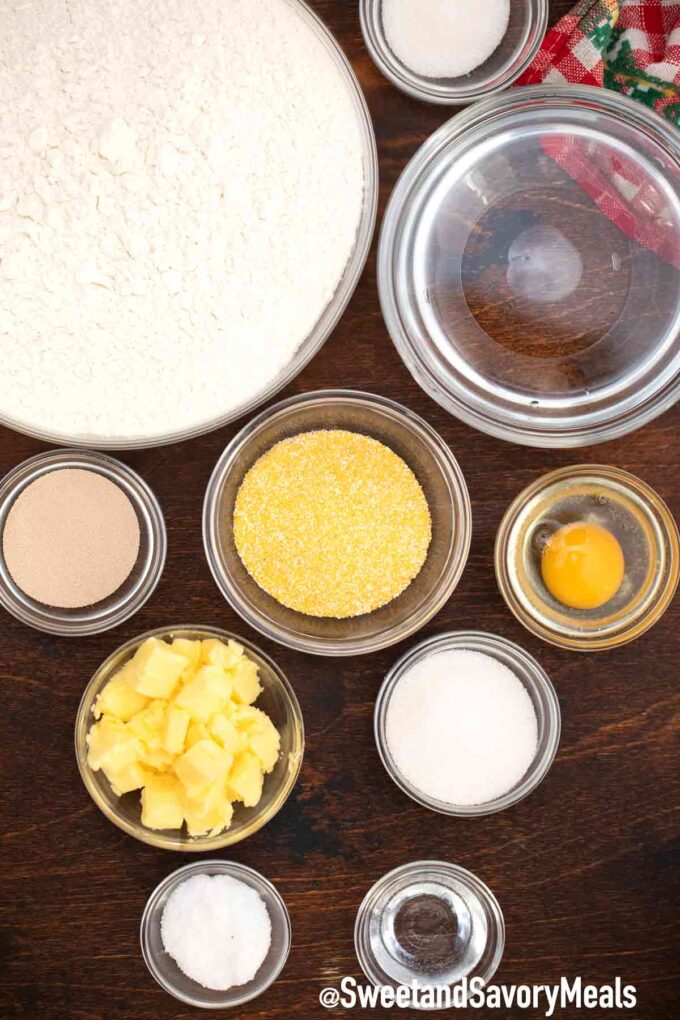 What are bread bowls?
They are round pieces of dough, baked then hollowed out, and filled with other food like soups, delicious dips, and salads. It has a hard crust and made of lean dough, similar dough for pizza crust and French baguette.
Ingredients you need:
Water: The temperature should hover around 105-110F, so it doesn't kill off the yeast.
Active dry yeast: Make sure it's active, or the dough won't rise.
Sugar: Divided into two parts.
Butter: Just a little bit of unsalted butter adds richness.
Bread flour: Has a higher protein content than other flours, which helps make a sturdy crust while being pillowy soft inside.
Salt: Essential for any baked recipe.
Corn flour: We'll be using this to dust the pan.
Egg + a little water: To create those golden crusts, we'll be brushing the surface with egg wash.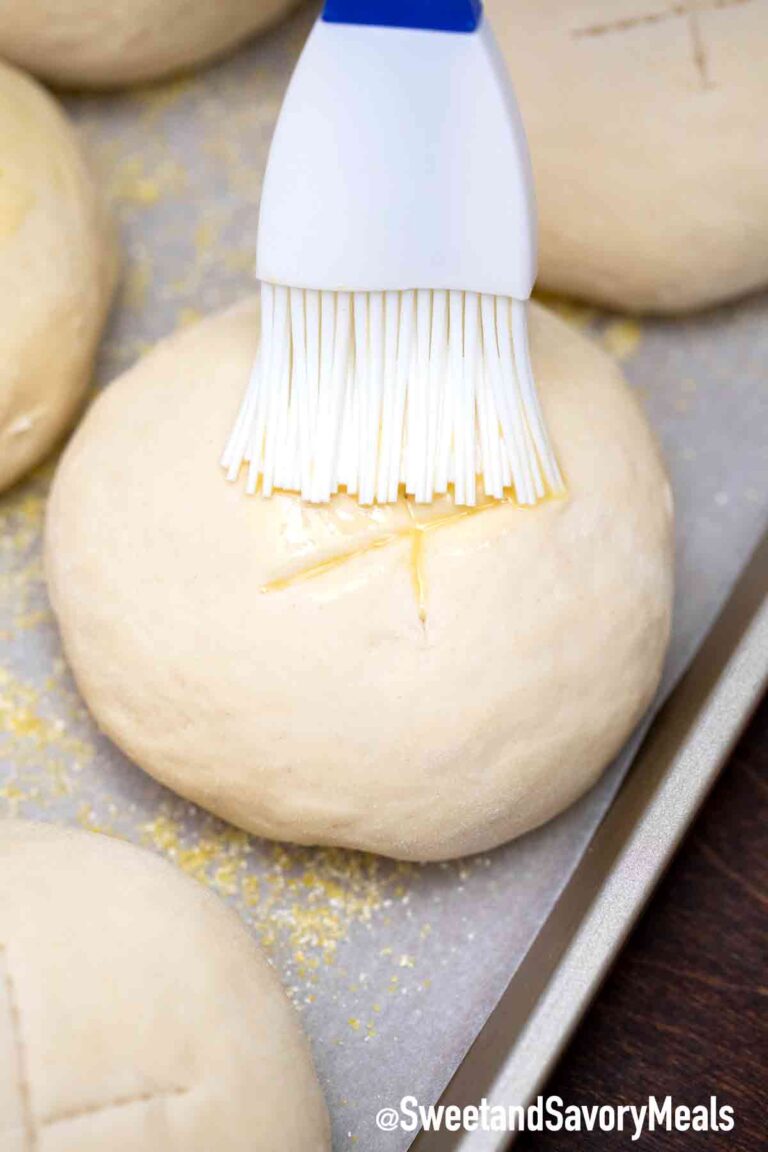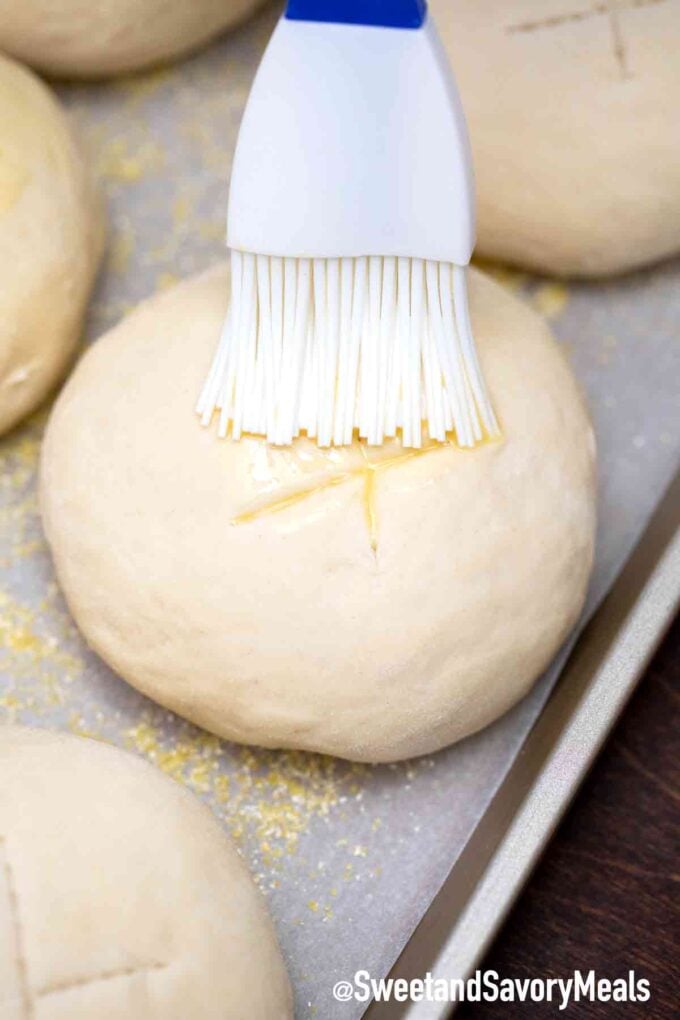 How do you make bread bowls from scratch?
Prepare. First, measure out the ingredients. Then, blend the four, sugar, and salt in a container.
Bloom the yeast in your stand mixer. Next, mix sugar with water and yeast. Leave for around 5 minutes until it's foamy. Mix the cooled, melted butter in.
Make your dough. At low speed, slowly and gently add the flour mix. Combine until the dough comes together. Use the dough hook to kneed until elastic and still soft, but also smooth.
Let it rise. Place it in an oiled bowl. Cover and let it double in size in a warm spot. This will take about a couple of hours.
Wait for the second rise. Next, deflate, then slice into 6, evenly-sized balls. Sprinkle your pan with cornmeal, then arrange the balls spaced a few inches apart. Score the tops with an "X" shape, then brush all over with egg wash. Let it rise until double in size while your oven is preheating to 425F.
Bake. Let it bake for around 15 mins first, then take out and brush the surfaces again with egg wash. Return and continue baking until golden.
Serve. Finally, allow them to cool before slicing off the caps and hollowing them out. Serve and enjoy as desired!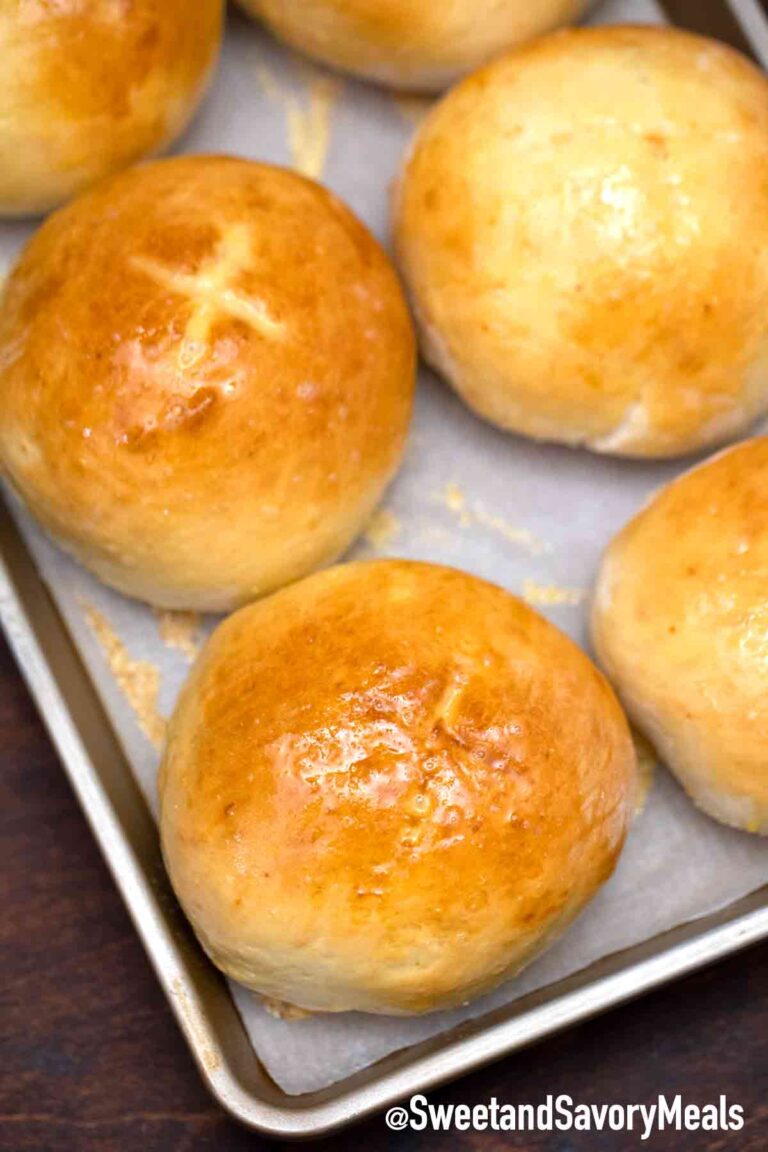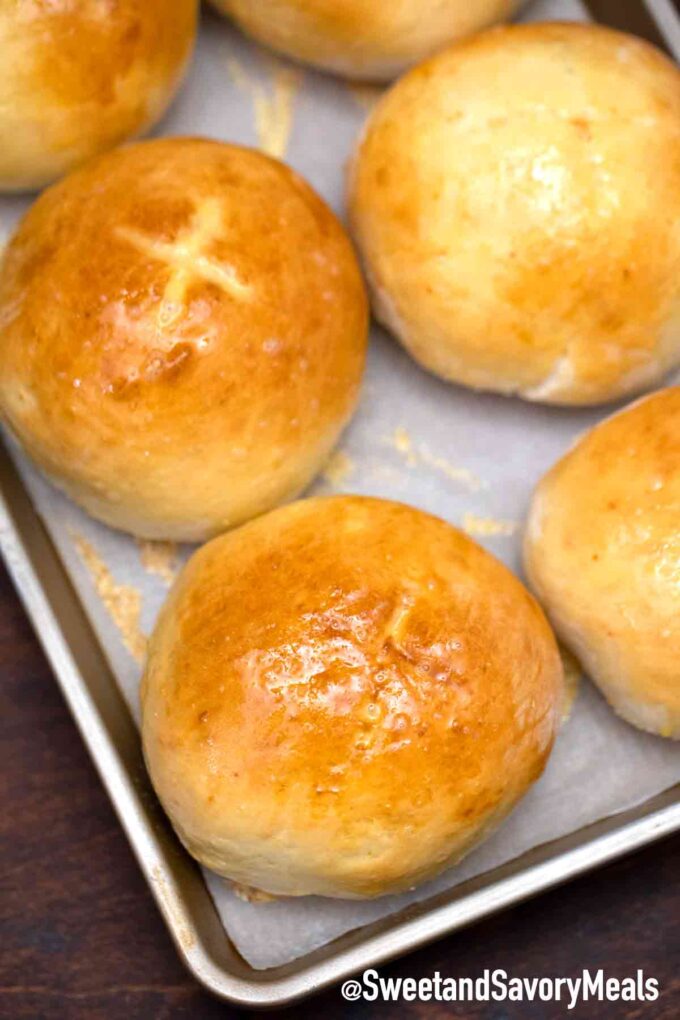 Recipe Variations:
Make it in other flavors: Mix some Italian herbs, cheese, and other seasonings into the dough.
Bake it in different forms: You can also use this dough to create crusty loaves or even pizza crusts!
Make mini versions: Instead of making 6 big pieces, you can divide them into smaller balls to make mini bread bowls.
Top with cheese: During the last minutes of baking, place shredded cheddar on top and let it broil until golden for a cheesy version!
What bread is best for bread bowls?
Crusty bread baked from lean dough is ideal. They stay soft inside but develop a sturdy crust that allows it to keep its shape while holding in the food.
What to serve with bread bowls?
These are the ultimate vessels for your favorite comfort food!
Note that it's best to enjoy them with thick, creamy soups like Ham and Potato Soup, Cheeseburger Soup, and Cream of Mushroom Soup because thin broths will simply make these soggy.
Also, feel free to use them to serve dips, salads, or even pasta! Be creative and have fun with it!
Are you supposed to eat the bread bowl?
Yes! You can eat it little by little, starting from the edge as you enjoy the food inside.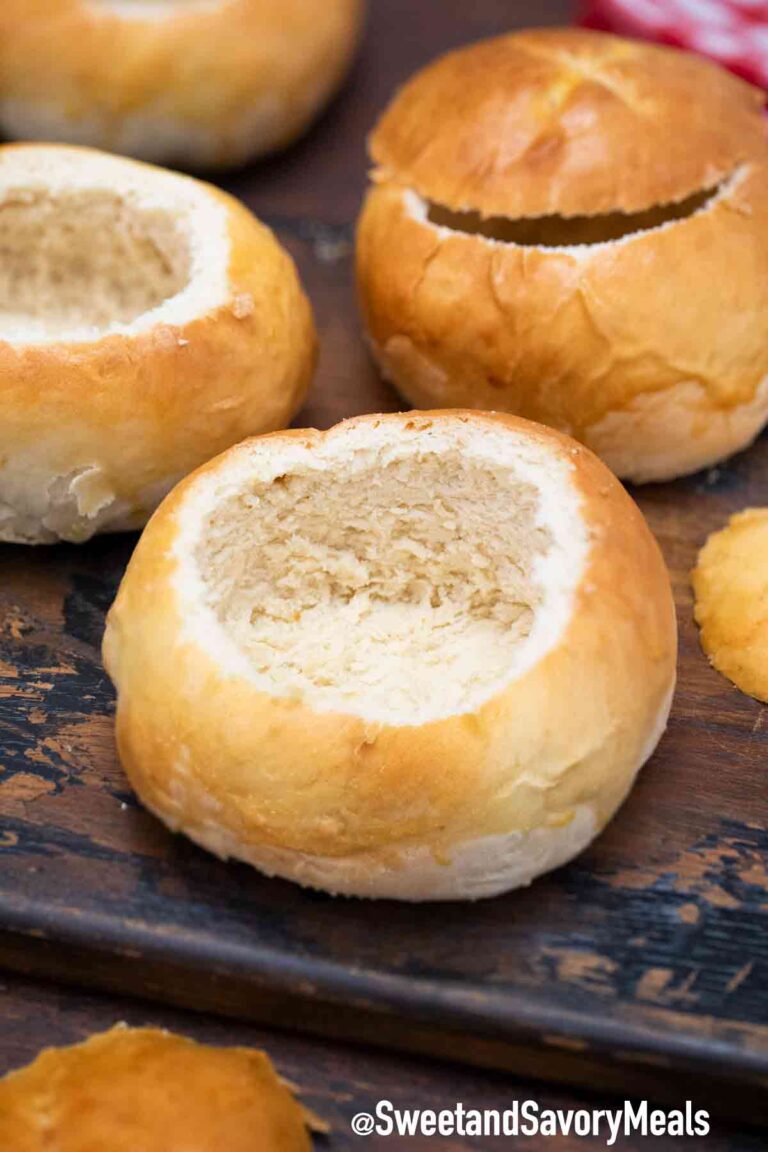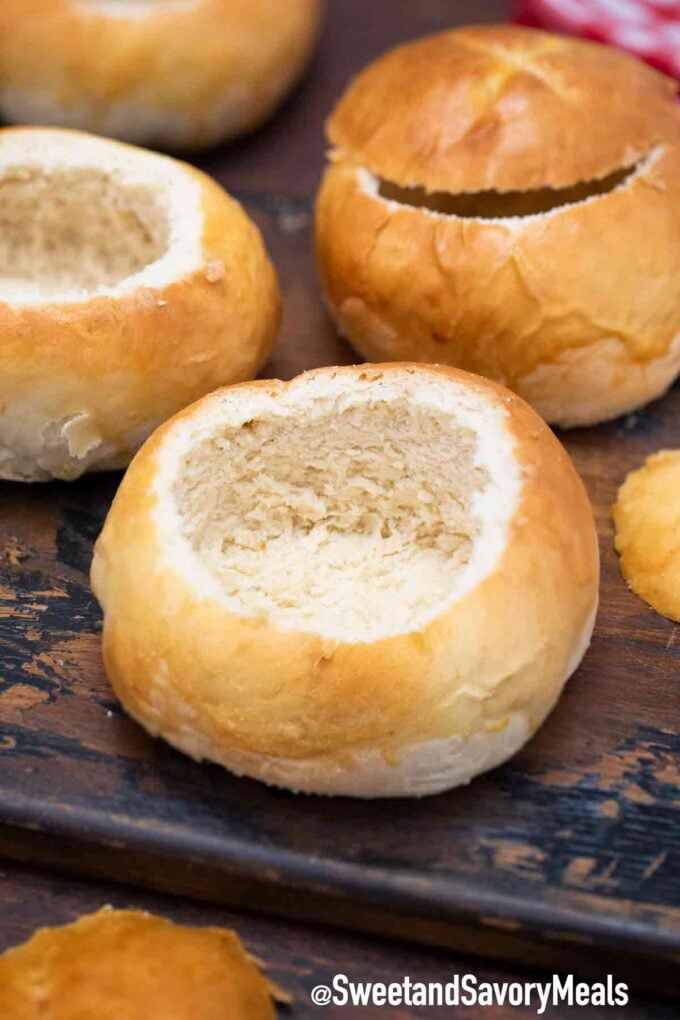 How to store leftover:
The bowls will stay fresh for up to three days in a well-sealed container, either in the fridge or on the counter. If you want to keep them for longer, freeze them once completely cool and store them for about 2 months.
Similar recipes you might love:
Recipe tips:
Don't skip the second brush with egg wash because it helps the crust crisp up.
Also, feel free to adjust the salt level per your own taste. Add more or less salt.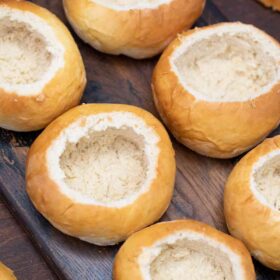 Bread Bowls Recipe
Bread Bowls are beautifully soft inside with a crisp crust, perfect for holding soups, salads, or just eating on its own!
Save
Share
Print
Pin
Rate
Ingredients
2 1/2

cup

warm water

(not boiling - but very warm)

6

teaspoons

active dry yeast

3

teaspoons

white granulated sugar

3

tablespoons

white granulated sugar

6

tablespoons

unsalted butter

(melted)

7

cups

bread flour

(plus more as needed 870g)

1

tablespoon

salt

2

tablespoons

cornflour

(for sprinkling baking pan)
Egg wash:
1

large egg

1

teaspoon

water
Instructions
In the bowl of a stand mixer, combine the warm water, with the yeast and 3 teaspoons of sugar. Attach the dough hook. stir the mixture and let sit for 5-10 minutes or until foamy.

Add melted butter and stir until combined.

In another bowl, stir together the remaining 3 tablespoons of sugar, flour, and salt.

With the mixer on low speed, add gradually the flour mixture until combined. if the dough is too sticky, add additional flour one tablespoon at a time until desired consistency is reached. Knead the dough with the dough hook until the dough is soft, elastic, and smooth. It should pull away from the sides of the bowl.

Transfer the dough to a large, lightly oiled bowl. Roll the surface of the dough through the oil, and cover it with a clean towel. Place it in a warm place and let it rise until doubled in size, this will take 1-2 hours.

Gently deflate the dough by poking it with your finger and divide it into 6 even pieces. Roll each piece into a ball.

Line a baking sheet with parchment paper and sprinkle it with cornmeal.

Transfer the dough balls to the prepared baking sheet, placing them several inches apart.

Use a sharp knife to make an "X" on the top of each one.

Whisk the egg with 1 teaspoon water and brush the dough balls generously with egg wash.

Cover with a clean towel and allow to rise a little more, about 20-30 minutes, should almost double in size.

Preheat oven to 425F.

Bake bread bowls for 15 minutes. Remove from oven and brush again with the remaining egg wash. Return to oven and bake for another 15 minutes or until golden brown. They should sound hollow when tapped.

Remove from oven and allow to cool completely.

Once cooled, use a serrated knife to slice off the top of each bread bowl. Use your fingers to hollow out the center of each bread bowl.

Use for soup, salads, or as desired!
Nutrition
Calories:
517
kcal
|
Carbohydrates:
121
g
|
Protein:
23
g
|
Fat:
15
g
|
Saturated Fat:
8
g
|
Cholesterol:
57
mg
|
Sodium:
1287
mg
|
Potassium:
271
mg
|
Fiber:
7
g
|
Sugar:
8
g
|
Vitamin A:
389
IU
|
Calcium:
36
mg
|
Iron:
2
mg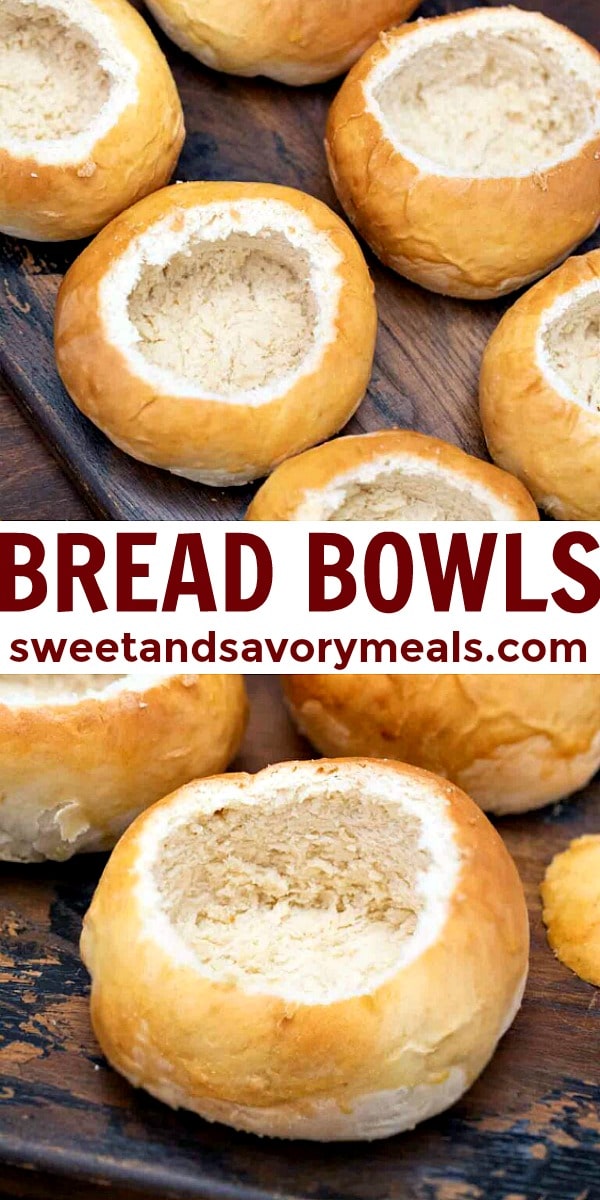 More recipes you might love