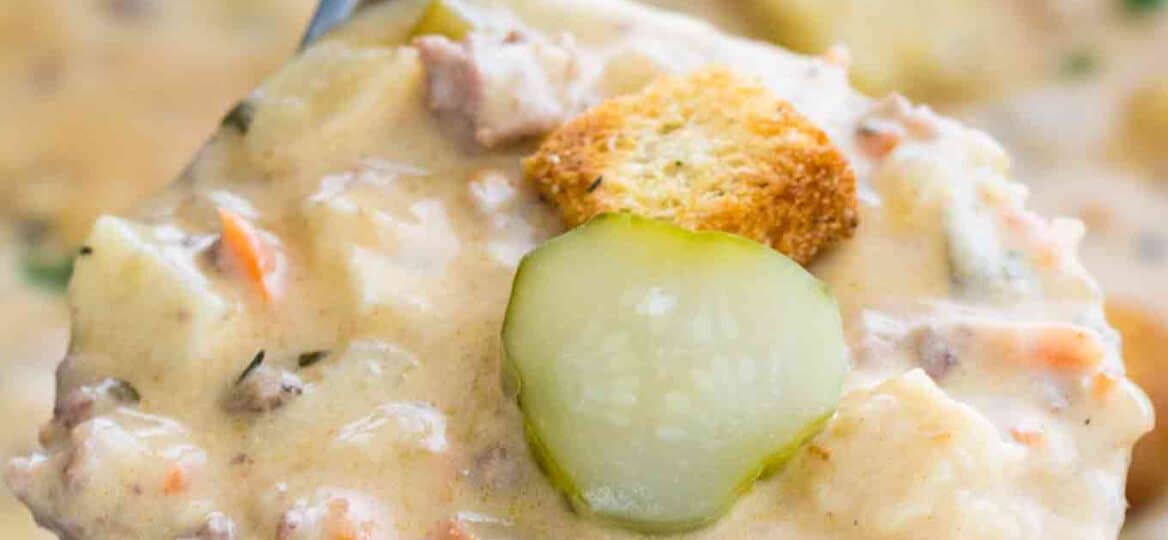 Crockpot Cheeseburger Soup
Crockpot Cheeseburger Soup is a delicious, cheesy, and creamy dish filled with flavorful ground beef and potatoes. It is a tasty and comfort food at its best, and will quickly be a family favorite!
We love hearty and creamy soups, and this recipe is a family favorite. It is luxurious yet pretty easy to make. Once you try it, you will crave this dish over and over again. For more creamy comfort meals, check out baked potato soup, instant pot french onion soup, and Tuscan chicken tortellini soup.
Slow Cooker Cheeseburger Soup Recipe
When it comes to pure winter time comfort food, this Crockpot Cheeseburger Soup is simply the best soup! It is one of our absolute favorite recipes of all time, because it's creamy, rich, and packed with amazing flavors.
Also, it is loaded with potatoes, ground beef, cheese and slowly cooked to perfection in the crockpot. It is the best soup to enjoy during colder months. This hearty soup is very easy to prepare and a great dinner meal for the whole family to enjoy!
Lately, we've been making a lot of slow cooker recipes. We love making recipes in it because it is so easy to prepare, and the work is basically done entirely by it.
In addition, the flavors intensified when all the ingredients are cooked together slowly for a longer period of time. This is a homemade comfort meal that goes well on colder days.
You don't need to fire up the grill to enjoy a cheeseburger, simply follow this recipe and get a close resemblance of it in a warm bowl! During this time of the year, this soup is exactly what everyone needs. The ground beef, cheddar cheese, and potatoes make for a PERFECT dish. It can be enjoyed for lunch or dinner since it is so hearty and filling.
Main Ingredients:
Ground beef: I go with 85% lean ground beef. It has the right fat content and it works really well for this soup.
Potatoes: Medium potatoes, russet or Yukon gold are my favorite choices here. However, feel free to use your favorite type.
Veggies: For a richer flavor and to add some vitamins, I use carrots, celery, and onion.
Seasoning: Dried basil, dried parsley, garlic powder, salt, and black pepper.
Cheese: Use good quality cheese as it is the front and center ingredient here. The original recipe calls for cheddar cheese or Velveeta cheese. Therefore, use any of these or a combination of both.
Chicken broth: I love making my own, homemade chicken stock. It adds a ton of flavors. On top of that, you know exactly what goes into it. Alternatively, you could use a good-quality stock from your local grocery store.
Butter, milk, and flour: The base for the creamy sauce. For richer texture and flavor, use cream cheese.
How to make Crockpot Cheeseburger Soup?
First, place the sliced veggies along with the potatoes into the bottom of the crockpot and season.
Then, add the chicken broth. Cover with lid and cook.
During the last hour of cooking brown the beef in a large skillet over medium heat. Once browned, add the ground beef mixture to the pot.
Next, make the creamy mixture by mixing the butter, milk, and flour in the skillet over medium-low heat. Add it to the pot and gently stir to combine.
Lastly, add the shredded cheddar cheese and close the lid.
Let it cook for another 30 minutes.
Possible variations:
Beef broth: Substitute the chicken stock with beef broth or vegetable broth.
Stove top Cheeseburger Soup: If you do not have a slow cooker, then make this easy recipe on the stove.
Instant Pot Cheeseburger Soup: Alternatively, for a quick dinner try making it in the electric pressure cooker. It is ready in less than 30 minutes, and just perfect during busy weeknights!
Seasoning: Also, feel free to use your favorite seasonings. Great additions would be Italian seasoning or ranch seasoning.
Vegetarian: For a vegetarian version, substitute the ground beef with plant-based meat. A great alternative would be the Beyond Beef.
Can I make it with other meats?
Absolutely. Since the name suggests, this dish calls for ground beef to resemble a real cheeseburger. However, using different kinds of ground meats will work just as fine. You can substitute it with ground turkey, chicken, pork, or even lamb.
Please keep in mind that the taste will differ based on each meat type, but it will still result in a tasty and delicious dish.
Keto cheeseburger soup:
I love this great recipe because it is so versatile. You can easily make it keto-friendly and low carb. Simply, substitute the potatoes with cauliflower florets.
Can you make cheeseburger soup in the Instant Pot?
Absolutely. While you might not believe it, making it in the pressure cooker will result in a very tasty recipe. Also, the cooking time will be drastically cut since the Instant Pot requires only 15 minutes of cooking.
We already have the pressure cooker version of it, and you can check it here.
More Crockpot recipes:
Favorite topping:
This crockpot cheeseburger soup is delicious and hearty just as is. However, for some additional flavors, we suggest:
Try cutting up some burger buns, then toast them up and sprinkle them on top of it.
Shredded cheese: Go with your favorite type. Anything from parmesan, sharp cheddar, or Mexican cheese will work.
Similarly, chopped green onion or parsley complement it nicely, so feel free to add some.
Croutons or oyster crackers.
Pickles
Chopped tomatoes or salsa
Crispy bacon or bacon bits: Perfect addition for bacon lovers!
Chopped green pepper
A dollop of sour cream
Chopped green onions
Hash browns
Storing instructions:
Refrigerate: Store leftovers in an airtight container for up to 4 days. This delicious soup tastes even better the next day as the flavors get together.
Freeze: First, just let it cool prior to freezing. Then, transfer it into quart bags, plastic containers and freeze it for up to 3 months. Before serving, let the soup thaw overnight in the fridge.
Reheat: You can easily and quickly reheat it in the microwave for a few minutes until warm. Alternatively, heat it up on the stovetop over low heat for about 3-5 minutes.
Recipe Tips:
Look for fresh meat that has a bright color, and about 15-20% fat content. Because of the higher fat content, the meat gets great flavor and tenderness.
For veggies lovers, add some carrots and celery, which are obviously not a typical part of burger prep. However, it will complement this dish nicely and add some extra nutrition to it.
We used cheddar cheese, but other cheeses can be used, such as Colby jack cheese.
Also, browning the beef is essential because it will lock in and elevate the flavors.