Instant Pot Lasagna Soup [Video]
Instant Pot Lasagna Soup is an easy and flavorful meal made in the Instant Pot with ground beef, Italian spices, and a tasty tomato sauce.
Lasagna Soup is my definition of pure comfort food. I love easy and tasty soups like my Instant Pot Loaded Baked Potato Soup, Pressure Cooker Meatball Soup, and IP Tomato Soup.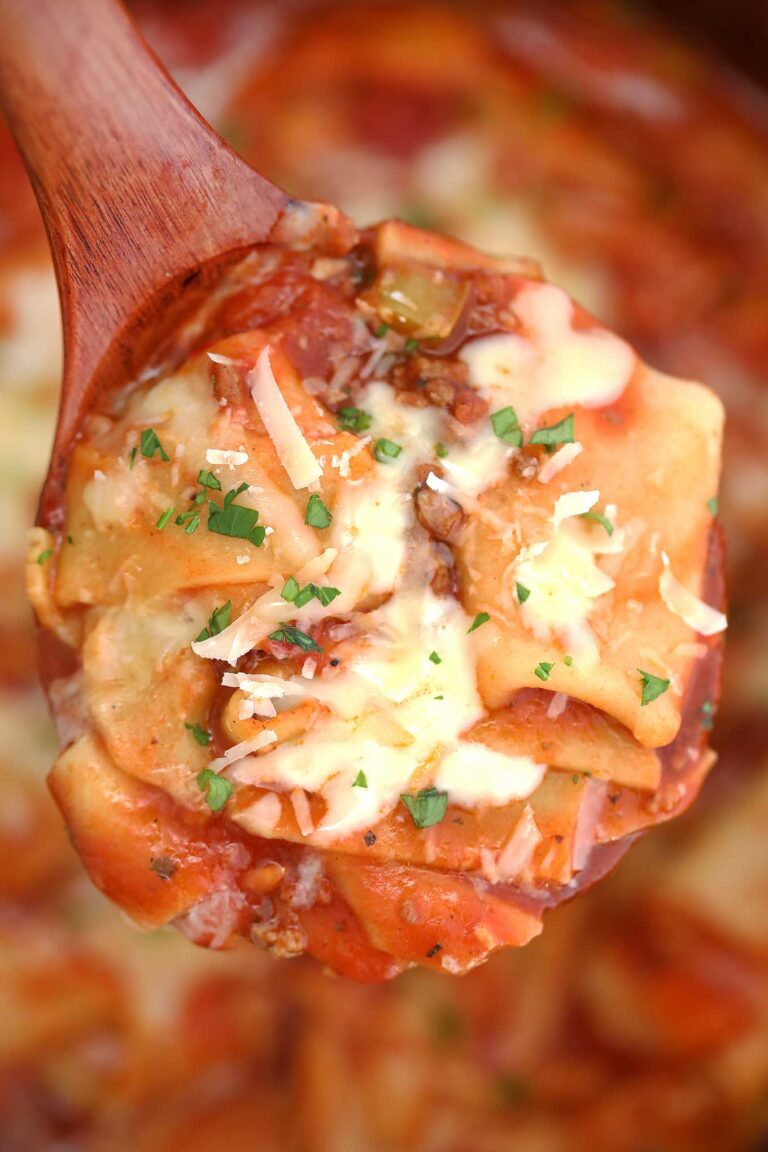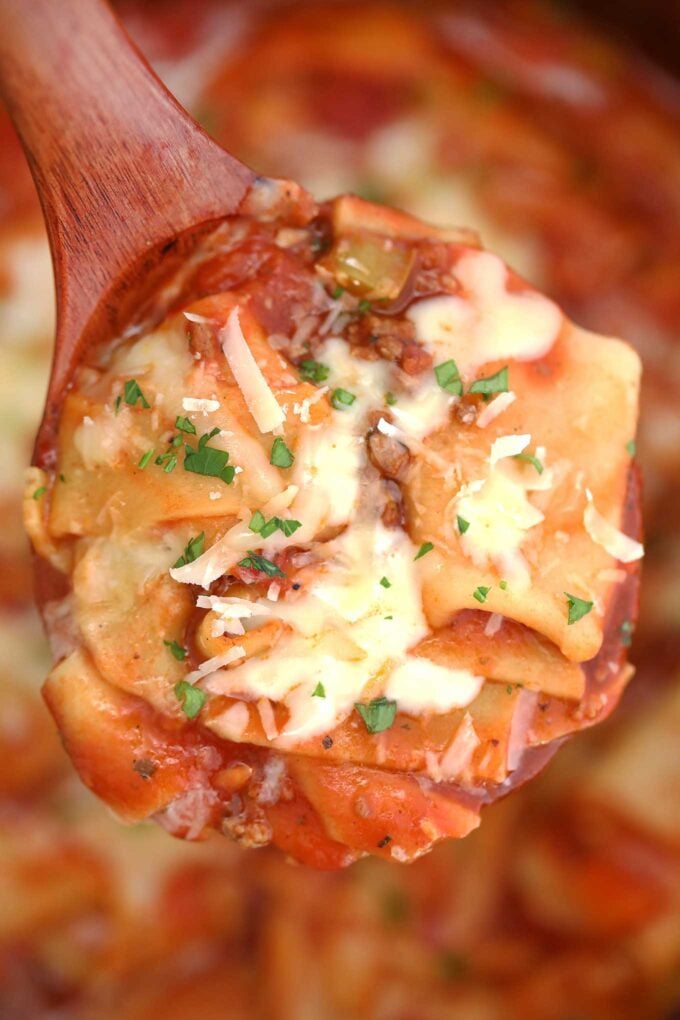 Instant Pot Lasagna Soup
Instant Pot recipes are a staple around here, and this Lasagna Soup is a fool-proof recipe that even beginners can make in the Instant Pot. The soup packs all the amazing flavors of a hearty Italian lasagna and is especially delicious when topped with cheese.
Ground beef is browned to perfection and after that cooked with Italian spices and sweet San Marzano tomatoes. Lasagna noodles are added uncooked to the pot, which makes this recipe even easier.
If you want to make this Pressure Cooker Lasagna Soup more delicious, serve it in oven-proof bowls, topped with mozzarella cheese and put them under the broiler for a few minutes for the cheese to brown!
What do you need to make Instant Pot Lasagna Soup:
This is an easy dish to make, which requires a few simple ingredients. For exact measures, please see the recipe card below. Also, I have included step-by-step video instruction on how to make this dish. So, feel free to watch it.
Beef: You can make this recipe with either ground beef or sausage. You can even use ground chicken for a lighter version, but it won't be as flavorful. To make it vegetarian, just skip the meat and use more veggies.
Veggies: I like to use the veggies that I have on hand, as the soup is very customizable. I usually go for some onion, garlic, carrot and bell pepper.
Seasoning: Using dried herbs it will add extra flavor and depth to the meal. To make it closer to an Italian lasagna dinner, I use a mix of thyme basil, oregano, and rosemary.
Tomatoes: These are key to make the broth taste amazing, so using high quality canned diced tomatoes and tomato sauce is key.
Lasagna Noodles: Here you can use your favorite lasagna noodles, I usually break them in half before adding to the pressure cooker.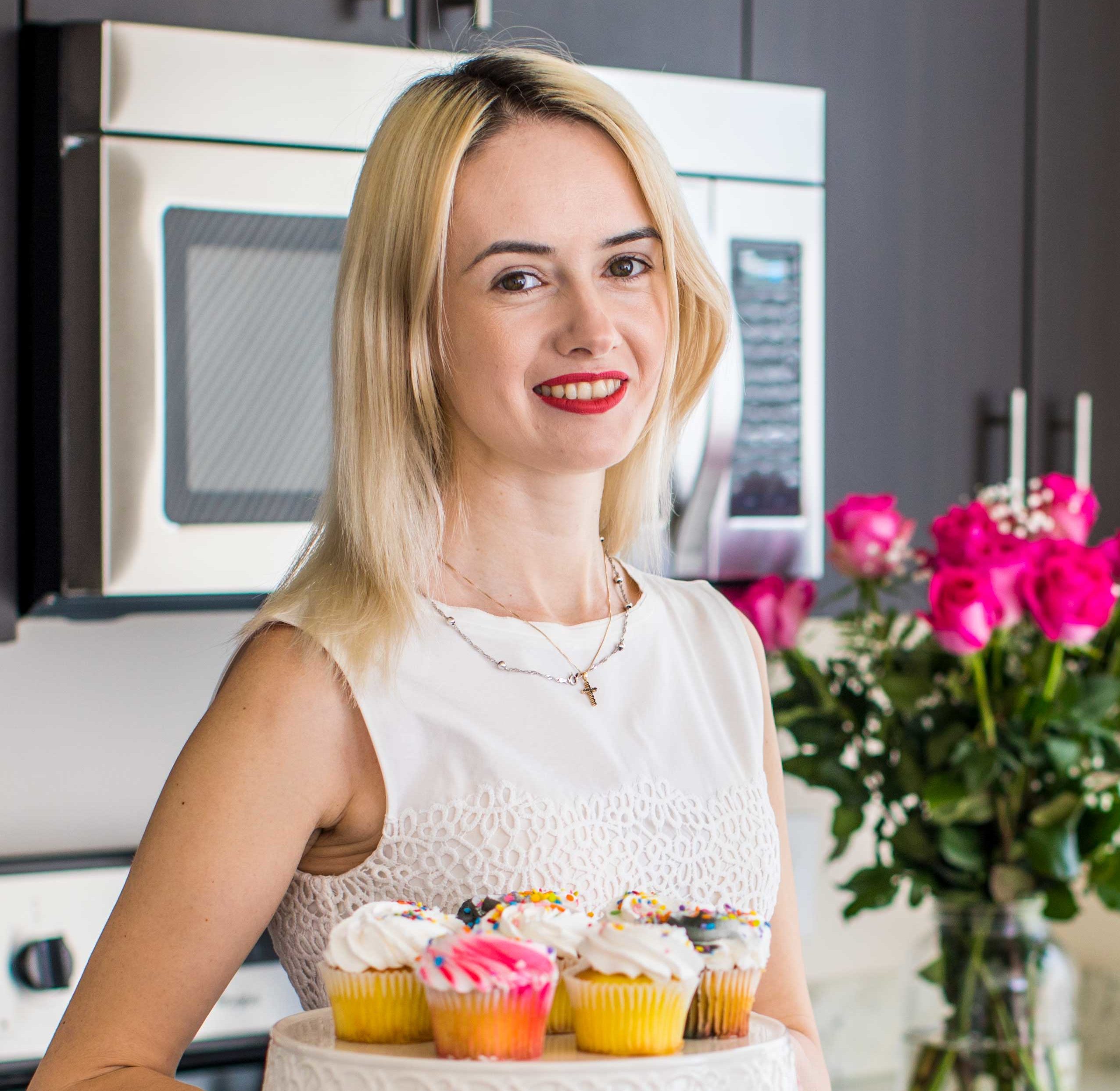 Follow us on Pinterest for more delicious recipes!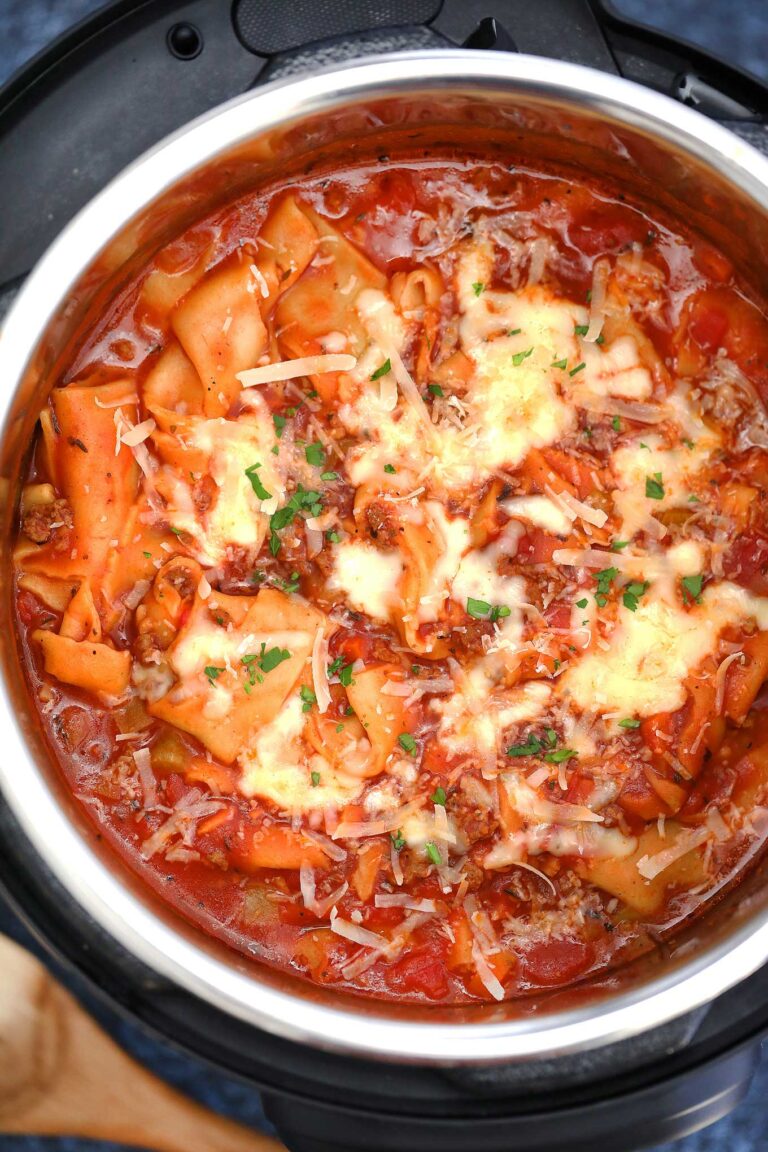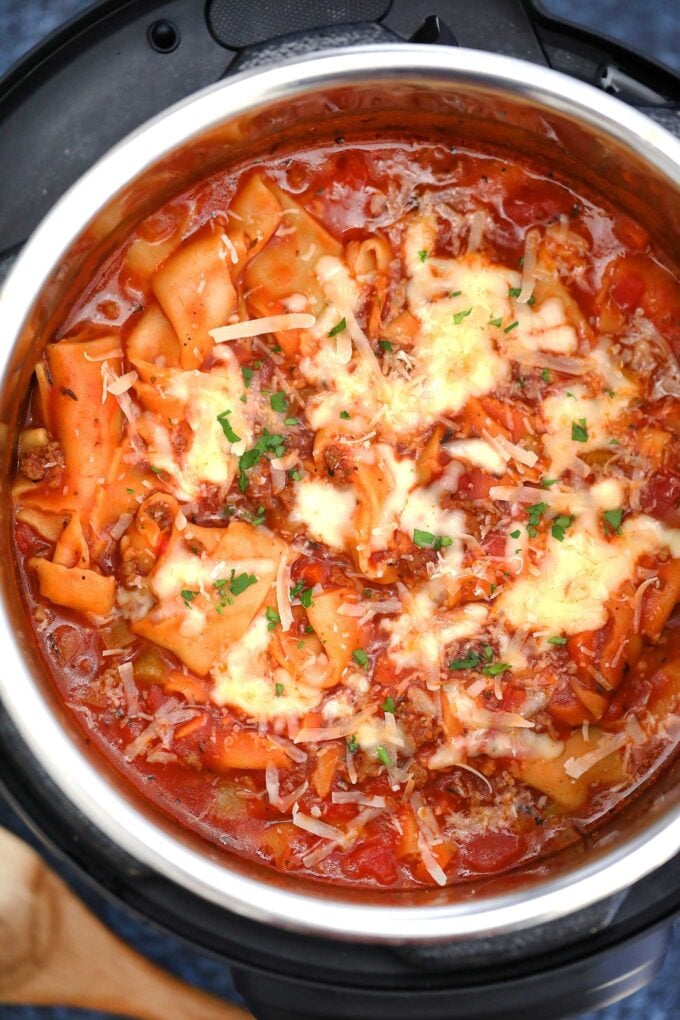 Topping suggestions:
Bacon crumbs or chopped bacon
Cheddar cheese or Mozzarella cheese
Chopped green onion
A dollop of sour cream
Looking for more Pressure Cooker Recipes? Check my collection here: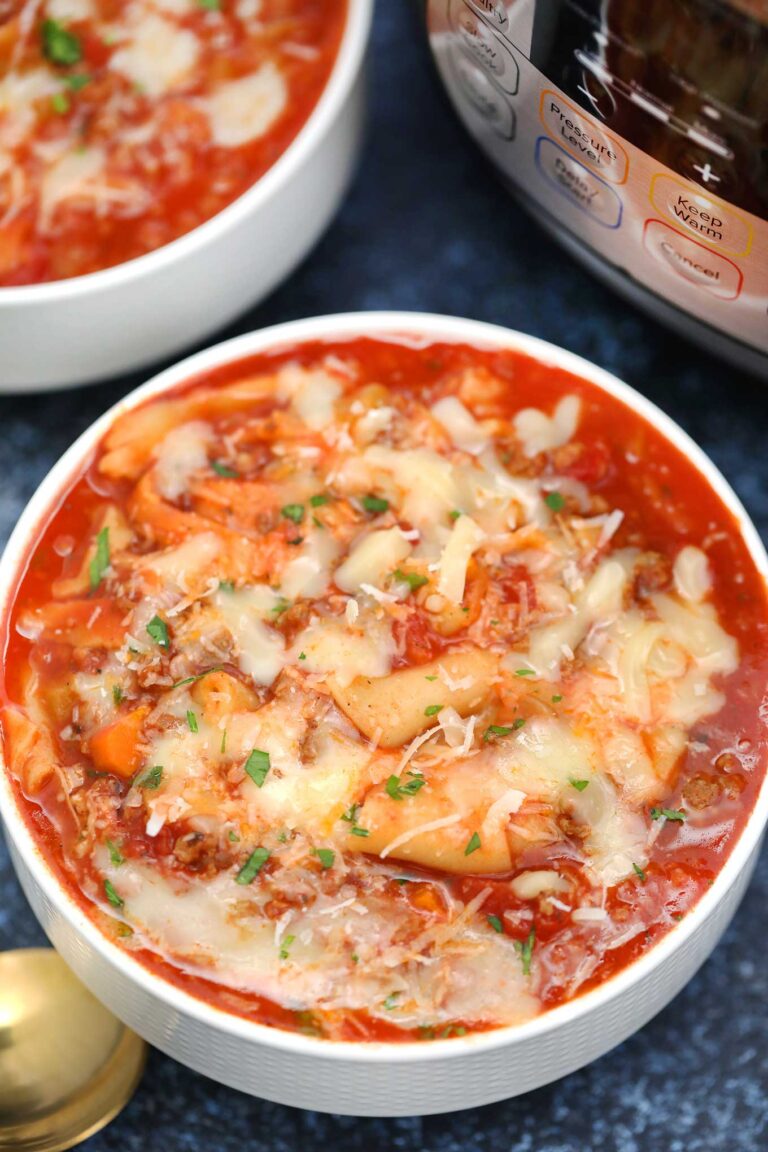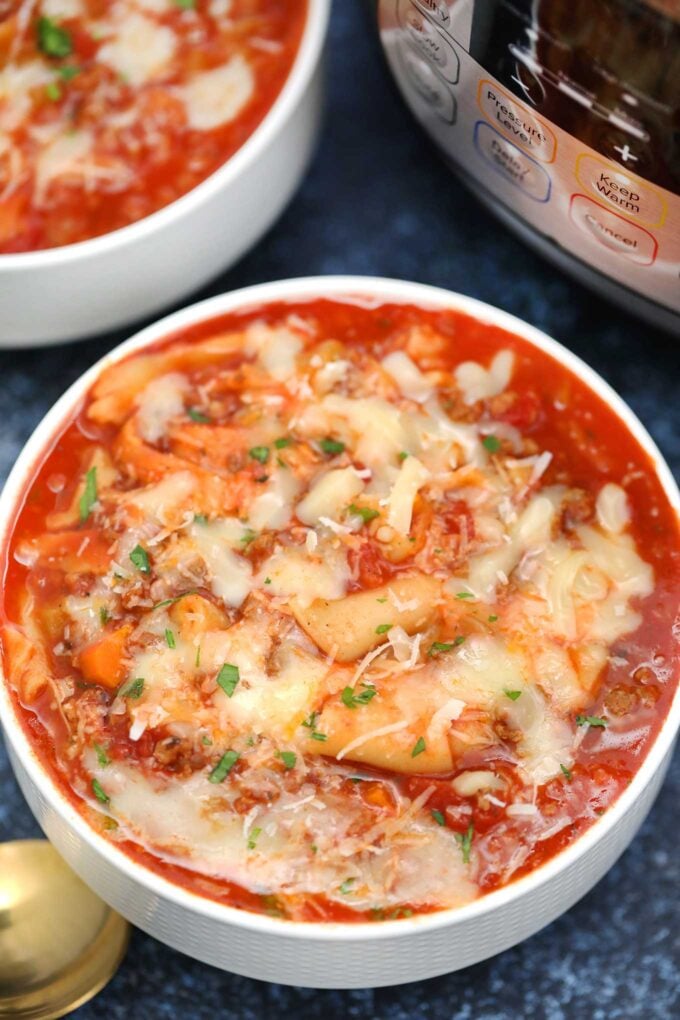 HOW TO FREEZE INSTANT POT LASAGNA SOUP:
I recommend using quart bags for this soup. Use a cup to transfer the soup from the pot into the bag. Squeeze out excess air and seal the bags. The bags can nicely be stored in the freezer for up to 3-4 months.
To thaw the soup, remove it from the freezer the night before serving, or put the sealed soup bag in warm water to thaw it faster.
Heat in a soup pan and simmer for 5-10 minutes.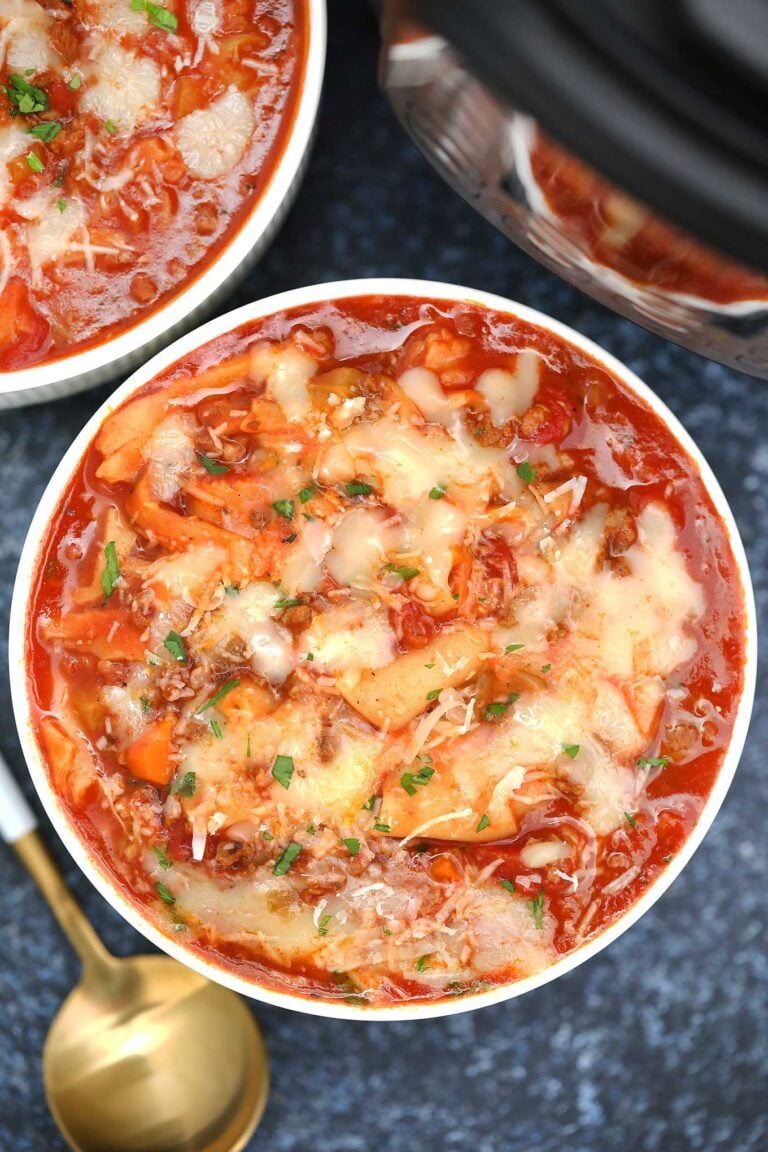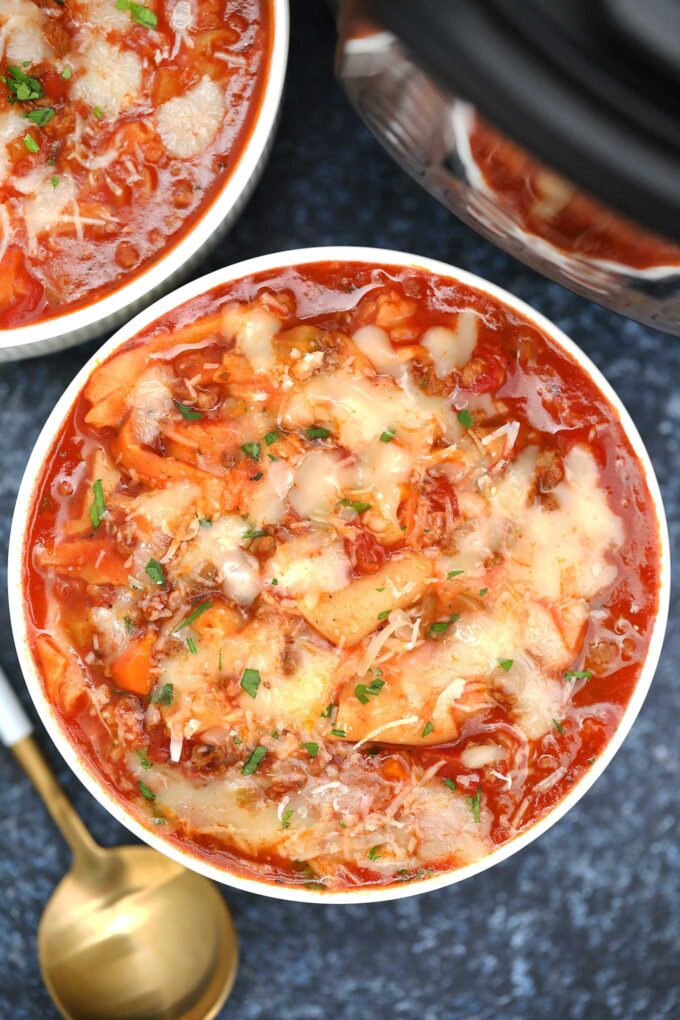 Recipe Tips:
You can use ground beef or ground sausage in this recipe. Also, if you decide to use sausage, you can use mild or hot, based on your own preference.
To save time, you can use pre-minced store-bought garlic or garlic paste. I always keep organic garlic paste on hand and use it in recipes. Use more or less, based on your preference.
Add more or fewer veggies upon discretion. I like to add carrots and bell pepper, but a cup of zucchini would work great as well.
In addition, for a spicier version, add more red pepper flakes.
You can use veggie broth or chicken broth.
The soup uses a lot of Italian spices, if you don't have some on hand you can skip some. If you have an Italian Seasoning blend, just use 1 1/2 tablespoons.
Using high quality canned tomatoes is very important as they will give flavor to the broth. I love San Marzano tomatoes, they taste sweet and fresh, also you can buy the ones that have been fire-roasted or have been flavored with basil and garlic.
Tools/Ingredients used to make this Recipe:
Instant Pot – I use it all the time, either the Pressure Cooker function or the Slow Cooker function, I also like that I can just sauté / brown the meat and veggies directly in the pot using the Sauté function.
Save Recipe
Author: Catalina Castravet
Serves: 8 bowls
Prep time:

10

minutes
Cook time:

30

minutes
Total time:

40

mins
Ingredients
1 tablespoon olive oil
1 lb ground beef (or sausage)
1 medium sweet yellow onion (diced)
5 garlic cloves (minced)
1 green bell pepper (diced)
1 medium carrot (chopped)
1/2 teaspoon thyme
1/2 teaspoon basil
1/4 tsp oregano
1/4 tsp rosemary
3 bay leaves
2 cans 14.5oz petite diced tomatoes, preferably San Marzano
2 cans 8oz tomato sauce, preferably San Marzano
4 cups chicken broth
2 cups water
½ - ¾ box of lasagna noodles (uncooked)
salt and pepper to taste
Garnish:
Grated Parmesan cheese
Grated mozzarella cheese
Chopped parsley
Instructions
Select the Sauté function and adjust to medium heat.
Once the IP reads HOT, add one tablespoon of olive oil to the pot.
Add the beef and sear for 2-3 minutes without stirring, season with salt and pepper and using a wooden spoon, start breaking it apart and cook for another 2-3 minutes, until it starts to get golden brown. Drain off the grease.
Add diced onions and minced garlic to the pot. Stir and cook for 2-3 minutes.
Add one cup of water to the pot to deglaze it, and using a wooden spoon scrape well the bottom of the pot.
Add the bell pepper, carrot, thyme, basil, oregano, rosemary, diced tomatoes, tomato sauce, remaining one cup of water and chicken broth. Stir to combine.
Add 1/2 box of lasagna noodles, I like to break them in half, you can break them into smaller pieces as well. Stir very well to combine the noodles with the broth. If you would prefer the soup thicker add the remaining 1/4 box of the lasagna noodles.
Make sure you don't go over the MAX fill line of the pot.

Add the bay leaves. Adjust for salt and pepper.

Cover the pot and secure the lid. Set the valve to "Sealing." Cook on manual high pressure for 4 minutes.
Once the timer beeps, let the pressure release naturally for 10 minutes, then gently move the valve to "venting" and let the rest of the pressure release.
Open the pot and stir. Discard the bay leaves.
Serve topped with cheese and fresh parsley or basil.
Notes:
The pasta sucks up a lot of the broth from the soup, so the leftovers will be thicker. If you prefer the soup more brothy, when you are reheating it, add some broth and bring it to a light simmer.
Calories: 185 Carbohydrates: 5 Protein: 10 Fat: 13 Saturated Fat: 4 Cholesterol: 40 Sodium: 477 Potassium: 329 Fiber: 0 Sugar: 2 Vitamin A: 225 Vitamin C: 22.9 Calcium: 32 Iron: 1.5
Save Recipe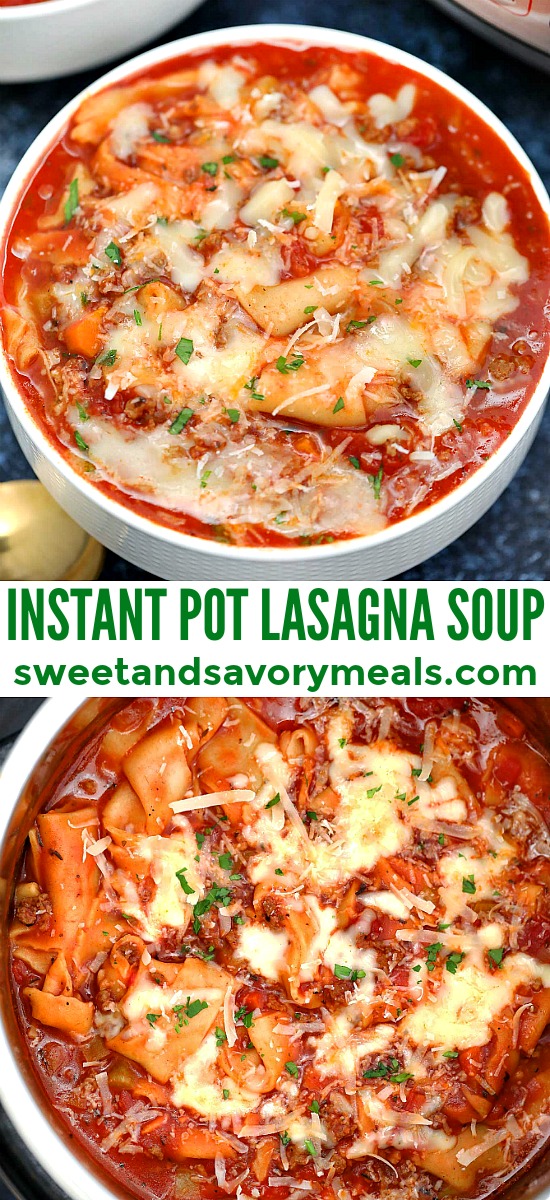 More recipes you might love