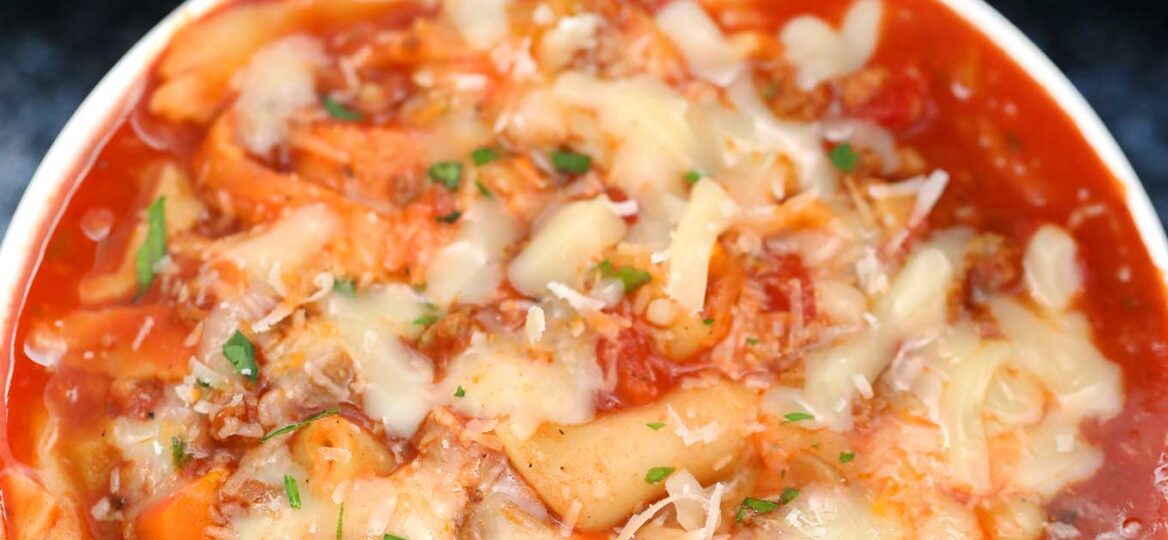 Instant Pot Lasagna Soup [Video]
Instant Pot Lasagna Soup is an easy and flavorful meal that has all the flavors of lasagna but in soup form. Made with ground beef, Italian spices, in a tasty tomato sauce. This easy recipe will quickly become a family favorite.
The best part of this easy instant pot recipe is that it takes a fraction of the time to make it in the pressure cooker as opposed to slow cooking it or making it on the stove. You would be surprised that you can make almost any dish in the instant pot, even a classic lasagna.
Instant Pot Lasagna Soup
Instant Pot recipes are a staple around here, and this Lasagna Soup is a fool-proof recipe that even beginners can make in the Instant Pot. It packs all the amazing flavors of a hearty Italian lasagna and is especially delicious when topped with cheese.
Ground beef is browned to perfection and after that cooked with Italian spices and sweet San Marzano tomatoes. Lasagna noodles are added uncooked to the pot, which makes this recipe easier.
If you want to make this Pressure Cooker Lasagna Soup more delicious, serve it in oven-proof bowls, topped with mozzarella cheese, and put them under the broiler for a few minutes for the cheese to brown!
This easy one-pot meal is one of the most comforting soup recipes you can make that the whole family will love. You should also try our Hot and Sour Soup and this Italian Meatball Soup!
Ingredients needed:
This is an easy dish to make, which requires a few simple ingredients. For exact measures, please see the recipe card below. Also, I have included a step-by-step video on how to make this dish. So, feel free to watch it.
Beef: You can make this recipe with either ground beef or ground sausage. You can even use ground chicken or ground turkey for a lighter version, but it won't be as flavorful. To make it vegetarian, just skip the meat and use more veggies.
Broth: We use chicken broth, but beef broth and vegetable broth work as well.
Veggies: I like to use the veggies that I have on hand, as the soup is very customizable. I usually go for some onion, garlic, carrot, and bell pepper.
Seasoning: Using dried herbs will add extra flavor and depth to the meal. The point is to use flavors from lasagna, to make it closer to an Italian lasagna dinner, I use a mix of thyme basil, oregano, and rosemary.
Tomatoes: These are key to make the broth taste amazing, so using high-quality canned diced tomatoes and tomato sauce is key. As an alternative, you can use a good marinara sauce or spaghetti sauce instead of tomato sauce.
Lasagna Noodles: Here you can use your favorite lasagna sheets, I usually break them in half before adding them to the electric pressure cooker.
Cheese: Parmesan cheese is a must, usually we use freshly grated on top of the easy lasagna soup.
How do you make Instant Pot Lasagna Soup recipe?
Saute: First, select the sauté setting and add olive oil to the bottom of the pot. After that, add the beef and sear it until lightly browned. Make sure to drain the grease.
Deglaze: After that, add the onion, garlic and saute for a little. Finally, add a cup of water and using a spoon scrape down the brown bits that stuck to the bottom of the pot.
Combine: Add the rest of the ingredients, except the lasagna sheets and bay leaves, and stir to combine.
Add noodles: Now, break the lasagna noodles into a few pieces and add to the pot. Stir so they are almost covered with the liquid and add the bay leaves.
Pressure cook: Close and lock the lid, and point the valve to sealing. After that, cook on high pressure for 10 minutes.
Natural pressure release: Once done cooking, do a 5-minute natural release.
Quick pressure release: After that, open the valve carefully to quick release the remaining pressure. Open the pot and stir.
Serve: Discard the bay leaves, add to bowls and serve topped with parmesan cheese and fresh basil leaves. Garlic bread on the side is a nice addition.
Recipe Variations:
Meat: Use flavorful Italian sausage or chicken sausage to make this great recipe. Also, if you decide to use sausage, you can use mild or hot, based on your own preference.
Veggies: Add more or fewer veggies upon discretion. I like to add carrots and red bell pepper, but a cup of zucchini and some mushrooms would work great as well.
Greens: Other delicious additions are some spinach or kale leaves.
Spicier: In addition, for a spicier version, add more red pepper flakes.
Crock pot version: Make Slow Cooker Lasagna Soup if you do not have an electric pressure cooker.
How to serve:
We recommend serving it in homemade bread bowls or with Italian breadsticks on the side. Quick dinner rolls are another great option.
The hearty soup has great flavor and it makes a meal on its own. A simple Caesar Salad on the side would make it complete.
Top it with your favorite cheese like mozzarella, parmesan, fontina, swiss cheese, white cheddar cheese.
As an alternative, use regular or garlic croutons on top.
Sprinkle some red pepper flakes and chopped herbs right before serving.
Topping suggestions:
Bacon crumbs or chopped bacon
Cheddar cheese or Mozzarella cheese
Chopped green onion
A dollop of sour cream
A dollop of ricotta cheese
Cottage cheese
Chopped fresh parsley or basil
How to store leftovers:
Refrigerate: First, let the meal cool to room temperature. After that, transfer it to an airtight container and refrigerate for 3-4 days.
Freeze: I recommend using quart bags for this soup. Use a cup to transfer the soup from the pot into the bag. Squeeze out excess air and seal the bags. The bags can nicely be stored in the freezer for up to 3-4 months.
Thaw: To thaw this easy instant pot lasagna soup, remove it from the freezer the night before serving, or put the sealed bag in warm water to thaw it faster.
Reheat: Heat in a soup pan and simmer for 5-10 minutes.
More Soup Recipes:
Recipe Tips:
To save time, you can use pre-minced store-bought garlic or garlic paste. I always keep organic garlic paste on hand and use it in recipes. Use more or less, based on your preference.
The soup uses a lot of Italian spices, if you don't have some on hand you can skip some. If you have an Italian Seasoning blend, just use 1 1/2 tablespoons.
Using high-quality canned tomatoes is very important as they will give flavor to the broth. I love San Marzano tomatoes, they taste sweet and fresh, also you can buy the ones that have been fire-roasted or have been flavored with basil and garlic.
Deliciousness to your inbox
Enjoy weekly hand picked recipes and recommendations