Instant Pot Cabbage Soup is full of wholesome vegetables simmered in flavorful stock for a hearty, yet light meal. A hot bowl of this soup will warm you right up! Serve with a crusty roll or your favorite protein for a well-rounded meal.
Trying to follow a healthier diet? Stay hydrated with this refreshing Detox Water (Four Ways) and start your day with a Green Smoothie Bowl for an energy boost. For a snack, treat yourself with these colorful and yummy Yogurt Parfaits!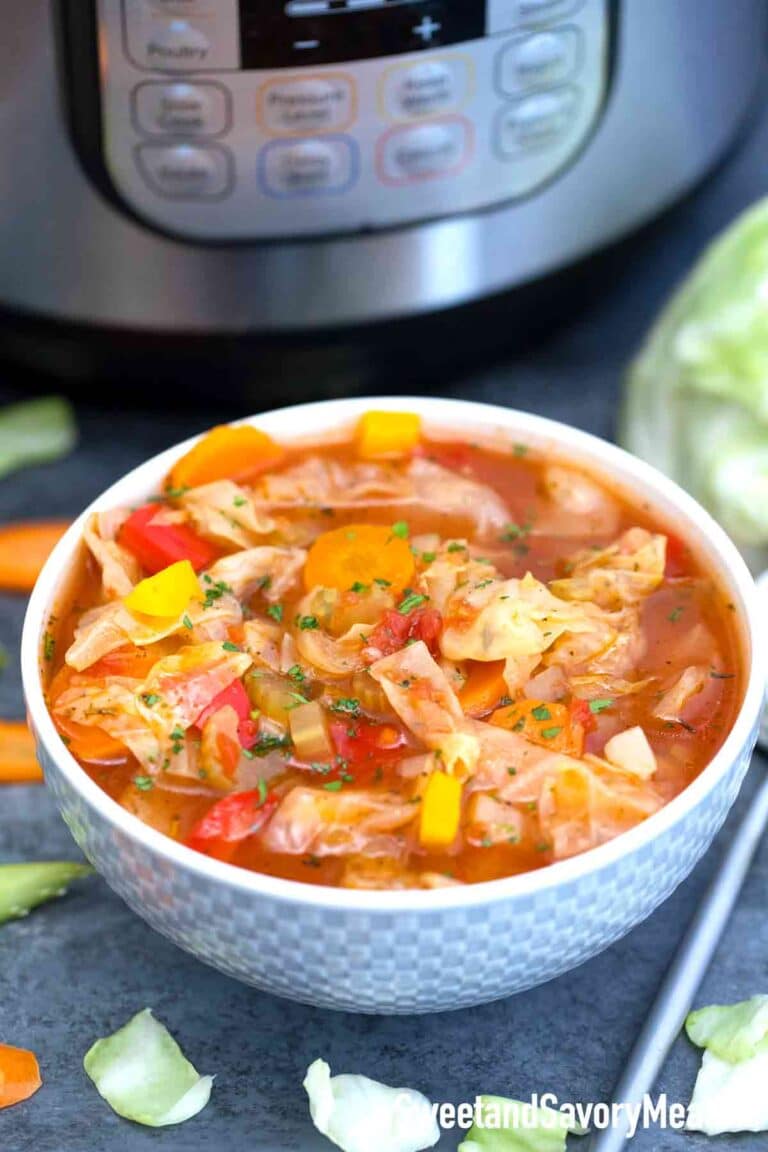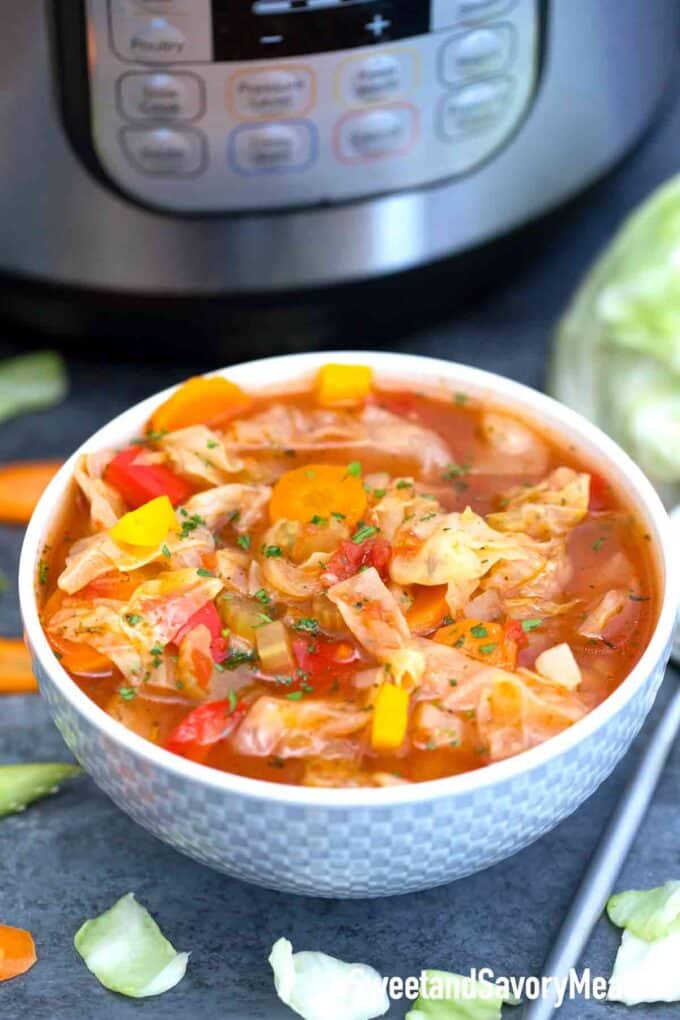 Instant Pot Vegan Cabbage Soup
Instant Pot Cabbage Soup tastes fresh, bright, and is absolutely packed with veggies. It's one of our go-to comfort foods when it starts to get cold out, but it's also perfect for summers when you don't want to turn on the stove. Also, making it in the pressure cooker takes almost no effort at all!
This dish is low in calories and very healthy, but it's far from bland. The stock is well-seasoned with herbs, aromatics, and has a delicious acidity from the tomatoes.
It's so full of flavor, that even meat-eaters will love it! Finally, this dish stored and freezes beautifully. Double the recipe and freeze half so you always enjoy a bowl anytime you want.
What goes into cabbage soup?
Vegetables: We're using carrots (peeled and chopped into bite-sized chunks), chopped zucchini, sliced celery, green beans (they are optional, but great to add some – trim then slice into halves), and half a head of cabbage sliced into chunks
Broth: Use veggie broth for a vegetarian version. If you want a bit more flavor, try making your own chicken stock from scratch
Herbs: You'll need both dried Italian seasonings herbs and a dash of dried thyme
Seasonings: Fresh ground pepper and kosher salt
Aromatics: We're using the classic duo of minced garlic and diced yellow onion
Olive oil: A healthy oil that's perfect for sautéing aromatics
Diced tomatoes and paste: both add acidity and depth to the broth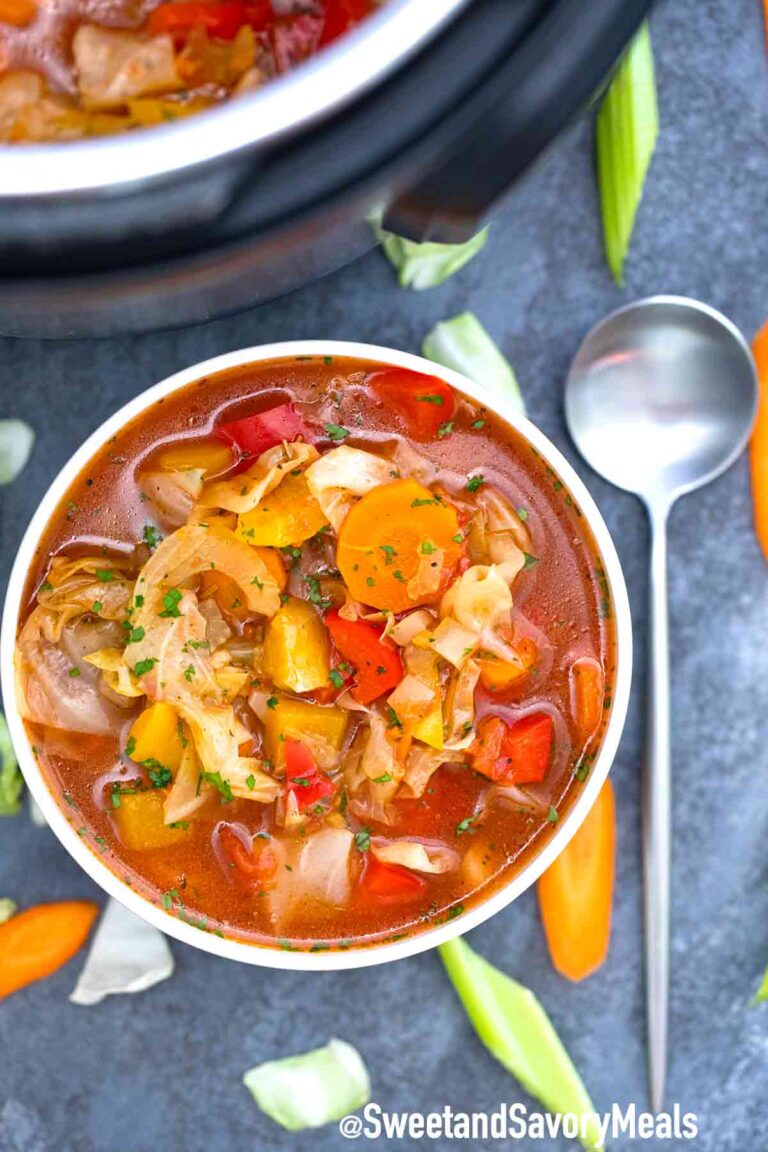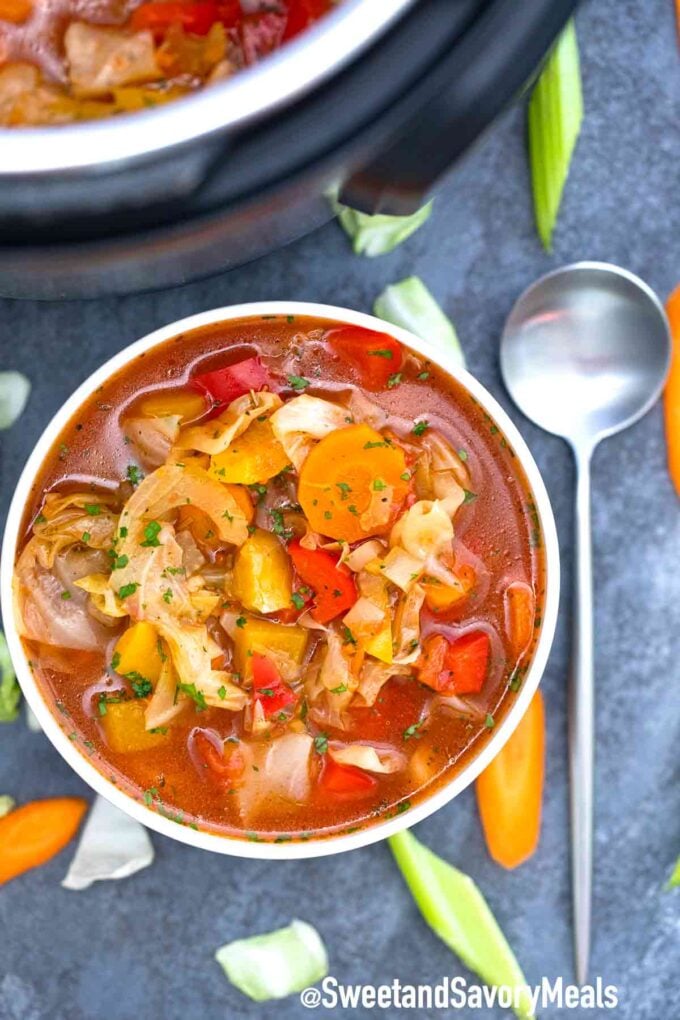 How to make Instant Pot Cabbage Soup?
Sauté. Turn on the IP and press the Sauté button. Then, heat the oil, and sauté the aromatics until fragrant. Stir in the paste and continue sauteing for around a minute.
Pressure-cook in the IP. Put the veggies, dried herbs, stock, seasonings, and diced fresh tomatoes inside the pot. Next, change the function to Soup on the IP and set for 20 mins. Once the pressure cooker beeps, carefully do a quick pressure release. Season with more salt and fresh pepper if needed.
Serve. Enjoy warm with your favorite side.
How to make cabbage soup in the slow cooker?
Want to whip up this recipe but too busy to watch over the Instant Pot? Then, follow this slow cooker cabbage soup recipe which takes even less effort.
Simply, place everything in the pot. Then, set on low for 8 hrs. or 4-5 hrs. on high. Done and ready when you get home!
How to make it on the stovetop?
You'll follow the same process. Sauté the aromatics in your Dutch oven or a large pot, followed by the paste.
Next are the stock and the rest of your ingredients. Boil, then simmer for around 30 mins. until the veggies still retain a bit of crisp but are cooked through and tender.
You can check the full stovetop cabbage soup recipe here.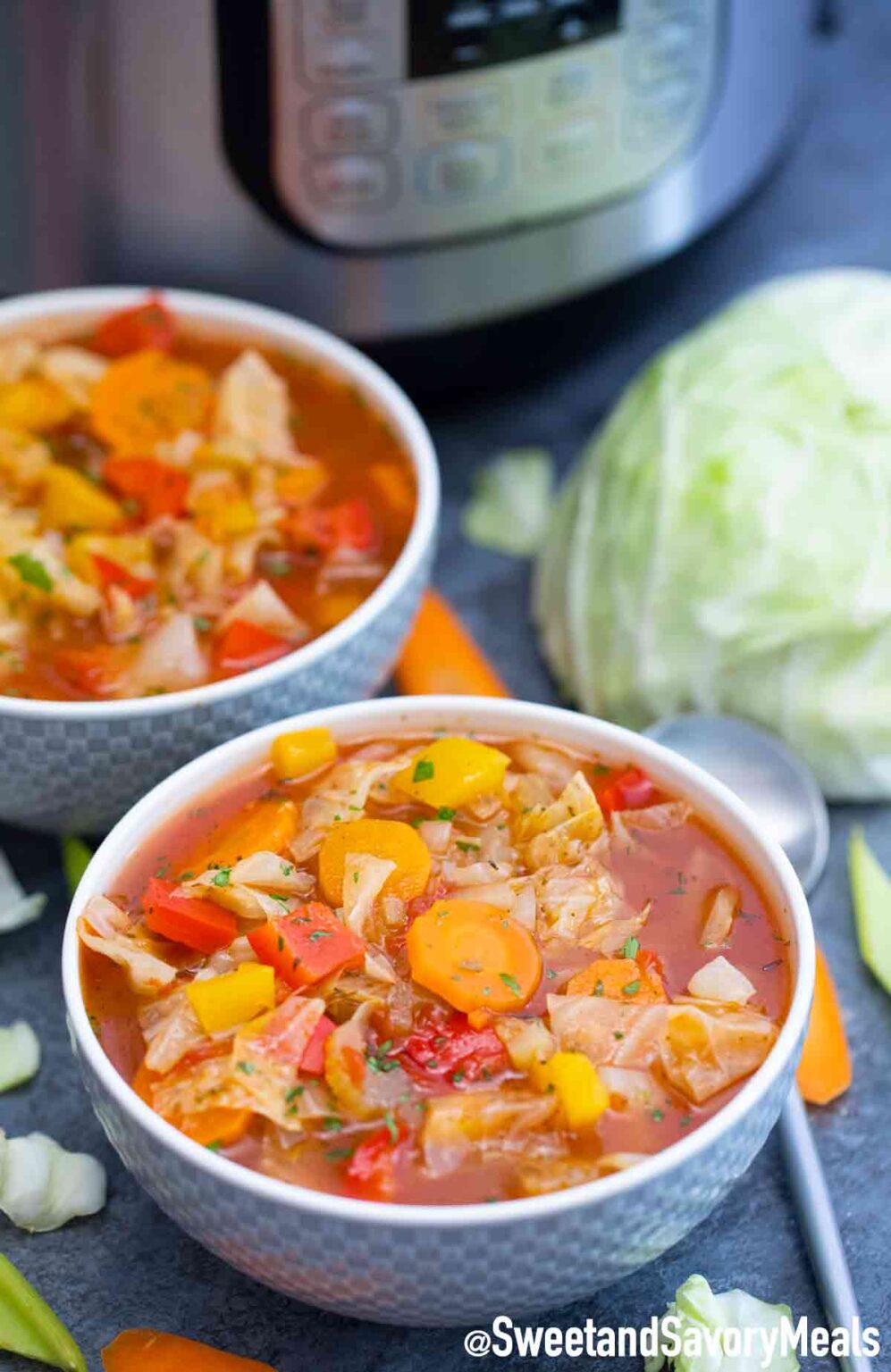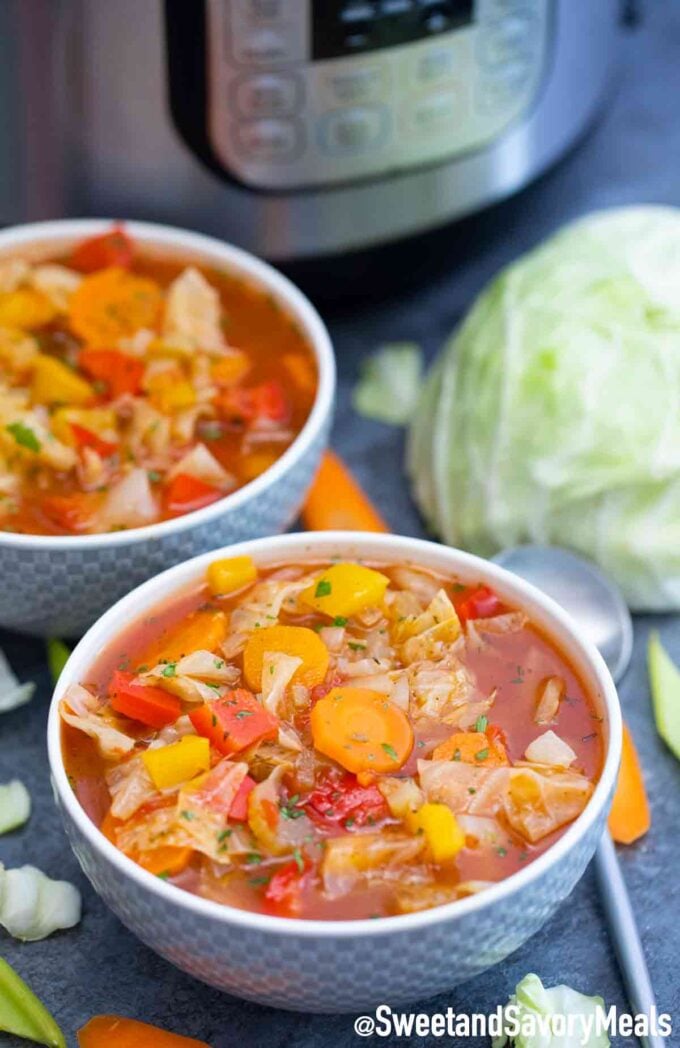 Is cabbage soup good for weight loss?
As part of a healthy diet, yes, it can help you achieve your weight loss goals. It's very low in calories and loaded with nutritious vegetables.
Of course, don't rely on it alone. Make sure it's part of a balanced diet that's appropriate for your health and lifestyle.
What to Serve with Instant Pot Cabbage soup?
It's wonderful with some crusty Beer Bread, but if you want something extra special, serve with this stuffed Olive Bread or Sun-Dried Tomato Mozzarella Bread.
For a complete meal, it's fantastic with juicy turkey breasts, roasted chicken, or crispy pork chops.
How long does cabbage soup last?
Properly stored in a tightly sealed container, you can keep it in the fridge for as long as 5 days. However, I highly recommend consuming it as soon as you can for the best texture.
Can you freeze instant pot cabbage soup?
Absolutely! Make sure to cool everything completely before dividing it into freezer-friendly containers. I like dividing it into individual portions so everyone can just take one and reheat.
Also, you can heat it up on the stovetop or in a microwave.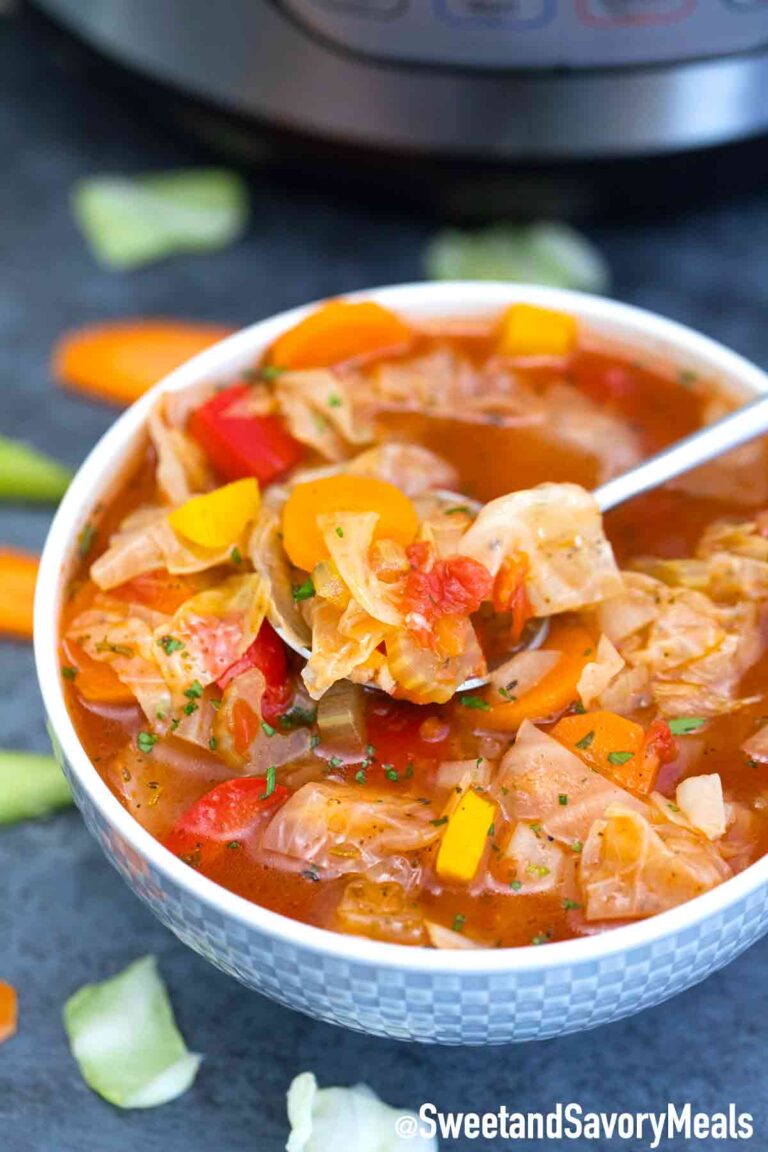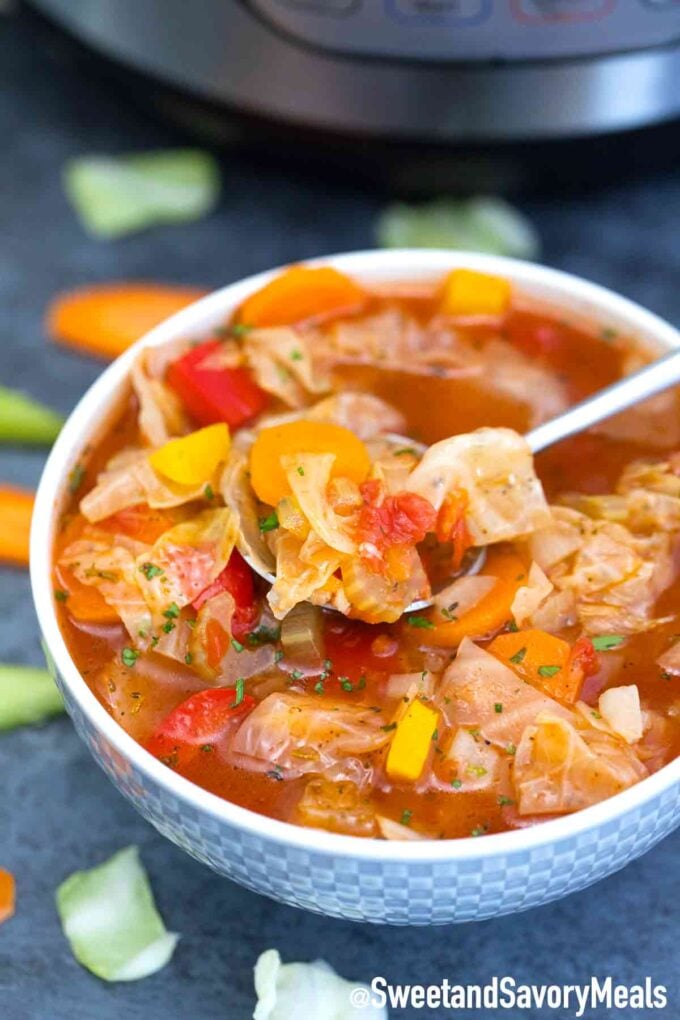 More easy Instant Pot recipes:
Recipe tips:
Do a Quick Pressure Release by venting the pressure and not Natural Release because this will overcook the vegetables.
Bulk it up by adding rice, noodles, ground sausages or beef, or a light protein like chicken.
Also, feel free to try a variety of flavors by adding fresh herbs like basil or parsley, or using other seasonings like taco or Cajun powder.
Similarly, experiment with it by adding other veggies.
For a spicier kick, add some dried red pepper flakes.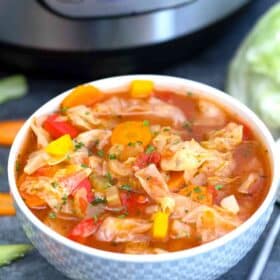 Instant Pot Cabbage Soup
Instant Pot Cabbage Soup is full of wholesome vegetables simmered in flavorful stock for a hearty, yet light meal.
Save
Share
Print
Pin
Rate
Ingredients
2

tablespoons

olive oil

1

large sweet onion

(diced)

4

cloves

garlic

(minced)

1

tablespoon

tomato paste

1

red bell pepper

(diced)

1

yellow bell pepper

(diced)

2

medium carrots

(peeled and sliced rondelle)

1/2

cabbage

(chopped)

2 14. 5

ounces

cans San Marzano diced tomatoes

1

teaspoons

dried basil

1

teaspoon

dried oregano

1

teaspoon

onion powder

1

teaspoon

garlic powder

1/2

teaspoon

red pepper flakes

1

teaspoon

salt

(or to taste)

1

teaspoon

pepper

(or to taste)

6-8

cups

low-sodium vegetable broth

(or more)

3

bay leaves
Garnish:
Fresh parsley leaves

(finely chopped)
Instructions
Set Instant Pot to Saute mode.

Once HOT, add olive oil, let it warm up and add onion, cook for a few minutes, until soft.

Add minced garlic, cook for 1 minute, stirring all the time.

Add bell peppers, carrot, diced tomatoes, and tomato, stir and cook for 1 minute.

Add the rest of the ingredients. Stir to combine.

Make sure you don't go over the MAX fill line of the pot.

Close lid and set to Manual High Pressure for 5 minutes. It will take about 10 minutes for the Instant Pot to reach high pressure, then it will cook for 5 minutes. Make sure you close the vent.

When the timer goes off, 10 minutes, that is called a 10 minute Natural Pressure Release. Then carefully open the vent and release any remaining steam.

Open the Instant Pot, remove and discard the bay leaves and gently stir to combine the soup.

Taste and adjust for salt and pepper.

Serve and garnish with chopped parsley.
Nutrition
Calories:
140
kcal
|
Carbohydrates:
22
g
|
Protein:
3
g
|
Fat:
6
g
|
Saturated Fat:
1
g
|
Sodium:
1395
mg
|
Potassium:
563
mg
|
Fiber:
5
g
|
Sugar:
12
g
|
Vitamin A:
4838
IU
|
Vitamin C:
103
mg
|
Calcium:
90
mg
|
Iron:
2
mg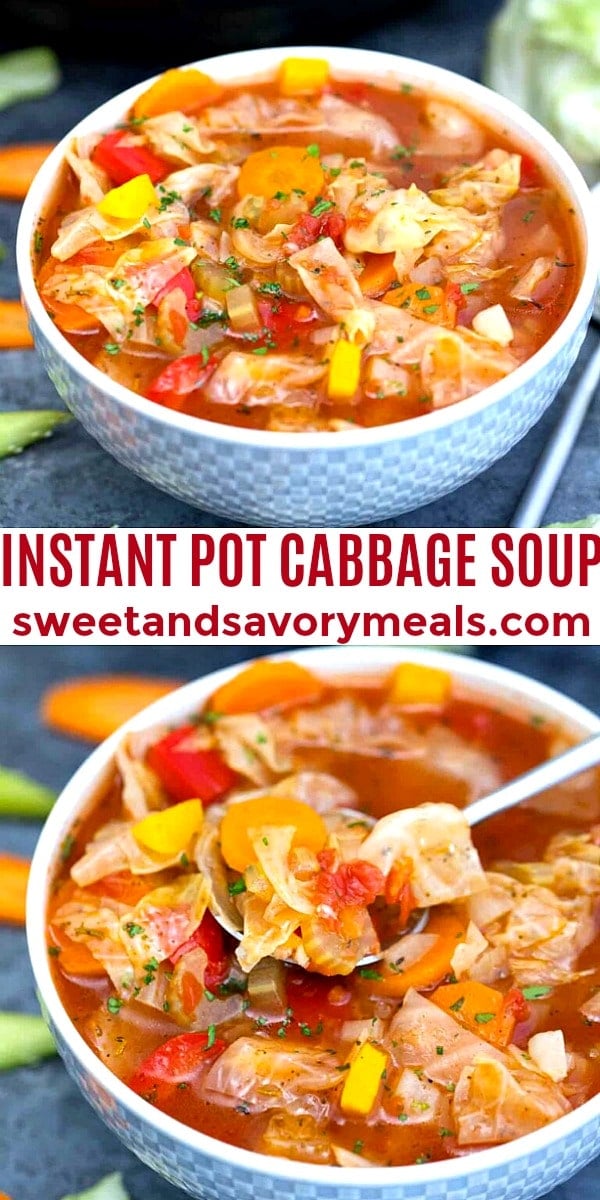 More recipes you might love