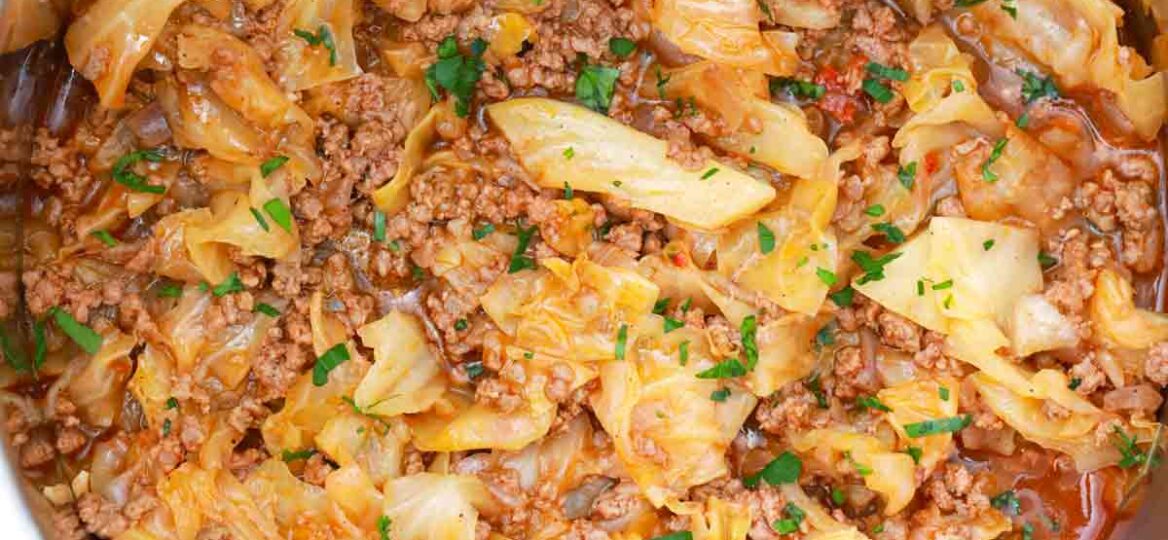 Instant Pot Cabbage Stew with Ground Beef
Instant Pot Cabbage Stew with Ground Beef is low-carb, hearty, filling, and made with just a few basic ingredients. Perfect for busy weeknight dinners, budget-friendly, and very easy to prepare. This recipe just got even easier when using your pressure cooker.
Comfort food that doesn't break your budget is always a winner! We highly recommend adding to your menu our soul-warming Slow Cooker Baked Potato Soup, IP Pork or Chicken Stew, and this Haluski style pasta that is a breeze to make.
Pressure Cooker Cabbage Stew Recipe
Instant Pot Cabbage Stew with Ground Beef is incredibly easy to make. The recipe gets bonus points for being highly customizable and easy on your finances. We enjoy making a big batch and freezing some for later.
The dish is made with perfectly browned beef, tender cabbage, fire-roasted tomatoes, herbs, and spices to intensify the flavor. I have kept the recipe low-carb, but feel free to add potatoes or other starchy vegetables you may like.
What is cabbage stew?
It refers to a stew prepared with cabbage as the main ingredient. It also includes various vegetables, such as onion, carrots, garlic, bell peppers, and celery. A type of stock, either vegetable for a vegetarian version or chicken/beef broth for a more savory version.
It can be prepared with or without meat. We like to make it with ground beef, lamb, or ground sausage. The meat can also be either ground or cut into small chunks like stew meat.
Usually, tomatoes are being added as well, to give the dish a more acidic taste.
More Instant Pot Recipes:
How do you cut cabbage for Instant Pot Cabbage Stew?
Cut the vegetable in half and after that into quarters, cutting through the stem. Remove the core with a sharp knife and be very careful.
Now, either slice the cabbage wedges into halves or thirds and roughly chop.
Another option is to shred them.
While cutting the cabbage you may wonder if you can eat the core, the answer is yes. While it has a different texture than the leaves, it reminds me of radish, the core is delicious and nutritious.
Especially if you are making a soup or stew, I encourage you to chop it into small pieces or shred it and use it in your recipe.
What do you need to make Pressure Cooker Cabbage Stew?
olive oil
onion
garlic
ground beef
tomato paste
fire-roasted tomatoes
cumin
oregano
cabbage
beef broth
salt and pepper
How do you make Instant Pot Cabbage Stew with Ground Meat?
Prepare: Start by preparing the veggies, make sure to wash them, and cut them according to the recipe.
Saute: Next, with the IP on Saute, cook the onion, after that the garlic, and brown the beef.
Pressure Cook: Finally, add all the remaining ingredients and Pressure Cook for 10 minutes, followed by a 5 minutes NPR.
Serve: Open the IP, give the stew a good stir and serve.
Recipe Variations:
Change the Meat: Make this recipe with ground Italian sausage, ground lamb, or ground chicken. Another delicious option is to use stew meat.
Make it Vegetarian: Skip the meat altogether and make it vegetarian. In that case, use your favorite veggies, like zucchini, bell peppers, a bunch of spinach, celery, potatoes.
Add tofu or beans: Have you decided on the vegetarian option? In that case, boost the protein by adding some canned beans or chickpeas. Cook some firm tofu in the oven and serve it on the side.
Bacon!!!: Well, bacon makes everything better. Saute some slices from the start, cook the rest of the ingredients in the bacon fat. Chop the bacon and add it to the stew, it will be mouth-watering!
How to serve it:
We enjoy serving it just as is, but here are a few delicious options for you:
How to store leftovers:
This is a great recipe for leftovers, the flavors just get better the next day. Store leftovers in an air-tight container in the fridge for up to 4-5 days.
Make a larger batch and freeze leftovers. For this, just add the cooled stew to freezer-safe Ziploc bags or freezer-safe containers and freeze for up to 2-3 months.
Thaw in the fridge when ready to enjoy, reheat and serve!
More Cabbage Recipes:
Recipe Tips:
No matter what type of meat you choose, make sure you do not skip the browning part. This adds flavor to the whole dish and makes a big difference.
Ensure you are using a fresh green or white cabbage, remove any leaves that have dark spots, and make sure they are crisp.
Canned fire-roasted tomatoes can be substituted with canned diced tomatoes.
Adjust the seasoning and spiciness based on your liking. Add some cayenne pepper or even some hot sauce if you like the heat.
Deliciousness to your inbox
Enjoy weekly hand picked recipes and recommendations