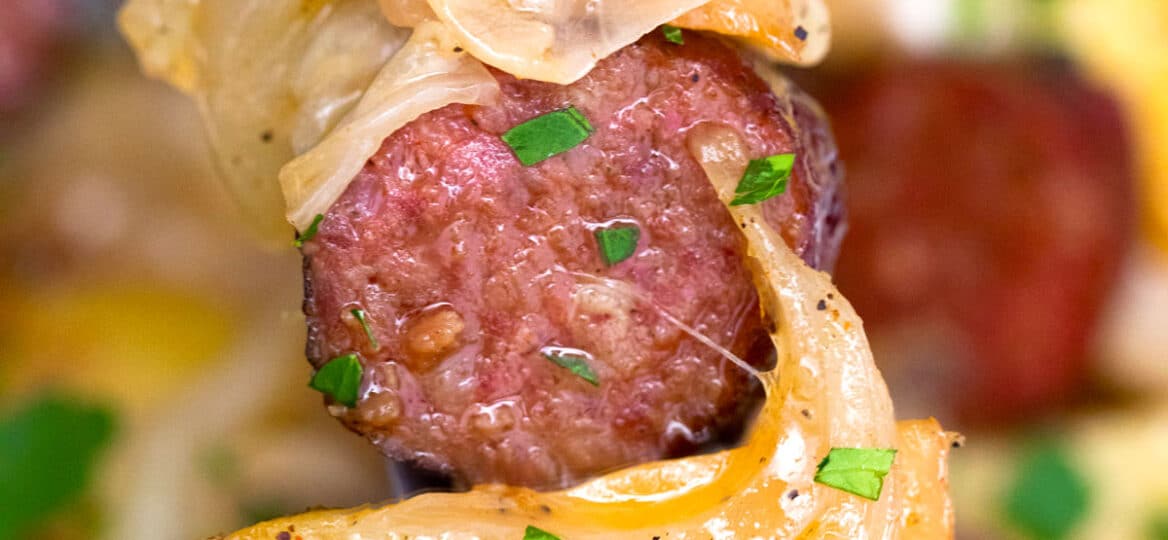 Cabbage and Sausage Foil Packets [Video]
Cabbage and Sausage Foil Packets are grilled in foil until everything is smoky, tender, and bathed in spiced butter with a touch of apple cider vinegar. No grill? You can bake this in the oven, too!
We love grilling around here! You can put anything on a skewer, and it becomes 10x more fun to eat. For your next cookout, make sure to serve these packets along with grilled pork skewers, salmon skewers, and shrimp skewers!
Cabbage and Sausage Recipe
Cabbage and Sausage Foil Packets are such a fun way to enjoy these simple ingredients! When you unwrap them, all those fantastic smells of butter, paprika, herbs, vegetables, and smoked sausage will instantly make your mouth water. Plus, grilling them inside foil envelopes locks in all those flavors and keeps everything tender and juicy.
Now, don't worry if you don't have a grill or you don't want to fire it up, because you can bake them too. Finally, it's also delicious and healthy for you. Try it for dinner tonight and for your upcoming cookouts!
What goes into Cabbage and Sausage Foil Packets?
Sausage: I use Polish, but your preferred mild, smoked, or spicy variety will also work!
Cabbage: Just a half head, sliced into half-inch wedges.
Potatoes: Quarter about 15 to 20 pieces of small spuds.
Aromatics: Fresh garlic and onions.

Butter: We're using 4 tbsp in this recipe.
Seasonings: Salt, paprika, fresh-ground black pepper, and fresh parsley.
Apple cider vinegar: Brightens up the flavors with its delicious tanginess!
Olive oil: Prepare about 2 tbsp.
How do you make homemade cabbage and sausage foil packets?
Prep your cooking materials. Preheat the grill or oven to 400F. Cut 4 sheets of foil (sized 18×12 inches each) and coat with non-stick spray. You can also brush them with a bit of oil.
Season the spuds. Mix halved potatoes with apple cider vinegar, spices, oil, chopped parsley, and minced fresh garlic.
Assemble. Divide the sliced onions, seasoned potatoes, and cabbage between the packets, followed by equal amounts of sausage. Top with butter and season.
Cook. If grilling, cook for 50 minutes. Turn the foil envelopes every 15 mins so everything cooks evenly. If using the oven, bake for 30 to 40 mins.
Rest. Once done, let the packets rest for 10 minutes before opening.
Serve. Open each foil packet, top with chopped parsley, and serve with a side of a lemon wedge and sour cream. Enjoy hot!
Recipe variations and substitutions:
Use other meats: Try different sausage flavors such as Andouille, mild or hot Italian, or even cheesy franks. You can also use thick-cut bacon chunks, ham, ground beef, pork strips, and chicken slices.

Try other seasonings: We also love this with other seasonings like Cajun, BBQ rub, Italian, and taco!
Vegetarian: Sub the meat with some chunky portobello mushrooms, or just skip it altogether.
Include more vegetables: Add some thinly sliced mushroom, carrots, broccoli, snap peas, bell pepper, baby corn, and sweet potatoes.

Apple Cider Vinegar substitute: Use white wine, lime juice, or lemon juice.
Best sausage to use for this recipe?
Smoked Polish sausage is our favorite! It's smokey and loaded with umami, and retains a nice snap when you bite into it. But most sausages will work in this recipe, as well. We've tried it with Italian, Bratwurst, chorizo, Andouille— all of them turned out so delicious!
How to shred cabbage?
You can do it by hand after taking out the core, or use a food processor, a mandolin, or even a peeler if you're after really thin slices.
What to serve with cabbage and sausage?
This dish is fantastic with any grilled entrée! Enjoy with a juicy grilled steak or salmon, BBQ chicken, or grilled pork chops. We also love it as a main because it's really filling on its own. It's great with sides like a simple salad, soup, or rolls.
How to store leftovers?
Take out any leftovers from the packets and transfer them to a sealed container. Store in the fridge for up to 3 days. Heat it up in the microwave for a few minutes until hot.
More cabbage recipes to try:
Recipe Tips:
If you don't have baby potatoes, slice a regular-sized one into wedges or small chunks.

Don't forget to flip the packets on the grill! Do it every 15 minutes to avoid burning them up and cook everything evenly.

After grilling, the packets are filled with VERY HOT steam. Let them stand for at least 10 minutes before you attempt to open them.
Deliciousness to your inbox
Enjoy weekly hand picked recipes and recommendations