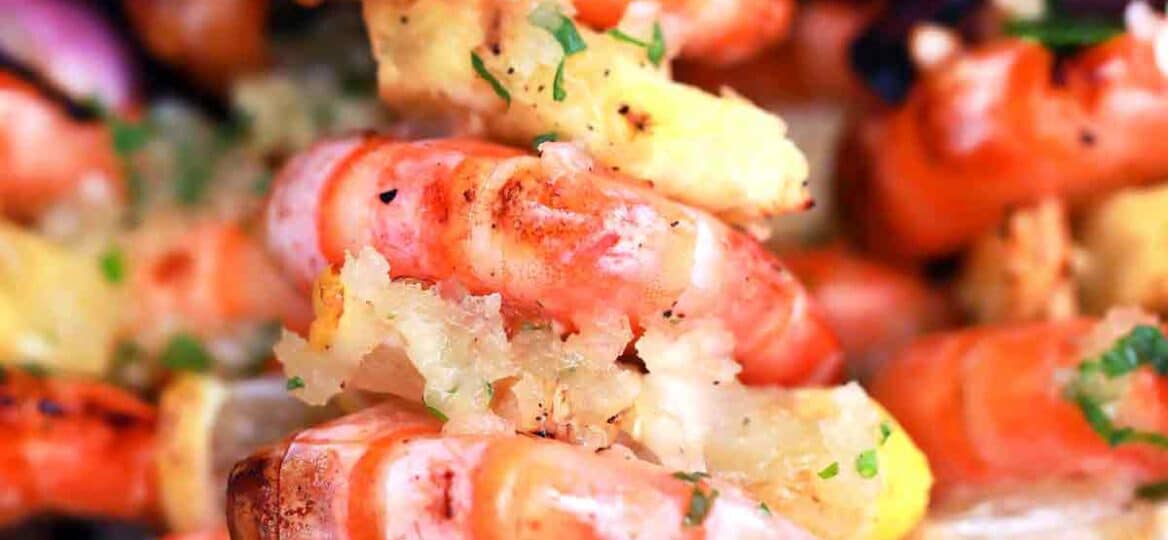 Grilled Shrimp Skewers [Video]
Grilled Shrimp Skewers is a unique twist on a classic outdoor meal! Juicy and flavorful with pieces of shrimp, pineapple, and veggies.
Looking for other seafood delights? Check out my recipes for Crab Cakes, Instant Pot Lobster Chowder, and Teriyaki Salmon.
Grilled Shrimp Kabobs Recipe
Grilled Shrimp Skewers is a great cookout meal for your weekly dinners or weekend events. With an easy to follow process, anyone can enjoy this delicious recipe with friends and families.
Pork or chicken is the most common meat used in kabobs. However, using shrimp is also a great way to make it extra special and unique.
Not only that, but this seafood is particularly so juicy which makes it awesome for outdoor events. Pair it with a cocktail and salad and you'll surely have an amazing meal.
I am so thrilled to be sharing my recipe with you. I love seeing my guests enjoy this dish and I hope you can share the same experience with your friends and family.
What is a skewer?
A skewer is a sharp and thin item that is made out of either metal or wood. This is used to hold together pieces of meat, vegetables, and fruits for grilling or roasting.
How to make the best Grilled Shrimp Skewers
Marinate seafood. Mix together the following ingredients: pineapple juice, soy sauce, Worcestershire sauce, honey, rice vinegar, sesame oil, minced garlic, salt, and pepper. Make sure that there are no lumps and it has a watery texture. Place deveined shrimps and the mixture into a resealable storage bag. Make sure the mixture is well distributed. Refrigerate overnight or for at least 8 hours.

Skewer. Thread the shrimp with sliced onions and pineapples alternatively. Make sure to leave enough space for the heat to circulate.

Grill. Start grill at medium heat. Lay the kabobs and rotate once in a while for 4 to 8 minutes. You can also do it for longer to reach your desired doneness.

Serve. Let it cool for at least 5 minutes. Toss in some garnish like parsley or basil for extra flavor. Afterward, serve.
How long does shrimp take to grill?
Much like in frying, shrimp does not take too long to be done. When cooking, it only takes about 2 to 4 minutes for one side to be done.
You can also determine if it is already cooked from the inside once it turns pink or into hues of orange.
How do you keep shrimp from sticking to the grill?
An uncleaned grill is usually the common factor in seafood being sticky to it. As such, make sure to clean it thoroughly beforehand.
You can also apply some olive oil or vegetable oil to the grill and the seafood before placing the Shrimp Kabobs to avoid them sticking to each other.
Do you need to soak skewers before grilling?
If you are using wooden skewers, then it is essential that you should soak them in warm water for at least 20 to 30 minutes before using. Soaking it prevents them from burning too fast when cooking.
On the other hand, soaking is unnecessary if you are using metal skewers.
What to serve with grilled shrimp?
Serving this recipe with the right dishes can make a meal much more fulfilling and satisfying. Wondering what best to serve this seafood dish with?
Check out my all-time favorites for outdoor events that combine well with this recipe:
Recipe tips:
Marinate according to taste. If you like a tangy taste, add lemon juice and zest. For stronger flavors, also put in a dash of oregano.

While cooking, you can baste some marinade on the kabobs. It will provide an oozing sauce on the exterior for a more tender experience.

Avoid overcooking shrimp. This will make them tough and hard to eat. Once the exterior has become pink or opaque, immediately flip it to the other side or take it off the heat.