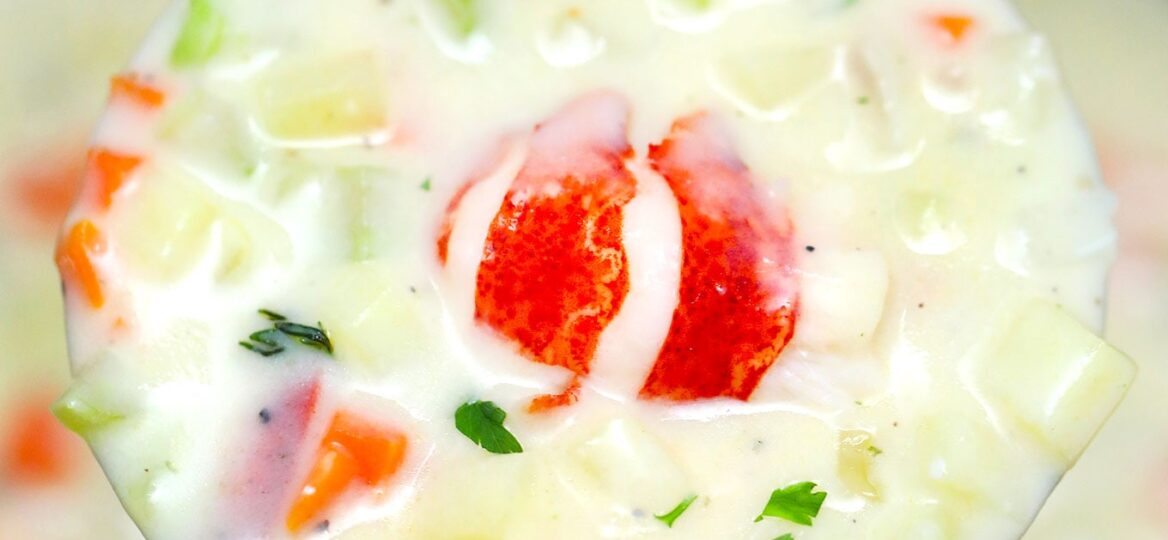 Instant Pot Lobster Chowder
Instant Pot Lobster Chowder is creamy, flavorful, and the perfect comfort meal! Prepare it hassle-free and quickly using the pressure cooker!
I went to a French restaurant recently and was quickly enamored by this thick soup! I was reminded of how tasty this dish is and how perfect it is during winter! So, I am sharing this soup recipe with you and if you want similar recipes, check out my posts for Cabbage Roll Soup, Minestrone, and Tortellini Soup!
Pressure Cooker Lobster Chowder Recipe
This recipe for the Instant Pot Lobster Chowder is pure comfort food at its best! During this kind of cold season, a warm bowl of creamy seafood goodness is all I need.
My favorite part is fishing out the melt-in-your-mouth chunks of seafood from the thick base. Seasonings are just right, and the richness of the flavors is more evident with the creaminess.
Good thing is that with this recipe, you can have a restaurant-quality dish anytime at home without much hassle. At the same time, you get to control the ingredients and make sure to use only high-quality seafood. I scored some lobsters on sale the other day, and so, here it goes!
What is the difference between chowder and bisque?
Chowder and bisque are two highly similar dishes of the same origin which is French cuisine. Hence, it is not surprising that there are more similarities than differences between the two.
Both are cream-based and can use a wide array of main ingredients but are famous for seafood and vegetables. You can also incorporate wine in either for these two decadent dishes.
But the ultimate difference is that bisque has the seafood blended smoothly in the base while the chowder sports chunks of the seafood.
What potatoes are best for Instant Pot Lobster Chowder?
Russet potatoes are a good candidate as they are starchy which makes the soup even thicker. For a creamier option, you can add red potatoes.
Yukon Gold is somewhere in the middle and can be an all-around variety for any kind of cooking. You can use that as well.
How to make Instant Pot Lobster Chowder:
Combine the ingredients: Add the broth or stock and all the other ingredients except for the shellfish and dairy. But if you are using frozen seafood, you can add it at this point.
Cook: Set the IP and cook according to the recipe card below. Then, release the pressure to open the lid.
Blend: You may use an immersion blender to smoothen out the soup. But if you want to leave all the other ingredients intact, then, you may skip this step. The potatoes, when blended, can serve as the thickener.
Add: Select Saute and add the shellfish (if you have not yet added it) and stir in the dairy. The dairy is added towards the end of the cooking to prevent it from curdling. Stir until everything is well incorporated. Heat some more.
Serve: Garnish then, serve warm!
Can you make Lobster Chowder in the slow cooker?
Yes! All you need to do is put everything in the slow cooker except for the shellfish and dairy. Sautéing the aromatics would be optional although it is recommended for it deepens the flavor if you do.
Cook on low for 8 to 10 hours on high for 4 to 6 hours. Blend the base if you want, then, add in the shellfish and the dairy. Cook some more until everything is heated through before serving.
More great IP soups:
For more recipes, head on to the Soups and Stews section where you can find similar recipes that are easy to do for everyday cooking.
Recipe Tips:
Serve it with crackers or rolls, or a baked potato side dish.
Top it with crispy bacon bits for a nice contrast in the texture and added flavor.
If you add the shellfish and blend everything smoothly, then, you get yourself a bisque.
Add more seafood like shrimps, clams, or fish fillet to turn this into a seafood chowder.