Slow Cooker Cabbage Roll Soup
Slow Cooker Cabbage Roll Soup has all the flavors of cabbage rolls, without the fuss and effort! A hearty dish with lots of flavors and easily made in the crockpot.
The world loves cabbage recipes! And this is just one of the many recipes that we utilize the versatile ingredient. I personally like Bacon Fried Cabbage, Corned Beef and Cabbage, and Cabbage Soup! Try them all and see for yourself!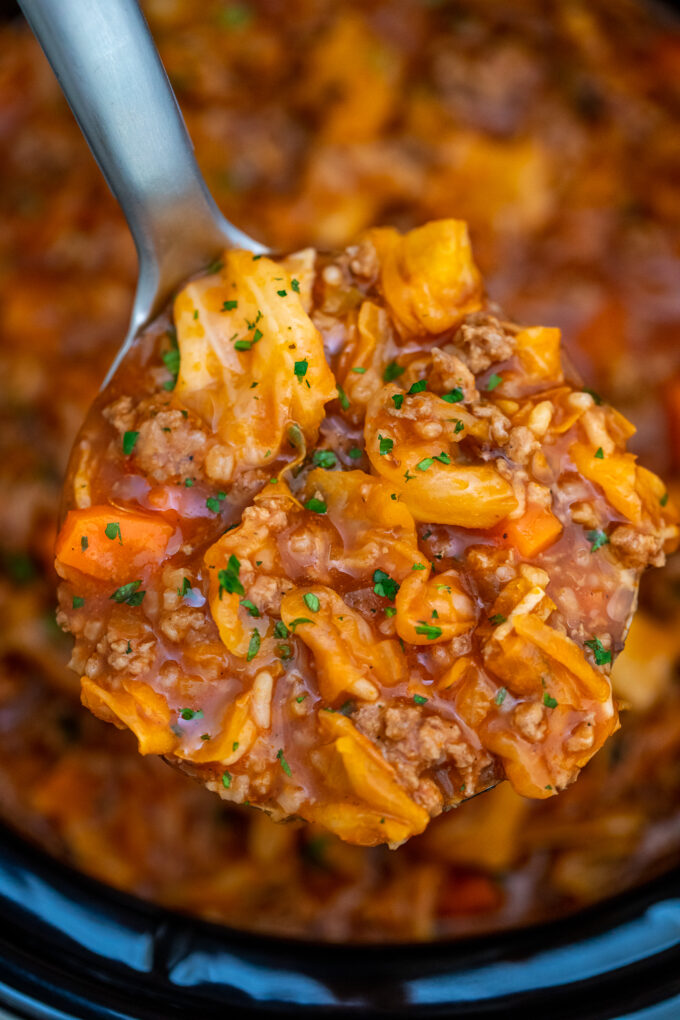 Crockpot Cabbage Roll Soup Recipe
Slow Cooker Cabbage Roll Soup is a nice dish that you can prepare and serve with just dinner rolls. It has grains, meat, and vegetables all in one tasty and hearty dish!
The traditional cabbage rolls are individual rolls cooked in a tomato-based sauce. Many places have their unique version. Although the fillings may vary, they always contain grains, meat, and vegetables wrapped in leaves. The leaves, by the way, are naturally mild in flavor and so, it provides a nice balance to all of these tasty ingredients.
This dish has all those components without the need to roll them individually. Instead, you get to taste all the ingredients with less effort, thereby making it a nice dish to serve for a big crowd.
And having to use the crockpot means less watching over your dish as it cooks. Aside from simply putting all the ingredients together in the crockpot, you get to extract more flavors out of them because of the slow-cooking.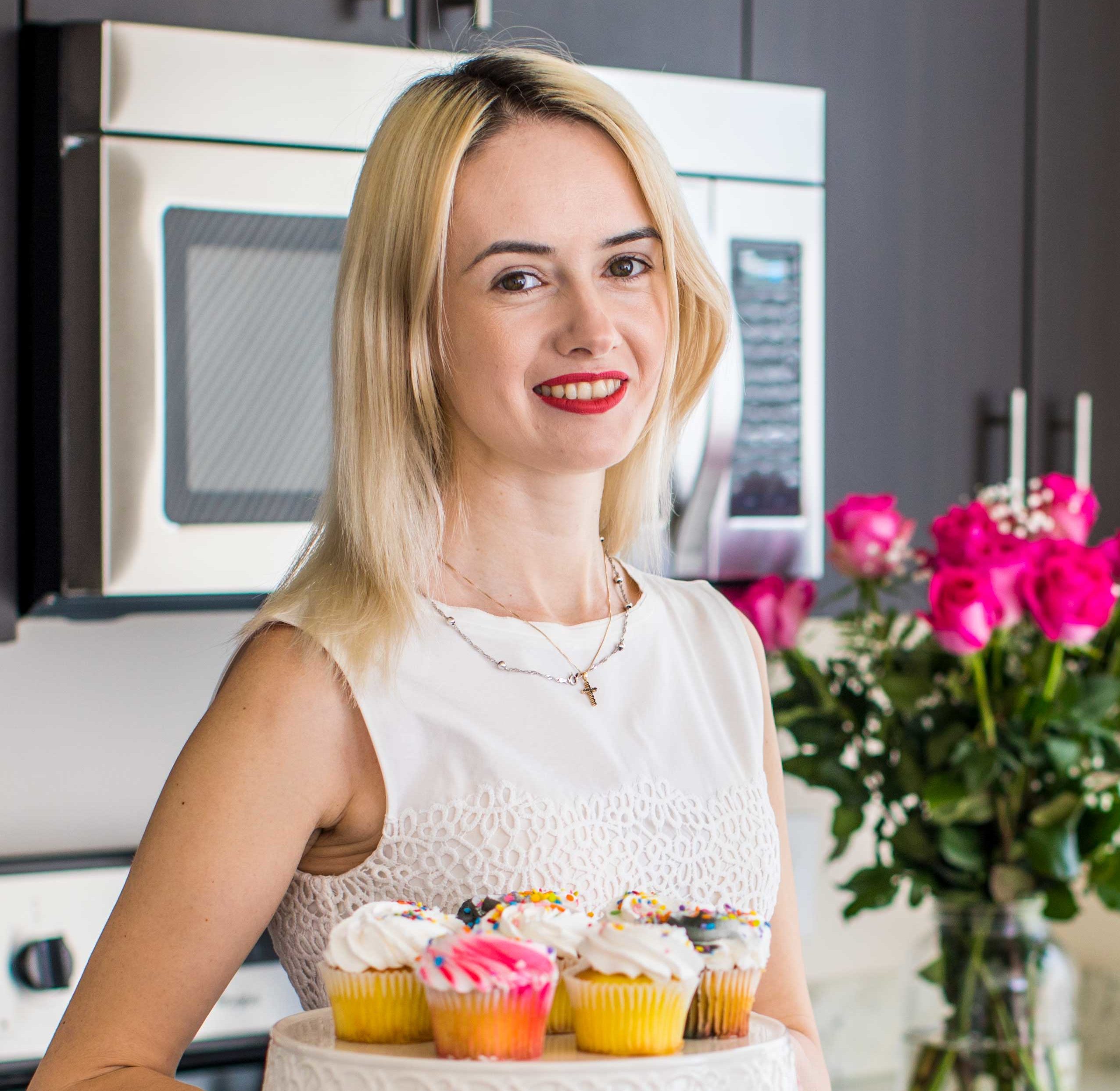 Follow us on Pinterest for more delicious recipes!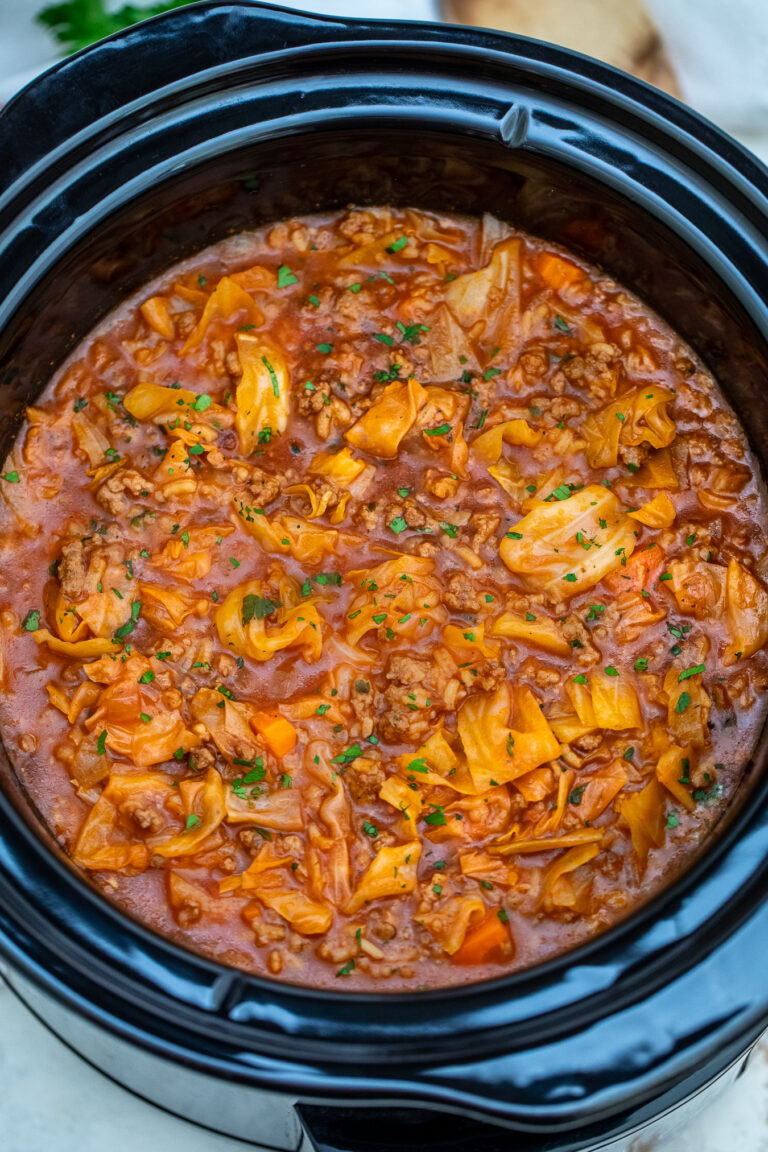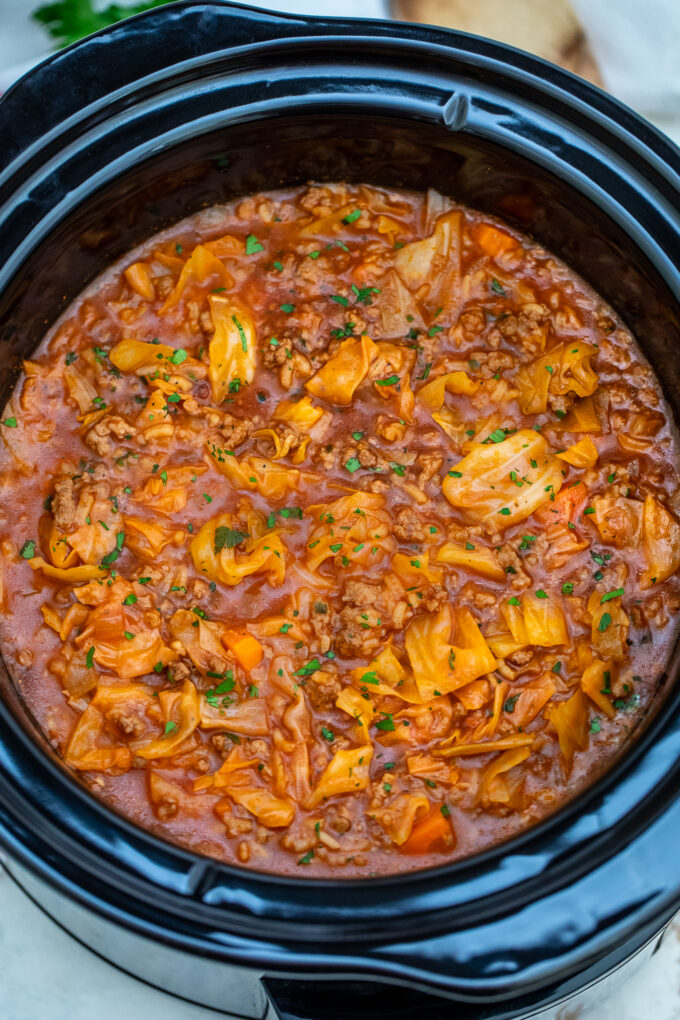 Is Slow Cooker Cabbage Roll Soup healthy?
Yes! This dish provides a nice balance of protein from the meat, fiber from the veggies, and carbs from the grains. Just make sure to use low-sodium broth for this recipe and the leanest meat possible.
Some recipes call for frying and more fat, while some recipes are vegetarian. Generally speaking, find alternatives that can work for the diet that you are on so it could be healthy for you.
It highly depends on how much of the good stuff is put in the dish. Since not all cabbage rolls are created equal and there could be various versions, there could be differences in the health benefits.
How to Make Slow Cooker Cabbage Roll Soup:
Here are the general steps on how to prepare this dish. The details are in the recipe card below.
Brown the meat: In a skillet, cook the ground beef until no longer pink. You may also put in the aromatics and some seasonings at this point.
Combine: Put the browned meat into the crockpot along with the rest of the ingredients.
Cook: Cover the crockpot, then, set to either low or high. The length of time will depend on that setting.
Serve: Once done, ladle serving portions into bowls and serve warm.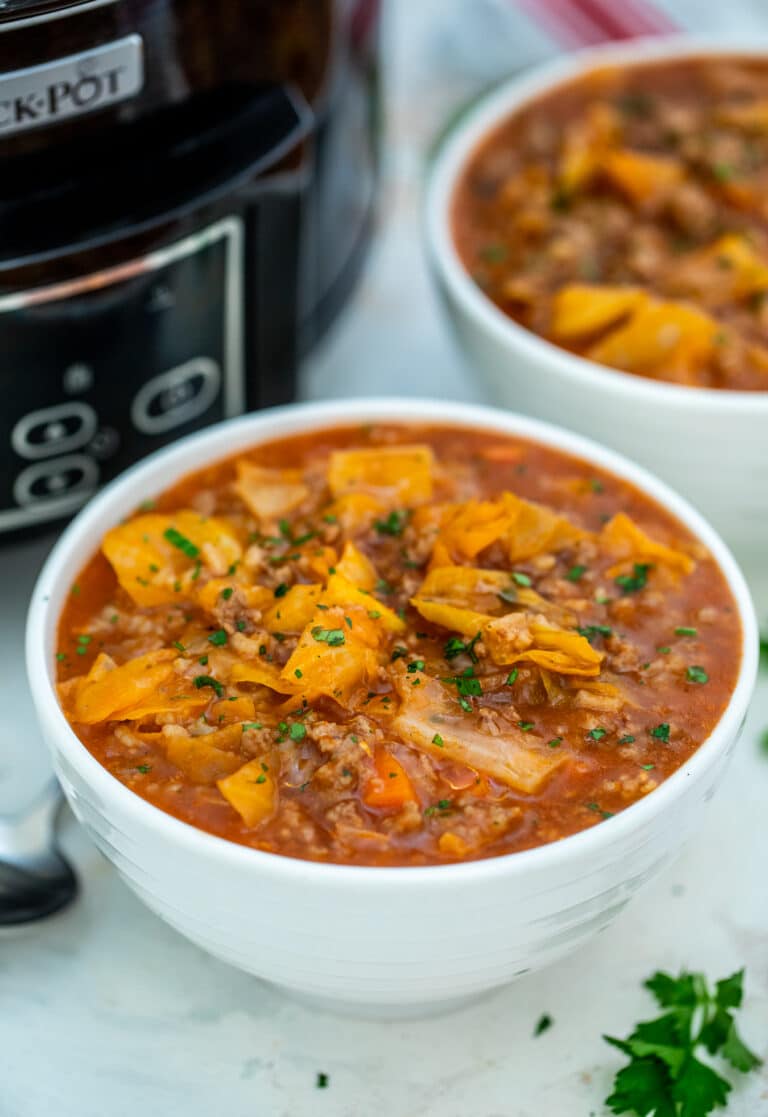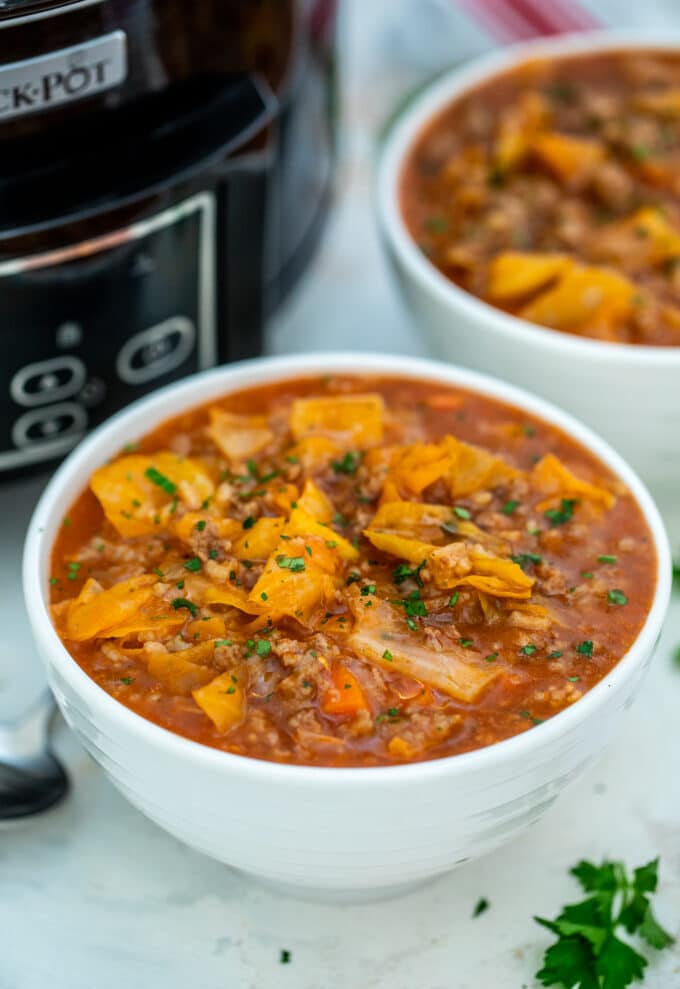 Recipe Variations and Substitutions:
Meat: Ground pork, turkey, or even sausages can be added to the beef in this recipe. You can also add bacon.
Rice: Use brown rice instead of long-grain. You may omit the rice if you want to make it low-carb, or, add in cauliflower rice instead towards the end of the cooking.
Broth: It does not matter if you use other kinds of broth, say chicken or veggie, as long as it is low-sodium.
Spices: Feel free to change up the mix and adjust.
Veggies: Add corn or celery.
How long is it good for?
It can stay good in the fridge for about 3 to 4 days, put in airtight containers.
Can you freeze Slow Cooker Cabbage Roll Soup?
Yes! It freezes well and can stay good for more or less 3 months. Just make sure to cool it down well, then, put in freezer bags and squeeze out any excess air before putting it in the freezer.
To reheat, move it from the freezer to the fridge a night before to start the thawing process. Reheat on the stove.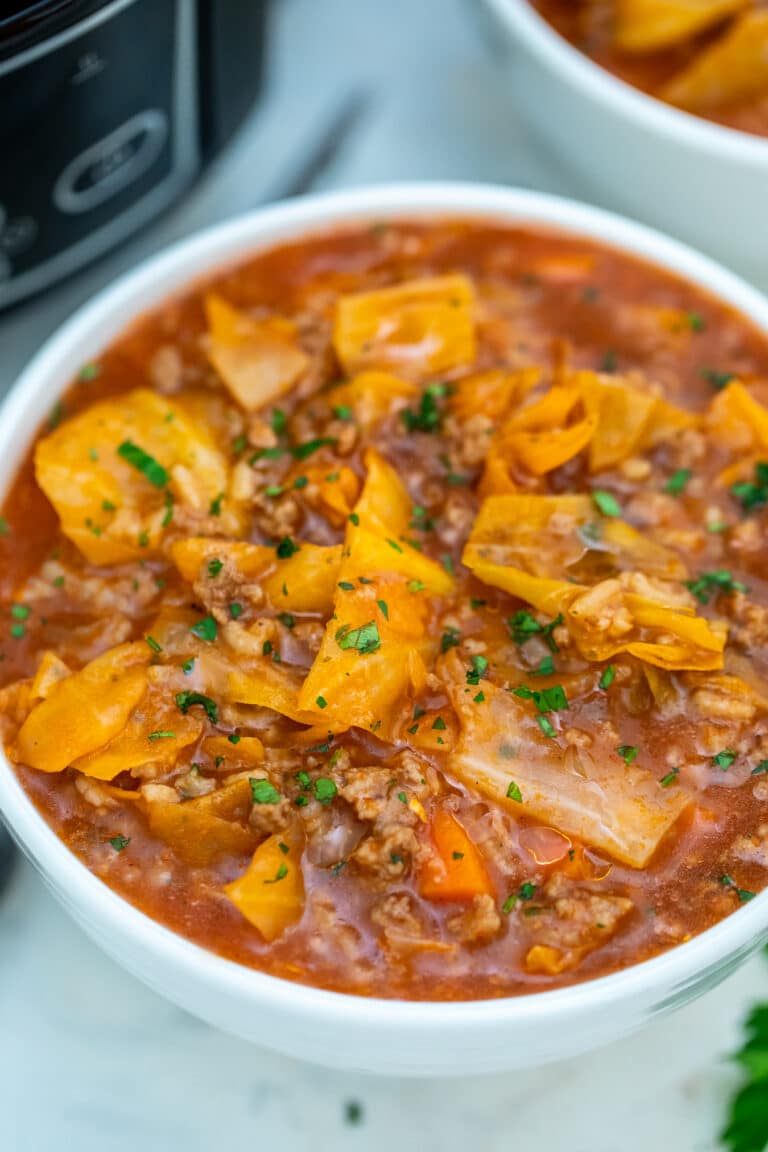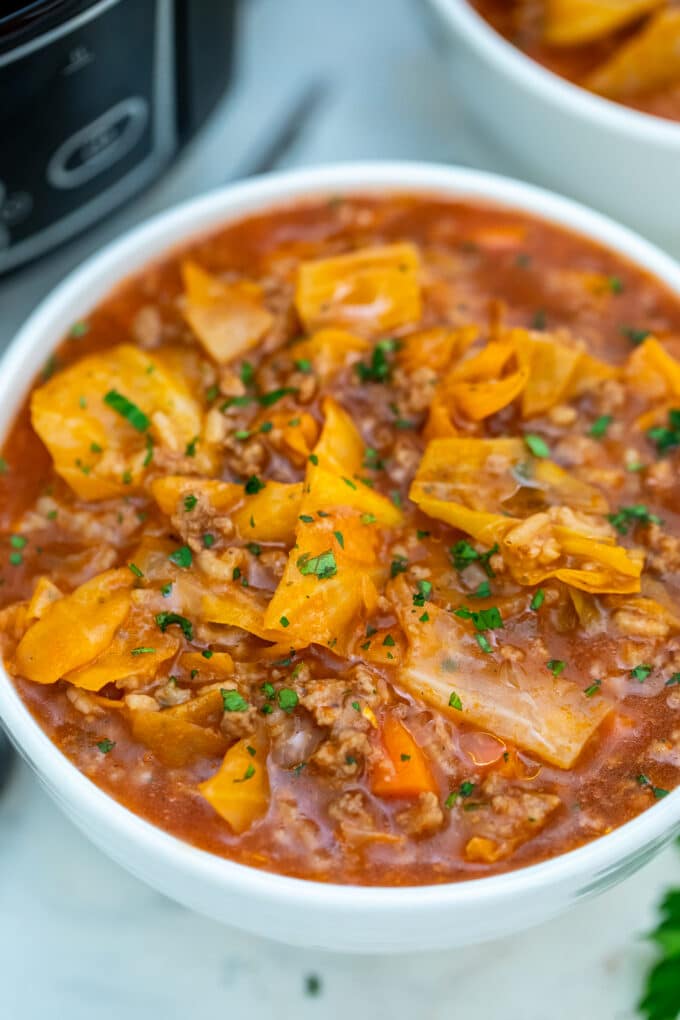 Recipe Tips:
When you add bacon, fry it first in the skillet and the remaining grease is what you will use to brown the beef.
Use the leanest beef you can find so that you will no longer need to drain the grease after browning. If some grease will be produced, drain if first before putting any of the seasonings if you must.
It is recommended to brown the meat first for added flavor, but you can skip that, too, if you like.
Save Recipe
Slow Cooker Cabbage Roll Soup
Slow Cooker Cabbage Roll Soup has all the flavors of cabbage rolls, without the fuss and effort!
Author: Catalina Castravet
Serves: 6 servings
Prep time:

30

minutes
Cook time:

8

hours
Total time:

8

hrs

30

mins
Ingredients
Soup:
Garnish:
Nutrition information
Calories: 364 Carbohydrates: 35 Protein: 19 Fat: 17 Saturated Fat: 6 Cholesterol: 54 Sodium: 1337 Potassium: 1085 Fiber: 5 Sugar: 17 Vitamin A: 3130 Vitamin C: 62 Calcium: 102 Iron: 4
Save Recipe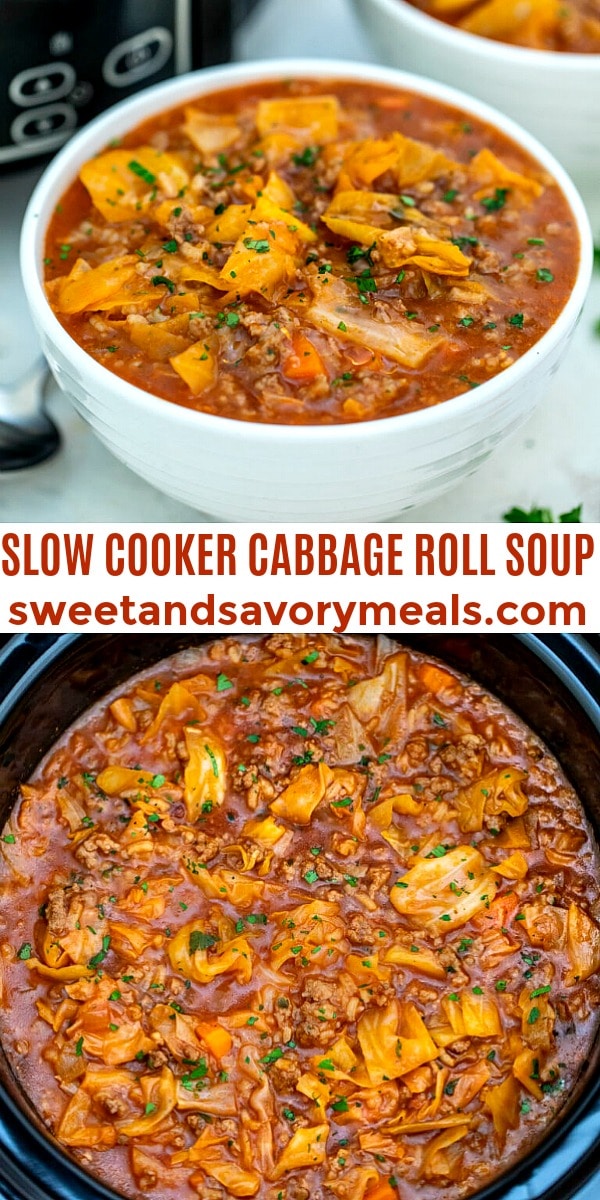 More recipes you might love