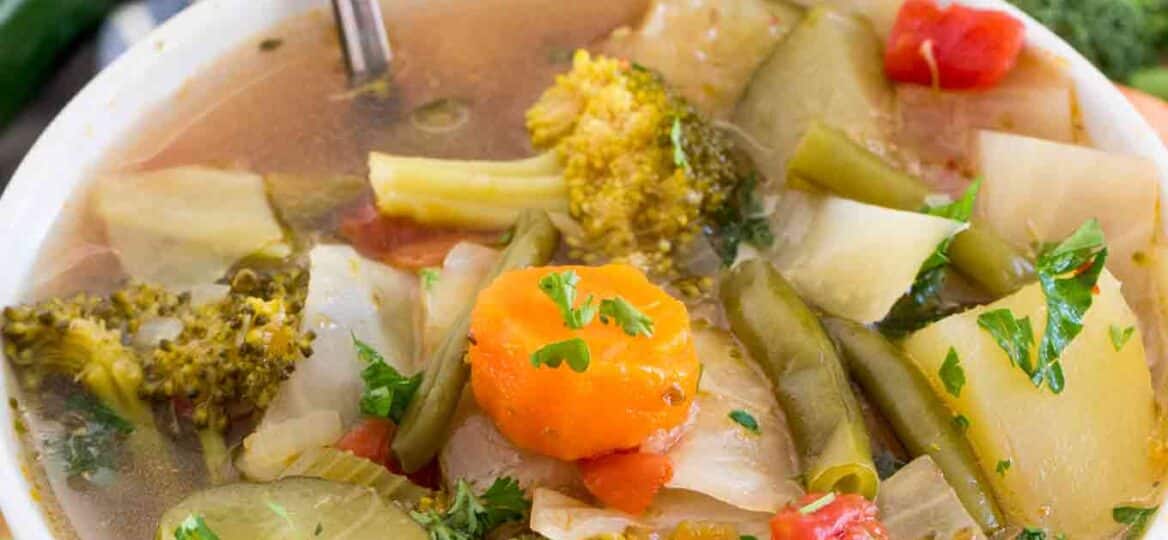 Instant Pot Weight Loss Soup [VIDEO]
Instant Pot Weight Loss Soup is a wholesome meal, loaded with delicious veggies, that is perfect part of a healthy lifestyle. This pressure cooker recipe packs lots of nutrients and fiber to keep you full and boost your energy.
We love making Instant Pot recipes since they usually take a fraction of the time and are packed with flavor. Among our most famous soups are this must try French Onion Soup, Cabbage Soup and Taco Soup. They make the perfect light lunch part of a healthy diet. Check our recipes and add more healthy meals to your meal plans.
Instant Pot Weight Loss Soup is a tasty vegan soup, packed with essential nutrients! This is one of the most delicious meals, a great combination of fresh veggies, cooked in a tomato vegetable broth, seasoned with dried herbs for the best flavor.
This veggie soup is incredibly easy to make, it does not involve multiple steps. The instant pot makes the cooking a breeze and it also reduces the time dramatically.
I call this a weight loss aka detox soup aka the meal that helps me get back on track. After over-eating probably and most surely over-indulging during the holidays, I especially look forward to a bowl of this light soup.
Regardless if you are trying to lose weight or just eat healthy, this easy and vitamin packed comfot meal will always give you a boost.
Also, the soup is packed with fiber from the hearty veggies and it will keep you full for hours. I enjoy that it's yummy, comforting and that it gives my digestion system a break.
Ingredients needed:
Oil: We use olive oil however avocado oil would be a great choice too.
Fresh vegetables: To make the instant pot cabbage soup we use a variety of veggies like onion, garlic, zucchini, celery, carrots, potatoes, green cabbage, diced tomatoes, green beans, and broccoli florets.
Herbs: In addition, we add a mixture of dried herbs for extra flavor. Like dried basil, dried oregano, and bay leaves.
Seasoning: Season this weight loss cabbage soup with onion powder, garlic powder, salt, ground black pepper, and red pepper flakes.
Tomato paste: Also, to add some acidity and extra savory flavor wee use some tomato paste.
Broth: To make this healthy soup recipe you can use vegetable broth, chicken broth, or beef broth.
How do you make instant pot weight loss soup recipe?
Sauté setting: First, you select the sauté mode and add the oil to the bottom of the inner pot.
Sauté: Next, add the onion and after that the minced garlic cloves. After that, add the celery, zucchini, carrot, potatoes, chopped cabbage, diced tomatoes, and tomato paste.
Broth: Give everything a good stir and add the herbs and seasoning, followed by the broth.
More veggies: Finally, add the green bean, broccoli florets, and bay leaves. Also, add more broth, but be careful not to go over the max line.
Pressure cook: Close the lid and seal the steam vent. Pressure cook the instant pot cabbage soup recipe at high pressure for 5 minutes.
Natural pressure release: After that, do a 10-minute natural release.
Quick pressure release: Release the remaining pressure by opening the valve, called a Quick Release.
Adjust for seasoning: Once the valve drops, open the electric pressure cooker, give the mixture a stir. Also, discard the bay leaf and taste and adjust for salt and pepper.
Serve: The best way to serve this easy recipe is warm with a sprinkle of chopped fresh parsley on top.
Recipe Variations:
Skip the potatoes: If you are on a strict diet, simple recipes like this one should be part of your meal plan. Alternatively, you can skip the potatoes all together to lower the carbs. Or if you are looking for a healthier version, just use sweet potatoes instead.
More veggies: This diet soup is very versatile, hence you can use your favorite veggies. We recommend you try it with bell pepper, green pepper, mushrooms, cauliflower, summer squash.
Greens: In addition make it more nutritious by adding a few cups of fresh spinach, collard greens, or kale. This is a great way to sneak more greens.
Herbs: Similarly, add more flavor by using your favorite fresh or dried herbs. We encourage you to add some Italian seasoning, fresh basil, and fresh parsley.
Beans: To make this recipe heartier, stir in some kidney beans, white beans, or black beans. This is definitely a healthy way to incorporate more protein and fiber.
Meat: Another alternative is to add some shredded chicken or turkey to this instant pot vegetable soup recipe. Actually, this is a great option to make it a main dish.
Slow cooker version: Just add all the ingredients to the slow cooker, stir and cook on low for 6 hours or until the potatoes are soft.
Stove top version: Another option is to make this stovetop version of One Pot Cabbage Soup recipe.
Frequeently Asked Questions
Should I add beans to the cabbage soup diet recipe?
The instant pot detox soup does not have much protein, I prefer to not add any beans (except the green beans) to it. Since the whole purpose of it is to give my digestive system a break.
However, you can add 1 can of rinsed and drained pinto or black beans if you want the soup to pack more protein.
How to make homemade vegetable stock?
First, heat oil in a large stockpot over medium-high heat.
Then, add the garlic, onions, celery, and carrots to it.
Cook until softened, for about 5-8 minutes, while stirring often.
Next, add the water, fresh or frozen vegetable scraps, bay leaves, parsley, thyme, salt, and pepper.
Reduce heat to low and simmer, partially covered, for 45 minutes.
How to store leftovers:
Cool: First, no matter what storing method you choose, you should always let the leftovers fully cool first.
Refrigerate: After that, add the remaining leftovers to an airtight container and store them in the fridge for 4-5 days.
Freeze: Make a big batch of this easy recipe and freeze some for later. To do so, transfer it to freezer bags, lay them flat in the freezer, and freeze for up to 3 months.
Thaw: To thaw the soup, either transfer it to the fridge and thaw overnight. Another option is to add the bag to a casserole dish and place it under running warm water.
Reheat: Reheat in the microwave or on the stove. When reheating defrosted soup, make sure to bring it to a boil and simmer it for a few seconds.
More Instant Pot Soup Recipes:
What is a 10-minute natural release?
A Natural Pressure Release means that the pressure is released gradually for a certain amount of time, and in our case, that is 10 minutes.
For a Natural Release, you click either on Keep Warm, or just unplug the IP and wait 10 minutes, after which you open the valve and release any leftover pressure.
A natural release is usually used when cooking soups as they pack a good amount of liquid. If you open the valve immediately the liquid may shoot out through the valve.
Cooking Tips:
Sautéing the onion and garlic, in the beginning, is optional. you can skip this step and add all the veggies to the Instant Pot if you are in a hurry. However, if you take a few minutes to sauté them, the flavor of the soup will definitely be much better, so I recommend to do it.
To save time, you can use pre-minced store-bought garlic or garlic paste. I always keep organic garlic paste on hand and use it in recipes.
Also, you can skip some of the veggies if you don't like them.
However, I recommend not skip the celery and the cabbage, because of their detoxifying properties.
The original recipe can be even healthier by using sweet potatoes instead of white potatoes.
For a spicier kick, add some red pepper flakes.
Watch Recipe Video:
Deliciousness to your inbox
Enjoy weekly hand picked recipes and recommendations