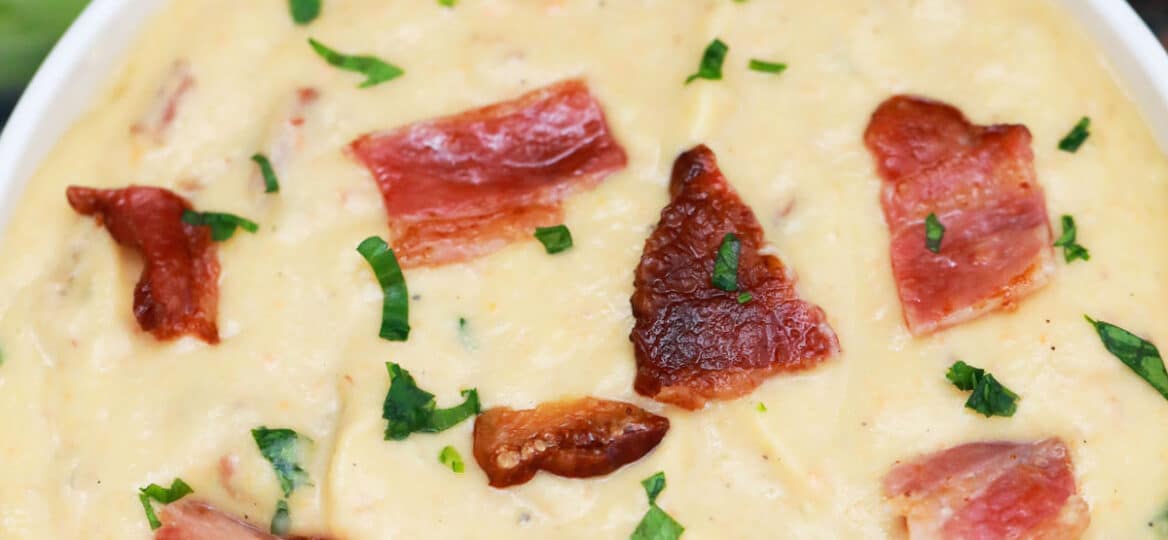 Instant Pot Potato and Cabbage Soup
Instant Pot Potato and Cabbage Soup has silky potato puree, ribbons of cabbage, and bacon for an incredibly satisfying soup. One of the richest and creamiest soups ever, full of smoky flavor from the bacon!
The Instant Pot is not just awesome for hearty soups, but virtually any kind of food or dish! It's our secret weapon for the Perfect White Rice, Chicken Tacos that taste like they've been simmered all day, and the juiciest Lobster Tails!
Pressure Cooker Potato and Cabbage Soup
Instant Pot Potato and Cabbage Soup is such a simple and satisfying dish. To cut down the fat, we're using the fork-tender potatoes themselves to thicken up the dish instead of loading it up with cream. What you get is a buttery, flavorful potato puree studded with bacon and tender cabbage that'll have you trying to get every last drop!
It's amazing as is, but we also love dressing it up. Customize your bowl with your favorite toppings! Ours are chopped chives and green onions, mozzarella, crispy onions, croutons, and toasted pine nuts. Easy to make with endless variations, this one of the best soups of all time.
What do you need to make Instant Pot Potato and Cabbage Soup?
Potatoes: Choose floury ones like Russet and Idaho, because the starch makes for a rich and creamy dish.
Cabbage: We recommend mild and delicate Savoy or green cabbage. Shred after removing the stem.
Streaky bacon, chopped: Fry, grill, or crisp them up in the oven to keep down the mess.

Aromatics: Fresh onion and garlic make the broth so flavorful!
Vegetables: Carrots and a stick of celery add nutrients and a slight sweetness to the dish.
Stock: It's hard to top homemade chicken stock, but a veggie stock or pre-made broth are great options, too!
How do you make homemade instant pot potato and cabbage soup?
Sauté. Chop all the aromatics and veggies (we use a food processor to chop them all at once). Use the IP's Sauté function to cook them until soft, about 5 mins. Except for the potatoes.
Cook. Pour the broth in and the half and half, add the potatoes and the bacon, set the IP to High Pressure for 10 mins. Once done, allow the IP to naturally release pressure for about 10 mins, then do a manual release after.
Blend. Use an immersion blender or transfer by batches to a traditional blender. Pulse the mixture until it's as smooth or chunky as you like. Return to the IP, and press Sauté again.

Serve. Ladle into bowls, scatter crispy bacon on top, and serve hot.
Recipe variations and substitutions:
Use other types of cabbage: If you can't find Savoy, you can also use Napa. Green cabbage will work too but chop it really into very thin ribbons.
Add meat: Chop some seared chicken breast and stir in at the end. This will also work with sliced smoked sausage and diced ham or turkey.
Creamy: At the end, stir in some cream and sour cream for a creamier finish. Top with cheddar to make it extra rich!
Herbs: Add some dried Italian seasoning if you love the taste of herbs.
Include other veggies: Stir in some peas, corn kernels, mushrooms, broccoli, spinach, kale, and other vegetables into the mix.
How to make Potato and cabbage soup in the slow cooker?
The crockpot makes this even easier! Toss the chopped veggies and spuds into the pot, followed by the broth. Slow cook on low (6 to 8 hrs.) or on high (3 to 4 hrs.) before blending. Stir in the shredded Savoy at the end, and top with chopped crispy bacon.
Stovetop option:
Sauté the chopped spuds and veggies together in your pot. Continue cooking with the broth until everything is tender and falling apart. Blend, then return to the pot. Stir in the Savoy. Once it's tender, serve with bacon on top.
How do you thicken potato and cabbage soup?
We're letting the spuds do the thickening for this dish! Once they're really tender, we blend them along with the cooked veggies and broth to create a rich, thick, and super creamy soup.
Are the blended potatoes not thick enough for you? Feel free to stir in some milk, cream, a little sour cream, or half and half if you want an even richer consistency. You can try simmering it down some more as well or using a little cornstarch slurry.
How to store and freeze?
For leftovers, transfer to an air-tight container once it's completely cool. Store up to a week. To reheat, microwave until hot.
Since this has no cream, it won't split after being frozen, so it's fantastic for long-term storage. Transfer the cooled dish into baggies, preferably divided into single-serve portions. Store if frozen for up to 3 months. Thaw and microwave until hot to reheat.
More soup recipes to try:
Recipe Tips:
Use starchy, buttery potatoes like Idaho, Russets, and golden Yukon.
If you have a food processor, use them to chop all the veggies and aromatics at once.
For a chunkier consistency, leave a few potato cubes intact.