Easy Cabbage Soup [Video]
Cabbage Soup is a delicious vegetable soup made with cabbage, zucchini, green beans, and carrots in a flavorful tomato broth. This healthy meal is hearty and filling, and ready in just 45 minutes.
This is another must-try cabbage recipe from our delicious collection. A low-calorie meal, that is perfect to follow your healthy eating plan. For a meatier version of this recipe, try this Cabbage Roll Soup made with ground beef.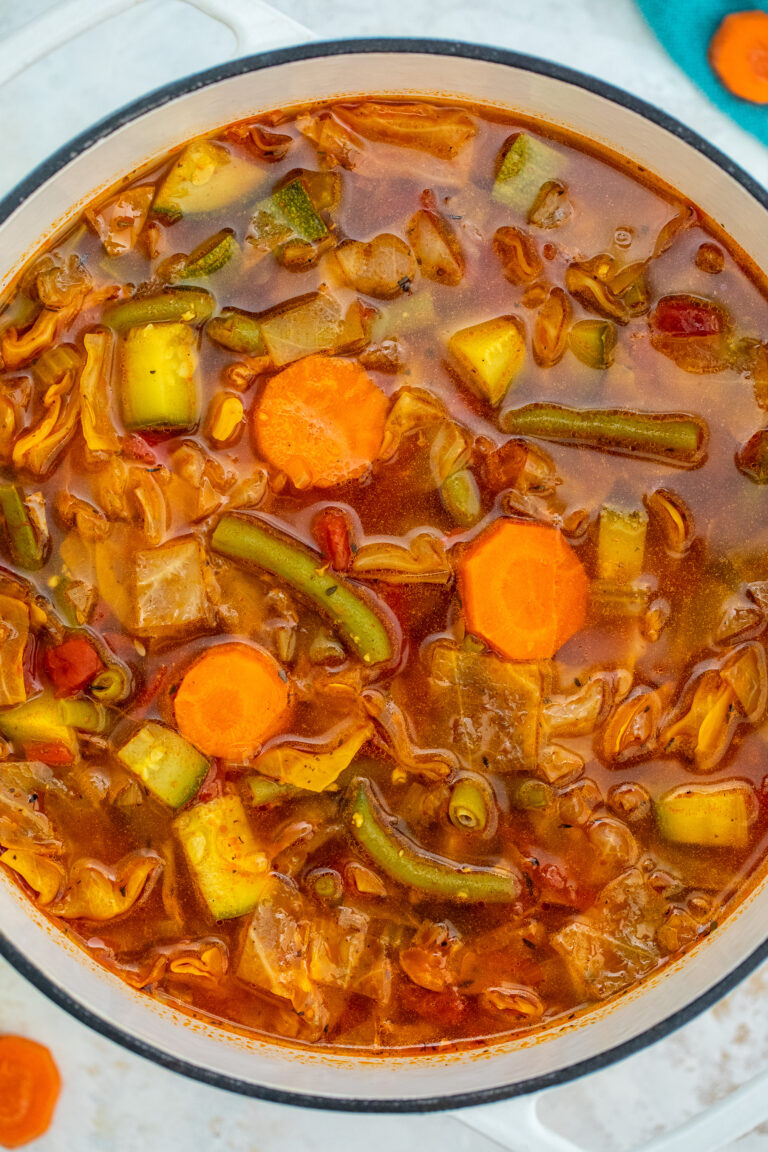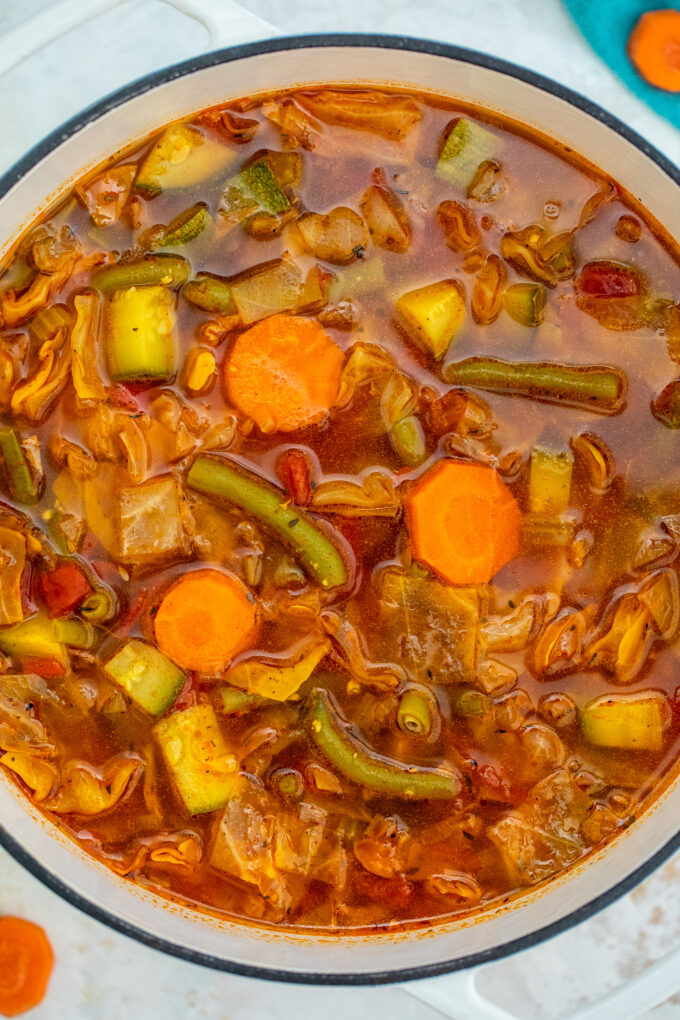 This healthy cabbage soup is incredibly tasty, with lots of health benefits from all the veggies. It is a highly adaptable soup, perfect to be part of a healthy diet.
Cabbage by itself is an underrated veggie, that actually is very healthy, high in fiber, Vitamin C, and great if you are watching your calorie intake. It does not overpower this recipe, in contrast, it adds a layer of sweetness and great texture.
I like making this easy recipe when I have a surplus of fresh produce at home. Not only are the ingredients easy to find, but cooking the dish itself is also easy.
My family simply loves how a hot bowl of this dish warms us up during the cold autumn and winter nights. The colors alone make it appetizing and even kids like it.
In this post, you will learn how to cook this great recipe on the stove, in the Instant Pot, and in the Slow Cooker. With all those options you can choose from, I don't see why you will not give it a try!
Ingredients Needed:
Extra virgin olive oil
Onion: We use a yellow onion, but white or sweet onions work great as well.
Minced garlic: It adds extra flavor, try using fresh garlic, but if you don't have any on hand, use one tablespoon of garlic powder.
Tomato paste
Canned diced tomatoes: They add texture and also tanginess to the broth. Make sure you use high-quality canned diced tomatoes that are not too acidic. We recommend San Marzano tomatoes. Fire-roasted tomatoes are a great alternative. Also, replace it with tomato sauce if you don't have any on hand.
Dried herbs: We like to use dried thyme and Italian seasoning.
Salt and ground black pepper
Green cabbage
Carrots
Zucchini
Celery
Green beans: We prefer to use fresh, but canned or frozen work great as well.
Vegetable broth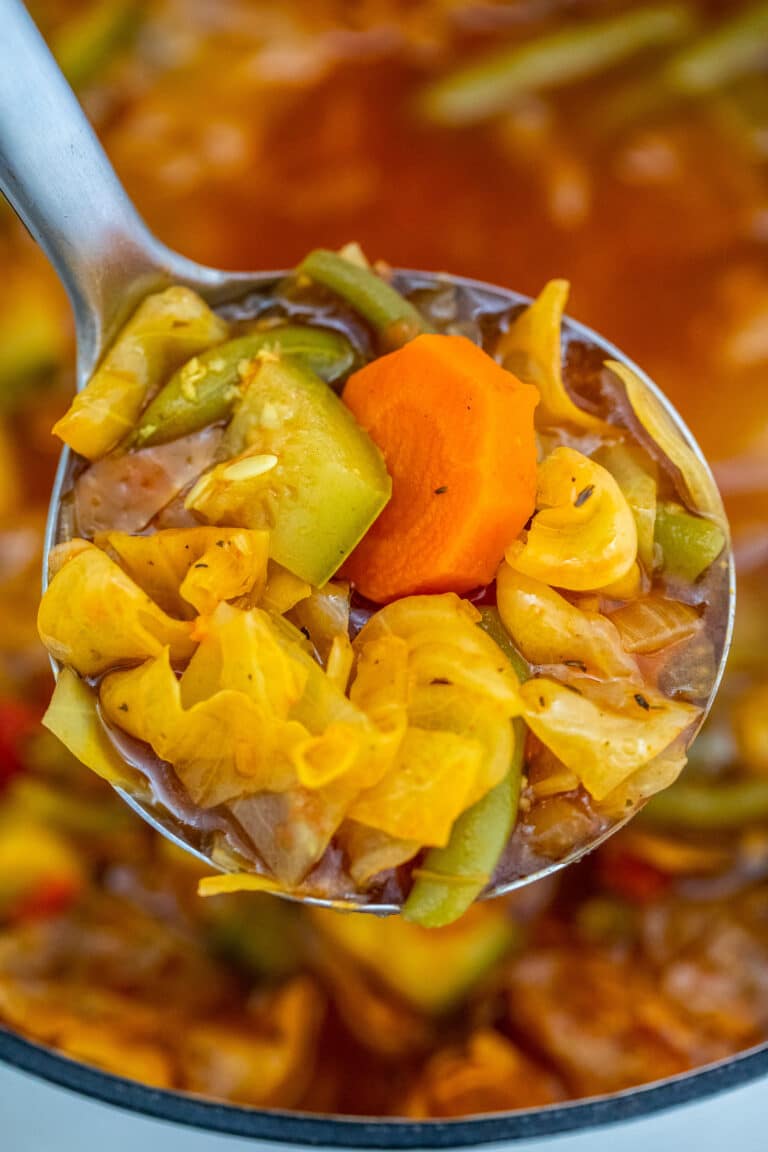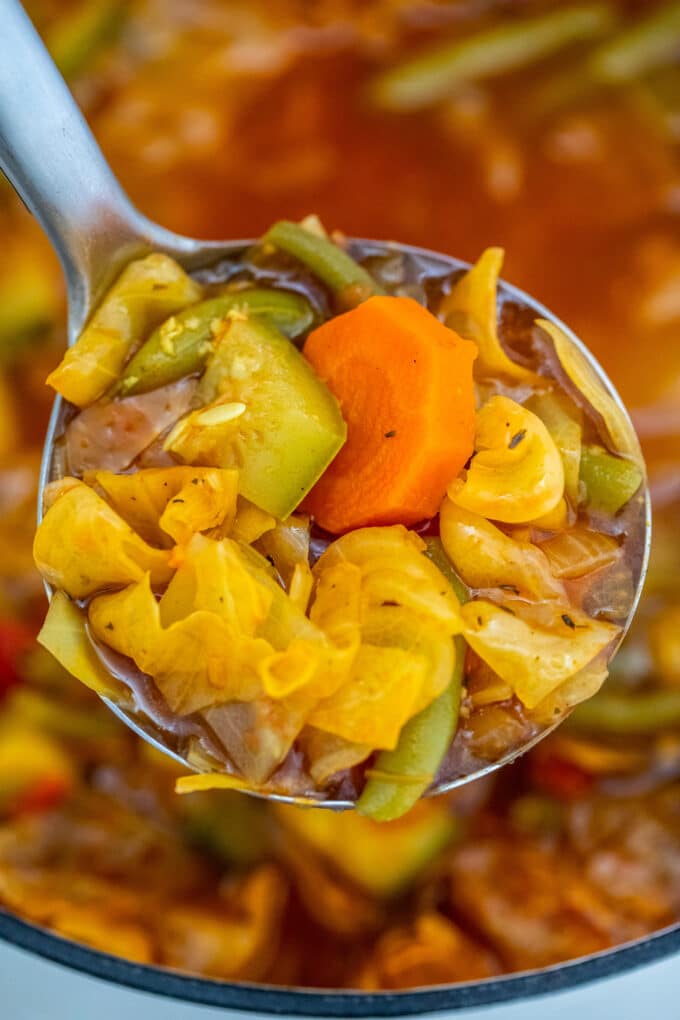 How do you make Cabbage Soup?
Sauté: First, place a large pot or Dutch oven over medium-high heat. Heat olive oil and saute the onions and garlic until the onions turn translucent.
Boil and simmer: Next, stir in the tomato paste for about a few minutes, then, add in the remaining ingredients, including the fresh cabbage. After that, stir and bring the mixture to a boil. Reduce to medium heat and simmer for about 30 minutes. Also, taste and adjust for salt and pepper.
Serve: Finally, when the veggies are tender, turn off the heat. Stir in some lemon juice. Then, serve while hot.
Recipe Variations:
Add more veggies: This vegan cabbage soup si full of veggies. Since it is so versatile, you can also add broccoli, bell peppers, leafy greens, and starchy vegetables.
Sauteed cabbage: As an alternative, use a whole head of cabbage, and to make it more flavorful make sure to use sauteed cabbage.
Flavorful broth: Make the soup more flavorful by using beef broth, chicken broth, or chicken stock. Also, stir in a tablespoon of soy sauce or Worcestershire sauce.
Fresh herbs: Another option is to add more fresh herbs like chopped parsley, basil, or oregano.
Seasoning: Make it spicier by stirring in red pepper flakes, chili powder, or cayenne pepper.
Vegetarian protein option: Stir in drained and rinsed black beans, white beans, or pinto beans. As an alternative, add chickpeas or lentils.
Meat: In case you do not want to keep this soup vegetarian, brown some ground beef from the start, and after that continue to follow the recipe. Also, adding rotisserie chicken is an easy option to increase the protein in this great soup.
How to serve:
Serve it topped with a dollop of sour cream or creme frache.
Add some shredded parmesan or fontina cheese on top.
Also, during summertime, top it with some freshly grilled corn for extra flavor.
Sprinkling freshly chopped herbs on top is a good idea as well.
A squeeze of lemon juice or lime juice will balance the sweetness from the tomatoes.
As an alternative, have some breadsticks or dinner rolls on the side.
To increase the protein intake, serve it with grilled chicken.
Add it to a smaller bowl and serve it as a starter.
Another option is to have it with a salad on the side.
Crunchy croutons as a topping are a delicious addition.
For extra flavor, top it with chopped jalapenos, avocado, and a drizzle of hot sauce.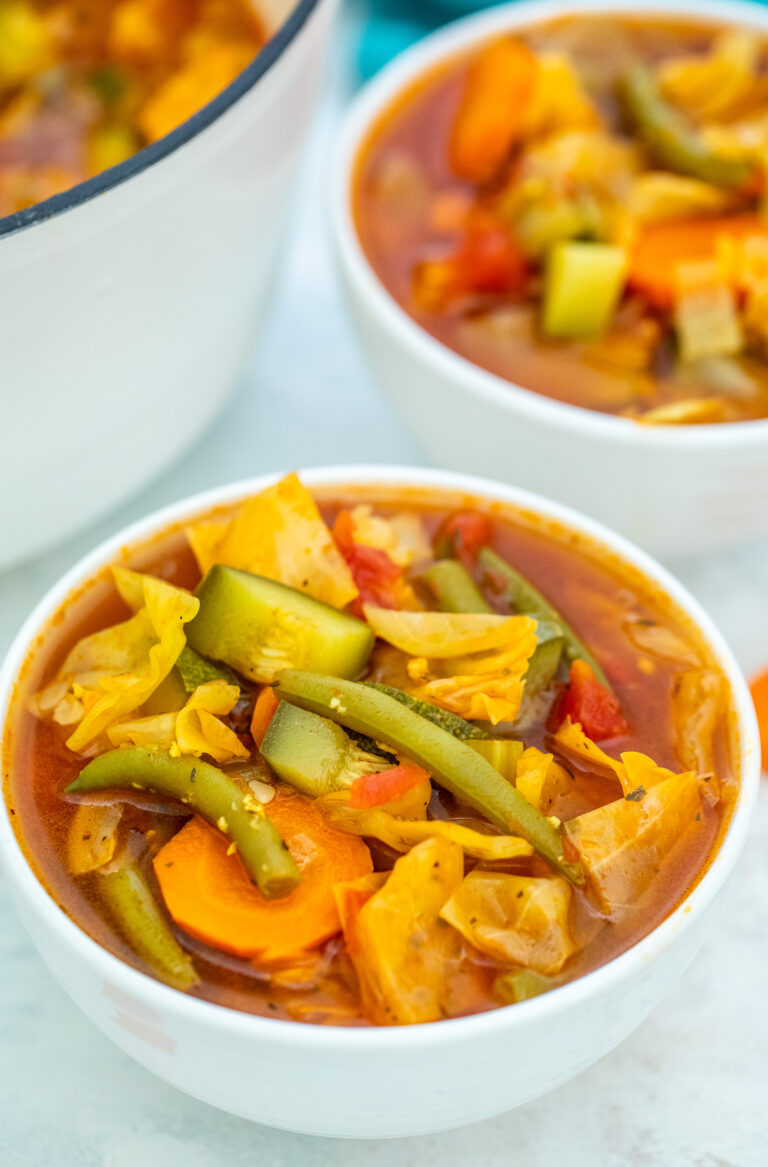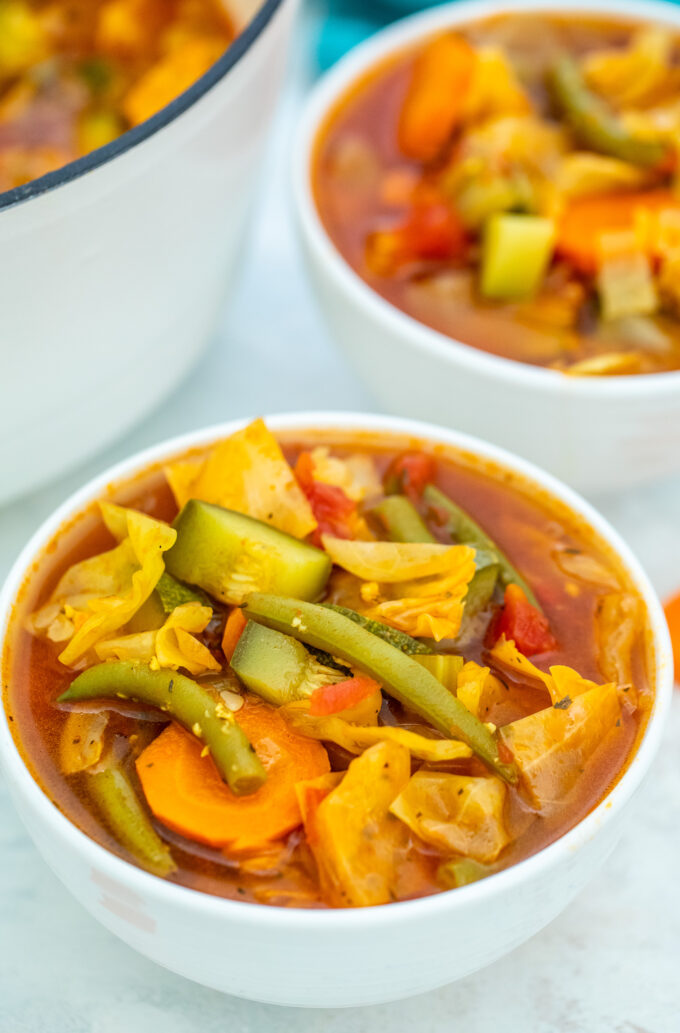 How to make it in the slow cooker:
Try making this recipe in the slow cooker, this way you can start it and forget about it until ready to serve.
Simply add all the ingredients to the slow cooker. Then, cover the pot, and set it on HIGH to cook for 4 to 5 hours, or on LOW for 8 hours. You can check out the full crockpot version of this delicious cabbage soup.
How to make it in the instant pot:
Make this easy cabbage soup recipe in the Instant Pot.
Actually, the steps are pretty much the same as you would have it cooked on the stove. The first step is to sauté the aromatics using the SAUTE function on the Instant Pot.
Then, add in the rest of the ingredients and cook on high pressure for 20 minutes. After 20 minutes, let the pressure release naturally.
Next, open the pressure cooker carefully, stir the mixture and serve.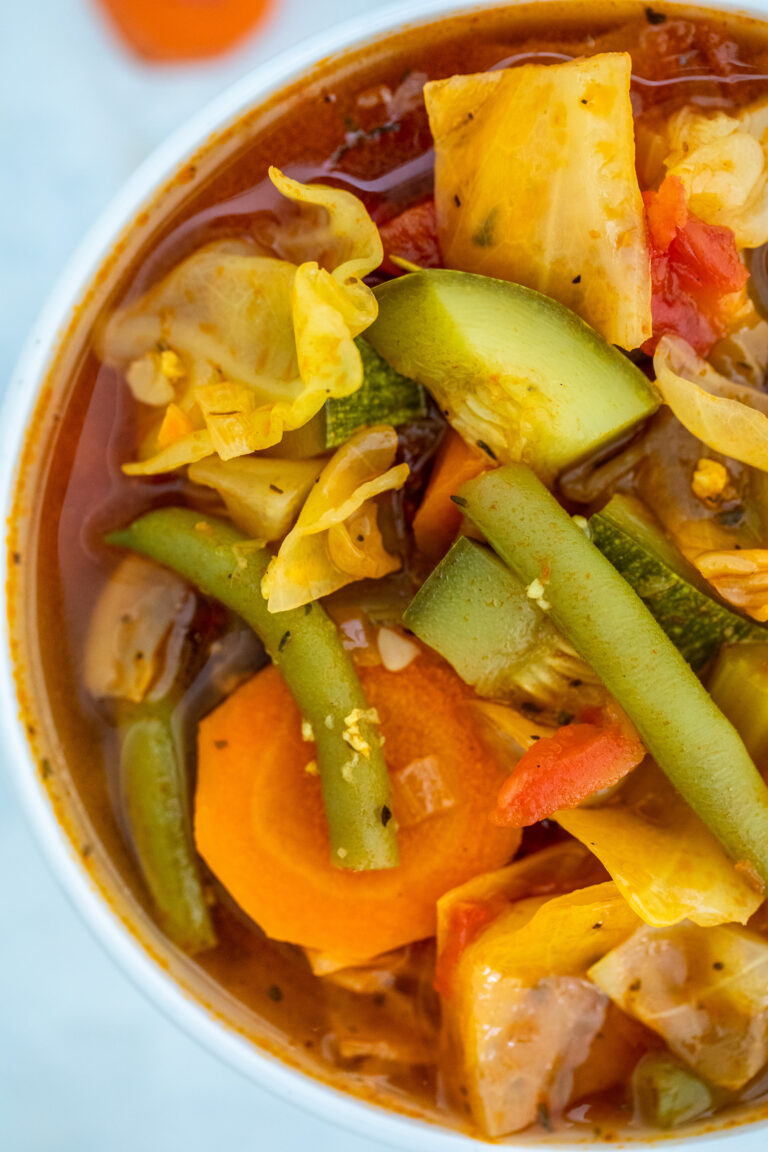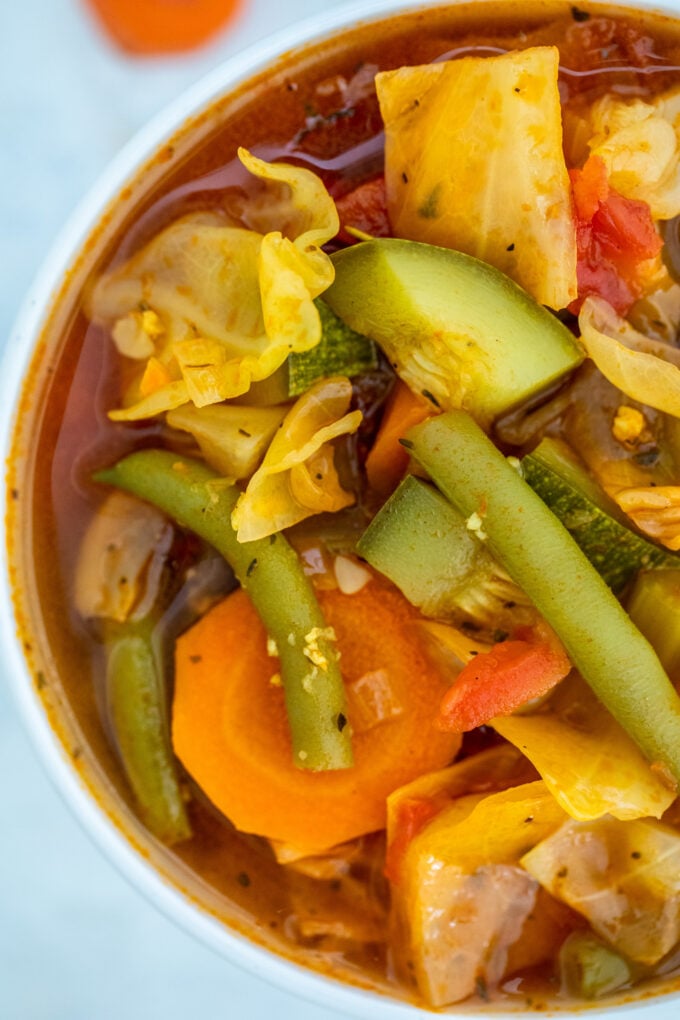 Frequently Asked Questions
Why does cabbage soup make you lose weight?
It can probably cause you to lose weight just for the fact that this dish is lower in calories, to begin with. If you expend more energy than you take in, then, you could lose weight in the process.
However, experts have warned against this diet fad. This is for the reason that the program, which instructs people to limit their intake of other food except for this, has short-term results and is not healthy.
While in a week, you could lose weight by strictly adhering to the cabbage soup diet. But after some time when your body has readjusted, then, you could gain all the weight back as fast as you lost it.
Remember that the key to a healthy weight loss is a balanced diet partnered with exercise. And this dish lacks much of the protein needed to sustain energy for exercising and to build muscles.
Hence, we recommend consulting with a licensed nutritionist for all weight-loss related questions.
How to Store leftovers:
Refrigerate: First, completely cool the soup to room temperature and then, transfer it to a large airtight container. Store in the fridge for up to 5 days.
Freeze: Similarly, cool it first and after that add it to a freezer-safe container or freezer-safe plastic bags. For faster thawing, freeze individual portions. Freezing will extend the shelf life to about 2 to 3 months.
Thaw: When ready to thaw, transfer it from the freezer to the fridge and let it thaw overnight.
Reheat: Finally, when ready to serve, microwave it or reheat it on the stove over medium heat.
More Healthy Soup Recipes:
Recipe Tips:
Add the leafy green towards the end of the cooking time, as they cook faster.
Make sure to taste and adjust the broth for seasoning, use your favorite dried or fresh herbs.
Similarly, check the veggies for doneness, and be careful to not overcook them.
Since this makes for a good freezer meal, then, make a huge batch. Simply freeze half of the batch for later.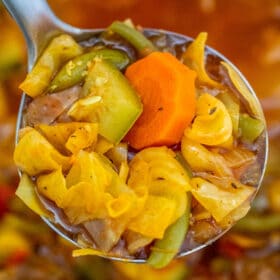 One-Pot Cabbage Soup
Cabbage Soup is a delicious vegetable soup made with cabbage, zucchini, green beans, and carrots in a flavorful tomato broth.
Save
Share
Print
Pin
Rate
Ingredients
3

tablespoons

olive oil

1

yellow onion

(diced)

4

cloves

garlic

(minced)

2

tablespoons

tomato paste

14.5

ounces

can diced tomatoes

1

teaspoon

kosher salt

1/2

teaspoon

dried thyme

1/2

teaspoon

dried Italian seasoning herbs

1/2

teaspoon

black pepper or to taste

1/2

head cabbage

(chopped into 1-2 inches chunks)

3

carrots

(peeled and chopped)

1

small zucchini

(chopped)

2

stalks celery

(chopped)

8

ounces

green beans

(trimmed and halved)

8

cups

vegetable broth

(or low sodium chicken broth)
Instructions
In a large pot or Dutch oven over medium heat add the olive oil. Once it starts simmering, add the onion and garlic, and cook until the onions are translucent, for about 3-4 minutes.

Add tomato paste, stir and cook for 1 minute.

Add the rest of the ingredients and the broth.

Bring to a boil, reduce heat to low-medium and simmer for 30 minutes, or until the veggies are tender.
Nutrition
Calories:
158
kcal
|
Carbohydrates:
21
g
|
Protein:
3
g
|
Fat:
8
g
|
Saturated Fat:
1
g
|
Sodium:
1741
mg
|
Potassium:
636
mg
|
Fiber:
6
g
|
Sugar:
12
g
|
Vitamin A:
6384
IU
|
Vitamin C:
49
mg
|
Calcium:
92
mg
|
Iron:
2
mg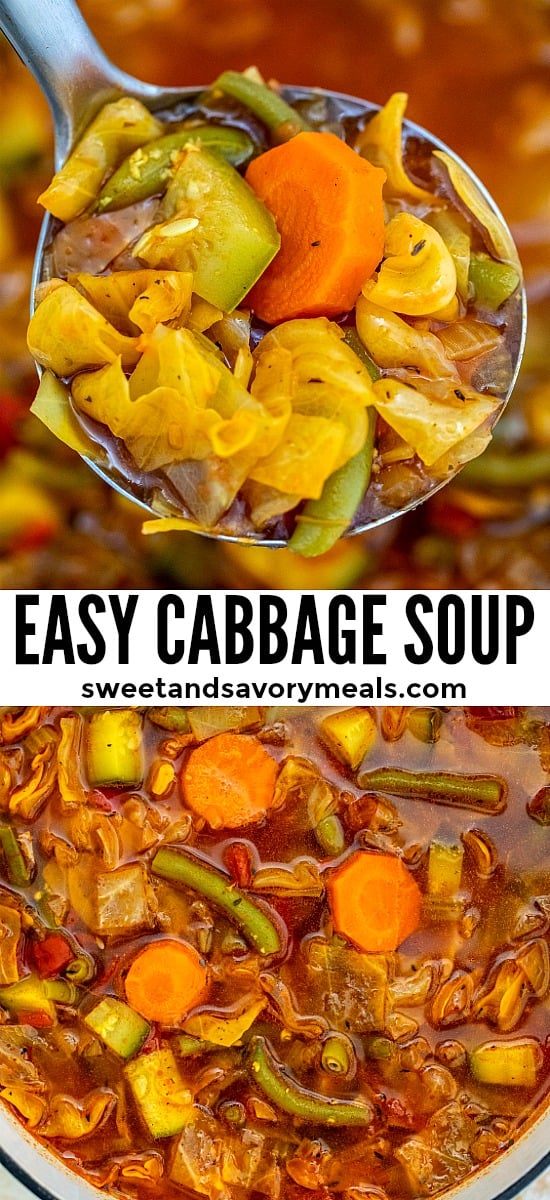 More recipes you might love