Grilled Corn Recipe [Video]
Grilled Corn is a fast and easy summer recipe that you can make on the grill while barbecuing for the family. Besides some ears of corn, all you will need is butter, green onions, garlic, canola oil, lemon, feta cheese, and chili powder. This recipe is the perfect side dish, or salad and soup add-in!
Corn is fantastic on the cob as well as off and you can cook it so many ways you could have it every night without getting sick of it. Try this amazing Mexican Street Corn recipe for taco night or crunchy and creamy Crack Corn Salad for a side dish any night of the week. Or mix it into this Cheesy BBQ Chicken Taquitos recipe for fried rolls of delicious cheesy corn chicken.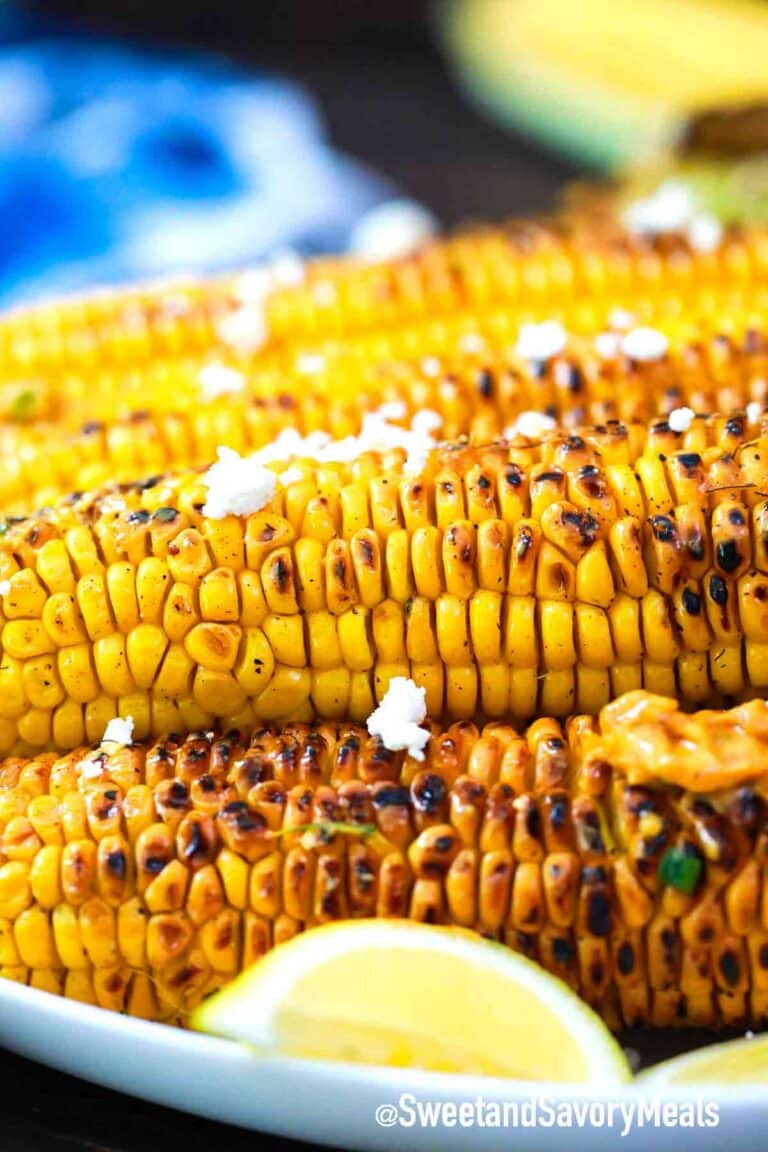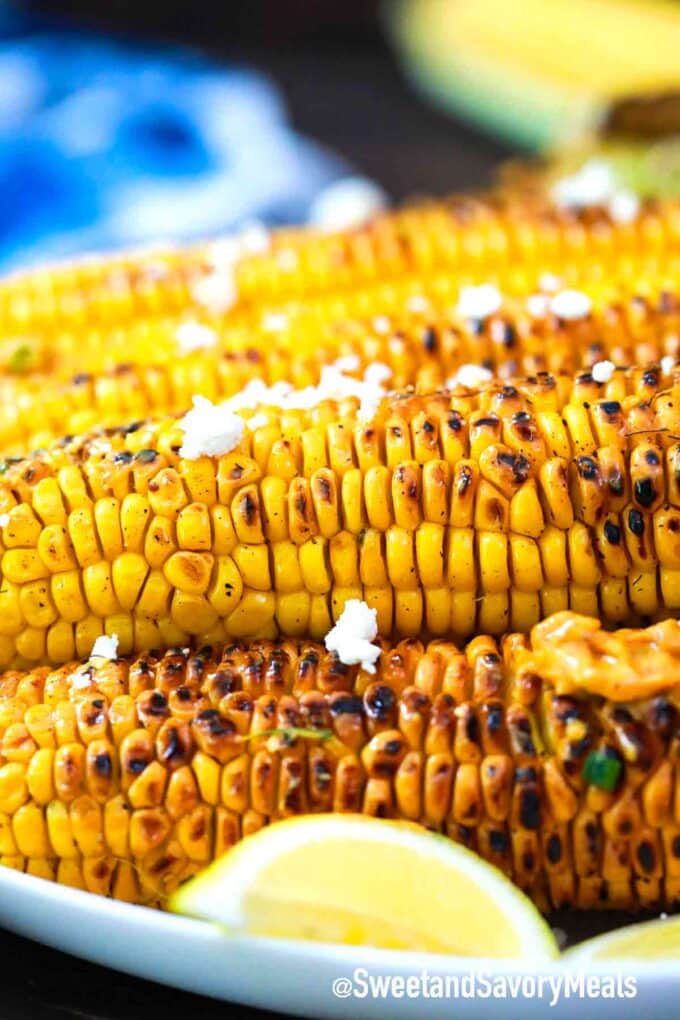 Grilled Corn on the Cob
Although most people would probably make this recipe for a side dish, you can easily turn it into a main course by adding a few other veggies or some meat to the dish or serve it on top of rice, noodles, or salad. No matter how you serve it, this recipe makes it fantastic every time. In fact, this is one of my favorite corn recipes.
Whether you are making this for a side dish or to use in an entrée, you will not need much, and it does not take much time either. You just need some ears of corn, butter, canola oil, green onions, lemon, chili powder, feta cheese, garlic, and a few other seasonings.
Grilled to perfection, with sweet, juicy, and charred kernels, serve it warm with butter dripping off the sides. Another option is to cut the sweet kernels of the cob and use them as a topping on tacos, hot dogs, salads, or even soup!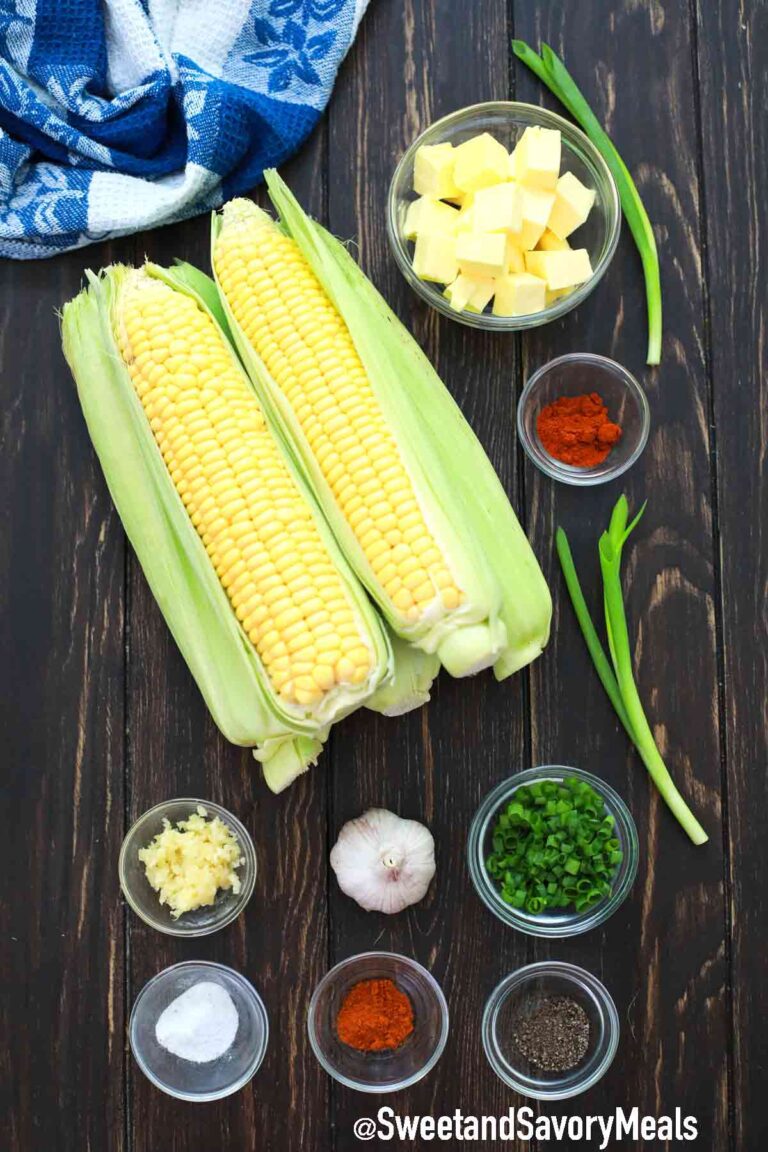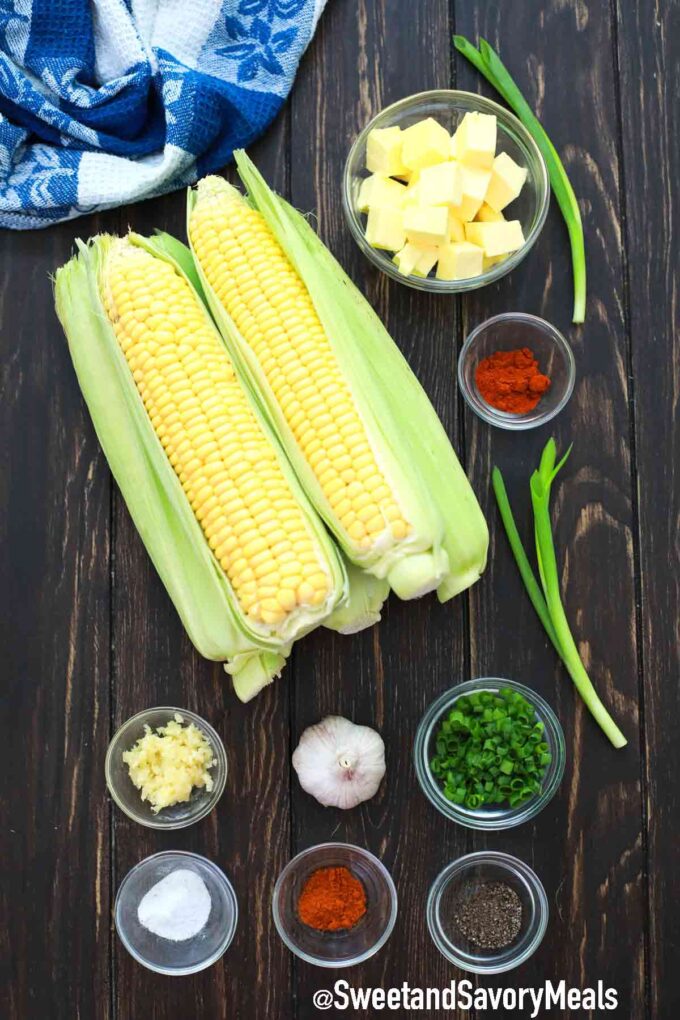 Ingredients needed:
For precise measurements, check out our convenient recipe card below. Here are the basic ingredients you will need.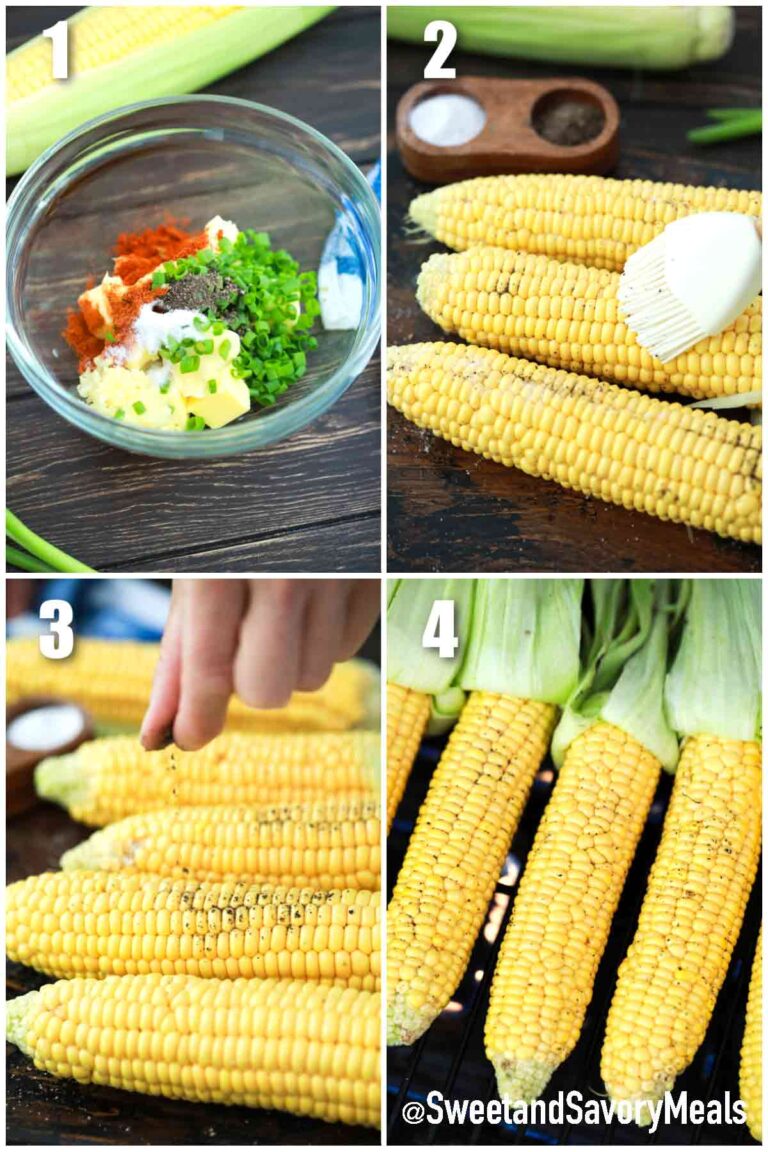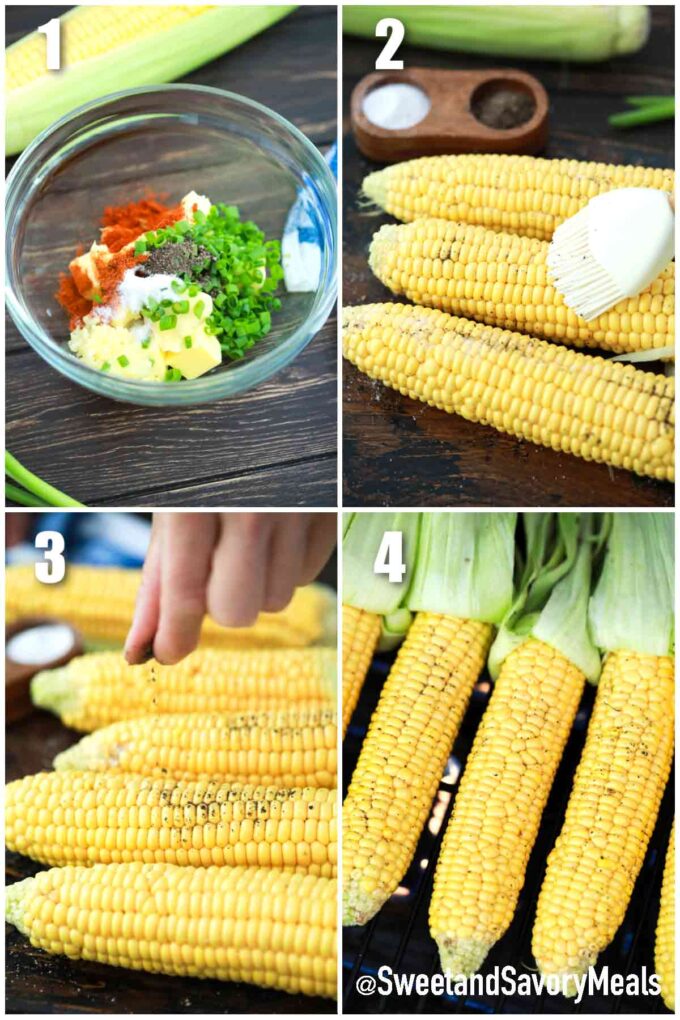 How to make grilled corn from scratch?
Preheat: First, to make grilled corn, start by preheating your barbecue grill to medium-high heat.

Mix: Meanwhile, mix the paprika, chili powder, garlic, green onions, and butter in a small bowl. Also, add salt and pepper to taste.
Set aside: After, set the bowl aside for use later.

Prepare: Next, peel the outer husks back but leave them attached at the base, and do not remove the husks on the inside.
Remove: Then, remove the silk and discard it.

Clean and dry: Following, rinse each husk under cold water and then pat dry with paper towels.

Do not skip this step, as dirt maybe be hidden between the kernels, and if you don't remove it, the texture will be sandy.

Season: Afterward, brush the kernels with the oil and season them with salt and pepper.

Cook: Finally, add the ears onto the grill and cover them, turning them occasionally, until the husks are charred, and the kernels are tender. It typically takes about 15-20 minutes, turning every five minutes.

Peel and serve: Last, pull back the husks and spread on the butter mixture. Sprinkle on the feta and if desired a squeeze of lemon juice.
How to store leftovers:
Store: Any leftovers can be stored in an airtight container or with plastic wrap. Another option is to cover them in aluminum foil. They should stay well for 2-3 days in the fridge.
Reheat: Just heat in the microwave for 30 to 45 seconds to serve.

Freeze: Actually freezing this recipe is pretty easy. After grilling, let the ears fully cool, and using a sharp knife remove the kernels. After that, either add them to a freezer-safe airtight container or a freezer-safe Ziploc bag. Next, freeze for up to 3 months.
Thaw: When ready to use, that the corn in the fridge overnight, or if you are in a hurry, place the Ziploc bag under warm water. Afterward, use in other recipes.
Recipe variations: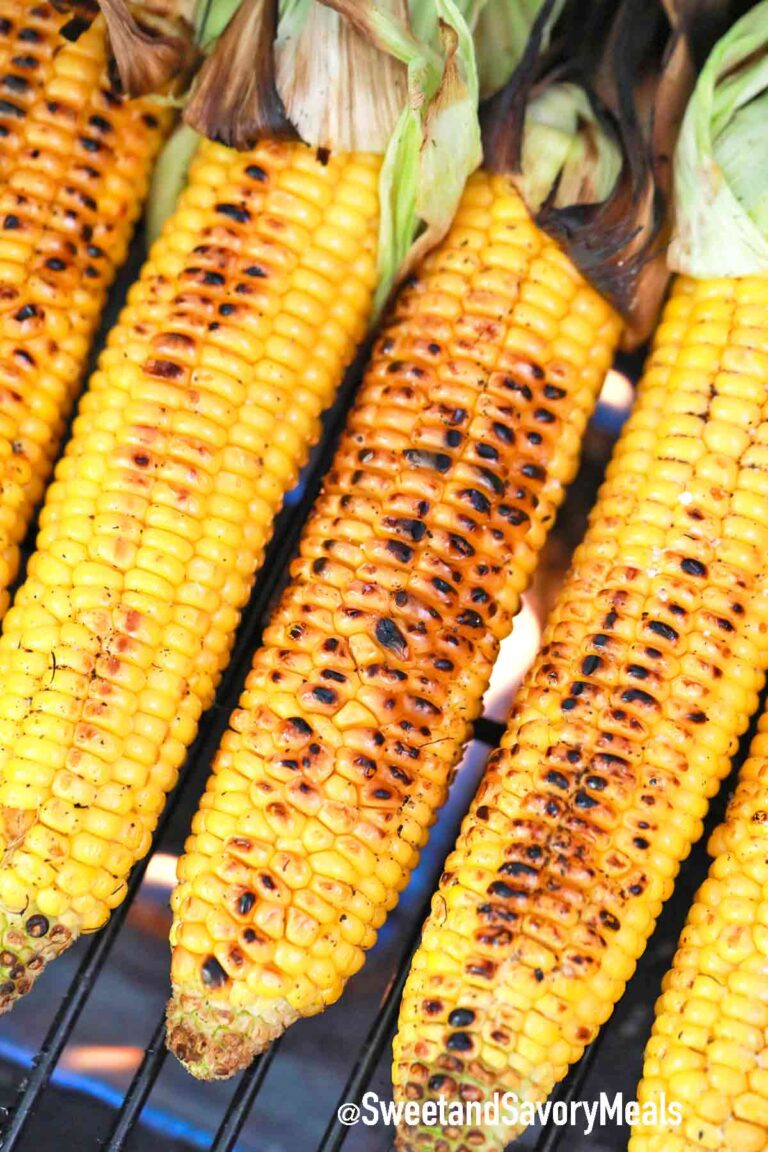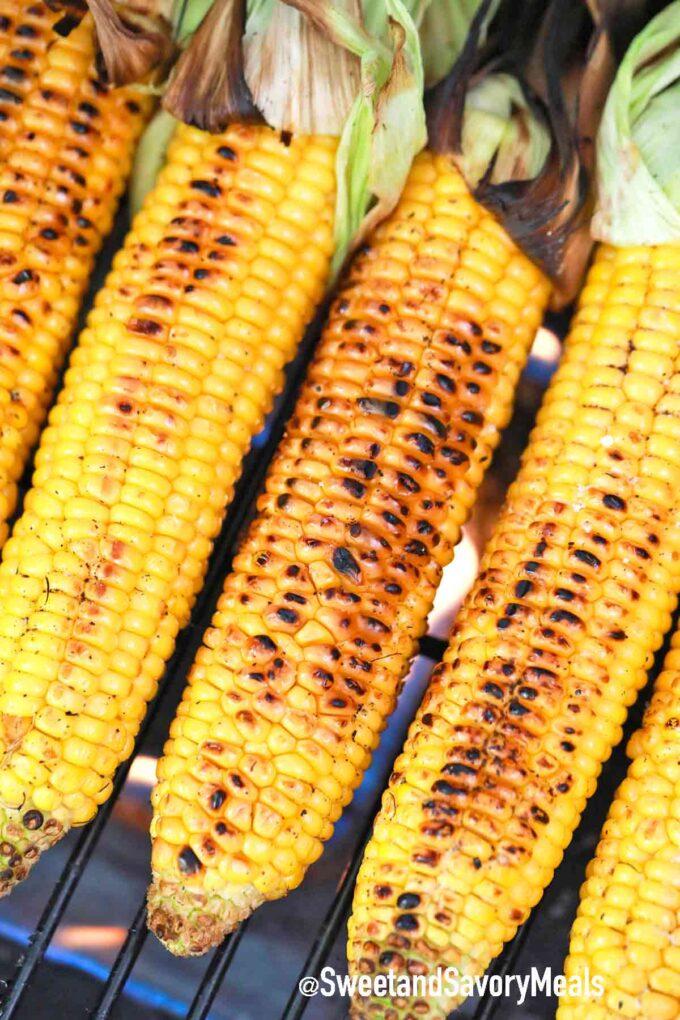 How to serve corn on the cob:
After peeling back the husks and slathering with butter, sprinkle on the feta cheese and serve with a slice of lemon. Here are some other serving ideas:
More Grilling Recipes:
Frequently Asked Questions
How do you choose the best corn on the cob?
Sometimes you get corn from the grocers and find that it looks horrible and dried out after getting it home and husking it. So, besides husking it all in the grocery store, which your grocer may not appreciate, here are some tips on how to find the best corn.
First, look for the ones with bright green husks still wrapped tightly around the corn. And the stem should be moist, not dried out. Also, the silk should be moist as well as sticky and silky. Do not get corn with dry black silk.
Also, feel the ears to make sure there are no missing chunks or soft spots. Similarly, avoid any corn with brown spots because they could be wormholes. And if your grocer is not looking, go ahead and peel back the tip of the husk to see the end of the cob.
Why do you soak corn before grilling?
Although presoaking the ears before grilling is not a must, it is a good idea when you are cooking the corn in the husk. This is important when grilling because you do not want the husks to catch fire and burn the whole ear of corn. In addition, it keeps some of the moisture inside to keep your kernels from getting dried out. However, it does not have to be soaked long. About 30 to 45 minutes will do.
Does corn need to be boiled before grilling?
It is not necessary to boil it before you grill it. But it does give it a smoky flavor so if you are after a smoky taste, go ahead and boil it for 15 minutes before grilling. Then you will not have to grill it as long so the kernels will not dry out.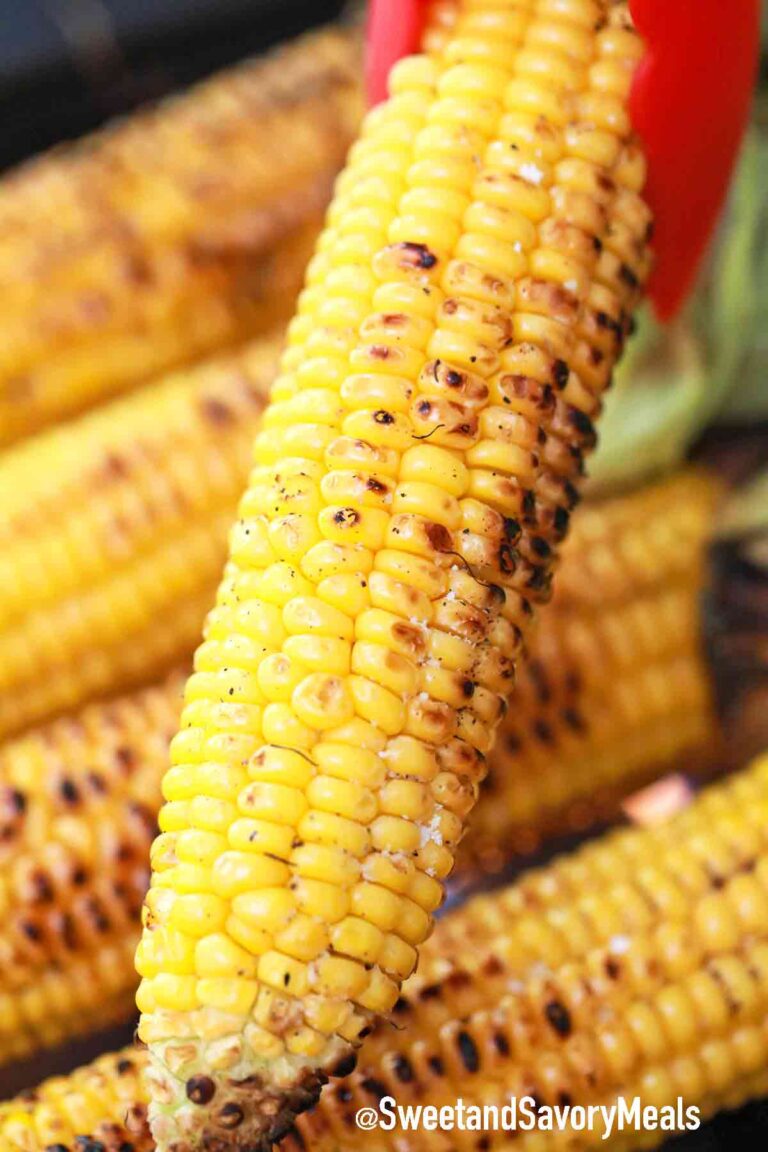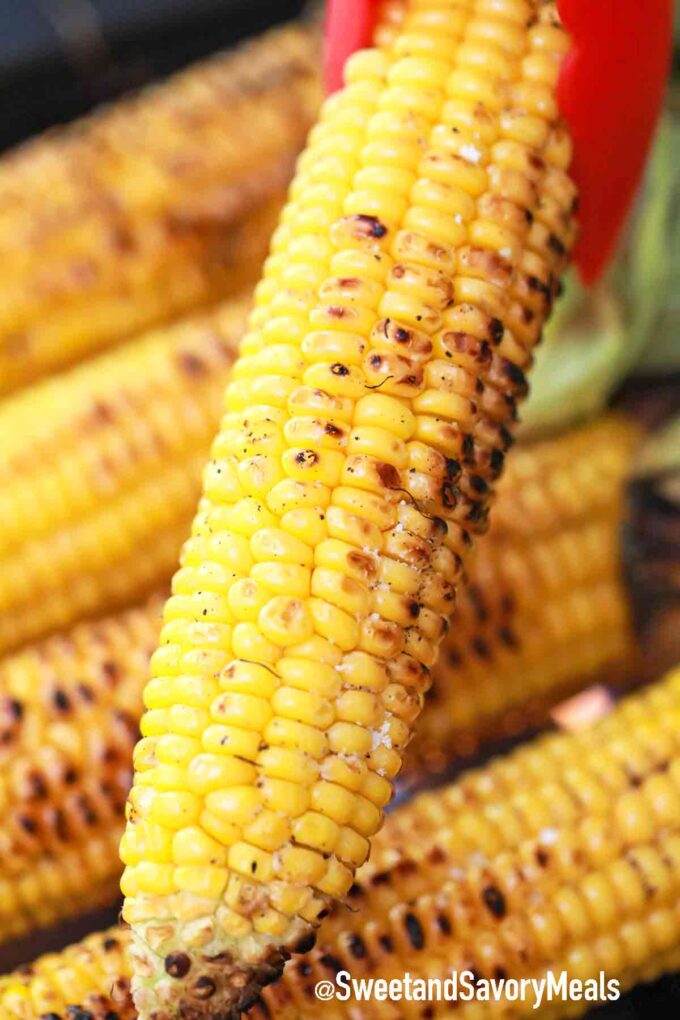 Recipe tips: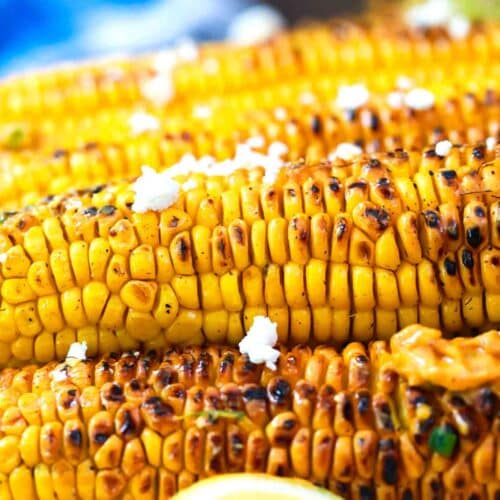 Grilled Corn Recipe
Grilled Corn is a fast and easy summer recipe that you can make on the grill while barbecuing for the family. Besides some ears of corn, all you will need is butter, green onions, garlic, canola oil, lemon, feta cheese, and chili powder.
Save
Share
Print
Pin
Rate
Ingredients
8

ears of corn

2

tablespoons

canola oil

Kosher salt and freshly ground black pepper

(to taste)

1/2

cup

unsalted butter

(at room temperature)

1/4

cup

diced green onions

(just the green part)

6

cloves

garlic

(minced)

1/4

teaspoon

chili powder

1/4

teaspoon

smoked paprika

1

lemon

(cut into wedges)

1/4

cup

crumbled feta

(cotija cheese or blue cheese)
Instructions
Butter Topping:
In a medium bowl, combine the butter with the green onions, minced garlic, chili powder and paprika, some salt and pepper to taste. Set aside.
Prepare the corn:
Preheat the grill to medium heat.

Peel back the outer husks from the corn ears, leaving them attached at the base of the ear only. Do NOT remove completely the inner husks, this will prevent the kernels from burning.

Next, remove and discard the silks. After that, rinse the corn and pat dry with paper towels or a clean kitchen towel.

Brush the ears with canola oil and season with salt and pepper, to taste.
Grill:
Arrange the corn onto the grill, cover, and cook, remember to turn it occasionally, until slightly charred and tender, about 13-15 minutes.
Serve:
Peel down the inner husks and top with the butter mixture. Add some crumbled cheese on top.

Serve with a lemon wedge on the side.
Nutrition
Calories:
234
kcal
|
Carbohydrates:
19
g
|
Protein:
4
g
|
Fat:
18
g
|
Saturated Fat:
9
g
|
Polyunsaturated Fat:
2
g
|
Monounsaturated Fat:
6
g
|
Trans Fat:
1
g
|
Cholesterol:
35
mg
|
Sodium:
169
mg
|
Potassium:
279
mg
|
Fiber:
2
g
|
Sugar:
6
g
|
Vitamin A:
626
IU
|
Vitamin C:
14
mg
|
Calcium:
34
mg
|
Iron:
1
mg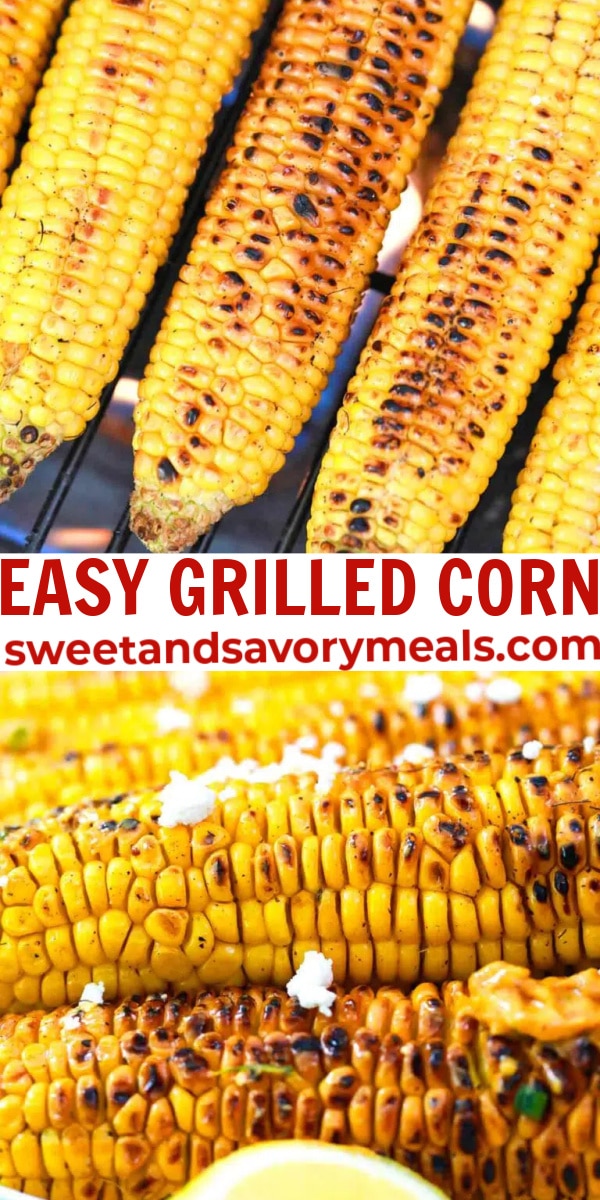 More recipes you might love