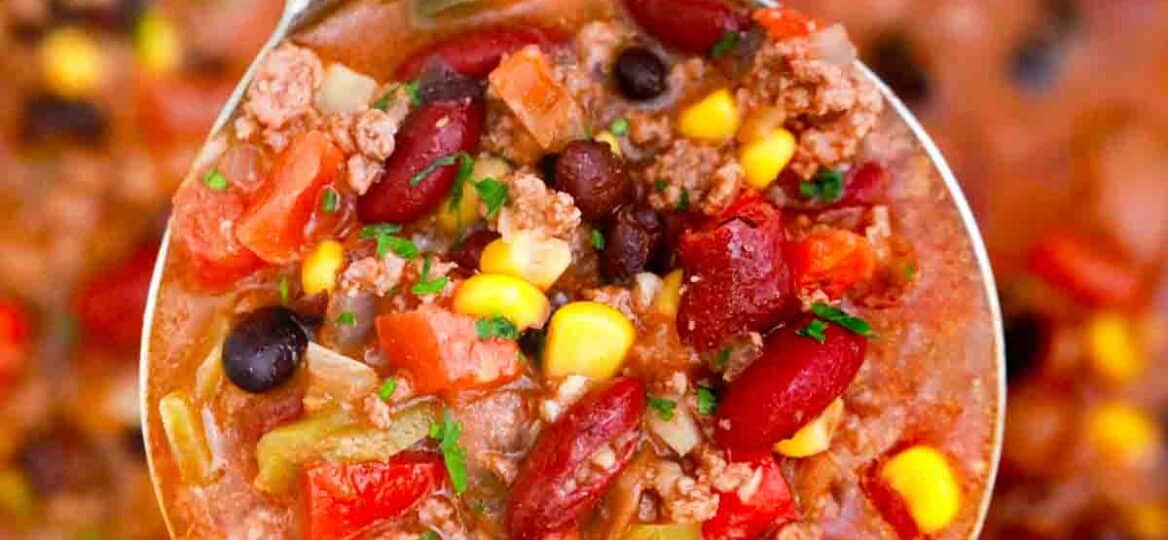 Best Taco Soup Recipe – One Pot [VIDEO]
Taco Soup is a delicious one-pot meal and hearty comfort food that only needs a handful of ingredients, most of them being pantry staples. This Tex-Mex taco soup is perfect for a cold fall night or any other time of the year. You can add your own favorite toppings or ingredients to make this your own special recipe.
Are you ready for more soup cuisine recipes? Our instant pot cream cheese chicken soup is amazing with chicken breasts, ranch seasoning, and cream cheese. Or how about slow cooker chicken tortilla soup with chipotle peppers, beans, and diced tomatoes?
Everyone knows that tacos came from Mexico, but did you know that the Ancient Mexicans used soft flat corn tortillas to wrap their fish and other meats? This version of tacos did not have tomatoes, lettuce, and cheese like our tacos of today though.
The American version of a taco was not invented until 1905 when Mexican migrants brought them to share when working on the railroads.
Our taco soup recipe is versatile to fit any group. If you have someone who does not like spicy food, you can leave out the spice. For those who want a heartier meal, add more meat and an extra cup of beans or another veggie. The Rotel tomatoes can be switched to regular ones, and you can even cook your soup in a crock pot or instant pot.
Looking for another kind of Tex-Mex dinner cuisine? Our Instant Pot Taco Pasta is fast and easy with salsa, shell pasta, and Mexican blend shredded cheese. If you want your dinner to be ready when you get home, try our Slow Cooker Taco Casserole with rice, beans, and ground beef.
Follow us on Pinterest for more delicious recipes!
Ingredients needed:
To make this easy taco soup recipe you will need to gather these ingredients. Then, when you are prepared to start cooking, scroll down to our recipe at the bottom of the page for the instructions and measurements.
Ground beef
Whole kernel corn: Drained.
Medium sweet onion: Diced.
Pink beans: Drained and rinsed.
Black beans: Drained and rinsed.
Diced green chilies
Diced Mexican-style lime and cilantro mix
Rotel diced tomatoes: Or you can use regular diced tomatoes.

Red bell pepper: Chopped.
Green bell pepper: Chopped.
Minced garlic cloves
Juice and zest of one lime
Taco seasoning mix

Tomato sauce
Beef broth
Ground black pepper
Kosher salt
Olive oil or canola oil
Toppings:
Corn chips
Sliced jalapenos
Avocado
Cotija cheese
Sour cream
How to make taco soup from scratch?
Heat the oil: First, pour oil into a large Dutch oven or large soup pot over medium heat until the oil is sizzling. Add ground beef and let it sit and cook for two to three minutes to get a good sear.

Break it up: After a few minutes, break up the meat with a wooden spoon or spatula and keep cooking it until it is no longer pink. Drain excess fat except for about two tablespoons.

Add the peppers: Next, add bell peppers and garlic and cook for five minutes, stirring frequently.

Keep adding ingredients: After, add in the diced tomatoes, tomato sauce, chopped green chiles, taco seasoning, lime zest, and lime juice. Stir well to combine.

Simmer your soup: Now you will add your broth, beans, and corn and let it cook for 30 minutes, stirring occasionally.

Add broth if needed: Once that is done, add more beef broth if it is too thick and season with salt and pepper to taste.

Time to eat: Last, serve with your desired toppings.
How to make crock pot taco soup from scratch?
Saute the beef: To begin, add oil to a frying pan or skillet. Once the oil is hot, add beef and let it sit for two to three minutes on medium-high heat without breaking it up.
Finish browning ground beef: Afterward, break up the beef, reduce heat, and let it cook until it is browned.
Drain and add the rest: Then, drain all of the fat except for two tablespoons and add the remaining ingredients.

Make slow cooker soup: Next, pour it all into the slow cooker and replace the lid. Cook on high for three hours or on low for six hours.

Season and serve slow cooker taco soup: Finally, give it a good stir and season it with salt and pepper before serving it with your favorite toppings.
Recipe variations:
Another oil: Feel free to use another oil like vegetable or avocado oil.
Different seasoning: You could also use chili powder instead of taco seasoning packets.

Ranch: Another way to enhance the flavor is with ranch seasoning.

More spices: Similarly, add your own favorite spices like onion powder, garlic powder, or oregano.

Make it hotter: For a spicier soup, add red pepper flakes or cayenne pepper.

Less heat: Alternatively, if you are not a fan of spicy food skip the green chili peppers and jalapenos.

More beans: Another great addition is pinto beans. Kidney beans are also a popular ingredient in taco soup.
Chicken broth: Use chicken broth instead of beef and toss in some shredded chicken if you want chicken taco soup.

Fire-roasted tomatoes: For extra zesty flavors, add fire-roasted tomatoes.

Other meat: For less fat and fewer calories, use ground turkey, pork, or chicken.

Creamier: Make this dish creamier by adding a few tablespoons of Greek yogurt.
How to serve:
This easy taco soup recipe is absolutely delicious and easy to make. Whether you are serving this as an appetizer or a full entree, your whole family will love all the flavors. Try one of our serving suggestions here or add your own ideas in the comments below.
Serve this with your favorite bread for dipping. Try this recipe for easy air fryer bread.
Top this tasty soup with your favorite shredded cheese. Grated cheddar cheese is a fantastic choice. You can also use mozzarella, pepper jack, or American cheese.

For a side dish, serve a healthy green salad. Try our recipe for this southwest salad recipe.
This dish goes great with tortilla chips or some other kind of chip.

You can also serve this delicious taco soup on a bed of rice.
Another way to top your soup is with chopped white or green onion.

Use leftovers to add to another soup or stew. It would work well in this lasagna soup.
Frequently asked questions
Can I make this in an instant pot?
Yes, we have a fast and easy recipe for instant pot taco soup. You can use the same ingredients as this recipe or add beans that you like such as lentils, garbanzos, or split peas.
After you sautee the ground beef, onions, and garlic, you can add the rest of the ingredients and cook on high pressure for 10 minutes. Then let the pressure release naturally for 10 minutes before doing a quick release.
How do I make my own lime zest?
You will need a microplane zester or grater for the easiest way to make lime zest. The first thing you want to do is rinse the lime well. Then, you should set the zester on a cutting board and gently rub the lime back and forth over it. You want to make sure you only get the green part of the lime because the white pith is bitter.
Why is my taco soup so runny?
You may have added too much broth or maybe you did not drain your corn and beans well enough. Another reason it may be too runny is if you did not drain away enough of the grease. However, you can fix this by adding a cornstarch slurry of water and cornstarch. You could also add refried beans or mashed veggies.
What are the nutrition facts in this recipe?
Each serving of this delicious taco soup has 328 calories and 26 grams of fat including 9 grams of saturated fat, 3 grams of monounsaturated fat, 2 grams of polyunsaturated fat, and 1 gram of trans fat. It also has 233 milligrams of sodium, 5 grams of sugar, 50 carbs, and 80 milligrams of cholesterol.
On the positive side, each serving has 15 grams of fiber, 279 units of vitamin A, and 16 milligrams of vitamin C as well as 20 milligrams of calcium and 334 milligrams of potassium. The protein value for each serving is 19 grams with 3 milligrams of iron,
How to store leftovers:
Store: You can store your leftover taco soup in an airtight container in the fridge for up to four days.
Freeze: It is also safe to freeze taco soup for up to three months in a freezer-safe container.

Thaw: Be sure to thaw the soup in the refrigerator overnight before serving it for the best flavor.
Reheat: To reheat, cook in a large pot on the stove for several minutes depending on how much you are cooking. Or microwave your soup for 60 to 90 seconds.
More soups to try:
Cooking tips:
It is important to keep about two tablespoons of the grease from your ground beef for the best flavor.

Another way to make sure you get the best flavor is to make sure you do not move the meat for the first two or three minutes.

It is best to use low-sodium beef broth because other ingredients in this soup are salty already.
To thicken taco soup, add a mixture of cornstarch and water after it has finished cooking.

If your soup is too thick, add more broth.

Use lean ground beef for best results and less grease.

You can make your own taco seasoning with one teaspoon of cayenne pepper, onion powder, and garlic powder as well as two teaspoons of cumin, paprika, and oregano. Salt and pepper to taste.
Taco Soup Recipe
Ingredients
2

tablespoons

olive oil

or canola oil

2

pounds

ground beef

1

medium

sweet onion

diced

4

cloves

garlic

minced

1/2

green bell pepper

chopped

1/2

red bell pepper

chopped

1

can 8 oz

tomato sauce

1

can 14.5 oz

diced Mexican-style Lime and Cilantro Tomatoes

or regular diced tomatoes

1

can 4.5 oz

diced green chilies

Juice and zest of one lime

1

packet 1oz

taco seasoning mix

or 2 tablespoons taco seasoning mix

1

can 15.5oz

black beans

rinsed and drained

1

can 15.5oz

pink beans

rinsed and drained

1

can 15.5oz

whole kernel corn

drained, optional

2 1/2 - 3

cups

beef broth

adjust based on how thick you want the soup

1/4

teaspoon

ground black pepper

or to taste

1/2

teaspoon

kosher salt

or to taste
Toppings
Sour cream

Cotija Cheese

Avocado

Sliced jalapeños

Corn Chips
Instructions
Add oil to a large Dutch oven or pot over medium heat. Once hot, add the beef and do not move it for about 2-3 minutes, to get a nice sear on it.

Start breaking apart the beef with a wooden spoon and continue cooking until no longer pink. Drain excess fat, leaving only about 2-3 tablespoons.

Add onion, garlic, and bell peppers, stir and cook for about 4-5 minutes.

Add the chopped green chiles, tomato sauce, diced tomatoes, lime juice, lime zest, and taco seasoning. Stir to combine.

Add beans, and corn if using, and add beef broth. Add first 2 cups, stir to combine, and add more if needed.

Cover and simmer the taco soup on low heat for 30 minutes, stirring occasionally. If the soup is too thick, add more broth until you get it to the desired consistency. Taste and adjust for salt and pepper.

Serve garnished with favorite toppings.