Best Taco Soup Recipe – One Pot [VIDEO]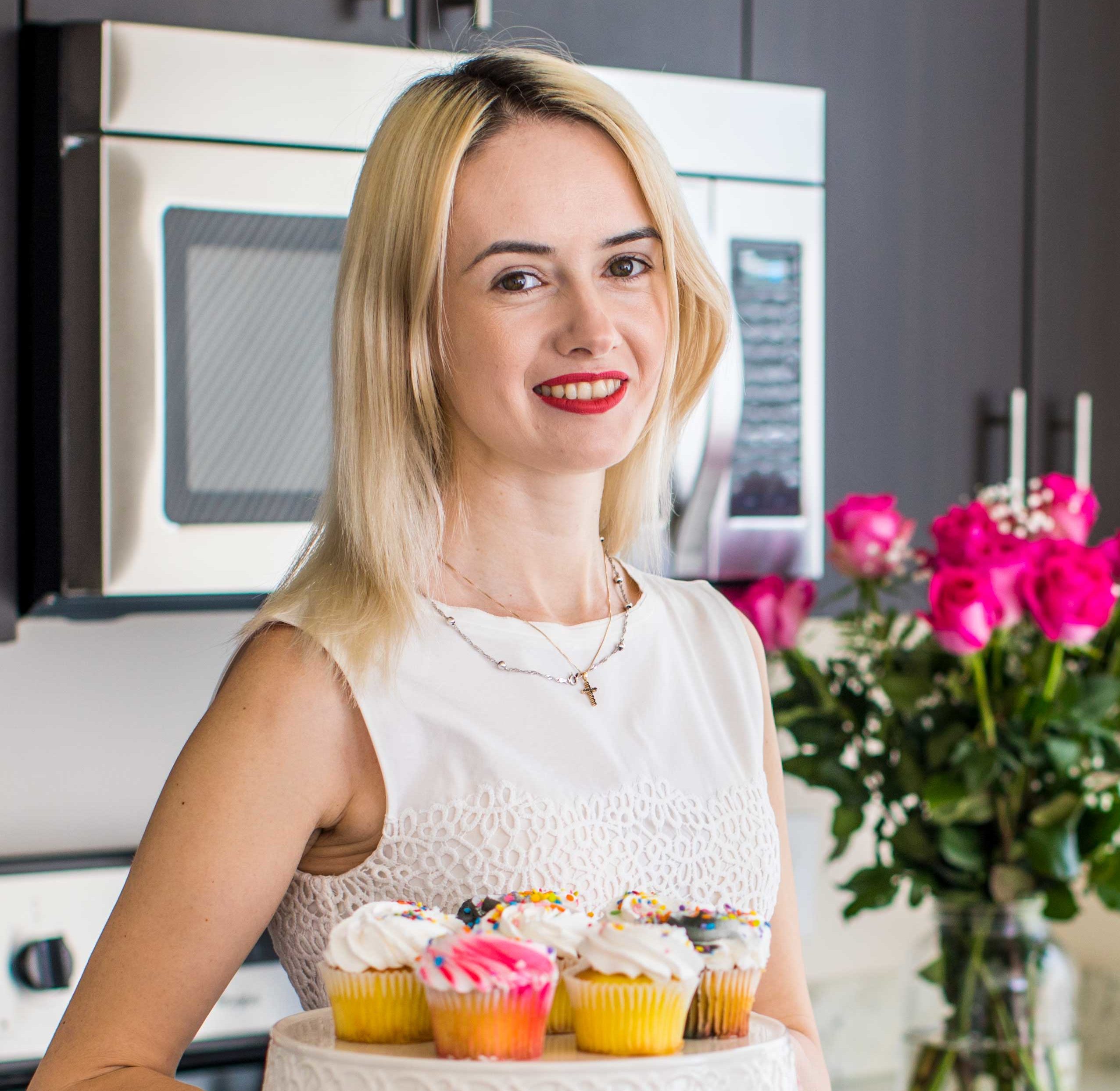 Taco Soup recipe made easily in one pot is hearty, delicious and full of flavor. Made with affordable and easy to find ingredients for the ultimate meal!
Soups are very popular on our blog, like Best Instant Pot Chili, Italian Meatball Soup and Instant Pot Ham and Bean Soup. We especially like easy soups that can be made in one pot, they are perfect for busy weeknights, and also the leftovers are delicious. If you have an Instant Pot, you should check my Instant Pot Taco Soup.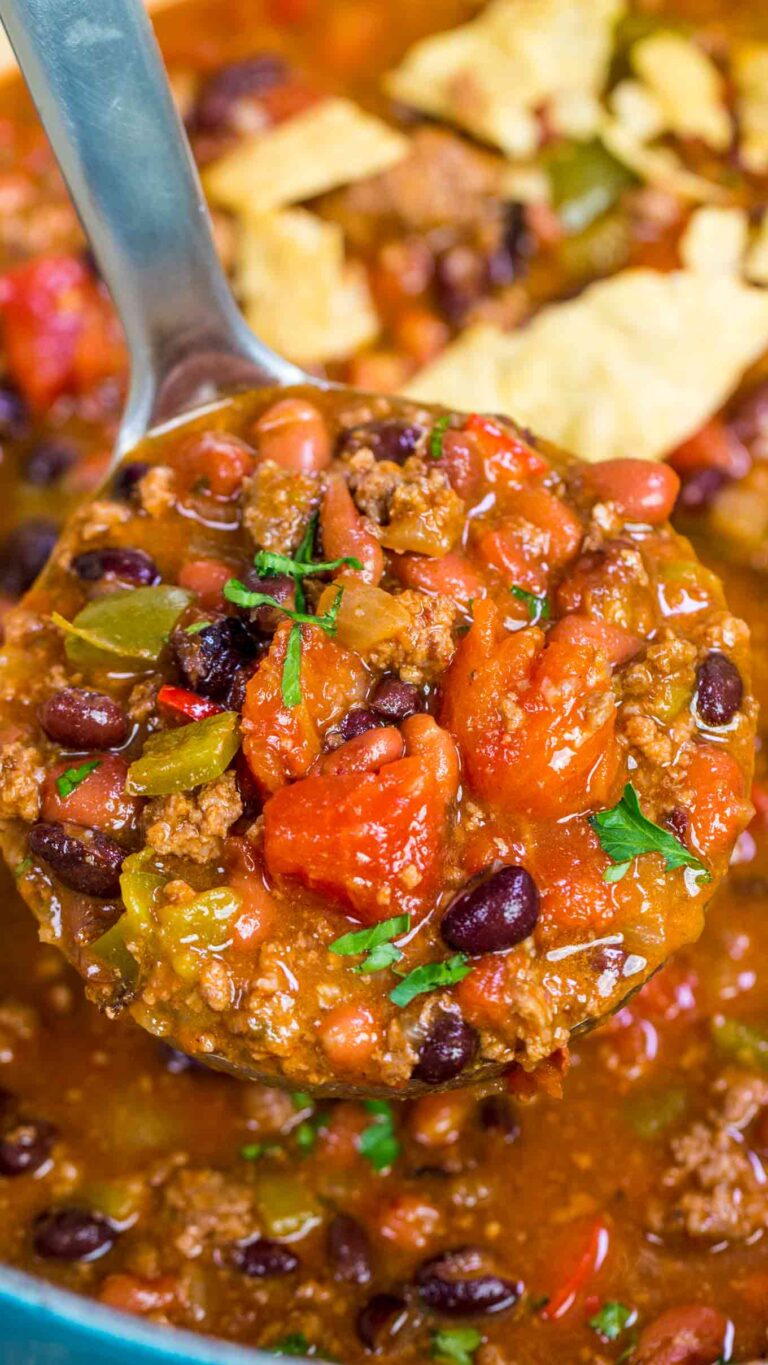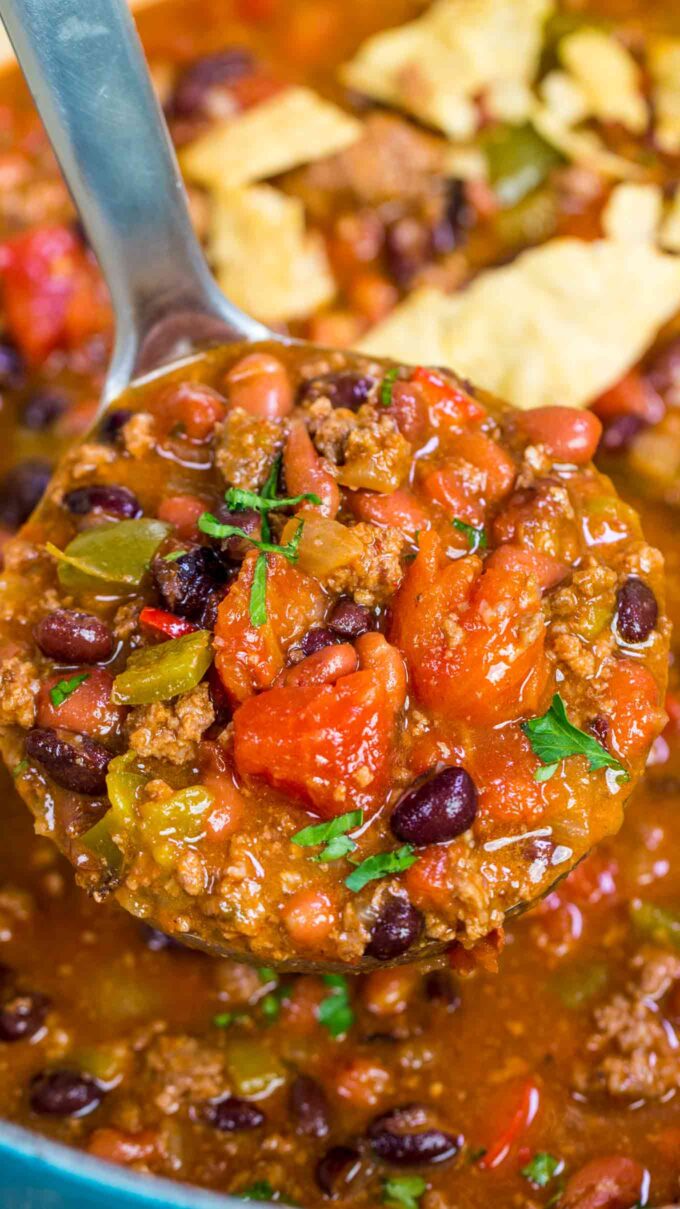 Taco Soup Recipe
Taco Soup is one of the most amazing and flavorful soups you can make. This soup is so hearty and delicious, yet easy to make. It is a cheap alternative to the best restaurant Taco Soup you can find but conveniently made at home.
Also, it is made with healthy ingredients in only one pot, making it a perfect weeknight meal. The soup is made with a variety of tomatoes, beans, sweet corn, black olives and taco seasoning. It has the texture of a chili with the flavors of a great taco bowl. You can even serve this soup over a bowl of rice!
How do you make homemade Taco Seasoning Mix:
4 tablespoons chili powder
1 teaspoon oregano
2 tablespoons cumin
1 tablespoon paprika
1/2 tablespoon salt
1 teaspoon black pepper
1 teaspoon garlic powder and onion powder
Mix all the ingredients in a small bowl, transfer to a small jar to store.
How do you make Taco Soup?
In a large Dutch oven, over medium heat, add olive oil. Once hot, add the beef and do not stir for about 4-5 minutes, to get a nice sear on it, this will add more flavor to the beef.
Start breaking it apart with a wooden spoon or spatula and continue cooking until done. Drain excess fat.
Add onion, peppers, garlic and taco seasoning, stir and cook for about 3 minutes.
Next, add the chopped green chiles, diced tomatoes, tomato sauce, lime zest, and lime juice. Stir to combine.
After that, add black beans, corn if using, and pinto or pink beans. Stir to combine.
Last, add the beef broth and stir to combine.
Cover and simmer the soup on low heat for about 30-40 minutes, stirring occasionally.
Serve garnished with your favorite toppings.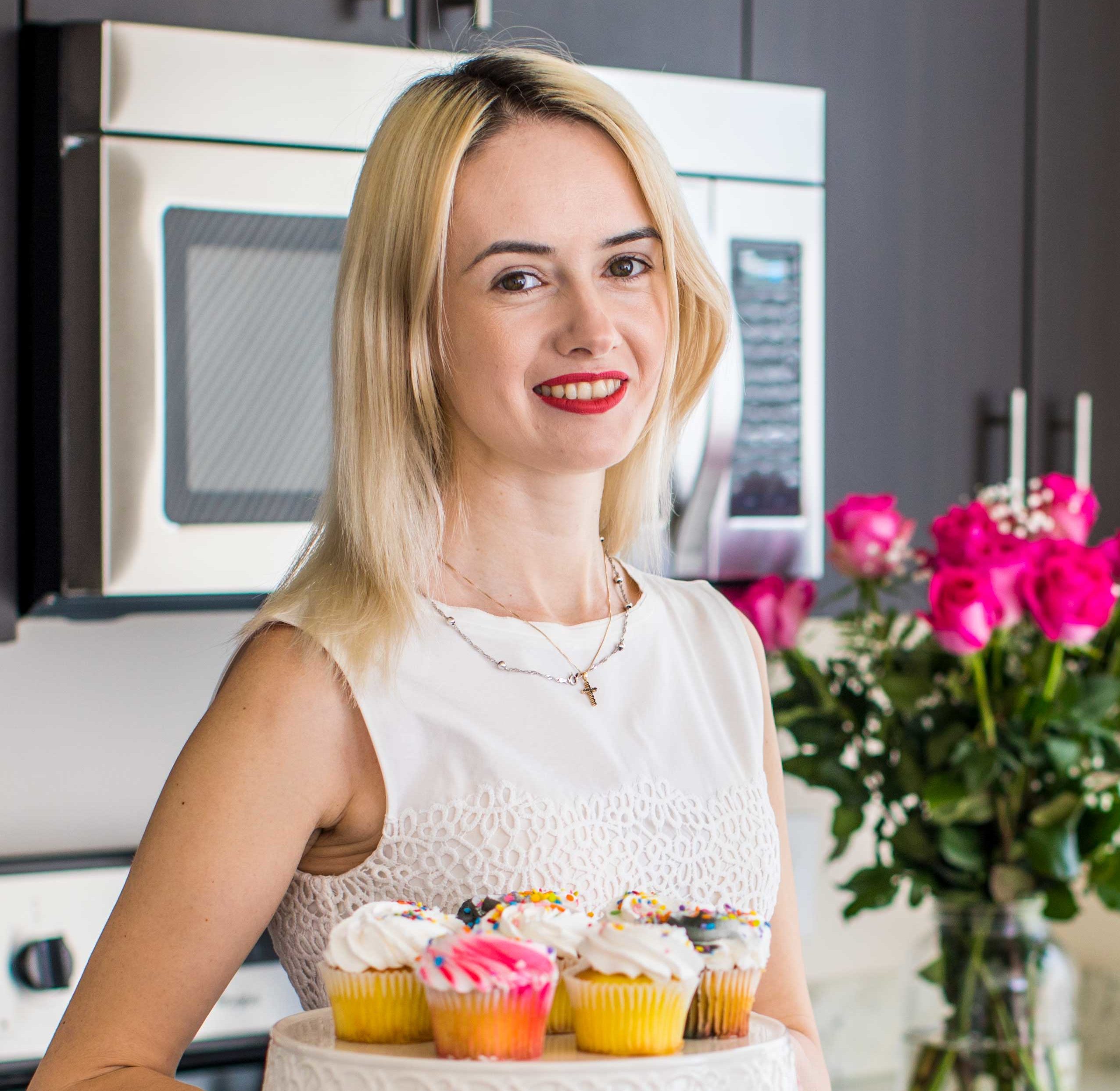 Follow us on Pinterest for more delicious recipes!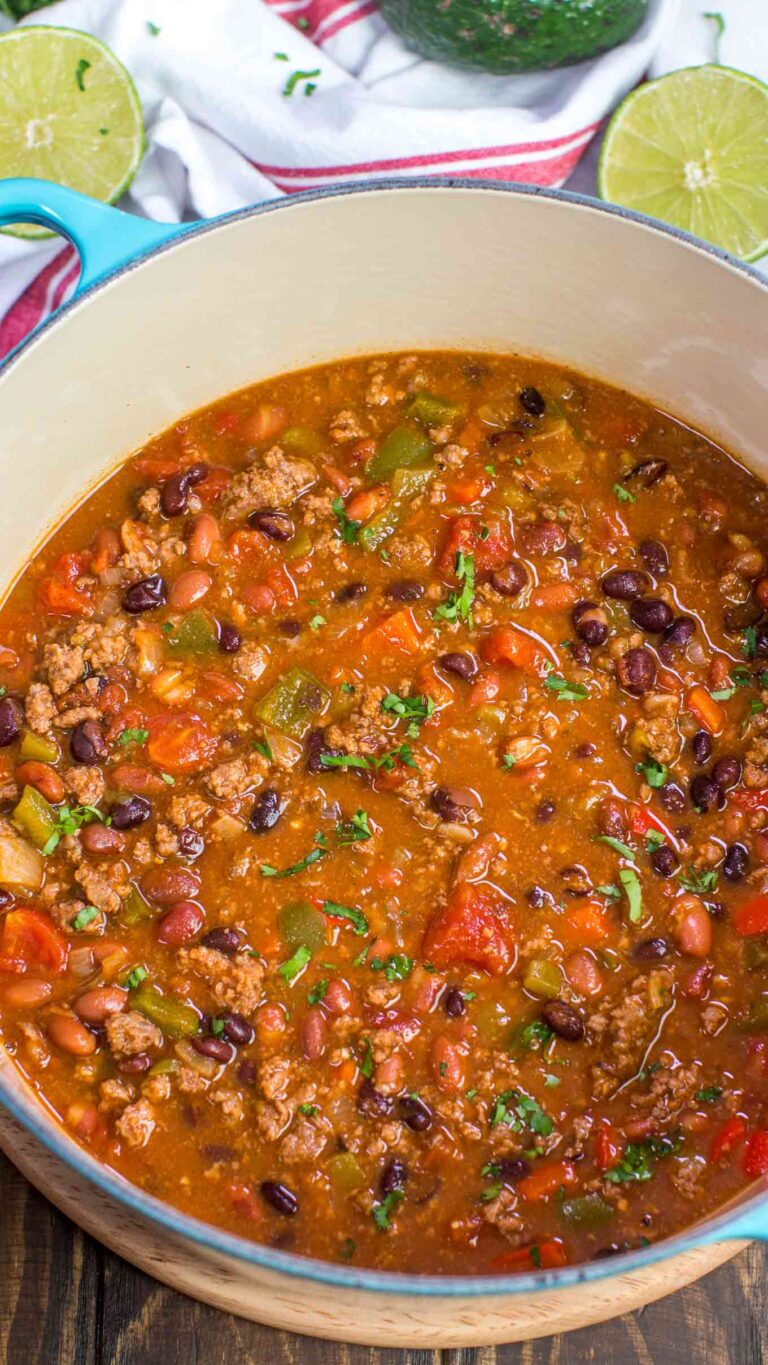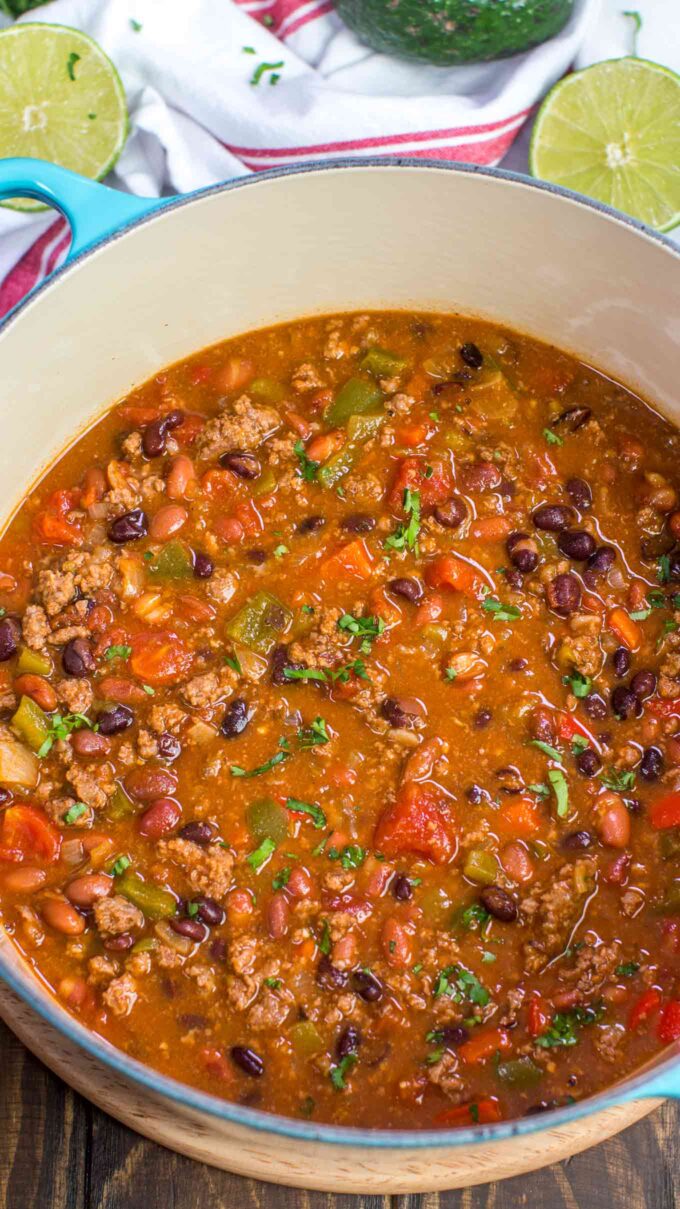 Can I make the Taco Soup in the Slow Cooker?
Yes, you can! Brown the ground beef with onion and garlic, in a large skillet and drain the excess fat. Transfer the browned beef to a large slow cooker and add the rest of the ingredients. Cook on low for 6 to 8 hours, stirring occasionally.
How to make Taco Soup in the Instant Pot?
I have a delicious, easy recipe for you, check this Instant Pot Taco Soup for all the details.
Can I Use Ground Turkey Instead of Ground Beef?
Yes, I love making this soup with beef, but if you don't like beef, ground chicken or turkey will also work in this recipe. Also, it will even work great with ground pork. If you wanted to make it vegetarian you could use lentils or another can of beans.
Can I use vegetable broth to make this taco soup?
Absolutely! You can use vegetable broth, chicken broth or beef broth. All will work just fine in this recipe, always use low sodium broth.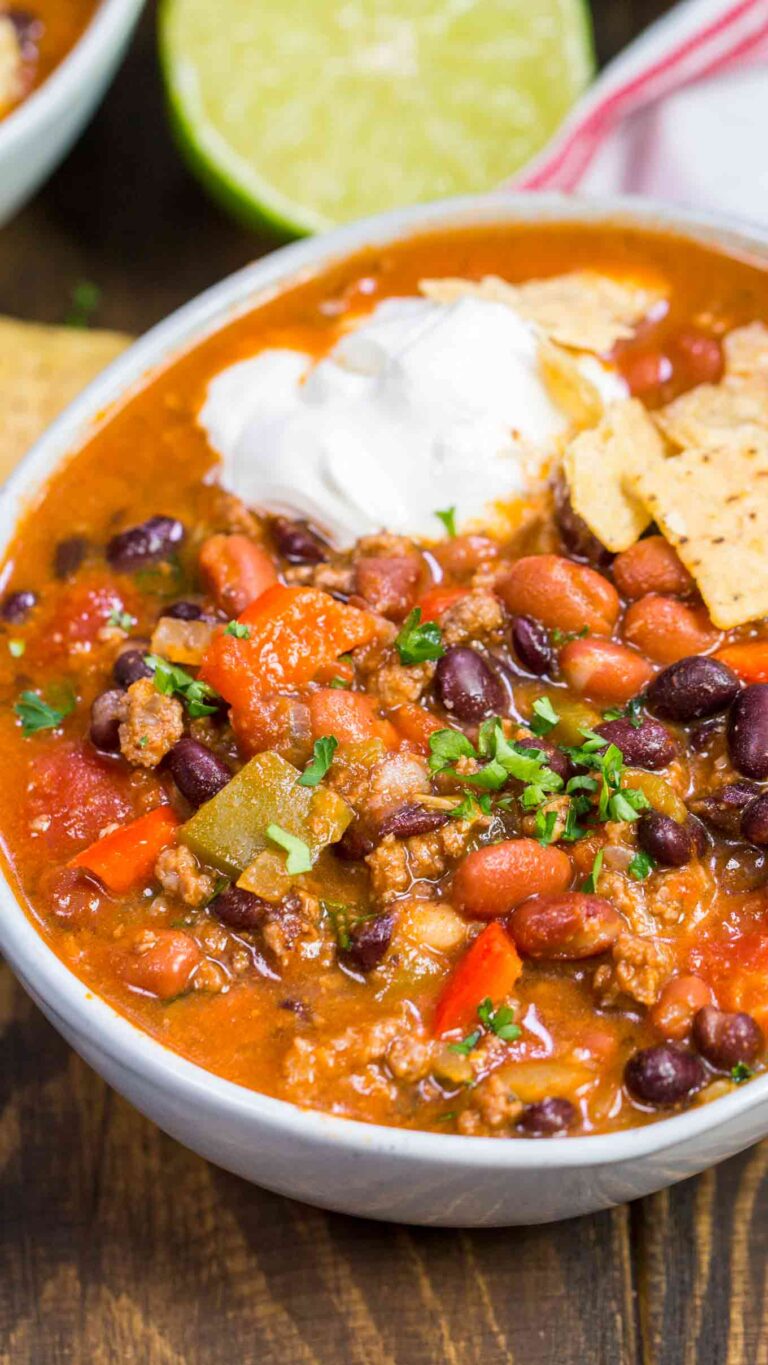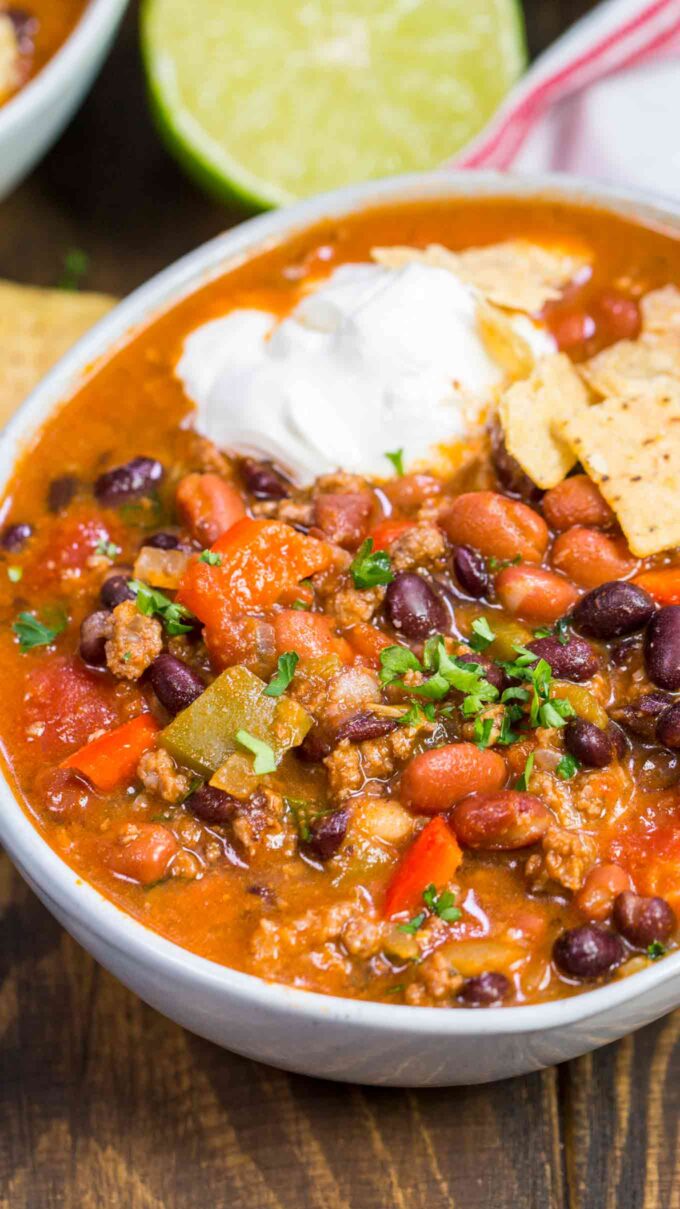 Taco Soup Toppings Suggestions:
Sour Cream
Cotija Cheese
Avocado
Corn Chips
Corn Bread
Chopped Black Olives
Fresh Lime
Cilantro
Picco de Galo
Sliced Fresh Jalapeños
How to make lime zest?
Follow these easy steps below:
First, rinse the lime.
Next, set your tool over a cutting board. A microplane produces a very fine zest, perfect for baking and cooking. If you don't have a microplane, use the smallest holes on an ordinary grater.
Then, grate the green skin of the lime only. Grate just enough to get through the green skin, this way you can avoid the bitter white pith underneath.
Rotate the lime and repeat. Once the white pith is exposed, rotate the lime and zest the next strip of peel. Repeat until most of the peel is removed, or until you have enough zest for your recipe.
HOW TO FREEZE TACO SOUP
Use quart bags to freeze the soup.
Transfer the soup from the pot into the bags using a cup.
Squeeze out excess air and seal the bags.
Lay bags flat in the freezer.
The bags can nicely be stored in the freezer for up to 3-4 months.
HOW TO THAW FROZEN TACO SOUP
To thaw the soup, remove it from the freezer the night before serving, or put the sealed soup bag in a large bowl or casserole dish filled with warm water, to thaw it faster.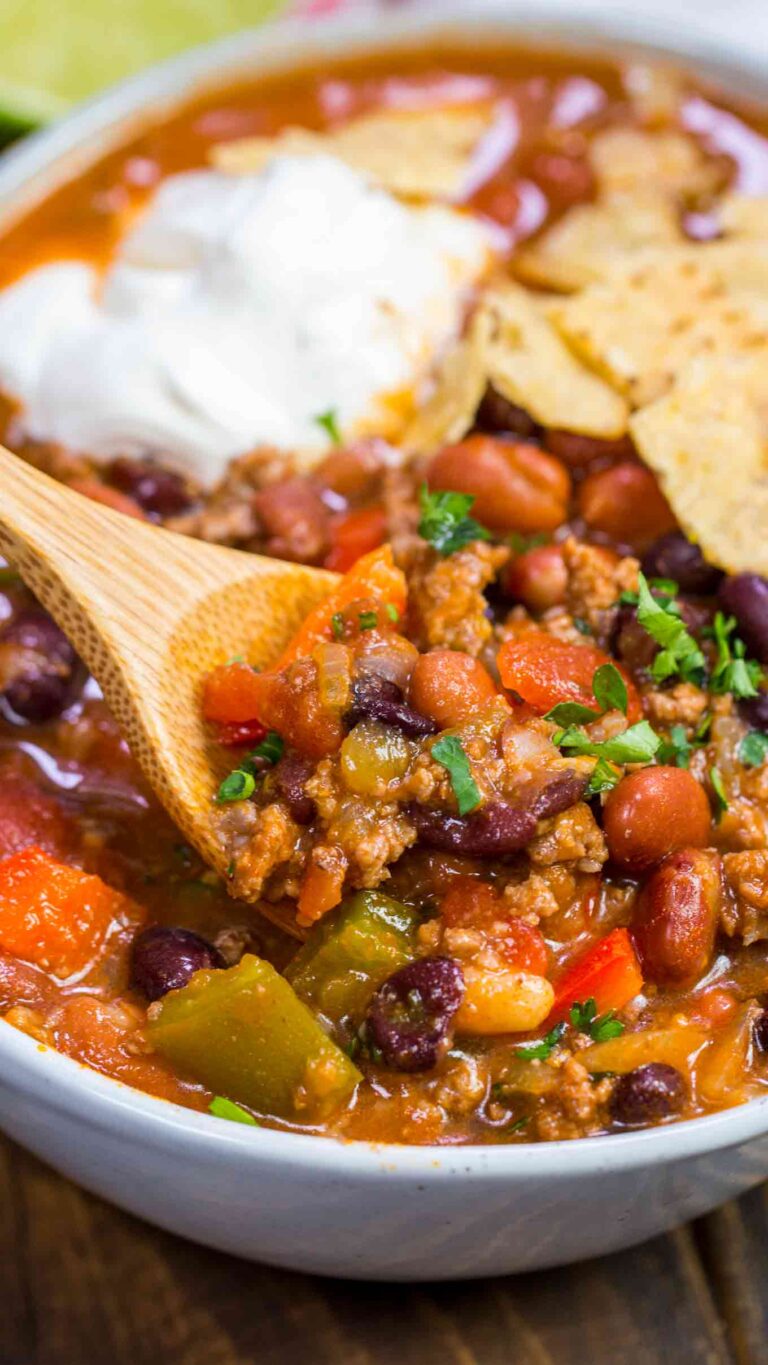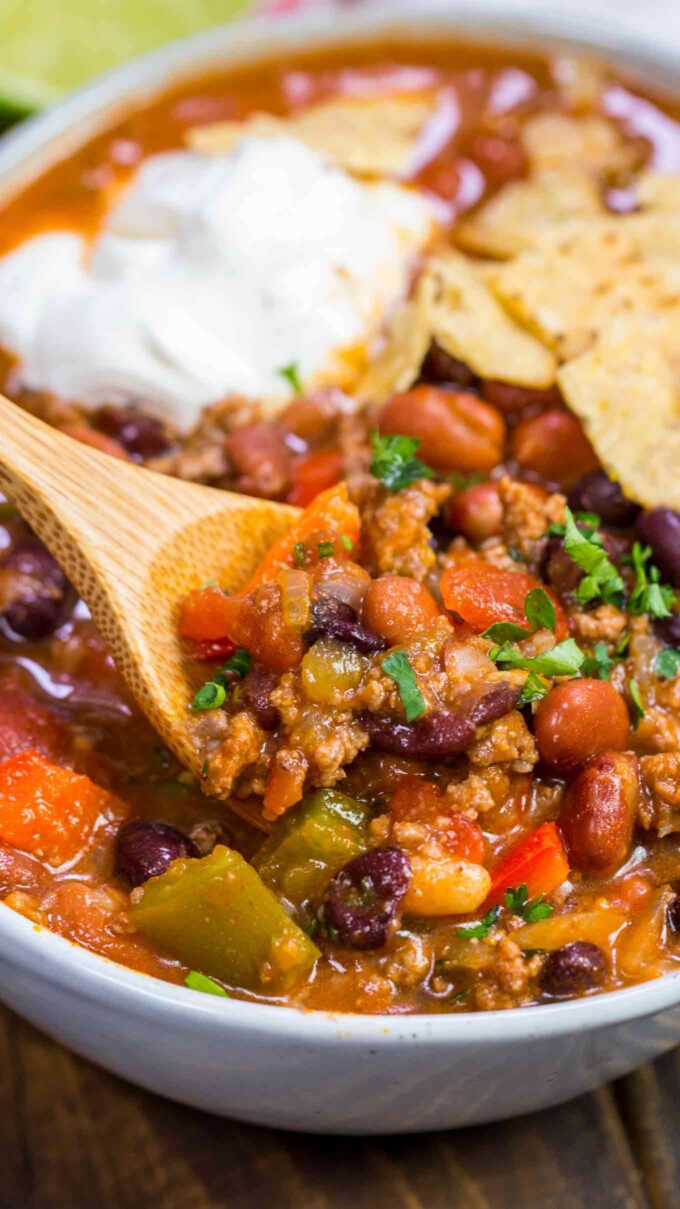 Looking for more Soup Recipes? Check these out:
Recipe Tips:
First, try using a variety of tomatoes (tomato sauce, and diced tomatoes) is what will give the soup an amazing flavor.
Also, use high quality canned tomatoes, I like San Marzano canned tomatoes when I can get my hand on some.
Use fresh garlic as the jarred garlic or garlic powder will not add the same flavor.
Adding different types of beans is also key, as they have different texture and taste.
However, if you only have one type of beans on hand, you can use that only.
In addition, add as much beef broth as you prefer. If you prefer the soup extra thick, like a chili, add less. I would say since this is the last ingredient, you can easily adjust the quantity. The tomatoes will also release some liquid once simmered.
The Worcestershire sauce is optional, you can skip it if you don't have any on hand, but it is added to enhance the beef flavor.
I suggest using green and red bell peppers, but you can use the ones you have on hand.
Use fresh lime zest as it will add extra freshness to the soup, and it works great with the acidity from the tomatoes.
If you don't like a spicy soup, omit the jalapeño topping. Or, if you want it extra spicy, just add some extra jalapenos!
Watch Recipe Video:
Save Recipe
Author: Catalina Castravet
Serves: 8 servings
Prep time:

20

minutes
Cook time:

30

minutes
Total time:

50

mins
Ingredients
2 tablespoons olive oil (or canola oil)
2 pounds ground beef
1 medium sweet onion (diced)
4 cloves garlic (minced)
1/2 green bell pepper (chopped)
1/2 red bell pepper (chopped)
1 can 8 oz tomato sauce
1 can 14.5 oz diced Mexican-style Lime and Cilantro Tomatoes (or regular diced tomatoes)
1 can 4.5 oz diced green chilies
Juice and zest of one lime
1 packet 1oz taco seasoning mix (or 2 tablespoons taco seasoning mix)
1 can 15.5oz black beans (rinsed and drained)
1 can 15.5oz pink beans (rinsed and drained)
1 can 15.5oz whole kernel corn (drained, optional)
2 1/2 - 3 cups beef broth (adjust based on how thick you want the soup)
1/4 teaspoon ground black pepper (or to taste)
1/2 teaspoon kosher salt (or to taste)
Toppings
Sour cream
Cotija Cheese
Avocado
Sliced jalapeños
Corn Chips
Instructions
Add oil to a large Dutch oven or pot over medium heat. Once hot, add the beef and do not move it for about 2-3 minutes, to get a nice sear on it.

Start breaking apart the beef with a wooden spoon and continue cooking until no longer pink. Drain excess fat, leaving only about 2-3 tablespoons.

Add onion, garlic and bell peppers, stir and cook for about 4-5 minutes.

Add the chopped green chiles, tomato sauce, diced tomatoes, lime juice, lime zest and taco seasoning. Stir to combine.

Add beans, corn if using and add beef broth. Add first 2 cups, stir to combine and add more if needed.

Cover and simmer soup on low heat for 30 minutes, stirring occasionally. If the soup is too thick, add more broth until you get it to the desired consistency. Taste and adjust for salt and pepper.

Serve garnished with favorite toppings.
Calories: 328 Carbohydrates: 0 Protein: 19 Fat: 26 Saturated Fat: 9 Cholesterol: 80 Sodium: 233 Potassium: 334 Fiber: 0 Sugar: 0 Vitamin A: 270 Vitamin C: 15.5 Calcium: 20 Iron: 2.3
Save Recipe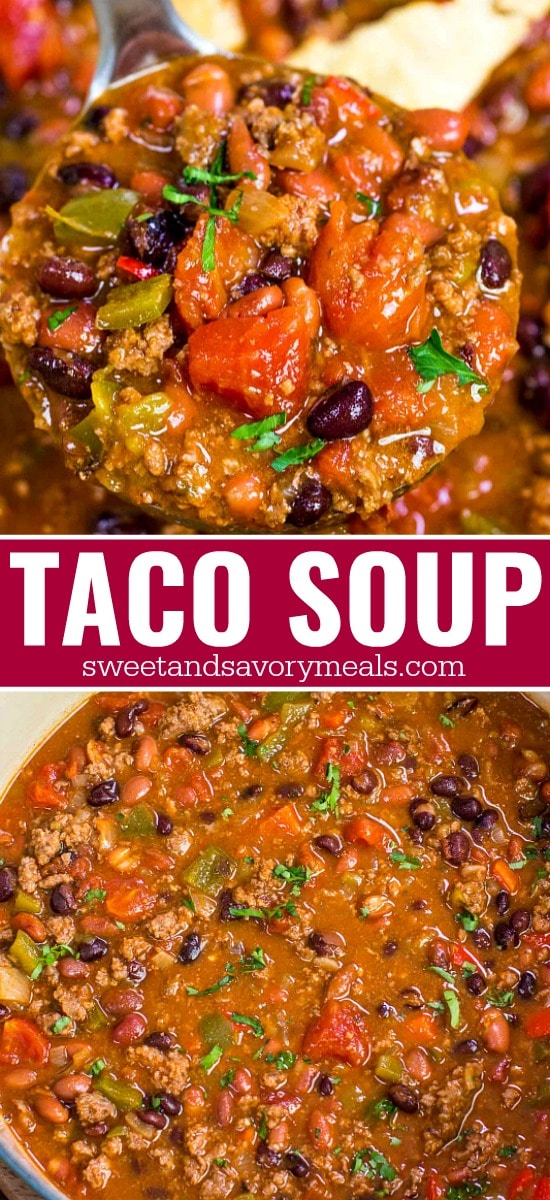 More recipes you might love