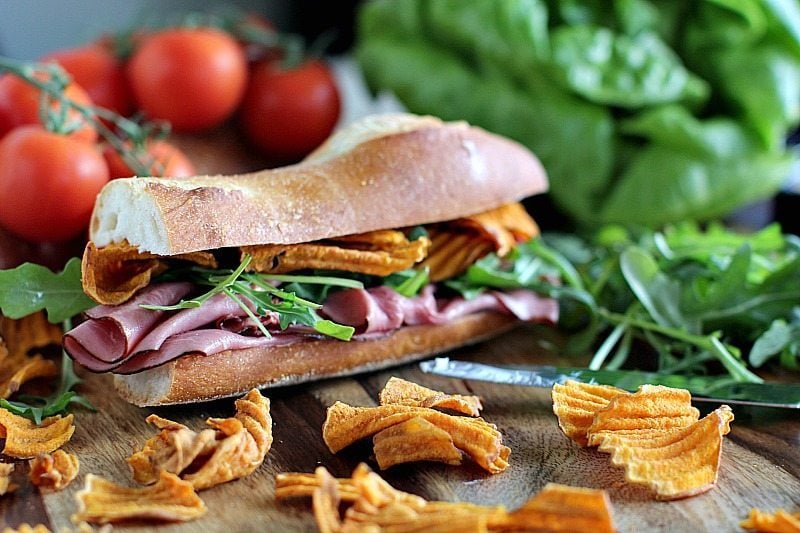 Roast Beef Sandwich Ideas
Roast Beef Sandwich Ideas to make dinners and lunches are a breeze here, that are wholesome, gourmet and delicious.
Roast Beef Sandwich Ideas
Today I will be sharing with you a few Roast Beef Sandwich Ideas that can serve you as lunch or dinner. Our favorite cold cut to use for homemade quick sandwiches is Oscar Mayer Slow Roasted Roast Beef. First, I love the texture and flavor, and I think it's just amazing in sandwiches. Also, it is the perfect choice for anyone looking for quality cold cuts that have no artificial ingredients but have a delicious taste.
I try to please my whole family when I come up with my Roast Beef Sandwich Ideas. Therefore, I made one with arugula, horseradish mayo, and sweet potato chips. I love the crunchiness from the potato chips, and it's guaranteed that he will be excited to eat his lunch.
I personally appreciate that Oscar Mayer Selects Natural cold cuts are minimally processed, with no artificial preservatives. In addition, it has no artificial colors, no gluten, and no by-products.
Roast Beef Sandwich Pairing Ideas
Another favorite pairing in our family is this toasted baguette. With Slow Roasted Roast Beef, juicy tomatoes, crispy butter lettuce, and black truffle mayo. This pairing is so amazing and it is my husband's all-time favorite. The butter lettuce, the fresh tomatoes, and that mild black truffle aroma pair so well with the tender slow-roasted beef.
The great thing is that the flavor combos are endless, and you can use whatever ingredients you like to create your perfect sandwich, the sky is the limit. Especially when Oscar Mayer Selects Natural comes in five flavorful varieties including Slow Roasted Turkey, Applewood Smoked Turkey, Rotisserie Seasoned Chicken, Applewood Smoked Ham, and Slow Roasted Roast Beef. You can choose your favorite and make some delicious sandwiches.
Deliciousness to your inbox
Enjoy weekly hand picked recipes and recommendations