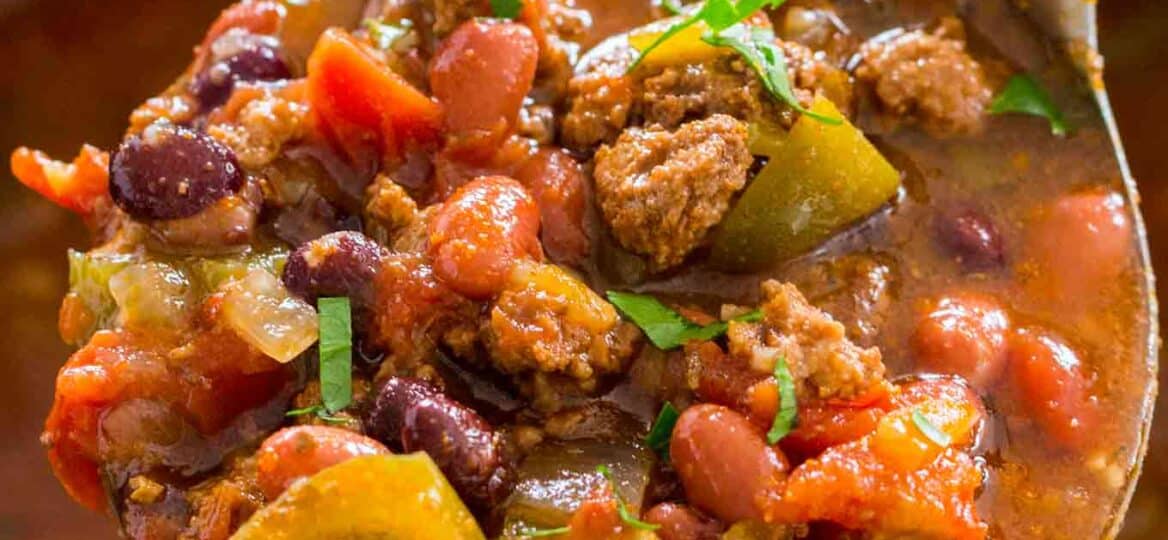 Best Instant Pot Taco Soup [VIDEO]
Instant Pot Taco Soup is hearty and full of flavor, made with ground beef and veggies. Ready in just 30 minutes, all full of Mexican flavors. Serve it topped with cheese and corn chips. This is the perfect recipe for an easy weeknight dinner.
Instant pot recipes are very popular on the blog, as they are perfect for a quick dinner that doesn't lack flavor. Similarly, I have shared with you Instant Pot Chicken Tortilla Soup and Instant Pot Mexican Rice, which are perfect recipes to make for Taco Tuesday. Made with simple pantry ingredients, and loaded with great flavor, these are recipes that the whole family will love.
Instant Pot Soup recipes are perfect for busy weeknights. This easy instant pot taco soup is the perfect comfort food, made with budget-friendly, basic ingredients. This is one of the easiest soups you can make, and cooking it in the pressure cooker saves you time and effort.
Made with a variety of healthy ingredients, the flavors are extraordinary and the best part is that you can serve it with your favorite toppings. Make a big batch for dinner and freeze some for later!
Ingredients Needed:
Ground beef: Use lean ground beef and don't forget to drain the grease.
Oil: Use canola oil, olive oil, vegetable oil.
Onion: Fresh diced onion or 1 tablespoon of onion powder.
Minced garlic: Use fresh garlic or 1 tablespoon of garlic powder.
Tomatoes: Use canned crushed tomatoes or canned diced tomatoes. Also, we use tomato sauce.
Green chiles: Canned diced green chiles or if you don't have any on hand use chopped jalapeño pepper.
Beans: We use a mix of black beans and red beans. However, pinto beans, navy beans, garbanzo beans, kidney beans, and cannellini beans work just as well.
Bell pepper: We use green bell pepper, however, any color will work.
Taco seasoning: Use store-bought or make your own taco seasoning mix.
Dried Oregano
Red pepper flakes
Broth: We like low sodium beef broth or beef stock, however, chicken broth or vegetable stock will work as well.
Salt and ground black pepper
How do you make Instant Pot Taco Soup recipe from scratch?
Prep the ingredients: First, open any cans needed for this easy recipe and prepare all the ingredients.
Sear: After that, click on the Sauté button and add the oil. Once hot, add the beef and start browning it. Use a wooden spoon to break it and cook until nicely browned. Afterward, drain grease, leaving just about 2 tablespoons in the pot.
Rest of the ingredients: Then, add the remaining ingredients, like chopped veggies, tomatoes, beans, and broth. Stir to combine.
Pressure Cook: Finally, pressure cook the mixture for 10 minutes on High Pressure, followed by a 10 minutes Natural Pressure Release.
Quick Release: After that, open the valve to release the remaining pressure. Stir the soup.
Thicken: If the soup is too watery, make a cornstarch slurry and stir it into the mixture in Sauté mode. Simmer for a few minutes.
Serve: Serve this easy taco soup recipe with your favorite toppings and a side of tortilla chips.
Recipe Variations:
Meat: Use a different type of meat, like ground chicken, ground turkey, chicken breast, or shredded chicken to make chicken taco soup. The cooking time stays the same.
Creamier: As an alternative make it creamier. When pressure cooking add also 8 ounces of cubed cream cheese. After pressure cooking, stir in 1/2 cup of heavy cream.
Spicier: Use a chipotle in adobo sauce or chili powder to make this pressure cooker taco soup spicier.
Vegetarian: As an option, skip the meat altogether and use more beans instead for a vegetarian option.
Seasoning: For a change, add Ranch Seasoning or Cajun Seasoning to the mixture.
Toppings Suggestions:
Sour Cream
Cotija Cheese
Cheddar cheese
Mexican cheese
Avocado
Corn Chips
Chopped Black Olives
Fresh Lime
Cilantro
Sliced Fresh Jalapeños
Green onions
Fried tortilla strips
Frequently Asked Questions
Can I Make it in the Crock Pot?
Yes! To make Slow Cooker Taco Soup simply brown the ground beef with onions and garlic. Then, drain the fat and add everything to the slow cooker, along with the rest of the ingredients. Set the cooking time to LOW and cook for 8 hours or on HIGH for 4-5 hours.
Can I make it on the stovetop?
Similarly, you can make it on the stove top. You can access the stovetop one-pot taco soup recipe here.
How to store:
Cool: First, to store leftovers the soup should be cold.
Refrigerate: After that, add the leftovers to an airtight container and refrigerate for 3-4 days.
Freeze: Let the leftovers fully cool. Transfer the soup from the pot into freezer bags and squeeze out excess air and seal the bags. After that, lay the bags flat in the freezer. Freeze for up to 3-4 months.
Thaw: To thaw it, remove it from the freezer the night before serving, or put the sealed soup bag in a large bowl or casserole dish filled with warm water, to thaw it faster.
Reheat: You can reheat it in the microwave or in a soup pan on the stove.
More Instant Pot Recipes:
Cooking Tips:
Use high-quality canned tomatoes. I like San Marzano canned tomatoes when I can get my hand on some.
Also, use fresh garlic and onion instead of the garlic and onion powder, the fresh garlic will add way more flavor.
It is best to add different types of beans because they have different textures and tastes.
In addition, if you like it thicker, we suggest using less broth or liquid.
Adding Worcestershire sauce will enhance the beef flavor.