Best Instant Pot Taco Soup [VIDEO]
Instant Pot Taco Soup is hearty and full of flavor, ready in just 30 minutes, all done in your pressure cooker. Serve it topped with cheese and corn chips.
Taco inspired recipes are very popular on the blog, I have shared with you Instant Pot Taco Pasta and Taco Fries, which by the way are very good and easy to make. Since I have posted my recipe for the Best Ever Taco Soup, I have received many requests to make a pressure cooker version. When you guys ask, I listen, and here you have the most delicious and easy to make Instant Pot Taco Soup.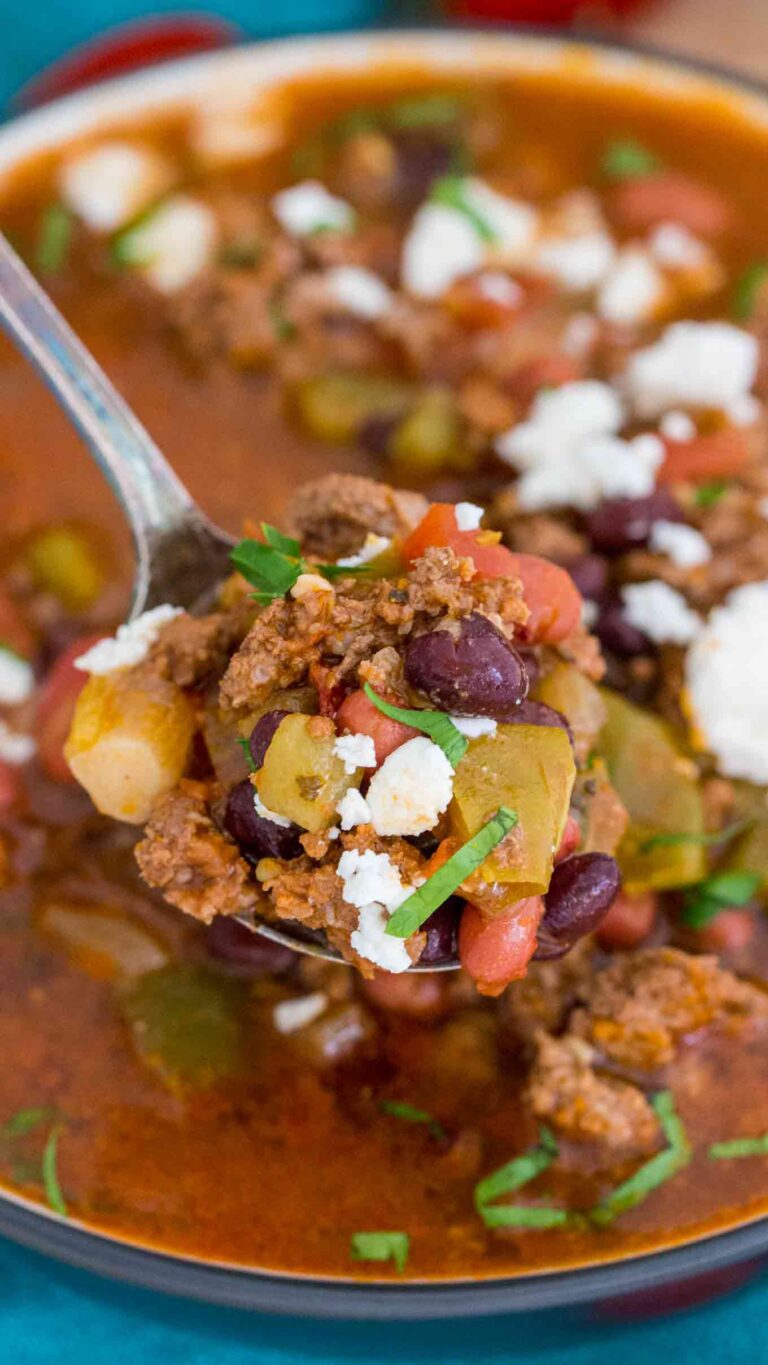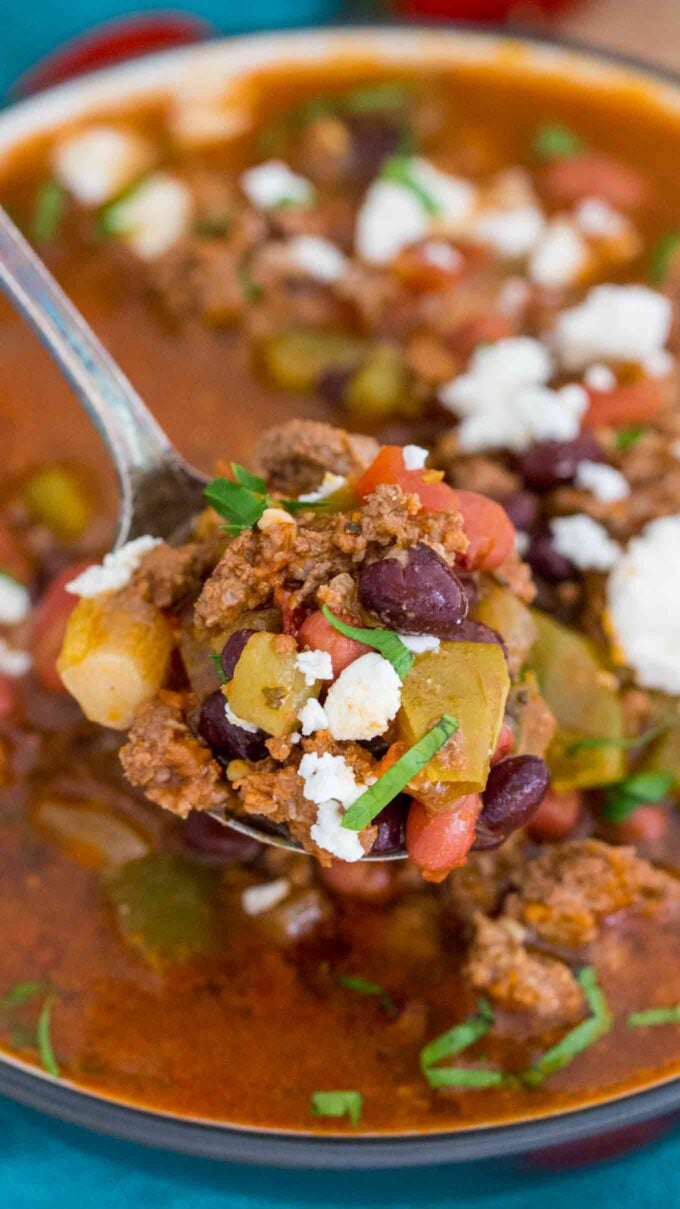 Easy Instant Pot Taco Soup
Instant Pot Taco Soup is the perfect comfort meal, it is so easy to make, that you will end up fixing it a few times per week. We love good and rich taco soup, making one in the Instant Pot has been such a time saver. The flavors are extraordinary and the best part is that you can serve it with your favorite toppings.
The taco soup can be made with ground beef, chicken or turkey, whichever you prefer more. If you make it with beef, it will have a chili-like texture, except with lots of delicious taco seasoning flavor.
The soup is made with a variety of healthy ingredients like diced tomatoes, beans, and bell pepper. You can reduce the liquid and make the soup thicker, to serve it over rice.
How do you make Instant Pot Taco Soup?
First, open any cans needed for this recipe and prepare all the ingredients.
After that, you start by browning the beef. This is an important step as it will add extra flavor.
Drain any grease, leaving just about 2 tablespoons in the pot.
Then, add the remaining ingredients, like chopped veggies, tomatoes, beans and broth.
Cook and serve.
How long do you cook Taco Soup in the Instant Pot?
The beautify of this recipe and pressure cooker is that the cooking time is drastically reduced. You only have to cook it for 10 minutes on High Pressure, followed by a 10 minutes Natural Pressure Release.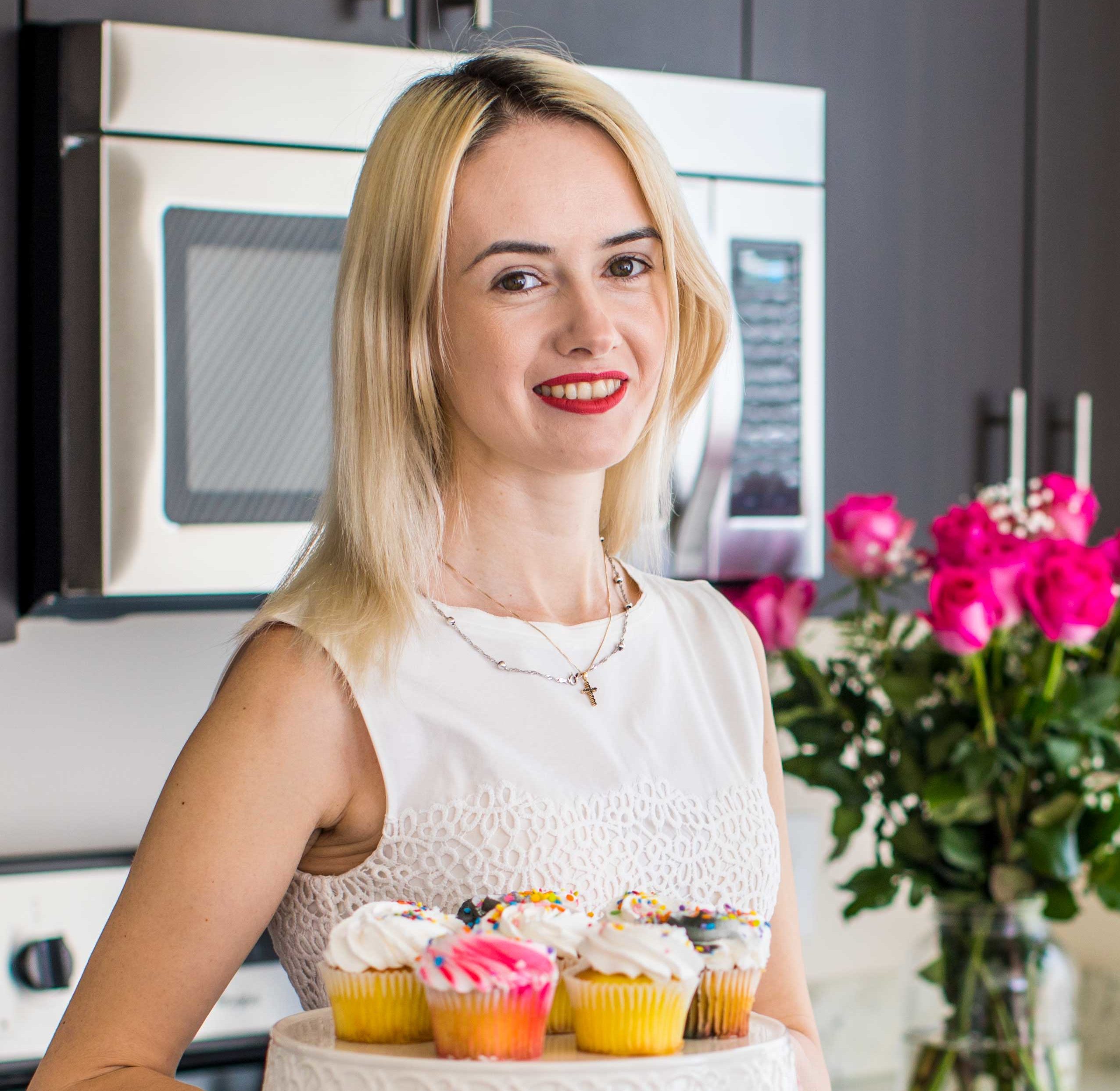 Follow us on Pinterest for more delicious recipes!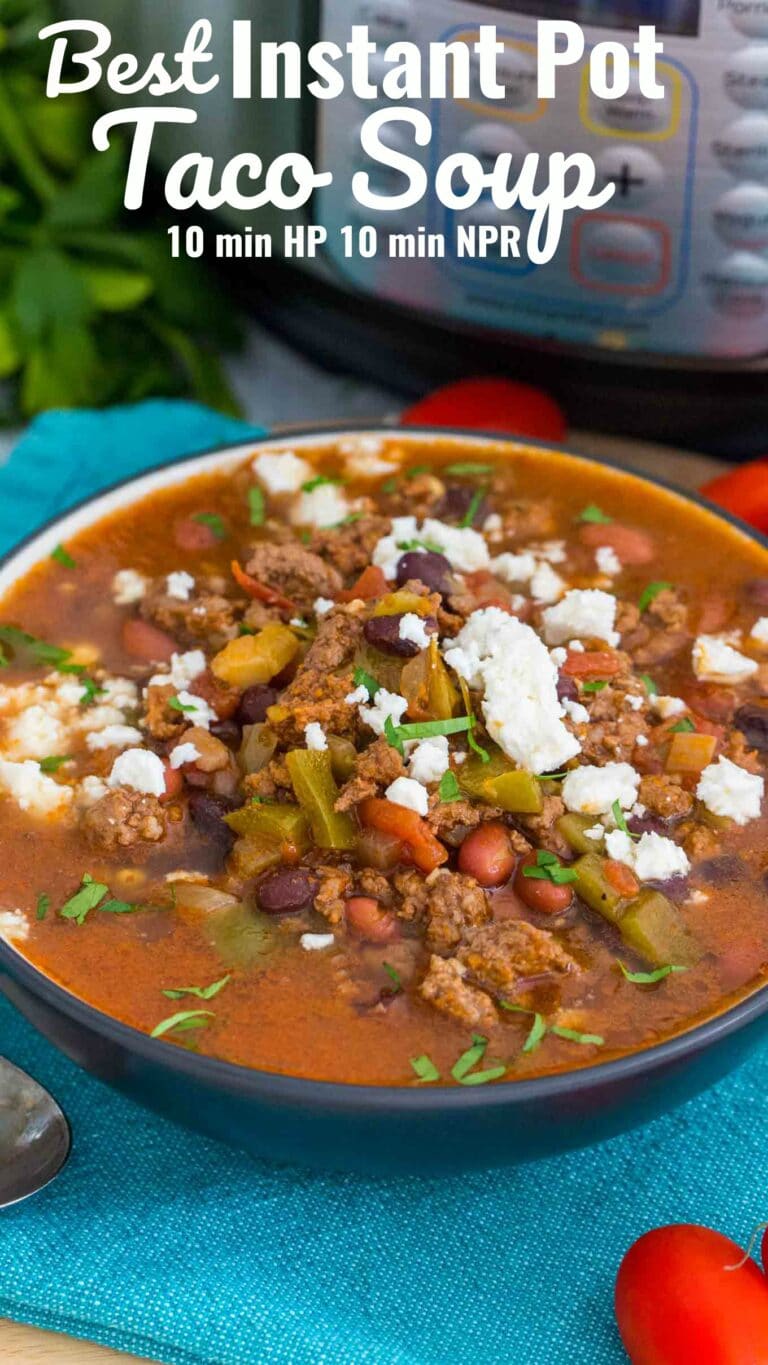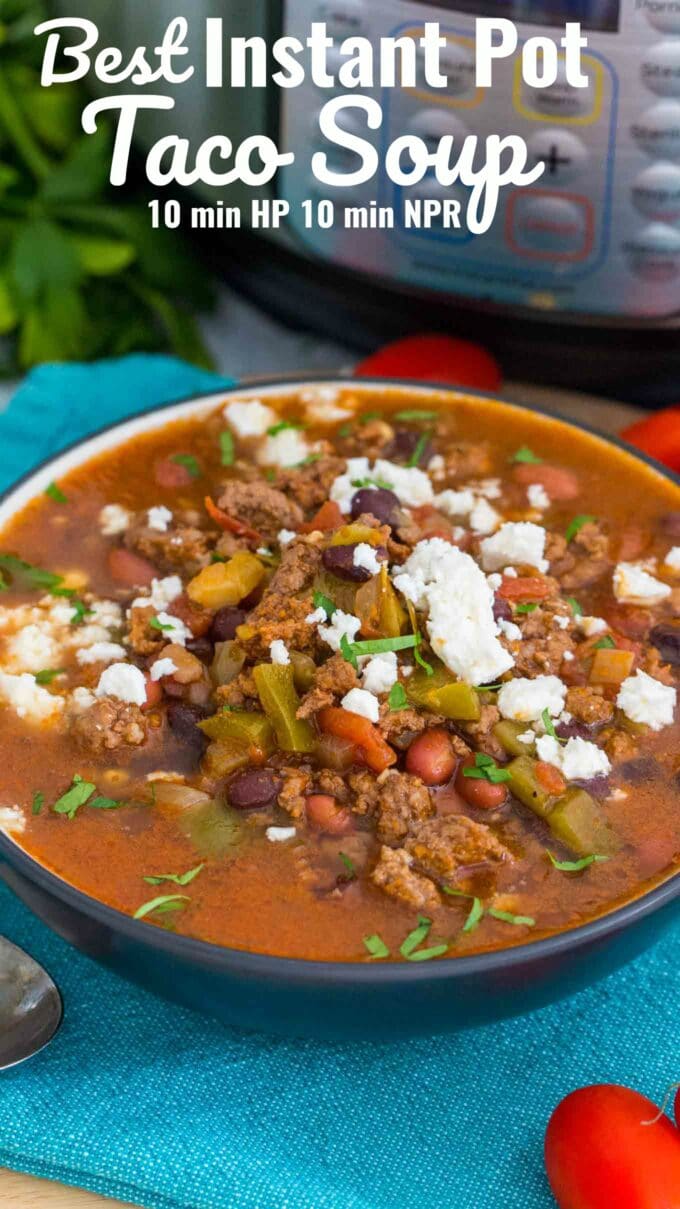 Can I substitute beef with other meats?
Yes. I love making this soup with beef, but you can make it with ground chicken or turkey as well. Both work well, and the cooking time will remain the same. Also, you can combine more meat types together. It works perfectly well.
Can I use vegetable broth to make this taco soup?
Absolutely! You can use vegetable broth or chicken broth, instead of beef broth.
Great Taco Soup Toppings Suggestions:
Sour Cream
Cotija Cheese
Avocado
Corn Chips
Corn Bread
Chopped Black Olives
Fresh Lime
Cilantro
Picco de Galo
Sliced Fresh Jalapeños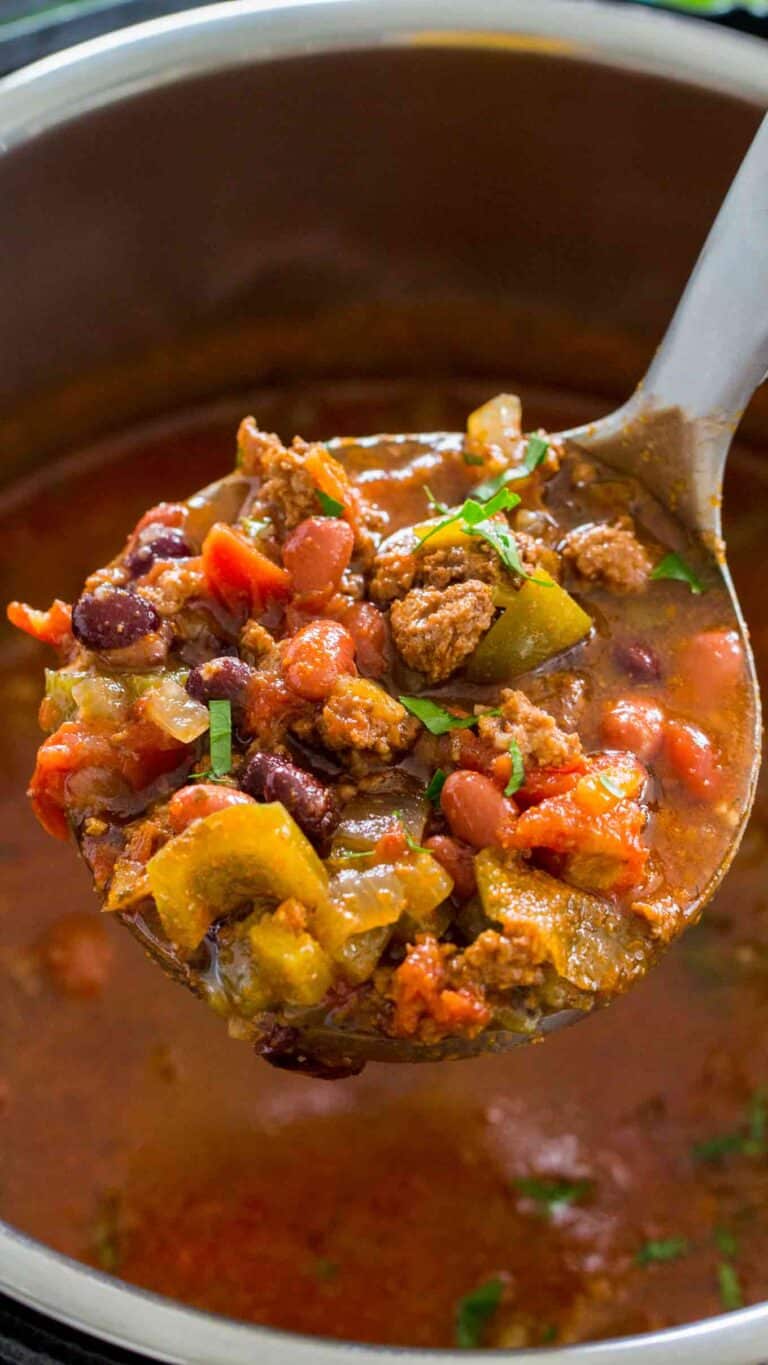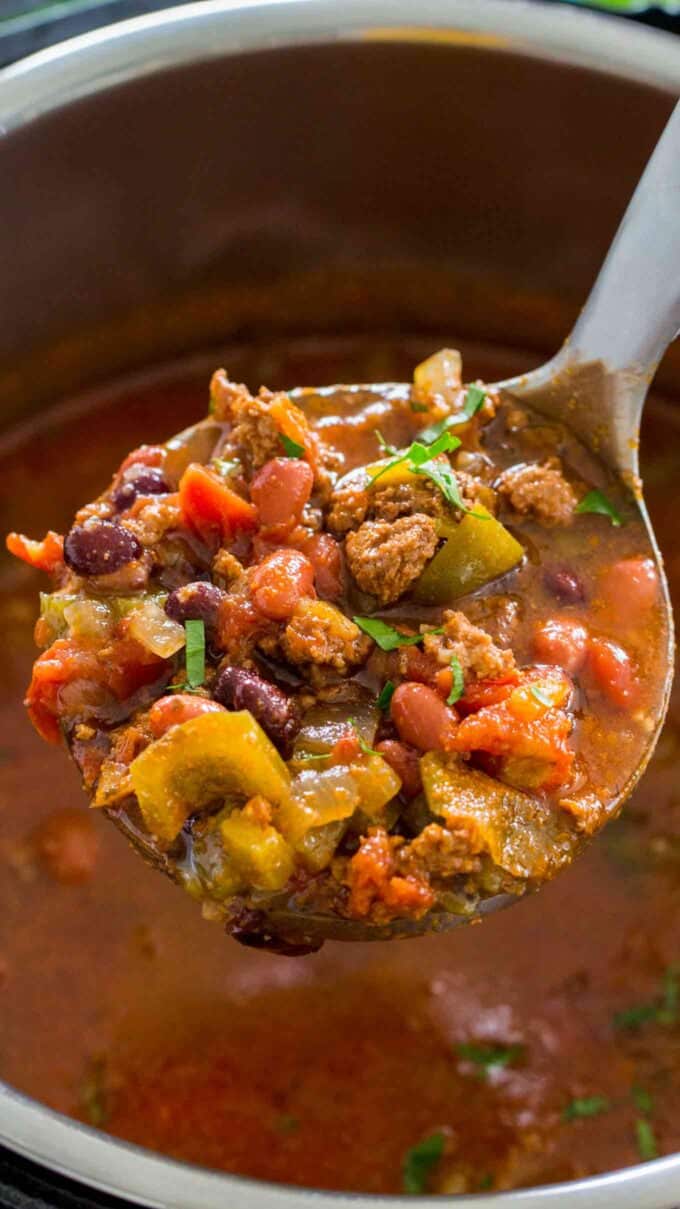 How to freeze Instant Pot Taco Soup?
Use quart bags to freeze the soup.
The soup should be cold.
Transfer the soup from the pot into the bags.
Squeeze out excess air and seal the bags.
Lay bags flat in the freezer.
The bags can nicely be stored in the freezer for up to 3-4 months.
How to thaw frozen Instant Pot Taco Soup?
To thaw it, remove it from the freezer the night before serving, or put the sealed soup bag in a large bowl or casserole dish filled with warm water, to thaw it faster.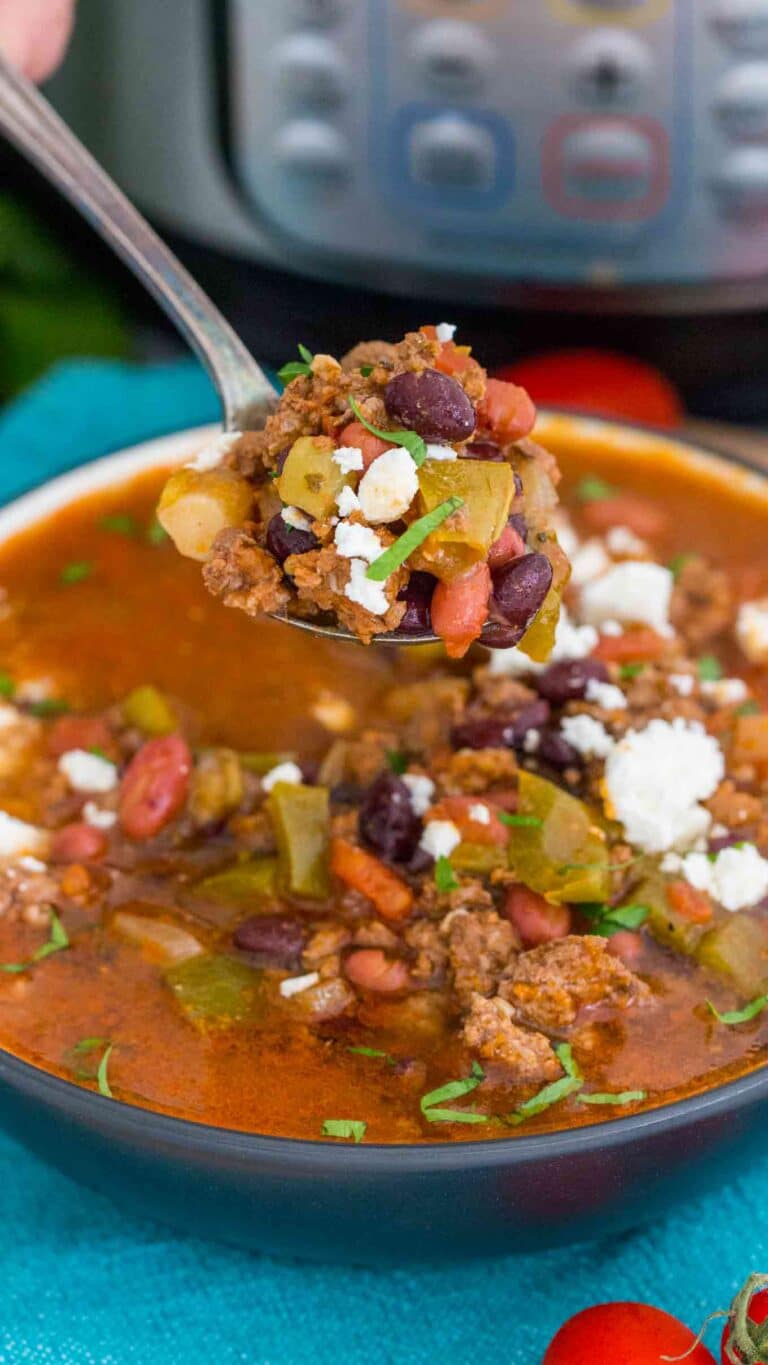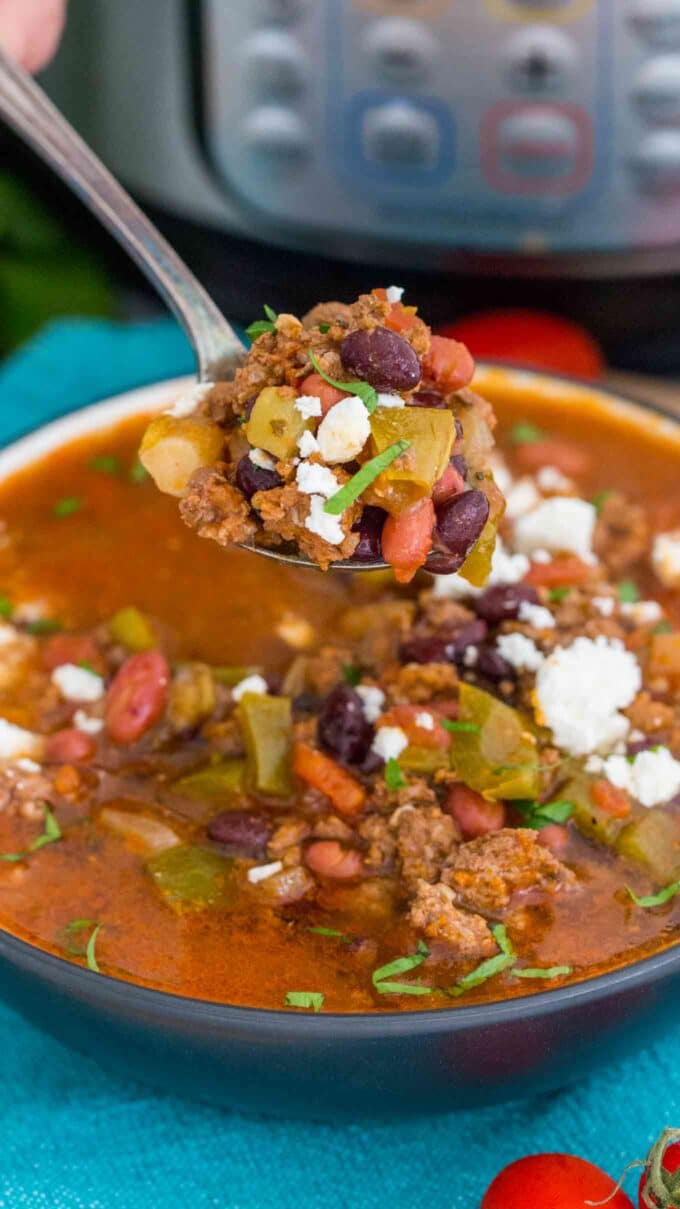 Recipe Tips and Tricks
Use high quality canned tomatoes, I like San Marzano canned tomatoes when I can get my hand on some.
Also, use fresh garlic and onion instead of the garlic and onion powder, the fresh garlic will add way more flavor.
Add different types of beans, because they have different textures and taste.
In addition, if you like it thicker, we suggest using less broth or liquid.
Adding Worcestershire sauce will enhance the beef flavor.
Use a good taco seasoning that you know you like. Be careful as many contain sodium, so use low sodium broth.
Watch Recipe Video:
Save Recipe
The Best Instant Pot Taco Soup
Author: Catalina Castravet
Serves: 6 servings
Prep time:

10

minutes
Cook time:

10

minutes
Total time:

30

mins
Ingredients
1 pound ground beef (or chicken)
1 tablespoon canola oil (or vegetable oil)
1 onion (diced)
1 tablespoon minced garlic
1 can (15oz) crushed or diced tomatoes
1 can (8oz ) tomato sauce
1 can (4oz) diced green chiles
1 can (15.5oz) black beans (rinsed and drained)
1 can (15.5oz) red beans (rinsed and drained)
1 green bell pepper (cut into 1 inch pieces)
2 tablespoons taco seasoning (low sodium)
1 teaspoon dried oregano
1/4 teaspoon red pepper flakes (or more for a spicier soup)
4 cups low sodium beef broth (use 3 cups for a thicker soup)
1/4 teaspoon salt and pepper (or to taste)
Cornstarch Slurry Optional:
2 tablespoons cornstarch
2 tablespoons water
Toppings:
Chopped cilantro
Cotija cheese
Avocado
Jalapeno peppers
Tortilla chips
Instructions
Cook Beef:
Select Sauté and once the Instant Pot reads Hot, add the oil, make sure you tilt the pot so the oil covers the whole surface.
Once the oil is hot, add the beef to the pot and DO NOT move for about 1 minute, to get a nice sear on it.
Using a wooden spoon, break the beef and cook by stirring frequently for a few minutes, until no longer pink.
Carefully, remove the pot from the IP and discard excess grease. Wipe the edges and return pot with beef to the Instant Pot.
Adding the rest of the ingredients:
Add the onion and garlic and cook for 1-2 minutes, stirring occasionally.
Add the rest of the ingredients and stir to combine.
Cook:
Close the IP with the lid and lock it. Turn the steam release vent to 'sealing' and set it to cook for 10 minutes on High Pressure.
When the cook time is up, allow the pressure to reduce on its own without opening the steam release vent for 10 minutes, this is called Natural Pressure Release. After 10 minutes carefully release the rest of the pressure by opening the vent.
Open the lid and stir the soup. Taste and adjust for salt and pepper.
For a thicker soup:
If you prefer the soup thicker: turn on the Sauté function, use the 'adjust' button to turn it the medium heat setting.
In a small bowl mix cornstarch with water until fully dissolved and add it to the pot. Gently stir to combine and let it simmer for 5 minutes until it thickens.
Serve hot with favorite toppings.
Calories: 419 Carbohydrates: 39 Protein: 25 Fat: 18 Saturated Fat: 6 Cholesterol: 53 Sodium: 1774 Potassium: 1210 Fiber: 12 Sugar: 10 Vitamin A: 760 Vitamin C: 39 Calcium: 114 Iron: 5.9
Save Recipe
More recipes you might love