Instant Pot Mexican Rice [Video]
Last updated on April 3rd, 2022 at 06:24 pm
Instant Pot Mexican Rice is a dump and cook recipe made with long-grain white rice, veggies, and lots of taco seasoning. This dish requires minimal prep work and you have to pressure cook it for only 4 minutes.
Cooking rice in the Instant Pot is easy, convenient and it ensures great texture all the time. Check our step-by-step guide How to Cook Rice in the Instant Pot and as well our recipes for IP Rice Pudding and Fried Rice.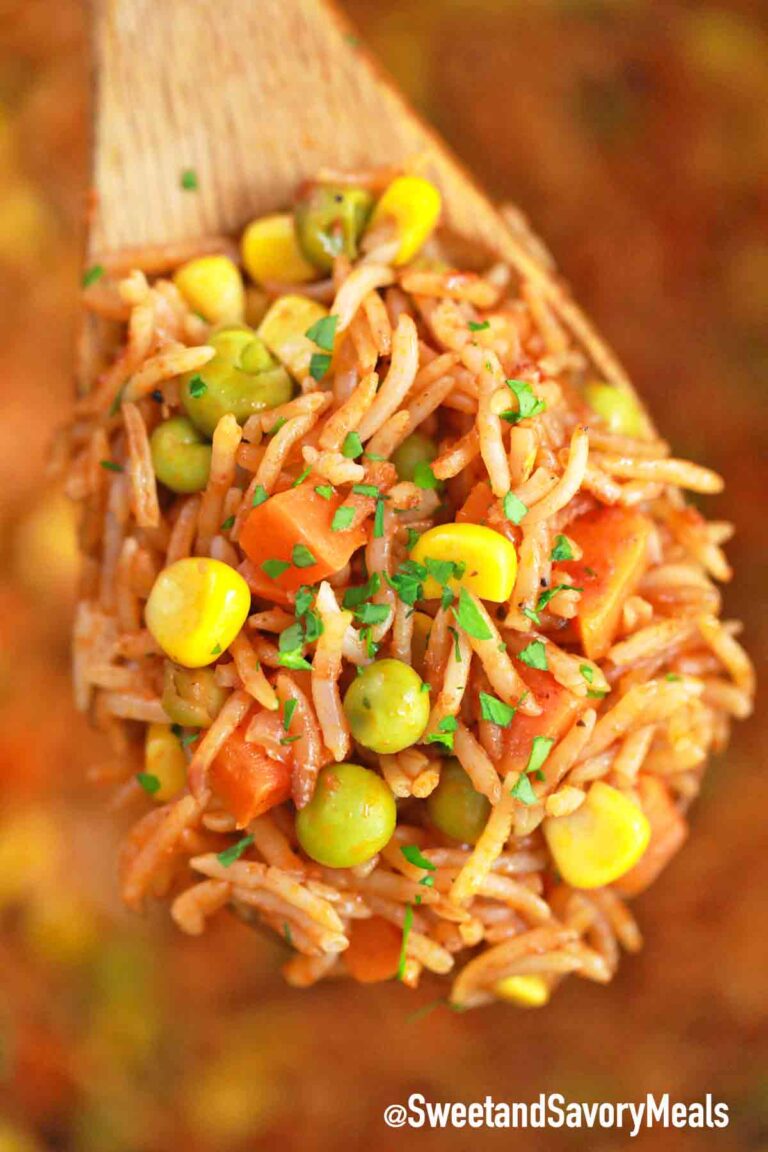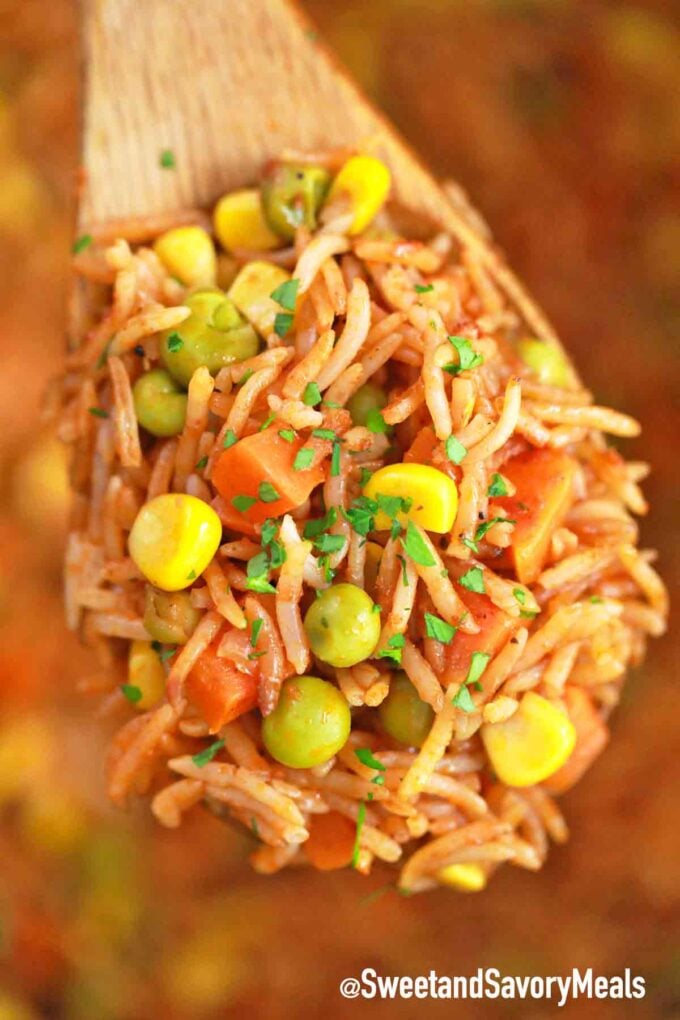 Instant Pot Mexican Rice – an easy side dish or vegetarian main course!
Pressure Cooker Mexican Rice is a very easy recipe made with budget-friendly ingredients. We like to make a larger batch and enjoy it as a side dish during the week. The dish pairs well with many mains, just saute some shrimp or grill some chicken and you have a delicious dinner in no time.
Make this recipe with white or brown rice, and whatever veggies you have on hand. To keep the Mexican theme here, we suggest serving it with Mexican-inspired toppings like avocado, salsa, sour cream, and jalapenos for some extra heat.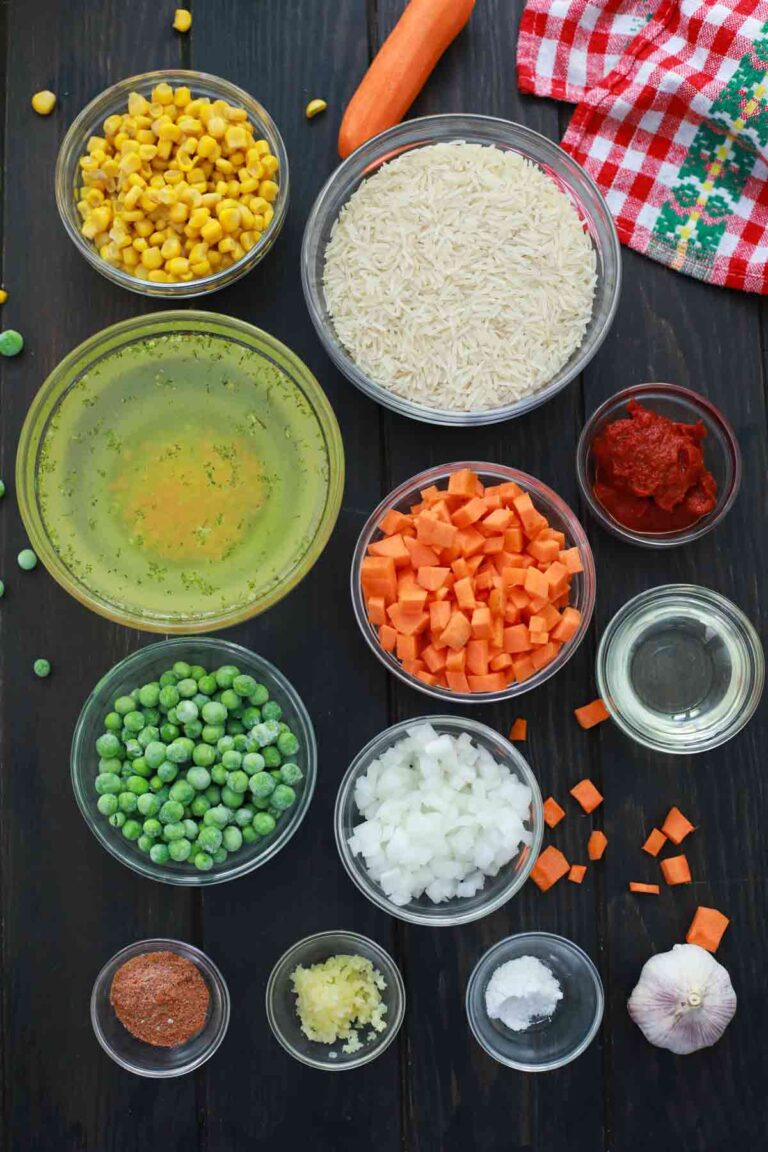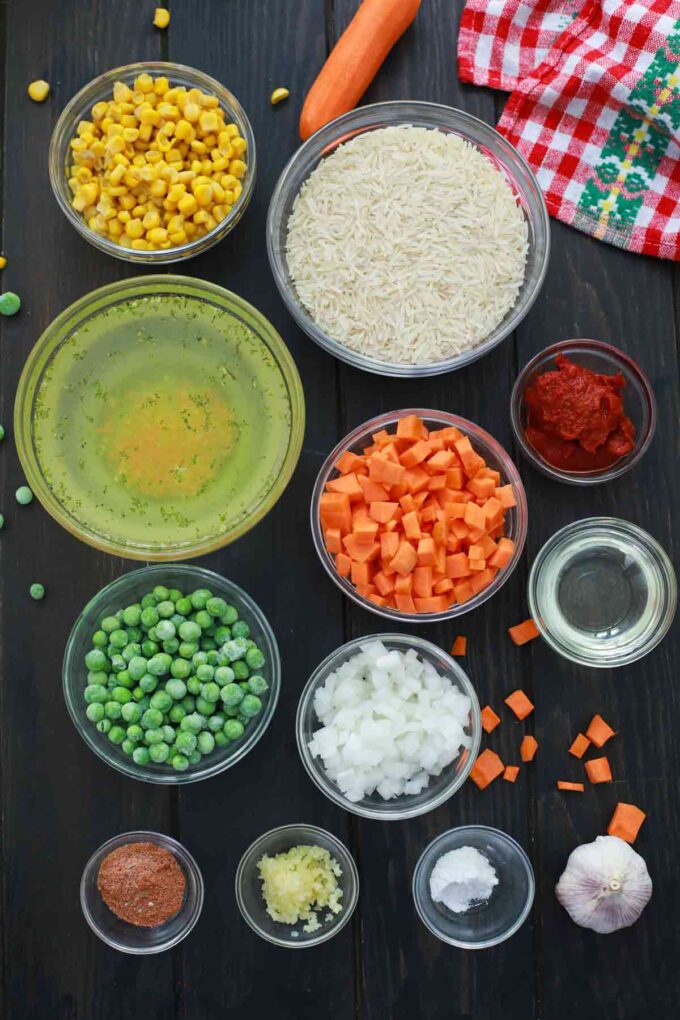 What you need:
White long grain rice – it's perfect for this recipe, but you can also use brown long grain rice.
Garlic and Onion – add some delicious flavor!
Tomato sauce – you can also use salsa instead of tomato sauce.
Veggies – we used corn, carrots, and some sweet peas.
Chicken broth – for a vegetarian version use veggie broth.
Taco seasoning – a must for that delicious Mexican flavor.
How to make Instant Pot Mexican Rice From Scratch:
Prepare the rice: First, start by rising and drain the rice. After that, with the IP set to Saute mode, saute the rice for a few minutes.
Add the rest of the ingredients: Next, add the rest of the ingredients and stir well to combine.
Pressure Cook: Lock the lid and point the valve to Sealing, pressure cook the mixture for 3-4 minutes. After that, release pressure naturally for 10 minutes and do a quick release for the remaining pressure.
Serve: Finally, stir the rice and serve with your favorite toppings.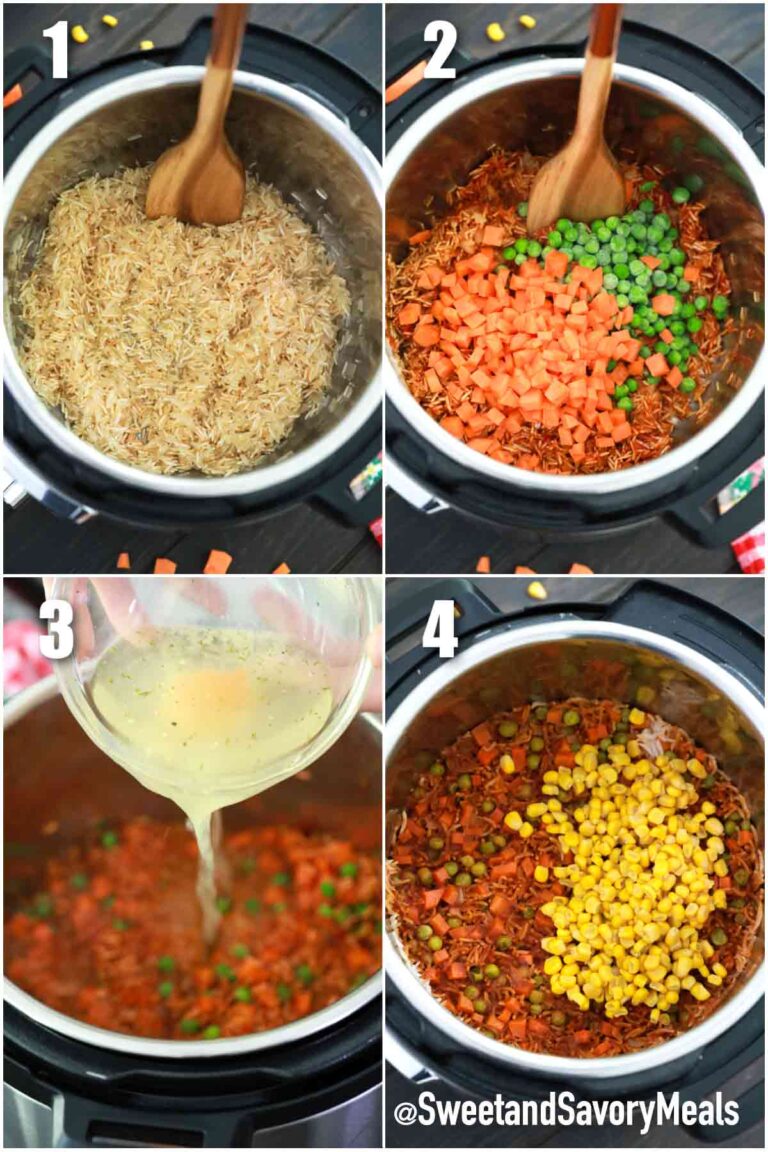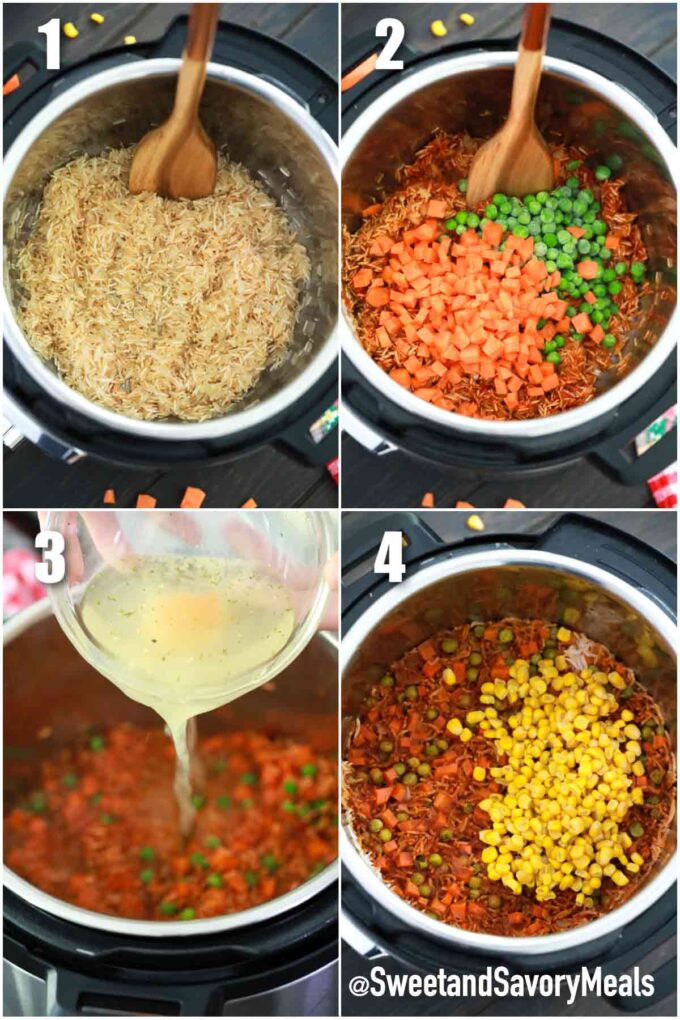 Recipe Variations:
Make it vegetarian: the recipe is already vegetarian with the exception of using chicken broth, but that is very easy to substitute, just use veggie broth.
Use brown rice: You can also make this recipe with long grain brown rice, the cooking time will stay the same.
Add more veggies: this dish is already loaded with veggies, but keep in mind that you can use other veggies as well. For example, we like to mix in zucchini, chopped bell peppers, sauteed mushrooms, to name a few.
Add some protein: You can easily add some raw shrimp with the rest of the ingredients. Also, you can add chicken as well, but make sure it's chopped into bite-size pieces.
Mix in some Beans: To make this dish heartier, mix in with the rest of the ingredients some pinto or black beans.
Veggie protein: Another option is to add some tempeh or firm tofu!
Make it spicier: If you prefer your Mexican Rice spicier, add some chopped jalapenos and use a spicy salsa instead of the tomato sauce. Another option is to use some chili powder and serve it with some hot sauce on top.
Gluten-Free: The recipe is naturally gluten-free, just make sure that the ingredients that you use, like for example the broth is manufactured in a facility free of gluten.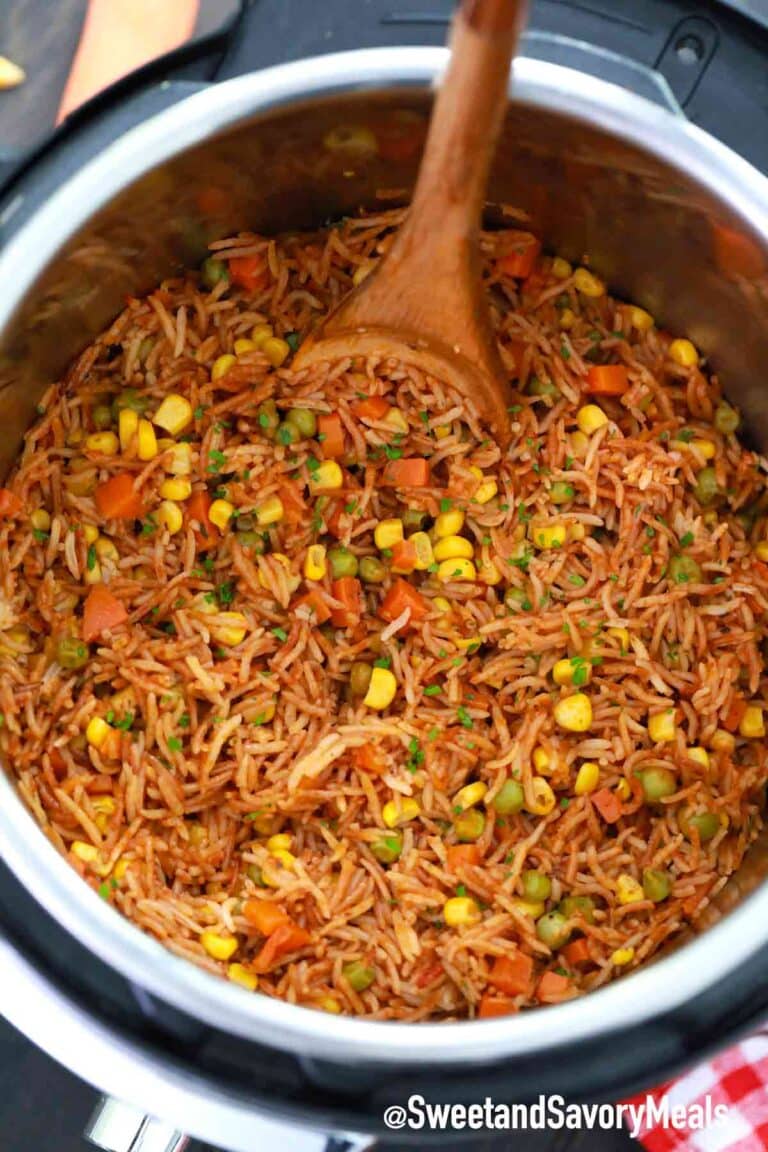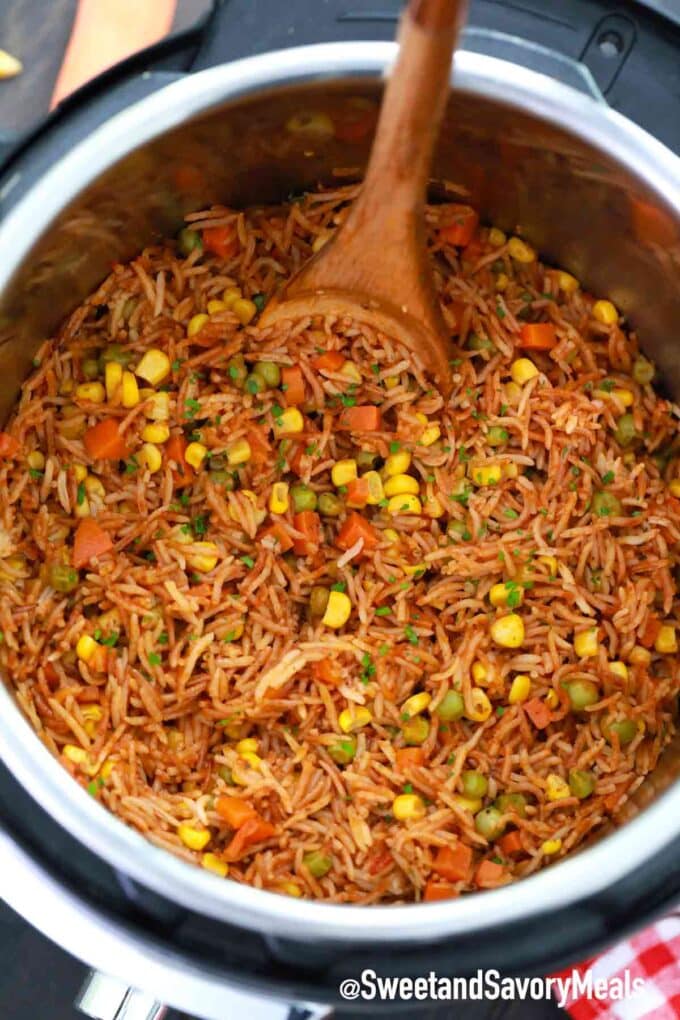 Frequently Asked Questions
How to keep rice from getting mushy?
A crucial step in making sure that your rice will be fluffy is to rinse it. When you rinse the rice, you remove the extra starch, which otherwise will make the rice stickier and mushier. Equally important is to use the right ratio of water to rice.
How to serve Instant Pot Mexican Rice?
This recipe can be a dish on its own or can be served as a side dish. We have a few suggestions for you, serve it as a side dish when making Mexican Pot Roast. Also, you can pair it with this Mexican Black Bean Salad, this easy Mexican Salad or with Chipotle Black Beans.
Make sure you have some Horchata or Homemade Margarita on the side. Finish the meal with Churros, Bunuelos or Mexican Wedding Cookies.
How to store:
First, make sure the rice has cooled to room temperature. After that, scoop it into a container with a lid. Store in the fridge for up to 4-5 days.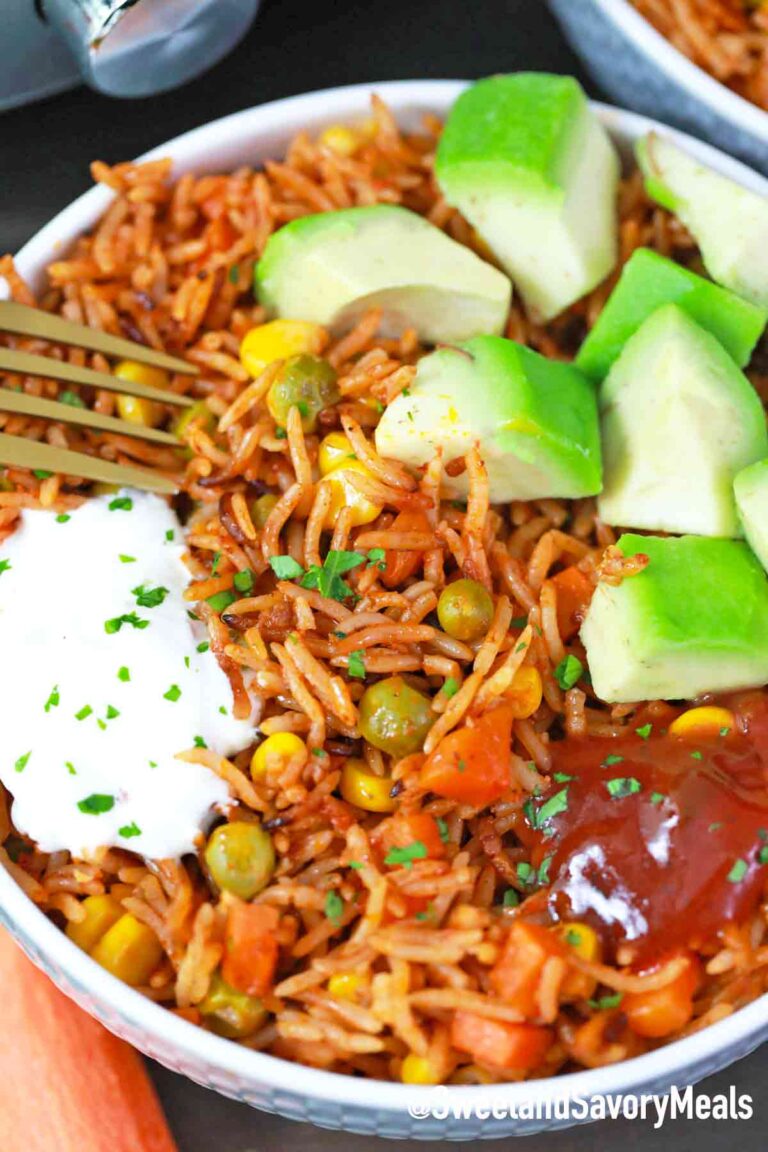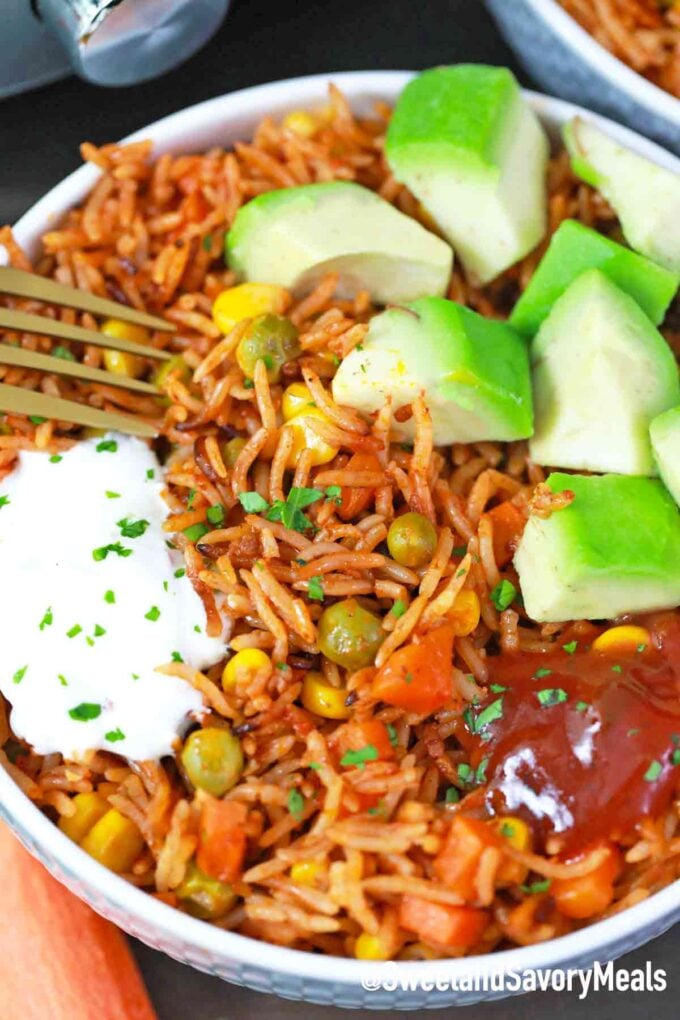 How to Freeze:
First, make sure that the rice has fully cooled.
After that, add it to a freezer-safe container or Ziploc bags.
Next, freeze for up to 3 months.
Defrost and reheat before serving.
More Mexican Recipes:
Is Spanish Rice the same as Mexican Rice?
No, they are not the same thing.
Spanish rice has a yellow color and also used saffron threads to add flavor. Mexican rice uses Taco seasoning or other Mexican-inspired spices and usually has tomato sauce or salsa mixed in.
What toppings can I use?
Salsa
Sour cream
Jalapenos
Avocado
Blank beans
Refried beans
Lettuce
Chipotle sauce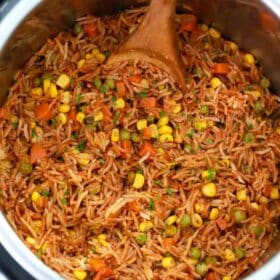 Instant Pot Mexican Rice
Instant Pot Mexican Rice is a dump and cook recipe made with long-grain white rice, veggies, and lots of taco seasoning.
Save
Share
Print
Pin
Rate
Ingredients
1 1/2

cups

long grain white rice

1

tablespoon

taco seasoning

1/4

cup

canola oil

4

cloves

garlic

(minced)

1

small onion

(finely diced)

1/4

cup

tomato sauce

(or salsa)

1/4

teaspoon

salt

1

carrot

(cleaned and diced)

1 1/2

cups

chicken broth

(or veggie broth)

1/3

cup

frozen peas

1/3

cup

corn kernels

(frozen or from a can (drained))
Instructions
Rinse the rice under cold water until the water runs clear. Drain very well.

Turn Instant Pot to saute and once hot add the oil.

Once the oil is shimmering, add rice and saute, stirring very often, until lightly golden, about 5 minutes.

Add the rest of the ingredients and stir to combine.

Turn off Sauet mode.

Lock lid and turn valve to sealed position.

Pressuree cook for 3-4 minutes (3 minutes for tender, or 4 minutes for softer rice).

Once done, allow pressure to naturally release for 10 minutes, after that releease remaining pressure manually.

Fluff the rice with a fork, cover with the lid and let it rest for 5-10 minutes.

Serve topped with chopped parsley, avocado, sour cream and salsa.
Notes
Make sure you rinse the rice to remove the extra starch.
You can dump and cook this recipe, but sauteing the rice will result in better texture and flavor overall.
Use more taco seasoning if desired.
Nutrition
Calories:
289
kcal
|
Carbohydrates:
43
g
|
Protein:
5
g
|
Fat:
11
g
|
Saturated Fat:
1
g
|
Polyunsaturated Fat:
3
g
|
Monounsaturated Fat:
7
g
|
Trans Fat:
1
g
|
Sodium:
426
mg
|
Potassium:
226
mg
|
Fiber:
2
g
|
Sugar:
3
g
|
Vitamin A:
1849
IU
|
Vitamin C:
10
mg
|
Calcium:
28
mg
|
Iron:
1
mg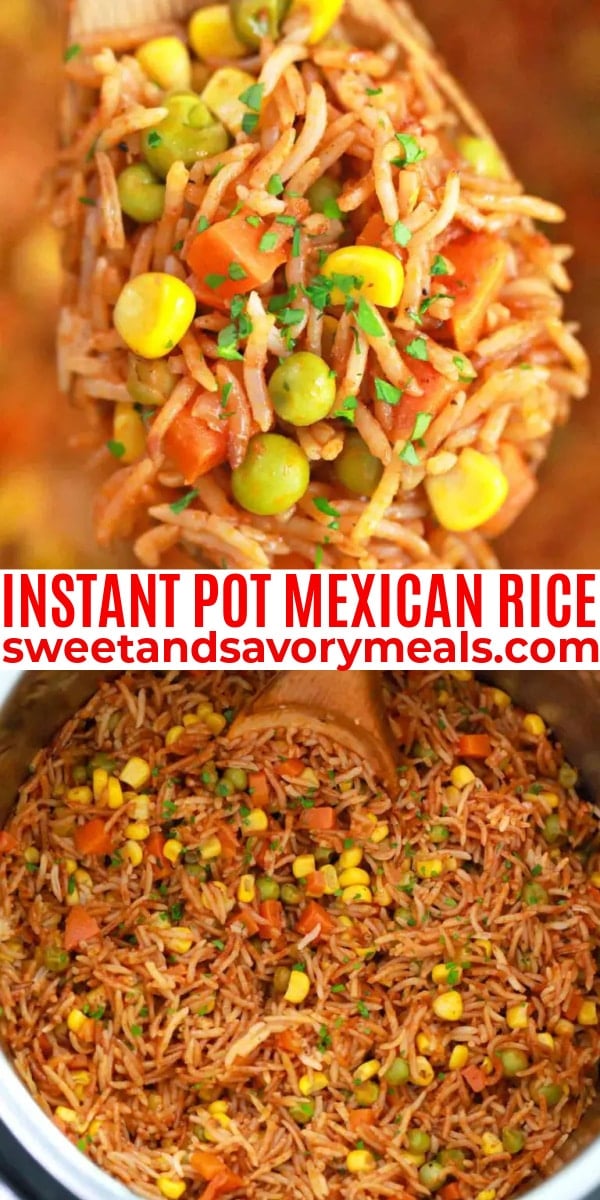 More recipes you might love