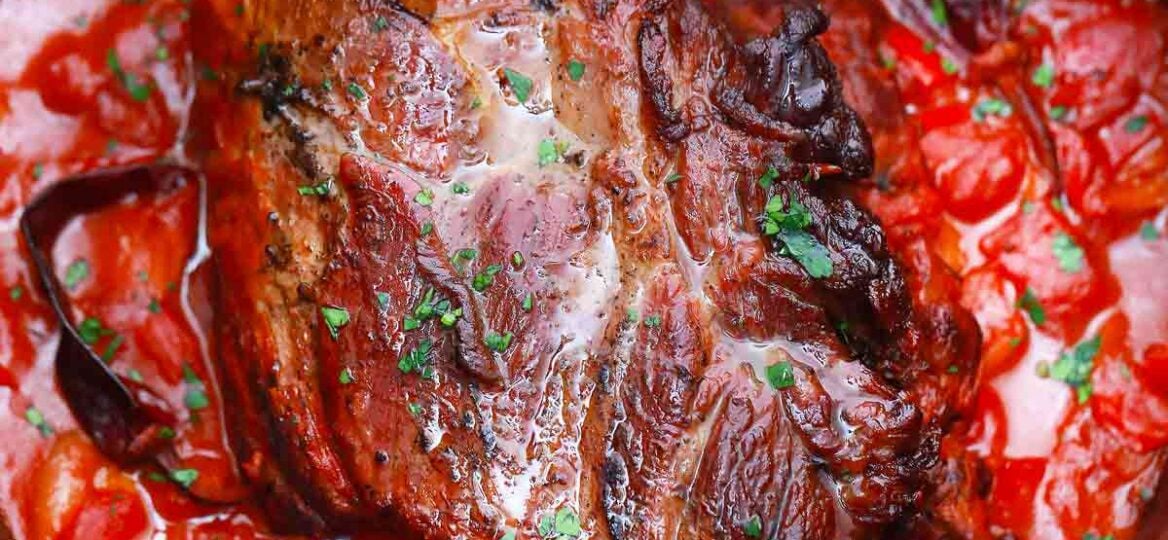 Mexican Pot Roast Recipe [Video]
Mexican Pot Roast is slow-braised in broth, fresh herbs and lime, chili peppers, and a ton of aromatics until unbelievably tender.
Shred and enjoy with rice, nachos, stuffed in burritos, tacos, and more! We've got the perfect Mexican side dishes to go with this recipe! Served it up with Black Bean Salad, Mexican Sweet Corn, plus a Sopapilla Cheesecake for dessert!
Mexican Pot Roast preparation
Mexican Pot Roast is the ultimate comfort food. It has so many delicious things going on making it extremely flavorful and juicy! You've got three kinds of peppers, tomatoes, cilantro, lots of garlic and onions, fresh limes, taco seasoning, and beef stock.
Also, we're cooking the chuck low and slow in all of these fantastic ingredients. After several hours, you've incredibly tender meat just begging to be shredded and enjoyed with fresh, hot rice.
Don't worry about the spice level in this dish because the peppers are more for flavor than heat. It's just hot enough to make you want another bite! Even our kids love the heat in this dish, and it's certain to be one of your latest favorite pot roast recipes!
What's the difference between roast and pot roast?
Roasted food is cooked surrounded by dry heat, like our roasted beef, roasted cauliflower, and whole chicken. On the other hand, you need to submerge the meat directly in liquid to make a pot roast, essentially braising it while covered for hours.
Mexican pot roast ingredients
Chuck beef
Try to get one with excellent marbling.
Vegetable oil
For searing the beef.
Aromatics
Garlic (minced and whole) and onions (diced yellow and quartered red onions).
Chilis
For deep flavor and nice heat, we're combining poblanos, chili peppers, and jalapenos.
Tomatoes and tomato paste
We're using canned diced tomatoes with chiles, plus a little tomato paste to add depth of flavor.
Bell peppers
Dice one each of red and green peppers.
Broth
The beef stock is our primary braising liquid.
Herbs and seasonings
Dice some cilantro, juice, and zest a lime, and prepare a couple of bay leaves plus Taco seasoning. Measure out a little Worcestershire as well.
Garnish
Chop up more cilantro and slices of lime.
Cooked rice
The perfect side for this entrée!
More Beef Recipes:
How to make Mexican pot roast from scratch?
Sear
First, take your chuck, season it really well all over, then brown on all sides. Sear every side until deep brown. Then, remove and set aside.
Saute
Next, stir-fry your onions until soft and lightly caramelized.
Finish the braising liquid
Pour the beef stock in, followed by the tomatoes and paste, all the peppers, herbs, and seasonings. Stir all of them really well, scraping up the brown bits on the bottom of the pot along the way.
Roast
Return your chuck in there, followed by the bay leaves. Cook this for about 3 hrs in a 325F oven.
Serve
Shred the beef, and enjoy with a side of rice plus more limes and cilantro.
Recipe variations:
Use other beef cuts
If you can't get chuck, feel free to sub with brisket and different roasts like bottom round, cross-rib, seven-bone, shoulder steak, and blade. Also, you can even use pork tenderloin or beef tenderloin if you wish.
Milder
Sub Anaheim chiles for the poblano, and use plain diced tomatoes.
Slow-cooker
Sear the chuck, put everything in your crockpot, and mix well—cook on high for 4 hrs and on low for 8 hrs.
Instant Pot
Sear the beef and soften the onions on Saute mode. Deglaze the bottom, then put all liquids and seasonings in the pot. Cook on high for 75 to 100 minutes, depending on how thick your meat is.
What cut of beef is best for shredding?
Chuck and brisket are fantastic for shredding. After long and slow cooking, these cuts become so tender, they literally fall apart at the slightest touch of your fork. While they shred really quickly, they still have a nice bite and texture.
What liquid do you put in a pot roast?
We call it a braising liquid, and the most common option is stock. You can use other liquids like beer, water, tomato paste, vermouth, soy sauce, wines, most types of kinds of vinegar like balsamic, Worcestershire, even sodas like Dr. Pepper for flavor.
Why is the pot roast tough?
You may not have cooked the meat long enough, or the heat was too high. Another reason may be that you used an extra-lean cut without much marbling.
Also, the roast cooking method can produce some of the most meltingly-tender meat you'll ever eat. Still, you have to give it enough time to break down the connective tissues and fat.
How to make pot roast tender?
First, don't rush it. For instance, this recipe needs at least 3 hours in the oven— trust us, every minute is worth it! Also, use organic, high-quality chuck with excellent marbling. The more well-marbled the meat is, the more tender the dish will become. Ensure there's enough liquid in there, so it creates a moist environment inside the Dutch oven.
How to serve Mexican pot roast?
This dish and Cilantro Lime Rice is a match made in heaven! Of course, you can enjoy it with plain brown or white rice, too. We also like eating it in lettuce cups with a healthy squeeze of lime for a low-carb meal.
Also, try stuffing it into a tortilla and melting some cheese on top, or fill up burritos and tacos with the meat plus more tomatoes, lettuce, and your other favorite toppings!
How to store leftovers?
Once your leftovers are cool, transfer them into a big container and cover them with the remaining liquid, so the meat stays moist. Store in the fridge for up to 5 days. For more extended storage, transfer to a freezer baggie with the juices, push all the air out, and freeze up to 3 months. Reheat by defrosting first if frozen, then microwave until hot.
More Pot Roast Recipes:
Mexican pot roast recipe tips:
The quality of beef is key to a great roast! As much as possible, use a well-marbled, grass-fed chuck for best results.
In addition, brown that meat really well to get a beautiful color and meaty flavor! We actually like browning it for about 10 mins each side to really get that color in there.
Use fresh limes because they provide a brighter flavor to the dish.