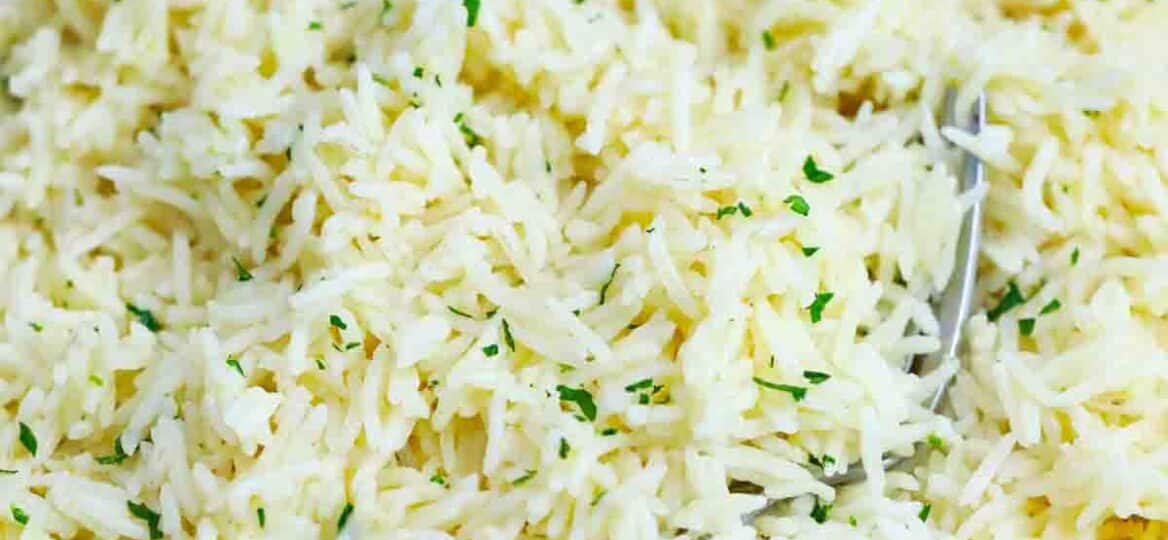 Instant Pot Stick of Butter Rice Recipe
Instant Pot Stick of Butter Rice is the only rice recipe you will ever need again. Once you taste this buttery and fluffy rice, you will never want it any other way. Whether you use long-grain brown rice, white rice, or any other rice with beef broth, chicken broth, or water, you cannot go wrong with this easy recipe.
If you love instant pot recipes, try our Instant Pot Chicken and Rice for a whole meal made with jasmine rice and lemon. Check out our rice recipe for how to make perfectly cooked rice in the instant pot. We used basmati rice but you can use your favorite.
For more instant pot rice recipes, this instant pot rice and beans is a hearty dinner or side dish and our instant pot coconut rice is fast, easy, and delicious. instant pot Mexican rice is also incredible made with veggies like corn and carrots. For more instant pot tips, check out our section on instant pot recipes.
When you cook rice in the instant pot, it cuts your cook time in half. And with this recipe, your stick of butter rice prep time is virtually zero. Just toss in the stick of butter, rice, broth, and soup mix, and you are done. You can eat in minutes.
This recipe is perfect as a side dish or you can make it a whole dinner by adding meat and veggies. For dessert, our easy rice recipe for Instant Pot Rice Pudding is deliciously flavored with sweet milk and cinnamon.
Ingredients needed:
These are the simple ingredients for this instant pot rice recipe. Scroll down to our recipe card for complete instructions and exact measurements.
Butter: Full fat butter is important because it is the main ingredient here.
Onion soup mix
Rice: White rice or long-grain brown rice are both fine for this recipe.
Broth or water
How to make instant pot stick of butter rice recipe?
Mix the ingredients: First add water or broth, the butter, onion soup mix, and rice to the instant pot. Stir thoroughly.
Cover and seal: Then, cover the pot and make sure the pressure valve is set to seal.
Make the rice: Using the manual setting cook button, set the timer for five minutes on high pressure.
Release the pressure: After, let the pot perform a natural release for 10 minutes before changing the valve setting to venting. This will release the rest of the pressure and steam.
Serve: Finally, remove the lid and stir well before serving.
How to make slow cooker stick of butter rice:
Boil: To begin, bring to a boil in a small saucepan over medium-high heat.
Mix in the ingredients: Once it is boiling, pour it into your crock pot and mix in the butter, soup mix, and rice.
Cover and cook: Next, put the lid on and cook on high for two to three hours.
Uncover and serve: Remove the lid, stir, and serve your delicious instant pot stick of butter rice.
Recipe variations:
French onion soup: You can use condensed french onion soup instead of regular.
Other rice: It is fine to use other rice such as basmati rice but the cooking time may be different.
Rice setting: If you have a rice setting, you can use that. Just follow the instructions on your instant pot.
Choice of liquids: You have the choice of using chicken or beef broth, or even beef stock for this recipe. Beef consomme would also give your instant pot stick of butter rice a flavorful kick.
Instant rice: If all you have is instant rice, you can use that but only for one minute with a five-minute natural release.
Mix it up: Whether you use brown rice, regular rice, or whatever you choose, try mixing up the flavor with gravy or sauce like our tangy teriyaki sauce or balsamic glaze.
How to serve:
This super easy instant pot rice dish is ready in less than half an hour and can be served alone or as a whole dinner mixed with steamed veggies and meat. Try one of these serving suggestions or one of your own.
Make this instant pot stick of butter rice a full meal by adding chopped beef steak and steamed veggies.
Add a dash of Worcestershire sauce before serving for extra rich and delicious flavor.
Make it cheesy rice. After removing it from the instant pot, sprinkle a 1/2 cup of your favorite cheese and bake rice in the oven at 400 degrees F for two minutes or until it melts.
This instant pot stick of butter rice is the perfect side dish for any kind of meat such as this instant pot Mississippi pot roast with au jus and ranch dressing mix.
Add in some leftover chicken or pork from last night's dinner for a delicious and filling meal.
Top with green onions or scallions for an extra flavor boost.
Frequently asked questions
What is the best rice for this recipe?
Since you are using the instant pot, long-grain rice is perfect because it can cook longer without getting mushy. White rice will work too or any kind of rice, but you will need to adjust your cooking time. Read your user's manual for the ratio of liquid to rice and how long to cook it.
What is the difference between natural and quick release?
Using a natural instead of quick release just means that you are letting the pressure release on its own. It is often accompanied by a quick release, which is done by opening the steam release valve. Natural release is done to let food continue to cook after the time is up.
Is an instant pot the same thing as an electric pressure cooker?
No, but they are very similar. When you use a pressure cooker, it can reach higher pressure than when using an instant pot. A typical pressure cooker can reach a pressure of 15 while an instant pot can only go to 12 PSI. However, you can do more with an instant pot such as making yogurt, baking and sautéing.
What is the nutrition information for this instant pot stick of butter rice?
For this stick of butter rice, you get 380 calories with 17 grams of fat of which 10 grams is saturated fat. The cholesterol is 40 milligrams, carbs are 51 grams, and sodium is 527 milligrams. But you also get five grams of protein and three grams of fiber.
You can increase protein and vitamins by adding veggies like carrots, peas, and corn as well as meat like beef, chicken, turkey, or pork. Cut down on calories and fat by using water instead of broth or use low-sodium fat-free broth.
You could also use margarine instead of butter, but it will not have the same flavor and fluffiness.
How to store leftovers:
Store: You can store your leftover rice in an airtight container or ziplock bag. This stick of butter rice will stay fresh in the fridge for about four or five days.
Freeze: You can also freeze your butter rice for up to three months.
Thaw: For best results, be sure to defrost your frozen leftovers in the fridge overnight before serving.
Reheat: To reheat, put butter rice in a small bowl in the microwave for one or two minutes, depending on how much you are reheating. Alternatively, you can cook it in the oven in a baking dish for 10 minutes at 350 degrees F uncovered.
More pressure cooker recipes:
Rice cooking tips:
It is important to use full-fat butter, not margarine or light butter. It is the main ingredient in this instant pot stick of butter rice and would not be as flavorful any other way.
Yes, you do need the entire stick of butter for this to be the best rice dish you have ever had.
Cook times vary depending on the size and brand of your instant pot and the kind of rice you use.
You can use your own favorite onion soup mix or make your own.

If you want more vitamins and minerals, chop up some asparagus, zucchini, edamame, or onions.
Instant Pot Stick of Butter Rice
Ingredients
2

cups

long-grain white rice

or long-grain brown rice

2 1/2

cups

low-sodium chicken broth

vegetable broth or water

1

(1 oz)

package onion soup mix

1

stick unsalted butter
Instructions
Add all the ingredients to the Instant Pot.

Close lid and pressure cook at High Pressure for 5 minutes + 10 minutes Natural Release. Turn off the heat. Release the remaining pressure. Open the lid.

Fluff the rice with a fork and serve.
Deliciousness to your inbox
Enjoy weekly hand picked recipes and recommendations