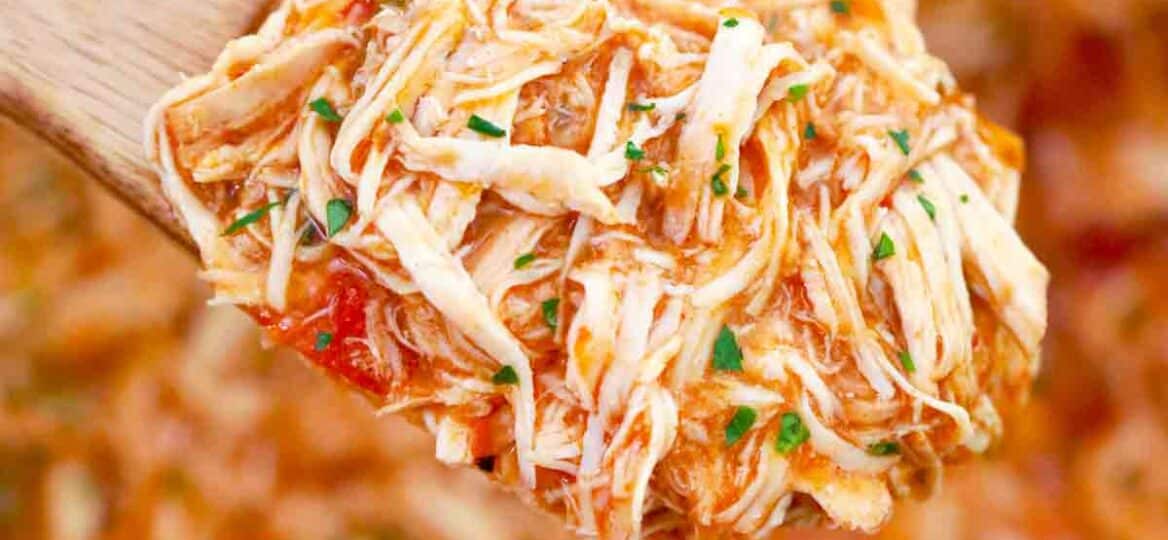 Dump and Cook Instant Pot Mexican Chicken [Video]
Instant Pot Mexican Chicken is a delicious meal made with tender juicy chicken breasts, tasty vegetables, and flavorful spices. Spend a few extra minutes for meal prep and you can have the most amazing Mexican shredded chicken you have ever tasted.
Looking for more instant pot recipes? Our Instant Pot Salsa Chicken recipe with pineapple juice and salsa is amazing and these Instant Pot Chicken Taco recipe flavored with lime, taco seasoning, and broth, are incredible.
With our instant pot Mexican chicken recipe, also known as salsa chicken, you have a tender and juicy chicken smothered with a tangy sauce made of tomatoes, green chiles, Mexican spices, and zesty salsa.
This is perfect to serve over rice or pasta or in your favorite Mexican dishes like tacos, fajitas, or nachos.
For more recipes, you can make in your pot, check out our delicious lineup of instant pot dishes that are fast and easy. You can cook just about anything in an instant pot that you can in your slow cooker or oven in about half the time.
Just need some chicken breasts? You can have them on the table in 20 minutes with our Instant Pot Chicken Breast recipe.
Ingredients needed:
These are the simple ingredients for this Instant Pot Mexican Chicken recipe. For step-by-step instructions and exact measurements, scroll down to our printable recipe card.
Chicken breasts: Boneless skinless chicken breasts work best.
Medium yellow onion: Sliced.
Fresh garlic: Minced.
Cumin: Freshly ground cumin.
Chili powder
Ancho chile pepper powder
Kosher salt
Paprika: We used smoked paprika for its smoky flavor.
Lime juice
Lime zest
Adobo sauce: Try using this delicious recipe for chipotles in adobo sauce.
Mexican oregano: Or regular oregano will work if you cannot find the Mexican kind.
Can fire-roasted diced tomatoes: Drained.
Can diced green chiles: We used mild green chilies.
Salsa: Store-bought or homemade.
Chicken broth: We used reduced-sodium chicken broth.
Liquid smoke: Optional.
For garnish:
Jalapenos: Sliced.
Fresh cilantro: Minced.
How to make instant pot Mexican chicken recipe?
Dump it all in: First, dump all ingredients into your instant pot. You don't even need to stir.
Seal it: Next, secure instant pot lid and set the valve to the sealing position. Then choose the manual or high-pressure cook button, set for 15 minutes.
Release the pressure: After the timer beeps, do a natural pressure release for five to 10 minutes. Then, release any remaining pressure with a quick pressure release.
Shred the chicken: After the pin drops, open and transfer chicken breasts to a large bowl. Shred the chicken using two forks. Set the shredded chicken aside.
Thicken the sauce: Then, mix two tablespoons of corn starch with three tablespoons of water in a small bowl and stir until it is smooth. Then, pour the slurry into the pot with your cooking liquid and saute for several minutes, stirring occasionally until it is thick enough for your preferences.
Mix: Last, add the cooking liquid from the pot to your bowl of shredded chicken and toss until it is coated.
Serve: Finally, serve your instant pot Mexican chicken with a small bowl of sliced jalapenos and fresh cilantro.
Slow Cooker Directions:
Prepare: First, add all the ingredients to your slow cooker or crockpot and stir a bit to combine all the flavors.
Cook: Then, cover the pot and cook on high for four hours or on low for eight hours.

Shred and thicken: Last, shred the chicken with two forks and thicken the sauce with two tablespoons of corn starch and three tablespoons of water.
Serve: Finally, serve the Mexican shredded chicken with tortillas and your favorite sides.
Recipe variations:
Chicken thighs: Alternatively, you can use skinless chicken thighs instead of chicken breasts for your instant pot Mexican chicken recipe.
Powders: You can use 1.5 teaspoons of garlic powder and 1/2 tablespoon of onion powder if you do not have fresh garlic or onions.
Taco seasoning: You could also use taco seasoning instead of chili powder.
Frozen chicken: If you don't have fresh chicken, feel free to use frozen chicken breasts in this recipe.
Other peppers: Use chipotle peppers or extra green chilies for extra spiciness.
Mexican beer chicken: For a unique flavor, use Mexican beer like Modelo instead of the chicken broth in this recipe.
Add cheese: Cheese goes great with anything so add a cup of your favorite to this great recipe.
How to serve:
Serve your instant pot Mexican chicken with warm tortillas and your favorite sides. Or try one of these ideas:
This shredded Mexican chicken is absolutely delicious in chicken tacos or chicken quesadillas.
Be sure to set out some toppings like sour cream, shredded cheese, Pico de Gallo, hot sauce, guacamole, diced tomatoes, and onions.
Your instant pot shredded chicken is perfect to top some healthy rice bowls for dinner. Or you could just pour it over rice for a hearty meal.
Another great way to serve your instant pot Mexican chicken is this chicken fajita soup recipe.
Use leftovers to add some great flavor to our instant pot chicken nachos.
Our rice and beans recipe with black beans and brown rice would taste even better with this shredded chicken.
Frequently asked questions
Can you overcook chicken in an instant pot?
It is really difficult to overcook anything in the instant pot if you follow the recipe carefully and this includes chicken.
Overcooking chicken usually ends up hard and dry but cooking it in the pot makes it juicy and moist every time.
What is the difference between an instant pot and a pressure cooker?
Generally, an instant pot is safer and easier to use than a pressure cooker. When you are pressure cooking, you run the risk of the pressure building up and causing an explosion.
However, a pressure cooker cooks at a higher pressure than an instant pot, so it cooks faster.
Can I use my instant pot for raw chicken?
Yes, making raw chicken in the instant pot is fine. In fact, that is what this recipe calls for.
Since you will be using shredded chicken, you want to make sure it is cooked thoroughly so check the temperature before serving.
Why is my chicken rubbery?
Rubbery chicken could mean that it was cooked too long or not long enough. Check the internal temperature to find out. If it is over 165 degrees F, you overcooked. Anything under 165 needs a longer cook time.
Even if you overcooked your chicken, no need to panic. Since you are making Mexican shredded chicken, just pull it apart with two forks and add it back to the juice. You will not even know it was overdone.
How to store leftovers:
Store: After your chicken cools to room temperature, transfer it to an airtight container, place it in the fridge, and use it within five days.
Freeze: Feel free to freeze your Instant Pot Mexican Chicken for three to four months.
Thaw: Thaw overnight in the refrigerator before serving for best results.
Reheat: To reheat, put the chicken in a microwave-safe dish and heat for one to two minutes depending on how much you are reheating. Alternatively, cook it in a saucepan on the stove over medium heat until it is heated through. You may have to add more liquid if it is too thick.
More Mexican recipes:
Pressure cooker Mexican chicken cooking tips:
If your sauce is too thin, add more corn starch and water slurry to thicken it up.
Alternatively, if you feel the sauce is too thick, add some chicken broth to thin it out a little.
If you want to brown your chicken breast, add a drizzle of olive oil to the pot and saute for a few minutes before adding the rest of the ingredients.
Chicken breast needs to be 165 degrees F to be fully cooked.
Try using our homemade taco seasoning instead of chili powder.

If you use frozen chicken breasts, increase the pressure cook time to 17 to 19 minutes.
Also, the cooking time may vary depending on the size and brand of your pot.
Instant Pot Mexican Chicken
Ingredients
To cook the chicken:
5-6

chicken breasts

boneless and skinless

1

medium yellow onion

thinly sliced

4

cloves

garlic

minced

1 1/2

teaspoons

ground cumin

2

teaspoons

chili powder

3/4

teaspoons

ancho chile pepper powder

1

teaspoon

smoked paprika

1

teaspoon

lime juice

1

teaspoon

lime zest

1

tablespoon

adobo sauce

optional

1/2

teaspoon

oregano

15

oz

can fire-roasted diced tomatoes

drained

4

oz

can diced green chiles mild

1

cup

salsa

red or green

1

cup

chicken broth

reduced sodium

1

teaspoon

liquid smoke

optional
Slurry:
2

tablespoons

cornstarch

4

tablespoons

water
Garnish:
Fresh jalapenos

sliced

Fresh cilantro

chopped
Instructions
Add all ingredients from the "to cook the chicken" section to the inner pot of the Instant Pot, starting with the chicken breast and layering the rest of the ingredients. No need to stir.

Close the lid, and make sure the valve is set to "sealing".

Press the Pressure Cook or Manual button and use the +/- buttons to set the timer for 15 minutes.

Once the timer beeps, do a 10 minutes Natural Pressure Release, then open the valve to release any remaining pressure. When the pin drops, carefully open the pot.

Use chicken tongs to remove the chicken breasts to a large bowl and shred them using two forks.

In a small bowl, stir together the cornstarch and water until smooth.

Click on saute and add the mixture to the pot. Cook for several minutes, stirring often until the sauce thickens.

Toss the shredded chicken with as much of the sauce as you'd like and serve topped with cilantro and jalapenos.
Deliciousness to your inbox
Enjoy weekly hand picked recipes and recommendations