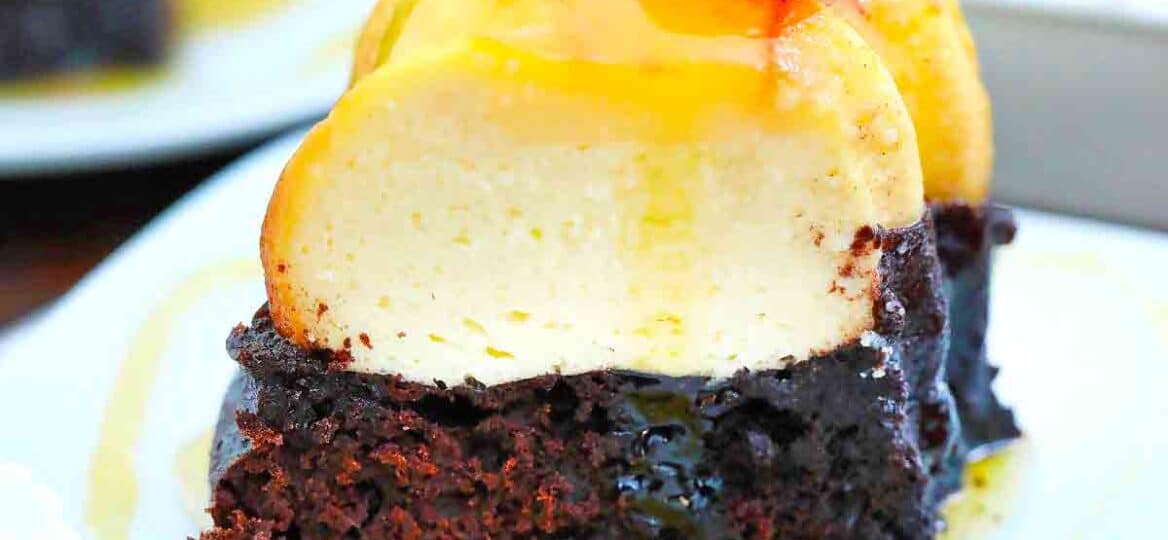 Chocolate Flan Recipe [Video]
Chocolate Flan is a light and fluffy dessert with a rich chocolate cake, creamy chocolate flan layer, and gooey caramel topping. It is so pretty, it can be used for a special occasion, or you can have it anytime you want something sweet.
If you enjoyed this recipe, try this Perfect Creme Brulee. It is easy to make with vanilla, eggs, and heavy cream. Looking for something different? Try our Easy Homemade Key Lime Pie with lime juice and a creamy topping.
This chocolate flan looks and tastes like it came from a fancy bakery, but it is so easy to make. You can have it ready and on the table in under two hours, including the one-hour chill time.
Make this dish your own by adding some of your family's favorite flavors such as peppermint extract or grated cinnamon sticks. Dulce de leche is also a delicious addition. No matter what you add, it will be delicious.
Another creamy dessert that is worth trying is this Panna Cotta made with vanilla Greek yogurt, gelatin, and heavy cream.
Ingredients needed:
These are the simple ingredients for this chocolate flan recipe. Scroll down to our recipe card for complete instructions and exact measurements.
For the Caramel:
Sugar: Granulated white sugar.
For the Flan:
Eggs: Large eggs at room temperature.
Table cream: Any cream that is 18% to 30% fat.
Cream cheese: Full fat works best.
Vanilla: 100% vanilla extract.
Sweetened condensed milk
Evaporated milk
For the Chocolate Cake:
Chocolate cake mix
Ingredients on box
How to make chocolate flan recipe?
For the caramel:
Make the caramel: First, pour the sugar into a non-stick medium saucepan over medium heat and let it boil. It will start forming in about five minutes but keep stirring to prevent lumps. The lumps that form at the beginning will slowly melt away as the caramel cooks. When it is golden brown and smooth, it is done.

Pour the caramel: Next, pour the hot caramel into a greased bundt pan and move it around so it covers the bottom of the pan. Be sure to use oven mitts or you may get burnt.

Cool: Last, let it cool for about 10 minutes before adding the chocolate mixture.
For the Flan:
Preheat: First, preheat oven to 375 degrees F and prepare the cake pan by spraying it with nonstick cooking spray and set it aside.
Make the flan: Then, put all the ingredients in a blender and mix on high until it is completely smooth.
Pour: Next, pour the chocolate flan into the pan on top of the caramel.

Water bath: Cover the bundt pan with aluminum foil and use the hot water bath method to bake at 375 degrees F for 35 minutes on the middle oven rack. The flan should be partially firm but not all the way.

Remove: Take it out of the oven and remove the foil. Let it cool completely on a wire rack.
For the Chocolate Cake:
Make the cake: First, using the instructions on the box, prepare the cake batter.

Bake: Immediately, pour the chocolate mixture into the pan on top of the chocolate flan and bake uncovered for another 40 minutes at 375 degrees F on the same oven rack or until it passes the toothpick test.

Cool: Last, remove cake pan and let it cool to room temperature on a wire rack before chilling it for at least one hour in the fridge.
Serve: Finally, remove the chocolate flan from the pan and place on a serving plate. Keep refrigerated until you are ready to serve.
How to serve:
This creamy chocolate flan is perfect for any dessert whether it is a special occasion or just because you love chocolate flan. This cake is so pretty, you do not need to decorate it at all, just put it on a serving plate. Or you can try one of these ideas:
Serve this delicious chocolate flan with a large bowl of fresh fruit.
A dollop of our homemade on top is perfect.
Add chocolate shavings on top for a more festive look.

For a richer dessert, drizzle some homemade dulce de leche on top of the cake.
Pour some chocolate syrup over the top of the cake before serving for extra chocolate flan.
You could also use strawberry sauce on top of this decadent chocolate flan.
Frequently asked questions
What is a water bath?
When you want to cook food that needs to stay moist, a water bath is the best thing.
For an easy water bath, put your cake in a large roasting pan with about two inches of water in it. Then, put the cake into the roasting pan before baking. It will keep the cake from cracking.
Is flan French or Mexican?
Although it gets its name from the French word flaon, which means flat cake in German, it originated in ancient Rome like many of our favorite recipes.
But it was the Spanish who really enjoyed the dish and made it their own.
Spanish flan was first made in 1518 and was taken to a whole new level by adding caramel sauce as well as chocolate, coffee, and other flavors.
The Mexican chocolate flan recipe may be a bit different than traditional flan, but all chocolate flan is basically the same.
What is the difference between flan and egg custard?
Both flan and custard are made with an egg mixture, but custard is typically used as a filling or topping for pastries and other desserts.
However, custard can be set with gelatin or starch instead of eggs while flan is always made with eggs.
Also, the Mexican chocolate flan recipe uses evaporated milk and sweetened condensed milk with the eggs.
It is also served with caramel topping or a caramel base. Many consider hot custard to be the same as flan, it just depends on the recipe.
What is the difference between flan and creme brulee?
Both chocolate flan and creme brulee are made with caramel on top. However, the caramel on the flan is soft while the brulee has hard caramel.
To make the caramel hard, it is cooked with a kitchen torch already on top of the flan mixture.
How to store leftovers:
Store: Let your chocolate flan cool down to room temperature before placing it in an airtight container. It will stay fresh in the fridge for five days.
Freeze: Cover with plastic wrap and place flan in a freezer bag in the freezer for up to three months.
Thaw: You should thaw overnight in the fridge but keep it chilled until ready to serve.
More Mexican recipes:
Deliciousness to your inbox
Enjoy weekly hand picked recipes and recommendations