Instant Pot Flan Recipe [Video]
Instant Pot Flan has a rich and creamy custard base infused with orange, vanilla, and rum, then topped with golden caramel sauce. This perfect treat only needs SIX minutes in the Instant Pot!
This delicate dessert tastes and looks fancy, which makes it one of our go-to recipes for parties just like our Panna Cotta, White Chocolate Creme Brulee, and Strawberry Mousse!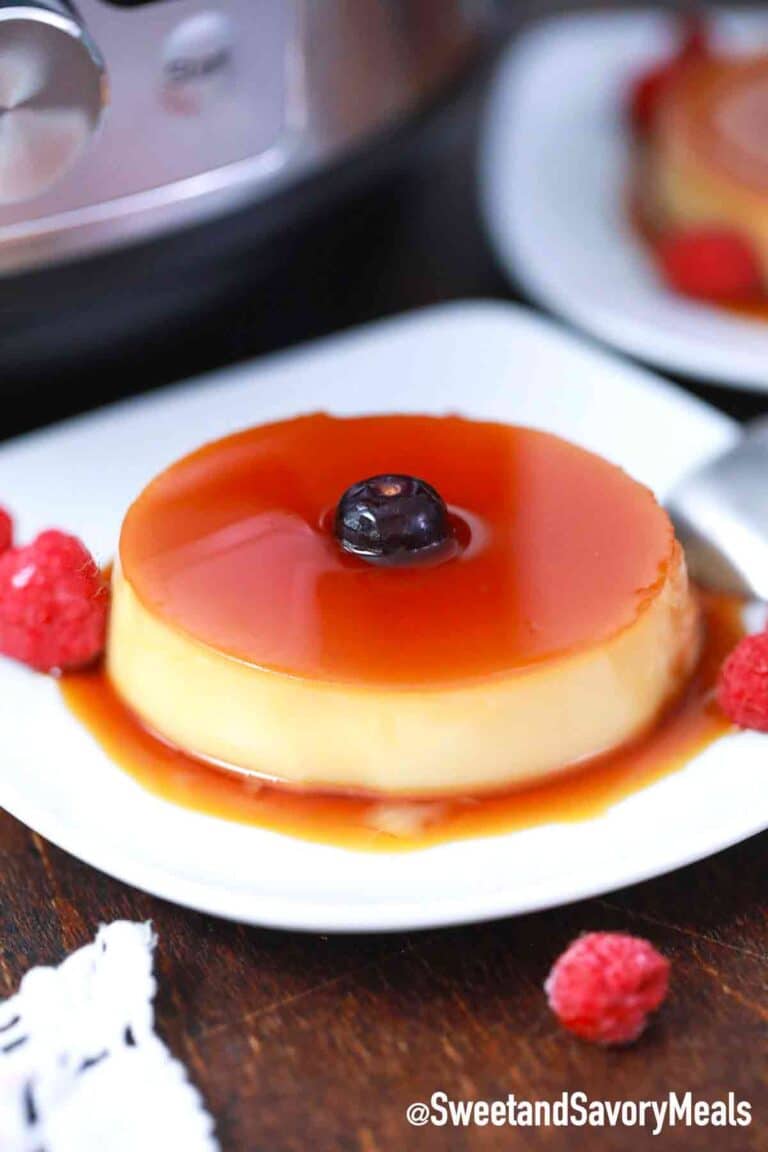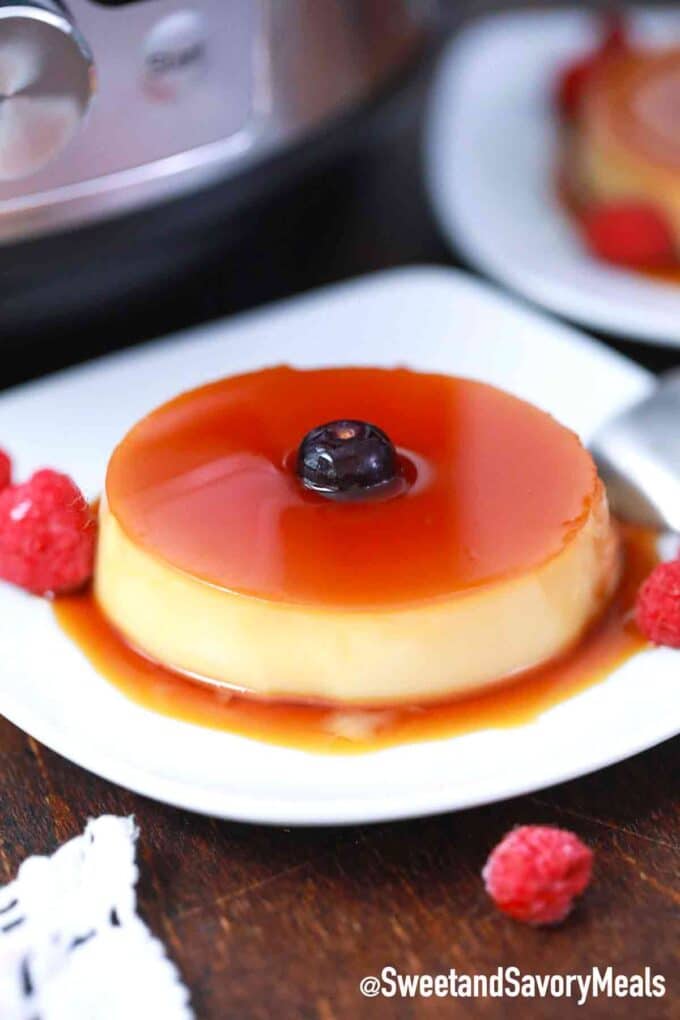 Instant Pot Flan Recipe
Instant Pot Flan puts together the simplest ingredients like fresh eggs, flavorings, milk, and sugar, then turns them into a showstopping dessert. What you get is a rich, tender custard covered with delicious caramel.
In addition, the rum extract and orange zest give it a complex, refreshing flavor that cuts through the richness. Taking only 6 minutes in the IP, this flan recipe is practically fool-proof and comes out perfect every time!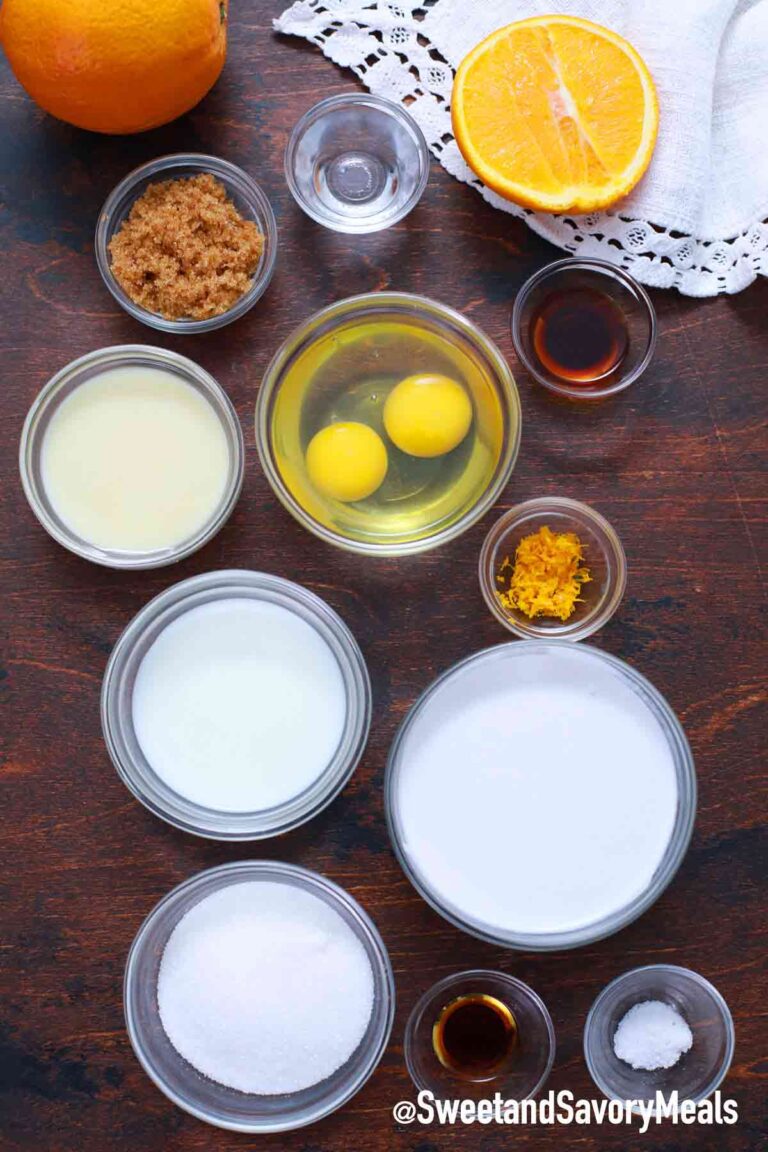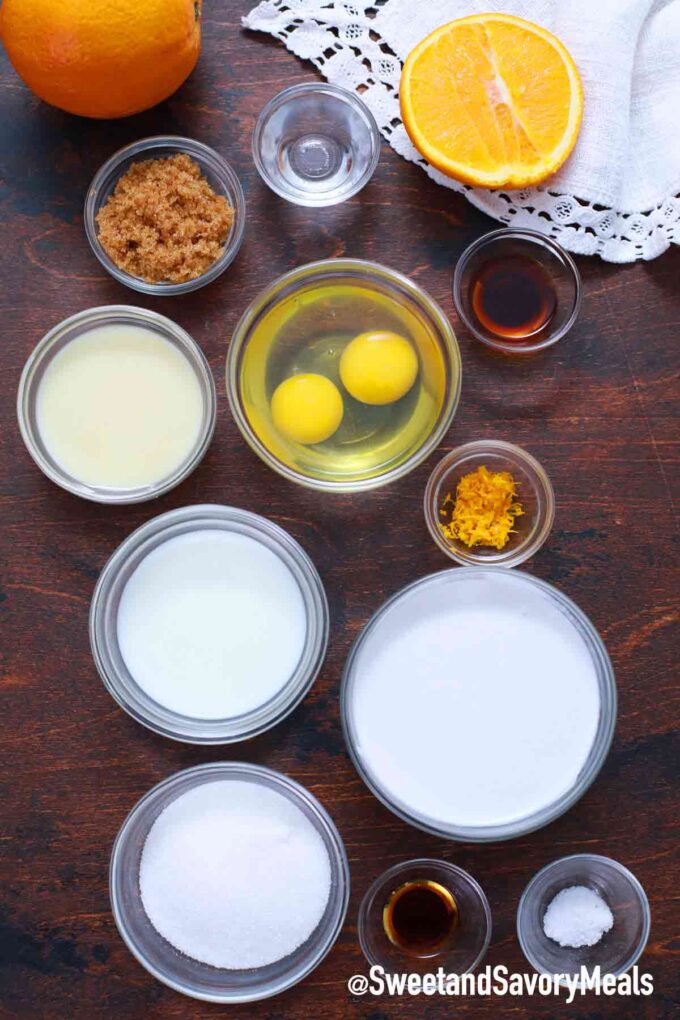 What is a flan?
This dessert has Latin, Spanish, and Mexican roots. The main elements are an egg/milk-based custard with a caramel topping, which is usually steamed or baked in a water bath.
Ingredients for homemade Instant Pot flan
Sugars: We're caramelizing a combo of brown and white sugars for this recipe. Aside from sweetness, it also adds a beautiful deep-brown sheen to this dessert.
Hot water: Most importantly, it loosens up our caramel so we can pour it into the jars.
Milk: Three kinds of milk go into this extra-creamy custard— whole milk, sweet condensed, and coconut milk!
Egg: Two pieces plus an egg yolk give both structure and richness to the custard, plus a lovely golden color.
Flavorings: Finally, we're infusing this with vanilla, tart orange zest, plus a splash of rum extract for complexity. A dash of salt brings all the flavors together.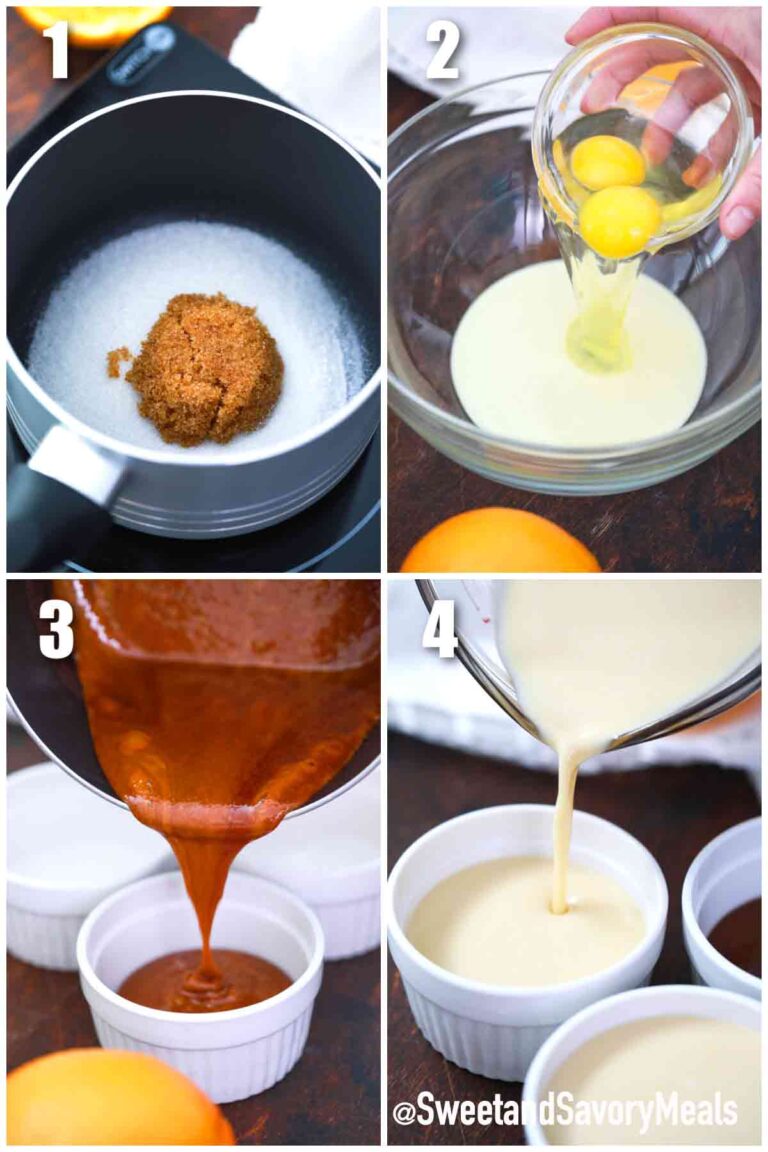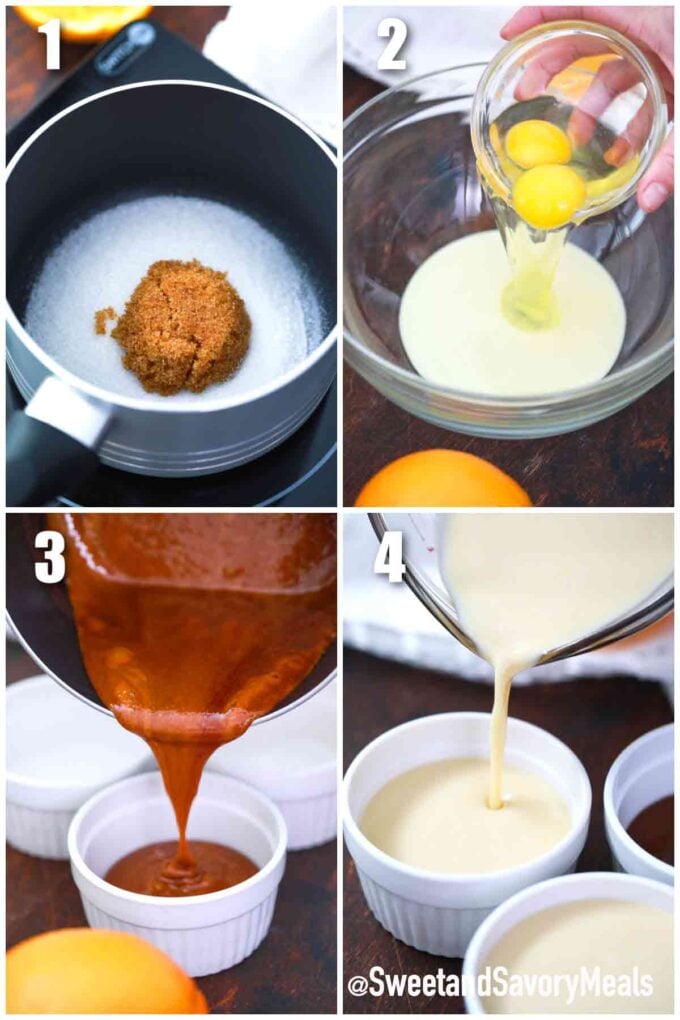 How to make Instant Pot flan from scratch
Make the caramel. Spread both sugars in your pan, then place it over medium-low heat, and DON'T TOUCH IT. Equally important is to wait for it to melt before swirling the pan around so there's an even melt.

Let it melt and keep watch until it turns a deep golden, then remove ASAP from the heat before stirring in the hot water. Lastly, divide the liquid caramel equally between your jars.
Heat the milk up. First, add your coconut milk and whole milk, then heat both up just until you see bubbles around the edges, but DO NOT BOIL.

Bring your custard together. Next, whisk all your eggs together with the condensed plus the salt, then stir in your hot milk. Follow this up with the flavorings.
Sieve. Strain to get rid of lumps. Divide into the caramel-coated jars.
Cook. Carefully arrange the pots on your trivet, then place in the IP with a cup of water on the bottom. Cook for 6 minutes, then let the IP release steam for 10 minutes before opening the valve to finish.

Cool. At room temp, leave the jars on the counter for 30 mins, after that, chill in the fridge until cold.
Serve. Lastly, loosen the flans with a knife and invert them onto your serving plates. Enjoy!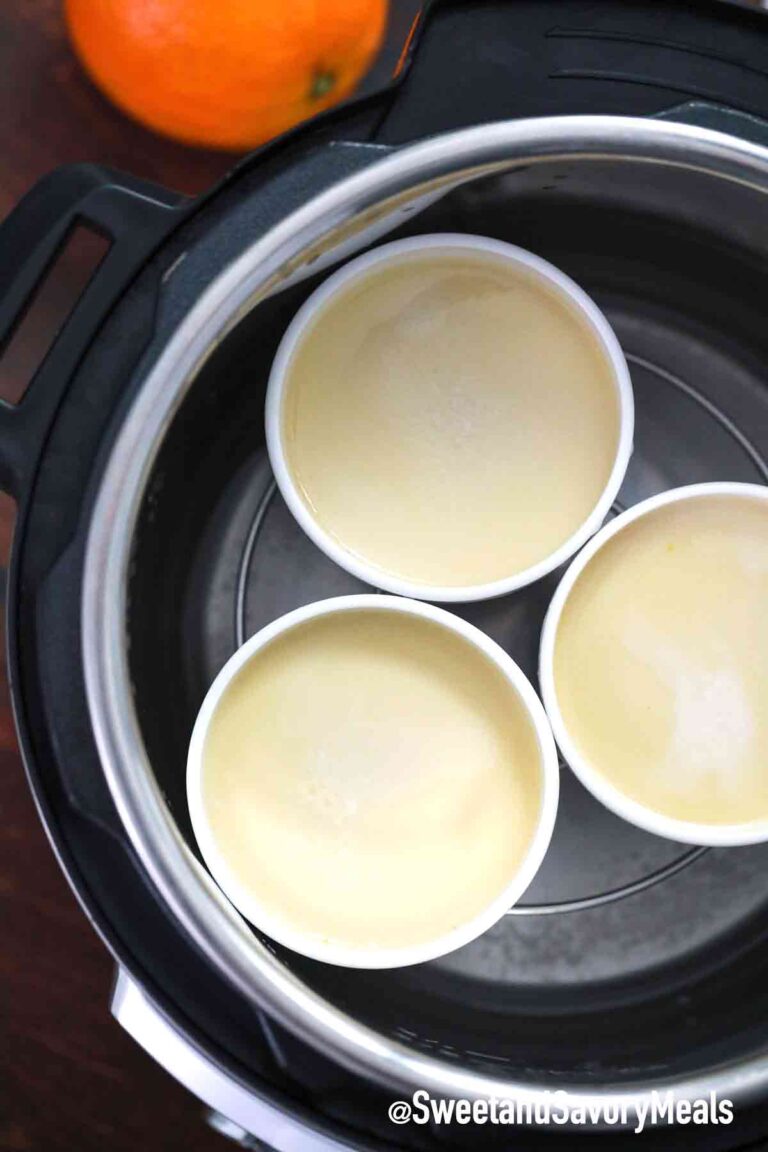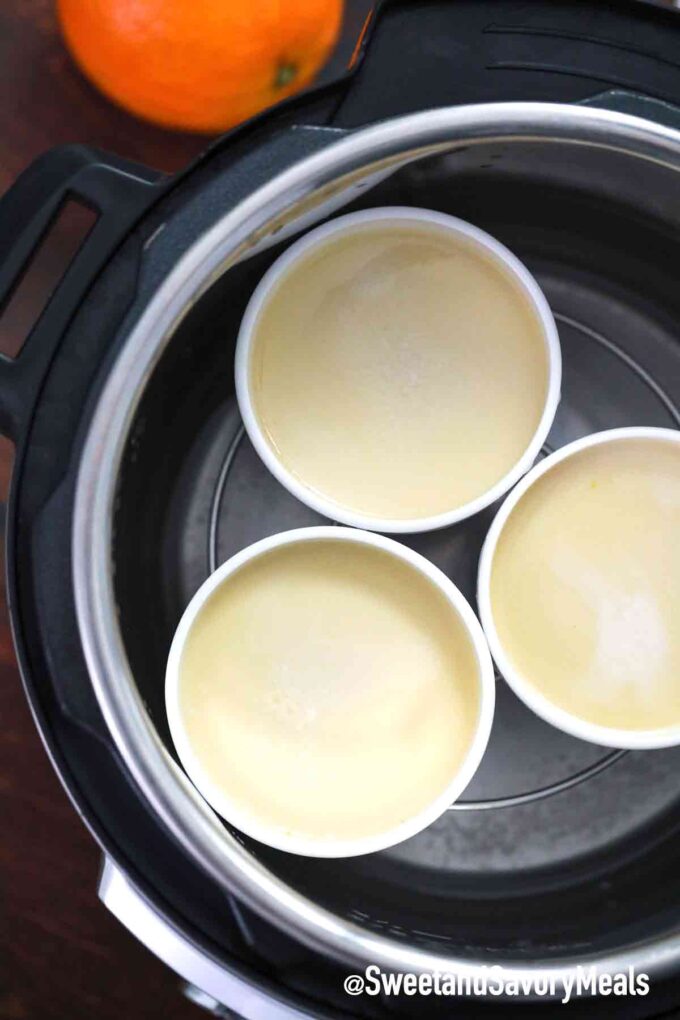 Recipe variations and substitutions:
Coffee: Infuse the hot milk with some instant espresso powder for a delicious coffee hit.
Chocolate: Mix in some cocoa powder into the milk for a decadent chocolate version!

Vanilla: Skip the zest and rum extract. Instead, steep a vanilla pod into the hot mixture.

Berry: Blend some fresh strawberries, blueberries, blackberries into the condensed mixture until smooth.
Another citrus: You can also use lime or lemon zest for a tangier flavor.
Extracts: Aside from rum, try using your favorite fruit and flavor extracts to infuse the custard.
Frequently Asked Questions
Should I cook on Low or High pressure?
For this recipe, on high. First, it's quicker (just 6 minutes!) Next, we need that high pressure to cook the custard evenly.
Can you use a springform pan for the Pressure Cooker Flan?
We don't recommend it, since it can seep out of the cracks. But if that's all you have, cover the outside with a double layer of foil before starting the recipe to protect against seepage.
Can you over-cook flan in the pressure cooker?
Yes and that's why it's important to follow the cook times – both the pressure-cooking part and the steam-release instructions. If you leave your flan in there, it will quickly overcook from the residual steam and pressure.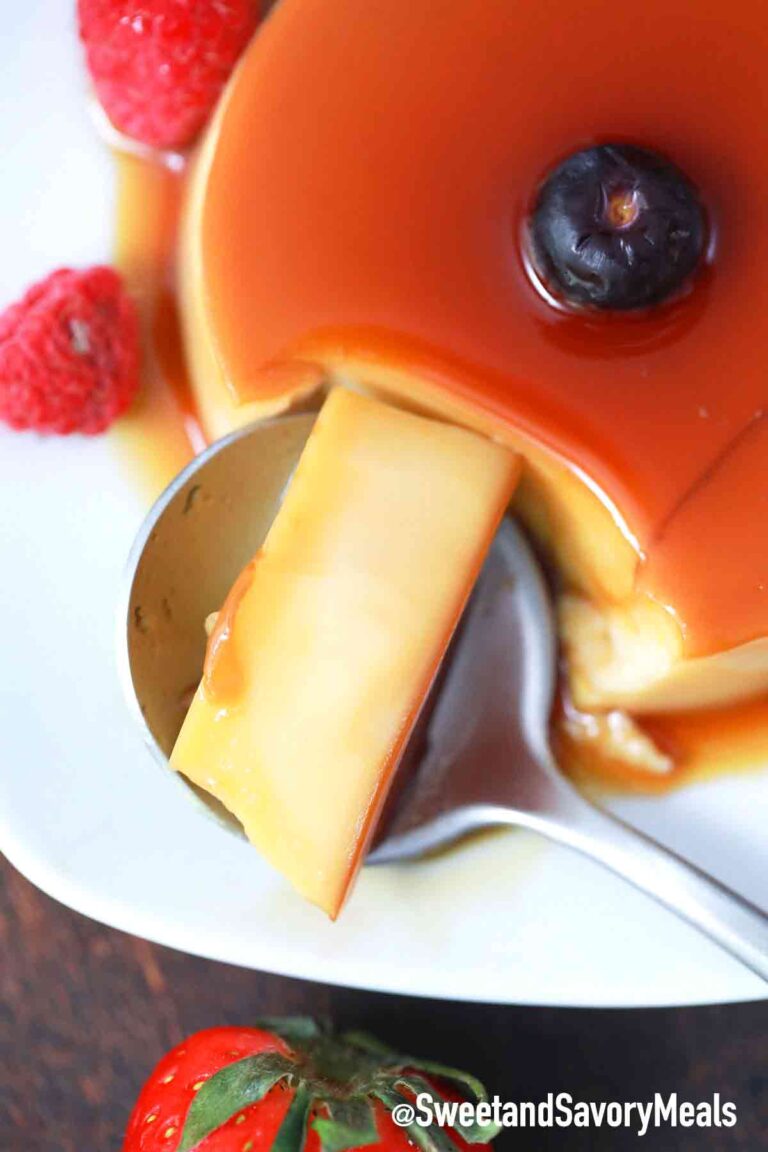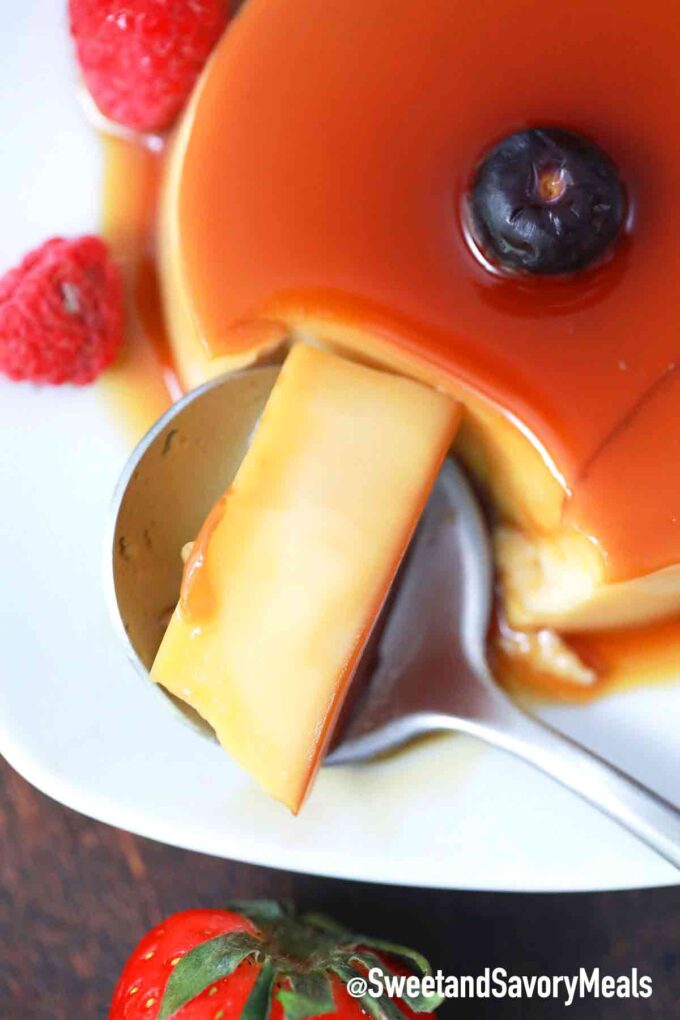 What goes with Instant pot flan?
A squirt of whip cream plus a light dusting of zest turns this into a delicious dessert that looks elegant, too! We also love serving it with sliced fresh fruits, crushed nuts, and shredded coconut for texture. Got a sweet tooth? Try it with ice cream!
More pressure cooker desserts to try:
Storing instructions:
First, cool them down, preferably in ramekins/jars so they keep their shape. After that, cover with both cling and foil (you want to avoid moisture getting into the dessert and changing its texture), then store in your fridge for up to 5 days.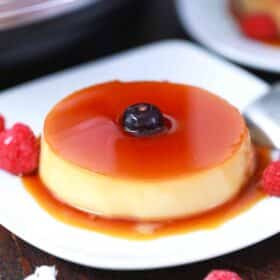 Instant Pot Flan
Instant Pot Flan has a rich and creamy custard base infused with orange, vanilla, and rum, then topped with golden caramel sauce.
Save
Share
Print
Pin
Rate
Ingredients
1/2

cup

white granulated sugar

1/4

cup

dark brown sugar

1 1/2

tablespoons

hot water

1

cup

canned coconut milk

(full-fat)

1/3

cup

whole milk

1/3

cup

sweetened condensed milk

2

large eggs

1

large egg yolk

(lightly beaten)

1

tablespoon

orange zest

Pinch

of salt

1

teaspoon

vanilla extract

1

teaspoon

rum extract
Instructions
Place a small heavy saucepan over medium-low heat, spread sugars over the bottom, and cook, without stirring until it begins to melt.

After that, cook, stirring constantly, until melted sugar turns a deep amber color, about 2-3 minutes.

Immediately remove the saucepan from heat and carefully stir in hot water until fully combined.

Quickly pour the mixture into 6 hot 4-ounce jars (you can place the jars in boiling water before that).

In a small saucepan over medium heat, combine coconut milk and whole milk and stir until bubbles form around the sides of the pan, but do NOT boil. Remove from heat.

In a large bowl, whisk condensed milk, eggs, egg yolk, and salt until just blended but not foamy.

Slowly stir in hot milk, stirring all the time. After that stir in vanilla, rum, and orange zest.

Strain the mixture through a fine sieve and after that pour the mixture into the prepared jars. Cover each jar with foil tightly.

Add a trivet to the 6-qt. Instant Pot and also add 1 cup of water.

Arrange the jars on the trivet, offset-stacking as needed.

Place the lid and lock it, make sure to close the pressure-release valve.

Pressure-cook on high for 6 minutes, after that, let the pressure release naturally for 10 minutes; quick-release any remaining pressure.

Cool jars for 30 minutes at room temperature and after that refrigerate until cold, about 1-3 hours.

Run a knife around the sides of jars and invert flans onto dessert plates.

Serve with fresh berries on the side.
Notes
Don't take your eyes off the caramel! Once it takes on an amber color, take it off the heat right away. It only takes a second to burn caramel, and you don't want burnt sugar in this dessert.
You can skip sieving the custard if you like. It will still turn out delicious, but we prefer having a very smooth custard.
Cooling and chilling this treat are a must. You need to give it time to firm up.
Nutrition
Calories:
285
kcal
|
Carbohydrates:
38
g
|
Protein:
5
g
|
Fat:
13
g
|
Saturated Fat:
10
g
|
Trans Fat:
1
g
|
Cholesterol:
94
mg
|
Sodium:
59
mg
|
Potassium:
227
mg
|
Fiber:
1
g
|
Sugar:
37
g
|
Vitamin A:
198
IU
|
Vitamin C:
3
mg
|
Calcium:
93
mg
|
Iron:
1
mg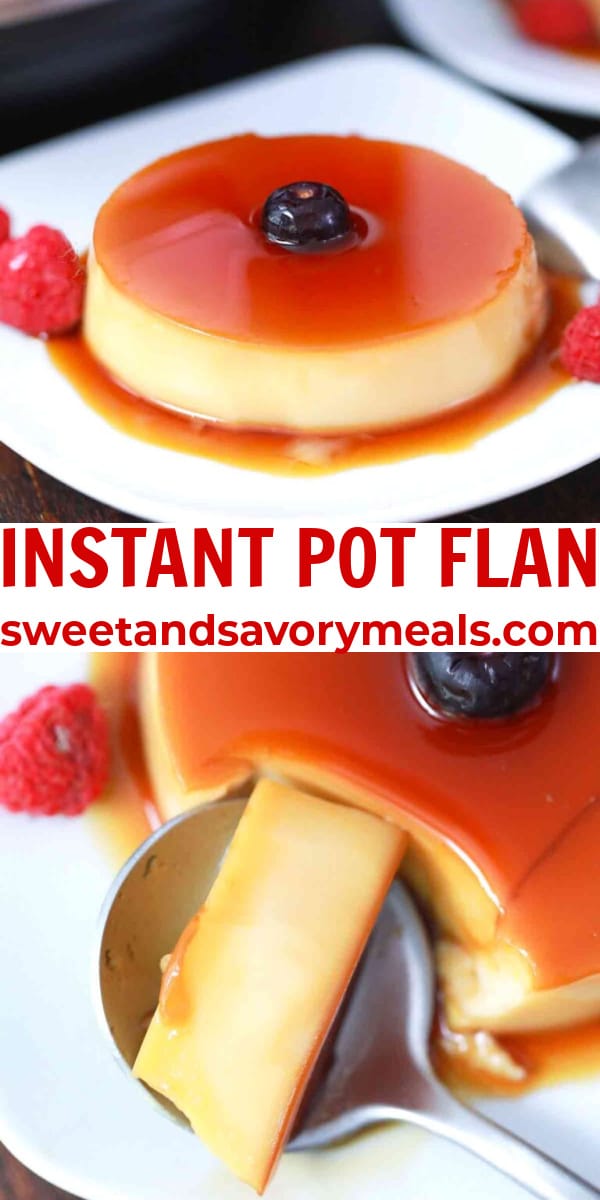 More recipes you might love