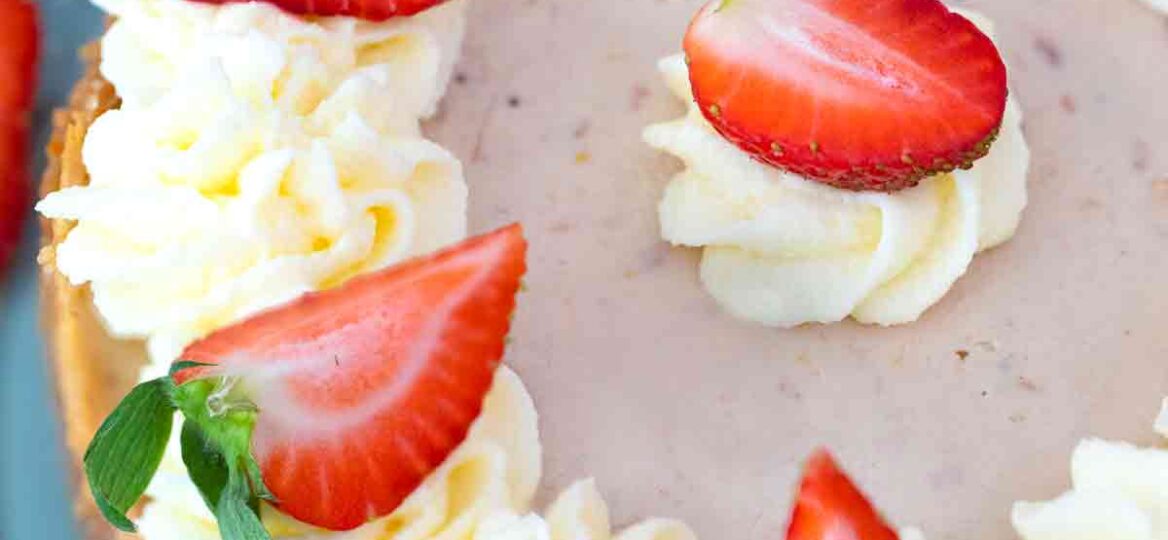 Instant Pot Strawberry Cheesecake [Video]
Instant Pot Strawberry Cheesecake is velvety smooth, flavored with lemon, strawberry Jell-o, and jam, then topped with fresh berries and whipped cream! An elegant dessert that takes very little effort!
Got some extra strawberries lying around? Turn them into mouthwatering desserts like this Strawberry Mousse, Strawberry Ice Cream, and THE BEST Strawberry Poke Cake!
Pressure Cooker Strawberry Cheesecake
Instant Pot Strawberry Cheesecake is insanely creamy, smooth, and absolutely packed with pure strawberry flavor with hints of fresh lemon. There's no baking involved at all because we just freeze the crust instead of blind baking it. Therefore, the result is an easy, low-effort dessert that's always a hit with any crowd!
Can you make desserts in the instant pot?
A big YES! In fact, some of our favorite treats are done in the Instant Pot, it makes the most perfect Apple Cake, Chocolate Muffins, Crème Brulee!
We've made cheesecakes in the Instant Pot too (that's how we know it works!), such as these amazing carrot cake, Oreo, and key lime flavors. On the other hand, if you've never made desserts in your IP, you're going to love it even more!
What do you need to make Instant Pot Strawberry Cheesecake
For the batter:
Cream cheese: Use the kind in blocks, not the spreadable ones. Also, leave it out for a couple of hours so it's at room temp before you use it.
Sugar: Around less than a cup of white sugar gives this dessert the perfect sweetness.

Cornstarch: Equally important to use it, as this helps the batter firm up.
Eggs: Adds richness to the batter while giving it structure at the same time.
Sour cream: Enhances the creamy tanginess of this treat!
Flavorings: For that signature tartness, we're using a combo of lemon juice and zest, a dash of vanilla. Strawberry jam and strawberry-flavored jello give it that fruity burst!
For the crust:
We're using crushed graham crackers (use a food processor to get very fine crumbs), a little sugar, and a dash of cinnamon, plus some melted butter to help it all come together.
For the toppings:
Chop up some strawberries and prepare whipped cream— we're piling this onto our delicious cheesecake!
How do you make Instant Pot Strawberry Cheesecake
Flash-freeze the crust. First, combine all the crust components, press very firmly into your pan, and freeze for a minimum of 20 mins.
Whip up the batter. Afterward, begin with the cream cheese, beating it until fluffy and lighter color before adding your cornstarch and sugar. After this, mix in the egg a piece at a time. In addition, beat in all the flavorings.
Assemble. Next, fill the frozen crust with the batter and cover the entire pan very tightly with foil.
Cook. After that, in your IP, pour in 1.5 cups of water before placing the trivet. At last, very carefully place the pan on top of it and set the IP to 30 mins., then just the steam comes out naturally for about 30 mins.
Cool. Finally, leave the pan on a rack for an hour, before chilling in the refrigerator for at least 6 hrs., and overnight.
Serve. Load up with fresh, chopped strawberries and cream just before serving. Slice and enjoy!
Recipe Variations:
Try a different crust: Instead of graham crumbs, use crushed Oreos or gingersnaps.

No-bake: Light but equally fruity and rich, this no-bake version is another winner.
Keto: Following a low-carb meal plan? Enjoy the same delicious cheesecake flavors, keto-style!
Other fruits: You can switch out the jam with mango, cherries, blueberry, and other fruits.
Chunky: Mix in some chopped strawberries into the batter. This way, there are juicy bits of fruit in every bite!
Frequently Asked Questions
Can strawberry cheesecake be made with fresh strawberries?
Yes! However, we do recommend processing it into jam firsthis way, you end up with a smooth cheesecake. We've got this super easy Instant Pot Strawberry Jam recipe you should try!
Why are there surface cracks on my Instant Pot Strawberry Cheesecake?
That often happens if you forget to run a knife around the pan to loosen the cake. As a consequence, if you don't release it early on, the cake will naturally pull away from the pan and cause the surface to crack.
Why causes Instant Pot Cheesecake to be runny?
It may need more time to firm up in the fridge. Therefore, that's why we recommend chilling it for at least 6 hrs., but it's best if you can leave it overnight. Otherwise, freshly baked cheesecake is too soft and runny.
How to fix a runny instant pot cheesecake?
First, try to give it more time in the fridge. Secondly, as it cools down, it will continue to thicken up and solidify.
Also, you can cook it a little more in the IP if it's not done after 30 mins. yet. Keep in mind, that this recipe is much more forgiving than the regular baked version!
Do you need to cover the cheesecake when you bake it in the IP? Why?
Yes, we highly recommend it. First, it allows the batter to cook evenly. Next, it prevents any water from getting into the cake. Finally, it prevents the batter from overflowing.
How do I know when my instant pot cheesecake is done?
Test the temp— the middle should be about 140F to 150F, visually, it should be solid around the edges, but still a little jiggly in the middle.
Should cheesecake be jiggly when done?
Yes, the middle should be! Remember, the residual heat will continue cooking the cake as it cools down. With this in mind. a slightly jiggly middle means it will be perfectly creamy after it's cooled down.
How to store leftovers:
First, cover the leftovers with cling or foil inside the container, it will stay fresh for up to a week. Equally important is to make sure to give it a tight seal, so no moisture will get inside and turn it soggy.
How to freeze:
First, remove the toppings before wrapping it very tightly in cling, then foil, store for up to 6 months. Afterward, if you want to that it, place it in the lower part of the fridge overnight when you're ready to enjoy.
Deliciousness to your inbox
Enjoy weekly hand picked recipes and recommendations