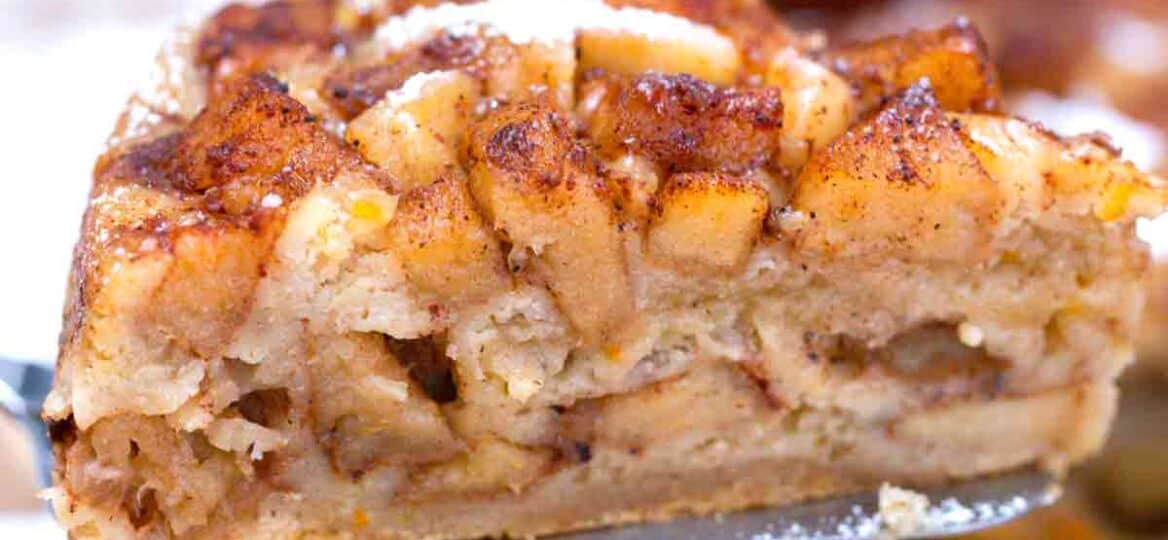 Instant Pot Apple Cake Recipe [Video]
Instant Pot Apple Cake is soft, moist, and infused with the warm flavors of cinnamon and orange. It's also loaded with fresh fruit for enhanced flavor and texture!
If you didn't know before, you can easily and conveniently bake desserts in the pressure cooker. Actually, it is my favorite way of cooking cakes, cookies, muffins, and much more. For example, you can make this fantastic Peanut Butter Cheesecake, Chocolate Muffins, and Creme Brulee!
Easy Instant Pot Apple Cake
Instant Pot Apple Cake is incredibly moist and studded with sweet, spiced apples all throughout. We're also adding cinnamon and orange zest to the batter. This is the perfect dessert to serve at any time of the year.
If you are looking for a quick and easy way to make a delicious and flavorful cake, then this is the way to go! The Instant Pot's steamy environment gives this baked treat a soft and tender crumb, with juicy bits of fruit in the cake itself.
Every bite tastes like fall, and it's fabulous with ice cream and a hot cup of coffee!
Which apples are best to use for cake?
Try to mix different varieties. This way, you get the perfect combo of flavors and textures in one dessert – tender and crisp, sweet and tart – all at once.
Granny Smith and Honeycrisp are great if you like it on the tarter side. If you want it sweeter, go for Fuji or Gala.
Instant Pot Apple Cake ingredients:
Apples:
Again, it's best to mix up different types for terrific flavor and texture! Dice the apples up after removing the core and peel. Then, toss these in brown sugar and spices (nutmeg and ground cinnamon).
Cake:
Flour and eggs: The essential elements of our batter. Use regular all-purpose flour and a couple of eggs.
Baking powder: Helps the batter rise during baking for fluffy results.
Flavorings: Cinnamon adds warm, spice flavors, while orange zest adds bright, tangy notes.
Vegetable oil: Creates a soft crumb that stays moist for days.
Sugars: We're using both granulated and brown sugars for this recipe. The brown sugar has the extra benefit of keeping the crumb moist.
Sea salt and vanilla extract: We need a little of both to round out the flavors!
How to make Instant Pot apple cake?
Whip up the batter. First, combine the wet and dry separately, then mix them together to make a thick batter.
Layer. Take your greased pan and fill it with half of the batter, then top with spiced fruit. Repeat with the remaining batter and fruit.
Cover. Next, take some foil and double-wrap the pan.
Cook. Pour water into the IP's inner pot before setting the trivet inside. Then, place the pan carefully on the trivet. Cook on High for 60 minutes, then let the pressure release on its own.
Cool. Take out the pan, then remove all the wraps before cooling for around 10 to 15 mins.
Serve. Sprinkle the surface with powdered sugar, and enjoy with vanilla ice cream!
Should you peel the apples for homemade apple cake?
Yes, because the peel can add a gritty texture. We're going for uniformly moist, tender texture throughout this dessert. Peeling the fruit helps us achieve that and allows the fruit to almost "melt away" into the rest of the cake.
How to serve Apple cake?
It's delicious at room temp, but this dessert is sensational when served warm with whipped cream or vanilla ice cream— or both!
Can you make apple cake in advance?
Sure! You can bake it a few days ahead of when you're planning to serve it. Store it either in the fridge or frozen. If you're freezing it, double-wrap it in foil then cling wrap once cool. When ready to serve, simply thaw and enjoy.
Do you have to refrigerate apple cake?
Yes. This is made with lots of fresh fruit, which can easily go bad if left on the counter. As long as you store it in an air-tight container, this dessert with stay fresh in the refrigerator for up to 5 days.
More apple desserts to try:
Recipe tips:
Double-wrapping the pan is essential because the IP's intense pressure can force the batter to leak out.
Also, don't forget to pour water into the inside pot. Otherwise, there won't be enough steam to build up pressure and "bake" the dessert.
The batter will be thicker than usual, but that's okay. That's the consistency we want, and it will expand as it cooks in the IP.