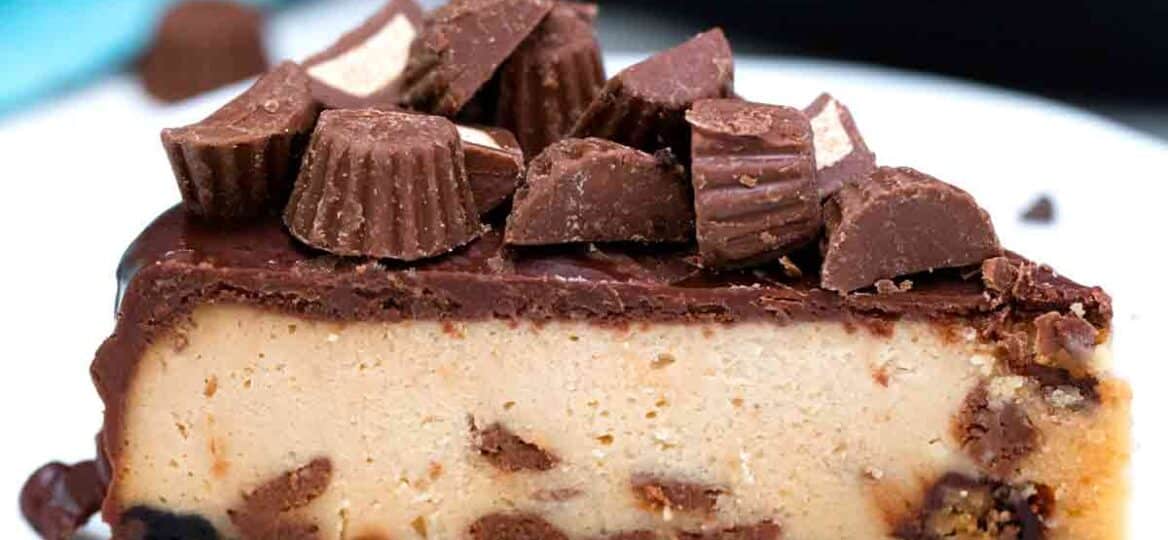 Instant Pot Peanut Butter Cheesecake [Video]
Instant Pot Peanut Butter Cheesecake is pure decadence in every bite! The nutty cheesecake rests on an Oreo crust and finished off with a luscious chocolate drip. No need to turn on the oven for this phenomenal dessert!
Be sure to serve this dessert with an equally stunning entrée! For example, this mouthwatering Red Wine Beef Roast, Balsamic Pork Tenderloin, and Apple Cider Pork Chops are all made in the IP for an easy and special meal.
Peanut Butter Cheesecake Recipe from Instant Pot
Instant Pot Peanut Butter Cheesecake will inspire you to make more desserts in the pressure cooker! "Baking" this in the IP gives you fabulously smooth, velvety cake packed with nutty peanut butter flavor. Also, this dessert is super easy to make that comes together in no time!
Best of all, no preheating and no worrying about a separate water bath! As for the desert itself, it has three of the yummiest things ever— chocolate, the creamiest peanut butter, and Oreos!
Now, we don't just blend PB into the filling. There are also mini PB cups inside, plus a ton more on top. As if that's not enough, it's also covered with a silky ganache drip made of chocolate and pure cream. Heaven in a slice!
How to Make Instant Pot Peanut Butter Cheesecake?
Freeze the Oreo crust
First, mix up the butter along with your peanut crumbs and the crushed Oreo. Then, blend until all of it is moistened. For peanut butter cheesecake, press it well into a prepared springform that will fit in your IP. Freeze for around 10 minutes.
Prepare the filling
Next, beat your sugar and softened cheese. Once it's smooth, blend in the sour plus heavy cream, creamy peanut butter, flour, and pure vanilla. Finally, you'll add your eggs, blending after reach one. Take your chocolate chips and carefully stir them in to avoid overmixing.
Assemble
Carefully pour half of the filling into the frozen Oreo crust. Top it with PB cups, then the remaining batter. Wrap the top with foil.
Cook
For gentle and even cooking, pour a little water into the IP before putting the trivet inside. Gently lower the springform to avoid spilling the batter. Seal and cook for about 50 mins on High. Afterward, let the steam release naturally for 10 minutes. Finally, end with a quick release.
Let it sit and firm up
Leave the cake on the rack first. Once it's completely cool, transfer to the fridge and chill for a minimum of 4 hrs. to overnight.
Get the chocolate ganache ready
Divide your chocolate into half, and place half of it in a bowl. Boil the cream, then pour immediately onto the chocolate. Carefully blend until everything is melted, then add the rest of the chocolate and continue melting and mixing. Cool until thick but still pourable.
Finish the cake
Get your chilled cake. Spoon the ganache carefully on the surface. It doesn't have to be very neat; just let it drip over the edge. Then, chop more PB cups and pile them on top. Enjoy!
How long should you cook a cheesecake in the Instant Pot?
It generally takes 50 mins, gives or take. Also, if after the cooking is over, and the center still looks too jiggly, then cook 5 mins more.
Do I need to cover my cheesecake in the Instant Pot?
Not necessarily, but I highly encourage you to do so. This will stop any condensation or water from soaking your cake.
How to prevent the crust from getting soggy in the Instant Pot?
It is important to maintain the height of the crust at ¾ inch. Higher than that, and the crust tends to absorb moisture and turn soggy.
How to store Peanut Butter Cheesecake?
Cover every inch really tight with foil or plastic wrap so it doesn't dry out after placing in the fridge.
Consume within 3 days.
Can you freeze it?
Yes! Frozen, it will stay fresh for up to 3 months. Similar to fridge storage, wrap it tightly before stowing away in the freezer.
To serve, simply thaw in the fridge overnight to enjoy.
More delicious Instant Pot Cheesecakes:
Instant Pot Peanut Butter Cheesecake Recipe Tips:
Try other cookies such as chocolate Grahams for the crust!
Also, it is highly recommended to use room temp ingredients, so the batter comes together easily without having to mix too much.
Use store-bought, creamy PB instead of oily natural peanut butter.
Do NOT overbeat when adding the eggs, because it will increase the chance for cracking as more air is added in.
I highly recommend chilling it overnight so that the flavors meld and the filling firms up really well.
Feel free to top it with some homemade caramel sauce.