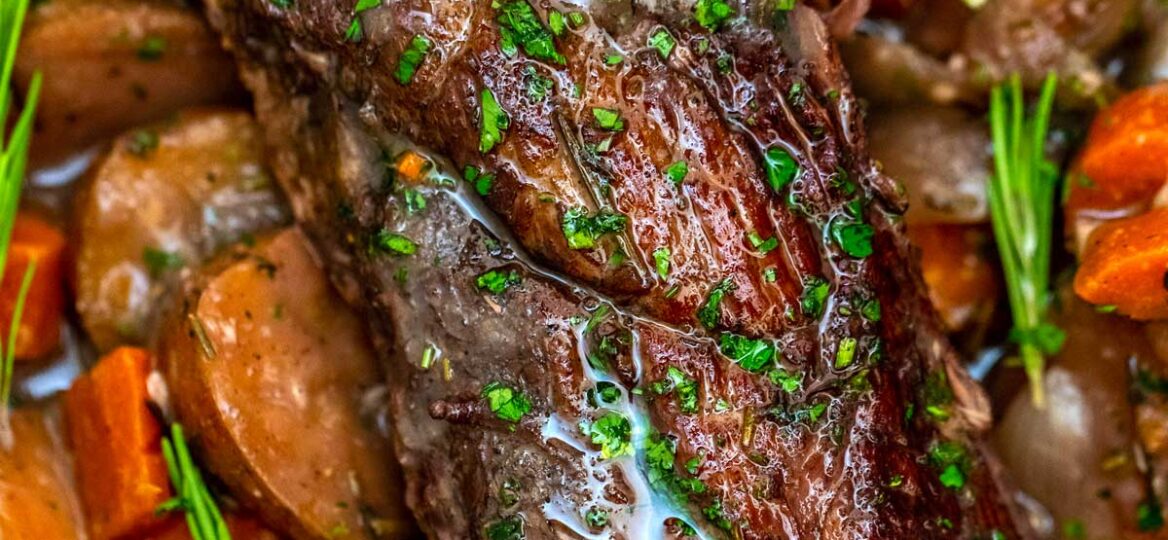 Instant Pot Red Wine Beef Roast
Instant Pot Red Wine Beef Roast is made with beef, tenderized and seasoned in the pressure cooker. Simple and comforting, this dish is a show stopper dinner!
It is a nice entree to have as the cold season creeps in. Follow this recipe or my other recipes like the Oven Roasted Turkey, Creamy Sweet Potato Soup, and Roasted Cauliflower!
Pressure Cooker Red Wine Beef Roast
Instant Pot Red Wine Beef Roast is a quick recipe to make compared to its stovetop and crockpot versions. But in any way it is made, this dish is a family favorite.
Even when made with cheaper cuts of beef, this dish will still turn out tender and flavorful. Thanks to the power of pressure cooking!
Not only can the Instant Pot shorten the long hours of cooking, but it can also be used to directly sear the meat before the addition of the broth. You can do all these and more with just one pot which lessens the hassle!
Since it has red wine in the ingredients, the flavor that develops is rich just like those served in restaurants! With your wine, you can dine in style eating this dish for dinner.
How to make Instant Pot Red Wine Beef Roast
Sear: Season the meat well. Then, using the Sauté function of the IP, sear the sides of the meat in oil until browned.
Cook: Toss in the rest of the ingredients, then, close and seal the valve. Pressure Cook f0r 15-20 minutes.
Release: Do a natural pressure release for about 25-30 minutes before finally venting.
Serve: Remove the roast and the veggies and put them into a platter. Slice the meat then, serve with the vegetables.
How to make beef roast gravy in Instant Pot or pressure cooker
Follow the initial steps stated above. Then, when you have removed the cooked meat to shred, that is when you can make a gravy out of the broth left in the IP.
Add a slurry of starch and water into the broth to thicken it into gravy. Season with salt and pepper if needed.
Reserve this for use in reheating later or to top the shredded meat when serving. You can also use this gravy to top mashed potatoes that you can serve alongside this meaty dish.
Or, once you remove the potatoes along with the beef, you can mash them then, season to turn into mashed potatoes.
What meat cut is best for pot roast?
Chuck, brisket, or round. These are tough and lean cuts with minimal fat. Tough ones are better choices aside from the price point of view.
Since you will be subjecting the meat to high pressure, then, even the cheaper tough cuts can be used. The collagen in these cuts turns into gelatin which makes this dish silky. At the same time, the meat becomes tender enough to be shredded.
What red wine is best to use for it?
The best choice would be something that you would drink, too. If you like to drink it, then, it is probable that you will love the dish made with it, too.
How to Store
Refrigerate: Let it cool completely and then, transfer it into an airtight container. Refrigerate for up to 4 days.
Freeze: You can freeze leftovers for up to 3 months, sealed in freezer bags. To reheat, thaw overnight and heat on the stove together with the sauce.
Recipe Tips
You may opt to make this using the slow cooker or on the stove.
There is no need to thaw meat when cooking with the IP but extend the cooking time by at least 20 minutes.
When storing leftovers, make sure to put in sufficient sauce or gravy to prevent them from being too dry.