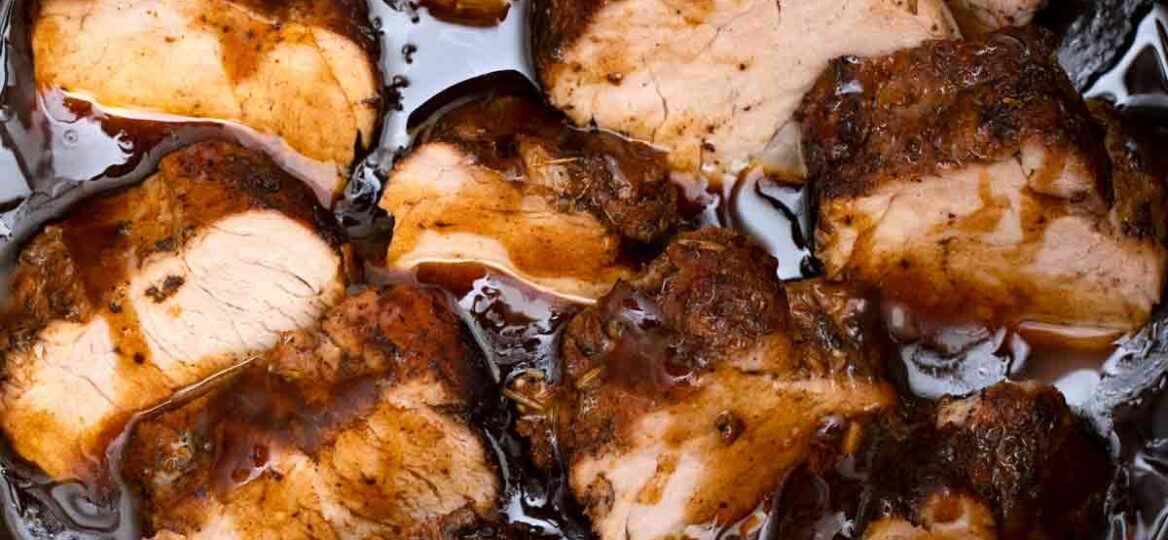 Instant Pot Balsamic Pork Tenderloin [Video]
Instant Pot Balsamic Pork Tenderloin is melt in your mouth tender and ready in less than 30 minutes. This is a quick and delicious dinner, that will impress everyone!
If you love pressure cooker recipes, you have to try my Instant Pot Orange Chicken, Pressure Cooker Chili Mac, and Mac and Cheese.
Instant Pot Balsamic Pork Tenderloin
This Instant Pot Balsamic Pork Tenderloin is so good and flavorful, that we make it a few times a month. It is ideal for any day of the week, and perfect for a weeknight.
We all love pork in the family, and the tenderloin is our favorite cut. However, there is a problem sometimes cooking it, because the meat is so lean, it might end up being dry. But, when cooked under pressure, the results are nothing but amazing. The pork is tender and flavorful, and the balsamic glaze makes it so much sweeter and tastier.
In addition, this dish cooks very quickly. If you are busy and looking for a quick and easy recipe, this is the one to go. It is ready in about 30 minutes from start to finish, yet it tastes like it has been cooked all day in the slow cooker!
Is Pork Tenderloin Good for You?
This cut of meat is lean and has a good source of protein. Unlike other cuts, like bacon, this one does not have fat and is considered quite healthy. In addition, it contains thiamine, B6, zinc, potassium, and other vitamins.
How to make Instant Pot Balsamic Pork Tenderloin?
Prepare the meat: First, using a paper towel, pat it dry. Then, a bowl, combine the rub ingredients and whisk together. Sprinkle the rub all over the tenderloin.
Saute it: Using the IP saute function, sauce the meat for a couple of minutes on each side until it turns golden brown. You can also brown it in the skillet for a few minutes on each side. Once browned, set aside.
Prepare the sauce: Combine the sauce ingredients in a bowl and add to the Pressure Cooker. Ensure to scrape the bottom of the pot using a wooden spoon, so no bits are stuck. This might cause a "burn notice" otherwise.
Cook it: Next, place the meat in the IP. Cover the lid, and cook it for 15 minutes, followed by natural pressure release. Release the meat, and let it rest for 10 minutes.
Make the glaze: Turn the pressure cooker to the SAUTE setting. Then, stir corn starch into the 4 tablespoons cold water until dissolved, and add it to the IP. Mix and let it thicken.
Rest and serve: Once the pork is rested, slice it, and pour the glaze on top. Serve warm with your favorite side dish.
Can I cook frozen Tenderloin in the Instant Pot?
Yes! The beauty of IP is that you can easily and quickly cook pretty much any frozen meat in it. You will have to add 10 minutes per pound if the roast is frozen.
You can find detailed steps on how to cook frozen tenderloin in the pressure cooker here. Also, it is always a good idea to check the meat doneness by using a thermometer. When cooked, it should read 145 degrees F.
Can I cook Pork Loin Instead?
Absolutely! The loin is another great cut which is also bigger in size and has a little bit more fat. You can easily cook the loin the same way. The pressure cooking time will be the same – 15 minutes, followed by natural pressure release.
Also, you can oven bake pork loin, or slow cook it. Both are equally delicious!
What goes with Instant Pot Balsamic Pork Tenderloin?
This dish goes well pretty much with anything. Some of my favorite dishes to serve it with are:
How to store leftovers?
To refrigerate: If you end up with leftovers, or want to make a larger batch to serve for later, simply refrigerate it. Use an airtight container, and store in the fridge for up to 4 days.
To freeze: Also, the meat can be frozen. Let it cool first. Then, transfer to a freezer-safe dish, and freeze it up to 3 months. Reheat in the oven prior to serving.
More easy pork recipes:
Recipe Tips:
It is important to let the meat rest for about 10-15 minutes after cooking. This will make it extra tender, juicy, and flavorful.
Also, if you are not sure about the doneness, simply use a thermometer to check the internal temperature. When cooked, it should read 145 degrees F.
Feel free to use other pork cuts, such as roast, chops. In addition, you can follow this recipe and use other meats altogether, such as chicken, beef, or turkey.