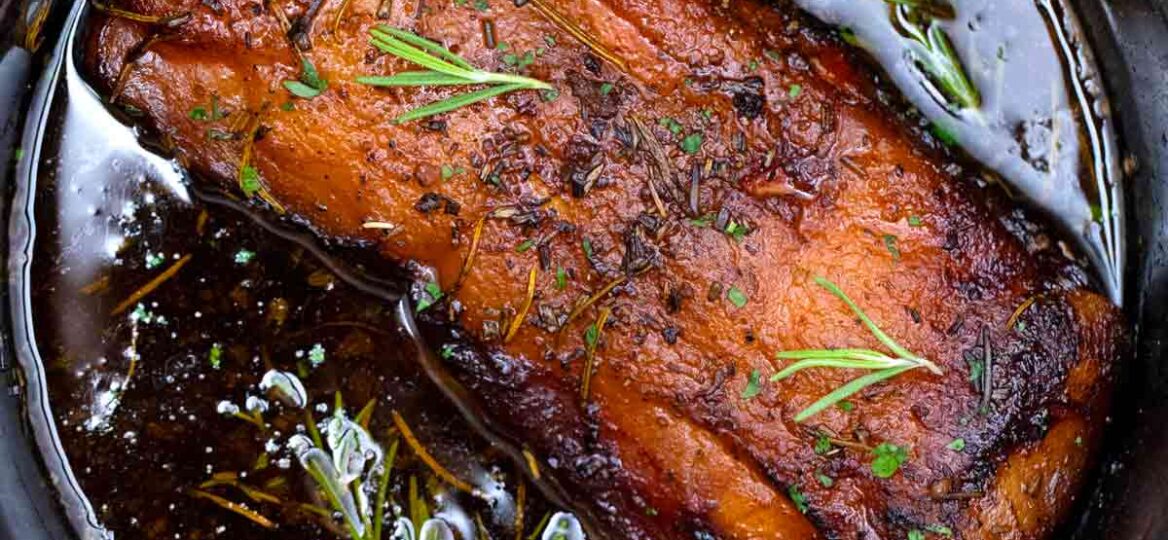 Crock Pot Balsamic Pork Loin Recipe [Video]
Crock Pot Pork Loin is slowly cooked in a delicious garlic balsamic sauce, resulting in fall-apart tender, and super flavorful meat. This is a very tasty and easy midweek dish for busy families.
The beauty of this recipe is that it tastes like the traditional Oven-Roasted Pork Loin, but with less hassle. I love pairing it with Garlic Roasted Potatoes, Mac and Cheese Casserole, or Big Mac Salad.
Slow Cooker Balsamic Pork Loin
This Crock Pot Pork Loin recipe is hands down one of my ALL-TIME favorite pork recipes. Firstly, the garlic balsamic sauce complements the meat greatly. It is full of flavors, and when cooked over a longer period of time, it tenderizes the meat to perfection.
Secondly, it is one of the easiest recipes you can make during the busy weekdays or weeknights. You simply dump the ingredients into the crockpot, set the cooking time, and let it do its magic.
The smell and aromas will fill your room with plenty of joy. Also, if you are super busy, set it up prior to leaving for work. When you come home in the evening, a warm and delicious dinner will be waiting!
I love using loin cut here. However, pork shoulder roast or even pork chops will work just as well. Give it a try, and you will see why this easy recipe is such a hit with everyone!
What is pork loin?
It is important to know the difference between loin and tenderloin. They are two different meat cuts.
The loin is a thicker and wider cut and can be bone-in or boneless meat. It goes under the same name as a center-cut roast, center-cut rib roast.
Tenderloin is a thinner cut, that is also longer, narrower, and is always boneless meat cut. In addition, tenderloin is leaner, and pretty much does not have any fat.
Crock Pot Balsamic Pork Loin Recipe Ingredients:
For this recipe, you will need the following ingredients:
Pork loin
Balsamic vinegar
Balsamic reduction
Molasses
Soy sauce
Brown sugar
Olive oil
Chicken or vegetable broth
Fresh garlic
Rosemary
Seasoning: such as salt, black pepper, smoked paprika, onion powder, Italian seasoning
How to make crockpot pork loin?
Prepare the meat: Pat dry the loin using a dry paper towel. Then, using a sharp knife, trim out the visible fat from the top.
Sear it: In a skillet, over medium-high heat, add some olive oil. Next, add the loin to it, and sear for 3-4 minutes on each side until it is golden brown. You can skip this step if you have limited time. However, searing the meat will form a delicious brown crust on the surface of the roast.
Make the balsamic garlic sauce: In a bowl, combine the balsamic vinegar, minced garlic, chicken broth, soy sauce, brown sugar, and seasoning, and the rest of the ingredients. Whisk to combine.
Cook it: Add the seared loin to the pot, fat side up. Then, pour the sauce all over the meat. Cover the slow cooker with the lid, and cook.
Rest and Serve: Once done cooking, remove the meat from the pot and transfer it to a cutting board. Then, cover it with foil and let it rest for 5-10 to let the juices and flavors combine.
How long to cook pork loin in the crockpot?
For a 4 to 5-pound cut, the cooking time should be 4-5 hours on HIGH or 8-9 on the LOW setting. This is the optimal time for perfectly tender and juicy meat. If you are going to cook shoulder or Boston butt instead, the cooking time should be increased to 5-6 hours on HIGH, or 9-10 hours on LOW. The shoulder is a tougher cut of pork, therefore it needs a longer cooking time.
For smaller (3-4 pound cut), the cooking time should be about 3.5 to 4 hours on LOW.
How do you know when the Pork Loin is done cooking?
After 4-5 hours of slow cooking, you are guaranteed to end up with juicy and tender meat. However, the best way to ensure the doneness is by using an instant-read thermometer. Insert it into the thickest part of the loin. The internal temperature should read 145 degrees F.
What to serve with Crockpot Pork Loin?
You can serve this dish with pretty much anything. I love pairing it with:
During the holiday season, I recommend serving it with the following side dishes:
How to store leftovers?
You can easily refrigerate leftovers using an airtight container for up to 3-4 days. Also, feel free to slice the meat and use it on sandwiches, or morning omelet.
To freeze, use a freezer-safe dish, or an airtight container, and freeze it up to 3 months.
More delicious Pork Recipes:
Recipe Tips:
You can make this recipe using various cuts, such as shoulder, Boston butt, neck, or even chops.
Also, you can adjust the marinade based on your taste. For example, add other seasonings, like ranch seasoning, taco seasoning, or cajun seasoning.
Instead of chicken broth, you can use vegetable broth.
Deliciousness to your inbox
Enjoy weekly hand picked recipes and recommendations