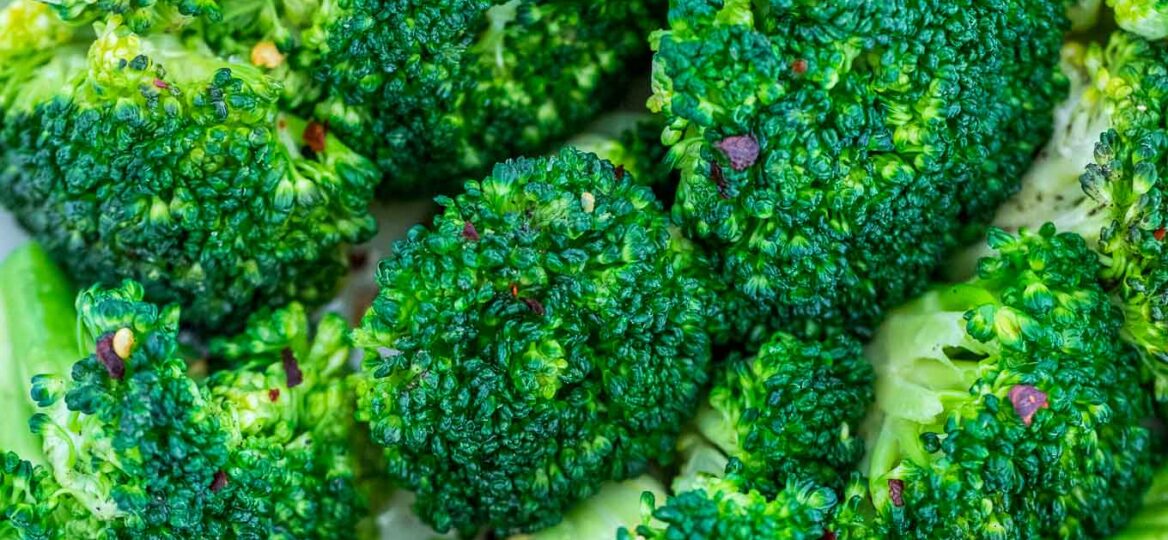 Steamed Broccoli Recipe [video]
Steamed Broccoli is healthy and delicious, a versatile side dish that goes well with your favorite entrées. It is an easy recipe made yummy with a drizzle of olive oil!
This side dish goes well with a lot of our main entrées like Wine Roasted Beef Tenderloin, Pork Loin, and Best Ever Grilled Chicken!
Easy Steamed Broccoli
Steamed Broccoli is a simple but delicious side dish that is packed full of nutrients. What we love about this recipe, is how simple is to make, while being super delicious! We love to serve this vegetable steamed with just a little bit of salt and pepper and a drizzling of olive oil.
However, if this is too simple for you, and want some additional flavor, feel free to add other ingredients or spices to it.
Another option is to add some almonds and butter right after steaming. It adds some crunchiness and flavor to it. We also give it an Asian twist by adding soy sauce, sesame oil, and toasted sesame seeds.
IS BROCCOLI HEALTHY? WHAT ARE THE HEALTH BENEFITS?
Yes, this is one of the super veggies that is very healthy! It is full of nutrients such as Vitamin K, Vitamin C, Fiber, Potassium, Folate, and protein. Therefore, feel free to enjoy this side dish whenever you crave something delicious, yet healthy!
HOW TO STEAM FRESH BROCCOLI ON THE STOVE?
First, add half an inch of water into a large saucepan. Then, place the vegetables in a steamer basket that can fit the pan.
Next, bring the water to a boil and put the basket inside, cover, and cook it for four minutes.
Lastly, take the broccoli out of the steamer, sprinkle a little bit of salt and pepper, and drizzle olive oil over it.
HOW LONG TO STEAM BROCCOLI?
This vegetable does not require a lot of cooking time. We like steaming small-sized broccoli for five minutes and alternately, large-sized once for about six minutes. If you cook it for a minute more, the vibrant green color of it will turn into olive green.
HOW TO STEAM BROCCOLI IN THE MICROWAVE?
If pressed for time, you can easily use the microwave for cooking. To do that, place the broccoli into a microwavable bowl. Next, add two to three tablespoons of water with it. Then microwave it for three minutes.
HOW TO make STEAMed BROCCOLI WITHOUT A STEAMER?
If you do not have a steamer basket on hand, you can make this recipe directly in the pan. First, you may add water to cover the bottom of the pan. Then, bring the water to a boil. Cook it for five to six minutes.
HOW TO STEAM FROZEN BROCCOLI?
Usually, frozen broccoli sold in the groceries is blanched before freezing. You can certainly use frozen once. The main difference will be the cooking time. When using frozen vegetables, cook it for a minute less than the required cooking time.
HOW TO make STEAMed BROCCOLI IN A POT?
Just add water to cover the bottom of your saucepan. Bring the water to a boil and then add the broccoli. Steam the vegetables for five to six minutes.
HOW TO STEAM BROCCOLI IN A RICE COOKER?
Place about two cups of water in the rice cooker. Then put the broccoli in the steamer basket that is included with the rice cooker. Close the lid and turn it on.
If your rice cooker has a timer, turn the dial to three minutes. If not, you have to take note that the rice cooker takes about seven minutes to heat up. So cook it for about ten minutes in total from the time you closed the lid.
HOW TO STEAM BROCCOLI IN A PRESSURE COOKER?
Cooking this vegetable using the pressure cooker is also quick and easy. Just place the broccoli in a pressure cooker safe plate, close the lid, and turn it on. Cook it for 3-4 minutes under pressure.
HOW TO STORE STEAMED BROCCOLI?
You can put the leftover in an airtight container and put it in the refrigerator for up to three to four days. When ready to serve, simply reheat using the microwave and enjoy. It tastes equally delicious!
CAN YOU FREEZE leftovers?
Yes! Transfer it to airtight containers or kitchen bags after it has cooled completely and stored in the freezer. Properly stored, it will last for up to six months before it loses its quality.
WHAT TO SERVE WITH STEAMED BROCCOLI?
You can add a dollop of butter, salt and pepper, olive oil, and lemon zest or mayonnaise to it. Also, some nice addition to it would be to add other types of nuts and different fruits, like slices of apples and segments of oranges to it. It would make for a perfect side dish.
We love to pair it with meats, and some of our favorite ways to pair it would be with:
RECIPE TIPS
Buy the freshest broccoli in the market, with stems and some of the leaves still intact.
After steaming, place it in ice with water to stop the cooking process especially if you are not serving it right away.
Before freezing you should completely cool down the dish. Place in airtight containers and freeze.
Also, you can dress this dish by adding some Chinese oyster sauce and sesame oil. It is super tasty and yummy. Similarly, use some lemon zest or juice, seasoned rice vinegar, balsamic vinegar, or sesame seeds.
Deliciousness to your inbox
Enjoy weekly hand picked recipes and recommendations