Broccoli Rice Casserole Recipe [video]
Broccoli Rice Casserole is an all in one dish made with broccoli, rice, and a creamy cheese sauce. It is a perfectly full and satisfying meal, that your family or guests will love!
This is already a full, and rich meal on its own. However, if you want to pair it with something else, try our delicious Instant Pot Chicken Noodle Soup, Arugula Strawberry Salad, or Cucumber Salad.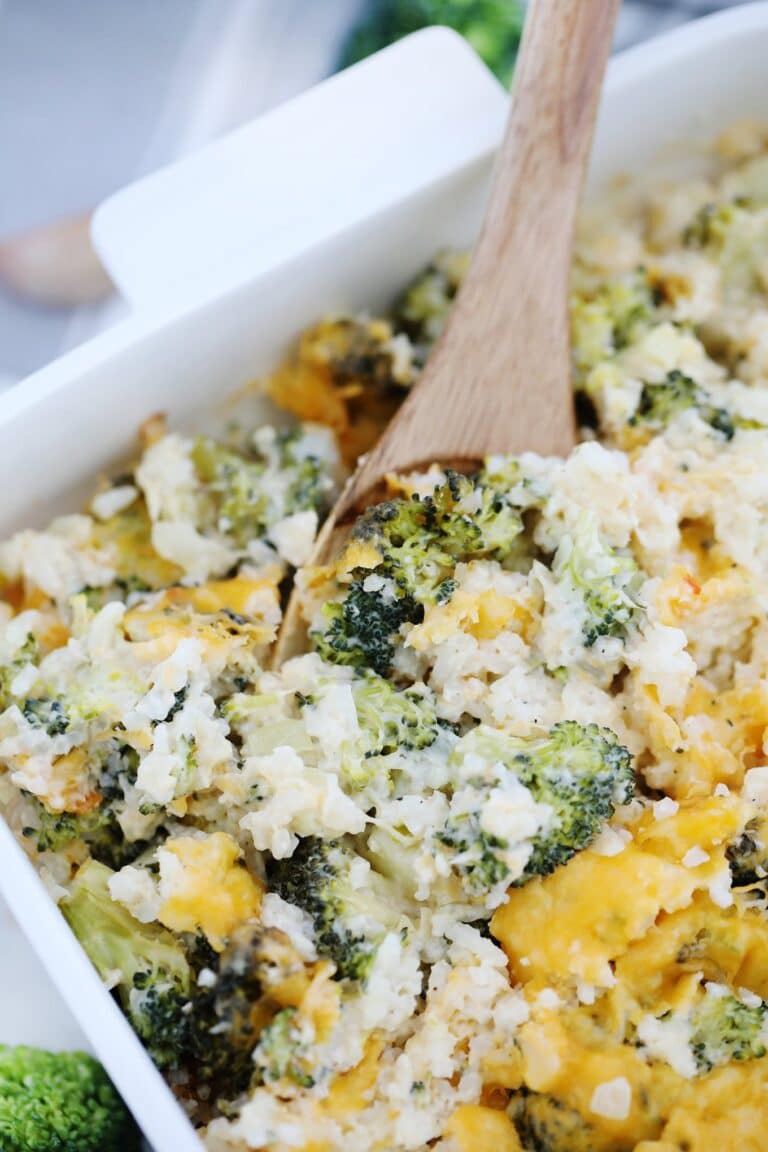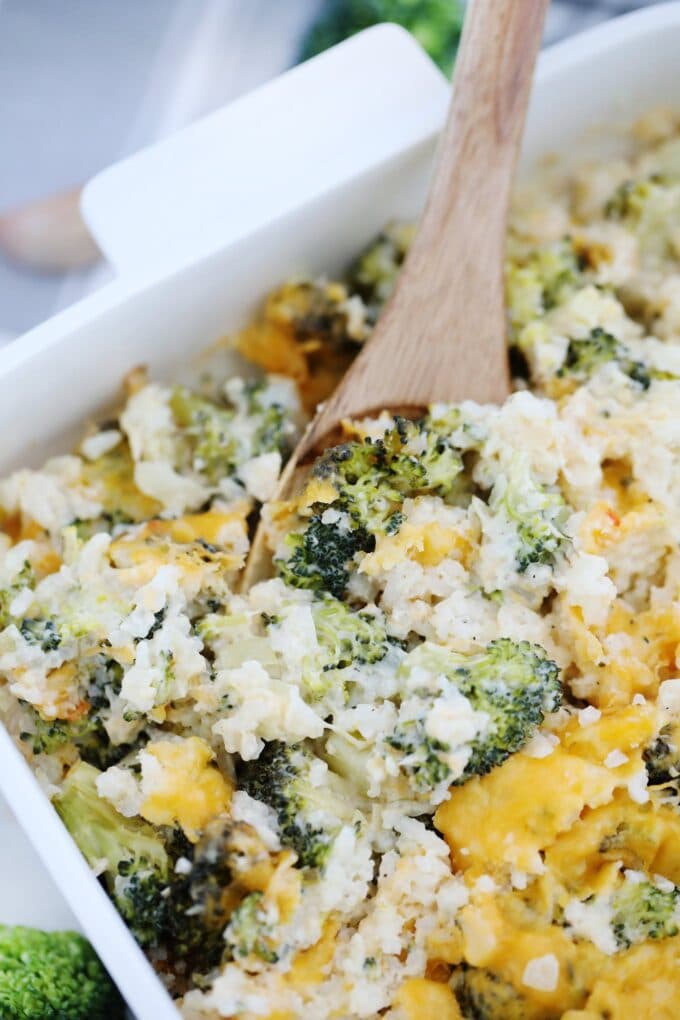 Easy Broccoli Rice Casserole
Broccoli Rice Casserole is super easy to make, with a few simple ingredients, and ready in under one hour. It is a great dish to make especially during busy weekdays. All you need is to basically throw together the ingredients, and bake them together. This recipe always turns out delicious and is our go-to dish when it comes to a quick family meal.
Also, we love serving this for parties, as it can easily feed a larger crowd. It is also very versatile as you can add other ingredients to it. For a protein-rich meal, add some chicken into the mix, it will be even more delicious!
You can also use pearled farro instead of rice to make something different but equally flavorful! To know more about farro, check out our recipe for Farro Salad Recipe. If you plan on using farro instead, just simply follow this recipe and add one cup of pearled farro.
HOW TO MAKE BROCCOLI RICE AND CHEESE CASSEROLE?
This is one simple dish to make, and quite delicious!
First, make your white sauce. Then, add in your cream cheese, sour cream, and cheddar cheese. Stir until the cheese melts.
Next, prepare your broccoli and add it into a two-quart oven-safe glass dish. Then, add in the rice and cheesy white sauce.
Last, mix it all together and place in a preheated oven. We bake this for twenty to thirty minutes or until bubbly around the edges!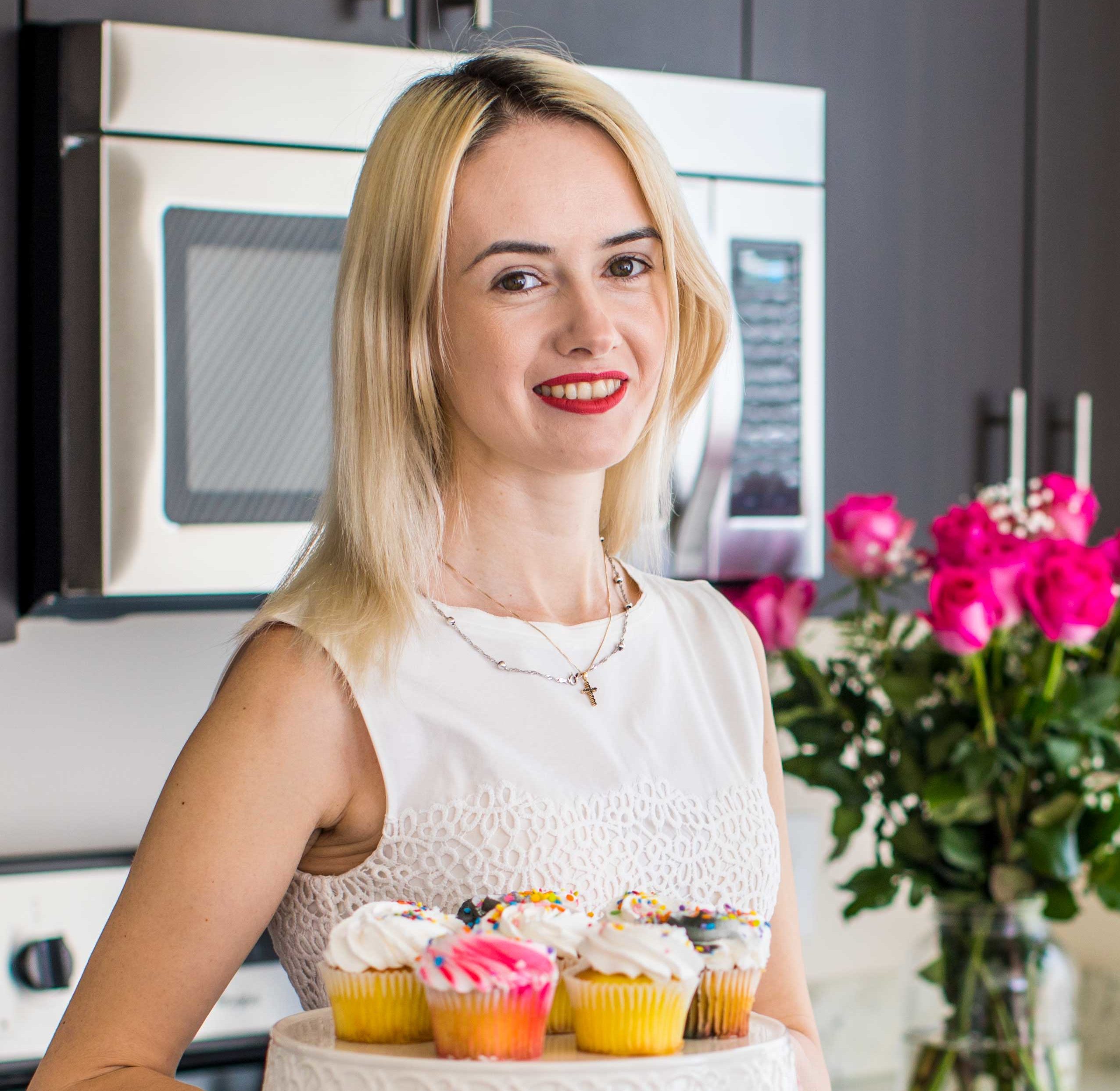 Follow us on Pinterest for more delicious recipes!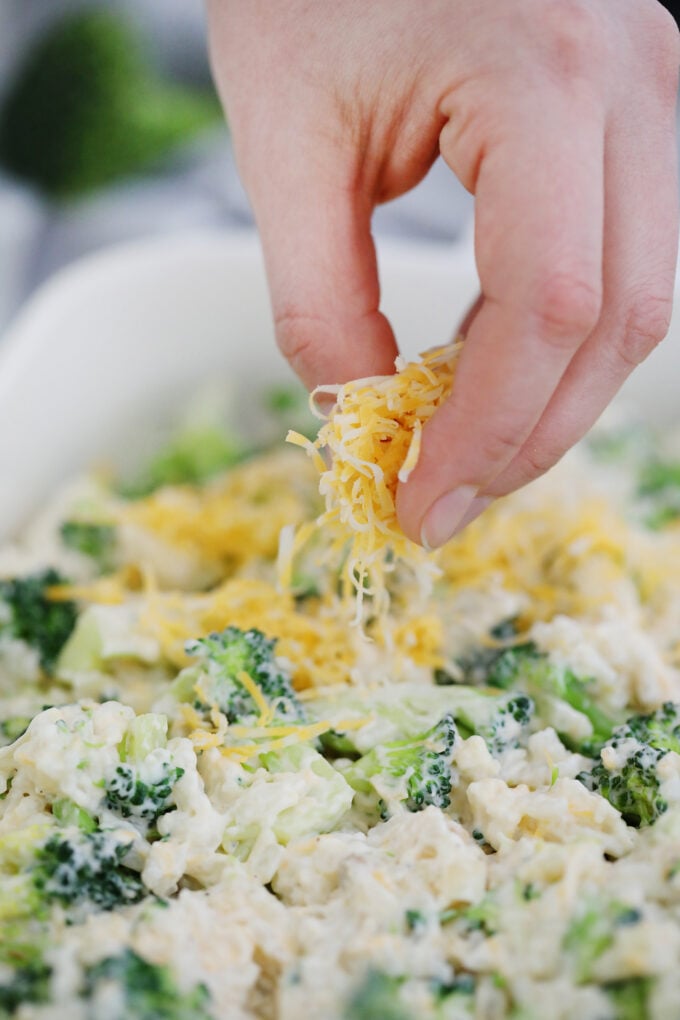 HOW TO MAKE CHICKEN BROCCOLI AND RICE CASSEROLE?
As noted above, this is a very adjustable dish. You can add your favorite ingredients and top to it. If you like chicken, simply add one or two cups of steamed or boiled flaked chicken breast to the mix, then bake. It is that easy!
HOW TO MAKE BROCCOLI RICE AND CHEESE CASSEROLE WITH VELVEETA?
Velveeta is a velvety and gooey mess but so popular with the kids! If you want to use Velveeta instead of cheddar cheese, simply replace the amount of cheese with it!
HOW DO YOU COOK BROCCOLI FOR BROCCOLI RICE CASSEROLE?
We cook our broccoli first before adding to the rice and sauce. We like steaming it because this cooking method retains the nutrients packed in it! There are two ways to steam it.
First, add one inch of water in a large saucepan. Place your broccoli in a steamer basket and settle it in the saucepan. Cover and cook the broccoli for five to six minutes.
Another way to steam it is by cooking in a saucepan without the use of a steamer basket. Simply add water to cover the bottom of the saucepan. Add in your broccoli and cook it for five to six minutes. It is better to steam it before baking this casserole.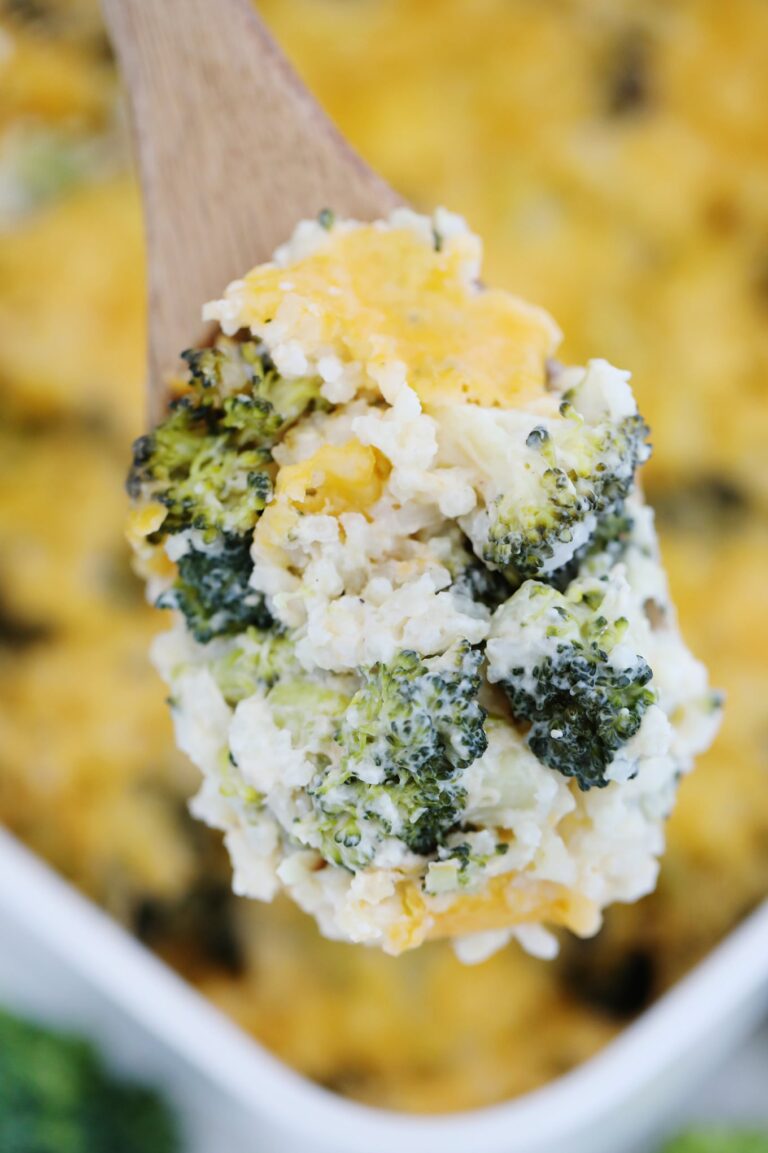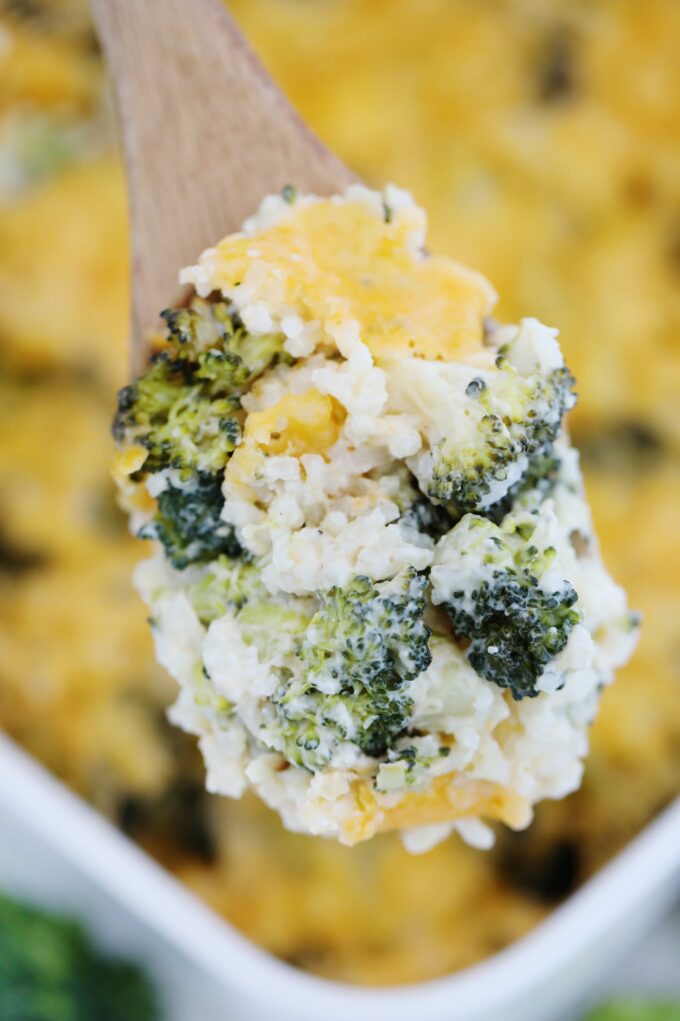 CAN YOU MAKE it WITH FROZEN BROCCOLI?
Certainly! But you do not have to thaw out the frozen broccoli before adding it to the recipe. Simply mix with the rest of the ingredients.
CAN YOU MAKE it IN ADVANCE?
Absolutely! You can just heat it up in the oven for 10 minutes or until the edge of the casserole is bubbly and you are good to go!
WHAT CHEESE TO USE IN BROCCOLI RICE CASSEROLE?
In this recipe, we use cheddar cheese. But you can play around with it by adding different kinds of cheeses like mozzarella, or a combination of mozzarella and parmesan cheese. Go with what you have on hand, or what you like most. Any cheeses will work just fine here.
HOW TO STORE it?
Prior to sorting, ensure the dish is completely cooled. Then, place it in airtight containers and put the leftover in the refrigerator. It will last for four to five days in the refrigerator.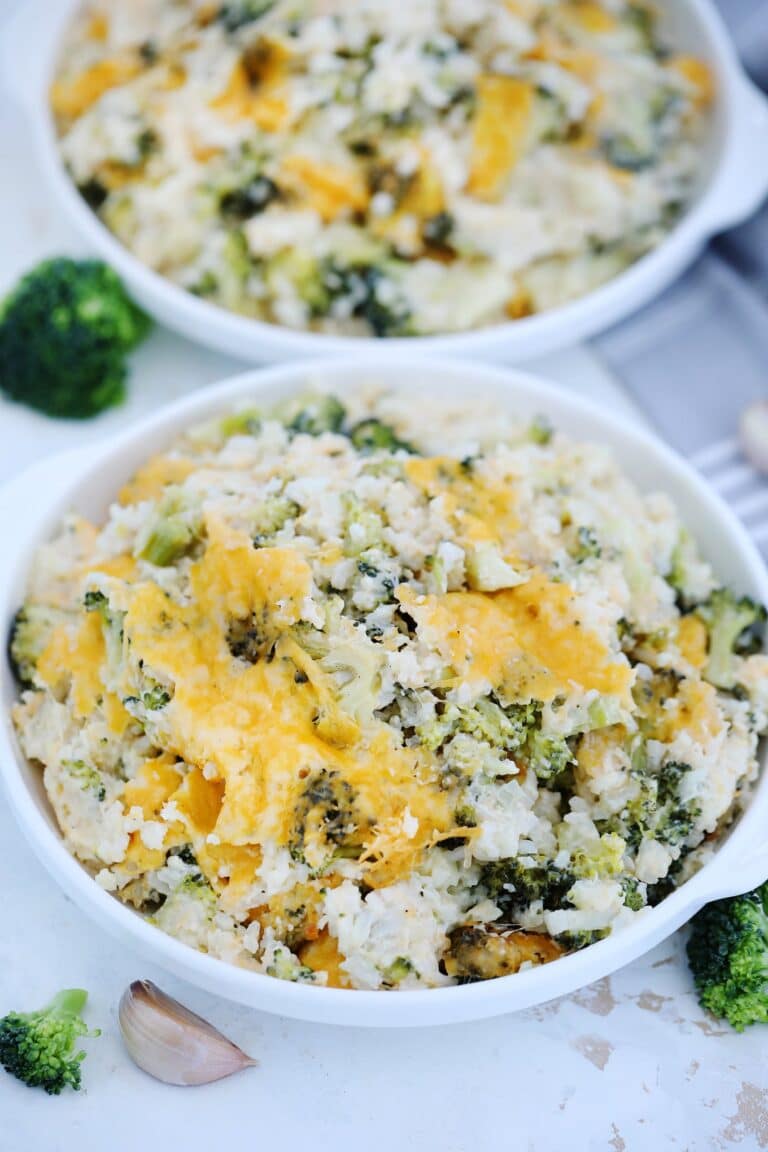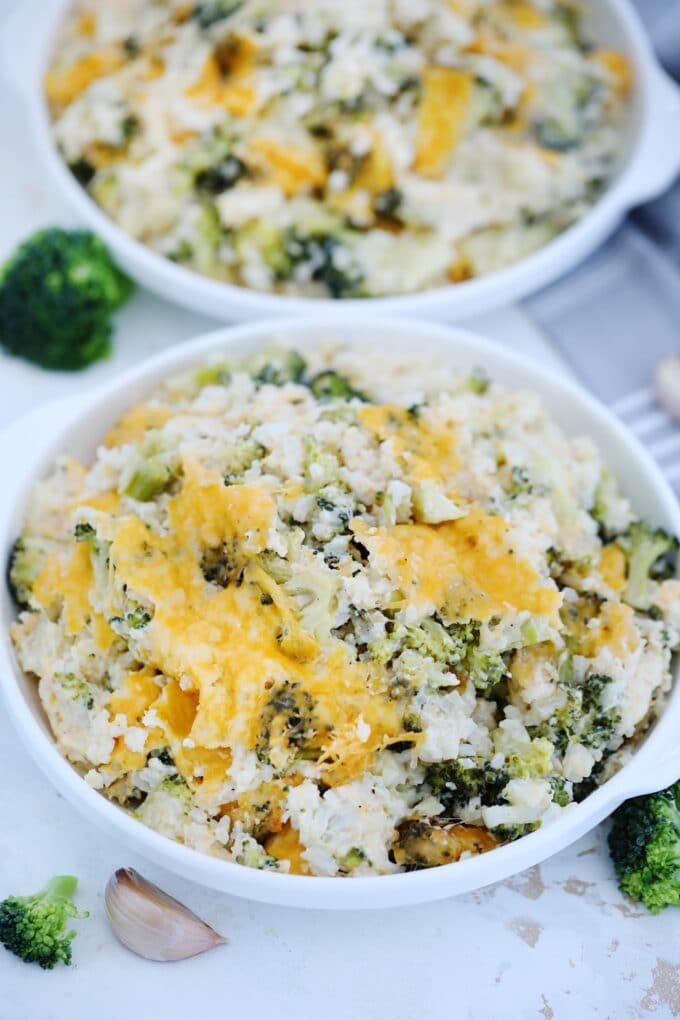 HOW TO FREEZE it?
After cooling down completely, place the casserole in airtight containers and place in the freezer. This will last for up to three months in the freezer.
To defrost it, simply remove the frozen casserole from the freezer the day before you need it and place in the refrigerator. Before serving place in a preheated oven and heat up until the sides are bubbly.
RECIPE TIPS:
Buy the freshest broccoli in the market, with steams and some of the leaves still intact. Also, avoid buying them if they are already cut up.
This recipe can be made with other meats, such as beef, turkey, or even lamb.
If you like a spicier kick to it, add some red pepper flakes, or some sliced jalapeno to the mix prior to baking it.
Watch recipe video:
Save Recipe
Best Broccoli Rice Casserole
Author: Catalina Castravet
Serves: 6 servings
Prep time:

30

minutes
Cook time:

30

minutes
Total time:

1

hr
Ingredients
Cheese Sauce:
Nutrition information
Calories: 410
Carbohydrates: 32
Protein: 17
Fat: 24
Saturated Fat: 14
Cholesterol: 69
Sodium: 558
Potassium: 530
Fiber: 3
Sugar: 6
Vitamin A: 1405
Vitamin C: 82.7
Calcium: 451
Iron: 1.5
Save Recipe
More recipes you might love