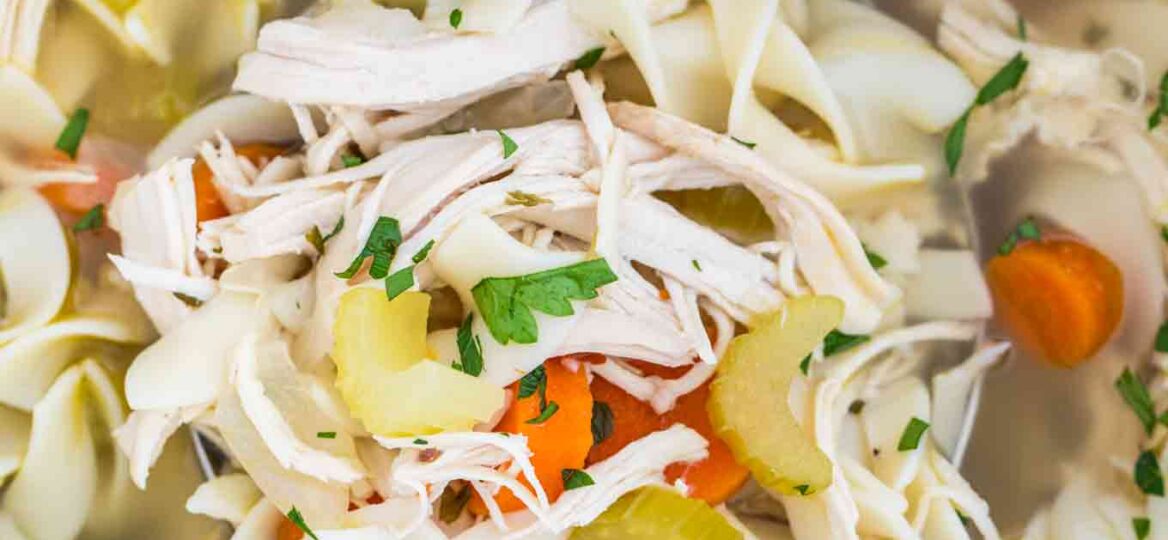 Instant Pot Chicken Noodle Soup [Video]
Instant Pot Chicken Noodle Soup is a hearty and healthy dish loaded with egg noodles, veggies, and tender chicken breast. It's the best bowl of comfort food to have on a cold winter night
This is one of those soups that you will want to eat over and over again. It is a warming meal that requires only 10 minutes of preparation time. Then, add everything to the pressure cooker and you will have a delicious meal in a fraction of the time. Our other favorite instant pot chicken recipes include this Chicken Pot Pie Pasta and Orange Chicken.
Instant Pot Chicken Soup
Instant Pot Chicken Noodle Soup is a classic made quickly in the pressure cooker. If you are running short on time, and want a warm, light, yet flavorful dish, then this quick and easy recipe is for you. While this is a light and healthy soup, it's also very flavorful and tasty.
The secret starts with the broth. When time allows, we make the broth from scratch using either a whole chicken with skin on and bones or thighs. Usually, we make the stock in advance and keep it in the fridge so we have it on hand when needed. Making it from scratch results in one of the tastiest and most flavorful dishes you can imagine.
Make your own chicken noodle soup and it will quickly become a family favorite. Control the great flavor by customizing it, the recipe is very versatile.
It truly elevates the flavors here, made with fresh ingredients and wide egg noodles, it is really the best chicken noodle soup recipe you can get. Also, this recipe makes wonderful leftovers. Store it nicely, and enjoy having a healthy, warming meal on hand whenever you please it.
Ingredients Needed:
Meat: To make this easy recipe we use boneless skinless chicken breast, however, leftover shredded chicken, rotisserie chicken, skinless chicken thighs meat will be delicious as well.
Unsalted butter: We use a bit of butter to make this homemade chicken soup more savory, however extra virgin olive oil can be used instead.
Veggies: We use a combination of garlic, onion, carrots, celery.
Dried herbs: For a deeper flavor we use a mix of our favorite dried herbs like dried parsley, bay leaves, and dried basil.
Fresh herbs: Also, we use some fresh thyme and fresh rosemary.
Seasoning: We season the dish with salt, ground black pepper, and some red pepper flakes.
Broth: We use low-sodium chicken broth, however, you can use this homemade chicken stock or vegetable broth.
Egg noodles: Actually, you can add any type of pasta to it, but per the traditional recipe we like to make it with tender egg noodles.
How to make Homemade Instant Pot Chicken Noodle Soup Recipe?
For exact measures, please follow the recipe card below. Also, see the short video tutorial attached.
Saute setting: Start by selecting the saute function of the instant pot, melt the butter and saute the onion and garlic.
Veggies: Next add the carrots and celery and cook until just tender.
Remaining ingredients: After that, add the rest of the ingredients, like dried herbs, seasoning, chicken, broth, and fresh herbs. Cancel saute function.
Pressure cook: Afterward, close and lock the lid, point the pressure release valve to sealing, and pressure cook on high pressure for 10 minutes.
Natural Pressure Release: Once the cooking time has been completed, do a 10-minute natural release.
Quick Pressure Release: After that, open the valve to quick release the remaining pressure.
Shred: Carefully remove the lid and using tongs transfer the meat onto a plate. Using two forks, shred chicken, then return chicken to the pot. Remove and discard bay leaves, thyme, and rosemary.
Noodles: Select Saute on Medium heat and stir in the uncooked noodles, cook until the noodles are al dente.
Taste: Now, taste the flavorful chicken broth and if needed add salt and pepper.
Serve: Serve the homemade chicken noodle soup with a sprinkle of chopped fresh parsley.
Recipe Variations:
Chicken drumsticks or thighs: Any chicken meat will work fine here. It is important to have enough meat to add to the dish after it is shredded. So any parts you prefer will work just fine.
Water instead of broth: As stated above, using stock will result in the best instant pot chicken noodle soup. When possible, we use our homemade version of stock, but store-bought works fine as well. If you want the dish to be on a lighter side and do not like broth too much, using water will do it.
Vegetable broth: While we love using chicken stock since it gives it a richer and deeper aroma. However, the vegetable stock will work just as well. If store-bought, make sure to use the low-sodium version, so you can control the salt content later on.
Veggies: This great recipe is so versatile, you can use any veggies you have on hand or need to be used. A few options that we like are zucchinis, green beans, bell peppers, sweet corn, snow peas.
Extra flavor: Also, add more flavor to the soup by stir in a few tablespoons of soy sauce and lemon juice.
Beans and greens: Make the soup taste better and heartier by adding some beans, spinach, or kale to it.
Asian twist: Check this Instant Pot Asian Chicken Noodle Soup recipe.
Gluten-free: To make this good recipe without gluten, just use gluten-free pasta.
Crockpot Version:
The crockpot is a great alternative to make this dish. It is also very easy and convenient as you dump the ingredients into it, and let it slowly cook for 6-8 hours. We have a delicious version of it in the slow cooker, and you can check the step-by-step Crockpot Chicken Noodle Soup Recipe with a video to save it for later.
Stovetop Version:
This is our most beloved soup recipe, and one of the reasons is that it can be done in so many ways. If you prefer a stovetop version, check out our Classic Chicken Noodle Soup recipe.
How to make Instant Pot/Pressure Cooker Chicken Stock?
Place either a full chicken, or thighs, bones of leftover roasted chicken in the electric pressure cooker.
Then, add some scraps of carrots, celery, onions, bay leaves, and garlic to it.
Season with salt and herbs as desired.
Next, add about 3 quarts of water, do not go over the Max line of the inner pot.
Cook on High Pressure for 40 minutes, then slow release the pressure naturally.
Strain stock through a fine-mesh sieve into a large bowl.
Cool and store in the fridge for up to 7 days, or freeze for up to 3 months.
Use as needed.
Can You Cook Pasta in the Instant Pot?
Absolutely! Making pasta in the pressure cooker is easy and super convenient. I frequently cook Mac and Cheese in it, and it always comes out delicious!
In this recipe, the IP simmers the pasta using the saute setting at the end. This way the noodles are cooked perfectly and are not overcooked.
How to store leftovers:
Refrigerate: First, let the pressure cooker chicken noodle soup fully cool to room temperature. After that, transfer it to airtight containers and refrigerate it for 4-5 days.
Freeze without noodles: If you plan to freeze the soup, hold off on adding the noodles. Noodles tend to end up mushy and bloated if they stay too long in stock/water. Use an airtight container or quart freezer bags to freeze it. After, freeze for up to 3 months.
Freeze with noodles: Just transfer the leftovers to freezer bags and freeze them for up to 3 months.
Thaw: When ready to consume, thaw it in the fridge overnight or place the bag in a casserole dish under warm water.
Reheat: When ready to serve, reheat it on the stove.
Easy Instant Pot Soup Recipes:
Cooking Tips:
We recommend cooking the noodles separately and adding them to the bottom of the bowl when serving. This way the noodles won't get mushy after you store or freeze the soup.
Make sure you do NOT go over the Max line of the inner pot, as the pot may never come to pressure.
Equally important is to keep in mind to ALWAYS release pressure naturally first. Since the pot is filled with liquid, it may burst through the pressure valve if you open it immediately.
Deliciousness to your inbox
Enjoy weekly hand picked recipes and recommendations