Crockpot Chicken Noodle Soup [Video]
Crockpot Chicken Noodle Soup is soothing, hearty, and perfect for cold weather. Made easily in the slow cooker with simple, real ingredients. This soul-warming meal is perfect when you want to enjoy a homemade dinner or feel under the weather. Take a look at the detailed recipe video below.
Slow Cooker recipes are the best, especially when it's cold outside. They make your house smell amazing and inviting, nothing better than food slowly cooking while you take care of other things. We enjoy coming home to a hearty, delicious dinner that took minimum prep work to make.
The other favorites that we love and highly recommend are this Crockpot Baked Potato Soup, it always gets rave reviews and has MILLIONS of views on Pinterest. For something with a touch of heat, you should try the Chicken Tortilla Soup. Looking for something cream? This Clam Chowder with lots of smoky bacon is absolutely perfect!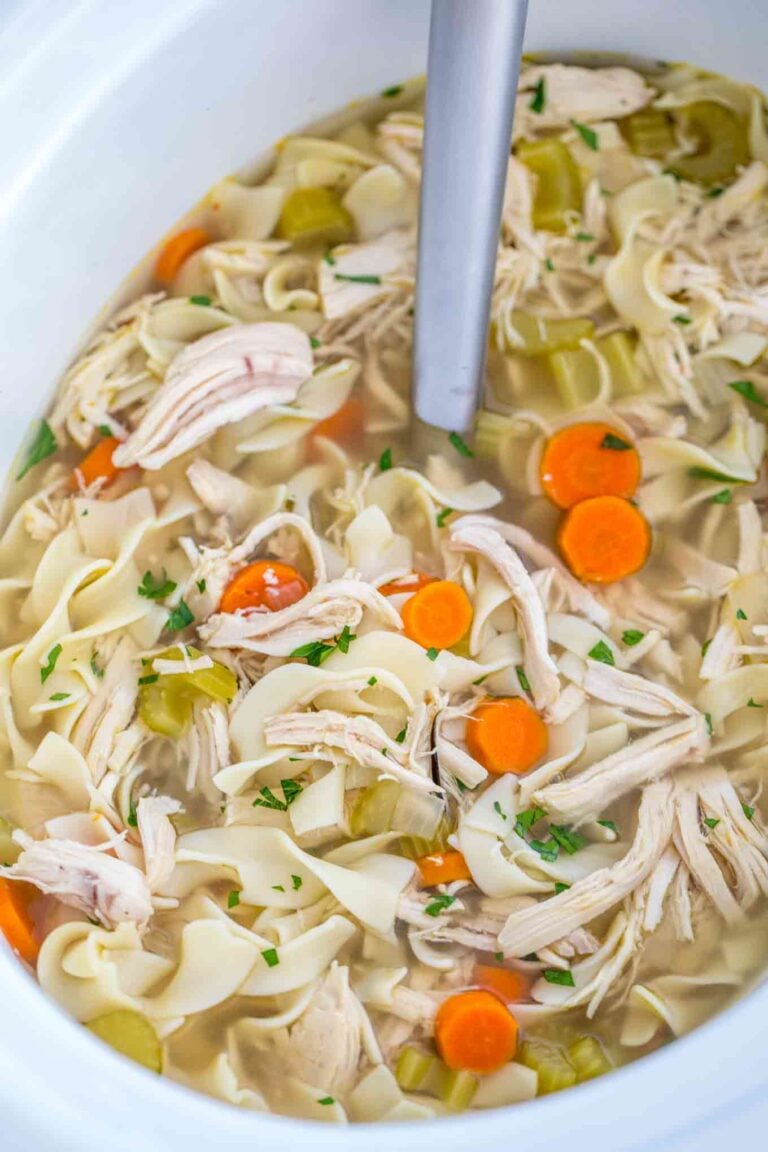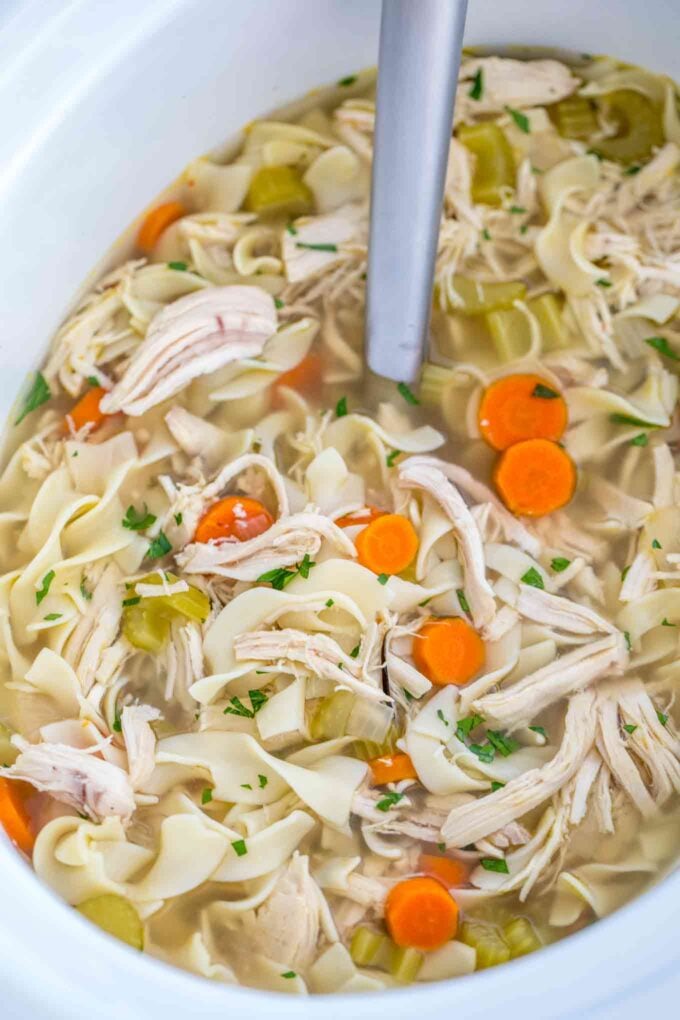 Easy Crockpot Chicken Noodle Soup
Crockpot Chicken Noodle Soup is the perfect comfort food that will warm up your soul. It's absolutely amazing on those days when you feel under the weather or are battling a cold. Enjoy a bowl under a warm blanket and it will make you feel much better.
We made this recipe very simple and with budget-friendly ingredients. Making it in the slow cooker cuts down on the prep work and it required minimal effort. Made with lean chicken breast that has been cooked to tender perfection.
The soup is also loaded with crunchy veggies like celery and carrots. The noodles are cooked in the slow cooker as well, so you don't have to dirty another pot.
You can also easily make this recipe on the stove, just follow the instructions here.
Do you cook the chicken before putting it into the soup?
The beauty of this recipe is that you don't have to pre-cook the chicken or the pasta in order to make this recipe. You add the meat with the other ingredients and let it cook, after that you shred it.
CAN YOU PUT FROZEN CHICKEN IN THE CROCKPOT?
It is definitely not recommended and is actually considered to be unsafe. Per the Food Safety guidelines, you should always thaw poultry before adding it to the slow cooker.
CAN I USE LEFTOVER CHICKEN?
To make this delicious meal, you put to good use any remaining, leftover chicken. Just shred or slice it and add about 2-3 cups with the rest of the ingredients. This will reduce the cooking time, you can cook it on low for 4 hours and for about 2 hours on high.
This recipe can be made with chicken thighs as well, it will add extra flavor. If you decide to use thighs, just follow the recipe as is and use the same cooking time.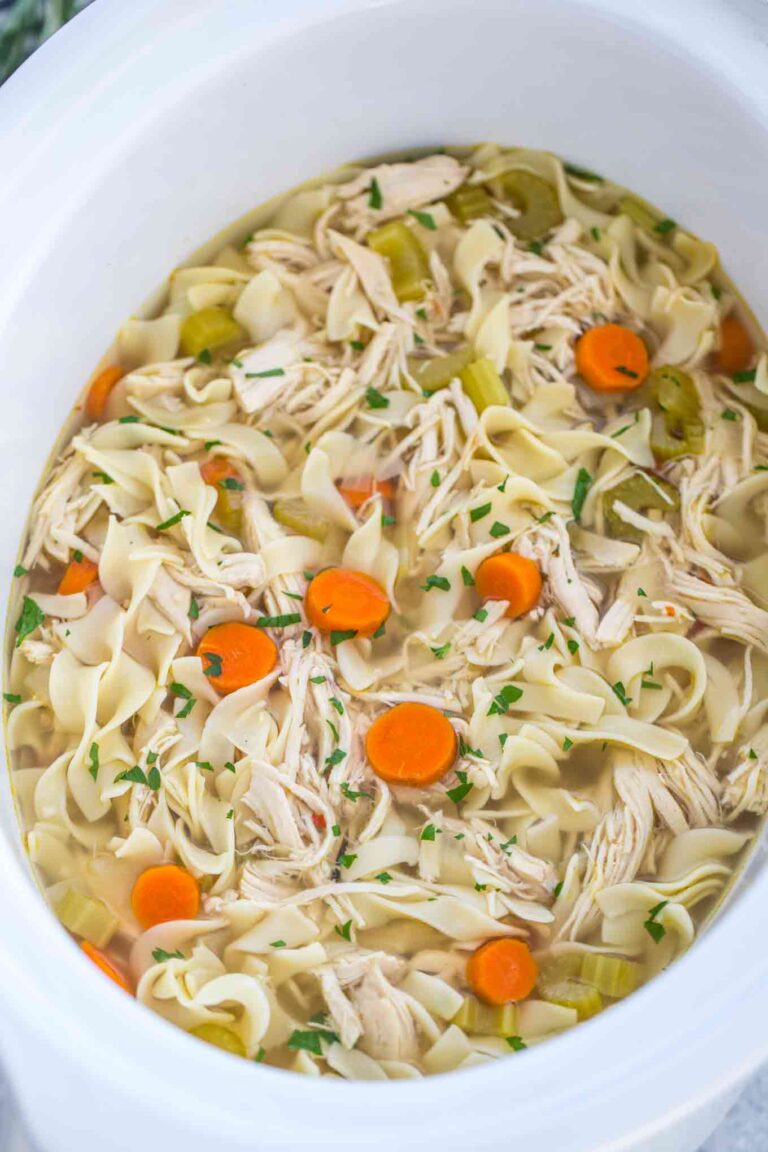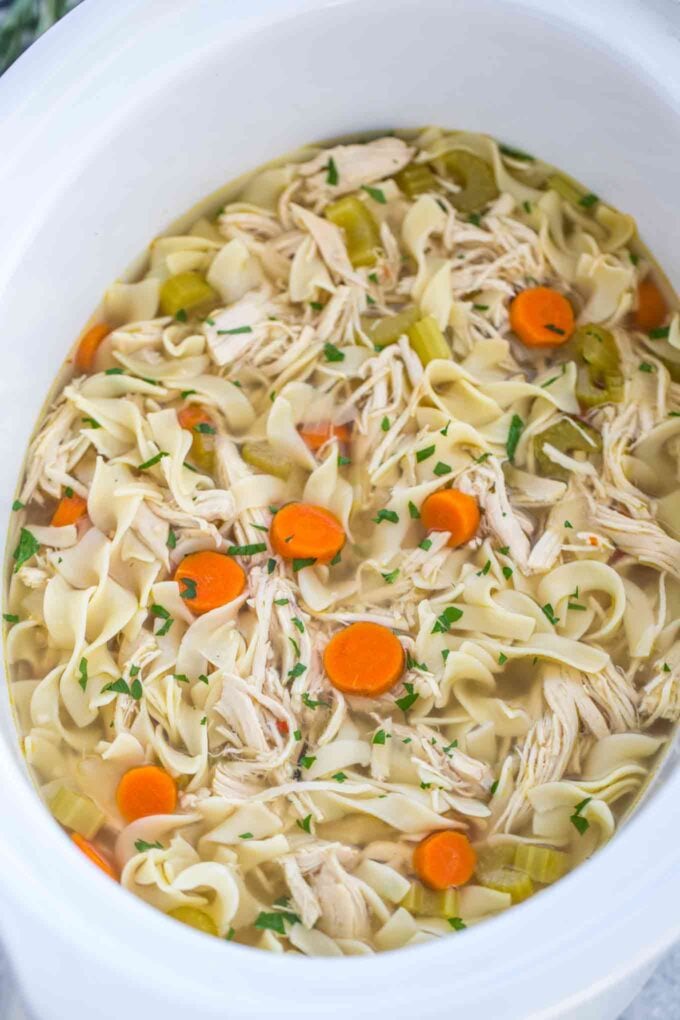 How long does Crockpot Chicken Noodle Soup to cook?
Making this recipe in the slow cooker takes a few hours on high, about 3 hours. Also, you can cook it in the LOW setting, for 6 hours. You can even leave it on to cook for 8 hours on low, it will be very good. Just keep in mind, that you need another 20 minutes on high or about 30-40 on low.
What can I add to Crockpot Chicken Noodle Soup for flavor?
Making sure that you use fresh veggies and a nice mix of seasoning and herbs, will guarantee a delicious tasting and full of flavor soup. We suggest that you use onion and garlic, lots of garlic if you are a fan. Carrots will add some sweetness, and the celery a nice crunchy and an earthy flavor.
The herbs also make a difference, we love adding some dried basil, Italian seasoning, oregano. If you can add some fresh thyme, fresh rosemary, and some dried bay leaves, this will add a punch of fresh flavors to the broth.
Is Chicken Noodle Soup good for you?
It is definitely a meal on the healthier side, that is loaded with veggies and protein. Like in all the recipes, you should always pay attention to what ingredients you are using if you are looking to make this recipe healthy.
We like to make it clean and healthy by using chicken breasts, low-sodium broth, and a good amount of veggies. The pasta is the ingredient with the most calories, but you can definitely opt-in for a whole when version.
For more vitamins, you can add as many veggies as you want. Other options are to add some bell peppers, sweet peas, even sliced zucchini. If you like beans, they also make a great and hearty addition.
If you are gluten intolerant, just use gluten-free noodles.
What to Serve with Crock Pot Chicken Noodle Soup?
This comfort food is perfect during colder weather. I love serving it with: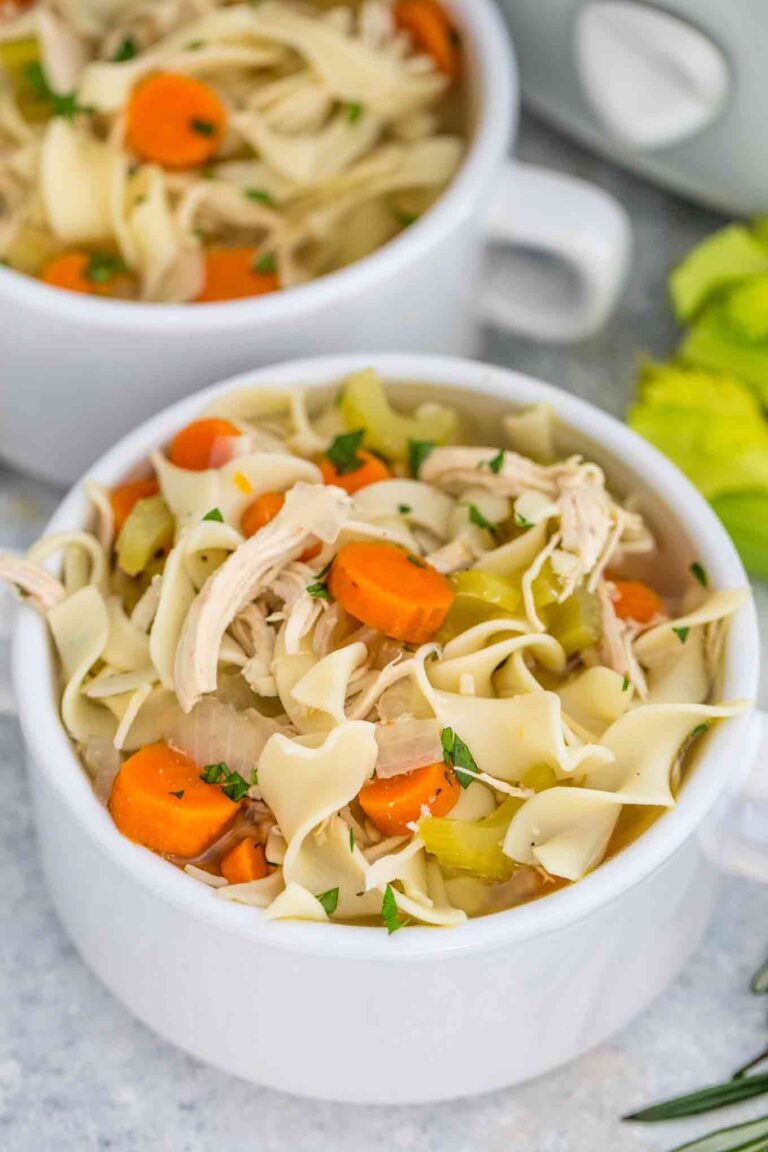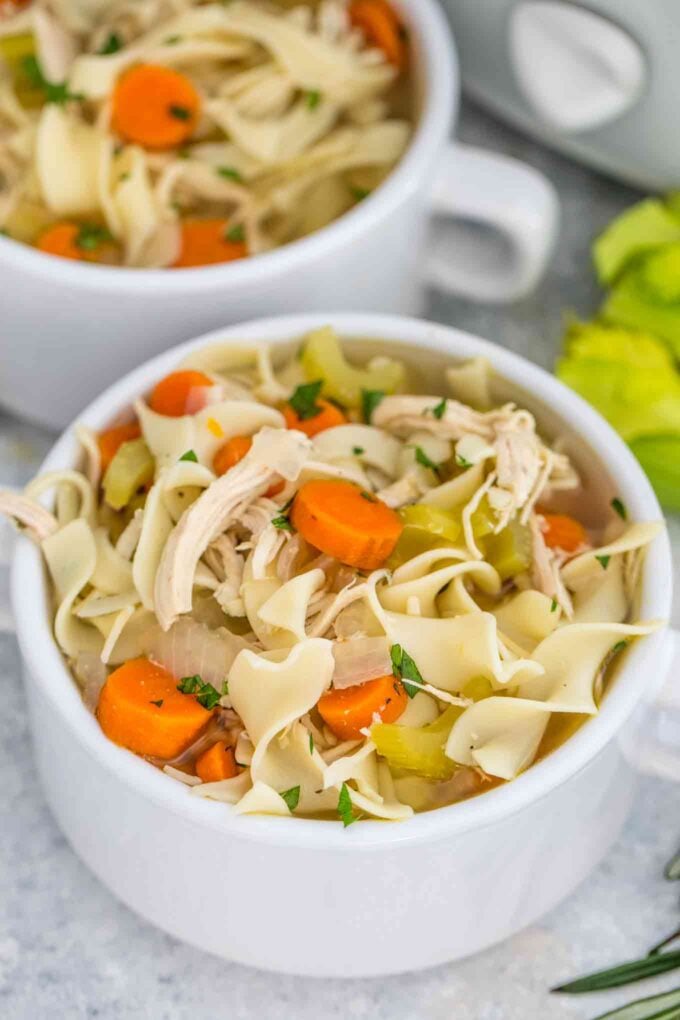 WHAT IS THE DIFFERENCE BETWEEN BROTH AND STOCK?
Stock – it is made more from the bony parts of the bird, and because of that, it has a deeper flavor. It also tastes richer, and the consistency seems to be thicker, with a deeper color as well.
Broth – is made out of the meat parts of the bird, is lighter in calories with a milder taste.
More delicious Slow Cooker recipes:
HOW TO FREEZE this SOUP?
First, make sure you let it fully cool.
Next, we recommend adding it to freezer quart bags.
Squeeze out excess air and seal the bags.
Lay the bags flat in the freezer and store for up to 3 months.
When ready to serve or enjoy, just transfer to the fridge to thaw overnight. Another option is to run the bag under hot water and transfer to a large pot. Keep in mind, that you may need to add a bit of chicken broth or water since the noodles will soak up the broth.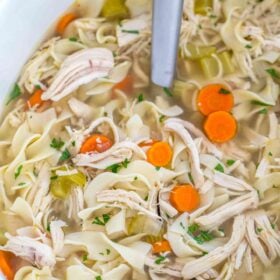 Crockpot Chicken Noodle Soup
Crockpot Chicken Noodle Soup is soothing, hearty and perfect for cold weather. Made easily in the slow cooker with simple, real ingredients.
Save
Share
Print
Pin
Rate
Ingredients
1 1/2

lb.

chicken breasts

(boneless and skinless)

1

large sweet onion

(diced)

5

cloves

garlic

(minced)

4

medium carrots

(peeled and sliced into rounds)

3

stalks celery

(cleaned and sliced)

1

teaspoon

dried parsley flakes

1/4

teaspoon

red pepper flakes

1/4

teaspoon

salt

(or to taste)

1/4

teaspoon

ground black pepper

(or to taste)

10

cups

chicken broth

(low-sodium)

Small bunch of fresh thyme

Small bunch of fresh rosemary

3

bay leaves

8

oz

egg noodles

(dry)
Instructions
To an 8 quart slow cooker add chicken breasts, onion, garlic, carrots, celery, followed by dried parsley, red pepper flakes, salt, and pepper. Add the broth.

Top with fresh rosemary, thyme and bay leaves.

Cover and cook on low, 6 to 8 hours or on high for about 3 to 4 hours.

After that, discard the herbs and bay leaves. Taste and adjust for salt and pepper.

Remove chicken from the pot, place on a plate and shred it with two forks.

Return it to the slow cooker and add the dry egg noodles.

Cover and cook on low until al dente, for about 30 minutes or on high for about 15 to 20 minutes.

Garnish with fresh parsley and serve.
Nutrition
Calories:
254
kcal
|
Carbohydrates:
28
g
|
Protein:
24
g
|
Fat:
4
g
|
Saturated Fat:
1
g
|
Cholesterol:
78
mg
|
Sodium:
1289
mg
|
Potassium:
804
mg
|
Fiber:
2
g
|
Sugar:
4
g
|
Vitamin A:
5225
IU
|
Vitamin C:
25.8
mg
|
Calcium:
56
mg
|
Iron:
1.7
mg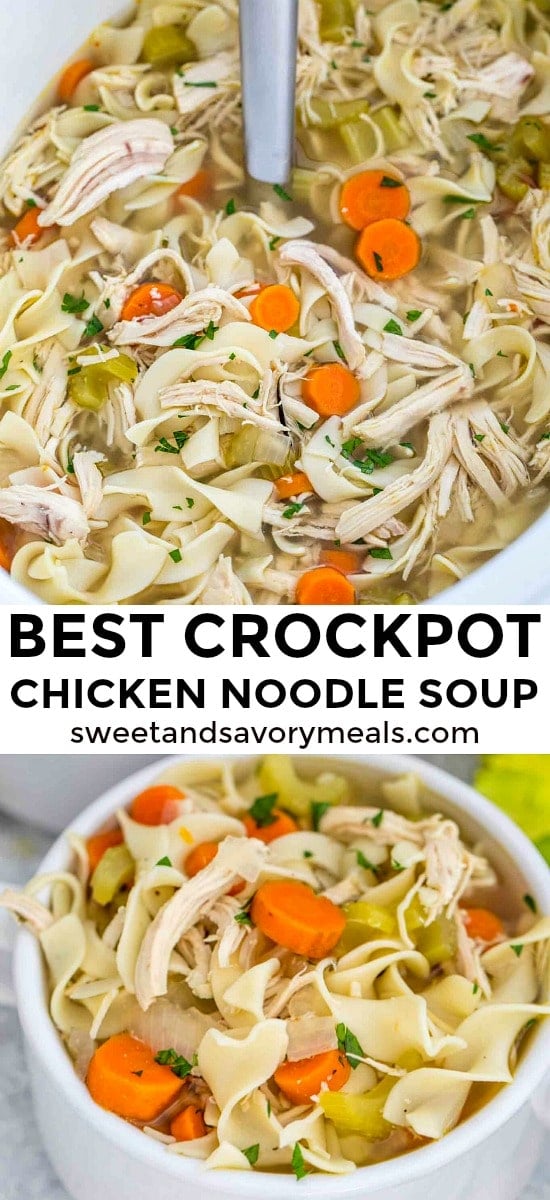 More recipes you might love