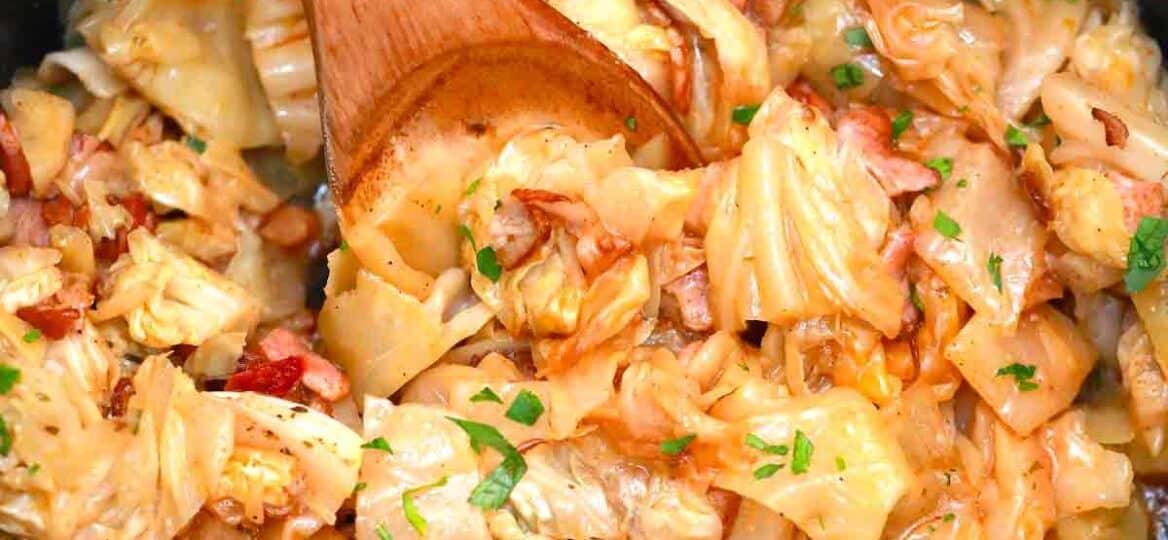 Slow Cooker Cabbage and Bacon [Video]
Slow Cooker Cabbage and Bacon has tender vegetables flavored with savory bacon and spices. An easy family meal with minimal prep work!
Aside from this dish, some of our favorite slow cooker recipes are the Best BBQ Crockpot Meatballs, Crockpot Chicken and Dumplings, and the Best Crockpot Meatloaf. Filling, delicious, and simple enough for the busiest days.
Slow Cooker Cabbage and Bacon
Slow Cooker Cabbage and Bacon is a healthy and tasty dinner that takes very little work. I love how I can put it together and let the crockpot do its thing while I go about my day. After a few hours, everyone is excited about dinner because they can smell the bacon throughout the house!
By itself, this dish is incredibly delicious. But it's also a great base recipe to build other meals on. You can turn it into a rice bowl, make it heartier with more veggies and meat, or try other herbs and spices. Feel free to customize it however you wish!
Slow Cooker Cabbage and Bacon Ingredients:
Cabbage: Cored and chopped into square pieces about an inch in size.
Bacon + grease: Sliced into half-inch pieces, then cooked until it renders grease (save it for the dish).
Water: Helps tenderize the vegetables and prevents the dish from drying out.
Apple cider vinegar: Adds a nice tang that brings this dish to life!
Herbs and spices: Measure a tsp each of salt, garlic powder, and onion powder, plus a tsp of smoked paprika and dried oregano. For a bit of heat, we're using a dash of pepper flakes and fresh-ground black pepper.
How do you core a cabbage?
First, chop the head in half. Then, cut both sides of the core, starting from the base and forming a triangle shape until the whole stem is out. You can also slice the head into wedges, and simply chop off the stem parts in one cut.
How to make Slow Cooker Cabbage and Bacon?
Render the grease from the bacon. Cook until slightly crispy and the fat is rendered. Transfer the grease into a glass cup or dish.
Assemble: Arrange the chopped cabbage in an even layer at the bottom of the slow cooker. Pour the bacon, spices and herbs, water, cider vinegar, plus bacon grease (I use a quarter cup, feel free to use as much or as little as you want). Stir it all together.
Cook: Set on high for 3 hours, or 2.5 hrs. if you like your vegetables on the crispier side.
Serve: Sprinkle with chopped parsley and enjoy hot.
Recipe variations:
Use other meat: Try adding some sausage slices, ham, ground pork, beef, turkey, or chicken to the dish.
Include other vegetables: Make it healthier by adding chopped carrots, broccoli, cauliflower, and bell peppers.
Use stock: Instead of water, use broth for more flavor.
Vegetarian: Skip the meat and add sauteed mushrooms and a splash of olive oil instead.
Use other seasonings: Try this with curry spice or Cajun seasoning!
How to make Cabbage and Bacon on the stovetop?
Sauté the bacon, then add the chopped cabbage plus seasonings and spices. Continue sautéing until the vegetables are tender and slightly caramelized, about 10 to 15 mins.
Add a little water while cooking if the dish looks too dry. Once the veggies are as tender as you want, serve with some parsley on top, and enjoy hot. You can also check out my recipe for Easy Bacon Fried Cabbage for more details!
What are the health benefits of cabbage?
Aside from having a ton of fiber, it's also low in carbs and calories. This vegetable is packed with Vitamins C, K, and B6, folate, manganese, and other vitamins and minerals.
Also, studies have linked it to better heart health, clearer skin, lower inflammation, and improved digestion. In short, it's one of the healthiest veggies you can eat!
Can cabbage be frozen for later use?
Yes! Cut it into wedges first, then blanch for 60 seconds. Drain and let it cool down. Then, freeze the individual portions in a single layer on a baking sheet.
Once frozen, transfer to a freezer baggie and store for up to 8 weeks. You can also freeze it without blanching— wash the pieces thoroughly, drain, and freeze.
What to Serve with Slow Cooker Cabbage and Bacon?
Enjoy it with most entrees like roasted chicken, crispy baked pork chops, and beef tips and gravy. It's really good with Asian dishes too! For instance, try it with Hunan Beef or Crispy Honey Sesame Chicken.
How to store leftovers?
Before transferring to a sealed container, cool the leftovers completely first. Then, store in the fridge for up to three days.
More Cabbage Recipes to Try:
Recipe Tips:
Cut down the prep work by using pre-shredded coleslaw mix!
Feel free to use broth instead of water for more flavor, but leave the salt for later to avoid adding too much sodium. Adjust the finished dish before serving.
In addition, don't throw out that flavorful grease! Transfer whatever you didn't use to a glass container, and use it in place of oil in other recipes like stir-fries.