Whole Roasted Cabbage Recipe [Video]
Whole Roasted Cabbage is brushed with a garlic maple-butter sauce then baked until caramelized and fork-tender. Drizzled with mushroom gravy, this is a magnificent dish that will impress everyone at the table.
This recipe proves you don't need meat for a hearty and satisfying meal! For more delicious vegetarian fare, you HAVE to try this Heirloom Tomatoes Pizza with Black Olives, Minestrone Soup, and Cheesy Zucchini Casserole.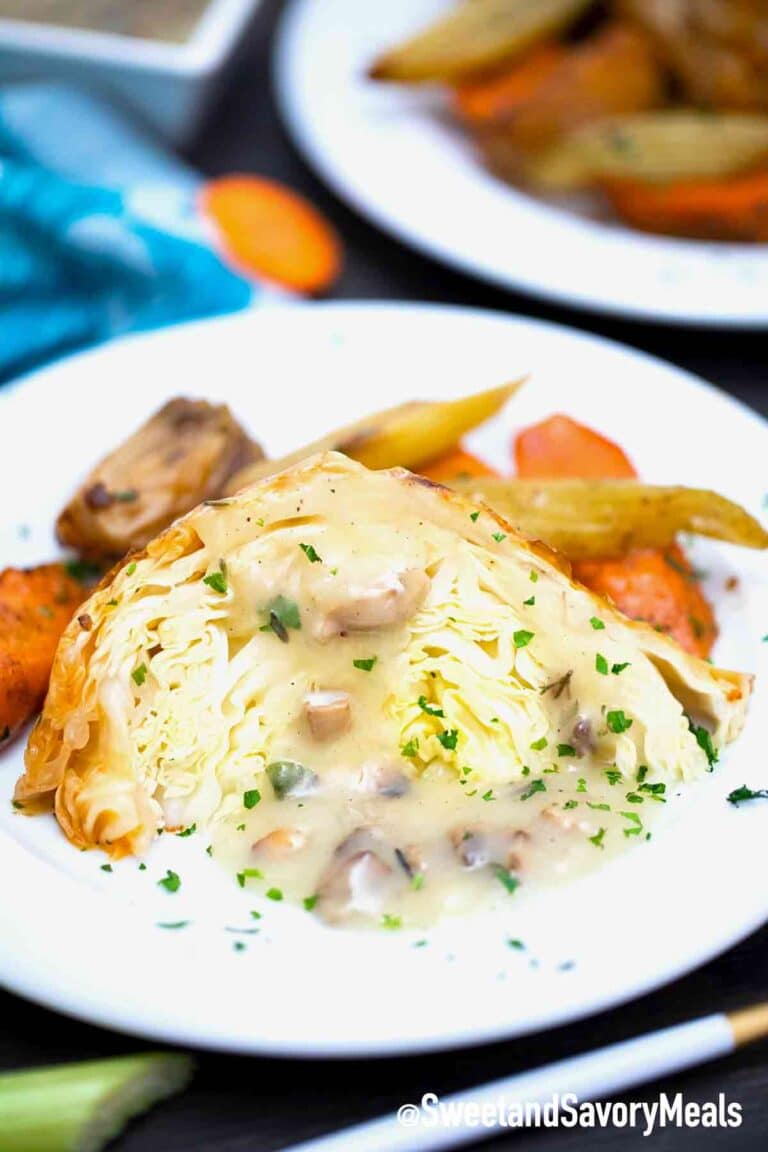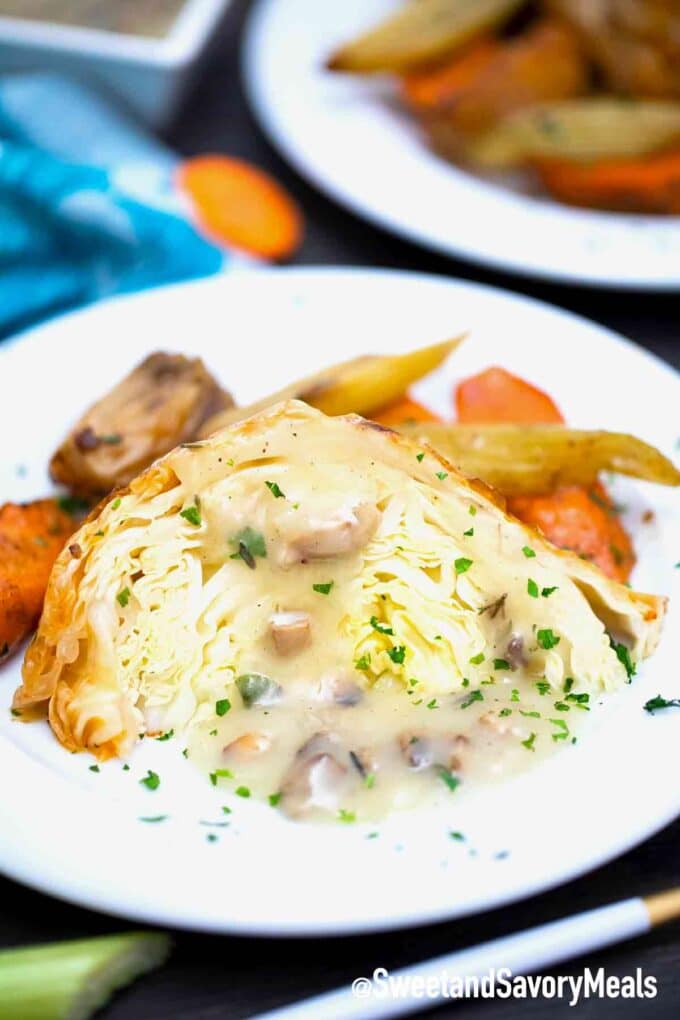 Whole Roasted Cabbage
This Whole Roasted Cabbage looks sensational coming out of the oven. It's lightly charred and golden all over, resting on a bed of perfectly-baked vegetables.
Cutting into it takes almost no effort— getting roasted for more than an hour renders it almost silky soft. On top of that, we're making a buttery mushroom gravy to pour all over it. It is a quick and easy recipe to make, resulting in a flavorful and healthy side dish.
You can serve this dish as a meatless entrée, or carve it up into smaller portions as aside. Trust me, this dish can rival any Sunday roast!
What is the best cabbage for roasting?
With its mild and sweet flavor, a large white or green one will be perfect. Look for one that's big, but not too dense or heavy. We want the flavor to penetrate deep into the layers. Less dense ones are also more tender after roasting.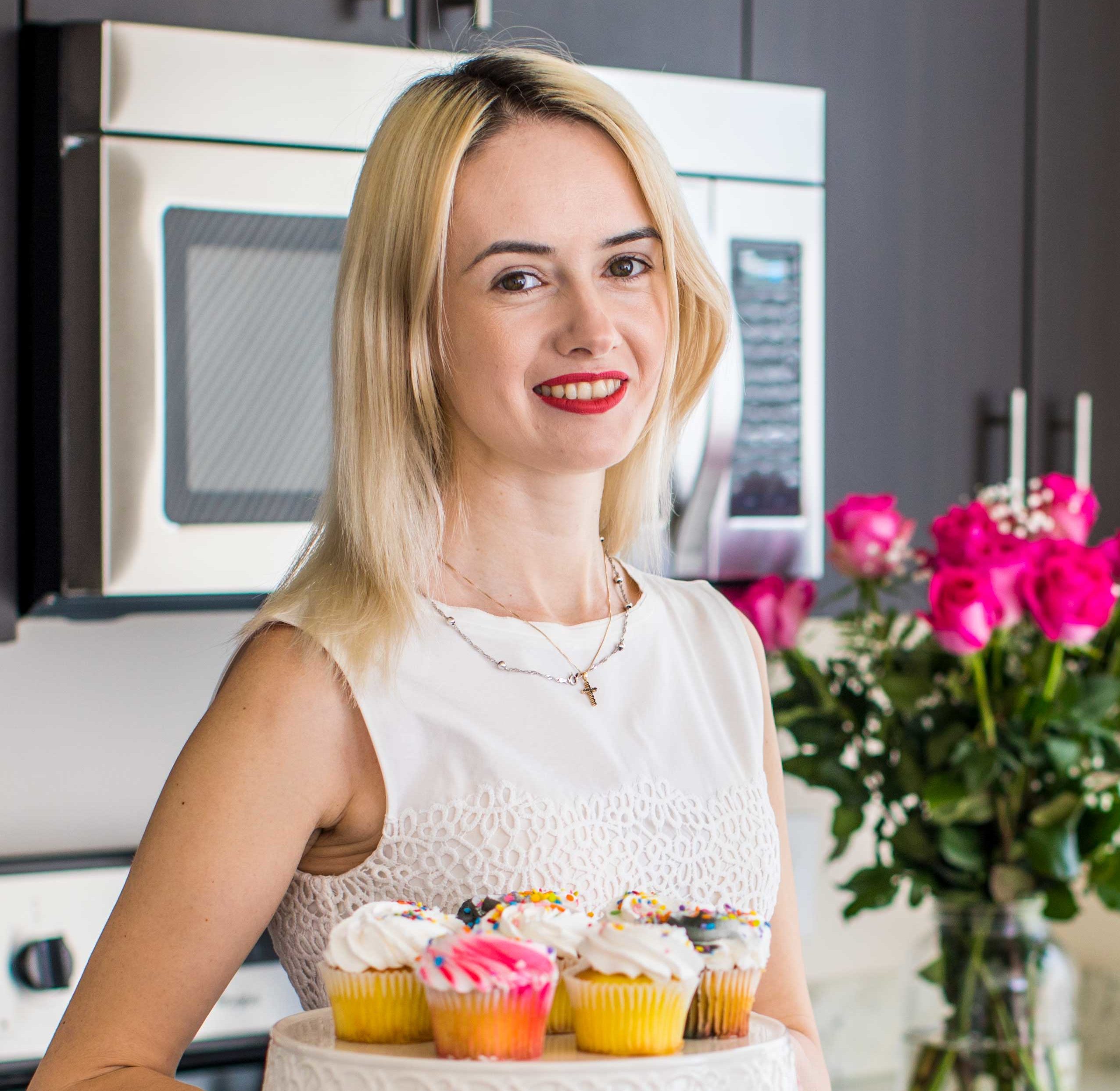 Follow us on Pinterest for more delicious recipes!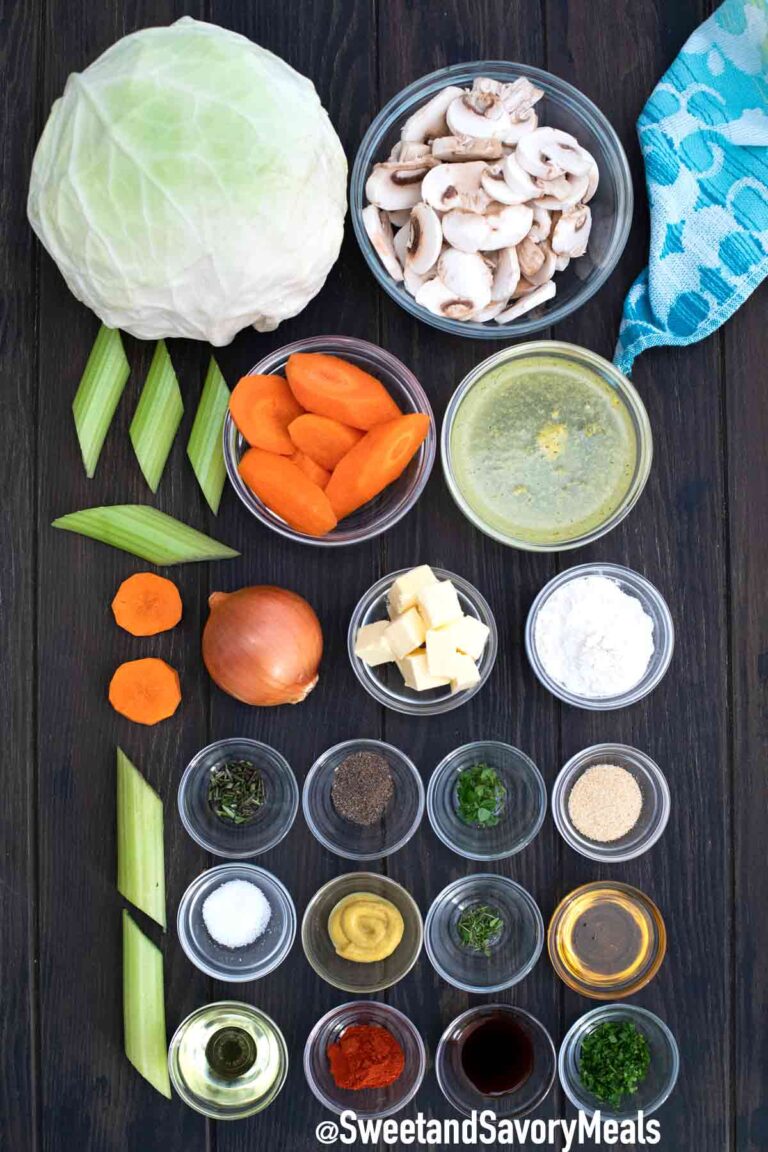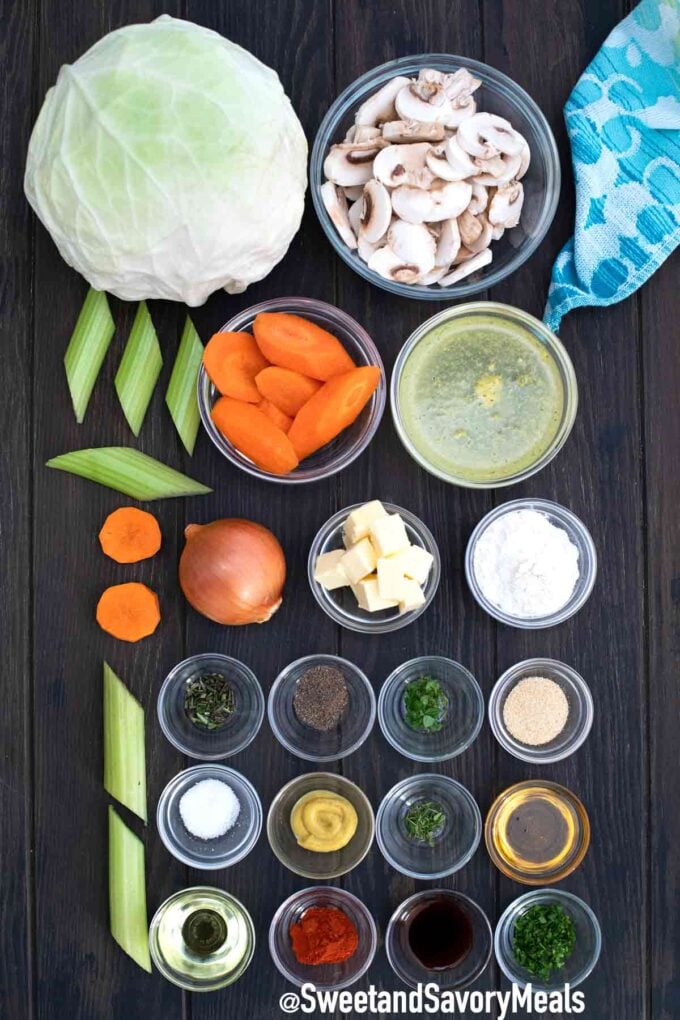 What is braised cabbage?
It is a method where the head is covered and simmered in a little liquid like broth or water to intensify the flavor and tenderize the vegetable. It's the same technique used for tough cuts of beef.
The only difference is that for meat, you generally sear it first before slow-braising them for hours.
Is cabbage healthier than lettuce?
Cabbage wins this round! While both are healthy and low in fat and calories, lettuce simply has less fiber, vitamins, and minerals. On the other hand, cabbage is rich in Vitamin C, Vitamin B6, antioxidants, potassium, and more.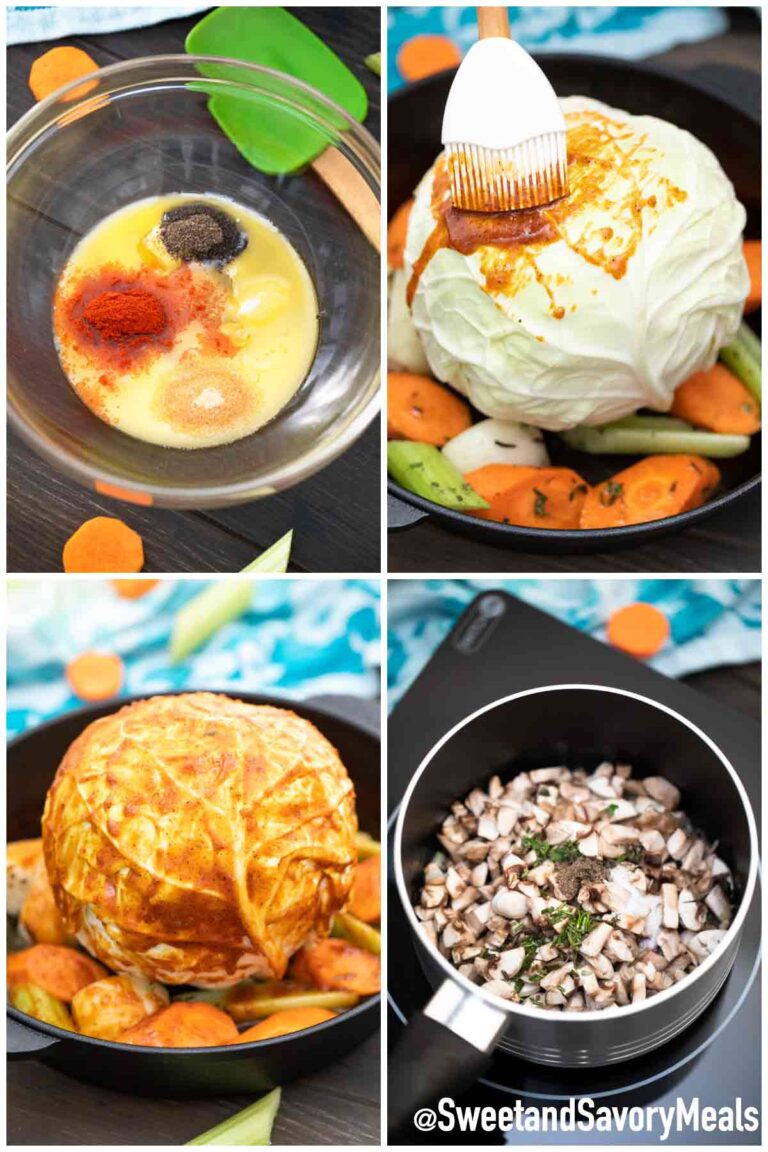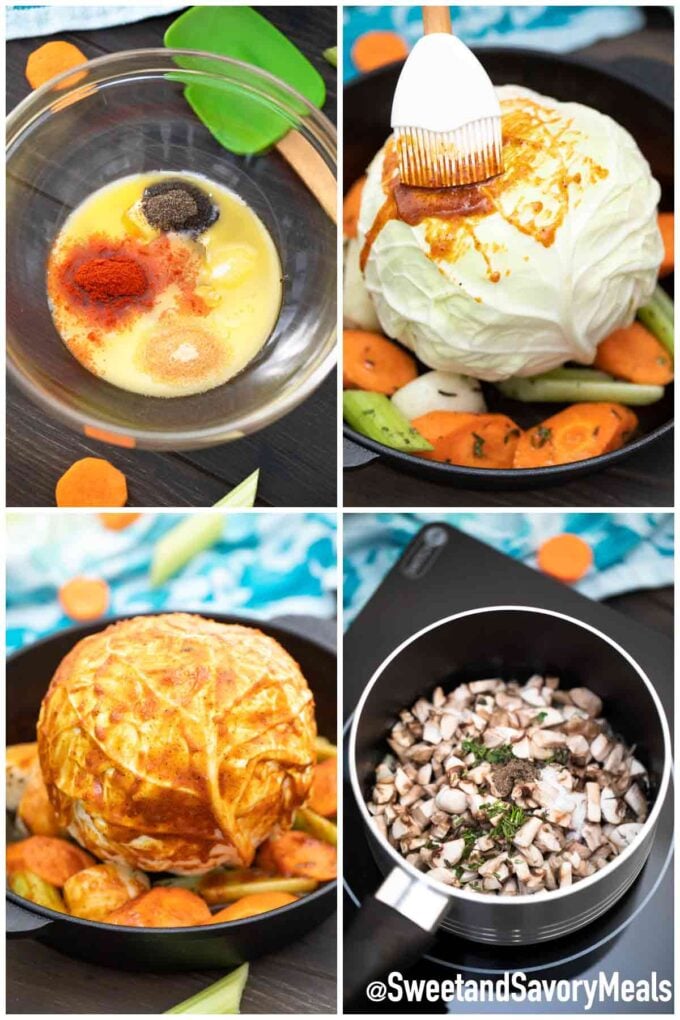 How do you make a Whole Roasted Cabbage?
Prep. Preheat oven to 450F. Slice the stem of your cabbage to give it a stable base. Then, whisk together the melted butter with the spices, maple syrup, Worcestershire, and mustard, then season. Chop your veggies and herbs, combine, and season.
Assemble. Next, arrange the chopped veggies in your skillet or roasting pan. Sit the cabbage on top, then brush liberally with the butter-maple sauce. Take half of the stock and pour it into the skillet's bottom. Cover with foil.
Bake. Place in the oven for 45 minutes. Afterward, uncover then brush with the rest of the sauce. Pour the rest of the stock into the pan. Bake for 45 minutes until the outer leaves are golden and slightly charred. You can pierce the thickest part of the head to see if it's done.
Make the gravy. Sauté the onion in the butter, followed by the herbs and mushrooms. Cook until deep brown. Add the flour and sauté, then whisk the stock in. Boil, then simmer until thick.
Serve. Cut into wedges, drizzle with gravy, then sprinkle with chopped parsley. Serve more gravy on the side. Enjoy hot!
Recipe Variations:
Bake in wedges: Instead of the whole, you can also carve it up into wedges before baking. The smaller pieces get done faster but are still equally delicious!
Add bacon: Place some raw, thick-cut bacon over the veggies for a smoky boost of flavor. Use chicken stock for more umami!
Drizzle with other sauces: Try drizzling it with some blue cheese or feta cream sauce, chimichurri, or homemade pesto.
Make it vegan: Use vegan butter.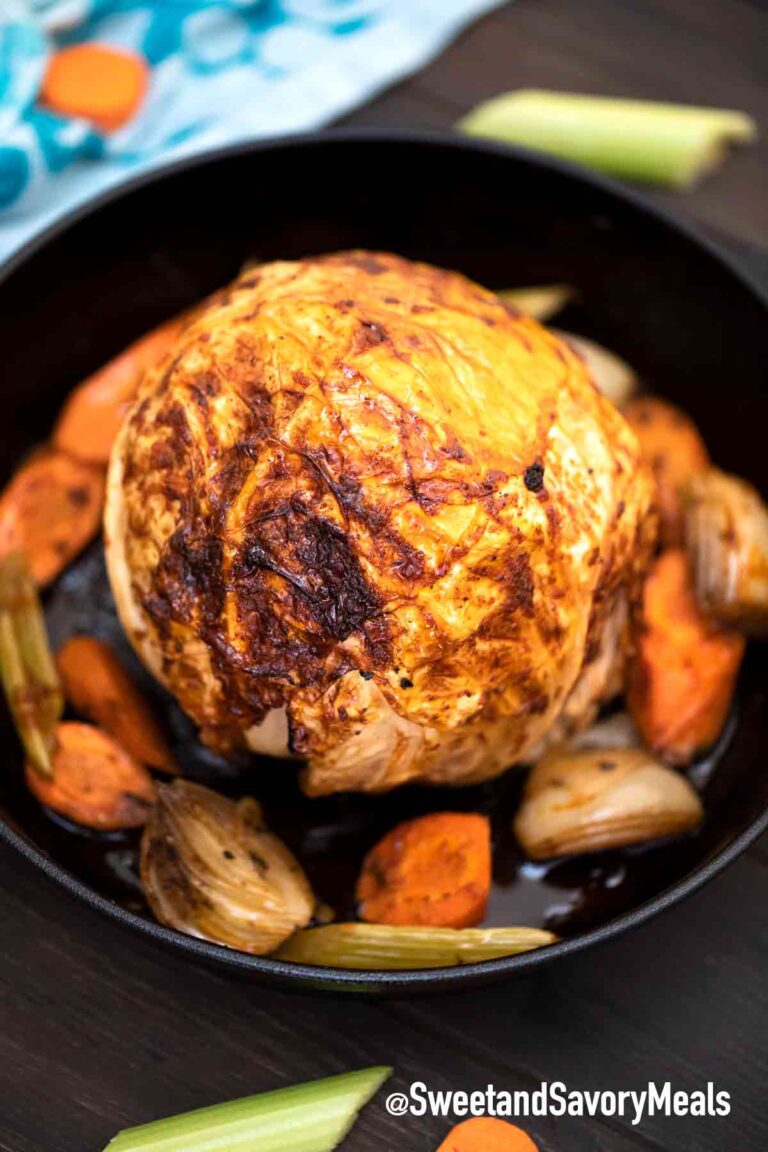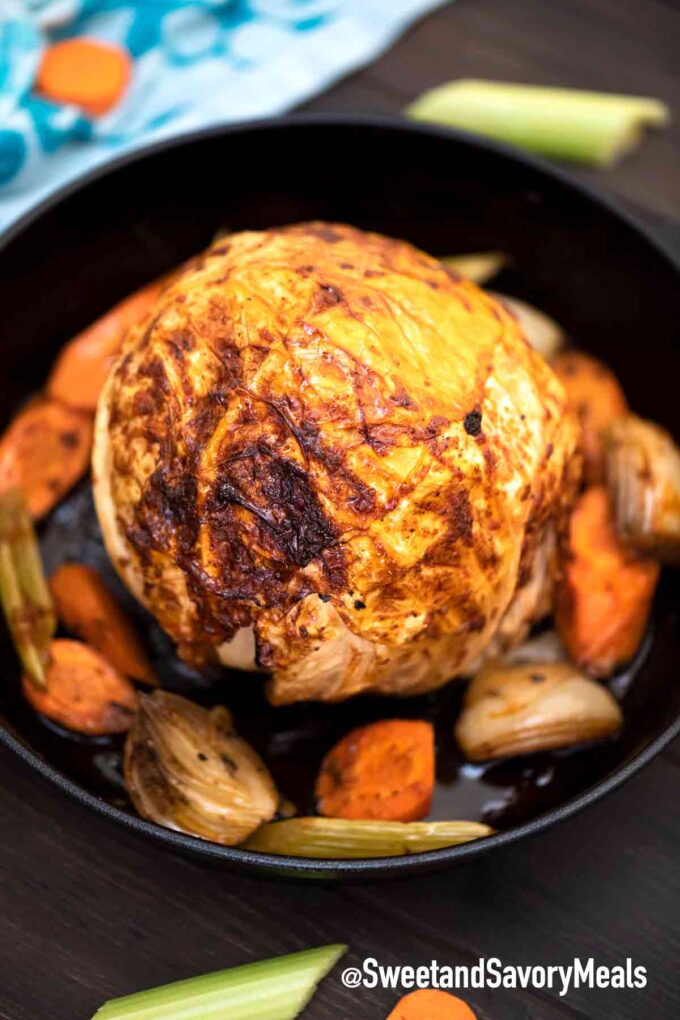 Can you cook a whole cabbage in the slow cooker?
Sure! It'll take about 3 hrs. on high for an entire head in the slow cooker.
Can you cook a whole cabbage in the slow instant pot?
Yes, just make sure the one you pick fits in your IP! I like placing it on a trivet so it steams instead of boils in the liquid. It'll take about 20 to 25 minutes for an entire head.
How do you serve Whole Roasted Cabbage?
You can serve it by itself as a meatless main. Carve into wedges and serve with gravy. If I'm doing an entire meatless meal, I also like serving it with sides like Creamy Pumpkin Soup, Creamy Mashed Potatoes, and Cheesy Baked Green Beans.
It's also great as a side, especially when you're having company over because it serves a lot. It's wonderful with Garlic Herb Butter Roasted Chicken or Red Wine Beef Roast. Goes really well with BBQ, too. You can basically serve it with most main dishes!
How to store leftovers?
For leftovers, cool them first before transferring to an air-tight container. Then, keep it in the fridge for up to three days.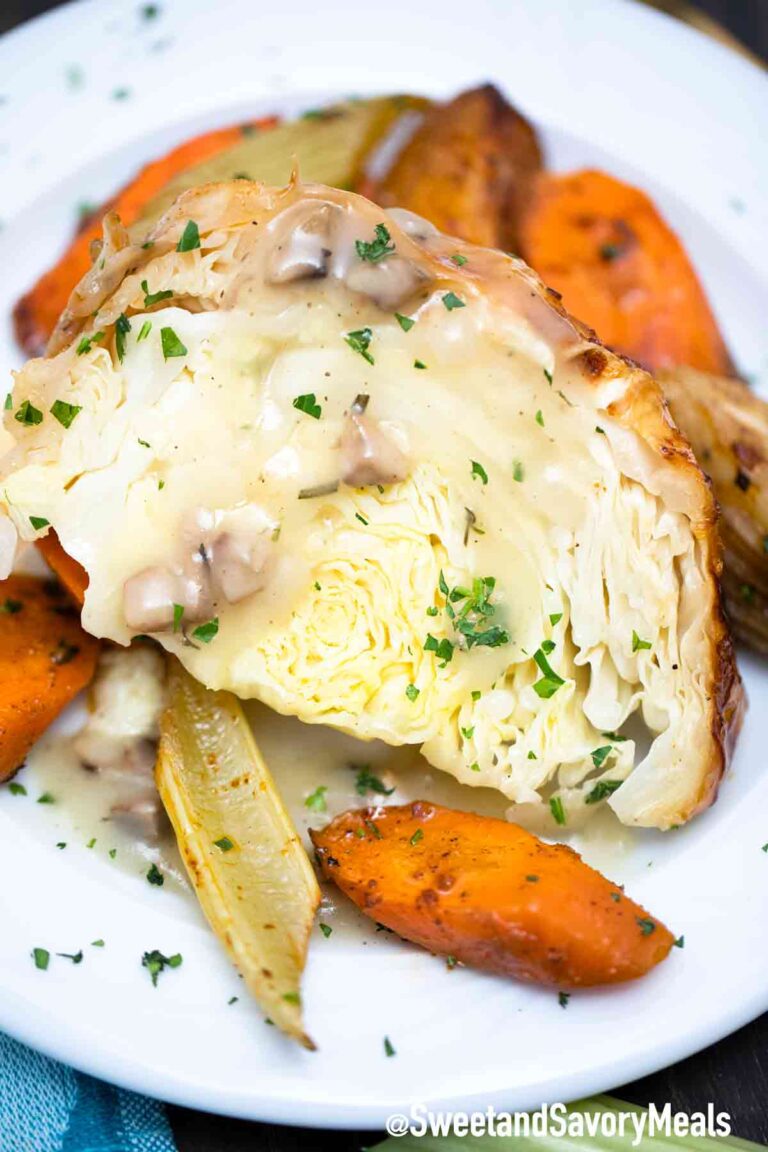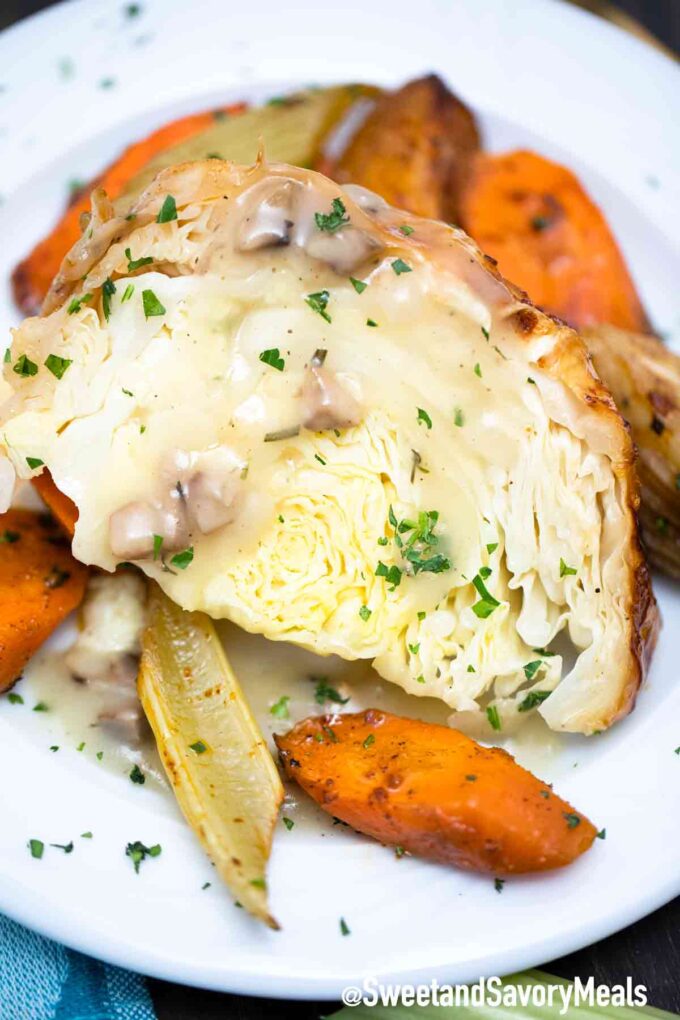 More homemade Cabbage Recipes:
Recipe Tips:
Don't have flour? You can use cornstarch slurry to thicken your gravy.
For more flavor, try hollowing out the core and brushing the inside of the cabbage with sauce.
Also, season generously! The salt and pepper really perk up the flavors of this dish.
Save Recipe
Whole Roasted Cabbage
Whole Roasted Cabbage is brushed with a garlic maple-butter sauce then baked until caramelized and fork-tender.
Author: Catalina Castravet
Serves: 6 servings
Prep time:

30

minutes
Cook time:

1

hour

30

minutes
Total time:

2

hrs
Nutrition information
Calories: 247 Carbohydrates: 25 Protein: 4 Fat: 16 Saturated Fat: 6 Cholesterol: 15 Sodium: 798 Potassium: 508 Fiber: 6 Sugar: 13 Vitamin A: 4581 Vitamin C: 59 Calcium: 98 Iron: 2
Save Recipe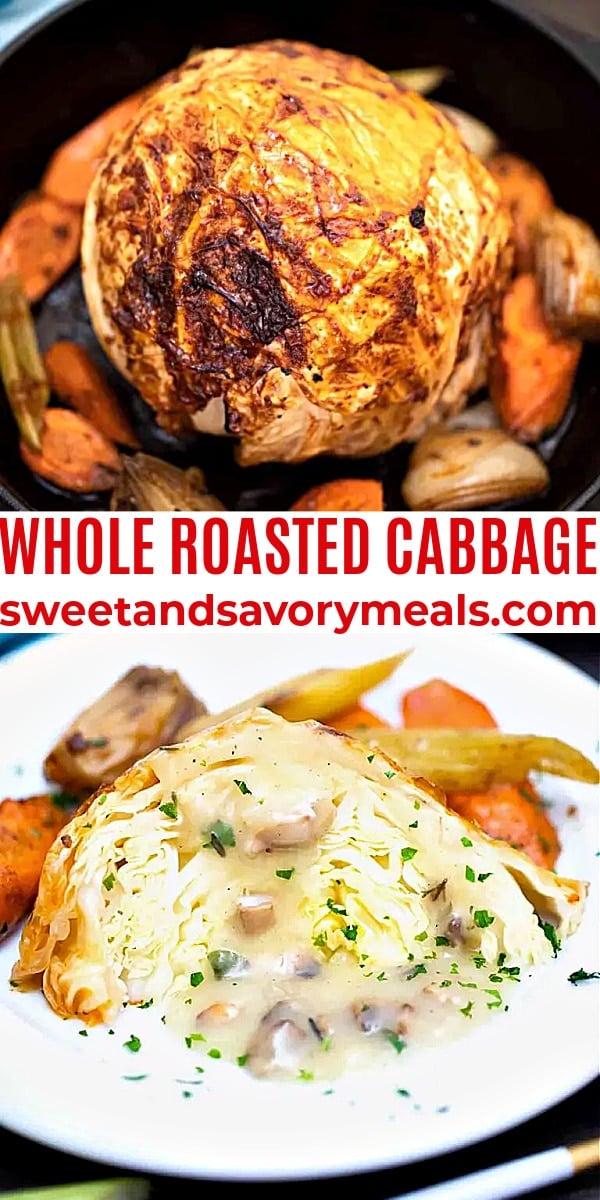 More recipes you might love
Categories: