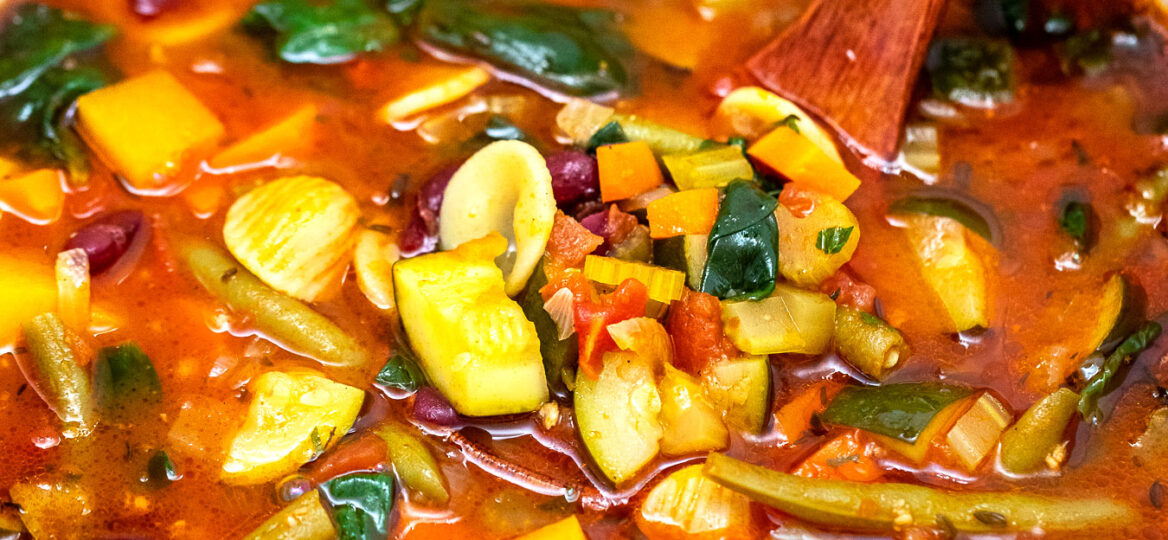 Vegetarian Minestrone Soup
Vegetarian Minestrone Soup is your ultimate comfort food! Hearty and flavorful, this dish makes for a quick lunch or weeknight dinner for the whole family!
This time, I am doing something Italian! Include this recipe in your regular menu rotation at home along with my other Italian recipes like Penne Alla Vodka, Chicken Alfredo, and Lemon Chicken Piccata!
Minestrone Soup Recipe
Vegetarian Minestrone Soup was exactly the first thing that I thought of when I opened my fridge early this morning. I have a surplus of vegetables waiting to be discarded but I just cannot allow that!
This recipe is perfect in cases like that. This traditional Italian dish is a great solution to cook leftover vegetables and hence, there is no exact recipe for it. People simply use what they already have on hand. Isn't it practical?
Aside from being practical, this dish is nutritious without being bland. It is full of healthful veggies, grains, and sometimes meat. For this recipe though, we are aiming for the traditional vegetarian version.
And historically, the ancient Romans prepared this with veggies like celery, beans, and carrots, just like what we will use as well. So, with this recipe, you get to have a warm and delicious meal, no food waste, and lots of leftovers.
What is the difference between minestrone and vegetable soup?
Minestrone is a kind of vegetable soup but not all vegetable soups can be considered a minestrone. Minestrone is thick as it could have rice or pasta in it which is not the case for most vegetable soups.
How to make Minestrone Soup
Sauté: In a Dutch oven, sauté the onions in olive oil.
Add the veggies: Add the garlic along with the firm vegetables first and season with the herbs and salt. Add the tomato paste, too. When these have softened already after a few minutes of stirring, add in the tomatoes, juice, and broth, beans, peppers, and bay leaves.
Boil: From medium heat, raise the temperature to medium-high until the soup boils while being partially covered. Then, reduce to a simmer.
Add the pasta: After a few minutes, uncover and add in the pasta. Let the pasta cook until tender and so are the greens.
Add the spinach: Add the spinach, and cook for no longer than 5 minutes.
Season: Turn off the heat, discard the bay leaves, and add some lemon juice and olive oil. Season with salt and pepper.
Serve: Garnish with parmesan, then, serve warm.
Recipe Variations
Meat: You can add meat like sausages, bacon, or pancetta if you like to add protein.
Broth: Feel free to use beef or chicken broth in place of the vegetable broth if you are not strictly following a vegetarian diet.
Thickener: While this recipe uses beans and pasta to absorb the liquid, you can use potatoes, too.
Herbs: Use rosemary, basil, and coriander as alternatives to oregano and thyme.
Pasta: Any short pasta will do. Even broken spaghetti can be used.
More options: Other great additions are mushrooms, wine, and your favorite cheeses other than parmesan.
How to Store:
Refrigerate: This dish lasts for up to 4 days in the fridge. Simply keep it in an airtight container once cooled completely.
Freeze: This makes for a great freezer meal. Simply put it in freezer bags, squeeze out the air, and lay flat in the freezer. It will keep for up to 6 months.
To reheat: Thaw it in the fridge overnight then, reheat on the stove.
Recipe Tips:
Sometimes the veggies get too mushy as you cook the pasta. What you can do is to cook the pasta beforehand to lessen the cooking time of the rest of the ingredients.
Serve it with your favorite bread or pizza!
Another option in preparing this sumptuous meal is this Instant Pot Minestrone recipe.