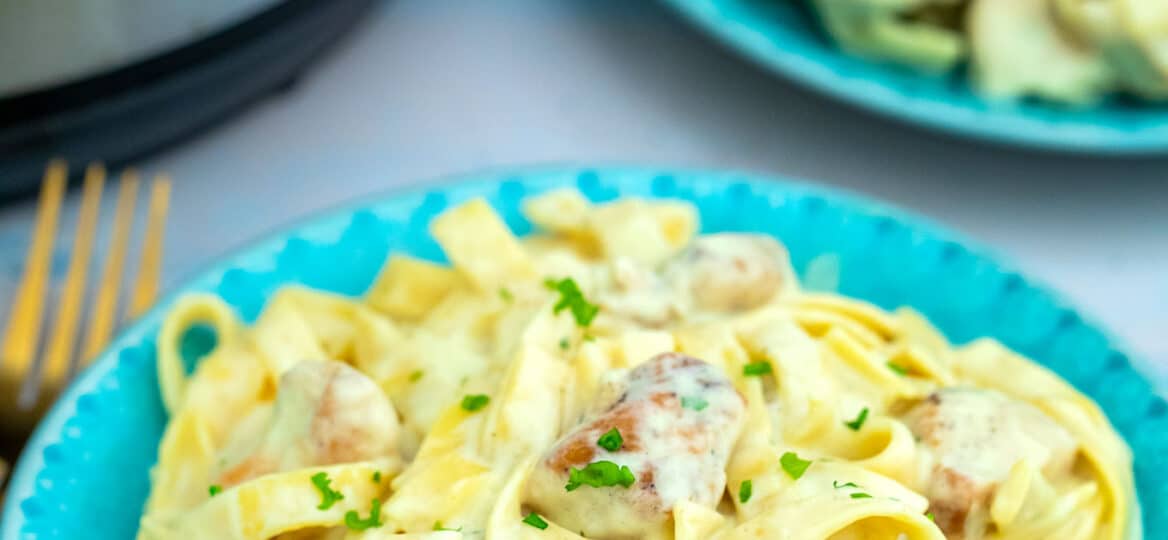 Instant Pot Chicken Alfredo [Video]
Instant Pot Chicken Alfredo is a classic favorite! Make this creamy dish at home using the trusty Instant Pot for a quick meal with minimal cleanup! Watch the recipe video tutorial below and see how easy this dish is!
This is just one of the many recipes that we can make using the IP! For more recipes, you can read on my posts like Pumpkin Soup, Mongolian Beef, and Refried Beans.
Pressure Cooker Chicken Alfredo
Instant Pot Chicken Alfredo is a simple dish that you can whip up in minutes. Each noodle is perfectly coated with the creamy sauce which makes it so satisfying and comforting.
Did you know that this Italian dish is popularly called Alfredo in the US but not in Italy? If you will go to Italy and ask for it, simply say fettuccine al burro.
Alfredo di Lelio popularized the dish in the early 1910s. Initially, it was only a part of their menu rotation at home, but when he included it in his restaurant, it became popular with American actors who came to dine.
Eventually, some actors brought his recipe to the US and to honor him, it was called Alfredo. Originally, it is only pasta in butter and parmesan. But the modern versions now involve meat, just like in this recipe wherein we cook it with chicken.
It has a rich history because people love it that much, don't you think? So, if you are craving for it, you can easily make it with this easy recipe at home – just like where it all started.
How to make Instant Pot Chicken Alfredo:
Prep the chicken: Use the sauté function of the IP for this. Once hot, put some olive oil and then, add in the chicken pieces and cook until no longer pink.
Add the base: Add in the butter and garlic. Once the butter has melted, add in the broth and heavy cream.
Add the noodles: Submerge the fettuccine by pressing down on them. Close the lid and seal the IP.
Cook: Manually set the timer to 6 minutes (or 7, if you want softer noodles), then, do natural pressure release which will take about 5 minutes. Release the pressure, careful not to let the liquid go out with the steam.
Serve: Stir in the parmesan then, serve with your favorite bread and salad.
What pasta is best to use for Instant Pot Chicken Alfredo?
Fettuccine is the traditional one to use, but this is so versatile that spaghetti, linguine, or even penne can be used in this recipe. Just choose anything that you have, and it does not matter that much as long as you use the dry uncooked ones.
How to make homemade Alfredo Sauce?
Check out my recipe for the Alfredo sauce on the site. Use it on noodles, casseroles, or even pizza.
Can I make it in advance?
You can opt to cook the chicken beforehand to shorten the process. Or, you can follow the storage instructions so you first store it then, reheat and serve later.
How to Store:
Refrigerate: It can stay good for 3 to 5 days in the fridge as long as it is properly kept in airtight containers.
Freeze: It can even be stored for up to 2 months, kept in freezer bags.
To reheat: Thaw it first in the fridge. Then, reheat it in a deep pan on the stove. Cover the pan tightly so that steam will be trapped, and the steam will heat it up without adding heat at the bottom that could burn it. Monitor the temperature using a thermometer every 5 minutes, stirring every time. Then, once it reaches 130 degrees Fahrenheit, lower the heat and continue stirring. Remove it from heat when it reaches 165 degrees Fahrenheit, the temperature at which it is safe for consumption.
To reheat while frozen: Heat it for up to 55 minutes at 325 degrees Fahrenheit, and the middle should measure 165 degrees Fahrenheit. Keep the dish covered tightly with aluminum foil, changing the foil halfway through the reheating.
Recipe Tips
Also, make this using shrimp or vegetables like broccoli or leave out any meat if you want.
If you want to lighten it up, do not use the heavy cream. Instead, add in half and half as you put the cheese towards the end. It will be a bit runny, but you can add roux to thicken it.
White mushrooms are a nice addition to this dish.