Instant Pot Pumpkin Soup makes for an easy and quick dish that is perfect for the chilly nights of autumn and winter! It is creamy, flavorful, and healthy!
It is almost soup season! This easy recipe is timely for the cold nights of autumn. This is just one of the numerous recipes that you can make with pumpkin. Try our pound cake, cheesecake bars, and pie versions! Isn't it versatile?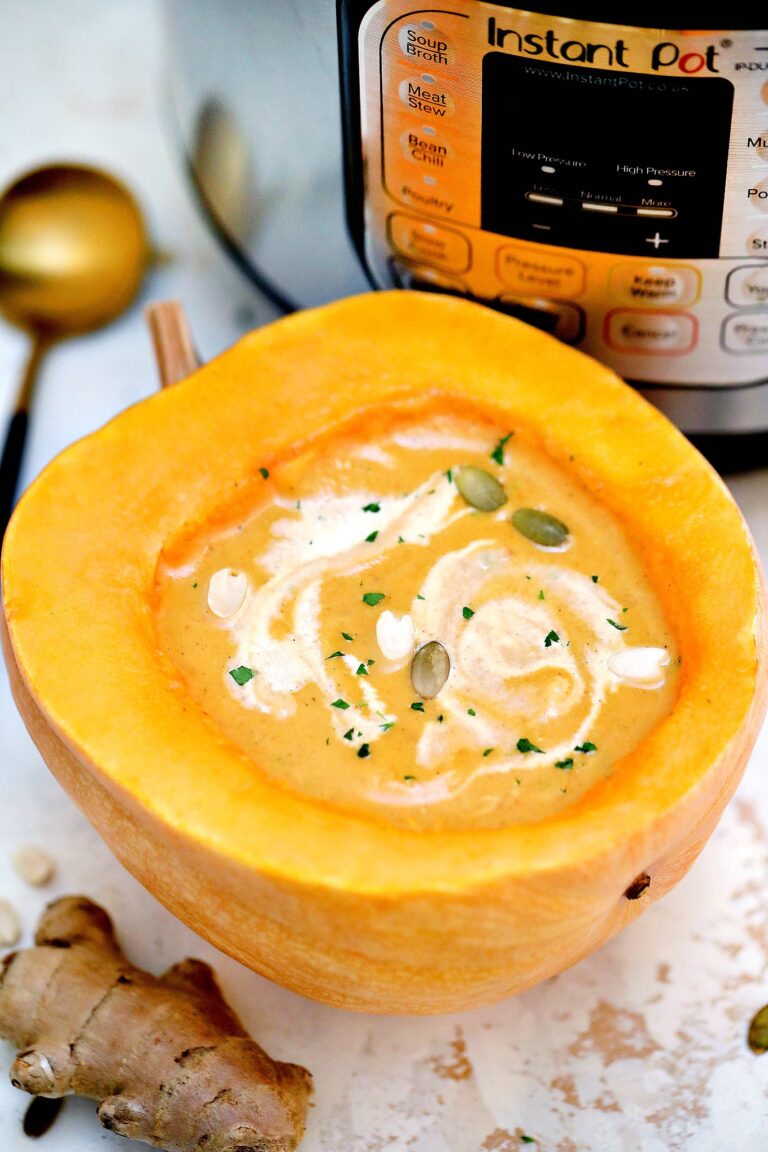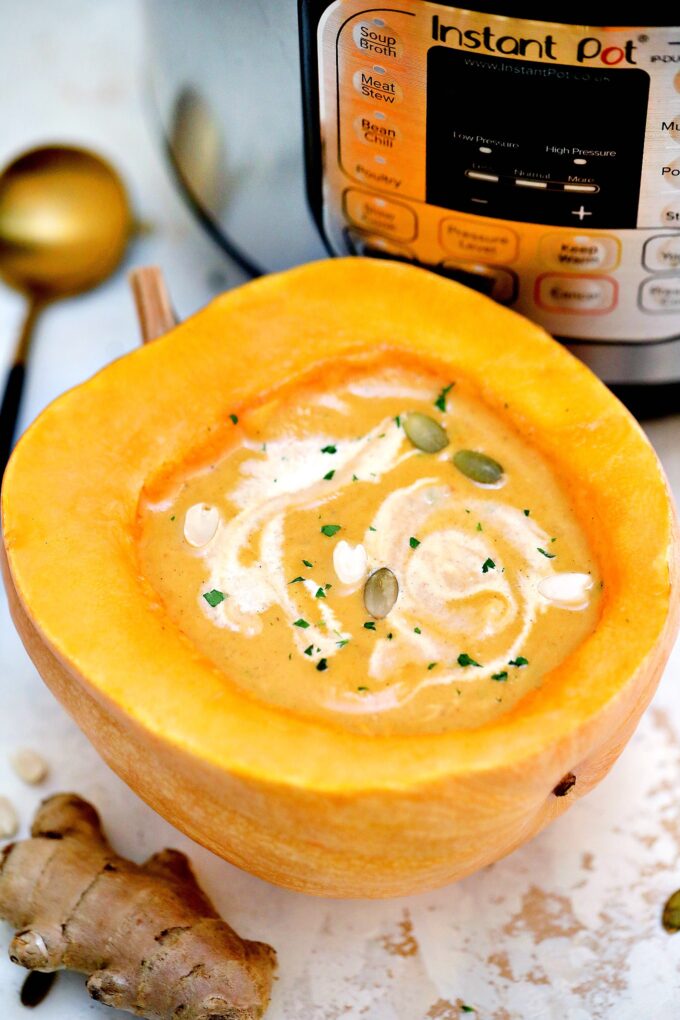 Pressure Cooker Pumpkin Soup Recipe
The heartwarming soup can be done in under 30 minutes! That is the beauty of using the pressure cooker in preparing this rich soup.
You will also need some pantry items to complete this recipe as well and a good blender to make it smooth. Don't worry, everything else will be a breeze!
The fruit is full of health benefits and that makes this dish extremely healthy as well. We were careful to use low-sodium broth in it and did not use the canned puree.
And yes, it is a fruit! We are so used to using it as if it were a vegetable but it is a fruit. A fruit is the part of a plant that contains the seeds, and that is exactly what a pumpkin is.
Enough of this controversy, and read on to learn this easy recipe.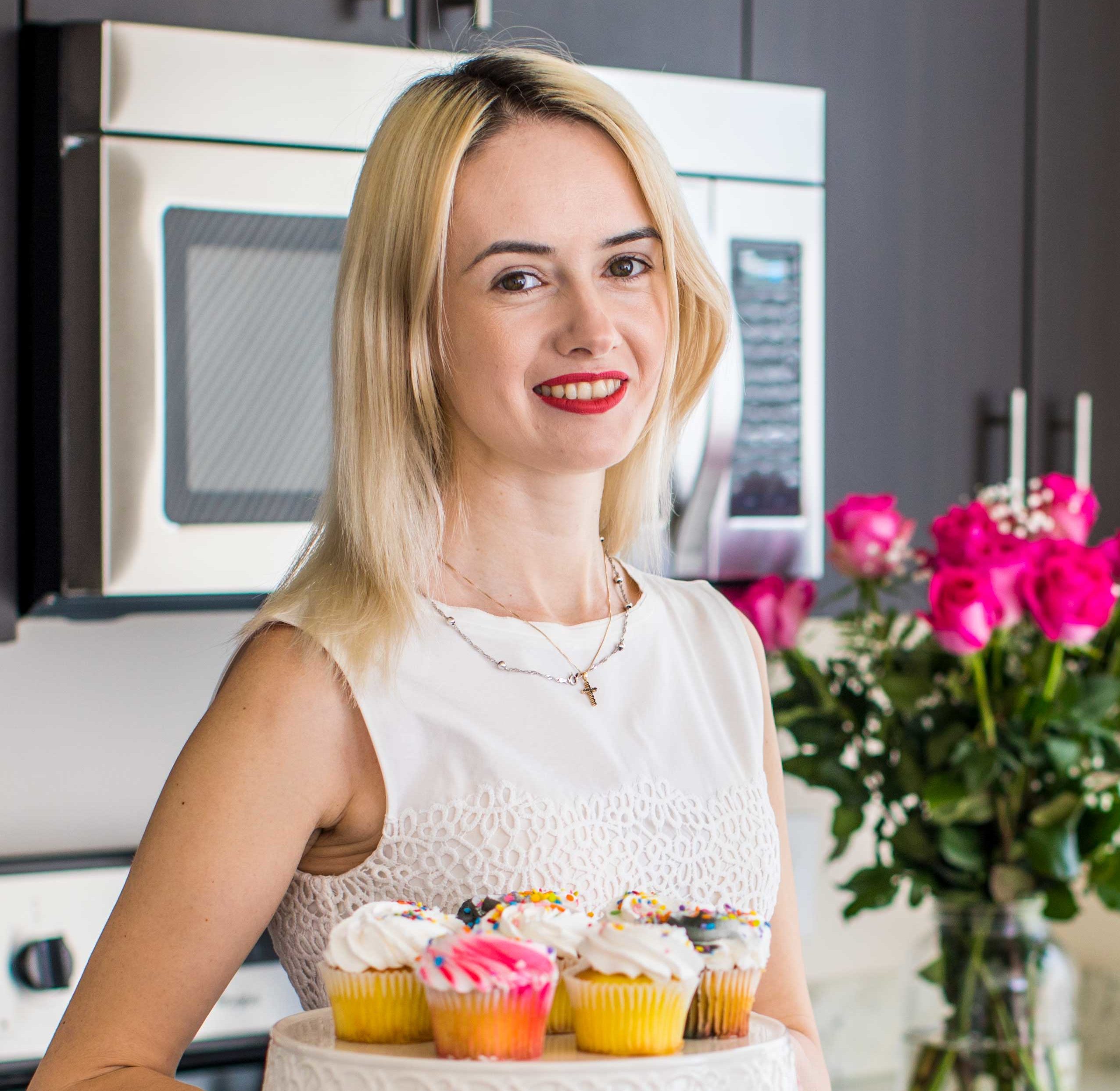 Follow us on Pinterest for more delicious recipes!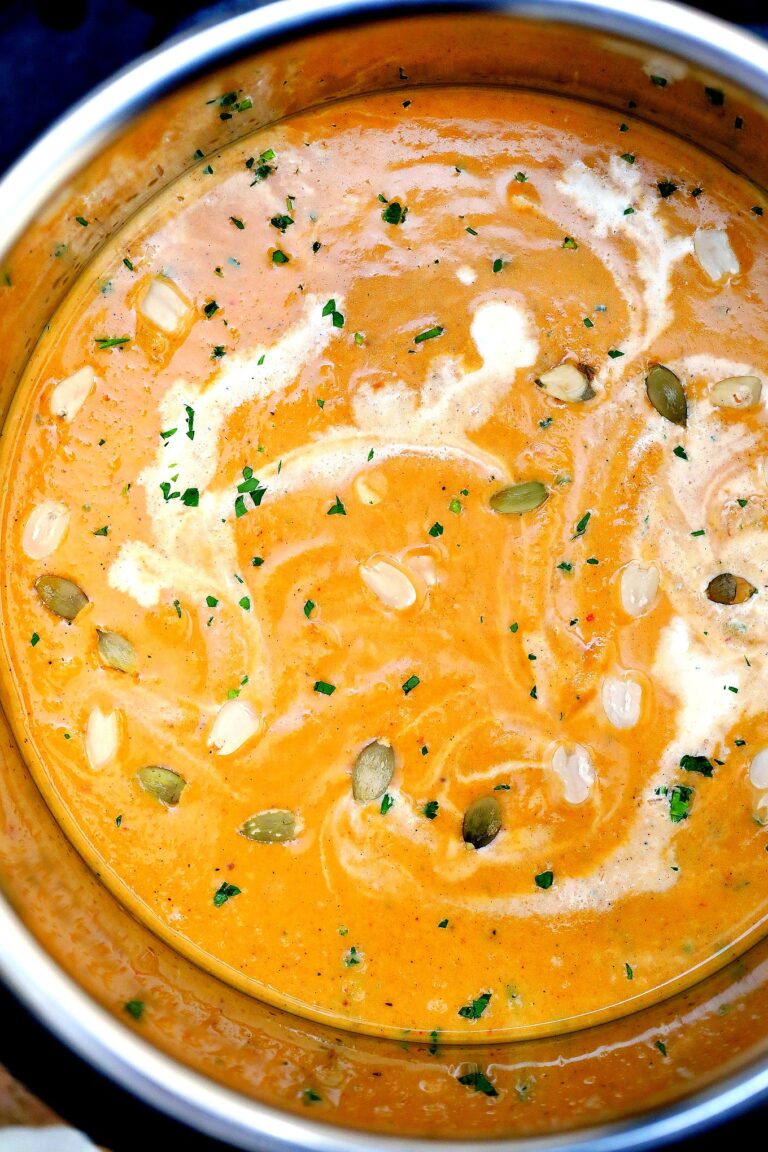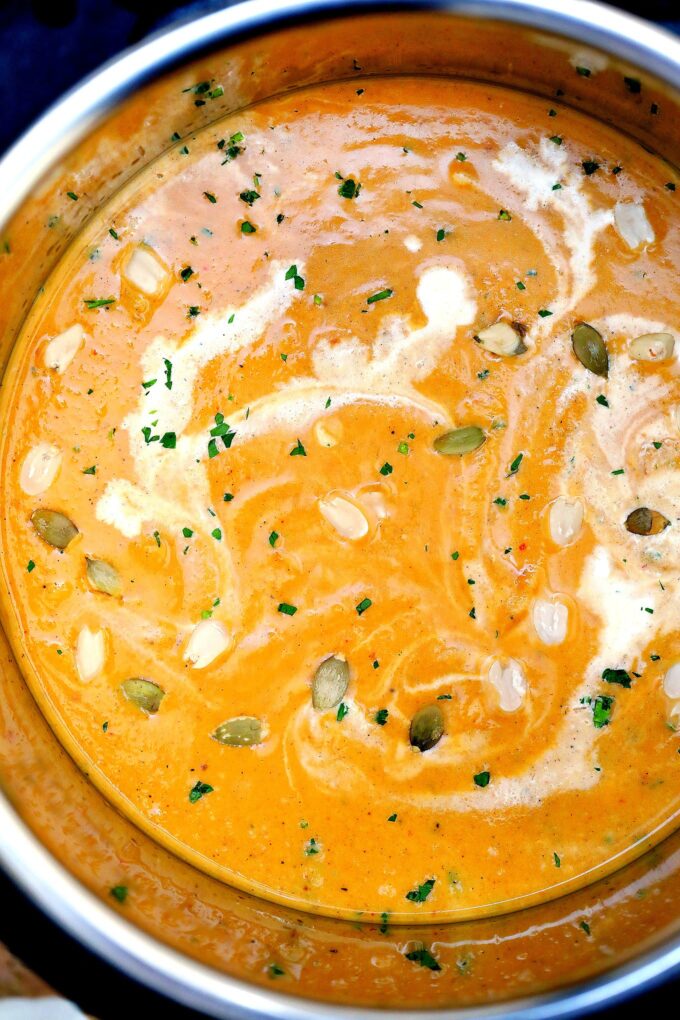 How to make Instant Pot Pumpkin Soup:
Sauté: Use the SAUTE function of the IP to sauté onions, garlic, and ginger in olive oil. Add in the curry paste.
Add the other ingredients: Cancel the SAUTE function and add the other ingredients. Thin out the almond butter with a small amount of broth, and then, add it. Toss in the pumpkin cubes, broth, salt, and the other seasonings and spices.
Pressure-cook: Close the lid and seal the valve. Set into HIGH PRESSURE, or SOUP function and then, cook for about 10 minutes. Then, allow the pressure to naturally equilibrate and then, release the valve.
Blend: Stir in the coconut cream, then, using a ladle, transfer the soup into a heat-resistant blender to smoothen it. Give it a few pulses until pureed.
Serve: Garnish and then, serve warm!
What types of pumpkins are best to use to make this soup?
Look for sugar or pie pumpkins. Jack-o'-lanterns are not ideal because they not flavorful and quite watery. Good candidates would be butternut squash and sugar squash.
Can I make it in advance?
Yes, you can! It makes for a good freezer meal, so you can just reheat it for later. Refer to the storage instructions for details.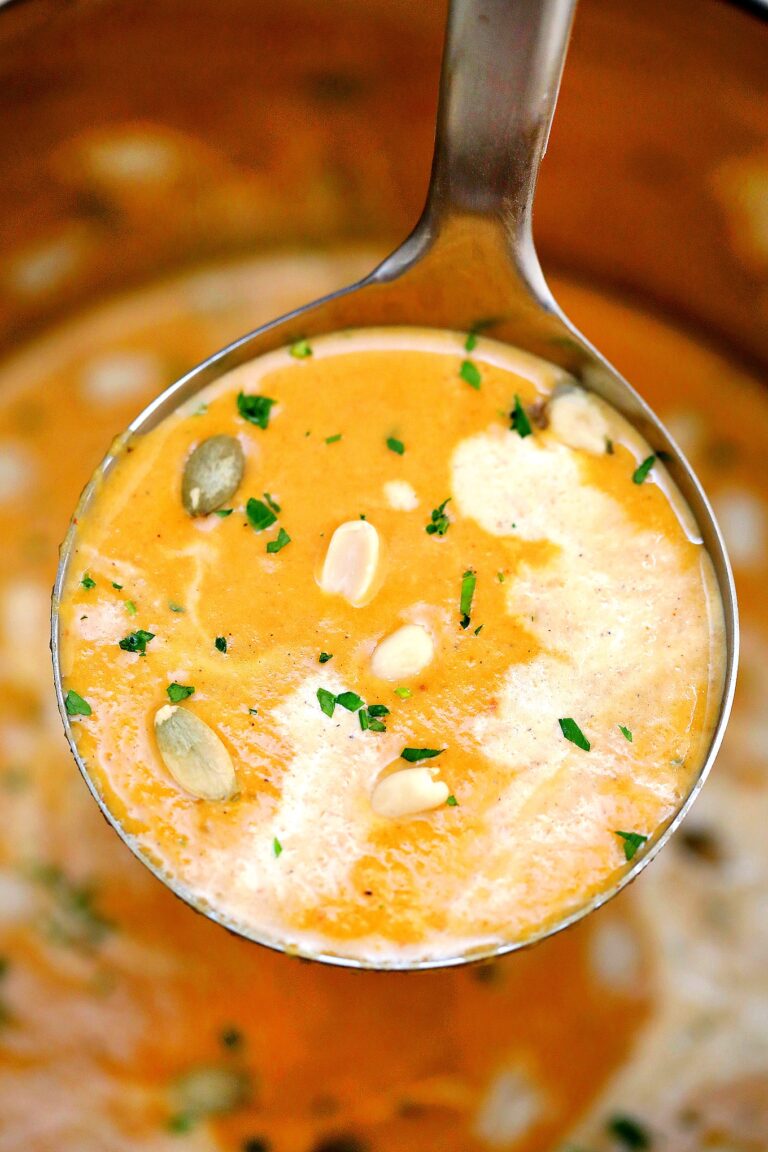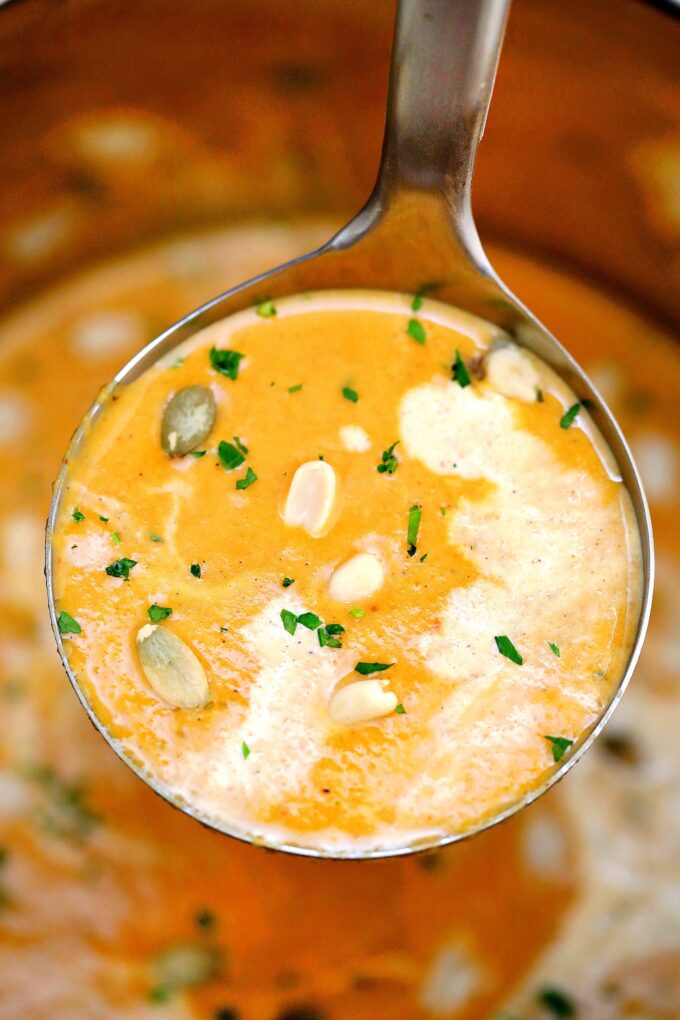 Instant Pot Pumpkin Soup add-ins:
It is fairly versatile and you can add more ingredients. Here are some suggestions:
cheese
croutons
fried shallots
roasted veggies like carrots
roasted pumpkin seeds
Instant Pot Soup Tips:
Note the following suggestions when making recipes like this:
Using the sauté function for your aromatics deepens the flavor and adds a caramelized touch. This yields a more improved flavor compared to simply tossing in the ingredients together.
Add dairy after the cooking. It may curdle and so, it is advisable to simply add it after.
Use NPR or natural pressure release because it is safer. If you opt for a quick pressure release, the liquid may shoot out of the valve along with the steam.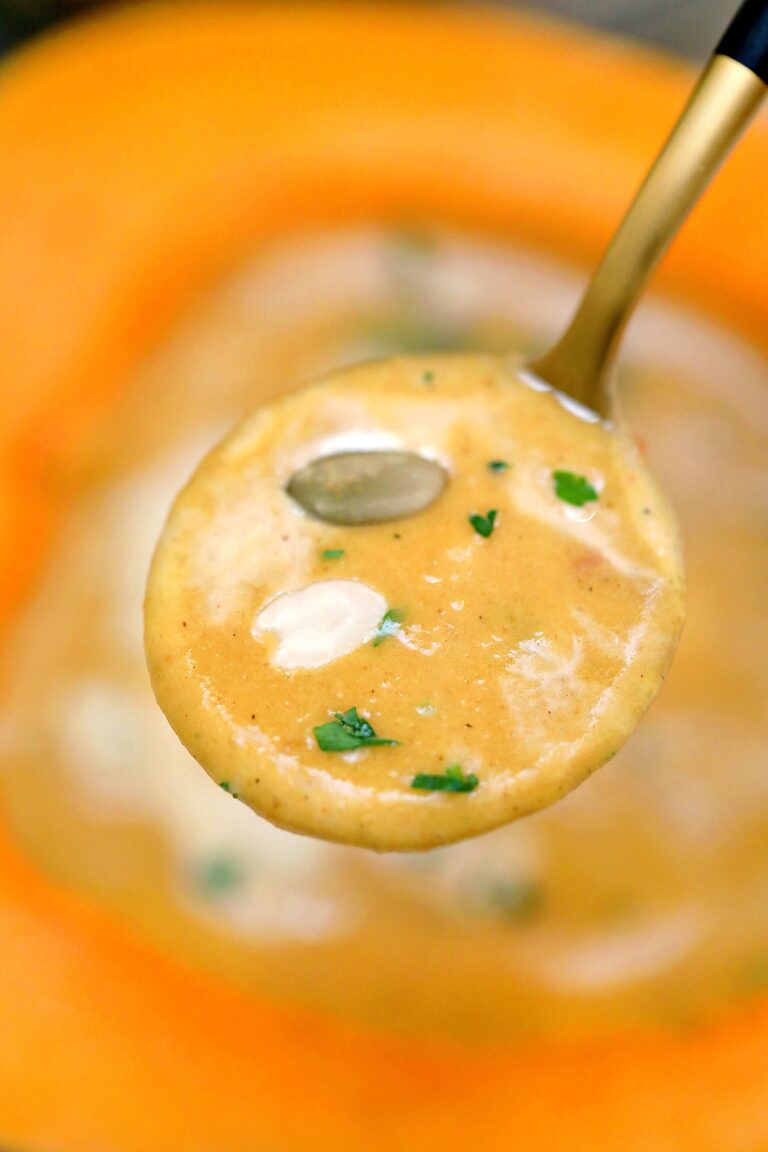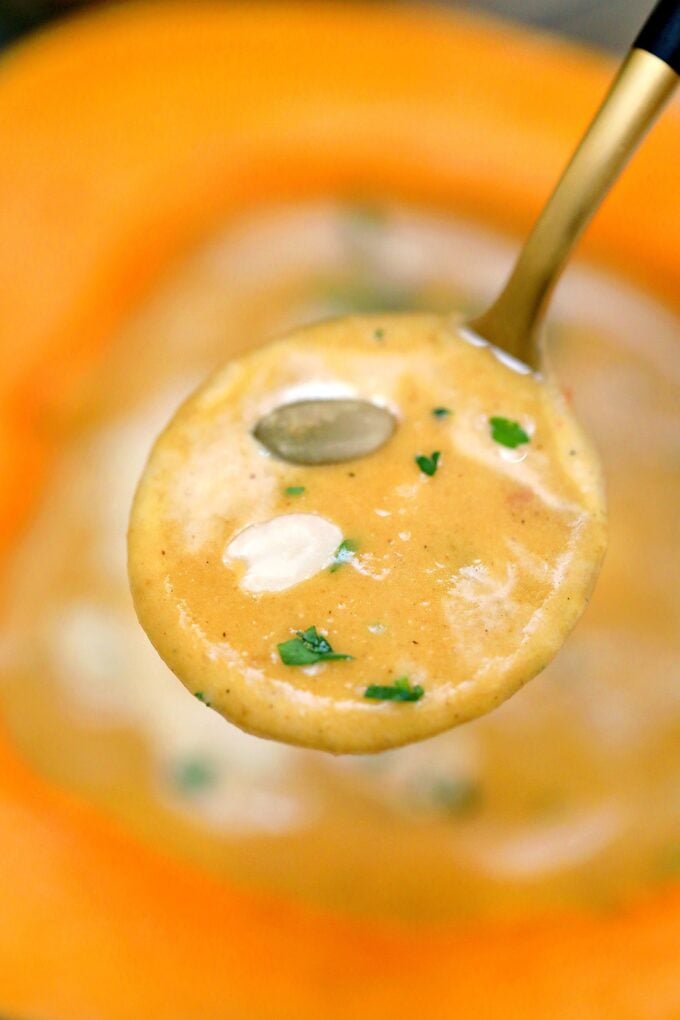 How to store it:
Refrigerate: You can put it in an airtight container after cooling it and keep for about 3 to 4 days.
Freezer: Remember to let it cool completely. Then, transfer it to an airtight container with enough headspace to allow expansion of the liquid as it freezes. And when you choose to freeze it, do so without the cream. Simply add the dairy when you reheat it.
To reheat: Transfer it to the fridge the night before to thaw. Reheat it on the stove after thawing. Add the cream after reheating.
Recipe Tips and Notes:
In place of the coconut milk, you can add cream instead.
For a nice presentation, you can serve it in a carved out squash or pumpkin.
Be careful with blending. Allow the steam to escape as you blend it by removing the piece at the center of the lid.
Also, you can easily make this recipe in the Slow Cooker.
Save Recipe
Instant Pot Pumpkin Soup
Instant Pot Pumpkin Soup makes for an easy and quick dish that is perfect for the chilly nights of autumn and winter! It is creamy, flavorful, and healthy!
Author: Catalina Castravet
Serves: 6 servings
Prep time:

20

minutes
Cook time:

10

minutes
Total time:

45

mins
Ingredients
Soup:
Toppings:
Instructions
Sauté:
Pressure-cook:
Blend:
Nutrition information
Calories: 295 Carbohydrates: 17 Protein: 5 Fat: 25 Saturated Fat: 14 Sodium: 826 Potassium: 629 Fiber: 3 Sugar: 6 Vitamin A: 11009 Vitamin C: 13 Calcium: 76 Iron: 2
Save Recipe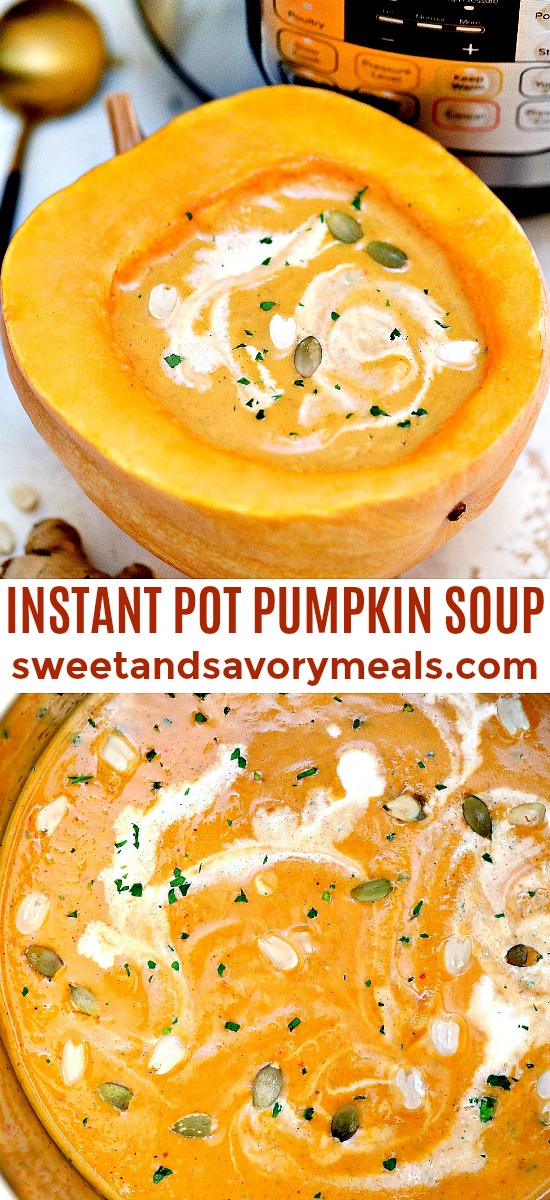 More recipes you might love