Dulce de Leche Stuffed Pumpkin Lava Cakes
This post may contain affiliate links. Please read my disclosure policy.
Very easy to make Pumpkin Lava Cakes are stuffed with sweet Dulce de Leche, topped with whipped cream and dusted with cinnamon.
There is no shortage of Pumpkin Desserts on this blog, you can try your hand at Pumpkin Pound Cake or Pumpkin Creme Brûlée, and if you a short on time this Pumpkin Pie Fudge is a great alternative. Embrace the season and indulge the glorious pumpkin flavored desserts.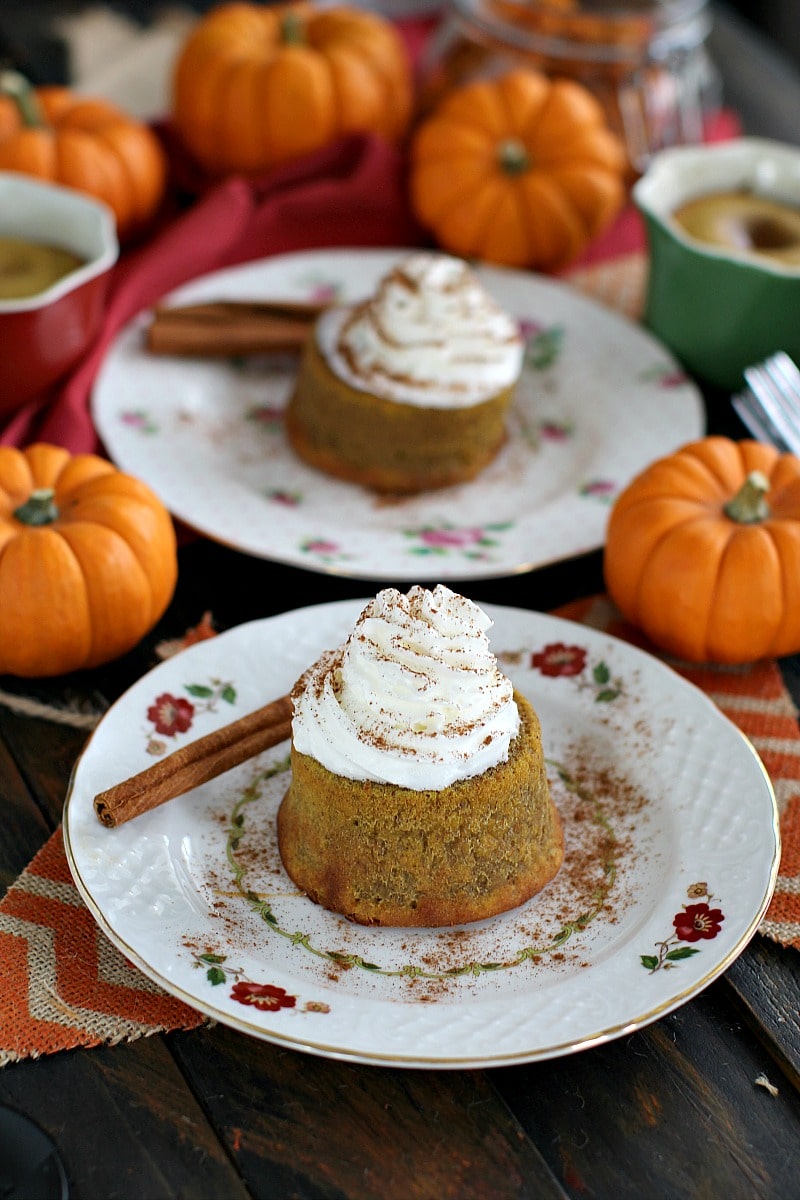 Pumpkin Lava Cakes Recipe Tips
Pumpkin Lava Cakes are a must make this fall season! This is actually that type of dessert that looks stunning and tastes even better. It definitely tastes like you have been laboring in the kitchen the whole day, and yet, they only take 30 minutes start to finish. The pumpkin and Dulce de Leche is a match made in heaven, especially with the beautiful pumpkin spice flavor and topped with whipped cream! Moist, soft, sweet, sticky and totally amazing.
If you want to serve a pumpkin dessert that is not pie, these Pumpkin Lava Cakes are the way to go! The batter is super easy to make, and actually can be made a few hours in advance. All you have to do is bake them 20 minutes before serving the dessert. The cakes are best served warm as they are stuffed with sweet Dulce de Leche, which becomes an ocean of delicious melted goodness when the cakes are cut into!

MY LATEST VIDEOS
What you need to make Pumpkin Pound Cake?
White chocolate
Butter
Powdered sugar
All-purpose flour
Pumpkin spice
Canned pumpkin puree
Vanilla extract
Eggs
Dulce de leche
Pin This Pumpkin Lava Cakes Recipe to your Favorite Board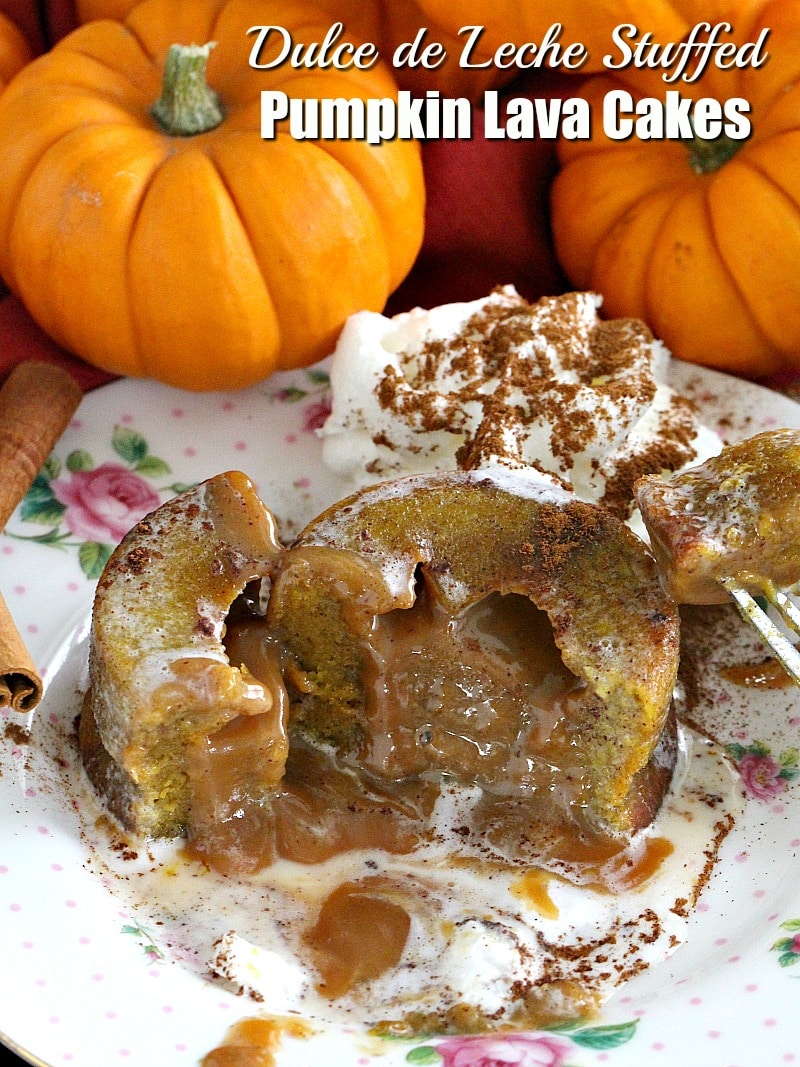 How do you make homemade pumpkin spice?
You can make pumpkin spice blend at home pretty easily, here is what you will need:
3 tablespoons ground cinnamon
2 teaspoons ground ginger
2 teaspoons ground nutmeg
1 teaspoon ground allspice
1 teaspoon ground cloves
Directions: In a small bowl, mix all the spices together. Transfer to a small jar or spice container.
What is the difference between dulce de leche and caramel sauce?
Caramel is made with a mix of water, heavy whipping cream, sugar, and butter. It also has a more watery, pourable consistency.
Dulce de leche is made with milk, sugar, and sometimes cinnamon or condensed milk that has been simmered for hours. It has a thicker consistency and a darker color.
Can you freeze Pumpkin Lava Cakes with Dulce de Leche?
You can freeze the baked lava cakes. Cool the cakes completely and refrigerate for a few hours. Fully wrap it in plastic wrap tightly. Next, wrap in aluminum foil or place in freezer bags. Freeze for up to 3 months. Defrost before serving. Preferably warm them up in the microwave before serving.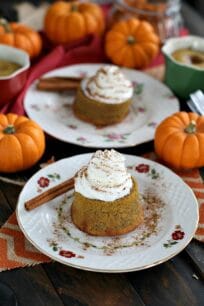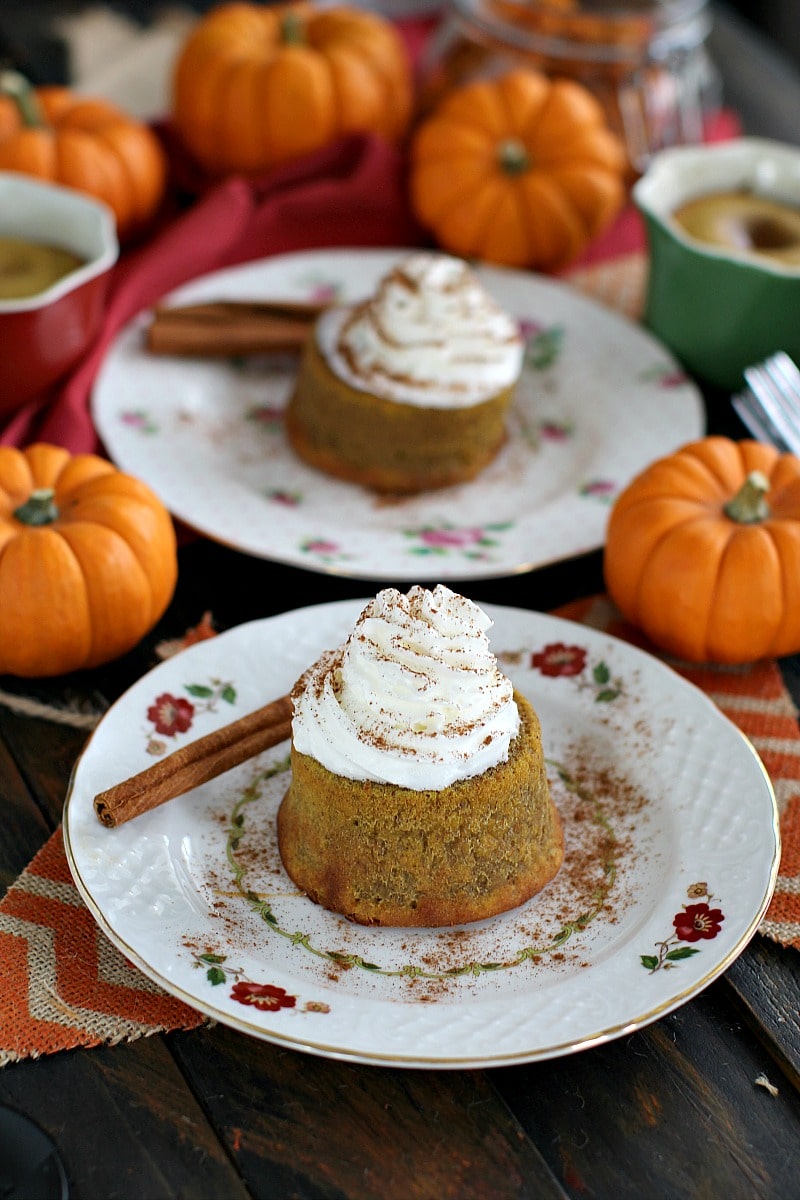 Pumpkin Lava Cakes
Very easy to make Pumpkin Lava Cakes are stuffed with sweet Dulce de Leche, topped with whipped cream and dusted with cinnamon.
Ingredients
2/3

cup

white chocolate

1/2

cup

(1 stick) unsalted butter, chopped

2/3

cup

all-purpose flour

1/2

cup

powdered sugar

1

cup

pumpkin puree

1

teaspoon

pumpkin spice

1

teaspoon

vanilla extract

4

large eggs

4

large egg yolks

6

tablespoons

Dulce de Leche
Garnish:
Whipped Cream or Vanilla Ice Cream

Caramel Sauce

Cinnamon
Instructions
Preheat oven to 425F.

Butter 6 ramekins (6oz each) and place on a baking sheet. Set aside.

Add white chocolate and butter to a large microwave safe bowl and microwave for 1 minute. Stir and continue microwaving in 10-15 seconds intervals until all melted and smooth.

Once the mixture has melted, whisk in flour, powdered sugar, pumpkin spice, vanilla extract and pumpkin puree. Mix well to combine all ingredients.

Whisk in the 4 whole eggs, once fully combined whisk in the egg yolks until well combined and the mixture is smooth and shiny.

Fill the prepared ramekins half way with the pumpkin batter, add to each 1 tablespoon of Dulce de Leche and top with the remaining batter.

Bake for 14-15 minutes, or until the edges are set. Remove from oven and let stand for 5 minutes before serving.

To remove the cakes from the ramekins, run a butter knife around the edges of the cake to loosen it and invert onto a serving plate.

Place on serving plates, garnish with whipped cream or ice cream, cinnamon powder and caramel sauce.

Serve immediately and enjoy!
Recipe Notes
Here is a step-by-step video of how to make the Pumpkin Lava Cakes Recipe:
Calories: 397, Fat: 26g, Saturated Fat: 14g, Cholesterol: 283mg, Sodium: 198mg, Potassium: 212mg, Carbohydrates: 32g, Fiber: 2g, Sugar: 20g, Protein: 8g, Vitamin A: 143.7%, Vitamin C: 2.1%, Calcium: 9.6%, Iron: 13.7%
Made this Recipe?
Show me what you made on Instagram and tag me at @sweetnsavorymeals or hashtag it #sweetandsavorymeals.
Peas and Peonies, LLC. owns the copyright on all images and text and does not allow for its original recipes and pictures to be reproduced anywhere other than at this site unless authorization is given. If you enjoyed the recipe and would like to publish it on your own site, please re-write it in your own words, and link back to my site and recipe page. Copying and/or pasting full recipes to social media or personal blogs is strictly prohibited. Sharing this recipe is very much appreciated and encouraged. Read my disclosure and privacy policy. This post may contain affiliate links.